Jerk Seasoning is a flavorful Jamaican inspired spice blend with heat, savory, and herbal flavors. And it's such an easy seasoning to make yourself at home to use for a number of recipes.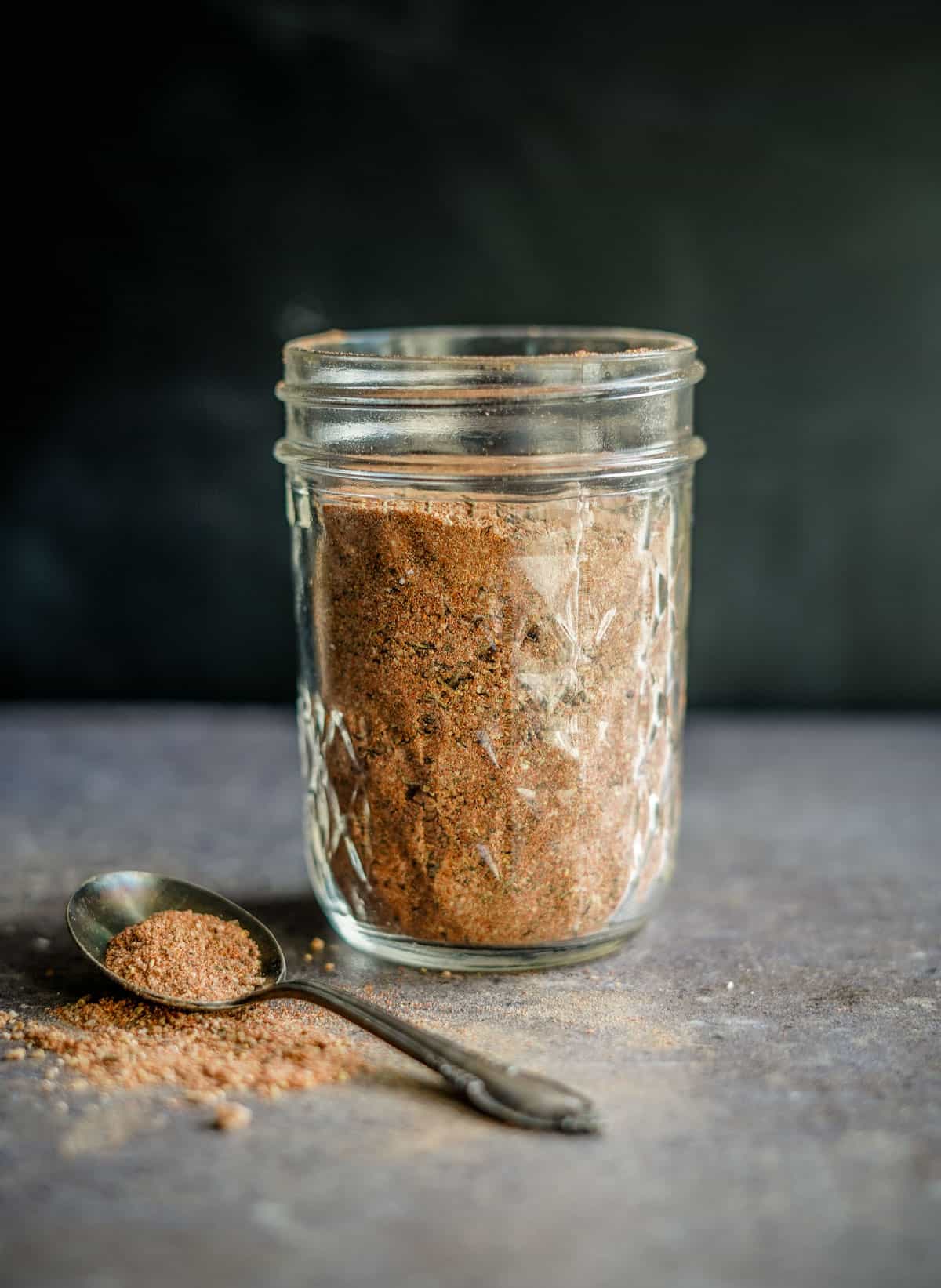 Jump to:
What is Jerk Seasoning?
Jerk seasoning is a combination of dried ingredients that provides a balance of sweet, heat, aromatics, and savory flavors. Jerk may apply to mixes of jerk spice, jerk marinade, and the basic method of cooking.
This spice blend consists of brown sugar, heat from cayenne, savory flavors like onion and garlic, and balanced with allspice (a dried berry that has been ground into a powder) and other baking spices.
Traditional jerk technique is about grilling hot and fast over wood or charcoal using the seasoning or a jerk marinade. We have a recipe for jerk grilled chicken that is an easy way to use the seasoning.
Jerk Seasoning Ingredients
Sweet – We use light brown sugar for our sweet element. Dark is fine too, but it brings a richer flavor.
Savory – Onion and garlic powder are the primary savory flavors. Note we use garlic powder in this (not granulated garlic), which is a more intense garlic flavor. Granulated garlic is fine as well, just adjust to taste since the grains are larger.
Salt – Our go-to is kosher salt for every seasoning we make.
Heat – We use dried cayenne pepper to bring in some heat.
Herbal – Dried thyme bring an herbal component.
Aromatics – This is one of the main components with the key being allspice, followed by ground ginger. We round that out with some ground cinnamon and cloves. This is what distinguishes a jerk inspired seasoning.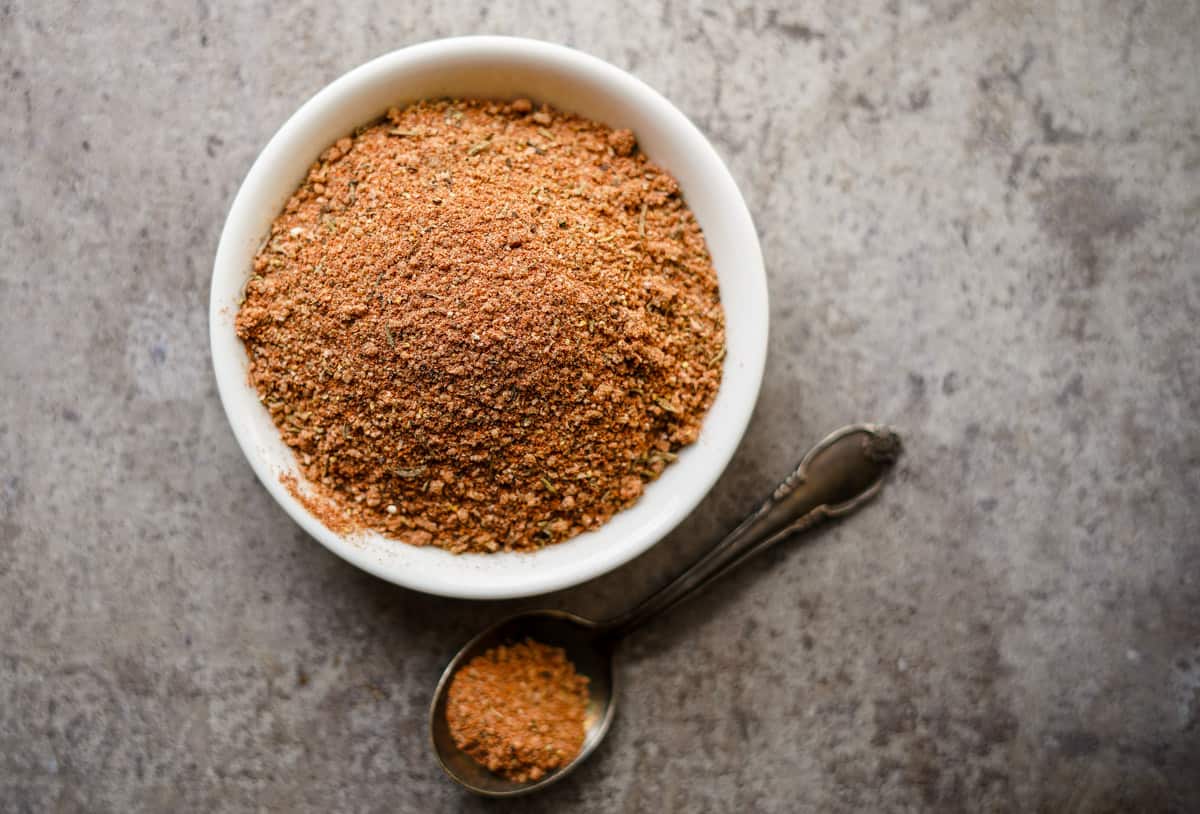 How to Make Jerk Seasoning
Like any spice blend, simply combine all the ingredients together in a bowl to combine.
Using a funnel, place the jerk seasoning into a mason jar or other container that can be sealed tightly.
Serve as needed in recipes.
For more heat add more cayenne. We have tried this as well with red chili pepper flakes, but we did not like the larger flake consistency in the rub compared with adding more cayenne.
We also made this same portion with 3 tablespoons of brown sugar. This does add a sweeter element to the seasoning. If you want more sweet balance with small increments of salt.
Storing Spice Blends
To preserve the jerk chicken seasoning spice blend, store in mason jars in a cool dark part of the pantry. This prevents light from hitting the jar causing heat or any liquid to dilute the spice over time. This seasoning will last up to three months properly stored.
A good way to tell if your spices are beginning to go stale is to keep an eye on the color. If you notice the pigment of your blending starting to fade then this can indicate it to be stale.
Is Jerk Seasoning Healthy?
The health benefits of jerk seasoning results from the nutrients consisted in the herbs and spices. Important minerals such as calcium, iron, and magnesium are found in abundance within most spices. Our spice blend is also a very good source of manganese.
Jerk seasoning can have a positive effect on your daily energy production, new blood cell formation, sleep better, and improve brain functioning. It has also been found to keep your skin and hair strong and healthy, including fighting infection in your body.
Ideal Jerk Seasoning Substitute?
There might not be a suitable substitute for jerk chicken seasoning at your local grocery store, so your best choice is to make sure you're using this recipe. That being said, if you can't find those particular ingredients, try to get as near as possible.
In any other case, just try using one of the following ingredients right down below that might get you fairly close.
Other Grilled Chicken Recipes
Other Seasonings and Rubs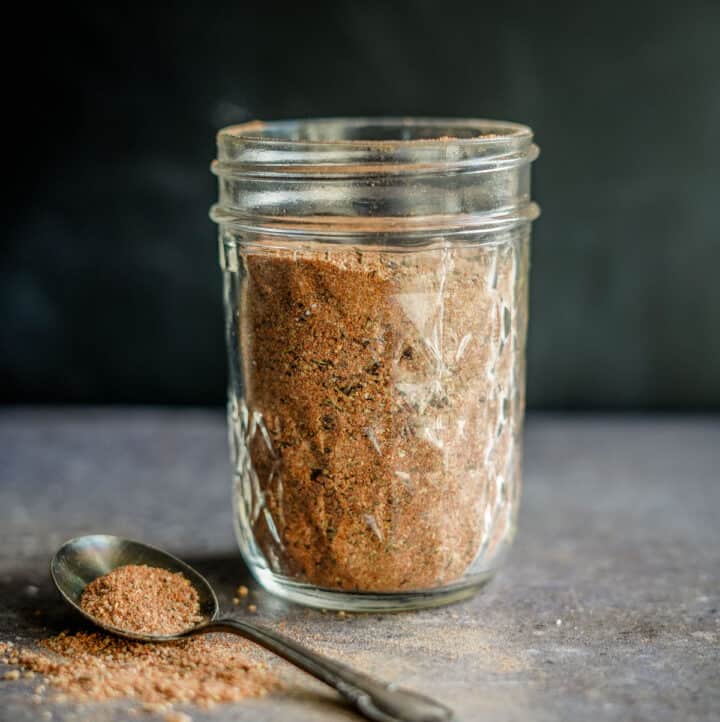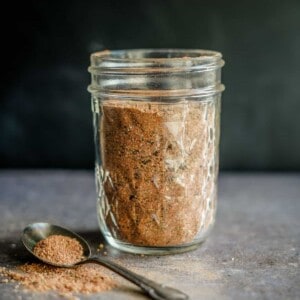 Jerk Seasoning Recipe
A blend of herbal and baking spices combined with heat for the perfect blend of flavors. A great Jamaican Jerk Seasoning for pork or chicken.
Print
Rate
Equipment
8-Ounce Mason Jar (for storage)
Ingredients
2

tablespoons

light brown sugar

Dark works as well

1

tablespoon

kosher salt

1

tablespoon

coarse black pepper

1

tablespoon

onion powder

1

tablespoon

garlic powder

2

teaspoons

cayenne pepper

2

teaspoons

dried thyme

1

teaspoon

ground cinnamon

1

teaspoon

ground ginger

1

teaspoon

ground allspice

½

teaspoon

ground cloves
Instructions
In a large bowl, combine all the ingredients and mix together.

Using a large funnel or spoon, transfer the rub into a small 8-ounce mason jar. Seal and store in a cool, dry part of your pantry. Will last for 2 months before clumping. Use on grilled chicken or pork.
Notes
For more heat consider using more cayenne. We tested with red chili pepper flakes and the grain size difference from the red chili flakes versus the rest of the rub was not a pleasant texture.
If all you have is granulated garlic (versus garlic powder) use 1 ½ tablespoons. The granulated garlic has larger grains and won't be as intense.
Find the perfect wine pairing at the Vindulge Wine Shop
Nutrition
Calories:
189
kcal
|
Carbohydrates:
46
g
|
Protein:
4
g
|
Fat:
1
g
|
Saturated Fat:
1
g
|
Sodium:
7000
mg
|
Potassium:
420
mg
|
Fiber:
7
g
|
Sugar:
25
g
|
Vitamin A:
1781
IU
|
Vitamin C:
6
mg
|
Calcium:
156
mg
|
Iron:
5
mg