Smoked Whole Chicken is absolutely delicious and easy to make. Below we'll explain how to smoke a whole chicken on a pellet grill or other style smoker for the best chicken you will make.
If you want a great variation of this, try our guide on how to spatchcock chicken where you remove the backbone and flatten the chicken.
Jump to:
Smoked Whole Chicken is one of the most common things we cook on our smokers. We typically smoke one or two on any given Sunday, then use the meat throughout the week for our meals, like tacos or smoked chicken tortilla soup.
Smoked Whole Chicken
One of the common downfalls with smoking a whole chicken at a low temperature, is that it can result in rubbery skin. It is difficult at lower temperature to actually render the fat and get that crispy texture on the skin. So the best approach is a modified version of reverse searing.
Smoke the chicken at low temperature to get a smoked chicken flavor.
Increase the heat to let it finish and crisp up the skin.
We have used this method on our MAK Two-Star General pellet grill as well as our Big Green Egg. The method applies to both styles of grills, and works every time to get a juicy and smoky interior, and a crispy skin on the exterior.
What Size Chicken is Best?
Roaster chickens, or chickens around 5 pounds, are the best option. Some of the chickens may have the giblets. Simply discard the giblets for this recipe.
If we're grilling (i.e. hot and fast) chicken, we typically break the chicken up into smaller pieces, like in our perfect grilled chicken, because each piece cooks at a different length of time (the breasts taking the longest).
BUT for low and slow chicken we love cooking a whole chicken (without butchering it down), because it comes to temperature much slower and more consistently.
So if you've never smoked a whole roaster chicken before, get excited. You may be doing it much more often now.
Preparation
After purchasing the chicken, the goal is to dry out the chicken and add the rub for a few hours before smoking.
Remove any giblets from the chicken and discard (or use for stock or gravy).
Pat dry the bird with a paper towel. Coat with olive oil and season with poultry seasoning, both inside the cavity and on the outside, and place in the refrigerator. Try to do this at least four hours prior to smoking. The salt in the rub will go through a dry brining process, essentially using osmosis that will add flavor to the skin and help with minimizing rubber skin texture. This will help dehydrate the bird as well, helping with the skin texture.
How to Smoke a Whole Chicken
Pre-heat grill to 225 – 250 degrees (we like to use apple wood): The lower temperature will allow smoke flavor to get into the chicken.
Stuff the cavity of the bird: Stuff the cavity to add additional flavor and aromatics. We like to stuff it with lemon, onion, and garlic. You can also add some herbs like thyme or rosemary.
Next tie up the legs: to get them closer the body of the chicken so they don't dry out or overcook. You can tie the wings too, or just fold them under the chicken.
Smoke Chicken: Place the whole roaster chicken on the smoker, breast up. Smoke for one hour at 225 – 250 degrees.
Increase Temperature of Grill: Then, after one hour, increase temperature of the smoker to 350 – 375 degrees, and leave until the internal temperature of the thickest part of the bird reads 160 – 165 degrees (this is going to allow the skin to get crispy). This will take roughly 90 additional minutes, but start checking the temperature at the one hour mark.
Remove, and rest for 15 minutes, then slice and serve.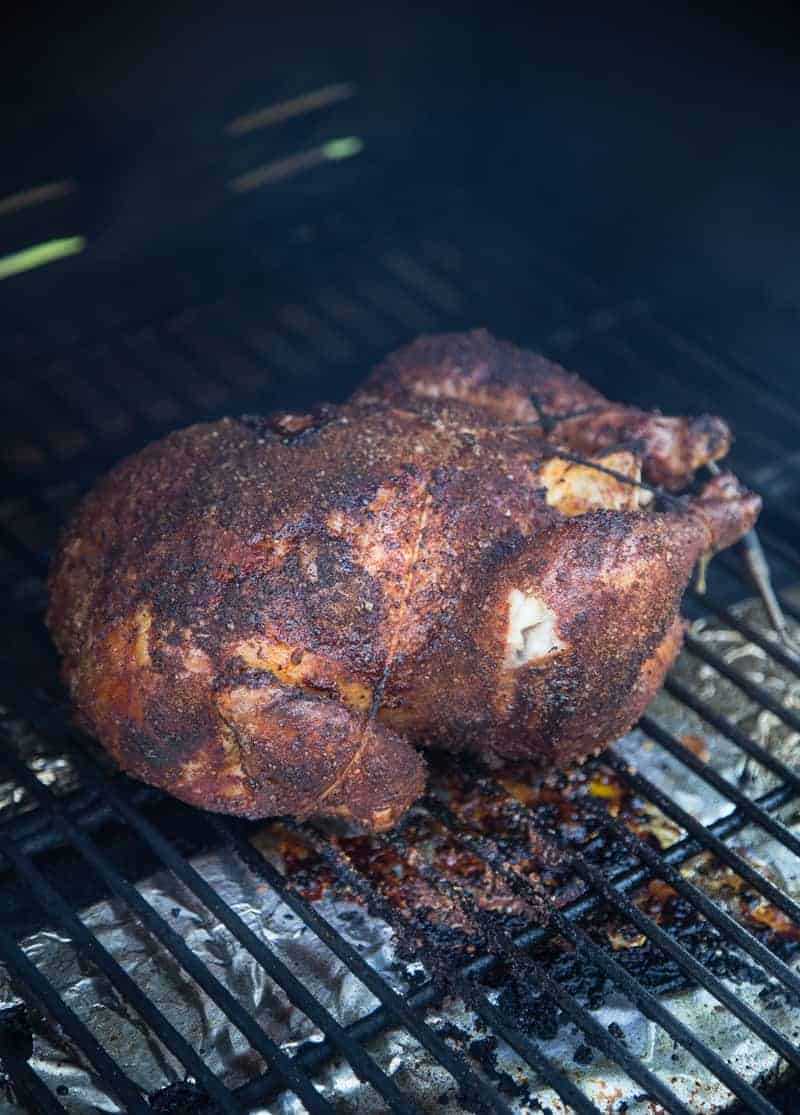 Temperature for Smoked Whole Chicken
Start by smoking the whole chicken at 225 – 250 degrees F, keeping it fairly low. If we continued cooking at that range for the entire length of the cook it would take several hours to get a properly smoked chicken. You can extend the time on smoke for more smoke flavor, but our goal is both smoke and a crispy skin texture.
After one hour raise the temperature of the grill to 350 degrees F, to ensure a nice crispy outer skin. If you go too hot, it can overcook parts of the meat, so that's why we shoot for 350 after the initial smoke.
Alternatively you can roast it at the same temperature that you would in the oven (375 degrees) like this whole roasted chicken recipe. But you won't get as much of a sweet smoke flavor as it will cook much quicker. We prefer to do it this way for full flavor intensity!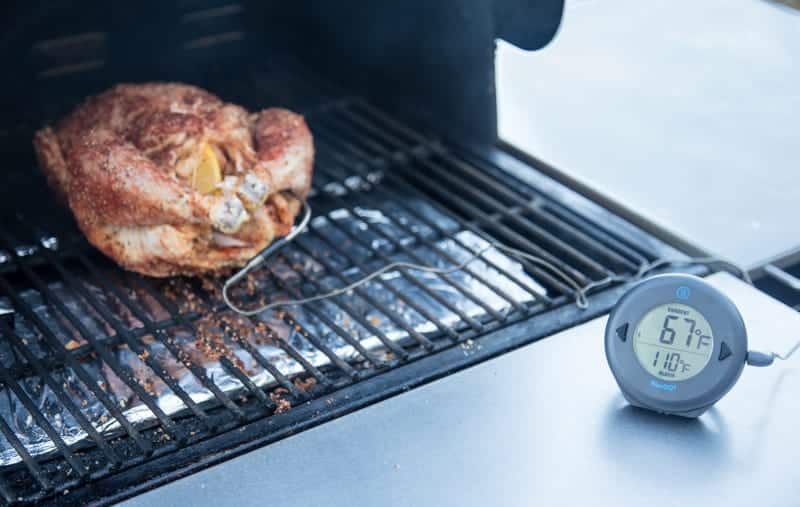 If you have one we recommend inserting a leave-in thermometer to monitor temps, like this BlueDOT Bluetooth Thermometer from ThermoWorks or their Smoke Unit. This one is great because you can monitor the temps from your phone via an iPhone app, or just check on the receiver so you don't have to constantly open and shut your lid. Make sure to insert it into the thickest part of the meat, where it will take the longest time to cook.
Alternatively, you can use any digital thermometer to occasionally check temps in the breast and thighs.
How Long to Smoke a Whole Chicken?
Plan approximately 2 ½ hours from start to finish to smoke a whole chicken using this method. But always go by temperature, not exact time. This particular example was a 5 pound bird, and it was on 250 for 1 hour, then about 90 mins at 350 degrees. Your chicken will vary based on various factors (exact size of your bird, exact temperature of smoker, fluctuations, etc.).
Below are ranges for how long to smoke a whole chicken.
Under 4 pound roaster chicken – 1 hour 45 minutes
4 – 5 pound roaster chicken – 2 hours 15 minutes
Over 5 pound roaster chicken – 2 hours 30 minutes
Make sure to save that chicken carcass for stock. You can find our favorite way to do chicken stock in our cookbook, Fire and Wine.
What Wood is Best for Chicken
For chicken we use fruit woods, like apple or cherry, because it burns sweet and adds a nice smoke element without it tasting too much like campfire. Another alternative wood is hickory.
Wine Pairing with Chicken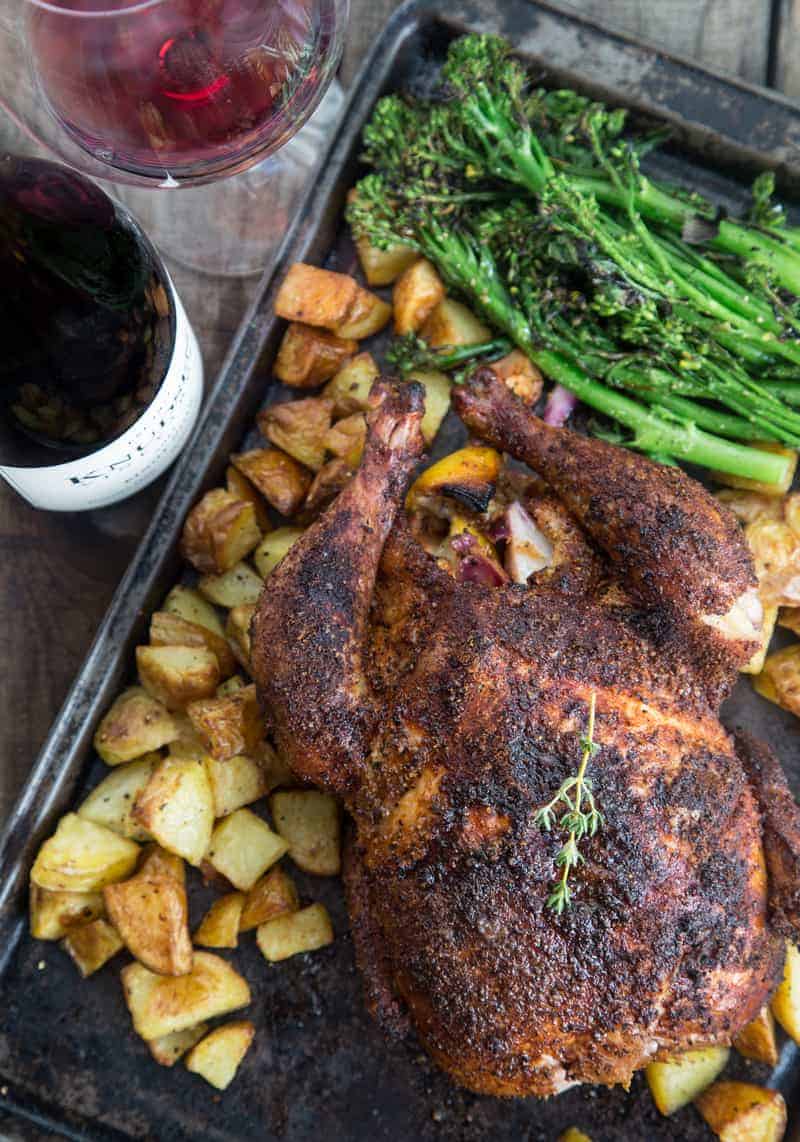 I typically reach for a Chardonnay or full bodied white wine with chicken. Even if a smoked whole chicken recipe (pending they do not have any BBQ sauce on them). But because of the dry rub we use, which has some bold and smoky flavors, we opt for red. In this case Pinot Noir.
But you're going to want a bolder style Pinot Noir for this (nothing too delicate). Côtes du Rhône blends work well too. You want something fruity, but not too intense or tannic (think Cab). Remember, there's no sauce on this, just the tender meat and dry rub on the crispy skin. Zinfandel works nicely too, as long as it's not too intense of a Zin.
Use any Leftover Chicken for these Recipes
---
This recipe was first published in July 2018 and updated in February of 2021 with more details on the recipe and a video.
This post may contain affiliate links. This means if you click on the link, we may receive a small commission if you purchase through the link. We partner with brands we know and love and use and it helps keep the blog going!
---