By contributing writer Sean, aka "the hubby"
Chicken on a grill or smoker is truly a blank canvass. The flavor of chicken can be manipulated in so many ways and not only is the diversity of cooking styles with wood amazing, so is what you can do with some of the byproducts.
I must admit, at first I loathed grilling or smoking chicken because I hadn't really come to appreciate that I can add all the flavor and texture I want with techniques ranging from brining, injection or glazing. But since my wife kept nagging encouraging me to try (she's the health nut in the fam who believes we cannot live on pork alone), I've changed my ways and learned the beauty of smoking chickens.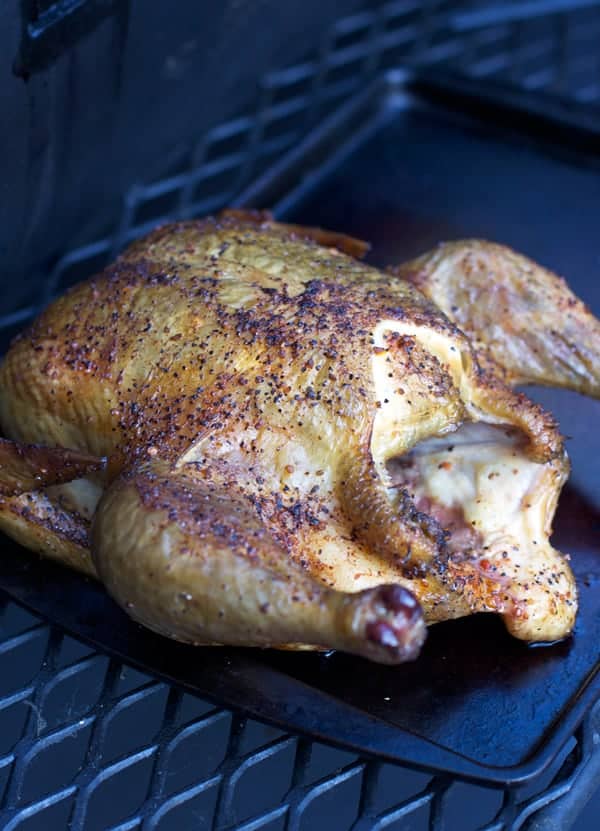 Take grilled and glazed chicken as an easy example of the perfect grilled chicken. However, one staple that we throw on the BBQ regularly is the whole roaster chicken. Not only do I get my share of white and dark meat, but the carcass provides a great platform when making stock….with smoky flavor that adds a ton of depth and complexity to a dish. More to come on that though.
How to Smoke a Whole Roaster Chicken
Let's start with the whole roaster chicken. We use a free range bird. It doesn't have to be organic, but I like the flavor and the idea that the chicken is (arguably) raised in a humane way and doesn't break the bank (as much) as an organic bird. It's your preference though. Look for something at the five pound mark.
Feel free to brine.  Their are plenty of recipes out there, I don't brine chicken because it doesn't dry out.  It's likely because I focus on smaller birds versus a 13 pound turkey (which I do brine every time).  But that's the fun of chicken, the brine can add salinity, or flavor or anything else your looking for prior to the drying period.
Next, the bird has to be cleaned and dried completely, inside and out (whether you brine or not).  Cleaning AND drying is key for the dehydration process.  Any moisture left on the exterior of the bird will prevent that key element that helps get the skin texture your likely looking for. (Oh, and don't forget to remove the giblets.) After the cleaning and drying, put the bird in the fridge uncovered for up to four hours. Feel free to add a little salt as well. This allows the bird to dry out slightly and the skin to pull back on the bird, which will help create a crispy skin texture (if you're into the skin that is).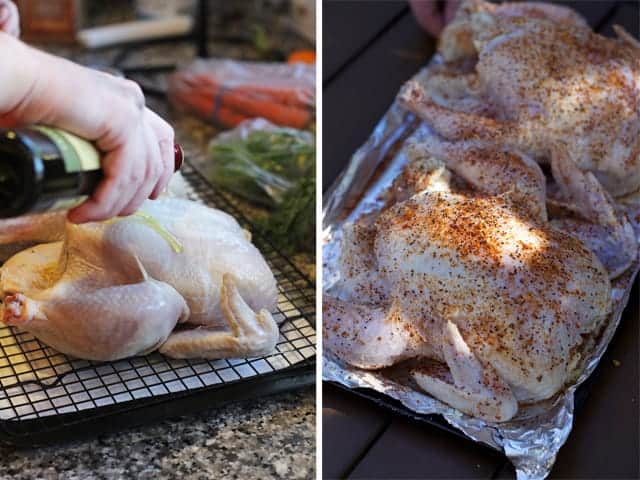 About an hour before you cook, take the bird out of the fridge and rub it with your favorite rub. I prefer olive oil, salt and pepper as a base for the roaster for simplicity sake. Then I'll add flavor depending on how I want to eat it.  Above is a mix of chili powder, paprika, garlic and onion powder with cayenne mixed in.
The final step in the prep is stuffing the birds' cavity. I don't put too much in, I want airflow in the cavity, but I do like thyme sprigs and orange (cut into ¼'s). As the bird cooks, the aromatics seem to infuse into the meat. So take your favorite flavors and add them into the cavity (like citrus, garlic, onion or herbs).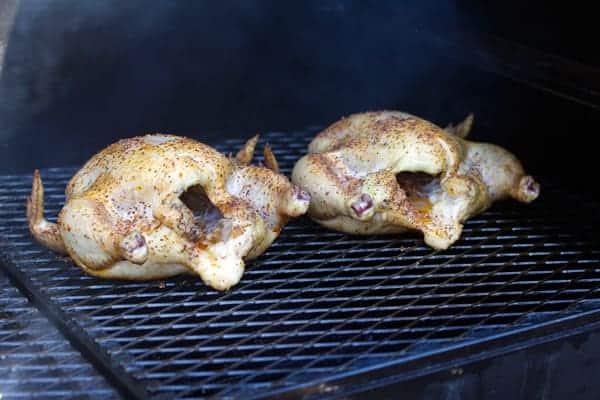 Then let it cook breast side up. I cook at 225 – 250 for around three hours. But as I always say, you cook to temp, not to time since there are so many factors that can influence exactly how long something will take to cook. The bird should come to 165 degrees Fahrenheit when measured with a thermometer in the thigh.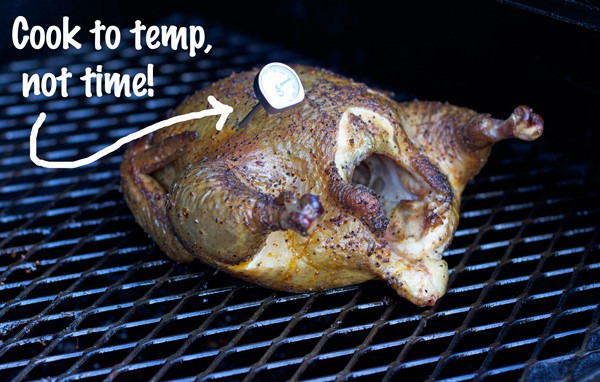 Remove from smoker and cover in aluminum foil for about 20 minutes as the juices redistribute. I recommend you put on a cutting board in a sheet pan to avoid the juices running all over the counter. Also, you'll want to collect those juices for later when we make a stock out of the remains (recipe coming soon… ooh yeah!).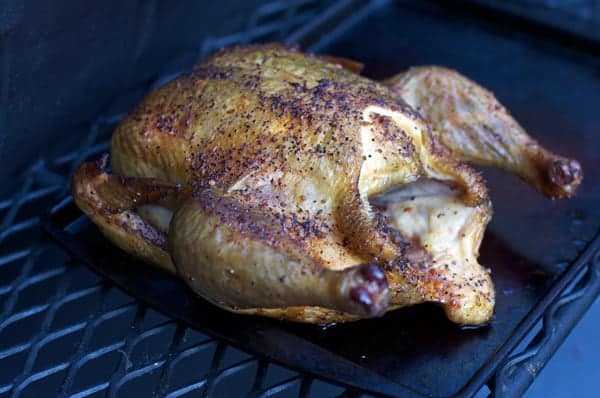 Cut and serve in your favorite style. For a roasted style chicken we love shredding it and putting into tacos or using for a smoked buffalo chicken pizza, or my fav, using chicken instead of turkey for this smoked buffalo turkey (or chicken) dip, but you can serve more traditionally also. But think about anything you cook with chicken from pasta, salads, and everything in between, this meat will be tender and with a slight smoky flavor.
The most critical part nevertheless, do NOT throw out the carcass. Keep it, and make a smoked chicken stock the next day. We'll tease you here with the idea, but we assure you we'll get you a recipe.
*UPDATED* — FOLLOW UP RECIPES
---
About the author:

Business by day, BBQ by night. Father of twin toddlers. Husband of the author of this awesome blog.  Still a fan of PBR.

*****
Want More?
For some grilling and BBQ recipes check out the recipe index.