This easy Grilled Chicken comes out perfect every time. Follow these simple steps to get great flavor, crispy skin, and juicy texture for the BEST grilled chicken! Stop overcooking chicken and learn the tips and tricks that pros use!
Grilled chicken can be a little intimidating for people. Too often people are afraid of under-cooking chicken, which instead results in overcooked, dry, and boring chicken. With the right dry rub, techniques, and an understanding of how to grill chicken, you can make fantastic grilled chicken every time. Plus we link to a great resource about understanding the right internal cooking temperature for chicken so it's safe to eat and delicious.
Jump to:
Buying Chicken – Which cuts are best for grilling?
Chicken can be purchased in many ways. The least expensive is typically a whole roaster chicken, which can then be butchered at home for the pieces. Or you can buy the chicken in parts. The less the butcher has had to cut and prepare for the case, generally speaking the cheaper the per pound price.
The best parts for grilling chicken are:
Breast (bone-in or boneless)
Thighs
Drumsticks
Wings
Pro Tip: If you buy a whole roaster and butcher it yourself, save the bones for stock! You can find the details on our favorite smoked chicken stock in our cookbook, Fire and Wine.
You can also source some amazing chicken online. Places like D'Artagnan Foods source their chicken from small farms around the world. With a focus on quality, you can taste it in the chicken.
Skin on or off?
Skin on adds a great texture to the grilled chicken. We buy skin on. But boneless skinless chicken breast follows the exact same method if that is your preference.
Seasoning
For grilled chicken we use a poultry seasoning, that has no sugar in it. Sugar can cause burning when cooked over a high heat source. This simple chicken dry rub includes salt and savory ingredients like:
kosher salt
course ground pepper
smoked paprika
granulated garlic
dried sage
dried thyme
If you're smoking chicken (i.e. low and slow cooking), we use an all purpose rub like this one, that has sugar and slowly caramelizes over a longer cooking period, but is also never exposed to direct heat.
How to Grill Chicken
Start with chicken pieces. Each piece will cook at a different time because of the size, so the chicken can be pulled separately when each is done. When grilling chicken, cooking with Direct and Indirect method is also very important.
Break it down into steps:
Grill First Over Direct Heat
Move to Indirect Heat to Finish
Add Glaze at the End (optional)
Direct and Indirect method is having the charcoal or heat source on one side of the grill for searing, and the other side with no charcoal or heat source. This allows the next important technique, to sear the chicken over the direct heat getting the crust on each side, and then moving to indirect heat to finish to the desired internal temperature. This is the key to perfect grilled chicken.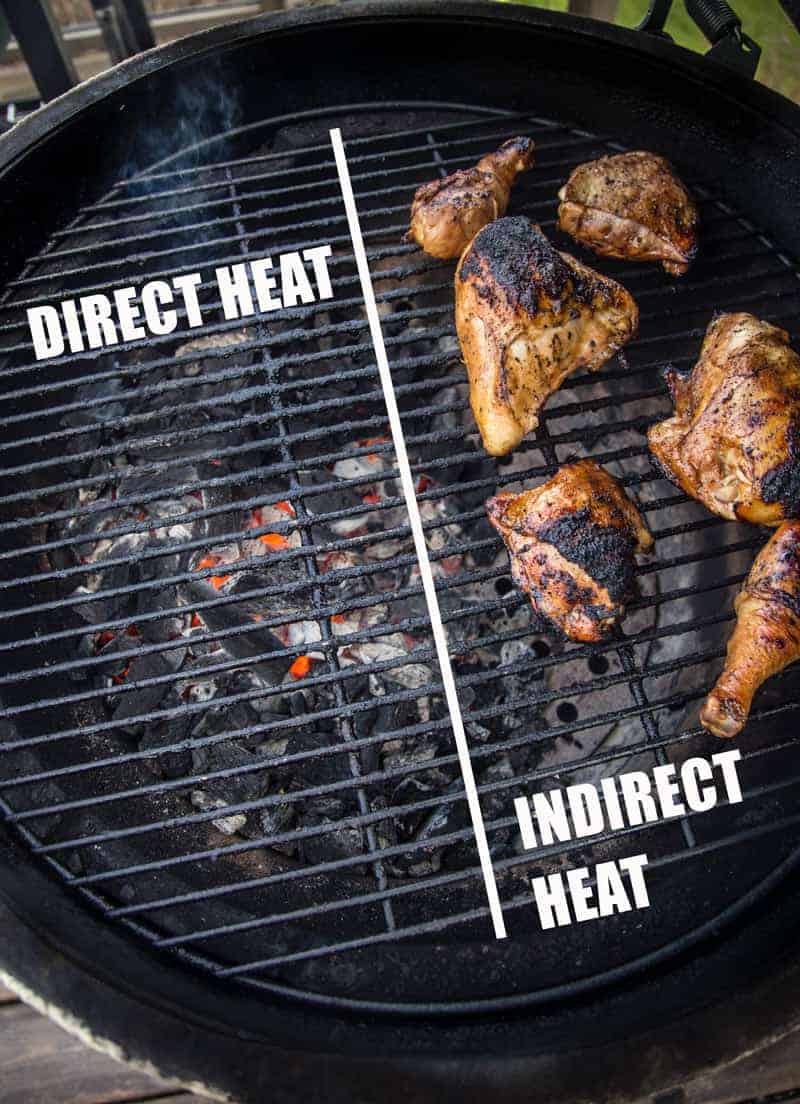 Why does the direct indirect method matter? Because as high heat sears the chicken, the fat from the chicken will render out faster and drip into the coals. This can cause flare ups that send large flames and potentially burn the chicken, creating the crusty dark burnt skin, while still having an under-cooked interior. After searing the chicken to your desired crust, moving the chicken to indirect prevents the fat from causing flare ups and roast like an oven.
Have a gas grill? Unlike a charcoal grill, you can lower the flame. That said, it is still easy to use this method with a gas grill to avoid burning the chicken, even with a lower flame.
Preparing chicken: Be sure to only pat the chicken dry. You do not need to rinse, as it has been found to cause cross contamination in an average kitchen. Use a paper towel to do this. You can also add a little olive oil to the chicken to help as a binder for the dry rub to stick.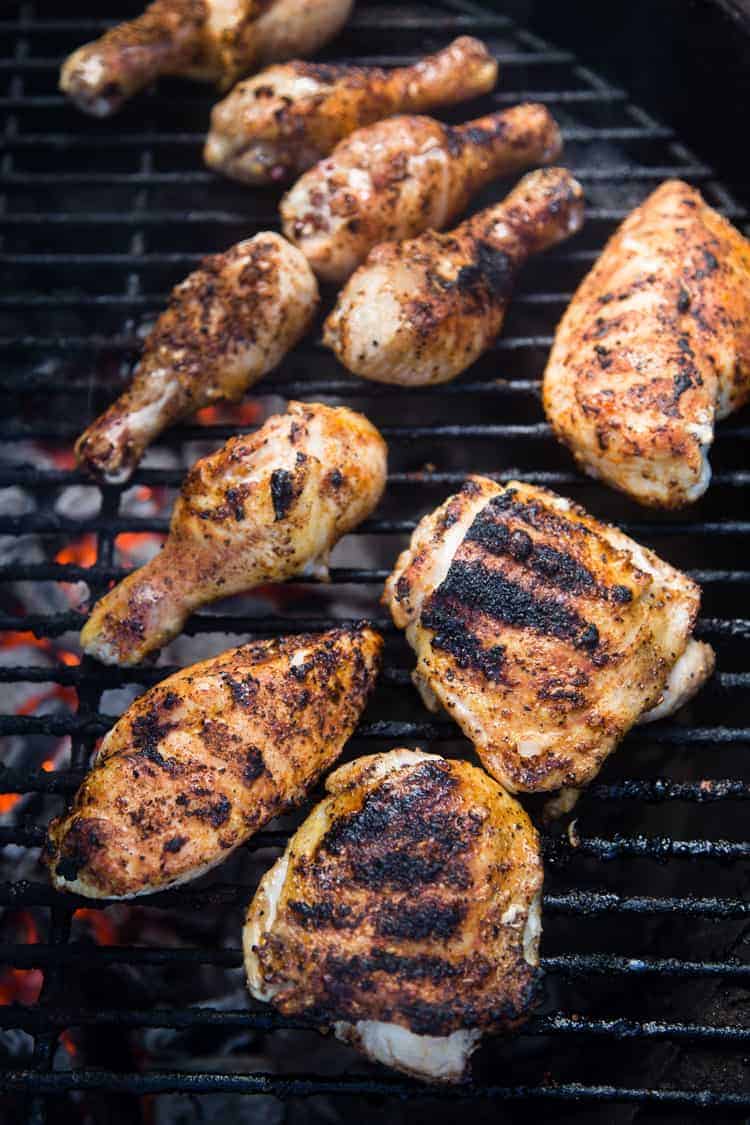 When is Chicken Safe to Eat
One of the single biggest secrets to perfect grilled chicken is understanding the internal temperature of when your chicken is done. With the salmonella potential of chicken, there is good reason to make sure the meat is cooked to proper temperature, but most people heavily overcook it to be safe, and as a result the chicken turns out dry and way overcooked.
The USDA encourages chicken to be cooked to 165 degrees Fahrenheit to kill any bacteria. And while that is true when trying to set one temp countrywide, there is a process when grilling or cooking chicken that is important and plays into when you pull your chicken. By holding chicken at lower internal temperatures for longer periods of time, you can still kill off the harmful bacteria.
That means you can achieve bacterial death in chicken with an internal temperature of 155 degrees F, if you hold that temperature for just under 50 seconds. This is a very important point for juicy breast meat versus the dry stuff you may have had in the past.
Thermoworks has a very detailed article about the nuances of internal chicken temperature and how long it needs to be held for safe cooking using USDA pasteurization tables.
The other thing to consider is that chicken thigs and drumsticks actually have better texture if you take them to an internal temperature of 170 degrees F. This allows for a better texture because more of the intramuscular connective tissue breaks down.
What Is Carry Over Cooking
Carry over cooking is when you pull the meat off of the heat source, and the temperature in the center most part of the meat continues to rise in temperature as heat travels from the warmer outer portion of the meat, to the inner or cooler portion of the meat. The larger the cut, the more the temperature will "temp up."
When cooking on the grill the heat generated from your fuel cooks from the outside of the meat in. Heat wants to travel from hot to cold, so when you are cooking chicken, you can target 160 degrees as the finished temperature (or whatever your desired finishing temp is), but actually pull the chicken when the coolest part of the chicken is around 155 degrees. Once you pull, it will temp up to 160 degrees and be safe to eat (and maintain incredible moisture).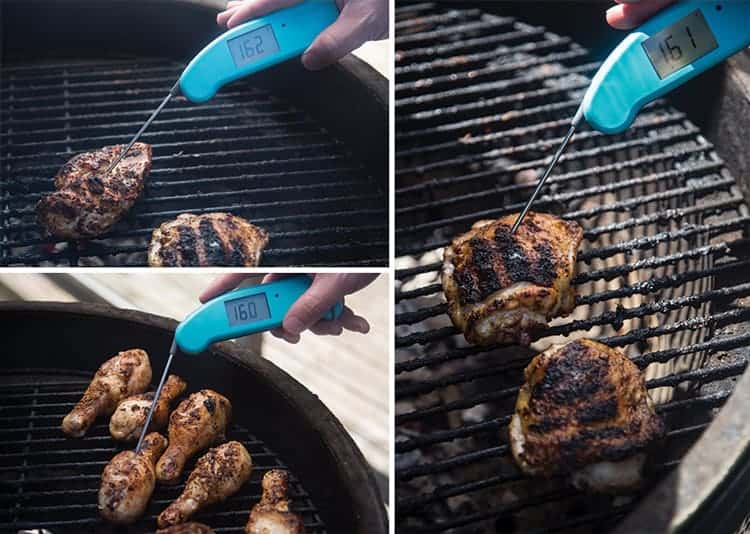 In order to get the most accurate temperature you need an instant read thermometer. This is one of the key grill tools needed for anyone cooking outdoors (or indoors for that matter). Our go to instant read thermometer for chicken is the Thermoworks Thermapen MK4. The probe is easy to use, it is virtually instant and most important, we can slowly move the probe through the chicken so we see the range of temperature and pull at just the right time.
The benefit of cooking separate chicken pieces is that you can take the temperature of each cut and pull each piece when it reaches the optimal temperature since each cut and each piece will finish at different times.
How to take the temperature of chicken
As you pass the thermometer through the chicken, you are always using the lowest temperature as the target, and making sure to insert the probe into the center of the thickest part of the meat, not touching bone. For an entire roaster chicken you will temperature in multiple locations for the most accurate read.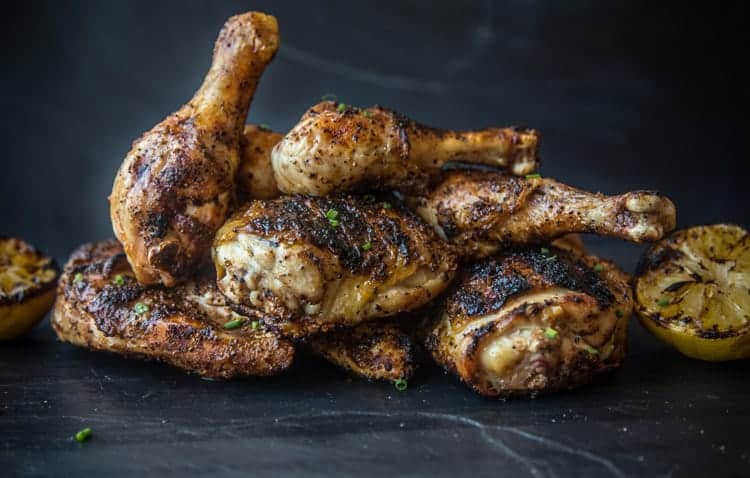 Sauces and Glazes
Glazes are simply a sauce added while cooking meat. Sauces or glazes should also be added at the end of the grilling. Why? If adding a glaze or a sauce to chicken too early, the crispy skin will absorb the liquid and get gummy. To maintain the crispy skin and bite, add the glaze in two steps. First when the chicken is at 155 degrees F (because we are pulling at 160), and then glaze a second time just after you pull the chicken off the grill and let it rest. The sauce will firm up and still keep the texture of the skin crispy.
Glazes also contain sugar, so they can also burn. This is especially important to note if you are grilling direct heat and have already added a glaze (sauce). It will also cause flare ups. So when to add a glaze to chicken matters.
Frequently Asked Questions
How to keep chicken from sticking to the grill?
First, start with a clean grill grate. Apply a high heat oil to the grill if you would like prior to cooking or heating. As the meat sears, it will reach a sweet spot where it will lift right off the grate. Dirty grates cause sticking, so after every cook, get into the habit of brushing the grill off.
Should I marinate Chicken?
Marinating chicken is personal choice and can add additional flavor. It can be as simple as Italian dressing, or something homemade. Either way, the same cooking technique applies. When marinating chicken, we recommend marinating anywhere from 3-6 hours, using smaller cuts (like cubed chicken pieces, our pounded chicken breasts). Here's our go-to marinade for grilled chicken.
Bone-in vs Boneless Chicken
Bone-in chicken holds everything together and, for chicken breasts, acts as a heat shield (acting as a barrier between the meat and the heat source). When possible, we prefer to cook bone-in chicken. If you are opting for boneless, just be aware the meat will likely cook faster than bone-in.
How long does it take to grill chicken
It depends on the individual piece and size. Generally the chicken in pieces will cook in 20 – 25 minutes total. Other factors that will increase or decrease chicken cooking time include how hot your grill is, how close to the fire it is, or how much chicken you pack into the grill.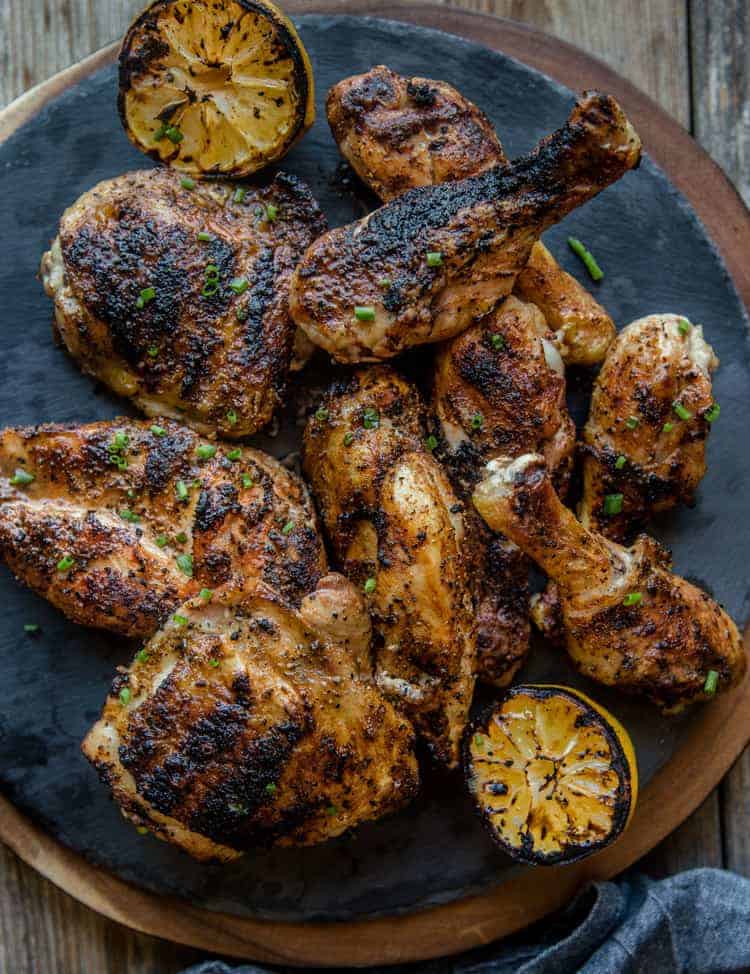 ---
More Recipes
---
*This post contains affiliate links for the ThermoWorks Mk4 Digital Thermometer. We only recommend products we use and love! And we use these thermometers use regularly and consider them an integral part of successful grilling.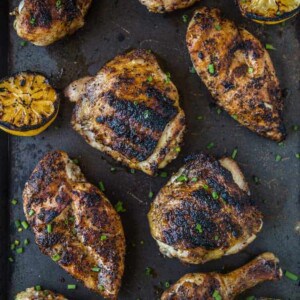 Perfect Grilled Chicken Recipe
How to make perfect Grilled Chicken every time. This fool proof method will get you great flavor, crispy skin, and juicy texture for the best chicken ever.
Print
Pin
Rate
Ingredients
¼

cup

chicken seasoning

2

tablespoons

extra virgin olive oil

2

pieces

chicken drumsticks

2

pieces

chicken thighs, bone-in

2

pieces

chicken wings

2

pieces

chicken breasts, bone-in
Instructions
The day prior to cooking, pat dry the chicken, coat with olive oil and season liberally. Cover and place back into fridge until ready to grill.

Prepare grill for direct/indirect method of cooking, and remove the chicken from the refrigerator. Target 450 to 500 degrees Fahrenheit in the cooking chamber.

Place the chicken over direct heat. Cook each side for approximately 6 minutes, or until you see the desired crust, and then move to indirect heat to finish cooking, turning each piece occasionally.

Continue cooking until the internal temperature of the breast is 160 to 162 degrees F as measured on an instant read thermometer. Continue cooking the legs and thighs until they reach 165 – 170 degrees. Pull and let rest for 15 minutes (the internal temperature of the chicken will continue to rise another 5 degrees).
Find the perfect wine pairing at the Vindulge Wine Shop
Nutrition
Calories:
79
kcal
|
Carbohydrates:
3
g
|
Protein:
1
g
|
Fat:
8
g
|
Saturated Fat:
1
g
|
Polyunsaturated Fat:
1
g
|
Monounsaturated Fat:
5
g
|
Cholesterol:
2
mg
|
Sodium:
3
mg
|
Potassium:
35
mg
|
Fiber:
1
g
|
Sugar:
1
g
|
Vitamin A:
117
IU
|
Vitamin C:
1
mg
|
Calcium:
44
mg
|
Iron:
2
mg
---