This easy Grilled Chicken Breast Recipe comes out perfect every time. Follow these simple steps as a great way to get big flavor, crispy skin, and juicy texture every time! Stop overcooking chicken and learn the tips and tricks that pros use for juicy chicken breasts.
This recipe also works for thighs and legs just modify the cooking time.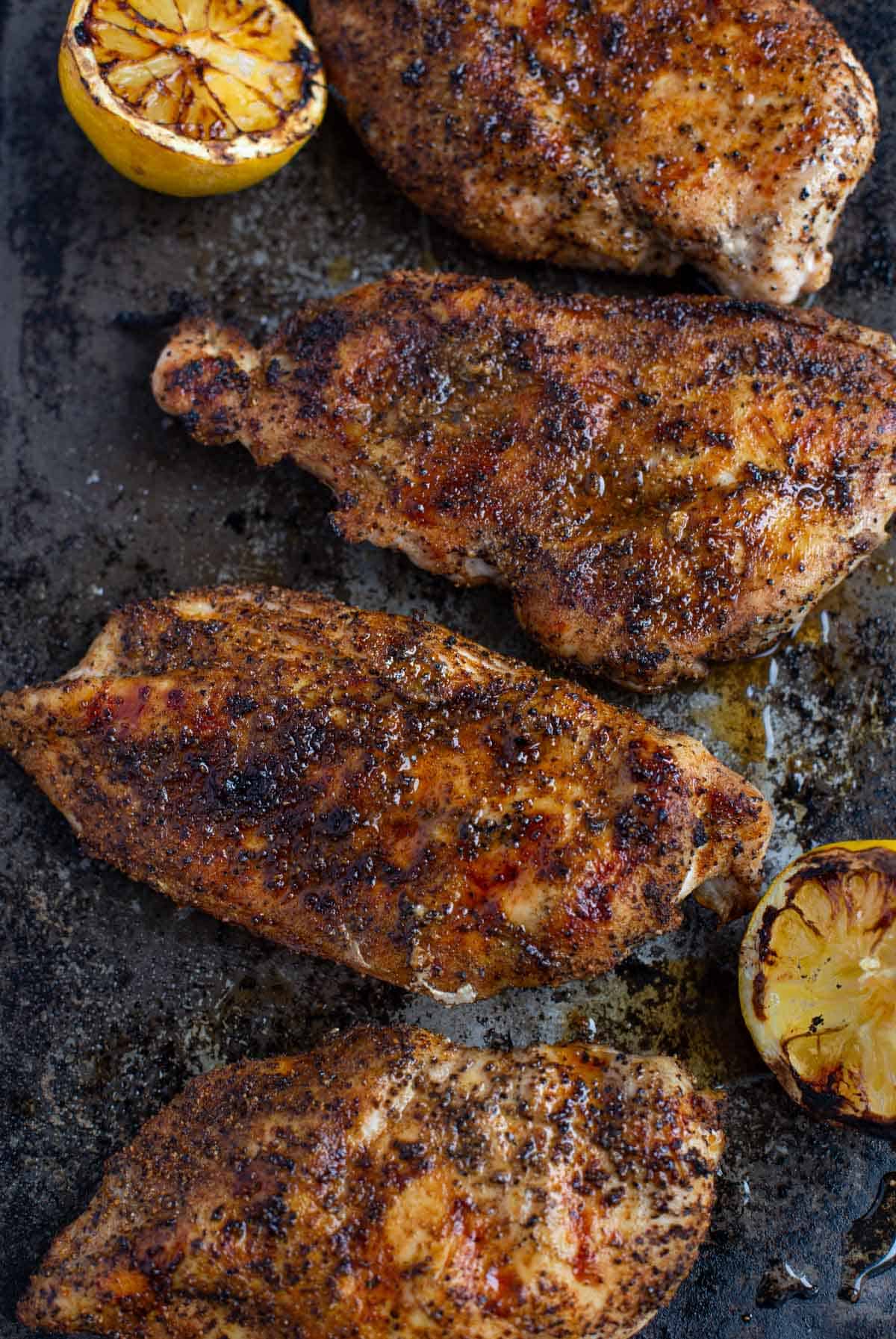 Vindulge Recipe Highlights
Grilling chicken can be a little intimidating for people. Too often people are afraid of under-cooking chicken which instead results in overcooked, dry, and boring chicken.
With the right seasoning, techniques, and an understanding of how to grill chicken, you can make fantastic flavorful chicken every time. Plus we link to a great resource about understanding the right internal cooking temperature for chicken so it's safe to eat and delicious.
Jump to:
Cuts of Chicken For Grilling
For best results grill the same cut of chicken so it is all done at the same time. We like the ease and health factor of boneless skinless chicken breasts. For crispy skin we recommend bone-in chicken.
The least expensive way to buy chicken is to purchase a whole chicken, which can then be butchered at home for the pieces. Or you can buy the chicken in parts. The less the butcher has had to cut and prepare for the case, generally speaking the cheaper the per pound price.
Pro Tip: If you buy a whole roaster and butcher it yourself, save the bones for stock! You can find the details on our favorite smoked chicken stock in our cookbook, Fire and Wine.
Skin-on chicken or off?
Skin-on adds a great texture to the grilled chicken. We buy skin on. But boneless skinless chicken breast follows the exact same method if that is your preference.
Preparation and Seasoning
The best way to prepare boneless chicken breast is to pound the raw chicken using a meat mallet to even it out. This will speed up the cooking time because it's an even thickness. Pat dry with a paper towel and then season. Do not rinse chicken as it creates a greater chance of cross contamination.
For grilled chicken breast we use a poultry seasoning, that has no sugar in it. Sugar can cause burning, especially brown sugar, when cooked over a high heat source. Apply olive oil to the chicken breast and then liberally apply the seasoning. Do this first thing as your grill warms up. There is no reason to allow the meat to come to room temperature.
kosher salt
course ground pepper
smoked paprika
granulated garlic
dried sage
dried thyme
If you're smoking chicken at a lower heat (i.e. low and slow cooking) we use an all purpose seasoning that has sugar and slowly caramelizes over a longer cooking period.
Explore all of our seasoning and sauce recipes.
How to Grill Chicken
Prepare the grill for two-zone cooking targeting the internal temperature of the grill at 475 to 500 degrees Fahrenheit. If using a gas grill that would be medium-high heat.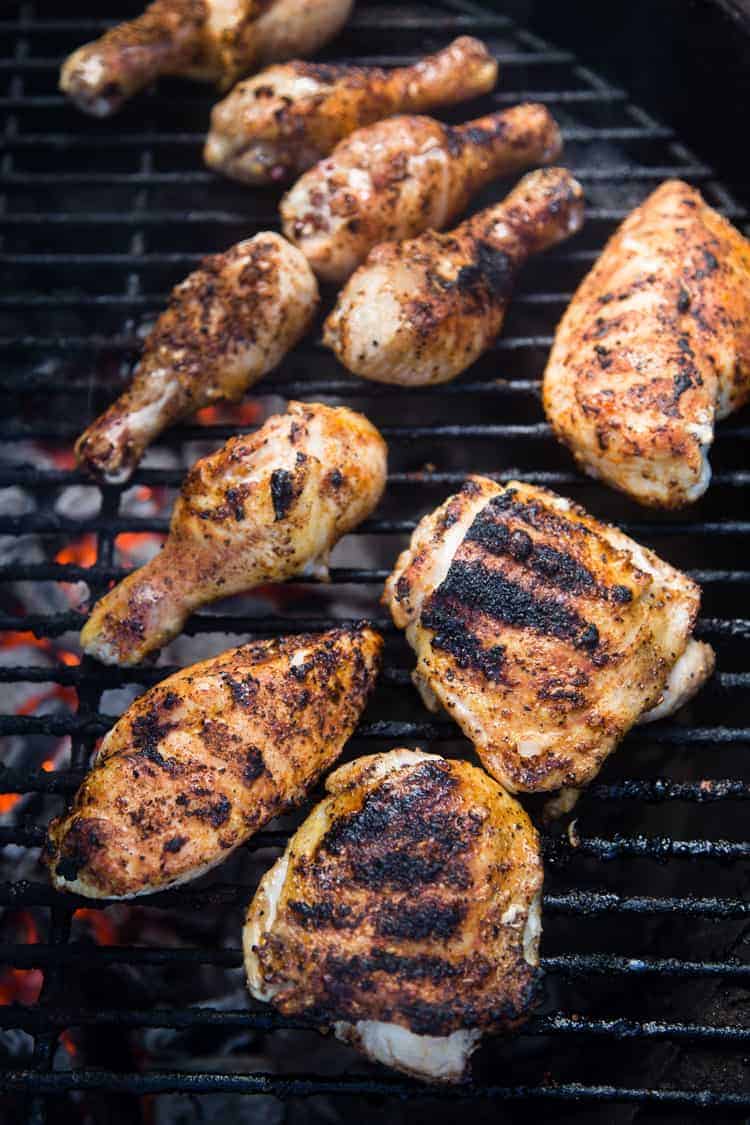 Place chicken skin side down over the direct heat for the initial sear. Grill chicken breast for 5 minutes or until you see nice grill marks. Flip and grill chicken breasts for additional 5 minutes over direct heat until you get nice grill marks.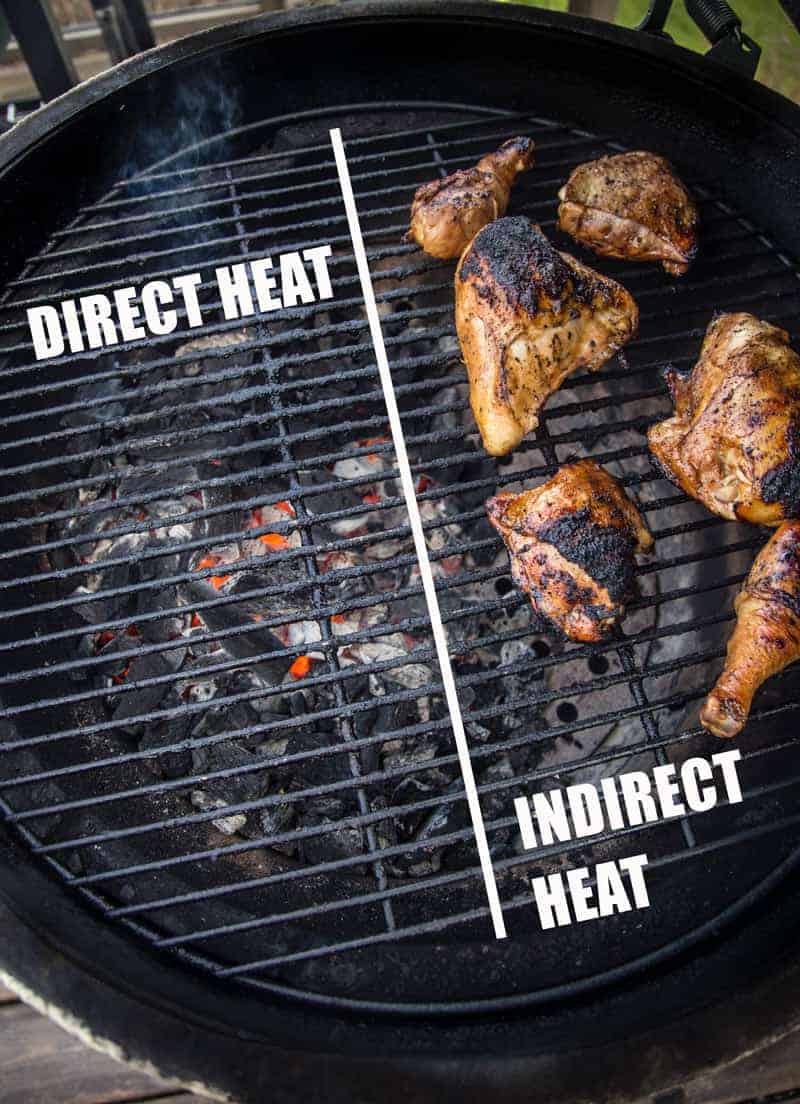 Move the chicken to indirect heat, close the lid and finish grilling until it reaches the proper internal temperature for chicken which for us is 155 degrees Fahrenheit and letting it rest to allow carry over cooking to finish cooking.
The grilling time will vary based on the thickness of the chicken breasts which is why it's best to cook to temperature and not time using a good instant-read thermometer.
Direct and Indirect cooking process is having the charcoal or heat source on one side of the grill for searing, and the other side with no charcoal or heat source. This allows the next important technique, to sear the chicken over the direct heat on your grill grates getting the crust on each side, and then moving to indirect heat to finish to the desired internal temperature. This is the key to perfect grilled chicken regardless of what cut you use.
Why does the direct indirect method matter? Because as high heat sears the chicken, the fat from the chicken will render out faster and drip into the coals. This can cause flare ups that send large flames and potentially burn the chicken, creating the crusty dark burnt skin, while still having an under-cooked interior. After searing the chicken to your desired crust, moving the chicken to indirect prevents the fat from causing flare ups and roast like an oven.
Have a gas grill? Unlike a charcoal grill, you can lower the flame. That said, it is still easy to use this method with a gas grill to avoid burning the chicken, even with a lower flame.
Thermoworks has a very detailed article about the nuances of internal chicken temperature and how long it needs to be held for safe cooking using USDA pasteurization tables.
The other thing to consider is that chicken thigs and drumsticks actually have better texture if you take them to an internal temperature of 175 degrees F. This allows for a better texture because more of the intramuscular connective tissue breaks down.
Tools
In order to get the most accurate temperature you need an instant read thermometer. This is one of the key grill tools needed for anyone cooking outdoors (or indoors for that matter). Our go to instant read thermometer for chicken is the Thermoworks Thermapen MK4. The probe is easy to use, it is virtually instant and most important, we can slowly move the probe through the chicken so we see the range of temperature and pull at just the right time.
The benefit of cooking separate chicken pieces is that you can take the temperature of each cut and pull each piece when it reaches the optimal temperature since each cut and each piece will finish at different times.
How to take the temperature of chicken
As you pass the thermometer through the chicken, you are always using the lowest temperature as the target, and making sure to insert the probe into the center of the thickest part of the meat, not touching bone. For an entire roaster chicken you will temperature in multiple locations for the most accurate read.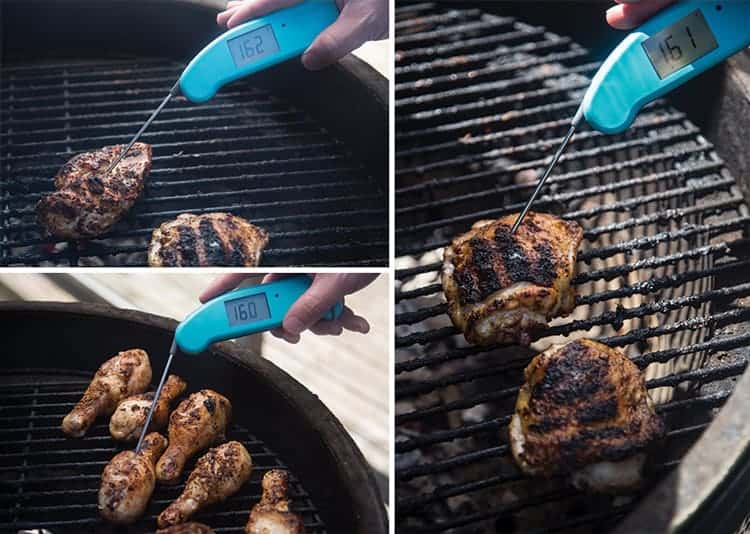 Sauces and Glazes
Glazes are simply a barbecue sauce added while cooking meat. Sauces or glazes should also be added at the end of the grilling. Why? If adding a glaze or a sauce to chicken too early, the crispy skin will absorb the liquid and get gummy and over direct heat it has a higher chance of burning.
To maintain the crispy skin and bite, add the glaze in two steps. First when the chicken is at 150 degrees F (because we are pulling at 155), and then glaze a second time just after you pull the chicken off the grill and let it rest. The sauce will firm up and still keep the texture of the skin crispy.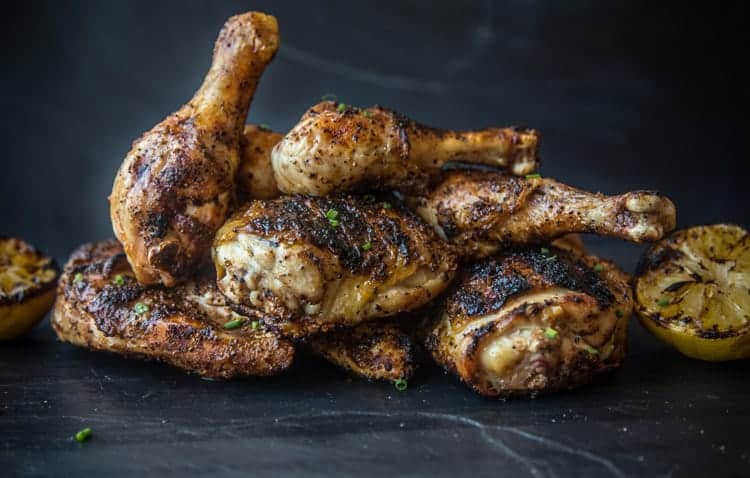 Frequently Asked Questions
How to keep chicken from sticking to the grill?
First, start with a clean grill grate. Apply a high heat oil to the grill if you would like prior to cooking or heating. As the meat sears, it will reach a sweet spot where it will lift right off the grate. Dirty grates cause sticking, so after every cook, get into the habit of brushing the grill off.
Should I marinate Chicken?
Marinating chicken is personal choice and can add additional flavor. It can be as simple as Italian dressing, or a homemade chicken marinade. Either way, the same cooking technique applies. When marinating chicken, we recommend marinating anywhere from 3-6 hours, using smaller cuts (like cubed chicken pieces, our pounded chicken breasts).
Bone-in vs Boneless Chicken
Bone-in chicken holds everything together and, for chicken breasts, acts as a heat shield (acting as a barrier between the meat and the heat source). When possible, we prefer to cook bone-in chicken. If you are opting for boneless, just be aware the meat will likely cook faster than bone-in.
How long does it take to grill chicken
It depends on the individual piece and size. Generally the chicken breasts will cook in 20 – 25 minutes total. Other factors that will increase or decrease chicken cooking time include how hot your grill is, how close to the fire it is, or how much chicken you pack into the grill.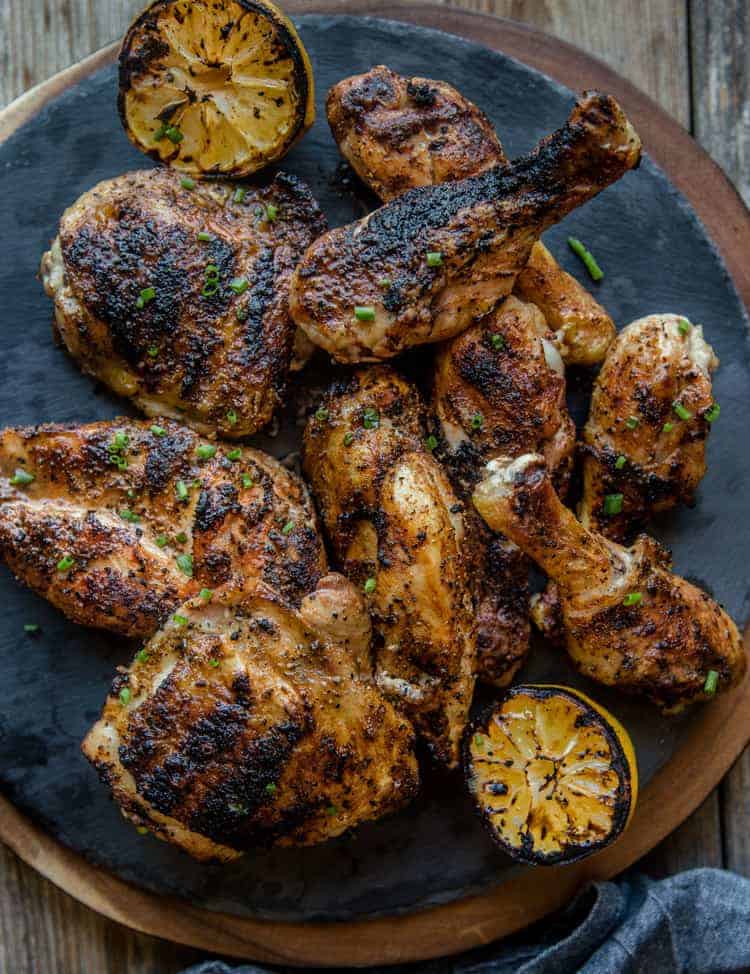 ---
More Grilled Chicken Recipes
---
Tried this recipe? Give us a start rating and we would love to see! Mention @vindulge or use the hashtag #vindulge on all the social media handles. And consider subscribing to our newsletter where we drop all our favorite ideas and inspirations every week.
*This post contains affiliate links for the ThermoWorks Mk4 Digital Thermometer. We only recommend products we use and love! And we use these thermometers use regularly and consider them an integral part of successful grilling.
---