In lieu of a BBQ lesson this week we have an important announcement to make.

By contributing writer Sean "The Hubby"
There is a fine line between obsession and passion.  At least, that's what I think.
I'll admit that my passion for quality barbecue and obsession with the right tools and ingredients are what guide me.  To that end, I wanted to share a new tool in our barbecue repertoire — The Yoder Chisholm trailer…I mean smoker….I mean trailer smoker.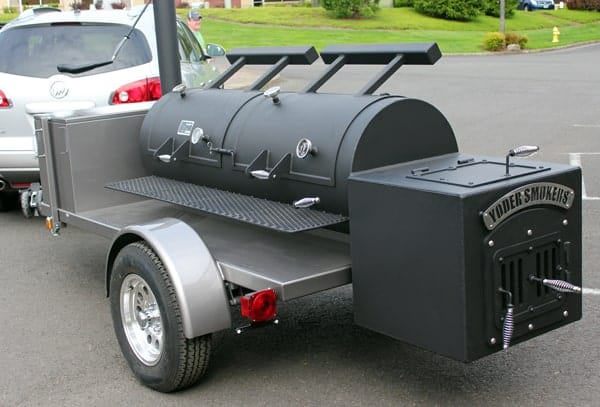 Yes, it is big.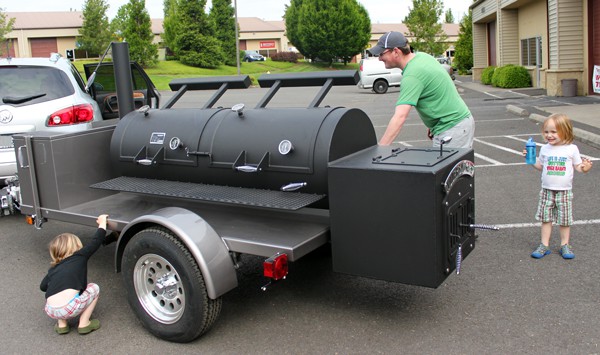 (my future pit masters and me, checking out the new machine)
When you think big, you have to go big.  This smoker is an offset smoker out Kansas, manufactured by Yoder.  Built with solid steel and with 3,000 cubic inches of cooking space, it allows me to start cooking for large groups and at some point competition Q.
My wife thinks I'm crazy, but I think deep down she knows I have big plans for this big machine.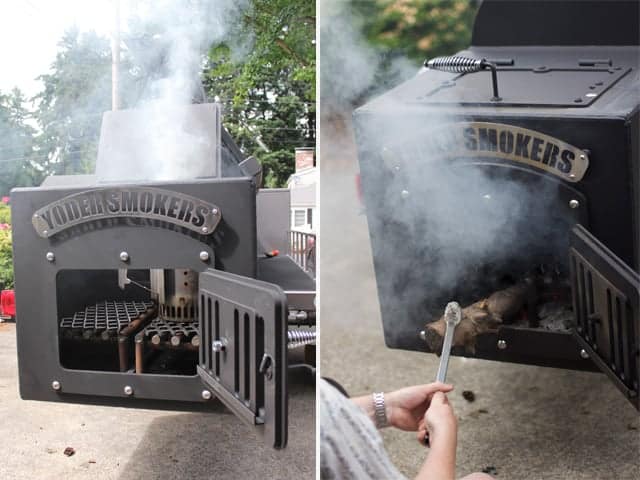 When using these types of smokers, whether large or small, it uses the basic indirect cooking method.  Add the wood and coal into the firebox, and control the heat and temp through the vents.  The venting allows air in the fire box, through the cooking chamber and then out the smoke stack or vent.
There are so many types or styles of smokers, from reverse flow to the Green Egg.  Because I like to cook low and slow, this style of smoker works best for me right now.
Do you need to upgrade your smoker? No.
Have a charcoal grill?  Try adding favor by adding wood chunks to your fire.  Wood can come as chips, chunks or logs.  Essentially to add flavor and a slight smoke, you can use the wood chunks with your charcoal, let them burn down like charcoal and that adds flavor to your cooking.  With a gas grill I wouldn't recommend wood chunks, stick with wrapping wood chips in an aluminum foil pouch with holes in it.
As I experiment more with all types of smoking I will be able to elaborate further on various techniques.
Catering & Events
As a part of my commitment to my new smoker (and a promise to my wife to not let this sit in the garage and develop dust like the Bowflex I bought in 2002 and never, ever, ever, used), I've decided to take this show on the road.  Friends have always had great things to say about my barbecue, now it's time to get feedback from complete strangers.
My first event is coming up this weekend in Hood River, Oregon.  On Sunday, June 8th
Please join me in debuting the new smoker at the Boda's Kitchen two-year anniversary.  It's the perfect excuse for a day trip to the greatest little town in Oregon, or if you happen to have a ton of frequent flier miles burning a hole in your pocket.
The Event
Date:  Sunday, June 8th from 12:00pm – 5:00pm
Location:  Boda's Kitchen (404 Oak St, Hood River, Oregon 97031)
Details:  This public event (aka party!) will take place in the parking lot behind Boda's Kitchen.  There will be live music, beer and wine garden, and killer barbecue!
More Info: Check out Boda's Kitchen Facebook page for updates.
Come join me, our good friends at Boda's Kitchen, and my mini-pitmaster-assistants and check out the newest member of our BBQ family.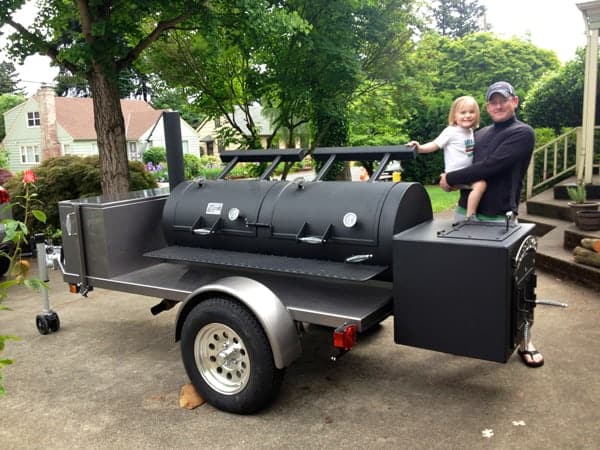 I am looking forward to test cooking all summer long and sharing some of those experiments here! Please let me know what you want to see.  We'll smoke anything (well, almost). We even christened the new machine by smoking up strawberries. Yes, strawberries. See the recipe here.
About the author:

Business by day, BBQ by night. Father of twin toddlers. Husband of the author of this awesome blog.  Fan of PBR.

*****