The Big Green Egg is one of the best kamado style grills on the market. In this post we reviewed the XL model, from smoking low and slow, grilling, and even baking. It's one of the most versatile grills and smokers out there.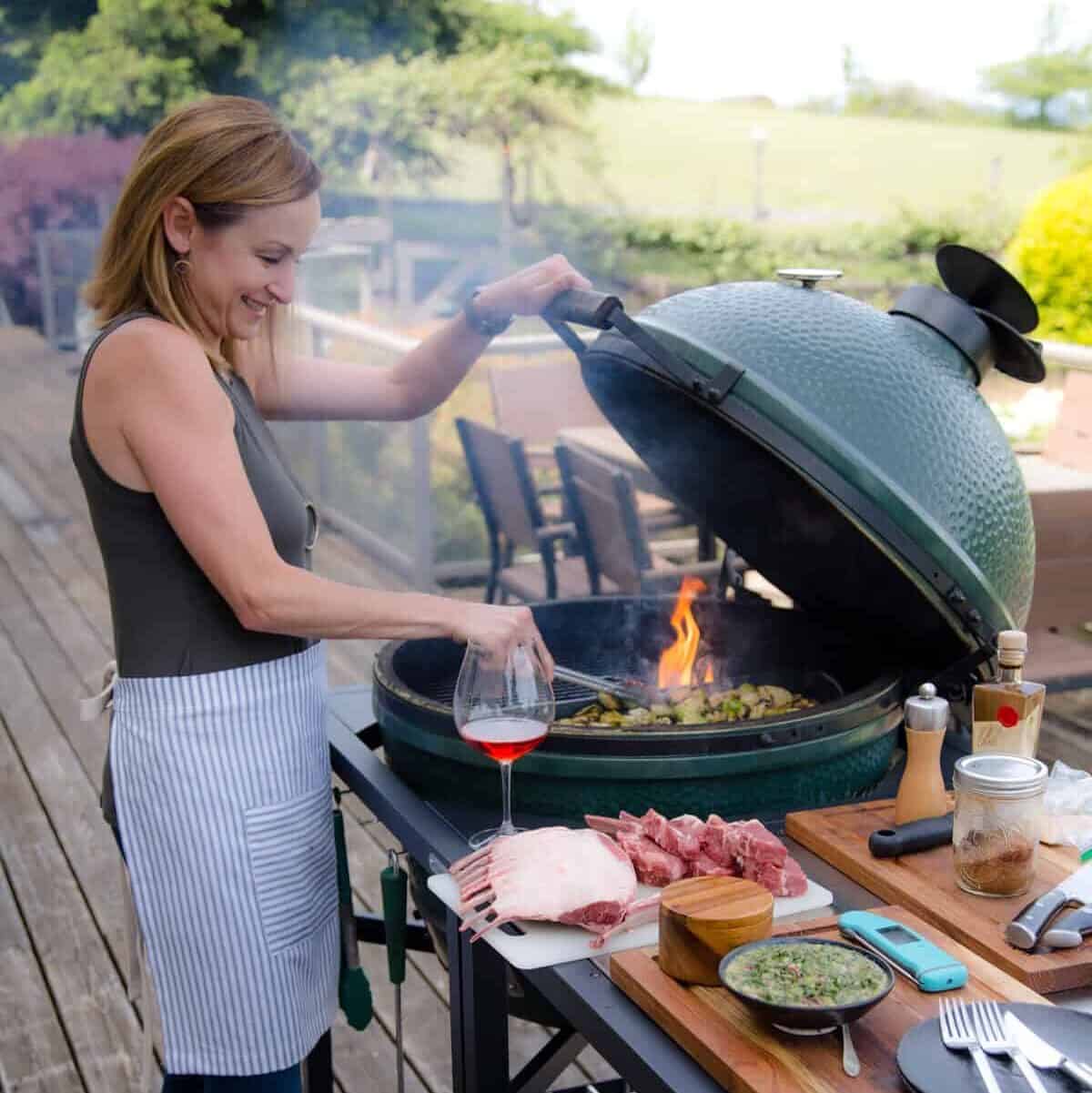 Jump to:
There is a reason enthusiasts often say they will be "Egging" over the weekend. It's not just a hobby for those who own one, it's become a culture for those who love the Big Green Egg.
The Big Green Egg is known for its distinctive shape, distinct green color, and superior cooking quality, the brand offers an array of products for grilling, smoking, and even baking. But, the product we're focusing on specifically today is the Big Green Egg XL, though we've used all sizes that they come in.
A giant leap in size (and price) from the classic small or medium-sized options, the XL offers more cooking space and possibilities. So, let's delve deeper into the world of the Big Green Egg XL.
Overall Impression
Pros
Cons
– Versatile – Will bake, grill, and smoke low and slow.

– Efficient – Will save on fuel cost in the long run with superior heat retention.

– Durability – The BGE can withstand weather of all type if properly cared for throughout the year.
– Price – Expensive compared to peer grills and smokers.

– Learning Curve – If you let the heat exceed your goal it is hard to get the BGE to cool down. It takes some time to learn how to control the temperature properly.

– Heavy – Unless you buy the smaller models, it's heavy to move.
Background of Big Green Egg
The Big Green Egg company's origin traces back to the mid-1970s when founder Ed Fisher first encountered the domed clay cookers while living in Asia. These traditional 'kamado' cookers, which have been used for thousands of years in Japan and China, inspired him with their excellent heat retention and versatility.
Upon returning to the US, Fisher was frustrated with the poor quality and performance of American-made grills. Fisher imported these unique ceramic grills and established the Big Green Egg company in Atlanta, Georgia, in 1974. The company has since evolved, improved, and grown, with their iconic green, egg-shaped grills becoming a favorite amongst outdoor cooking enthusiasts worldwide.
Design and Build Quality
The first thing you'll notice about the Big Green Egg XL is its iconic green 'egg' shape, a design principle the brand has upheld throughout its range. This kamado-style grill is made from high-quality ceramic, designed to withstand extreme temperatures and deliver excellent heat retention.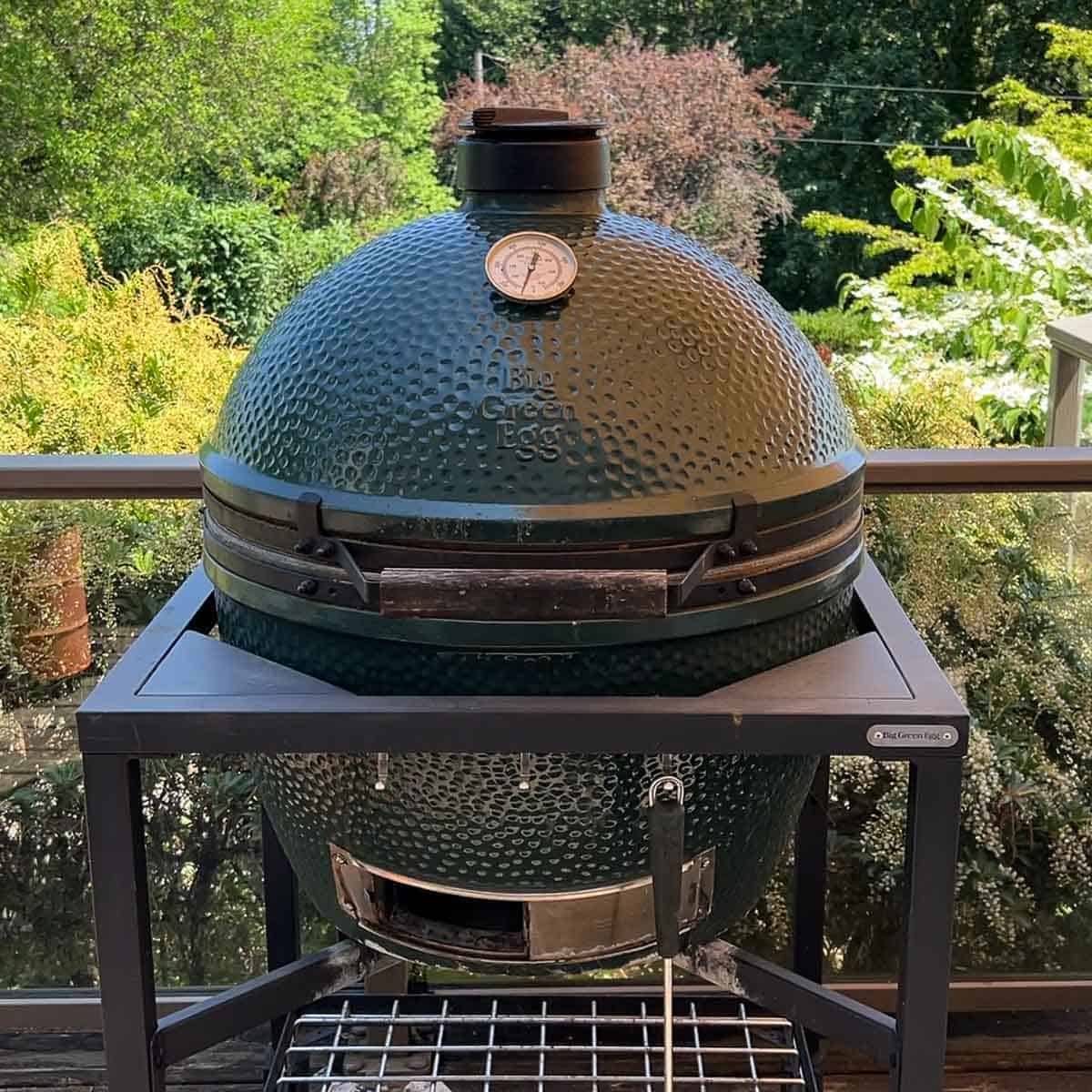 The XL is designed to accommodate large families and gatherings, providing a cooking area of 452 square inches. This translates to enough space for around 24 burgers, 12 steaks, or a couple of full-sized turkeys. There is also a modular system with two levels to expand the cooking area.
Despite its size, the Big Green Egg XL doesn't compromise on the aesthetics or build quality. The heavy-duty construction is made to last, while the spring-assisted lid makes opening and closing the grill easy, despite its weight.
Performance and Versatility
Where the Big Green Egg XL truly shines is its incredible performance and versatility. This is more than a barbecue; it's a smoker, grill, and oven all rolled into one. With the ceramic material, the Egg can maintain low temperatures for over 18 hours for slow smoking or heat up to more than 750°F for searing steaks (although we rarely get it over 650°F).
The patented air flow control system allows for precise temperature control, making it simple for even novices to regulate cooking conditions. Whether you're looking to smoke a brisket, grill burgers, bake pizzas, or even smoke a turkey, the Big Green Egg XL can handle it all.
For those with pellet grills looking to upgrade to a charcoal smoker, the Big Green Egg is the most efficient grill or smoker in terms of holding temperature and fuel efficiency. It's so efficient you can close down the vents and reuse the charcoal.
Ease of Use
The Big Green Egg XL is straightforward to use. The adjustable dampers both on the base and on the top make it simple to control temperature, and the built-in thermometer helps you monitor the heat level without opening the lid. Airflow coming into the cooking chamber from the bottom vent and acts like a convection oven moving through the chamber and out the upper vent.
Grilling: With the vents open wide you can achieve grilling, or hot and fast, temperatures for grilling, like our grilled cowboy ribeye.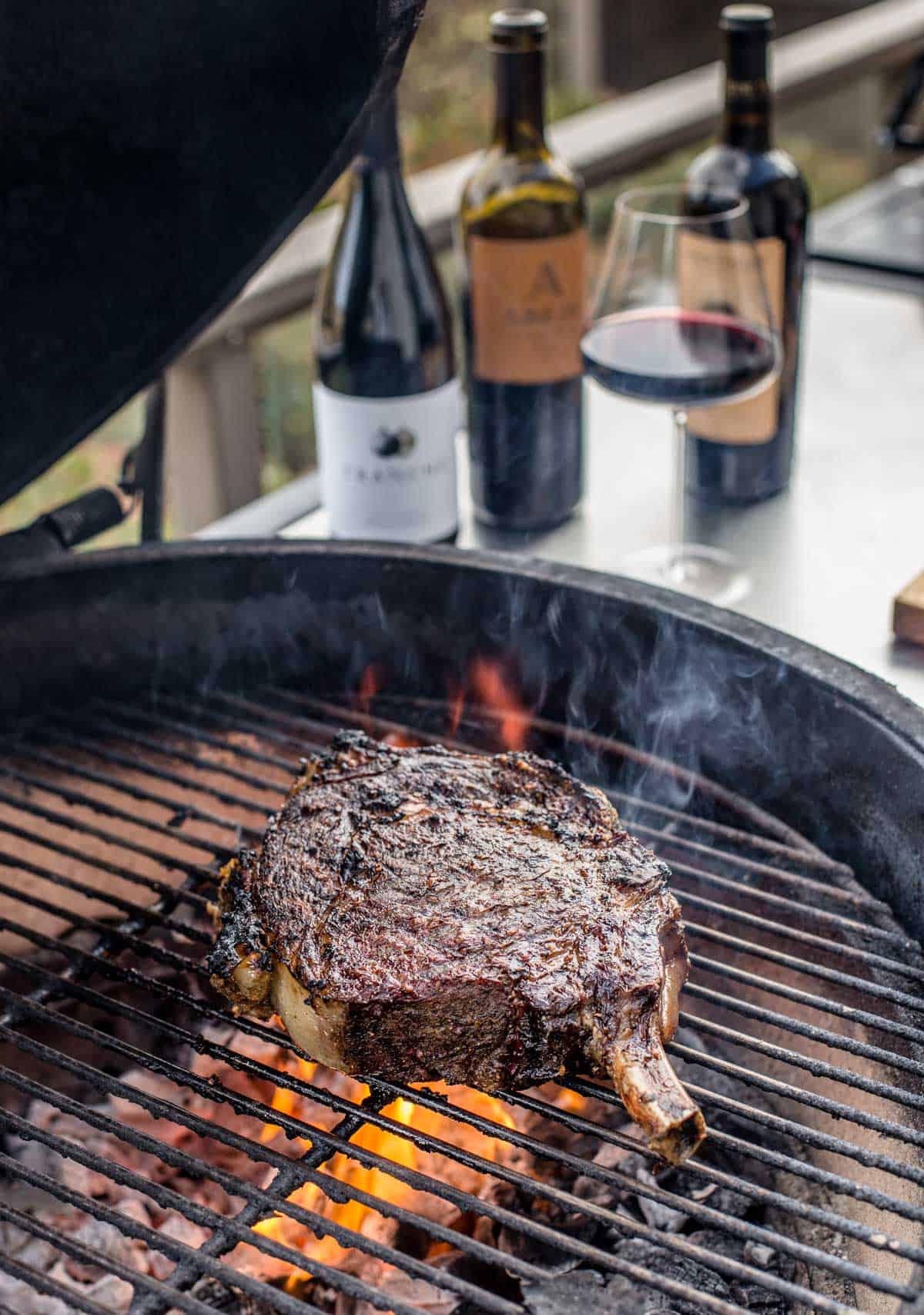 Pizza and Baking: With the ConvEGGtor plate and a pizza stone you can bake pizzas or bread.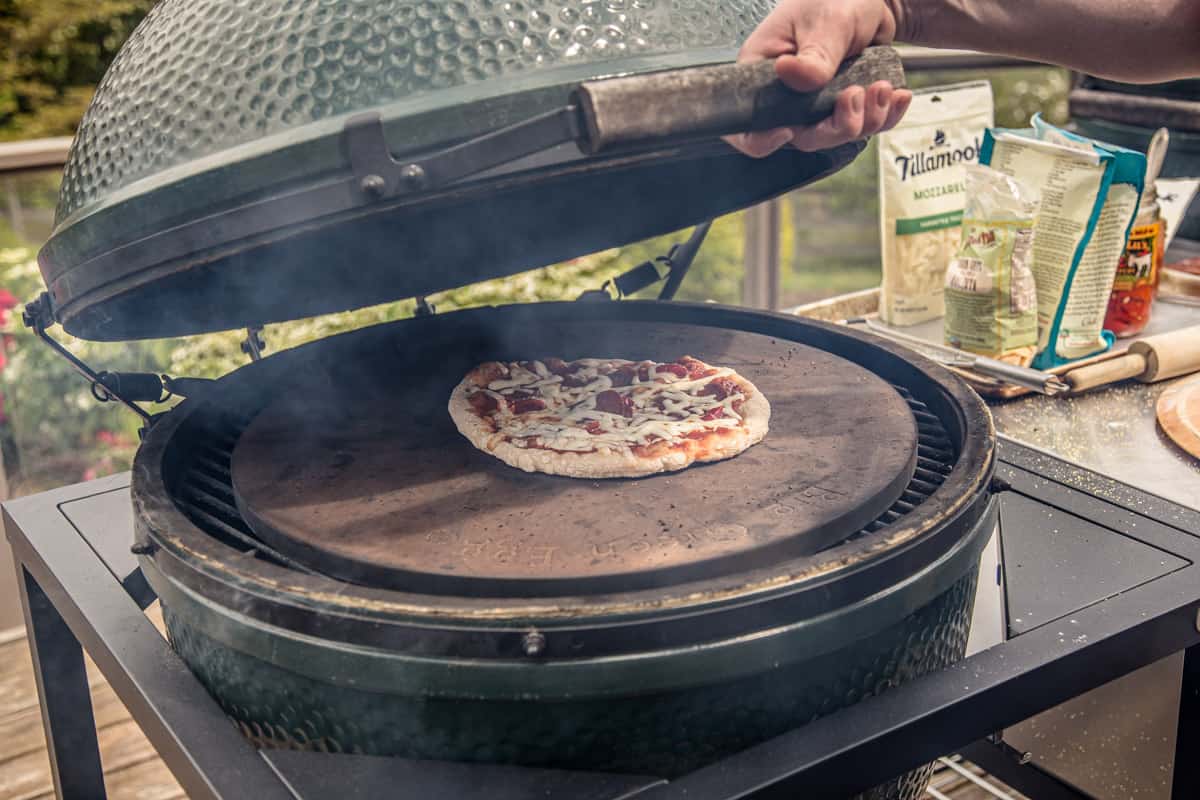 Smoking Low and Slow: With a specific start up sequence, you can manage low temperature by keeping the vents slightly opened or using the Egg Genius tool like with our smoked ham with cherry bourbon glaze.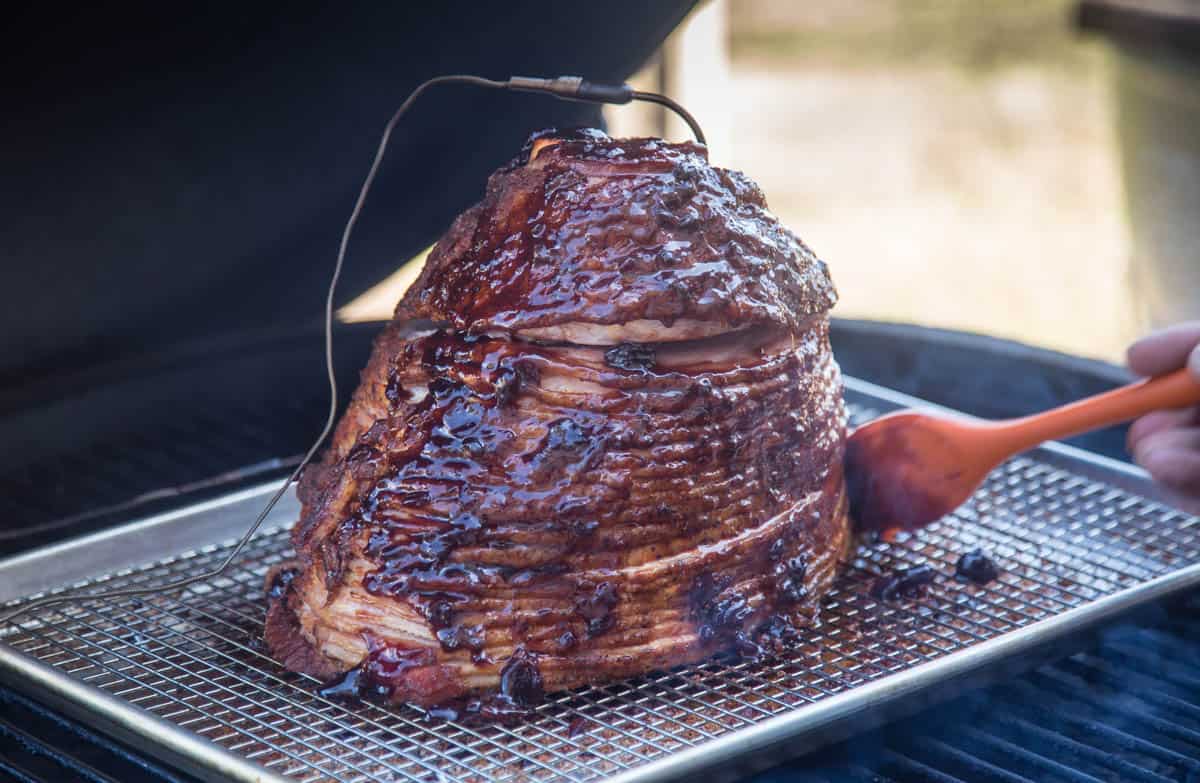 Cleaning is relatively easy too, thanks to the self-cleaning feature, akin to a traditional oven's self-cleaning cycle. By increasing the temperature to a high level, it burns away any residue inside.
Price and Value of Big Green Egg
The Big Green Egg XL is not the cheapest option on the market; it's an investment. But what you get for your money is a high-quality, versatile outdoor cooking solution that will last for many years. This is a premium product, and it justifies its price tag with the sheer quality, performance, and durability it offers.
We recommend that you search multiple dealers in your local market to find the best price and bundles.
It's strongly recommended that you purchase a nest for the BGE to sit atop, and the convEGGtor plate so you can take advantage of the smoke feature. If using in an outdoor kitchen be sure that the Egg rests atop a fire safe concrete paver to allow the heat to dissipate from the egg into the paver.
Big Green Egg Models and Approximate Retail Price
Note that prices may vary and cooking space is with a single grate. You can use the EGGspander kit on many of the models.
| | | |
| --- | --- | --- |
| Model | Approximate Cooking Space | Approximate Retail Price* |
| Mini | 79 square inches | $399 |
| Mini Max | 133 square inches | $699 |
| Small | 133 square inches | $999 |
| Medium | 177 square inches | $1,099 |
| Large | 262 square inches | $1,299 |
| XL (Extra Large) | 452 square inches | $1,499 |
| 2XL | 672 square inches | $2,199 |
*Prices vary between dealers and packages.
While the cooking space on the Small versus the Mini Max is the same, we strongly encourage you to consider the Mini Max. It's more portable and has a great stand accessory making it perfect for beachside, camping, or as a high heat model to supplement your larger egg.
Popular Accessories
Big Green Egg offers a wide range of accessories to enhance your grilling experience and make your cooking process more comfortable and versatile. Here are some popular accessories you might consider:
Egg Nest: The EGG Nests are designed to raise your Big Green Egg to a comfortable cooking height while allowing for easy mobility. There are many options from a basic nest to full on custom tables. The tables and nests are all very sturdy and well built. You should strongly consider any type of nest system with wheels to make it easier to move.
Plate Setter / ConvEGGtor: This accessory allows your Big Green Egg to function as a smoker and oven, enabling indirect cooking which is great for smoking and baking. We strongly recommend you buy the ConvEGGtor if it isn't included in the bundle to get the most out of the grill.
Egg Mates: These are essentially side shelves that provide extra workspace right where you need it.
Pizza and Baking Stones: The baking stones turn your Big Green Egg into a fire-brick oven, perfect for making pizzas, breads, or other baked goodies.
Cast Iron Cooking Grids: These are perfect for searing meats and locking in the juices for a delicious crust.
EGGspander Kit: This multi-level rack allows you to cook different foods at different temperatures at the same time, maximizing your cooking capacity.
Ash Tool: This simple tool makes it easier to clean out the ashes from your Big Green Egg. There are also many aftermarket options.
Grill Gripper: A helpful tool for safely and easily handling hot cooking grids.
Egg Covers: These protect your Big Green Egg from the elements when it's not in use.
Thermometers: Accurate temperature readings are vital for grilling, smoking, and baking, and Big Green Egg offers several thermometers for this purpose. This includes the Egg Genius which is helpful for maintaining consistent temperature when cooking low and slow.
Please remember, the prices and availability of these accessories can vary, so it's best to check the Big Green Egg's official website or your local retailer for the most current and accurate information.
Where to Buy a Big Green Egg
If you're interested in purchasing a Big Green Egg, there are several options available to you:
Official Big Green Egg Website: You can purchase some items from the website and have it delivered to or by a local dealer.
Authorized Dealers: Big Green Egg has a wide network of authorized dealers around the world. These range from dedicated Big Green Egg showrooms to garden centers, patio stores, and even some specialty grocery stores.
Eggfests: Often, you will find Big Green Egg products on display and for sale at regional Eggfests. You can often save a fair amount of money when purchasing them from these events.
Online Marketplaces: Some online marketplaces like Amazon may carry Big Green Egg products. However, it's essential to verify that the seller is an authorized dealer to ensure you're getting a genuine product and to validate the warranty.
Before purchasing, always ensure you're buying from an authorized dealer. This not only guarantees the authenticity of your Big Green Egg but also ensures it comes with the full manufacturer's warranty, offering peace of mind with your purchase.
It's also worth noting that prices can vary between different sellers and locations, so it's worth shopping around to get the best deal. Always consider shipping and handling costs if you're buying online – due to the size and weight of Big Green Egg products, these can be significant.
Overall Impression
The Big Green Egg XL is an impressive piece of cooking equipment. It combines superior construction with exceptional versatility and performance. For anyone serious about their outdoor cooking, it's certainly a worthwhile investment.
You're investing in a grill, smoker, and oven, with top-of-the-line temperature control and excellent build quality. Be sure to take that into consideration when comparing to similar priced grills like higher end pellet grills or offset smokers.
For those who love to cook, entertain, or just enjoy the process, the Big Green Egg XL offers the ultimate in outdoor cooking experiences and is the most efficient of any backyard grill and smoker.
Who is a Big Green Egg For
If you are looking to upgrade from a kettle grill for more efficiency and grill space.
If you have a pellet grill and want a charcoal based cooker that can smoke, grill, and bake.
If you are looking for a multi tool of grilling for an outdoor kitchen.
If you have limited space and want one grill that can almost anything live fire.
When assessing the size, you should consider getting the next size up from what you need if you are looking to do larger roasts like smoking a full brisket.
Other Resources
Frequently Asked Questions
What is the life expectancy of a Big Green Egg?
With proper Big Green Egg care throughout the year a Big Green Egg will last for decades. For long periods when it won't be used be sure it's cleaned out properly and covered.
Does the Big Green Egg have a lifetime warranty?
There is a limited lifetime warranty for the Big Green Egg models. Supply your purchase receipt to a local authorized Big Green Egg dealer to start your claim process.
Does a Big Green Egg burn wood pellets?
No. The Big Green Egg burns charcoal and wood only using convection and airflow. It is not intended to burn pellets and does not require power.
Can you use the Big Green Egg in the rain or snow?
You can use your BGE in the rain or snow and can also purchase the rain cap accessory. The ceramic and design make it an incredibly efficient grill in any weather from hot to cold.
---
Mary (a certified sommelier and recipe developer) and Sean (backyard pitmaster) are co-authors of the critically acclaimed cookbook, Fire + Wine, and have been creating content for the IACP nominated website Vindulge since 2009. They live in Oregon on a farm just outside Portland.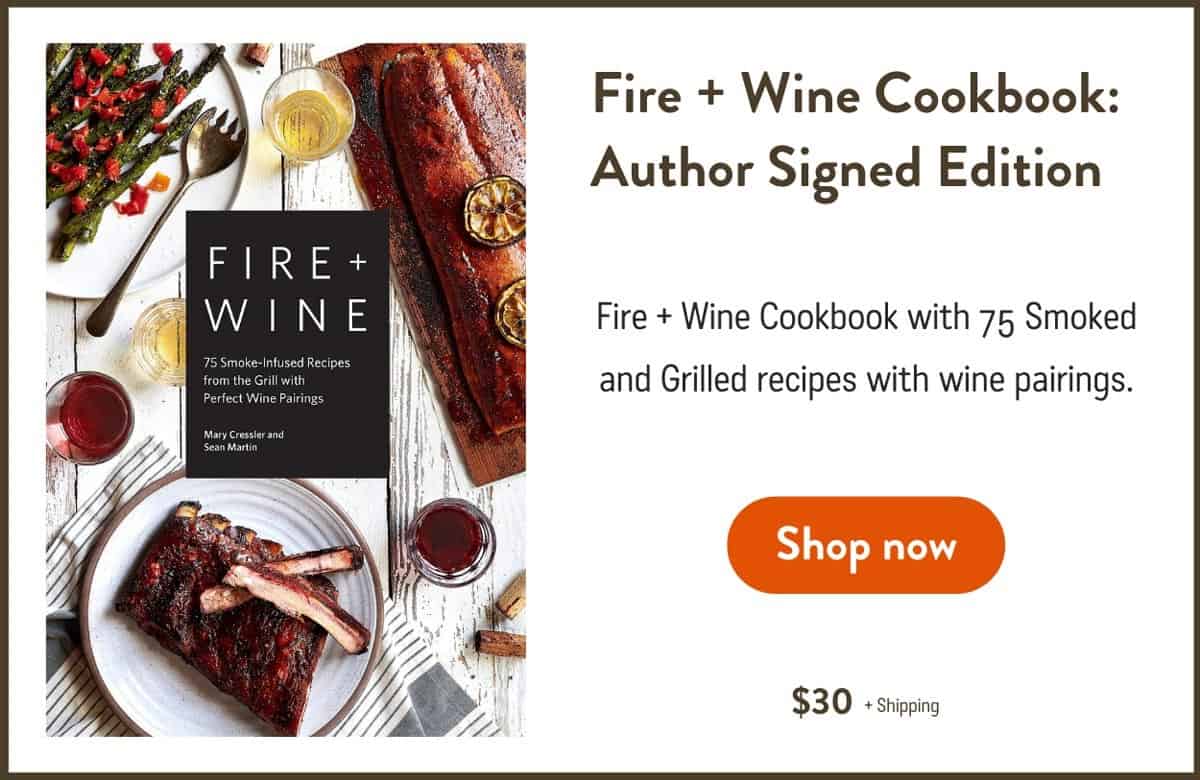 This post may contain affiliate links. This means if you click on the link, we may receive a small commission if you purchase through the link. We partner with brands we know and love and use and it helps keep the blog going!