Looking for some last minute gifts for your friends, neighbors, co-workers, or host gifts this year? Or perhaps looking for some budget friendly gifts for the food lovers on your list? Here are some of our favorite edible gifts to give this holiday season.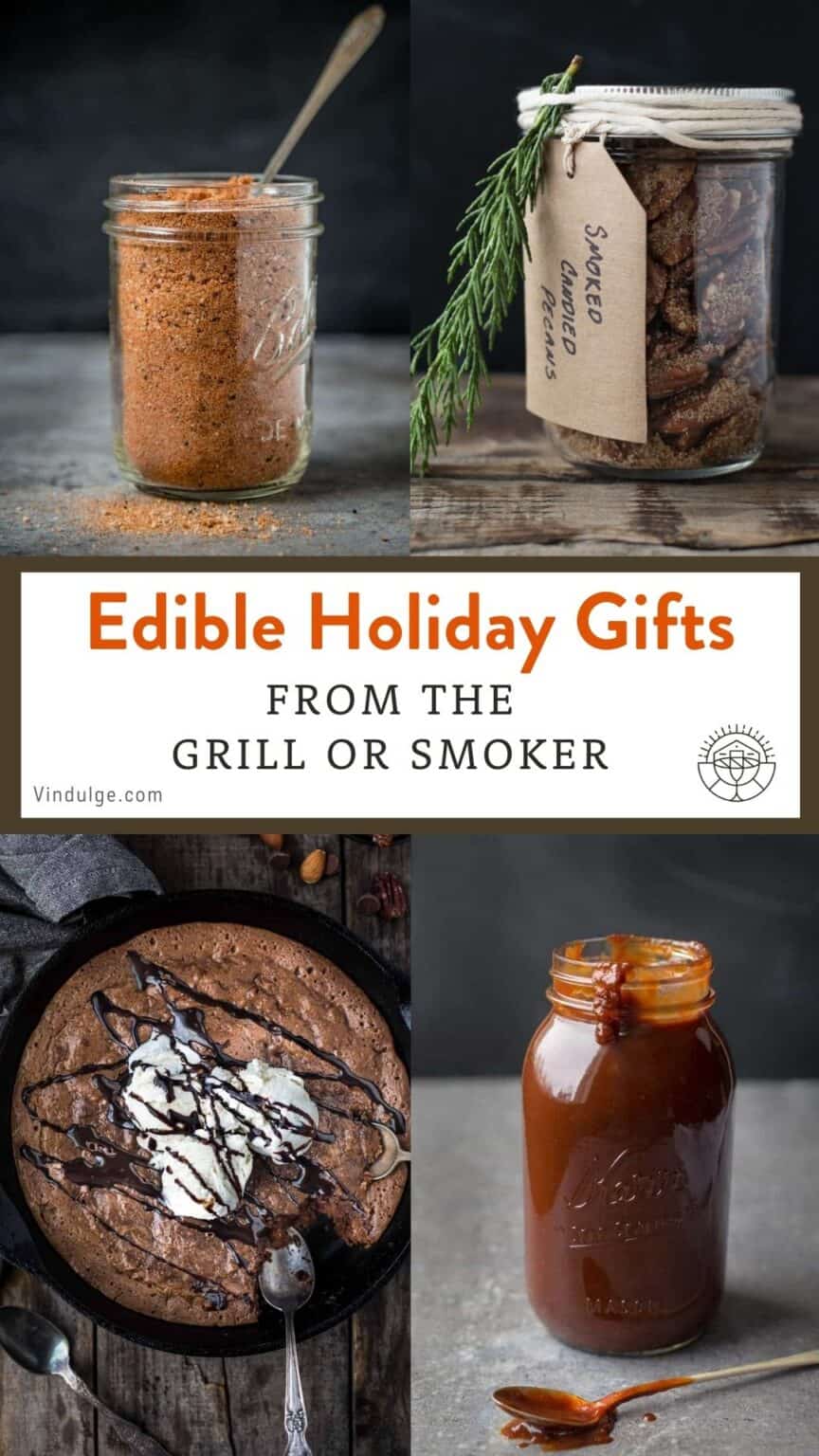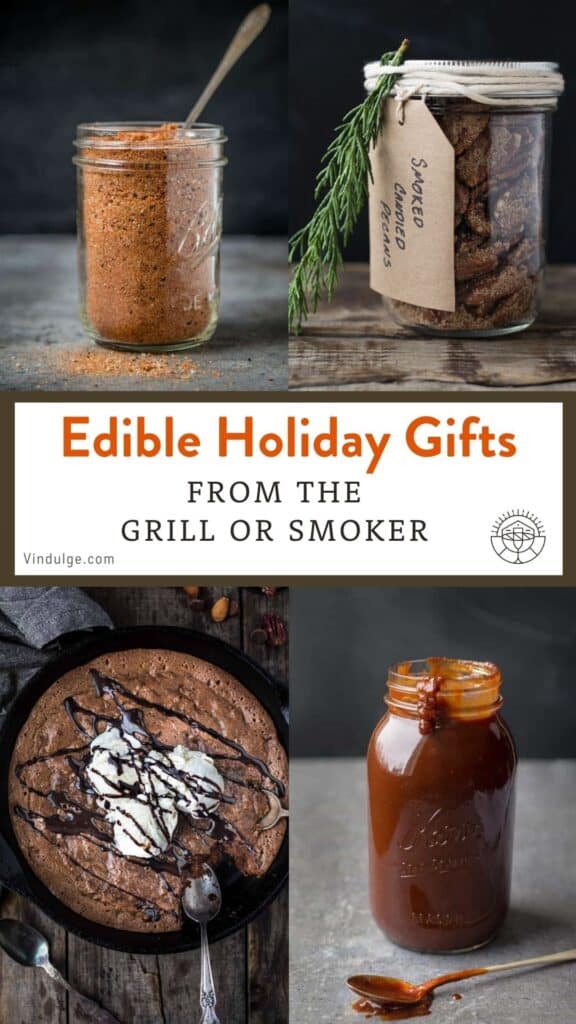 Edible gifts make for excellent additions to any gift basket. These are great for anyone on your list, from neighbors, to host gifts, to teachers, to your friendly postal workers, or co-workers. You can combine them with a bottle of wine, or a gift card to a butcher to elevate the gift.
From smoked nuts, to dry rubs, sauces, and more. Here are a few of our favorites.
Jump to:
Smoked Nuts
All of these smoked nuts can be made in advance, and placed in a mason jar with a homemade label and added to any holiday gift basket.
Smoked Candied Pecans
These Candied Pecans are tossed in a mix of sugar and cinnamon, then slowly smoked giving them a great mix of sweet, savory, and smoky flavors that are sure to be a holiday hit! These are crunchy and sweet.
Smoked Mixed Candied Nuts
These smoked candied nuts are slowly smoke roasted and then finished with a sweet glaze making them crunchy, sweet, sticky, and mildly smoky.
Smoked Almonds
These almonds are slowly roasted in the smoker and have a slight bacon flavor and simply seasoned with kosher salt and extra virgin olive oil. One of my favorite healthy daily snacks!
Homemade Smoked Hazelnut Nutella
Smoked hazelnuts add incredible flavor to homemade Nutella, making a fantastic family friendly, yet smoky, treat! This is a fantastic edible gift for the chocolate lover!
Smoked Almond Butter
Homemade almond butter is super easy to make, but Smoked Almond Butter is not just easy, it's absolutely delicious!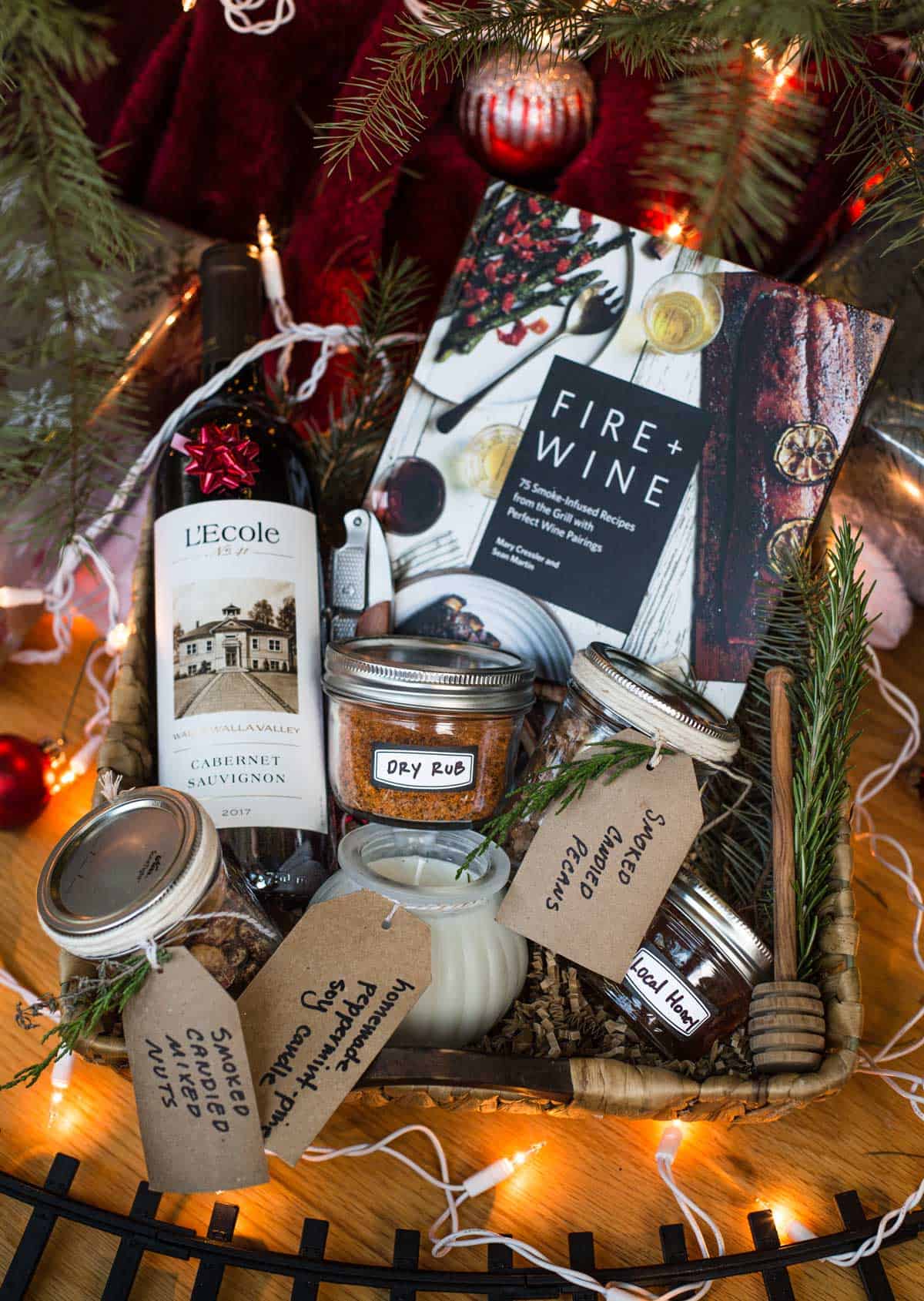 Homemade Dry Rubs
Dry rubs are a fantastic edible gift. If you're adding them to a gift basket, add a frozen steak, or gift certificate to a favorite butcher, so they are encouraged to start using the dry rubs right away.
Homemade BBQ Sauces
Make the set complete and add a jar of homemade BBQ sauce fo your gift basket. A great gift for the busy BBQ lover!
Sweet & Savory Treats
Skillet Brownies
This would be a great combo to prepare the brownie in the skillet (but let the recipient of the gift cook it). It's a dual, dessert + new cast iron pan gift!
Extra Virgin Olive Oil Chocolate Chip Cookies
Made with olive oil instead of butter, these dairy-free cookies taste rich and incredible.
Smoked Honey Butter
Make some smoked honey butter and roll it up in some plastic or parchment paper, or in a small mason jar. Add it to the basket with a baguette.
Chimichurri Sauce
Gift this in a small mason jar with a steak, or gift certificate to a butcher, and any steak lover would be very pleased!
Easy Blender Salsa
This recipe has been in my family for decades! Add a bag of your favorite tortilla chips for a great snack!
Fire Roasted Salsa
Made with fresh tomatoes roasted on the grill, this is another great treat.
Smoked Tomatillo Salsa
You could even make all three and add to a gift basket with a bag of chips. A salsa lovers dream!
---
More Holiday Gift Ideas