If you want a backyard pizza experience that mimics some of the best wood fired pizza restaurants in your town, the Gozney Dome is a winner. We've tested this over many cooks and have determined that this is a great pizza oven for a reasonable price that produces some of the best pizza (and other baked goods) compared to any other outdoor cooking device.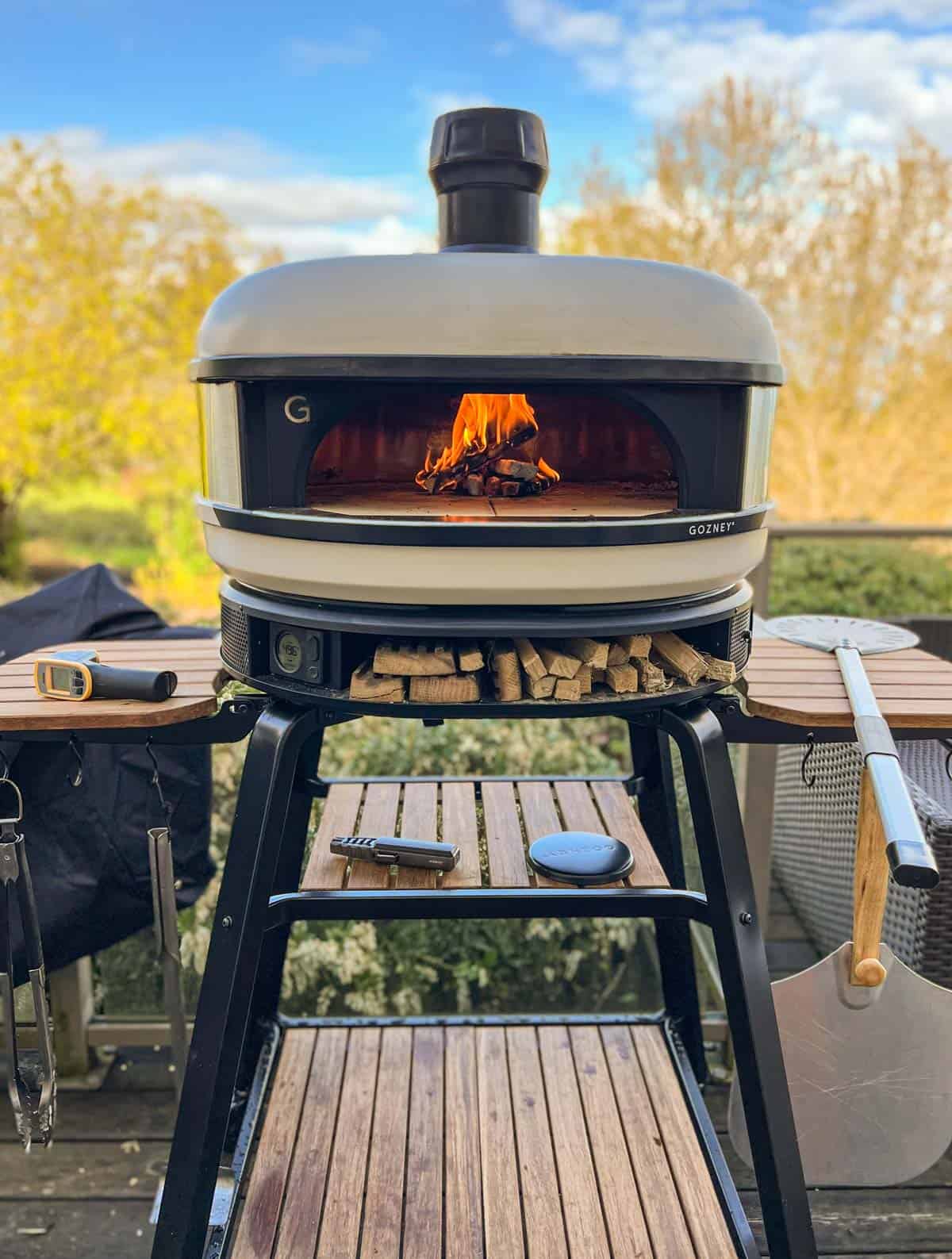 This post may contain affiliate links. This means if you click on the link, we may receive a small commission if you purchase through the link. We partner with brands we know and love and use and it helps keep the blog going!
Jump to:
There are a lot of new and great pizza ovens out there built as tabletop ovens. Units like the Ooni, Solo Stove Pi, or the Roccbox are easy to set up and easy to get started on. They are also priced just right as entry level pizza ovens. But when you want more cooking space and versatility you have to jump to custom ovens, which are often imported overseas with $3,000+ price tags and hefty shipping costs. The Gozney Dome steps in to fill that gap.
Model We Tested
We tested the Gozney Dome Wood Fired Oven as well as the Dual Fuel (propane) model. We recommend buying the dual fuel option so you have the best of both worlds if you go with this kit.
---
Pros
Achieves higher temperatures
Larger cooking space compared to smaller tabletop units
Maintains stable temperatures and the stone retains heat in between pizzas
Accurate digital thermometer
Beautifully designed
Wider opening than Roccbox or Ooni for easier access when making pizzas.
Cons
Attachments availability inconsistent
No cover included
Current inventory challenges (may take longer to receive product)
Stone has been known to crack if you don't temper the burn slowly
Heavy – Not portable
---
The Specs
Warranty: 1 year standard, 5 year warranty as well but note you have to register your product within 60 days of purchase. So snap a photo of the serial number (on the back of the Dome) and fill out the online form the day you get it.
Weight: 128 pounds, packaged 150 pounds
Floor Material: 30mm cordierite stone
Max Temperature: 950 degrees Fahrenheit as recommended by Gozney. (You don't need to go hotter than that to get a stone floor to 700 degrees).
External Oven Dimensions: 26" H x 24.8″ D x 28.8" W
Internal Oven Dimensions: 7.5" H x 18.5" D x 21.6″ W
Accessory Port: For cold smoker attachment (not yet out)
Digital Thermometer: Reads up to 1,000 degrees, has two ports and the unit comes with two probes. There is no WiFi options as of yet.
Gas Unit: Air Ventilation knob to control air flow and fire.
Where to Buy
Currently you can only buy the Gozney Dome online direct from their website (they have one for US and one for UK/EU. Or you can buy through a local dealer using their dealer locator. Retail price for the Dual Fuel is $1,799 USD and on occasion you can see deals with bundles or free shipping. Although that is rare so take advantage if you see it.
Unboxing
The Gozney Dome was sent via Fed Ex in two parts. One was the Dome and one was the Stand, and it was a challenge to get it. At first Fed Ex failed to load onto the truck when we saw it was shipped to the local warehouse and then the driver didn't use a hand truck to drop off at our studio because it's heavy. So when purchasing, consider buying from a local dealer, or being sure to account for any damage you may see to the exterior of the box before accepting it. There are some horror stories and videos of shipping that have nothing to do with Gozney and everything to do with Fed Ex.
In the box everything was well packaged. The dome itself was protected by a very stable foam insert, and the parts were safely tucked into various cardboard compartments. The stand came in a separate box at the same time as the Dome, and also well packaged.
It came with the tools needed to put everything together and the instructions were visually focused and easy to follow.
Check the stone for cracks, if a crack exists prior to seasoning it may have happened during shipping and be sure to follow up with Gozney for the warranty.
Set Up
For set up, we set it up with one person, but needed two people to safely put the dome onto the stand. I recommend when you put the unit together, put it together where you want it, because it minimizes how many times you have to pick it up.
Once the dome was securely placed on the stand (it has a bolt and screw that connects the dome to the stand) we put batteries in the digital thermometer and got started with the pre-seasoning.
Seasoning the Dome With Wood
One of the most common complaints we have seen is people who fired up the dome and did not season (or cure) the stone. Gozney in the literature was very clear that for your first time, you need to slowly warm the oven in stages to temper the cordierite stone. If you don't do this, you run the risk of shocking the stone and creating cracks.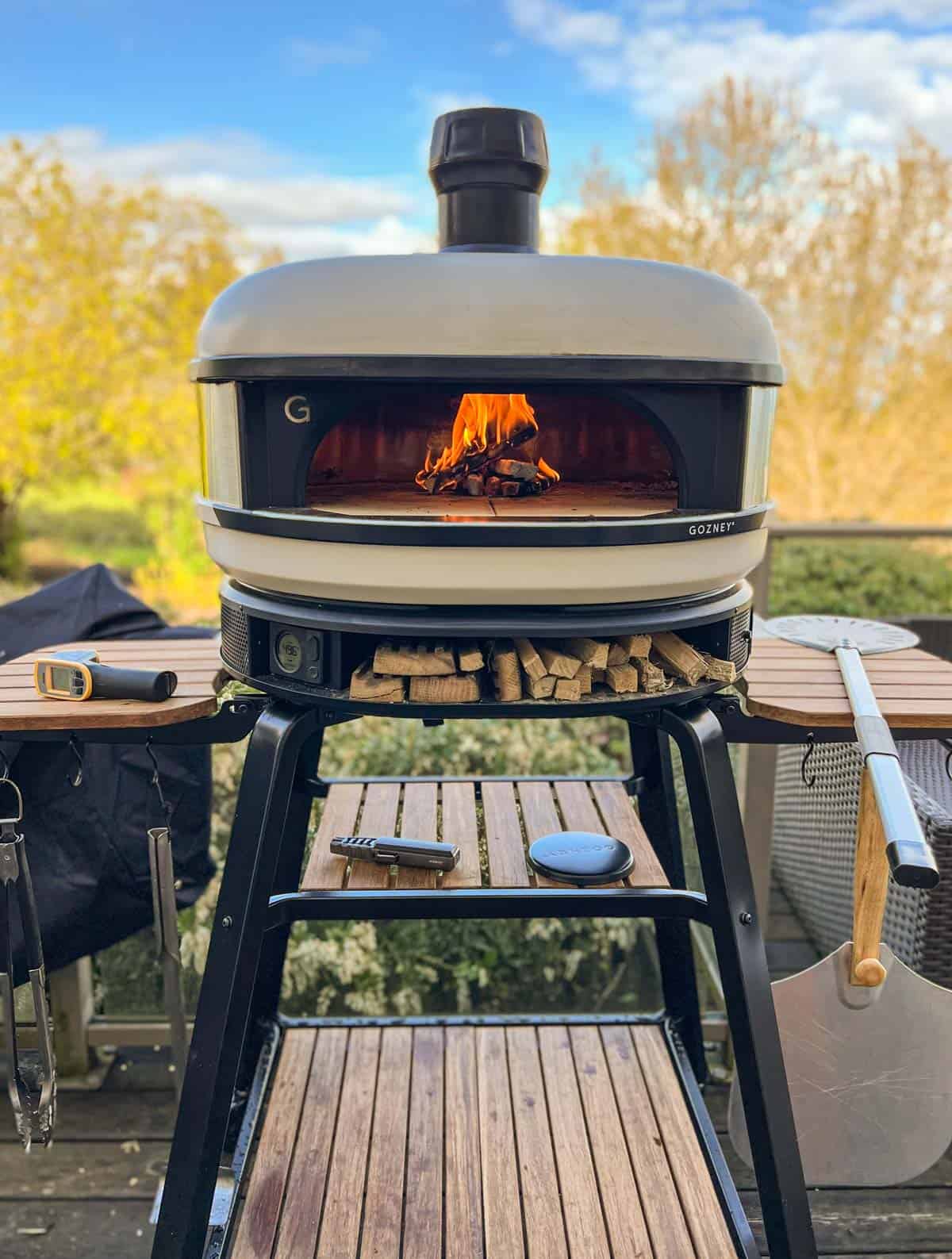 Because we had the wood unit, we started with a small fire in the center of the Gozney Dome. After 30 minutes of feeding the fire and holding at roughly 300 degrees Fahrenheit (F), we moved the fire to the left side of the Dome. We burned at 500 degrees F for 30 minutes and then we moved the fire to the right side of the dome, which is where the ash trap is located, for one additional hour.
We finished the cure by feeding the fire and getting the dome up to 900 degrees F. All in this took about 2 hours, which is a little longer than they recommended, but we saw no cracks in the stone at all.
Then let it cool down and then it's read to use.
Note: The dome comes with a puck, so if cooking with wood you cover the gas valve with the puck.
If it's cold, consider giving it more time to warm it up so you don't shock the plate.
Seasoning with Gas/Dual Fuel
We don't have the gas unit, but we would have approached the same way. If using gas, the Dome comes with a puck you use to cover the valve while using wood. Gozney recommends not burning both.
Adjust the gas intake so you slowly build the temperature. Other reviews confirm the same thing – PLEASE be sure you temper the pizza stone first before your first pizzas.
The size of the flame controls the heat. Start with a smaller flame targeting the same temperatures.
300 degrees F or 150 degrees Celsius (C) for 30 minutes
500 degrees F or 260 degrees C for 30 minutes
900 degrees F for or 485 degrees C for 30 minutes
Let Dome cool
Can you cook a pizza while while curing the stone for the first time? We don't recommend it. Let it cool down after the first curing. And then re-start the cooking process to make pizzas.
Cooking Pizza
Our first few cooks were Neapolitan style pizzas. When starting the Dome (after the initial curing) we use a faster version of the cure. We start the fire in the center to build up the heat, move the fire to the left and continue to feed with logs and get it hotter, then move the fire to the far right, and cook the pizza with the fire on the right side over the ash trap (as intended).
Moving the fire is intended to warm up the stone.
Once we have a good coal/ember base, we feed one log at a time as we cook pizza to maintain 900 to 950 degrees Fahrenheit in the cooking chamber and have a flame that cascades along the top of the dome to cook both top and bottom of the pizza.
See video for full instructions.
The pizzas come out perfect with some some small turns of our pizza peel every 15 to 20 seconds and are done in under 2 minutes. Check out our full guide on how to cook pizza on the Gozney Dome.
A note on wind: If it's really windy, it's likely a propane fire will blow out. For either a propane or wood burn, face the Gozney dome so that the back of the unit is facing into the wind. That should create enough draft to prevent the wind blowing directly into the fire chamber.
Cold Weather Cooking: If cooking in temperatures under 40 degrees F, be sure to temper the stone at 450 – 500 degrees for 30 minutes and then bring up to 900 – 950 degrees.
Cooking Other Foods
One downside to buying a Roccbox or Ooni is that they are smaller cooking spaces with smaller domes. It's tough to throw anything else in there outside of 12″ or smaller pizzas. But on the Gozney Dome you can bake anything from breads to steaks.
Clean Up and Storage
In between cooking, we scrape food debris into the fire so it burns off. The stone maintains the heat well using our IR thermometer from Thermoworks. As the dome cools over a few hours, we slide ashes into the ash chamber. The chamber has a metal mesh cover, which prevents any major fire from falling in while you are cooking.
Clean out the ash box after every cook when it's completely cooled down. Be sure you dump the ashes in an appropriate vessel in case there is any residual embers.
The fire will burn hot, and you will see black soot develop on the outer edge of the opening. Clean off after every use and for the heavier soot, using Barkeeper's Friend.
Keep covered when not in use. A wet stone can crack as it warms up. For extended periods of no use, consider storing inside (like for winter).
Customer Service and Experience
If you drop into the Facebook group of Gozney Dome Owners, the overwhelming experience of the 8,000+ group when interacting with Gozney is positive. Whether it's a warranty replacement, or trying to get a bad part replaced. If the stone breaks, it appears that Gozney will send you a kit to box up and ship and they will repair and then send back. So the warranty and the customer experience seems consistent.
Accessories
A Sturdy Stand – We strongly recommend making sure you have a base that the Dome can sit on at the correct height. We used the Gozney Dome Stand.
The Gozney Dome Stand is the perfect height for pizzas (you're staring in the dome and don't want to be hunched over all the time). Specs: 38.5 in (977 mm)
It also has two retractable side shelves and two shelves underneath.
The Gozney Stand also has hooks so you can stow your pizza peels, tongs, or other cooking utensils as you manage the fire and cook.
The metal is solid and easy to put together with steel powder coated legs and aluminum cross beams.
All four wheels have locking casters.
If you are wavering on the stand purchase, just know that a comparable height and construction will cost just as much and you do not want a table that will collapse.
Dome Cover – You want to keep the dome covered to prevent moisture from seeping into the stone. A wet stone is bad and can cause it to crack. Be sure to have a cover, either the Dome Cover or a generic grill cover.
You can go big with pizza peels, containers for dough, scrapers, and all the things. But before you go all in on hundreds of dollars of accessories, be sure to start with cooking pizzas and some steaks and then as you branch out determine what other options you want.
Additional Accessories
A rope sealed door ($199) attachment is now available, which is good for baking bread and lower heat cooking. Neapolitan pizzas, not so much as you are cranking them out so quickly. But for NY Style pies, steaks, veggies, and all the other things – it will be a much needed option.
There is also a steam injector ($35) for adding humidity when baking bread. The added steam helps with residual humidity and best when combined with the rope sealed door.
Other Products to Consider
There are a lot of options to consider and we have an entire article on our essential pizza tools you need. But for this specific unit here are things to consider.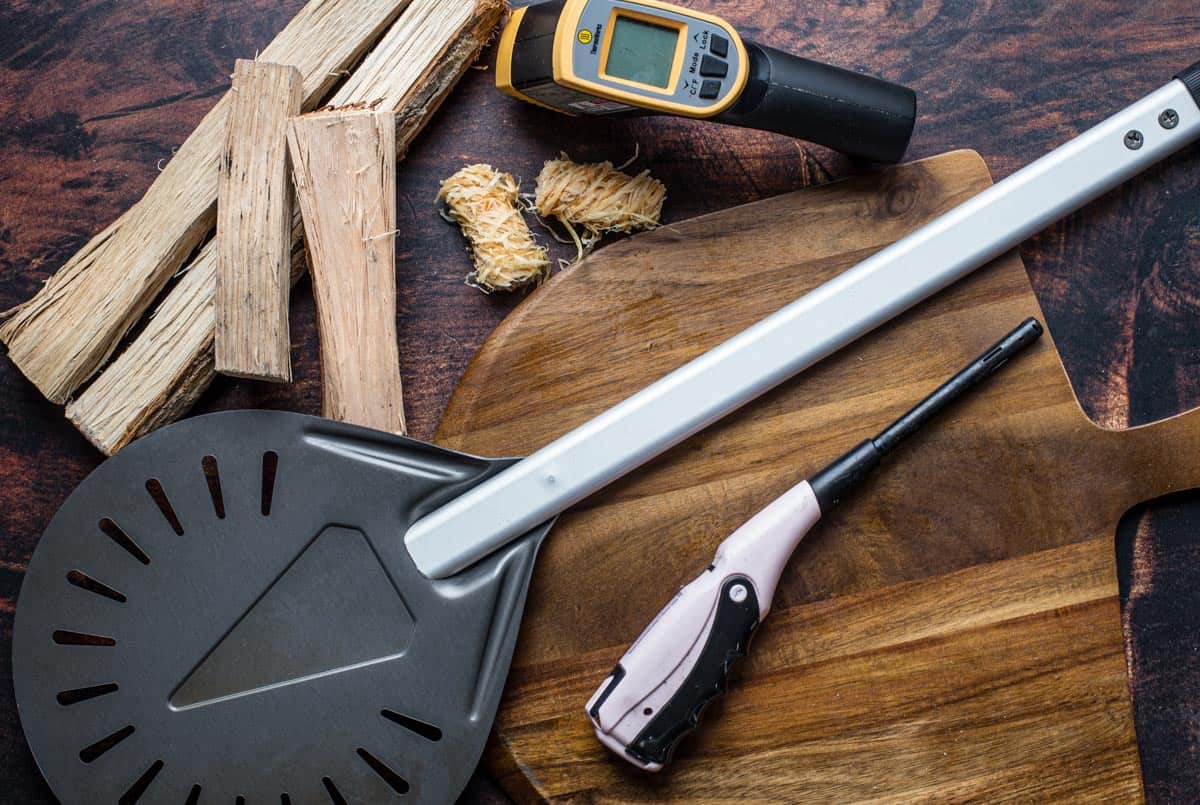 Fuel – Obviously for the wood version we used wood. We have been sampling various wood variations from companies that specialize in pizza oven wood. Small (6-inch) splits are great for start up and having 10-inch splits for maintaining is great. For gas or LP you would hook up as appropriate.
Fuel Starter – We used tumbleweed blocks, which work perfectly. DO NOT USE LIGHTER FLUID! The ceramic and stone will absorb it over time.
Cast Iron – The Gozney Dome has the space to cook other foods, which is why it's a great investment over the table top versions. Good cast iron you can use to bake in the oven for dips, veggies, or steaks is a must have. We love Lodge and Finex as they can handle the high heat.
Overall Experience
We love the Gozney Dome and feel like we'll be making many Friday night pizza nights all summer long. For the price you get a well built device that retains heat, has a good build quality, and will last. Add a positive customer service team and warranty and you have peace of mind for the investment.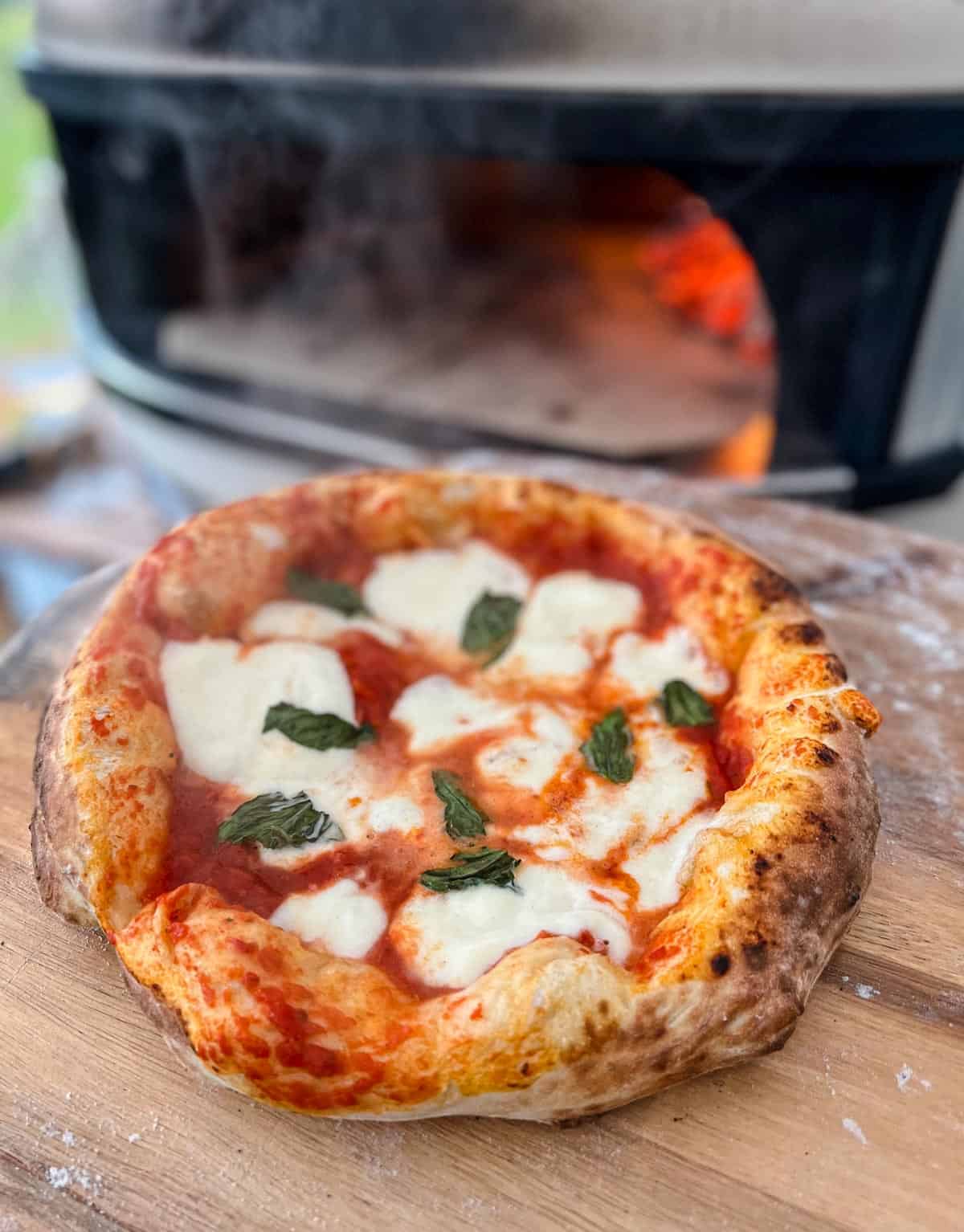 Consider the extra money for the dual fuel and stand, so you have the flexibility of gas versus just wood only.
We'll be sure to grab a dual fuel too for the convenience of gas. So we definitely approve and recommend it. Check out our pizza recipes as well if you are wanting some inspiration.
Limited Time Bundles: While Gozney does not typically offer bundles if you buy a Gozney dome right now they are including a Dome cover and a pizza peel ($198 value).
Search for a local dealer.
Recipe Ideas
This post may contain affiliate links. This means if you click on the link, we may receive a small commission if you purchase through the link. We partner with brands we know and love and use and it helps keep the blog going!
---