The market for table top pizza ovens continues to grow with the debut of Solo Stove's own take – the Solo Pi Pizza Oven. The Solo Pi Oven comes as either a wood only unit or dual fuel and is best comparable to the Ooni Karu 16 or the Gozney Roccbox. It's light, versatile, and gets hot enough to make your favorite Neapolitan style pizzas.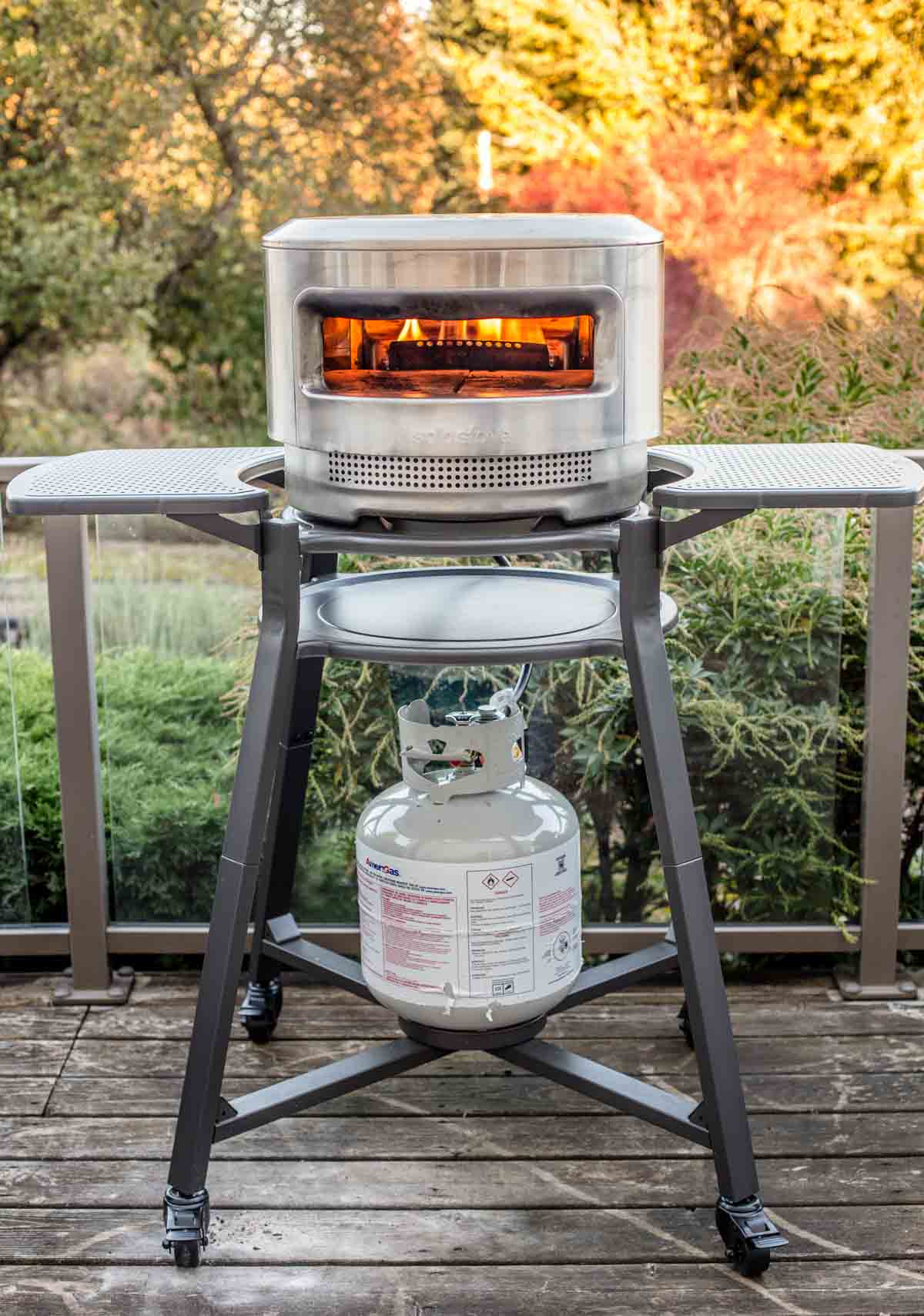 Jump to:
Overall Considerations
Pros
Stainless Steel design makes it for easy cleaning and weather resistance.
Light and easy to move around.
Comes in two fuel options.
Design makes for even heating of the pizza stone and easy access when adding wood.
We were able to get and maintain the pizza stone over 700 degrees Fahrenheit for great Neapolitan style pizzas.
Opening makes it easy to cook with cast iron dishes and still be able to reach in to remove it.
Propane flame did not go out during wind tests.
Cons
No Dome thermometer to measure ambient temperature, which means you need to have a digital IR thermometer.
Wood fuel design is tough to maintain the flame and heat when making more than five pizzas.
Under 40 degrees F we found the pizza stone capped at 620 degrees Fahrenheit when burning the propane at high.
The cover is an extra cost (consider a bundle for best value).
First Impression of Solo Stove's Pi Pizza Oven
The look and feel of the Solo Pi Pizza oven is what you would expect from the company behind the beautifully designed Solo Stoves. The unit is very easy to use, quick to warm up with the gas burner feature, and can clear a 10 to 12-inch pizza easily. It comes in two versions. The model we tested was the Dual Fuel LP version.
Wood Only – The wood only unit is well designed to use small wood splits or small wood chunks. After a warm up period, the gradual addition of wood splits (or chunks) keeps the flame going to best cook your pizzas and keep the pizza stone at the right temperature. MSRP: $624.99 but on sale at $399.99
Dual Fuel – The dual fuel Solo Stove Pi can burn the same wood splits. But if you prefer gas you simply remove the wood burner feature and replace with an LP flame attachment that connects with a standard Propane tank. MSRP: $894.99 but on sale at $574.99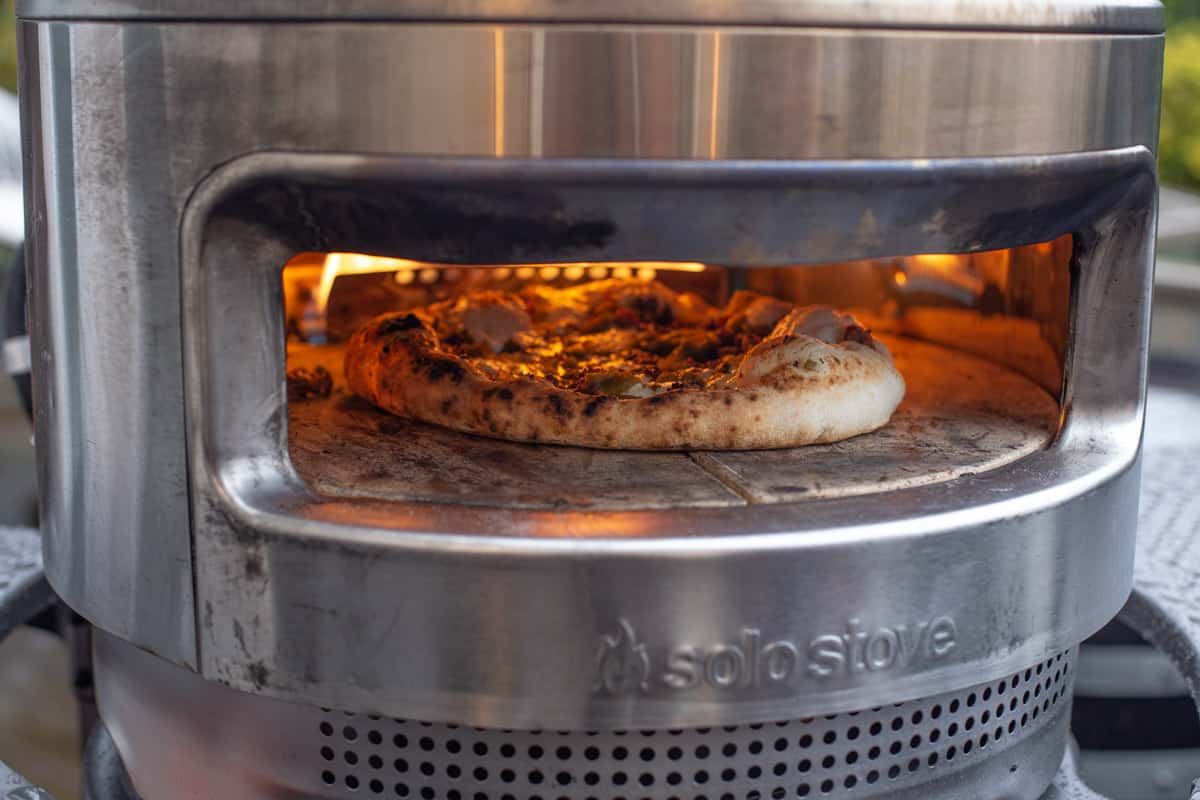 The portability makes it a great choice if cooking on your patio or considering it for a car-side camping experience. All you need is the fuel. And we definitely recommend spending the money on the dual fuel version.
The Solo Stove Pi Pizza Oven does NOT accessorize any of their fire pits. This is a stand alone unit built specifically for making pizzas. The Solo Pi Fire is the attachment for the various fire pits.
---
Related Article: Solo Stove Bonfire Hub and Grill Grate Review
---
Note: The Solo Stove Pi was sent to us for a media review. All opinions are our own, we were not paid to write this review.
Packaging and Assembly
The Solo Stove Pi comes pretty much ready to go. The dual fuel comes well packaged together with the Pi oven in styrofoam and is sturdy in design.
All you need to do is unbox and place the stone kit together in the unit and set the burner option in the back (for either the wood fuel or gas fuel) and you are ready to make pizza.
Prior to cooking the first pizza it's strongly recommended that you do an initial burn. Preheat the oven and pizza stone to 600 – 650 degrees F and keep there for 20 minutes. This will burn off any packaging residue and also prepare the stone for your first pizza. If you are going to cook a pizza right away, just allow it to preheat and hold that initial temperature for 20 minutes.
Optional (But Recommended) – Solo Pi also has a stand accessory. I wish the height of the stand was 6-inches taller because having the pizza deck right at eye level saves back pain when making lots of pizzas like the Gozney Dome. If you are over 6 feet tall you may want to find a way to add more height or look at an alternative stand option.
Assembly of the Solo Pi Stand takes less than 30 minutes with just one person.
Dimensions
When it comes to any backyard pizza oven, whether large or small, important features to pay attention to are the width of the opening (this determines the size of pizzas you can make no matter how much surface area you have to cook on), and weight of the unit (that is if you plan to move it around).
Warranty: Solo Stove carries a generous lifetime warranty and replacement guarantee.
Diameter: 20.5in | 52.07 cm
Height: 15.125in | 38.42 cm
Weight: 30.5lbs | 13.83 kg
Panoramic Opening Width: 13 inches | 33 cm
Stone Floor Material: Cordierite and built to be reversable
Stone Thickness: 13mm
Oven Material: Stainless Steel
Best Benefit of Solo Pi Pizza Oven
Our favorite feature of the Pi Pizza oven is the consistent temperature that the design keeps the pizza stone from the opening to the edges. While there is still more ambient heat near the flame and you will still rotate your pizza with a pizza peel, the evenness off the pizza stone temperature means you get a perfectly cooked crust on the edges and on the bottom.
We find on units like the Ooni, the rear portion of the unit was far hotter and led to more potential to burn the crust (when running propane especially). And after all the work you put into the perfect pizza dough you want to evenly cook the crust, not burn it.
The design of this pizza oven includes a deflector plate, which shield the pizza from the direct flame combined with the circular design of the internal oven.
A close second favorite feature is how light it is and easy to move around when wanting to use it somewhere that isn't your patio or deck.
How Does Solo Pi Work?
The Solo Pi uses the heat source in the back of the unit to project heat across the dome and base (pizza stone) using indirect heat.
Gas – The gas unit has a built in igniter, which will create the flame. After the flame is lit you can adjust the level from low to high. At high after 20 minutes the pizza stone will be at 600 – 650 degrees F, and after 30 minutes it will be at 700 degrees when the weather is over 40 degrees F. The gas unit provides a continual flame that cascades across the upper roof which adds the upper heat important in any pizza oven.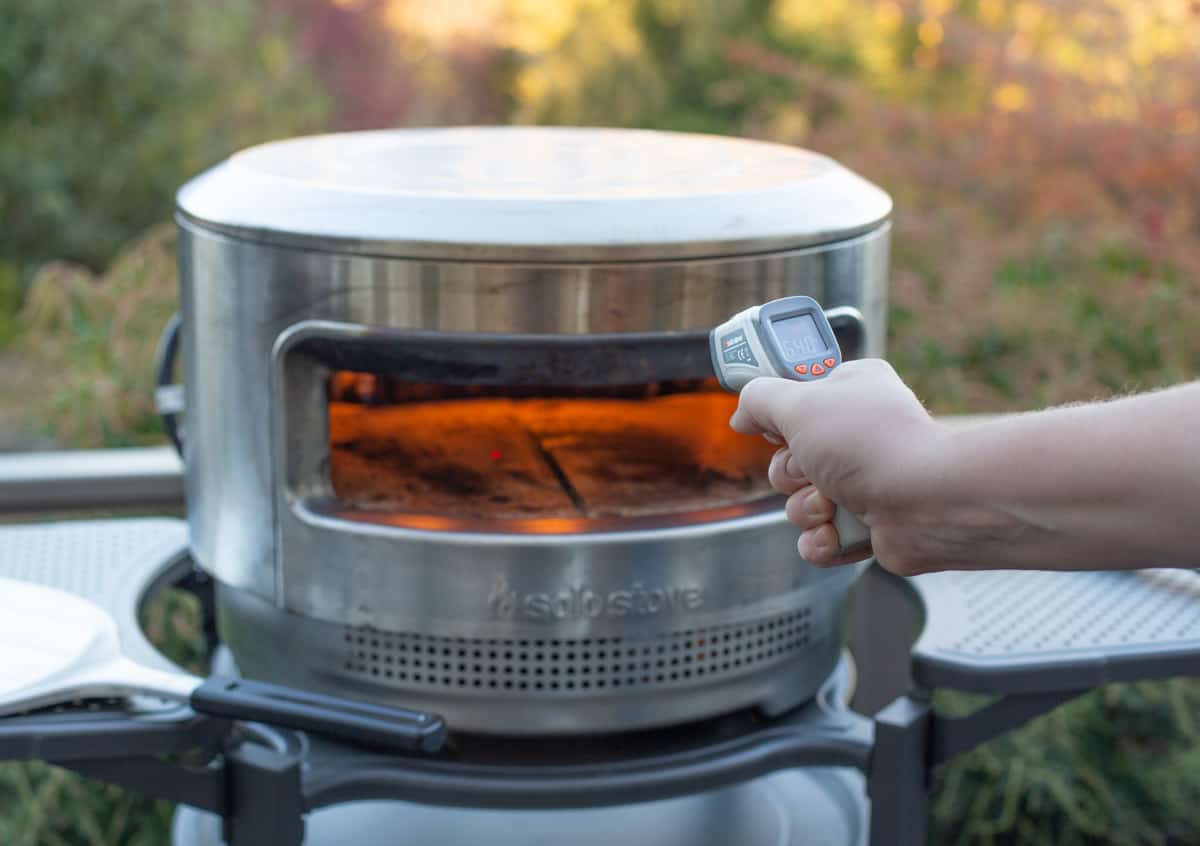 Wood – Place a tumbleweed starter in the wood tray and cover with four pieces of wood splits. Light it and watch for flames. Continue to make sure you feed logs to keep a steady flame going and develop the heat element which is the embers. The wood unit took 45 minutes to warm up the pizza stone to 700 degrees. After 45 minutes add one log to get a flame. After lit add your pizza. The flame cascades over the top of the oven giving the upper portion of the heat important to melt the cheese.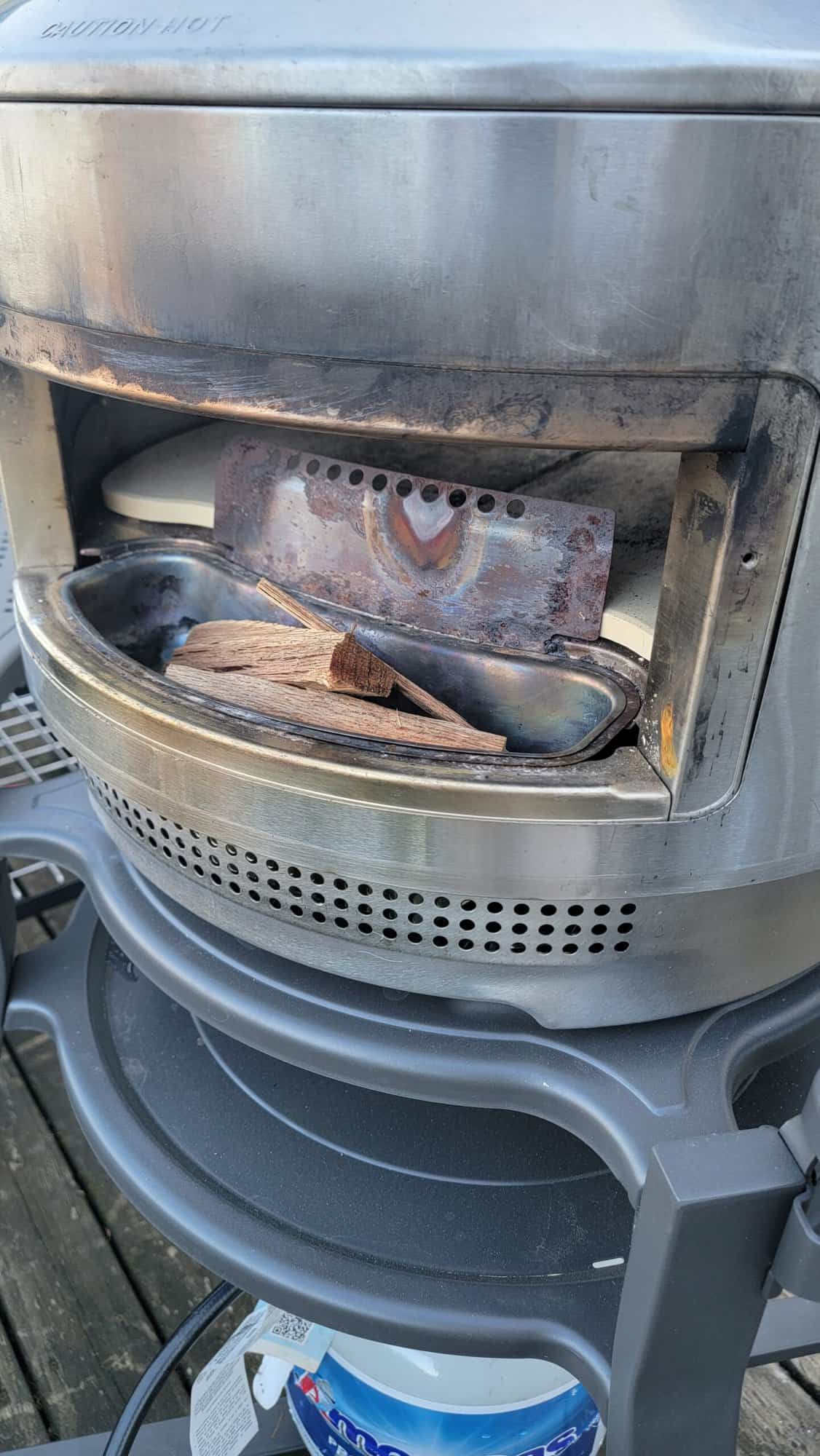 Cooking Pizza on Solo Pi
Once the stone is heated to the correct temperature it's time to make your pizza. Make your pizza, like a classic Neapolitan Margherita Pizza, and launch off the pizza peel onto the pizza stone. Be sure that the pizza is not larger than 12.5 inches so it fits. Note: Try not to let the dough touch the heat deflector plate as it will burn the edge of the crust.
Once the pizza is launched use a pizza turning peel to rotate the pizza in small turns to evenly cook the curst. After it's rotated 365 degrees it should be done. At a stone of 700 degrees and large flame it should take less than 90 seconds.
If you do not see even cooking of the crust edges continue to rotate until you do. Then remove with a metal pizza peel.
Let the stone heat back up to 700 degrees before adding the next pizza. About 5 minutes.
Cooking in Cold Weather: We tested at ranges as low as 28 degrees Fahrenheit. The top end we could get the stone was 620 degrees Fahrenheit. It didn't impact the quality of the pizza it just took longer for the pizza to cook.
Cooking in Rain: There was no impact in the cooking process during rain. However if you leave the Solo Pi uncovered in prolonged period of rain (like we have here in Oregon) the underside of unit and propane burner will collect water and need to be drained without the cover. So be sure to have a cover to protect your investment. Otherwise that will rust over time.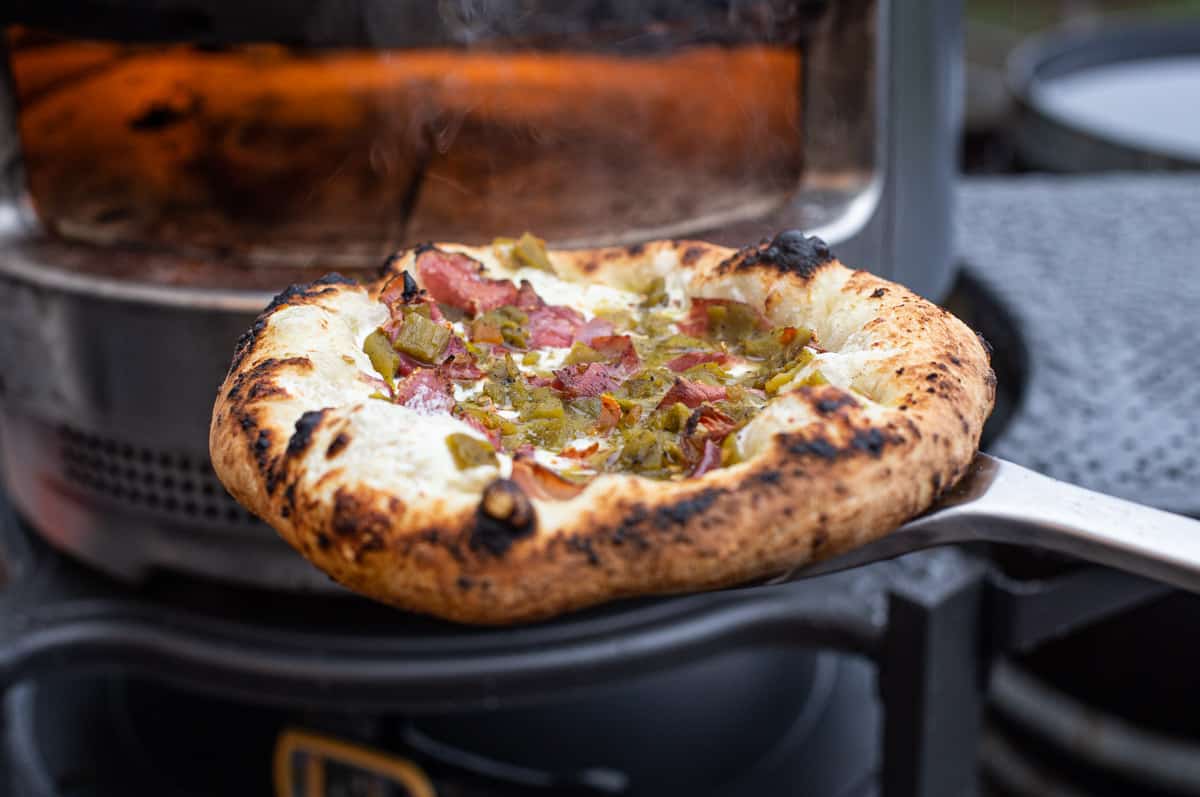 Cooking Other Foods
The height of the clearing is great for adding cast iron or bread. We've roasted potatoes and even seared some bone marrow. It's not ideal for smoking low and slow.
Ease of Cleaning
Exterior: If using wood expect some creosote residue from smoke to discolor the front. It's easily cleaned with a standard citrus degreaser and cloth. Or use a magic clean eraser to remove after each cook.
Interior: As you cook in the oven you can expect some discoloring of the pizza stone. Typically when done cooking you can allow it to keep the heat to burn off food residue and after it cools remove any leftover residue with a paper towel.
Accessories
Take advantage of the bundles that may be offered to save a little money on some of these accessories. Or add to your wish list or buy separately from your favorite manufacturer.
Cover: If you plan to leave the Solo Pi outside, be sure to buy the cover. It also has an opening to account for the LP attachment as well as the wood burning attachment. You do not want to leave the unit outside uncovered in rain.
Pizza IR Thermometer: Solo makes their own IR thermometer, which measures the temperature of the pizza stone. Alternatively you can purchase the most accurate and fastest IR thermometer from Thermoworks.
Pizza Peel: Be sure the launching peel you have for your Pi is not wider than the 13 inch opening. Otherwise you'll be making a lot of calzones when the pizza slides onto itself.
Turning Peel: The turning peel is important to evenly cook the edges of your pizza, especially Neapolitan style pizzas. These are small in width and the handle length of the Solo is perfect for the oven.
Pizza Making Kits: Solo has put together a great kit that includes quality dough, mozzarella, pizza sauce, and pepperoni (that actually crisps up and has that perfect lift). Because sometimes you just don't have time to make all the ingredients.
Stand: Trust us when we say you want HEIGHT when making your pizzas. The Solo stand is just the right height if you are under 6 feet tall so you aren't bending over all afternoon while watching the pizza crisp up.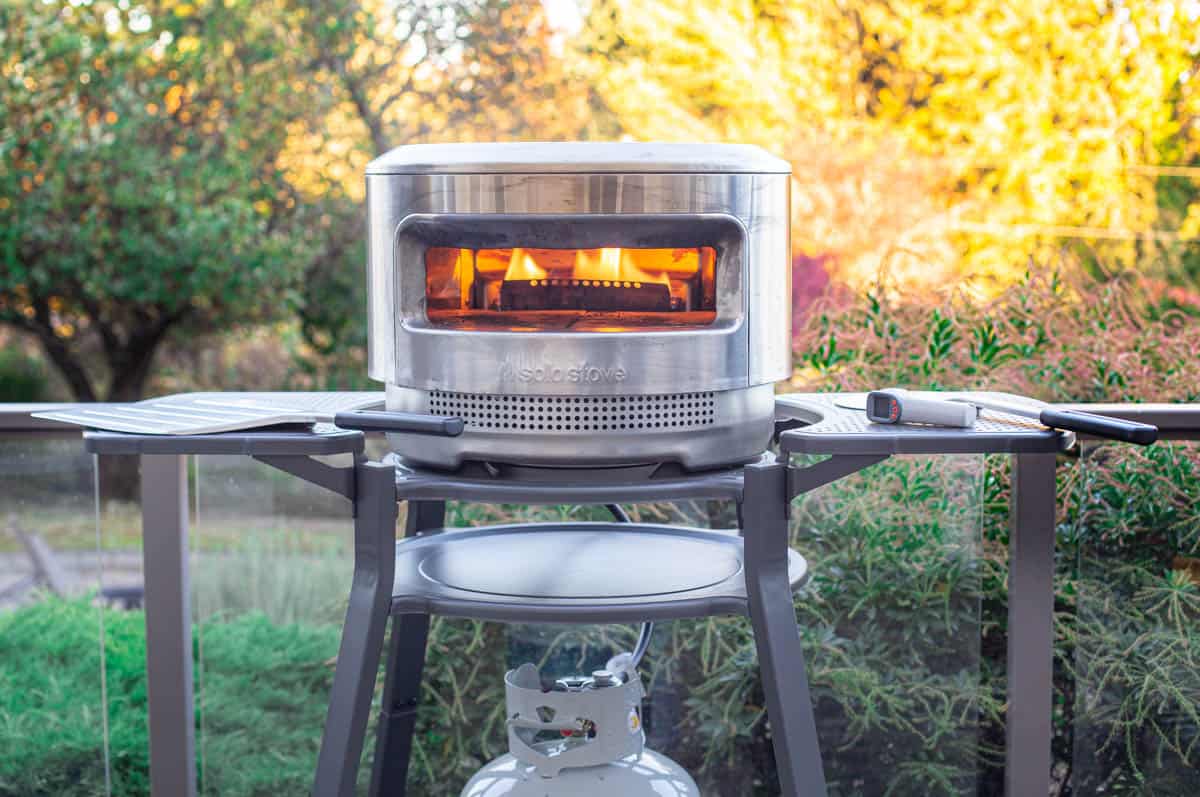 You can explore our recommendations in our full list of recommended pizza tools.
Safety
If using wood unit, be sure the unit is away from a wooden deck or is placed on a proper fire safe mat. This will contain any ash or embers that may come out of the unit while you add wood.
If the LP starter does not ignite right away then turn if off, wait five minutes and attempt to reignite again to allow gas to dissipate. If using in wind be sure to orient the opening away from the direction of the wind to avoid the flame being blown out as it starts.
Personal Take Away
We have cooked on most table top pizza ovens and they all have pros and cons. For the price and consistency the Solo Pi gives great heat distribution and a good amount of cooking space. It's also light and portable when you want to take to the lake or camping too. It's a great pizza oven and the pizzas we made were consistent.
If you live in a rainy environment be sure to buy the cover or keep it in the garage during prolonged rain. If uncovered rain will get into the unit itself which over time will encourage parts to rust.
The wood unit requires a lot of attention when managing the fire if you are cooking a lot of pizzas. So if you are considering pizza parties, consider the dual fuel option so the flame can be consistent.
Benefit of Wood versus Propane in a Pizza Oven
If you are weighing wood versus dual fuel in terms of flavor you will find very little difference in the quality of the pizza. It really comes down to the price. Wood embers tend to burn more evenly for cleaner heat and even edges of the pizza, but if you place a wood fired pizza and a propane version most would not be able to tell the difference.
One thing to note on the wood set up is that there is not a lot of space for holding lots of embers and allowing a rolling fire. Specifically for a pizza oven a rolling flame over the top of the oven helps cook both the top of the pizza and keep the pizza stone hot. In this case if you are planning multiple pizzas for an evening, the wood tray is not big enough to continually keep the flame rolling without constantly adding logs to the back of the unit. So if you are a wood purist you may want to consider a different pizza oven with more direct wood flame access.
We recommend if you can afford it to splurge for the dual fuel. Especially if you plan to make lots of pizza at once and want the option to run the propane for more consistent heat during multiple pizzas.
Price of product
As mentioned the dual fuel Solo Pi Pizza oven is currently at $574.99 (at the time of this writing). However you can also purchase several bundles through their website. All prices assume Dual Fuel.
Pi Starter Bundle: $619.99 Includes Pi, Pizza Stone, Stainless Peel, Pizza Cutter
Pi Essential Bundle: $684.99 Includes Pi, Pizza Stone, Stainless Peel, Stainless Turning Peel, Pizza Cutter, Cover
Pi Ultimate Bundle: $969.99 Includes Pi, Pizza Stone, Stand, Stainless Peel, Bamboo Peel, Stainless Turning Peel, Pizza Cutter, Cover
Where to Buy Solo Pi Pizza Oven
Solo Stoves are sold through independent dealers all over North America. You can explore a dealer closest to you or buy online and have shipped directly to you. Any purchase over $299 from Solo includes free shipping as of the writing of this article.
This post may contain affiliate links. This means if you click on the link, we may receive a small commission if you purchase through the link. We partner with brands we know and love and use and it helps keep the blog going!
Final Thoughts on Solo Pi Pizza Oven
If you are looking for a well designed and functional pizza oven the Solo Pi is a great choice. It gets to high heat for your Neapolitan pizzas and can be dialed back to make you NY style as well.
It's a great addition to the emerging table top pizza craze, especially if you like portability and a compact design at a price that is affordable in this class of pizza ovens.
Pizza Recipes for Solo Stove Pi Pizza Oven
Get started with your first pizza from any of the best pizza recipes. Or consider picking up the pizza kit offered from Solo Stove.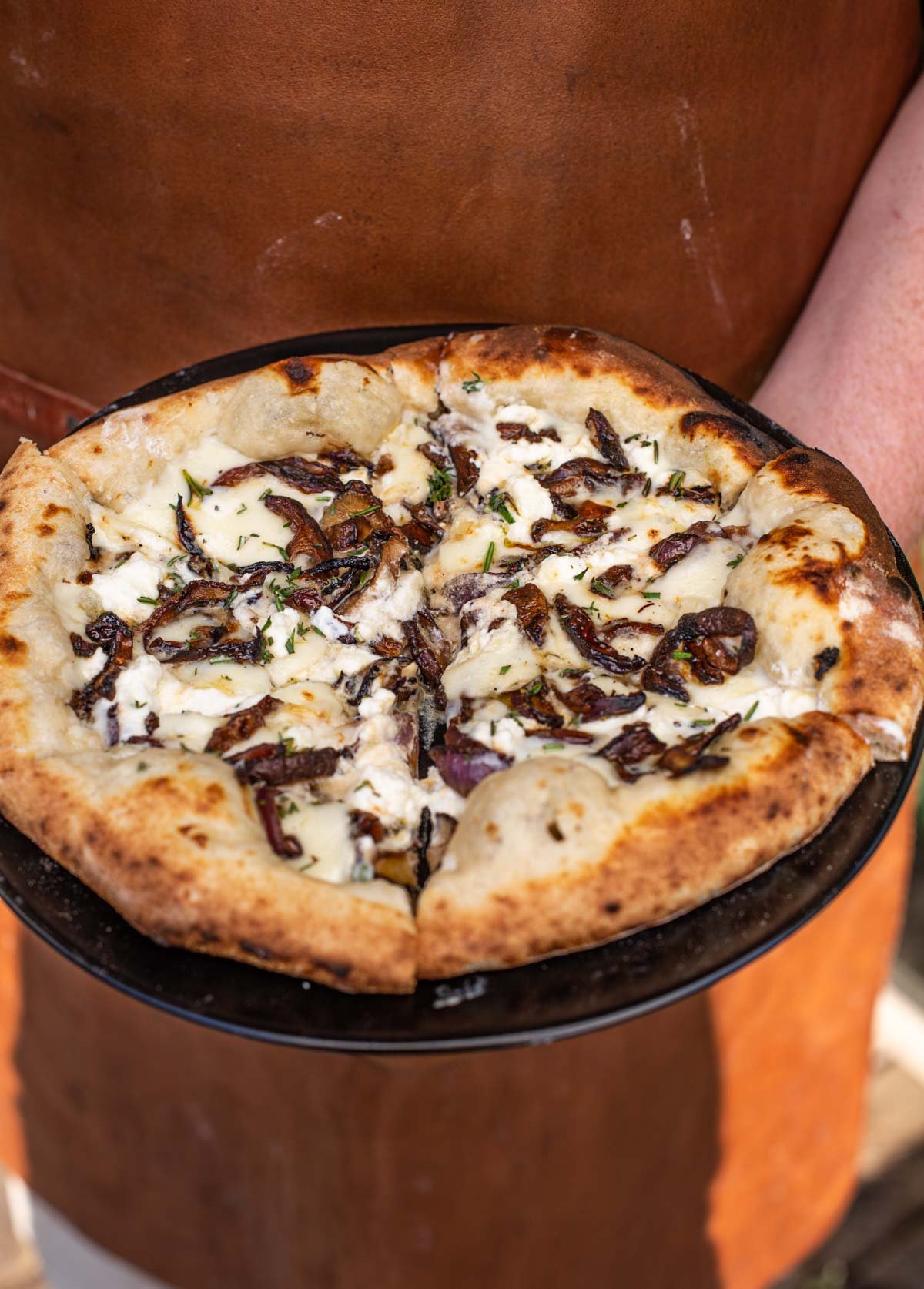 Tried this recipe? Give us a star rating and we would love to see! Mention @vindulge or use the hashtag #vindulge on all the social media handles. And consider subscribing to our newsletter where we drop all our favorite ideas and inspirations every week.
---