Camp Chef has been making quality pellet grills and outdoor stoves for years. The introduction of the Camp Chef Woodwind Pro 24 (and 36) includes an industry first smoke box feature that adds a good deal of natural smoke to any cook. This Camp Chef Woodwind product review will walk through our thoughts on the overall pellet grill and features, and also calls out one design flaw that continues from the last version of the Woodwind.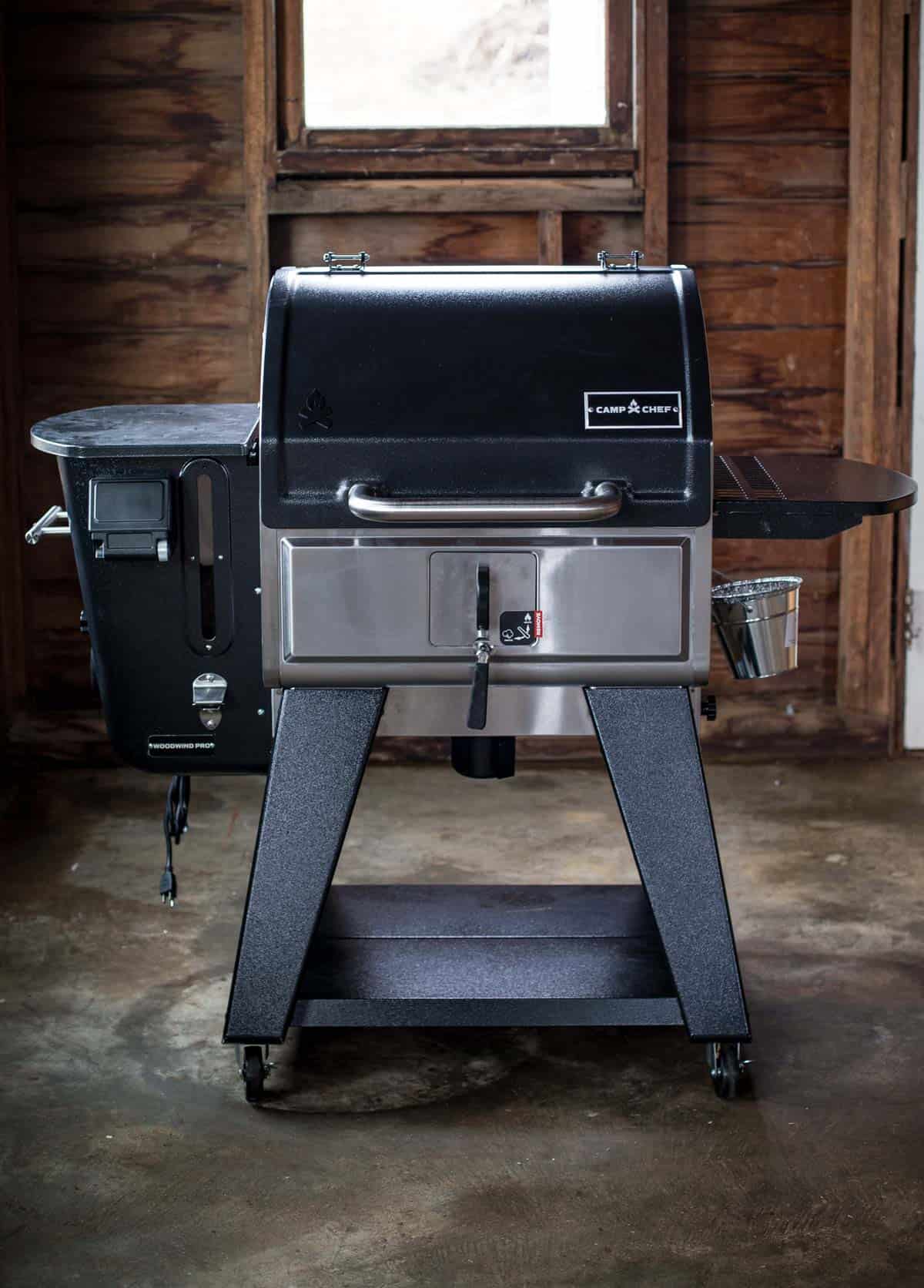 Per Camp Chef this is, "Technology meets tradition." Bringing the idea of stick burner flavor to the pellet grill market.
This product was a free media sample sent to us for review. All opinions are our own and there was no compensation for this review.
This post may contain affiliate links. This means if you click on the link, we may receive a small commission if you purchase through the link. We partner with brands we know and love and use and it helps keep the blog going!
Jump to:
Pros
Quality stainless steel cooking chamber with better than average steel quality than competitor grills.
Addition of a gasket to the cooking chamber to lessen loss of smoke during cook.
Has a new smoke box feature allowing you to add charcoal, wood chips, or smaller wood chunks while smoking or grilling.
Quality PID controller with WIFI and app combination.
Cons
No rain guard or overbite to the door causing water to enter the cooking chamber.
Lost the direct cooking slider feature from prior model.
Model We Tested
We cooked and compared the the 24-inch Woodwind Pro Model with the prior 24-inch WIFI Model.
We feel this pellet grill outperforms the prior model and other pellet grills in its class, some with more cooking space. The price combined with the added smoke features and build quality are why we are loving this pellet grill.
There is also a 36-inch version, which is slightly larger and adds that much more space for cooking.
Camp Chef Review Video
Compared to Prior Woodwind Model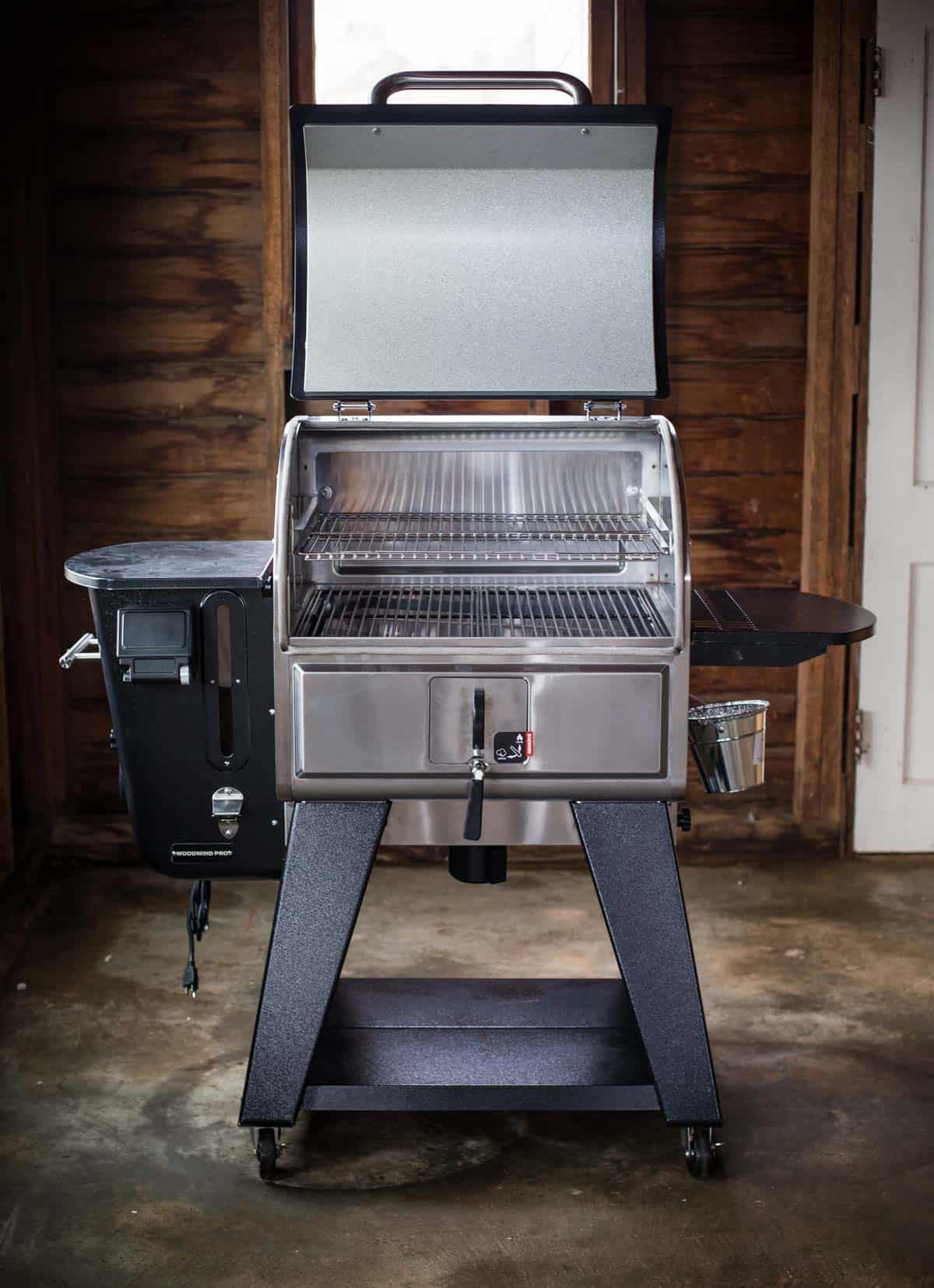 One big improvement is the stainless steel cooking chamber including the deflector plate and burn pot. It seems much more durable longer term for weather.
A gasket also lines the cooking chamber which minimizes the escape of smoke from the lid and keeps the weather out.
A new feature is the addition of the smoke box, which is a tray in the front of the cooking chamber that slides out and allows you to add charcoal, wood chips, or chunks for added smoke flavor.
As with the prior model, one design flaw is the fact that there is no rain guard along the top of the door opening or an overbite to protect the cooking chamber from water getting in while cooking. This is unfortunate if you live in the Pacific Northwest like us. Not as much of an issue if you have a covered patio or live in a dry environment.
The ventilation has moved from a traditional smoke stack to a down and out dual ventilation system that allows you to control airflow. We did not notice any material difference when cooking with the vents open or mostly closed.
It is still compatible with the Camp Chef Sidekick feature.
This model does not have the slide and grill feature like its predecessor.
Related Article: Camp Chef Woodwind WIFI Product Review (2021)
The Specifications
| Feature | Details |
| --- | --- |
| Weight | 152 pounds |
| Hopper Capacity | 22 pounds |
| PID/WiFi | Digital/Can connect to Camp Chef Connect |
| Probes | 4 |
| Ash Cleanout | Slide rail which allows ash to dump into a cup for easy cleaning. |
| Sidekick Compatible | Yes |
| Cooking Space | 429 square inches/Upper Rack 382 square inches |
| Castors | 4 castors, each lockable |
| Height | 44.5 inches |
| Made in USA | Designed here but a majority is built outside US. |
Specifications for the Camp Chef Woodwind Pro 24 Model
Where to Buy Camp Chef Woodwind Pro
The Pellet Grill we tested starts at $1,199.99 (at the time of this article) on their website.
You can buy the Camp Chef Woodwind Pro 24 directly from their website (and take advantage of accessory bundles) or search for a local dealer using their dealer locator tool like REI and Home Depot.
It's also available through Amazon.
The 36-inch Woodwind Pro starts at $1,499.99 with similar features and more cooking space. It's ideal if feeding a larger crowd of people on a regular basis.
Unboxing and Assembly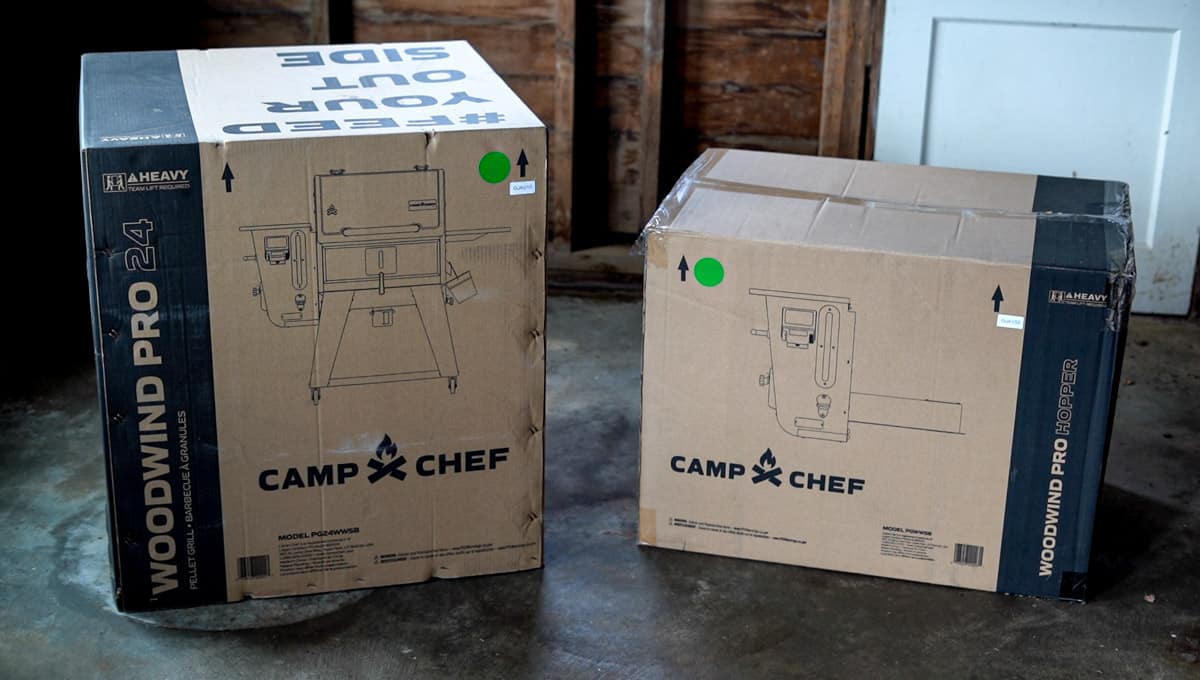 The Camp Chef Woodwind Pro comes in two boxes and is well packaged. There was no visible damage to any of the pieces and the components like screws and bolts were well labeled with numbers to make it easier to put together. It also comes with a visual app you can use to put it together.
The assembly took 90 minutes for one person (though two is recommended to lift it at various points of the assembly process). We also made sure we kept the larger edges of cardboard to rest the unit on as we assembled it.
Set Up and First Use
Wrap the deflector plate with aluminum foil. This makes for easier grease cleanup in between cooks.
If you have a flame out, you should repeat the feed/started process. For the first time running the unit we do so without the deflector plate or the grates in the chamber until we see visible smoke coming out.
Plug in the Camp Chef Woodwind Pro 24 and turn on the PID controller. Connect to the PID controller to your WIFI and add the Camp Chef app to your phone.
Add your favorite cooking pellets to the hopper and turn on the PID display. Rotate the knob on the edge of the PID unit to select the Feed option. Feed will continuously run the pellets through the auger and into the burn pot after 6-8 minutes without running the heat element.
After you feed the wood pellets into the burn pot it's time to ignite them. Turn the PID controller knob to 250 degrees. Then confirm you want the start up mode, which will feed a few more pellets into the burn pot and turn on the hot rod. This will ignite the pellets.
Once the smoke comes out place the deflector plate into the cooking chamber and add back the grill grates and shelf. Turn the PID controller to 375 degrees F and plan to run for 30 minutes. This will burn off any grease or oil before cooking your first protein.
After 30 minutes, it's ready to cook or cool down. Just adjust to your desired temperature, wait until it's ready and then start cooking your recipe. If you cool down, turn the PID controller to shut down and it will run for 20 minutes to clear out pellets that may be burning and avoid a flame from running through the auger.
Features
Ash Tray – The ability to slide a release and drop spent ash into an ash tray is a great feature for a quick clean up before cooking. This dramatically decreases the frequency of a flame out. Note you should clean out the cooking chamber every few cooks to remove spent ash and grease that accumulates in the cooking chamber.
Smoke Box – The industry first smoke box allows you to add charcoal, wood chips, and small wood chunks to your cook giving you a more authentic smoke flavor.
PID Controller – You can connect to your WIFI and smartphone and control temperatures. You can also use the Smoke Number feature to add more smoke to any cook. This is a nice addition with the smoke box.
Bottle Opener – Yes it may seem trivial but it's a nice touch when you are outside cooking.
Pellet Window – There is a narrow window which allows you to see how many pellets you have in the hopper. Nice if you are gauging if you need to add more for a longer cook.
Pellet Quick Release – Using a small level you can pull out and empty the hopper of pellets into a bucket easily if you want to change out flavors in between cooks.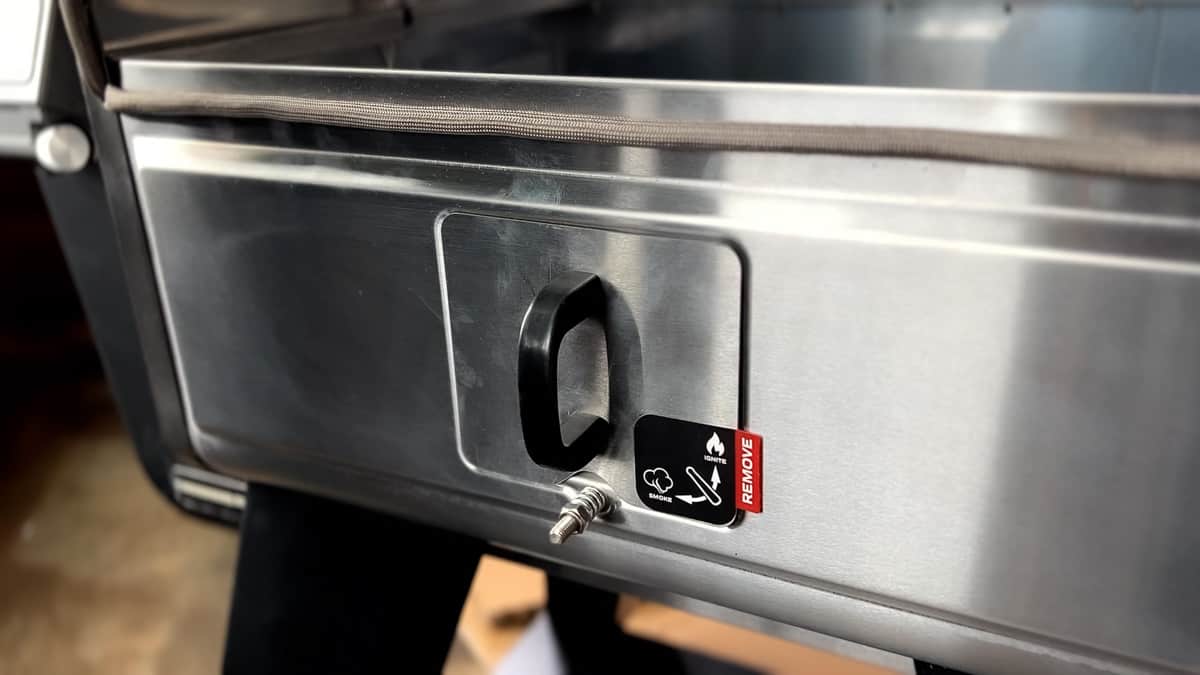 How to Use the Camp Chef Woodwind Pro Smoke Box
After you have run the initial start up for your cook, you can then use the smoke box.
Pull the smoke box out toward you until you can see the empty chamber.
Add your fuel of choice (charcoal, wood chips, or small wood chunks) into the chamber and then slide it shut. Note you may have to wiggle slightly to get the complete closure since there is a gasket surrounding the box.
Be sure the handle is turned to open the vent so the burn box is directly underneath the open vent. This will ignite the fuel. Once you see extra smoke come out (about 5 minutes) you can rotate the handle to close the access to the burn box. The fuel will continue to burn until it is spent. Repeat this as you want more flavor. We noted that wood chips burned about 20 minutes if full and wood chunks about 30 minutes.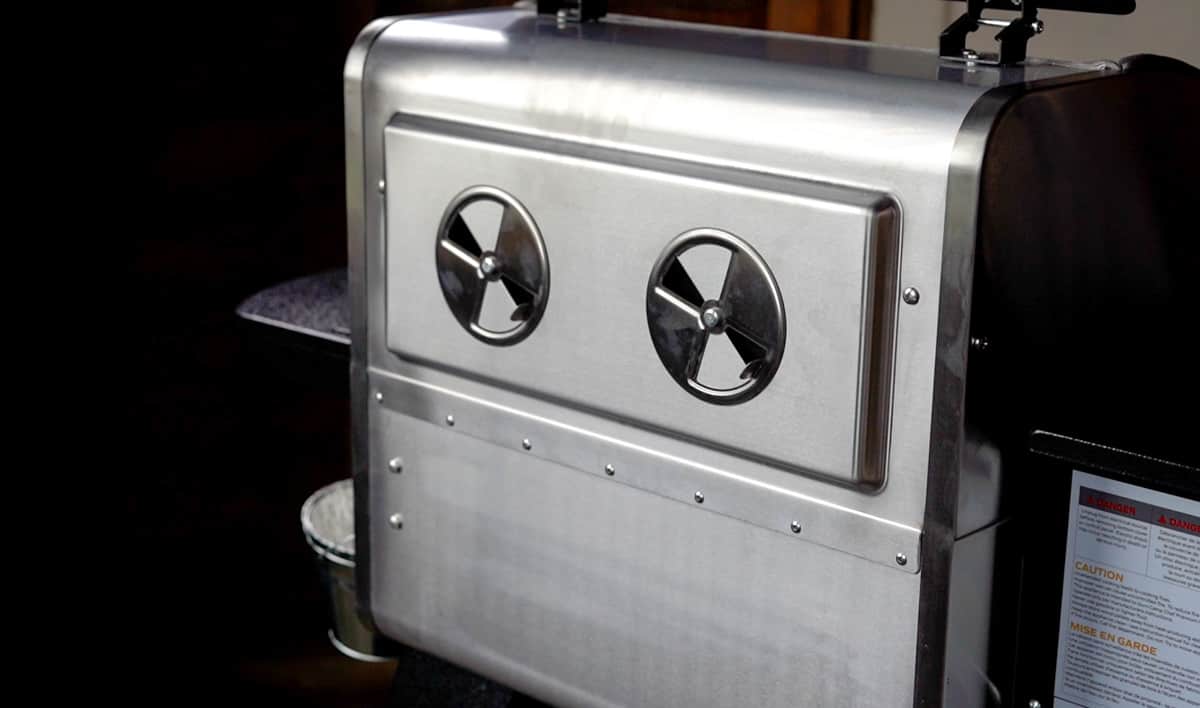 Customer Service and Warranty
There is a limited (non-transferable) warranty for defects in material or workmanship (excluding paint and finish) for registered products. So as soon as you put it together – register it. Specific to the Woodwind Pro:
6-years for: Body, Hopper Body, Lid, Legs, Bottom Shelf, Grates – noting it won't rust through. (The metal quality helps) We still recommend keeping covered.
3-years for: Fan, Auger Motor, Hot Rod, Controller, Casters, Wheels, Thermometer, Drip Tray, Heat deflector, Burners.
1-year for: Gaskets, Probes, All other parts
Returns can be made through the Camp Chef website for direct purchases. Purchases from a dealer should be addressed through the dealer. However, Camp Chef has a customer support chat that can help troubleshoot parts issues and general customer questions.
Accessories
Note the purchase of the product does not include a cover unless stated with a bundle. In addition to these features, Camp Chef also offers a range of accessories including tools, cutting boards, and knives.
Cover – We recommend grabbing a cover to protect your investment.
Sidekick Assembly – You can cook with propane using the Sidekick attachment including a grill feature, flat top, or pizza oven. We use this feature often and it is a great upsell option if you don't have space for dedicated cookers.
Where to Purchase
You can buy direct from Camp Chef online, explore dealers around the world, or browse on Amazon.
It's also available at various online retailers.
Pellet Grill Recipes
Once you unbox and assemble your Camp Chef Woodwind Pro it's time to start cooking. Here are a few of our favorite pellet grill recipes.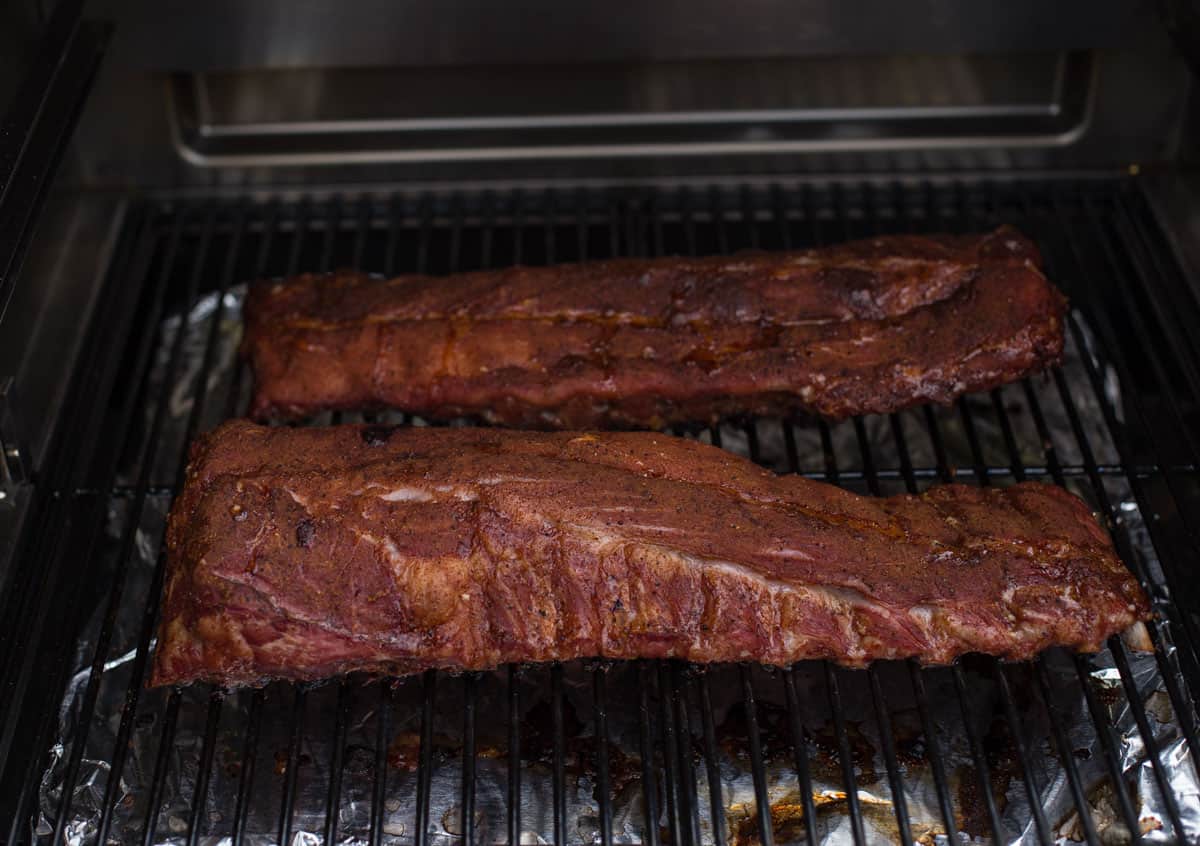 Have someone in the market for a pellet grill? Share this review with them!