There are an incredible number of grills and smokers sold in the marketplace today. And that is not slowing down. This Grill Buying Guide is to help you understand the basic differences between the many grills on the market and find the right grill for you and your budget.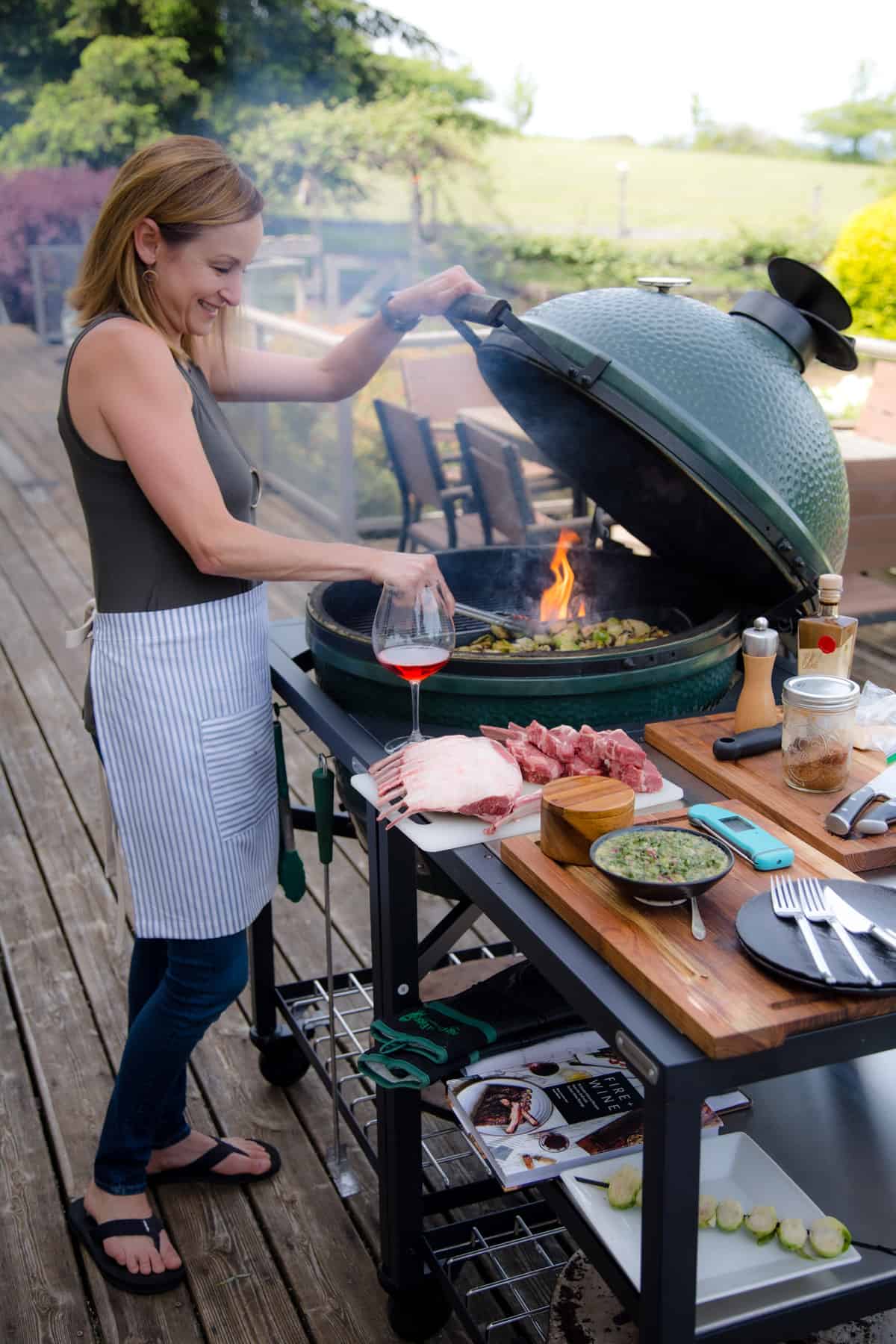 According to the Hearth, Patio, and Barbecue Association (which we are an ambassador for), the amount of money spent on grills and smokers continues to go up every year.
When sitting down and weighing your options on what kind of grill or smoker you should buy, there are several things to consider before making that investment. From pellet grills, to gas grills, and a host of charcoal and wood combinations, it all comes down to how much time you have and what type of food you want to cook. Oh, and budget. You can't forget about budget.
This post may contain affiliate links. This means if you click on the link, we may receive a small commission if you purchase through the link. We partner with brands we know and love and use and it helps keep the blog going!
The Ultimate Smoker and Grill Buying Guide
Jump to:
Main Things to Consider:
Features: Getting what you want at a price that fits your budget.
Temperature Control: It should hold steady temperatures.
Ease of Use: Is it easy to navigate the app and features.
Build Quality: Will it insulate enough and will it break down after two years?
Budget
No matter the options, having a budget is important. Grills and smokers can start at $150 and go up to $10,000. We recommend starting with the budget and then focusing on the features you want out of your potential grill or smoker within that range.
It's also true that the prices on some cookers seem too good to be true, and often that is the case. Be sure to check forums and Facebook groups to look at users experiences. There is nothing more frustrating than buying a less expensive grill, only to find it breaking down within 2 or 3 years.
Features to Consider
Do you want to smoke low and slow? Do you want to be able to reverse sear and get the high heat flavor? Do you want to cook for a large crowd on a regular basis? Or are you hoping to be able to cook a variety of food from grilled pizza to burgers, or a smoked brisket.
Write down your top two or three features you want to cook so you can assess if the grill or smoker you are considering will meet your primary goals.
Example: If you are crunched for time, but really want to cook low and slow and focus on barbecue flavors, but already have a gas grill that works well then perhaps a pellet grill works because you can achieve high heat grilling on the gas grill.
Time
Don't underestimate the amount of time you need to manage both fire and cooking.
Time is a big investment in any pit decision. Time means you need to focus on both managing fire and smoke as well as managing the cooking process. If you have lots of time and really want to do both, then a charcoal and wood style cooker is perfect.
If you don't have as much time but still want to focus on the cooking experience and flavor, than a pellet or electric grill is right up your alley.
Kettle Grills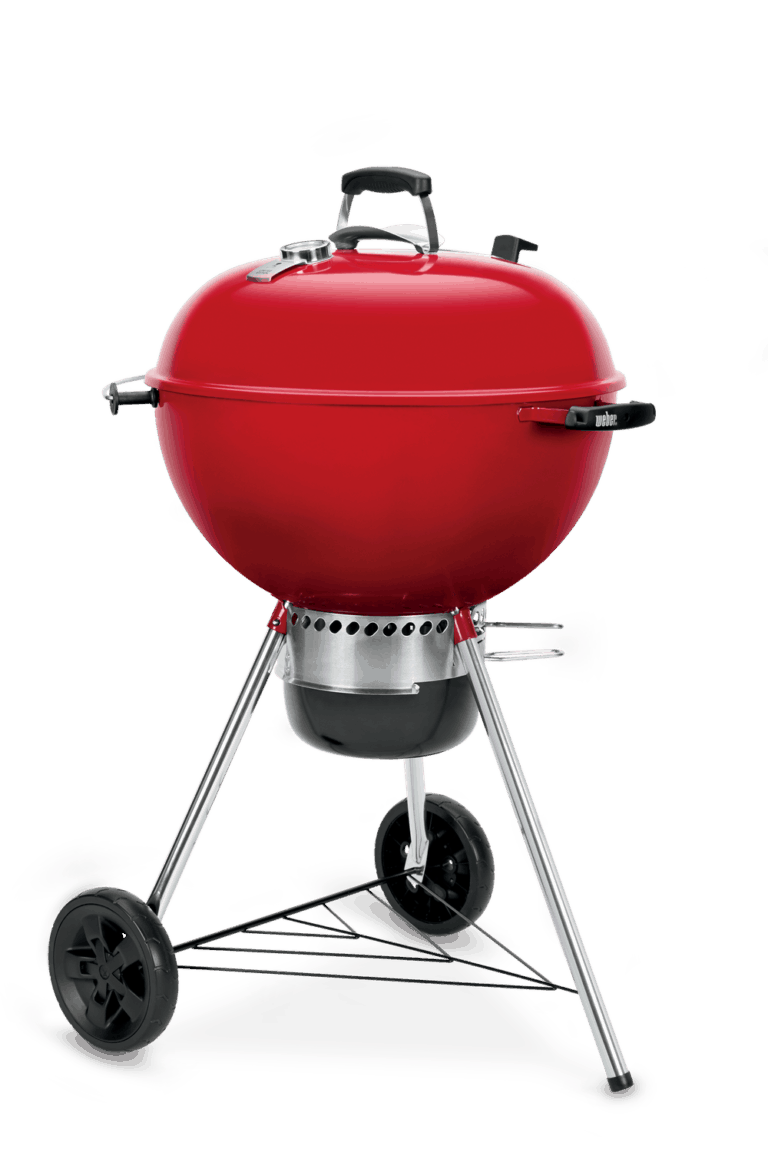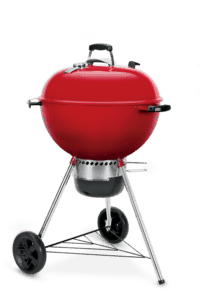 Pros
Affordable
Can Smoke or Grill
Comes in multiple sizes
Cons
Smaller cooking space
Difficult to control lower temperatures
This is the perfect option for someone with a budget under $300 and who wants to manage the fire and smoke. Kettle Grills, like a Weber Kettle or PK Grill, are some of the most versatile options for both grilling hot and fast and simple low and slow cooking. They have great portability if heading to the beach and come in multiple sizes. Prices will be all over the board depending on the brand.
Additional Expenses: you'll be buying charcoal and wood chunks pretty regularly. Also factor in with such a high heat source that you'll replace the grill grates every couple of years.
We have multiple sized Weber Kettle Grills.
Gas Grills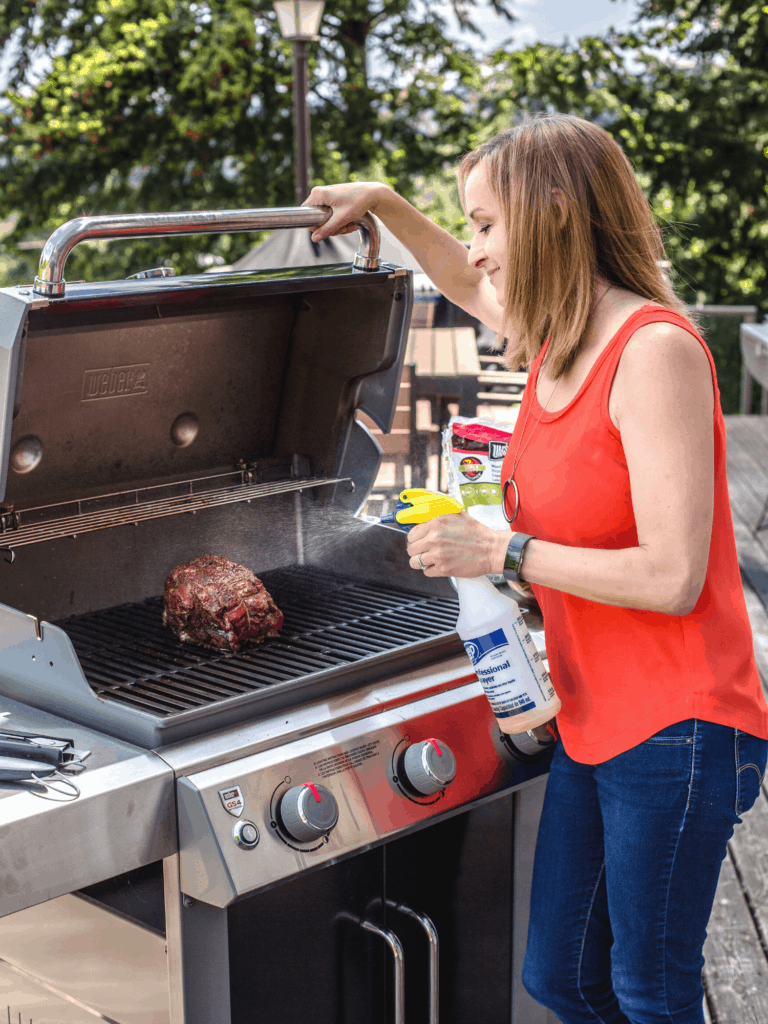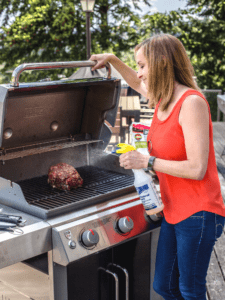 Pros
Gets hot quickly
Can be used in most homes and apartment decks
Cons
Difficult to infuse smoke flavor

Difficult to control lower temperatures
When you live in an environment that won't allow wood fire cookers, then a gas grill is often the only option. You can smoke on a gas grill with a few key accessories, and still get great flavor. When buying a gas grill we love the Weber Genesis Series. The most important parts of a gas grill are the burners and the drip plates under the grates. Be sure they are of higher quality metal so they don't rust out causing uneven cooking.
Additional Expenses: Fuel (Propane or Natural Gas) will be an ongoing expense. If you want to cook low and slow, expect to buy a smoker box or look for one built into your grill. Additional wood chips or chunks will be another expense. Over time check the burners and see if they need replacing.
We cook on a Weber Genesis 2 gas grill.
Pellet Grills
Pros
Come in Various Price Ranges
Can Smoke or Grill
No need to manage the fire outside of the temperature control unit
Cons
Less smoke influence than a charcoal and wood pit
May not get great sear/high temperatures (will depend on the cooker)
Relies on power/electricity. If power is not available, you can't use it.
Pellet Grills use wood pellets that drop into a fire box to control temperature and can cook both low and slow and hot and fast (in some units). It's a fast growing segment of cookers because you don't have to worry about the challenges of temperature control managing charcoal and wood.
Not all pellet grills are created equally and can drastically range in price. You can get a great entry level smoker, like a Z-Grills for under $600, a Yoder for $2,800, or even a MAK Pellet Grill for $3,400. All have great features for their price range.
Things to consider when buying a pellet grill:
A high quality PID Control System, which manages the temperature.
Grease trap system that prevents flare ups or any grease dripping into the fire box.
If you want to grill hot and fast, check the advertised temperature range. Some only go as hot as 450 degrees F, others get over 600. This matters if grilling food at a hot temperature is important to you.
The type of metal used matters, the thinner metal options burn more fuel or even rust out at higher temperatures.
Additional Expenses: Pellets will be your biggest expense. Be sure to look for pellets that disclose they are for cooking and 100% the wood they mention on the bag.
We own or have used a Traeger Lil' Tex, MAK 2-Star General, Camp Chef Woodwind 24, and a Z-Grills 700 series.
---
Check out our favorite models we like to cook on in our Best Pellet Grills Guide.
---
Kamado Grills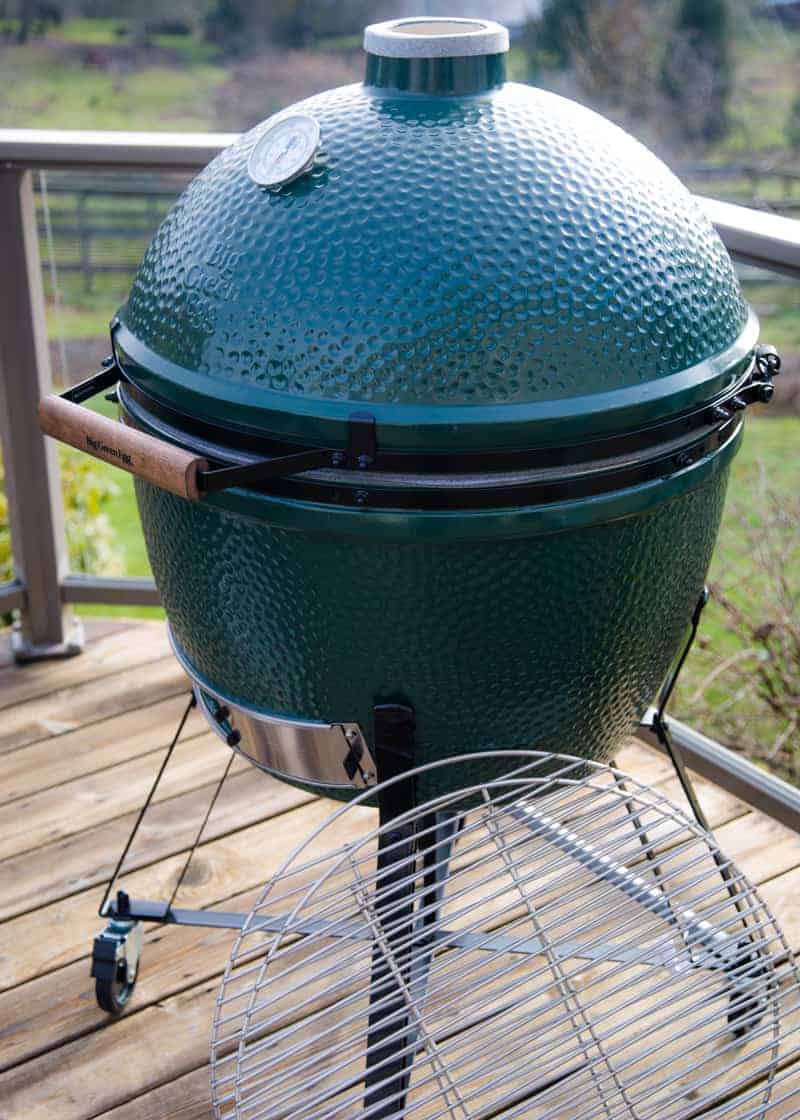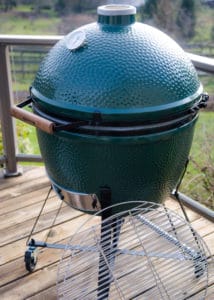 Pros
Versatile for all cooking styles
Efficient use of fuel
Gets hot
Great flavor experience
Cons
Expense
Can have smaller cooking surface area
Heavy
Steeper learning curve
Kamado Grills are engineered off of a Japanese style of cooking vessel using ceramic. Now you can find them in cast iron as well. Kamado Grills, like the Big Green Egg, are some of the most versatile wood burning grills and smokers on the market. They burn fuel very efficiently, even allowing you to reuse it, and they can be configured to cook low and slow, grill, or even at higher temperatures for pizza and baking.
If you are looking for one smoker and grill combo, and have the budget for it, this is the style of grill to purchase. And be sure to buy a bigger model, because the smaller units have less grilling space. It can take awhile to learn now to properly manage the cooking experience and fire management on a Kamado grill, but if you put in the effort to learn it will be worth it.
Additional Expenses: Charcoal and wood chunks will be something you buy, and one thing that stands out is that when you close down the vents, it will smother the fire and you can reuse the fuel. Also, buying racks for inside the grill and additional accessories will be likely (like a pizza stone). You'll want a good Bluetooth thermometer as well to compliment the dome thermometer.
We use the Big Green Egg XL and Big Green Egg Mini Max kamado grills.
Offset Smokers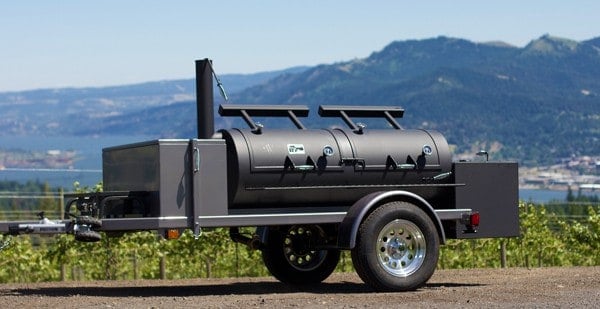 Pros
Some of the best smoke flavor
Good cooking space
Good convection style heat
Cons
Won't get to grill temperatures
Burns a a fair amount of fuel
Cheaper versions will rush quickly
Offset smokers, like Yoder or Oklahoma Joes, are best for low and slow cooking. They have a fire box that burns charcoal for heat and wood chunks or logs for smoke. Or you can run straight wood for both. They don't get to higher temperatures, for grilling steaks or searing any kind of meat for example. These are best if you only plan to smoke at temperatures under 350 degrees Fahrenheit.
While they are some of the least efficient smokers for burning fuel, we find they impart the most amount of smoker flavor into the things you cook. They are also not easy to use at lower temperatures (under 160 degrees Fahrenheit or cold smoking).
Note: Be warry of less expensive offsets that have thin steel. They will rust out quickly and do not retain heat well. Better to buy a higher quality model with thicker and higher quality steel.
Additional Expenses: Charcoal and wood chunks will be an ongoing expense, and because of how inefficient they can be, expect to spend a little more on fuel than a Kamado Grill. You'll want to supplement with a good Bluetooth thermometer as well.
We own and use a Yoder offset smoker including the Chisolm II trailer.
Electric Smokers
Cons
Smaller cooking space
Won't get to high temperatures
Relies on power. If power is not available, you can't use it.
Electric smokers are a great tool as they are affordable and can provide good smoke flavor and good insulation. They are great if you just want low and slow flavors and temperatures. They can burn charcoal, wood pucks, or a combination of fuels. Masterbuilt and Bradley are great examples of electric smokers.
Additional Expenses: You'll need to buy the correct fuel recommended by the manufacturer.
Specialty Cookers
There are many other styles of grills out there from drum barrel smokers to Argentinean style grills. As you explore these pits, they tend to be very good at one thing and you lose the versatility the others have.
We have a Gozney Dome pizza oven and the Camp Chef Sidekick pizza oven.
---