A weekly roundup of some of my favorite things this week in the categories of wine, food, travel, and lifestyle.
I have officially been back in Oregon one full week now, and what a week it's been.
Our movers ended up being, oh, 5 days late, which left us with an empty house and a lot of time to ….. just ….. wait ….. and ….. wait… and …..
We went close to a full week without having much (if anything) in our house. We are very fortunate to have generous neighbors who pulled together and let us borrow several essentials and also many comfort items (like a real table and chair set to sit on, instead of having to sit on the floor for each meal) – making the wait more bearable.
Needless to say it has been slightly challenging living with very limited resources and supplies, but we have been able to make the best of it. We ventured out of the house a lot to, A) keep me distracted and busy, and B) to keep the kids entertained, and C) to keep me from going insane with two toddlers in a virtually empty house.
Therefore, this weeks Friday Favorites is a tribute to the things that kept me sane this week, while also introducing the kids to some of the reasons I love Portland so much (especially summertime in Portland)
FOOD & LIFESTYLE
Portland Farmers' Market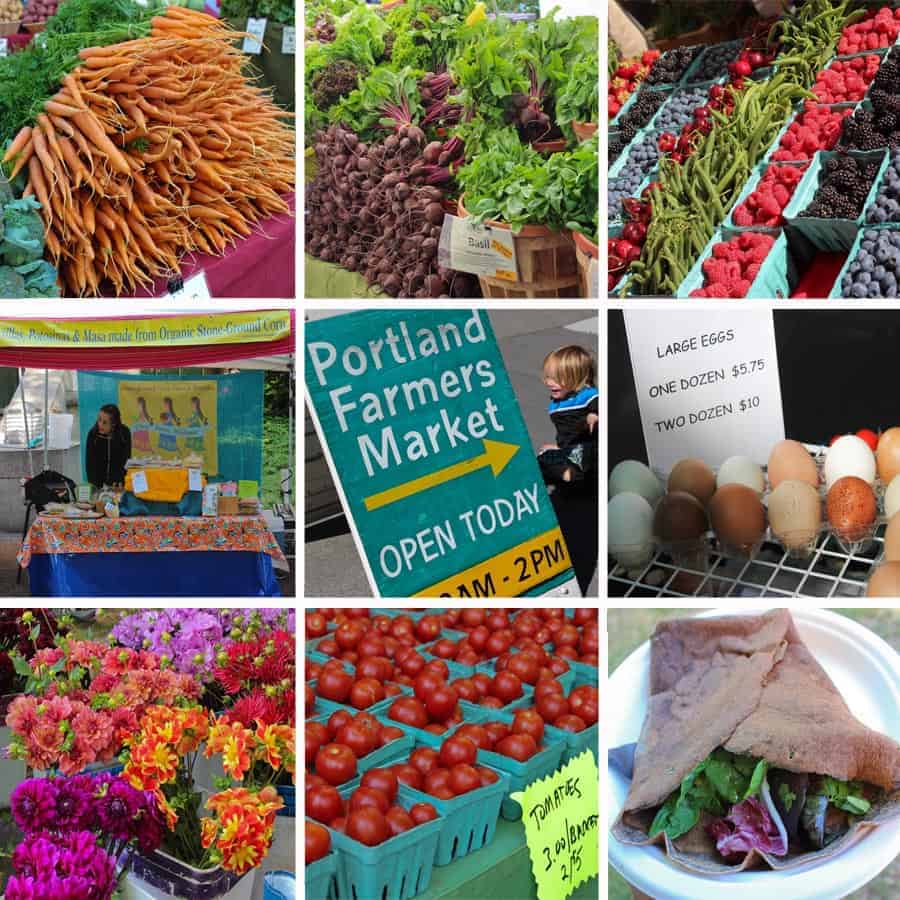 When we found out our movers were not arriving on Saturday the only thing that cheered me up was that we could go to the Farmers' Market instead. So we did. I absolutely love this place. Located at the Portland State University campus in downtown Portland this farmers' market is inspiring in every way — from the food vendors, the fresh assortment of seasonal fruits and veggies, to the fresh flowers, eggs, meat, and breads… you name it, they have it. Also, living with a child who is gluten free I am discovering that there is probably no better place in the country to live with such a diet than Portland. The Farmers' Market is swarming with GF friendly vendors! I'm in love, and will most certainly return tomorrow to get some fresh air and a break from unpacking to wander the market.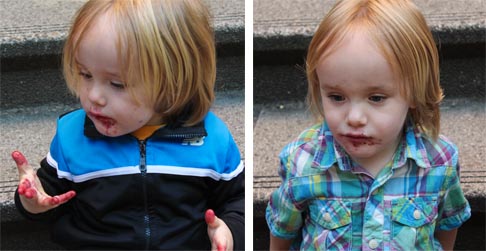 One thing I will remember for next time, it's probably not a good idea for kids to munch on blackberries while walking around the Farmers' Market. Next time stick to something less messy 😉
Open Saturdays 8:30 a.m. – 2:00 p.m. March thru October, 9:00 a.m. – 2:00 p.m. November & December | Website
Here is a sneak peak at some of the many meals I made this week almost entirely with Farmers' Market ingredients…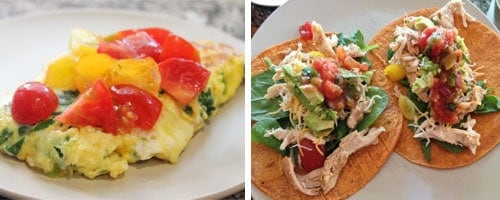 Farmers' Market Spinach and Cherry Tomato Omelet
Made with spinach, tomatoes, and eggs all purchased from local farm stands
Farmers' Market Chicken, Spinach, and Veggie Tacos
With everything purchased at the farmers' market, except for the chicken (that was from Whole Foods).
The next big tease came when the movers said they would be here on Wednesday… then changed the date (again) to Thursday. The only thing that made me feel better this time was the one thing I had been looking forward to since we moved away in 2010…..
Berry Picking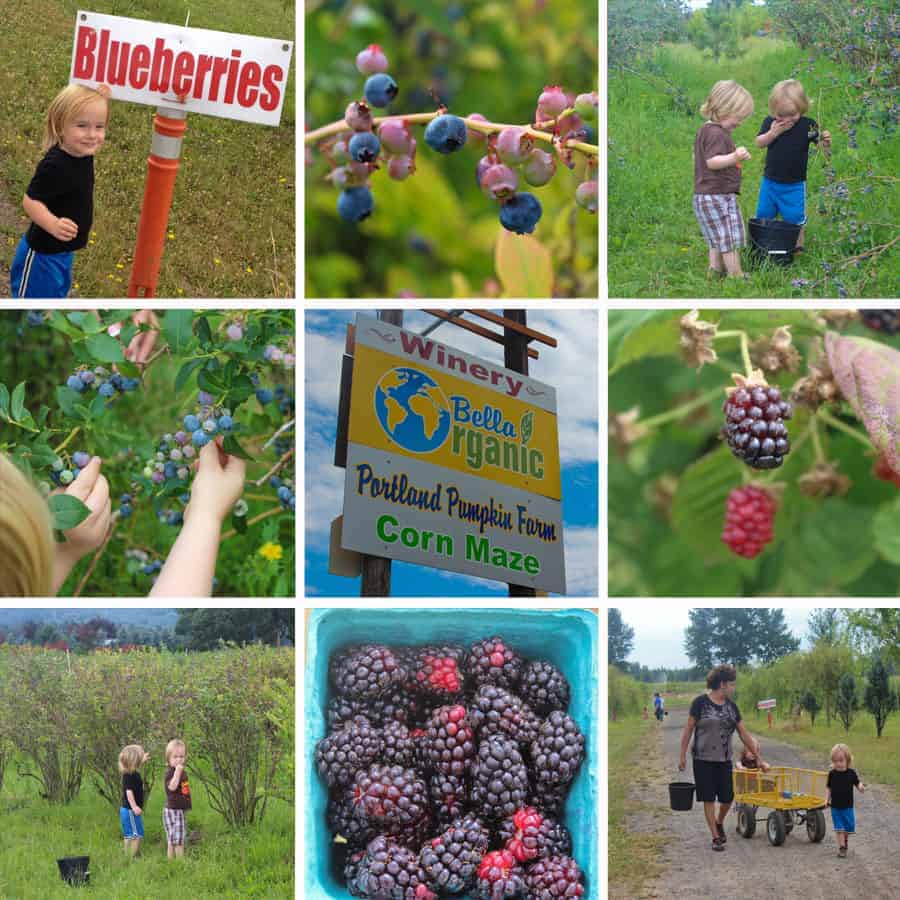 I never really took advantage of the dozens and dozens of local U-pick em' berry farms in Portland until the summer before we moved to CT. Boy was I missing out! These places are not only fun to visit, but also home to the freshest, sweetest, most perfectly ripe fruits and vegetables at affordable prices. There is something so perfectly comforting about biting your teeth into a piece of just picked fruit or produce that you simply cannot get from produce bought from the supermarket.
Returning to Portland in the middle of the summer berry-picking season I couldn't wait to expose my kids to this must-do experience.
We decided to drive out to Sauvie Island (my favorite place to pick berries); a 26,000-acre river island located about 15 minutes from downtown Portland, and home to farms, nurseries, animal kennels, beaches, hiking, and several other outdoor activities.
Bella Organic, Sauvie Island
Bella Organic is a 100-acre all-organic farm, certified by Oregon Tilth. They offer several varieties of berries as well as dozens of vegetables you can pick or purchase in their farm store. The farm is also 100% run on solar energy. Pretty cool huh?!
The day we went the woman working behind the counter mentioned they were pretty wiped out of marionberries and blueberries, but we managed to still find plenty to soothe our needs without working hard to find them.
16205 N.W. Gillihan Road | 503-621-9545 | bellaorganic.com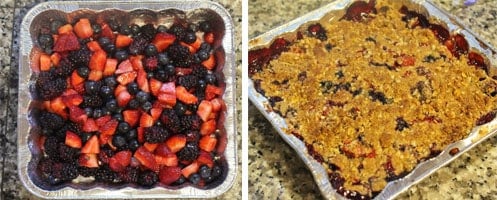 What was left of the berries by the time we got home (my kids devoured half our lot!) we put together in this Gluten Free Three Berry Crumble. I was pretty amazed that I put this together with pretty much nothing in my kitchen or pantry! I will re-test it soon and post the recipe if it comes out as good.
WINE
On the last day of our road trip we stopped at Nectar Tasting Room in Spokane, WA. Nectar Tasting Room is owned by Josh Wade, whom I met several years ago when he first started a wine blog drinknectar.com. His passion for wine led to the creation of this gorgeous 3,000 square foot wine bar featuring 5 different Washington Wineries whose wines are on a rotating schedule. The day I was there Josh and Ben poured me a flight of 1 white, 1 rosé, and 3 reds. The rosé was delightful and I had to get a couple bottles to share with the hubby at home.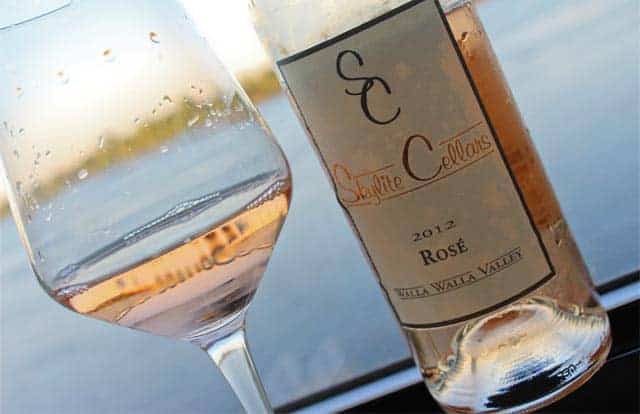 Skylite Cellars 2012 Rosé
Walla Walla, Washington (USA)
Grapes: 100% Mourvèdre
13.3% abv | $20
I had several rosé's made from Monastrell (what Mourvèdre is called in Spain) on my recent trip to Murcia, Spain, and none of them were as pale pink in color as this one from Skylite. Mourvèdre is a dark and powerful grape, and this wine had only a few short hours (less than 8) of skin contact to achieve such a light color. This also toned down any wild fruit aromas, leaving it with delicate red berry aromas and a mild yet crisp and refreshing mouthfeel. Only 60 cases of this wine were produced, so you won't find it distributed far, but if you are near Spokane you can still pick up a bottle or two at the Nectar Tasting Room. I highly recommend a stop at Nectar, and most definitely this wine — an awesome rosé to have on hand for summer BBQ's or patio sipping.
Nectar Tasting Room | 120 N. Stevens, Spokane, WA | Website
***
Why I write these Friday Favorite Posts
Previous Friday Favorite Posts
Want more? If you liked what you read you can subscribe to Vindulge and have new posts delivered directly to your inbox.