Grilled Tri Tip is one of the easiest beef roasts to grill. It is also great for feeding a crowd. This Tri Tip recipe is finished with a Zinfandel red wine reduction sauce to add a little extra flavor after you slice it.
Check out our smoked tri tip for even more fun ways to prepare this roast.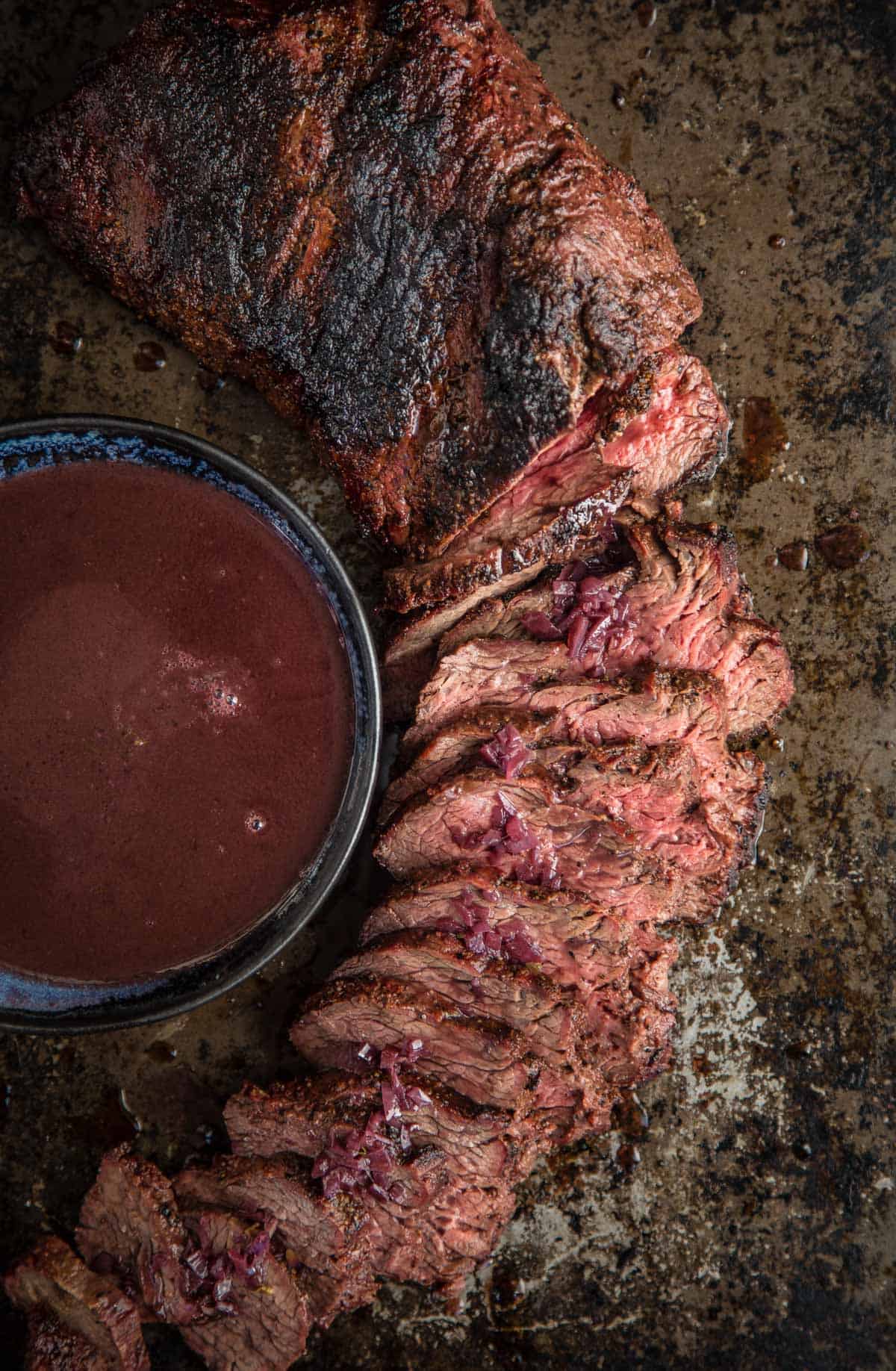 Jump to:
The Cut
If you are wondering what is Tri Tip? It is from the sirloin primal cut of beef. The cut is lean and has a very beefy flavor. After grilling Tri Tip, the texture is soft and delicate and the flavor is rich and juicy.
If wondering where to buy Tri Tip, ask your local butcher if they can cut it up for you from the sirloin. It has a triangular shape as it is cut from the intersection of three muscles.
If they can't do it, you can always order via a quality beef supplier. Snake River Farms Tri Tip is amazing, with American Wagyu marbling and an incredibly butter-like flavor.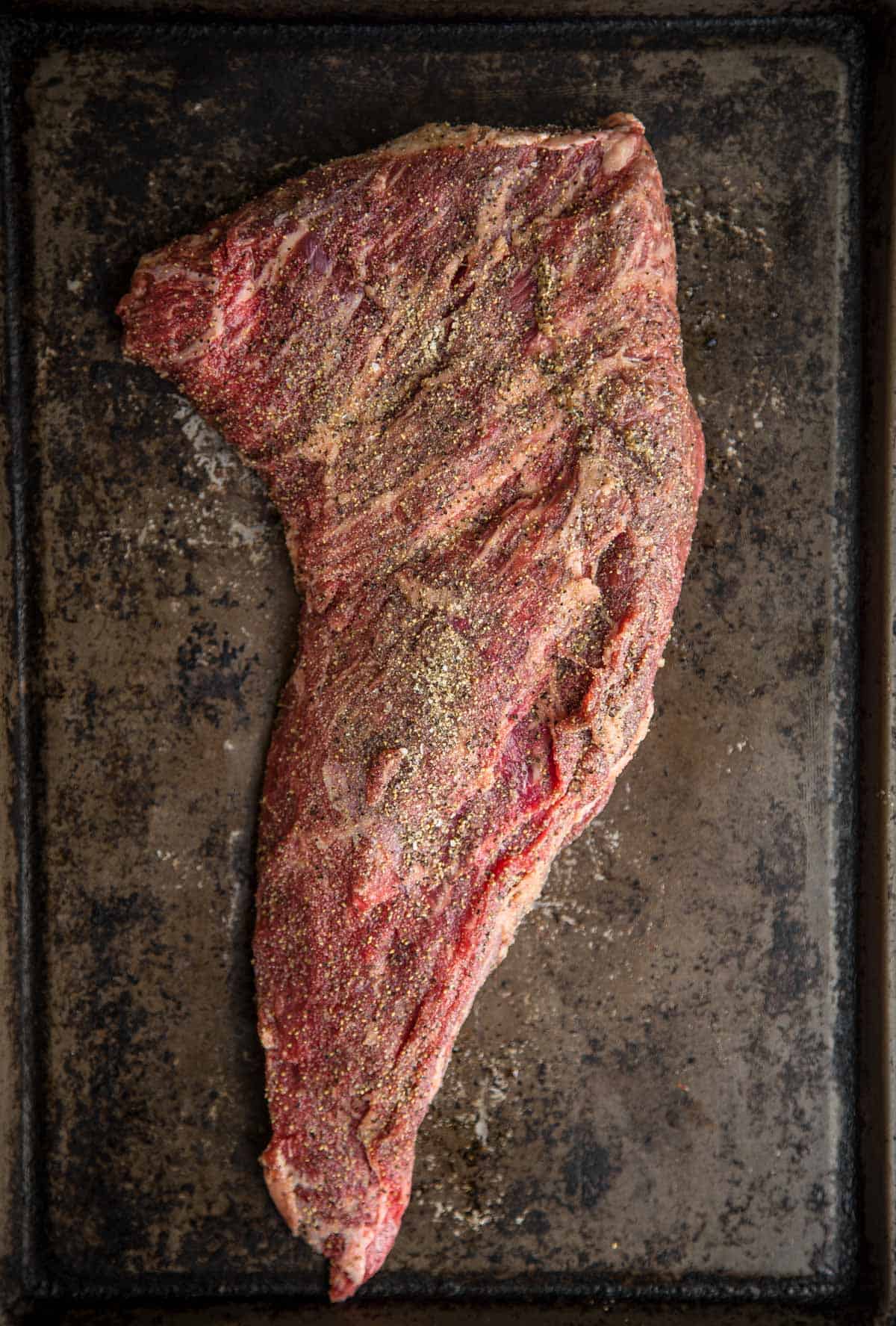 Preparing Tri Tip
A Tri Tip roast will come with some silver skin and fat pockets on it. Using a sharp knife, remove all the silver skin and little pockets of the fat on the outside of the tri tip and discard. If you leave some of that on the cut, some of the thicker pieces of fat will be chewy and unpleasant to bite into.
For a beef rub, we use a very simple "SPG" rub, which is equal parts kosher salt, coarse black pepper, and granulated garlic.
Start with a light coating of extra virgin olive oil after trimming. This acts as a binder that allows the rub to adhere to the meat, and then season the meat liberally.
Grilled Tri Tip
If you are looking for the best grill to cook a Tri Tip, the easiest method is to use a grill that you can set up for direct/indirect grilling or a two-zone grilling.
Start by preparing your lump charcoal and getting the grill hot. Place the charcoal on one side of the grill, leaving the other half without any charcoal. Target about 450 – 500 degree Fahrenheit over direct heat.
Place the Tri Tip roast over direct heat and grill for 5 minutes.
Flip the cut over and continue cooking over direct heat for another 5 minutes. The goal is to get a nice char on each side of the meat, but not allow it to burn.
Finally move the Tri Tip over to indirect heat and finish cooking for another 10 – 12 minutes, or until the internal temperature of the meat reaches your desired finishing temperature. We like 125 degrees F for rare.
Cooking to temperature is the most important part of grilling or smoking. This is why it's easier to get a nice sear first on both sides and then have the indirect side available to finish it to prevent burning the outside with an under cooked interior. Use a high quality reliable instant read thermometer like the Thermoworks MK4 Thermapen or the Thermopop. They take accurate temperature in seconds.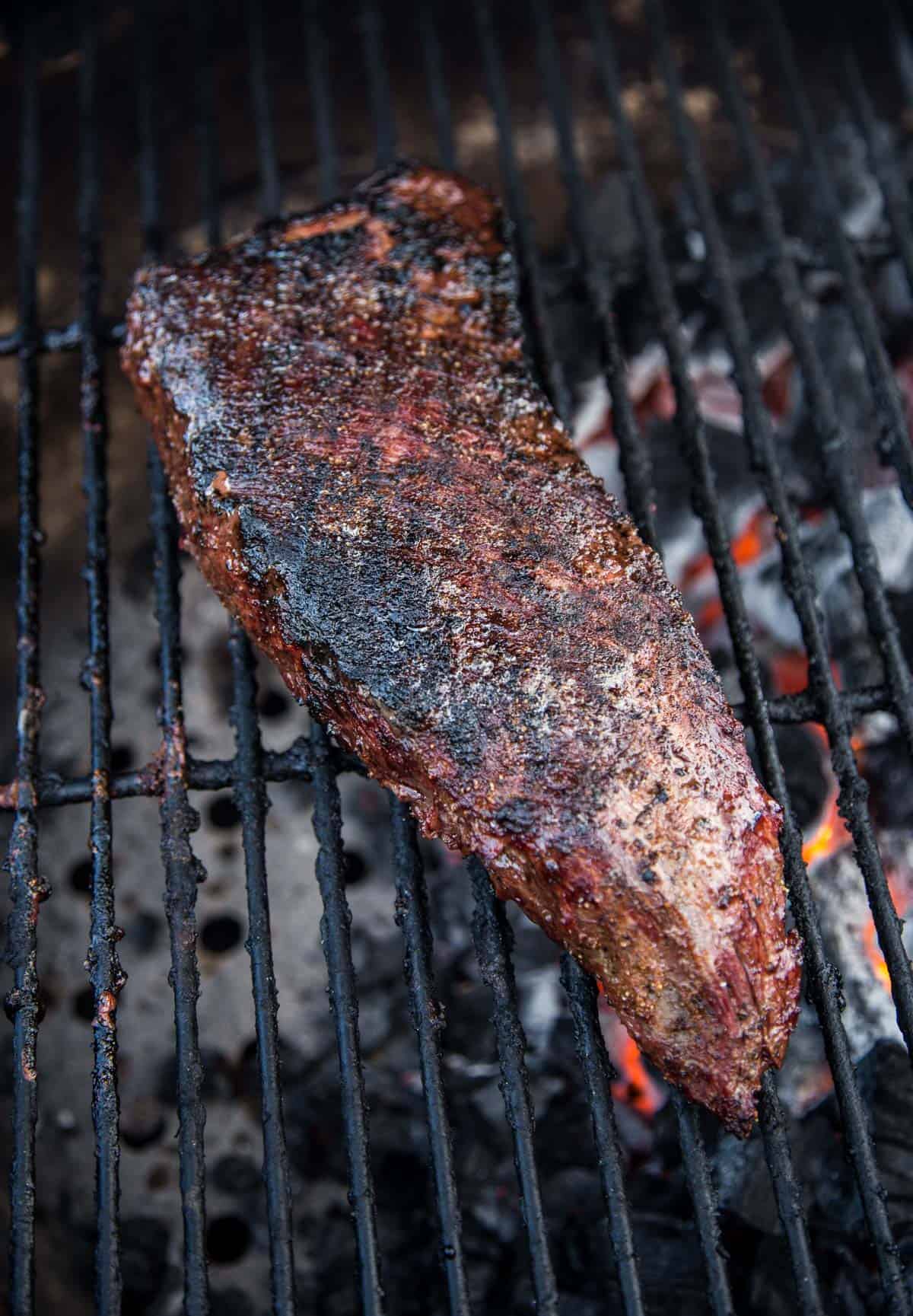 Beef Chef Temperature Ranges
Rare: 120-130 degrees F
Medium Rare: 130-140 degrees F
Medium: 140-150 degrees F
Medium Well: 150-160 degrees F
Well Done: 160 degrees F (and not recommended)
How to Cut Tri Tip
This is an important part of the finished cut. Whenever cutting beef after it's done, cut the meat perpendicular to the grains that make up the muscle striations. You can see the lines or direction of the muscle on both the raw and finished cuts. By cutting against the grain (or perpendicular to the cut) you get a more tender bite.
Start with the small pointy end of the roast. Slice in pencil thin slices perpendicular to the grains until you reach the next angle of the roast. At that point rotate the meat and begin slicing against the grain from the other side of the meat.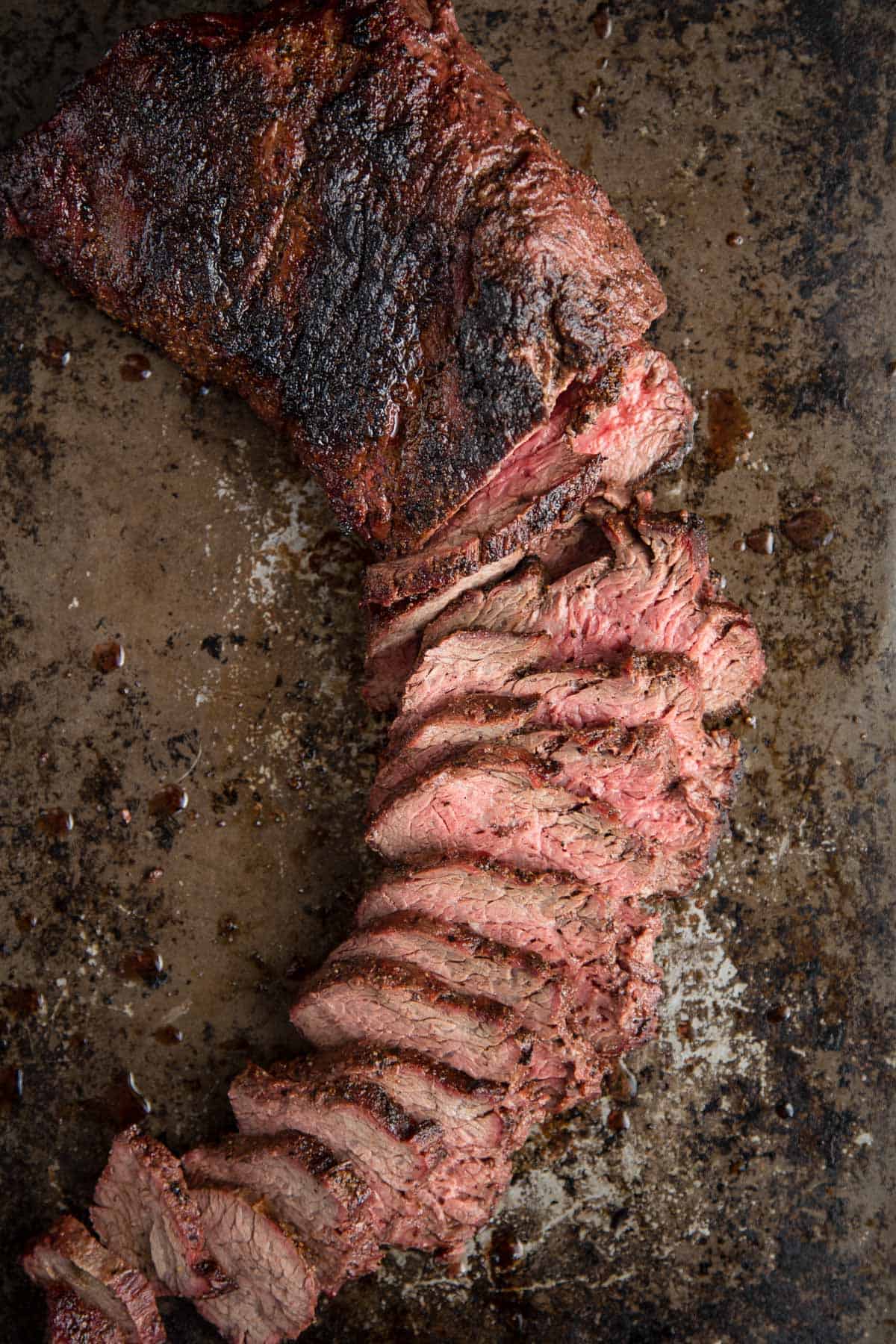 Red Wine Reduction Sauce (Zinfandel)
This red wine reduction sauce is a great way to use up any leftover wine, or, if you're willing to sacrifice a small amount of your wine, simply to add incredible flavor to your meal. Half a glass of wine is enough to make a rich sauce for two people. This red wine reduction sauce recipe is easy and fast to make.
To add a great intense flavor to the grilled Tri Tip, we reduce Zinfandel with some shallots, balsamic vinegar, and thyme to get a delicious sauce to pour over the steak. Zinfandel is a flavorful red wine that has dark berry fruit flavor and intensifies as it is reduced.
Saute shallots in olive oil to soften (but not brown) and then add the Zinfandel, balsamic vinegar, and thyme.
Bring up the heat to a strong simmer and reduce the wine to ¼ cup.
Strain the shallots and thyme and add the butter. Stir until melted. And serve.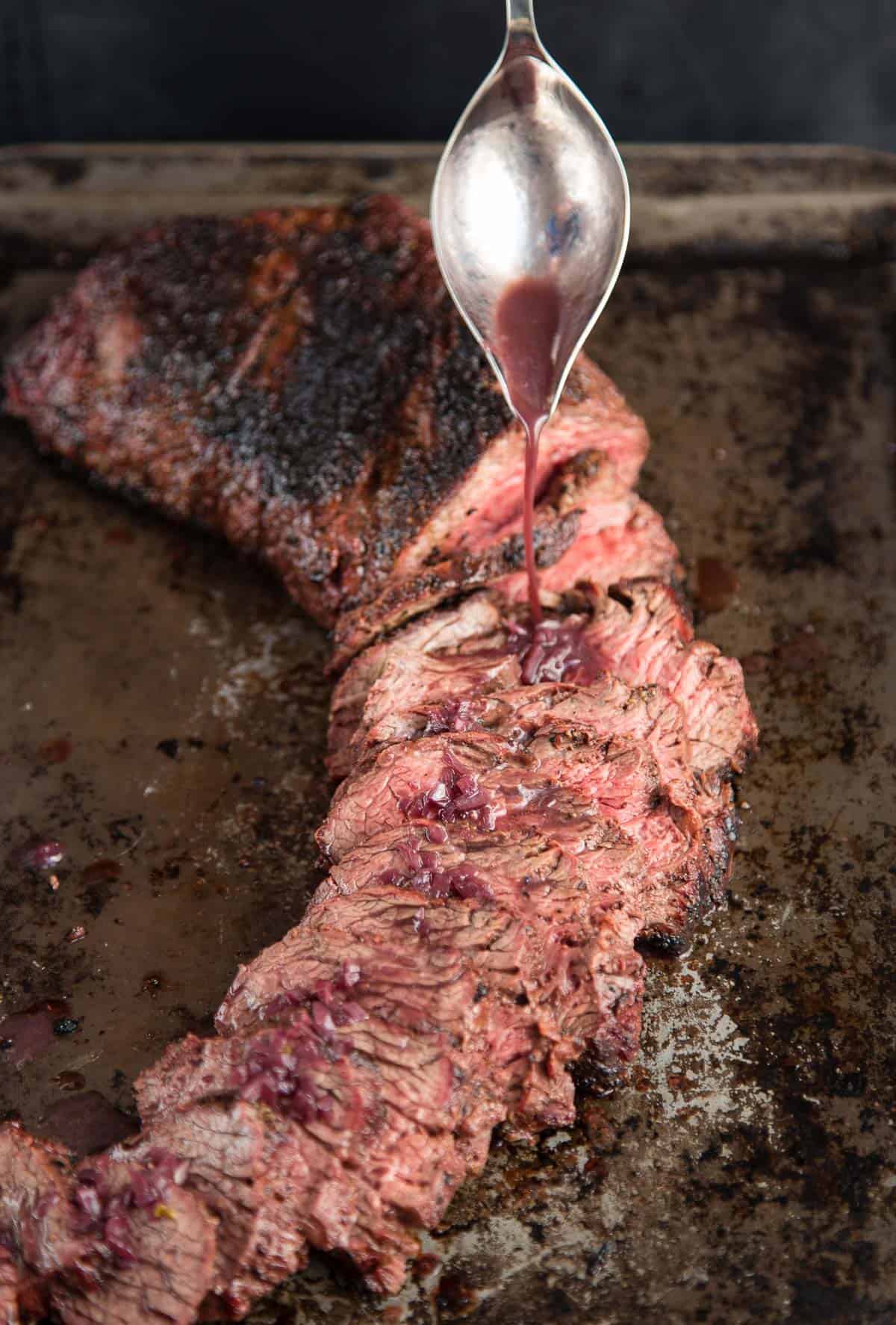 We strain into a glass measuring cup (though this is not necessary if you'd like to keep those bits of shallots). Be careful not to boil the sauce as that will burn the vinegar and create that same taste in the sauce. The butter as it melts will also give that beautiful shine to the red wine reduction sauce while keeping the modest thickness.
Wine Pairing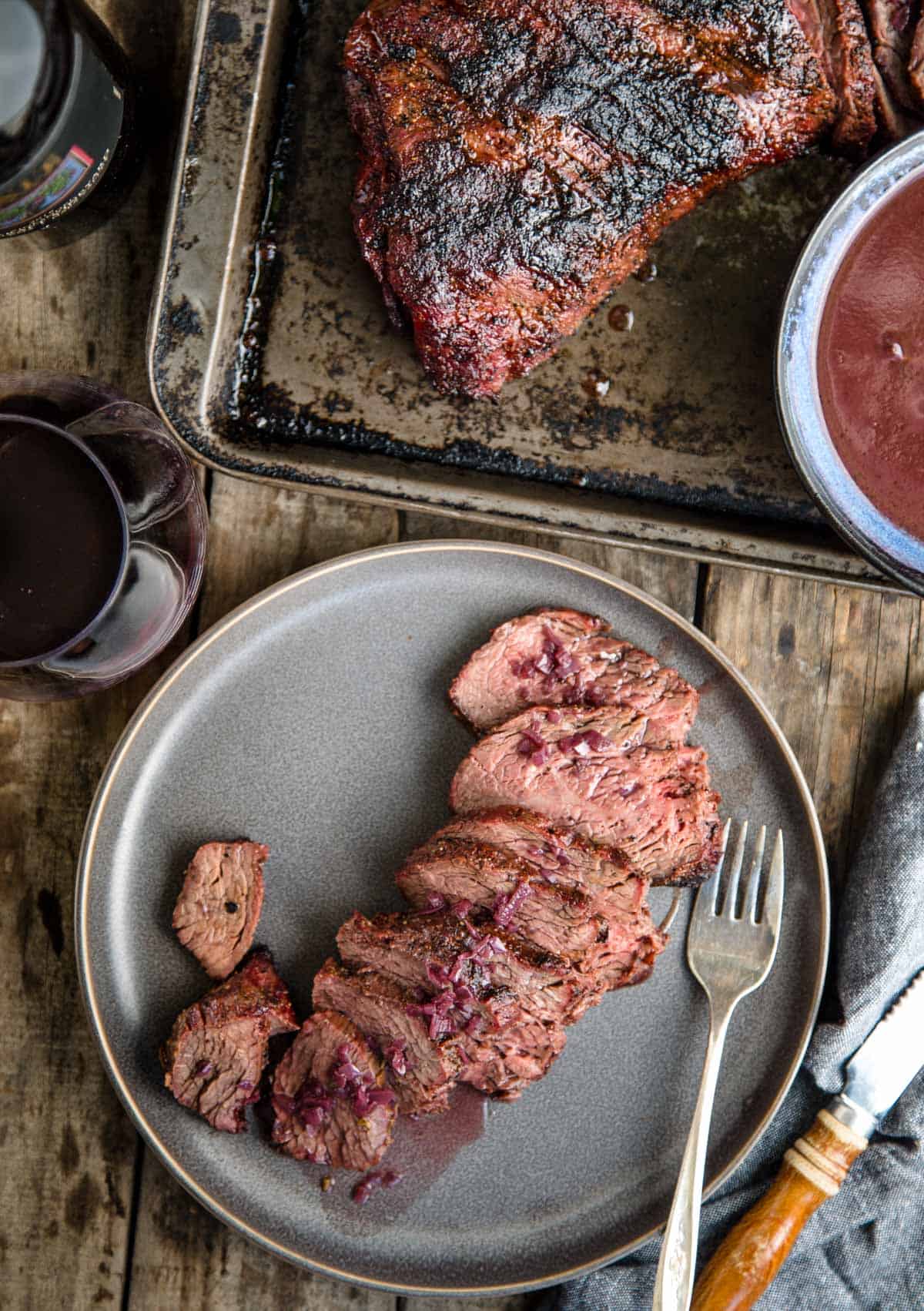 Grilled Tri Tip alone has a number of pairing options. The tender beefy flavor and charred meat is great with a bolder style Pinot Noir, Malbec, or even a smooth Merlot. But with this rich red wine reduction sauce we highly recommend it with Zinfandel. The intensity of the reduction sauce, along with the grilled meat, is an amazing match for the rich berry flavors, peppery spice, and acidity you'll find in a quality Zinfandel wine. You can find great examples from California, especially in Sonoma, Amador County, Lodi, and Paso Robles. You can also find some good local Zin right here in eastern Oregon that would be fantastic with this Tri Tip! Find out more about Zinfandel and its pairing options here.
More Tri Tip Recipes
---
This post may contain affiliate links. This means if you click on the link, we may receive a small commission if you purchase through the link. We partner with brands we know and love and use and it helps keep the blog going!