Smoked Tri Tip Mac and Cheese is cooked on the grill with perfectly smoked and tender tri tip, mixed with an ultra creamy cheese sauce.
It is sure to up your mac and cheese game… by about a million percent.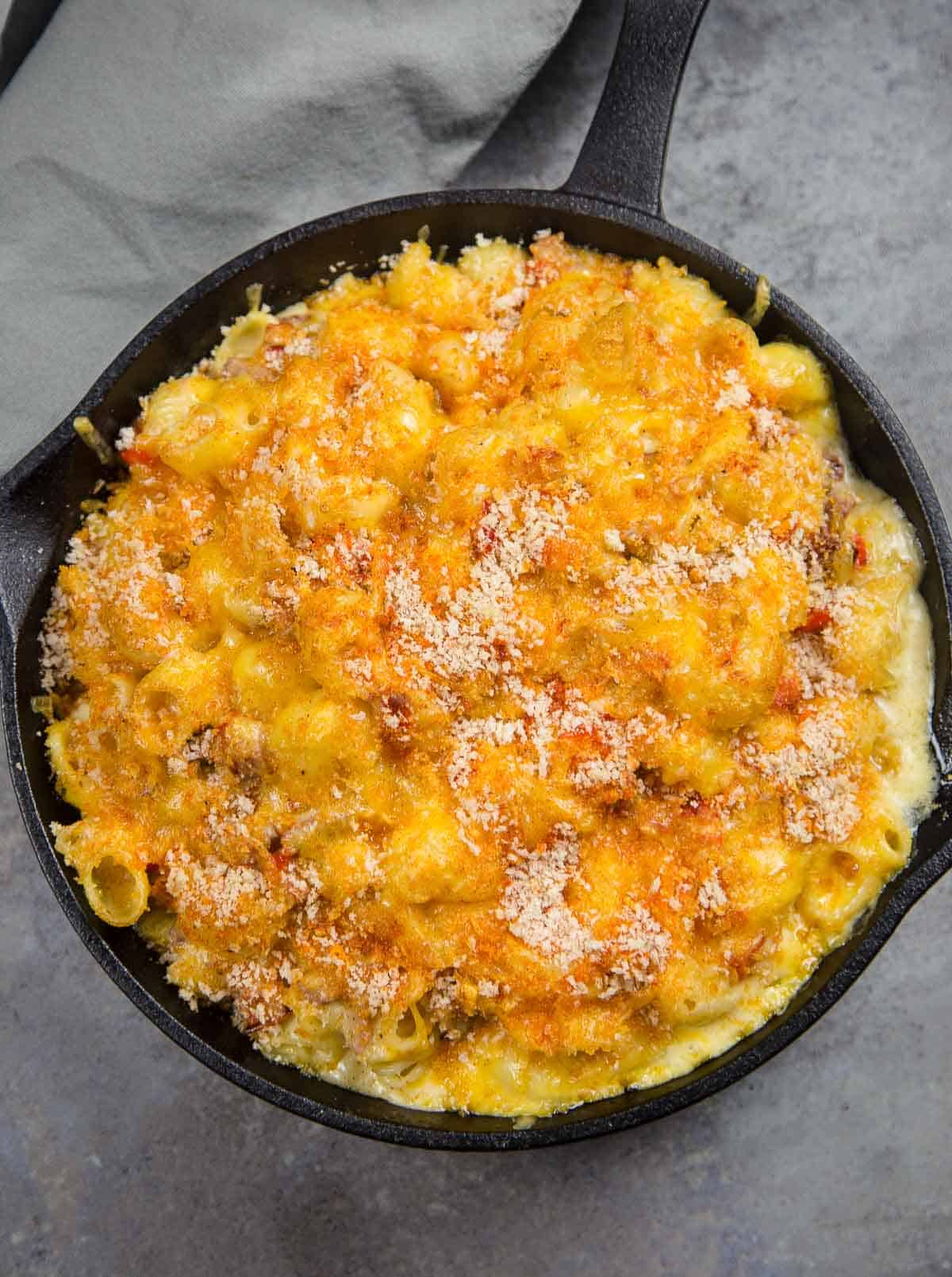 Jump to:
Mac & Cheese Recipe Inspiration
If a winery could be my spirit animal it might be  Barton Family Winery and Grey Wolf Cellars  in the Paso Robles Wine Region. In addition to a wide range of tasty wines, they offer a casual and friendly environment, plus they're family AND dog friendly (something that is important to me as we frequently travel with our children and I want them growing up understanding wine is not just an alcoholic beverage, but a culture).
But the bigger connection I found with this winery is their Barton's Kitchen Widow, a sort of built-in, casual, food cart style restaurant, offering some killer smoked meals you can pair with their wines.
Jump to: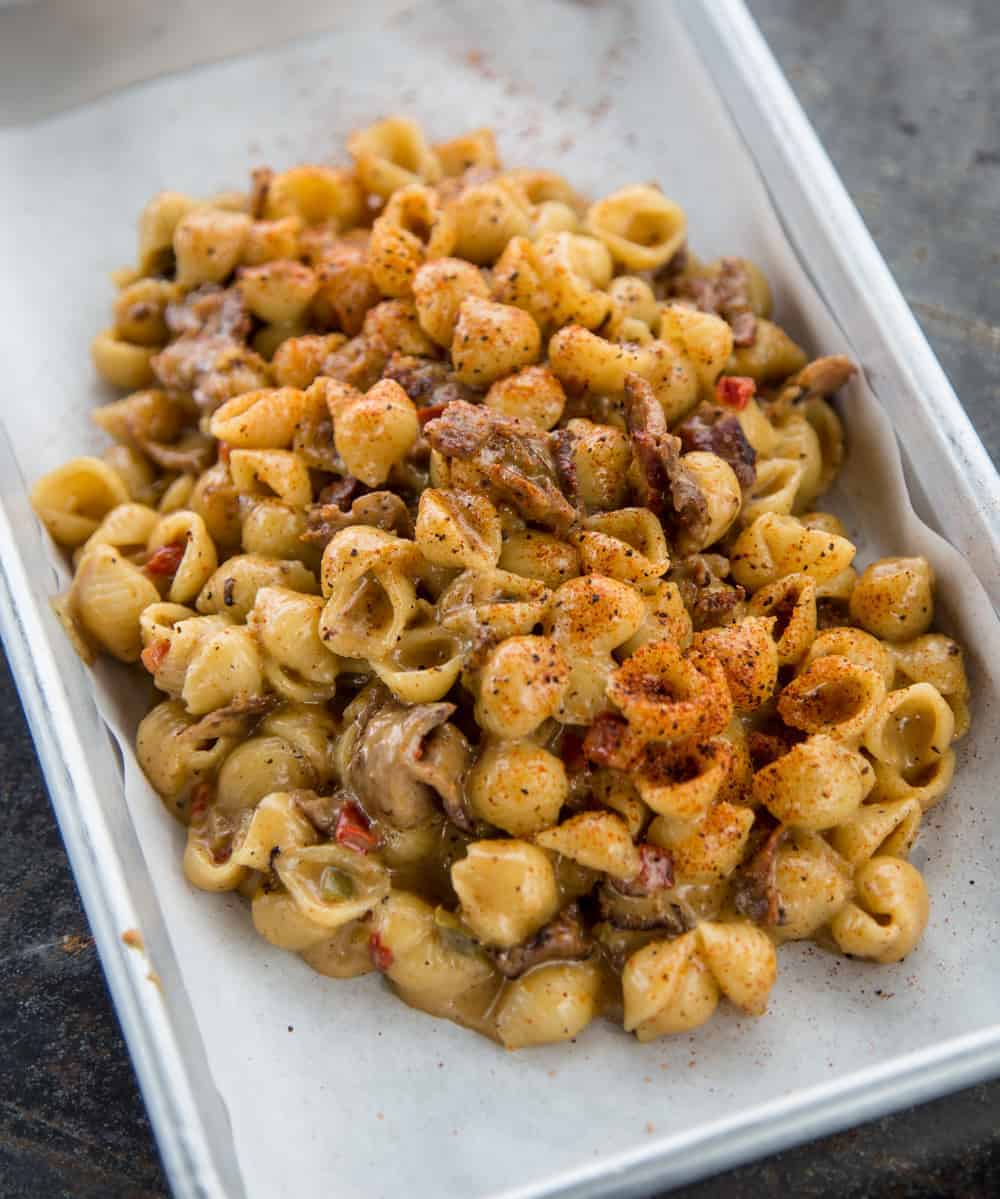 It's very similar to the philosophy behind Ember and Vine, our own wood-fired wine country catering company, which is why I connected so quickly with this place.
Good wine + BBQ inspired food and wine pairings + family friendly + great people = my idea of a great overall hospitality experience.
And that's what you get when you visit Barton Family Winery and Grey Wolf Cellars and their Kitchen Window as I experienced on a press trip last year.
I also found my dream mac and cheese. You see, Chef Jeffry (the chef behind the Kitchen Window) is also a mac and cheese master, and has won awards left and right for his creative concoctions. This one was called Paso Mac & CheeseSteak, which included a roasted garlic-provolone cheese sauce, smoked tri-tip, sautéed peppers & onions, tossed with mini shell pasta.
I knew the moment I took my first bite that we had to re-create it.
Our version…
Smoked Tri Tip Mac & Cheese on the Grill
I couldn't remember the exact cheese blend Jeffry used (and you know I fo-sho asked him!), but I do remember him saying he makes the cheese sauce so creamy and extra liquidy, so liquidy that you question yourself before going in to bake. So don't question it! That's how it gets so indulgently creamy after it's baked. Some of that liquid will evaporate, and some will soak into the pasta.
Our version is pretty simplified from his. We used just two cheeses (I'm pretty sure I remember him saying he used four or five?). And we stuck to red bell peppers instead of going for that full cheesesteak onion-pepper-provolone inspiration. And you know we had to add a smoked Tri Tip for an extra layer of unbelievable flavor!
You guys. It. Is. Insane!
What Pasta to Use for Steak Mac and Cheese
Speaking of pasta, this is obviously not macaroni, as the name "mac & cheese" would suggest. Instead we use the shell pasta to better get pools of that rich cheese sauce in the shell pockets, so that each bite bursts with that heavenly cheese blend. (Inspired by Jeffry, Genius!)
You will cook the shells to an al dente and set them aside until you are ready to mix everything together and cook on the grill.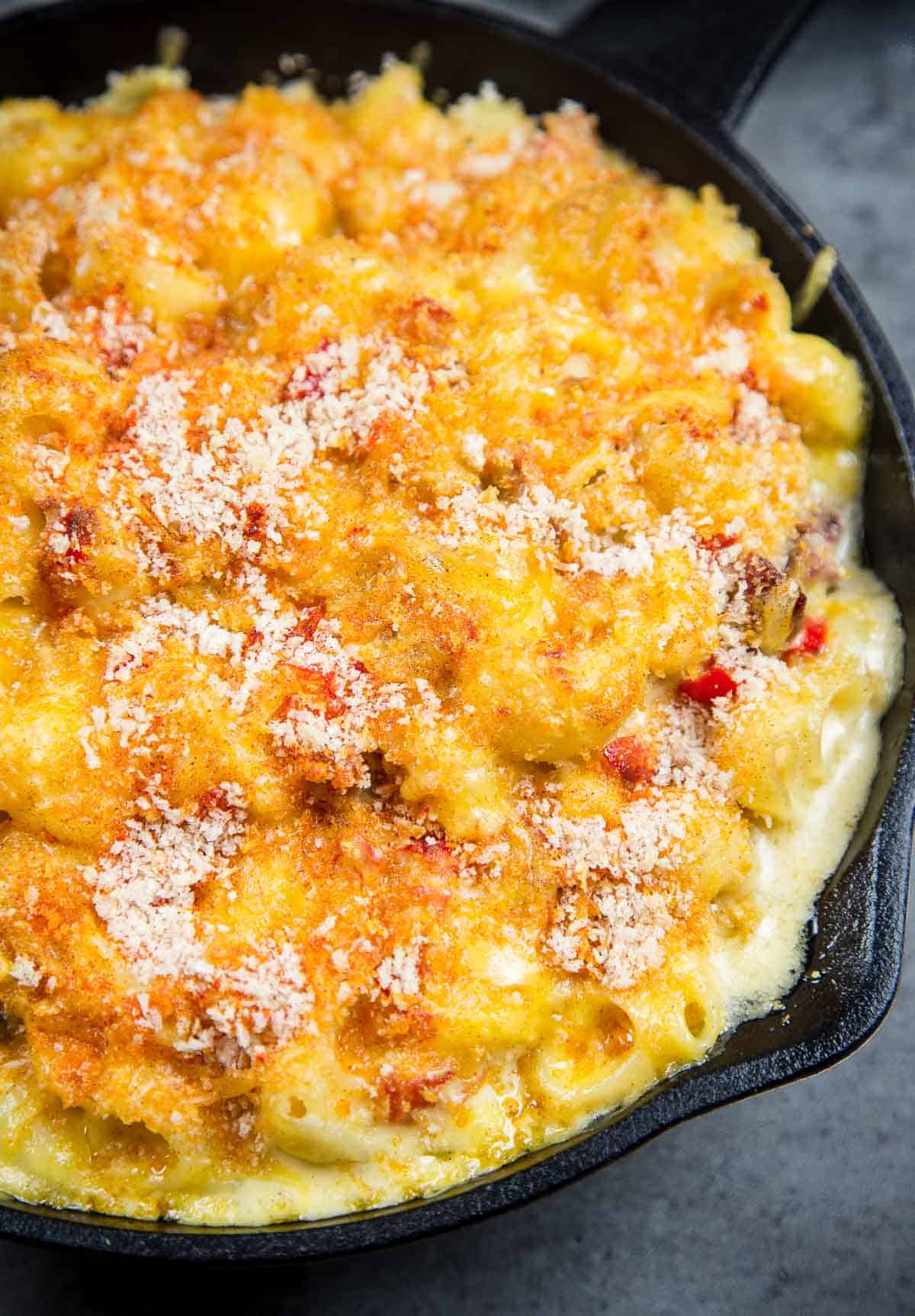 How to Smoke Tri Tip on a Kettle Grill
We used a kettle grill for this to show that you don't need a fancy smoker to get great smoked tri tip.  Simply prepare your grill for indirect cooking, and add some wood chunks into your coals. Simple. You can read more about smoked tri tip in our guide.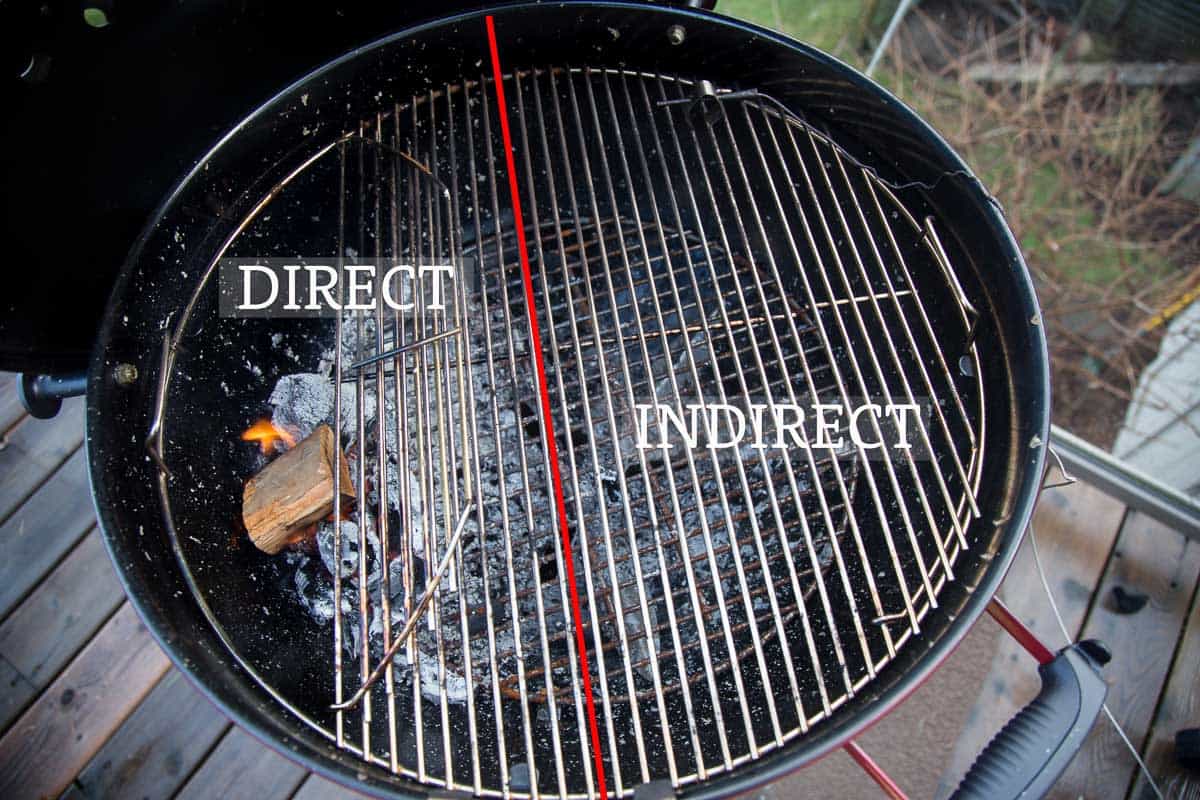 Prep your tri tip simply by rubbing it in a salt/pepper/garlic powder blend.
Smoke it at 250 for about an hour (or until the meat has an internal temperature of 125 F). We are cooking it more to medium because we are adding into the mac and cheese. A rare steak would be a little too tender. 
When it's done, let it cool enough to handle, then cut about 1 ½ heaping cups full of the smoked brisket into small bites. This will get mixed into your cheese sauce.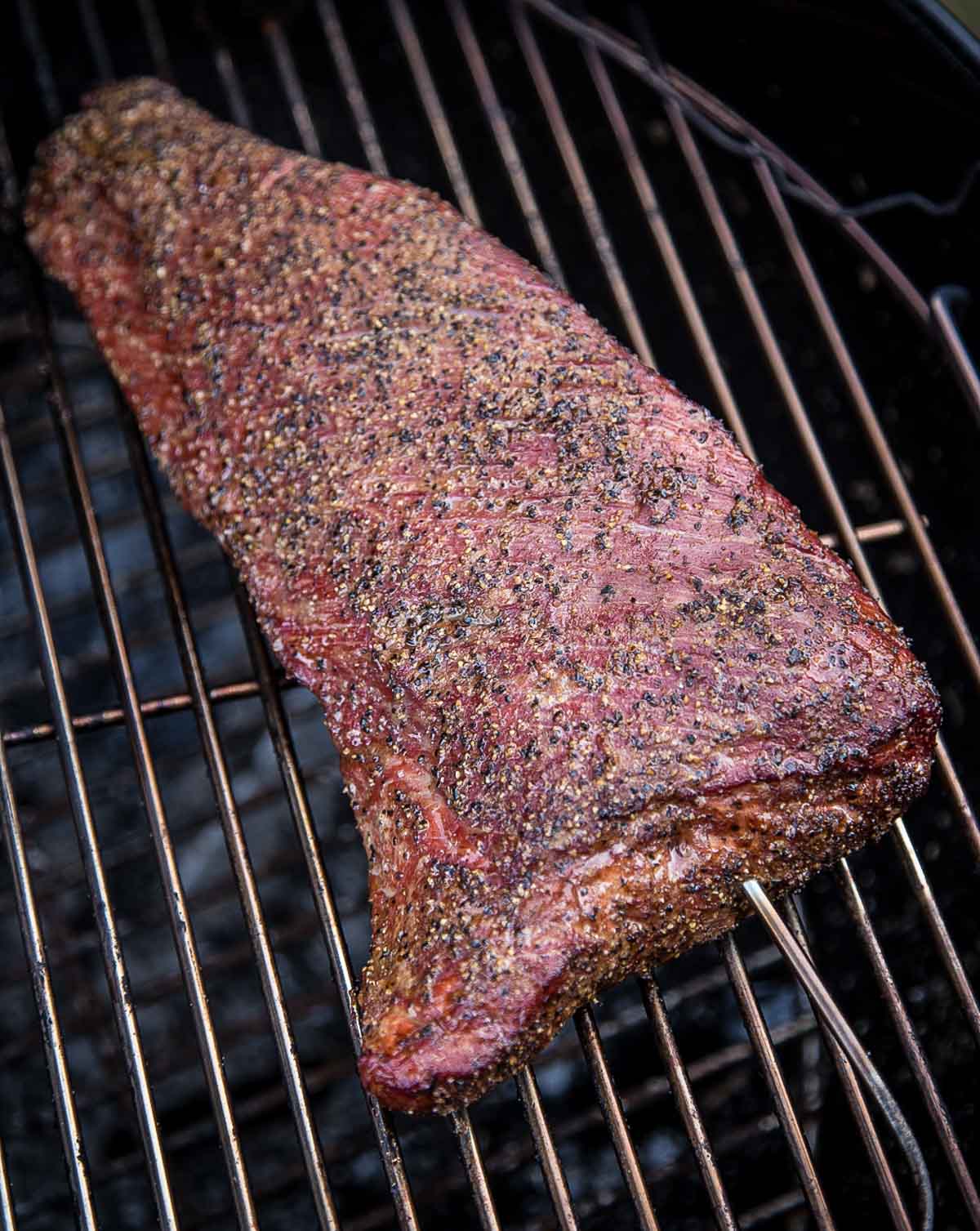 Cheese Sauce for Smoked Tri Tip Mac & Cheese on the Grill
Start by softening the vegetables in a cast iron pan until soft, then remove them and set aside.
In the same pot, make a standard béchamel sauce (combining butter, flour, and then milk).
Add crème fraîche, which adds extra richness.
Add the seasonings and cheeses. We like sharp cheddar for flavor and color and Gruyère for more incredible flavor, and because it melts so ridiculously well.
Add back the reserved chopped vegetables and 1 ½ cups of the chopped Tri Tip, and the noodles. Mix together.
Transfer to baking dish (or if using cast iron, leave it in there). Top with breading mixture.
Increase grill temperature to 350 degrees, prepped for indirect cooking.
Place the skillet directly on the grill, over indirect cooking, and cook 20 minutes. (Alternatively you can cook this in the oven set to 350 degrees as well). Remove and serve. 
Read our full guide on the proper steak temperatures to cook to your preferred temperature.
Serving
I know it may seem like a lot of work to go through for Mac and Cheese, but it's so worth it!
And if you should find yourself in Paso Robles, go check out the folks that inspired this recipe and try their version.
It's incredible. And to top it off you'll get this view!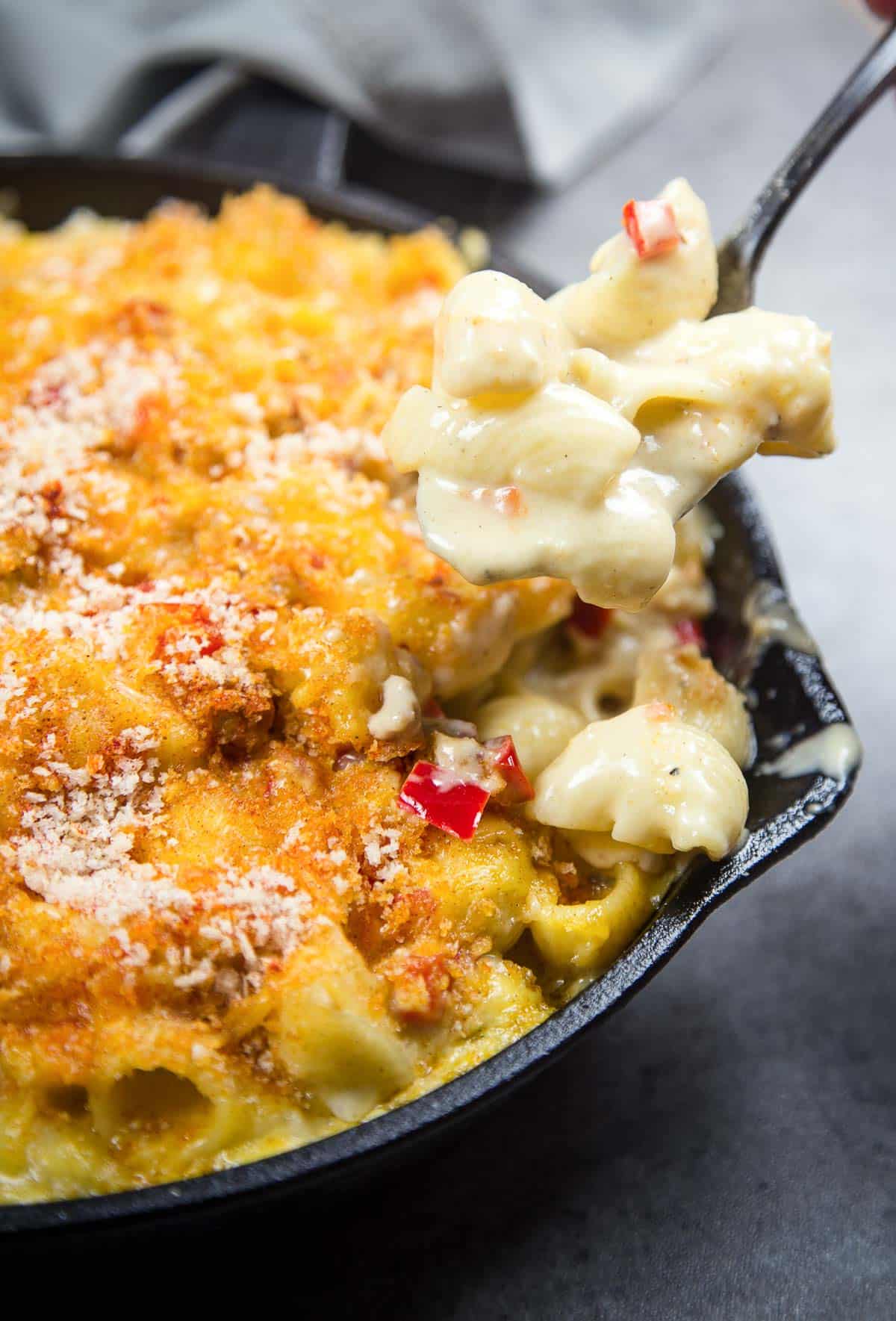 Other Mac and Cheese Recipe Inspirations
Mary (a certified sommelier and recipe developer) and Sean (backyard pitmaster) are co-authors of the critically acclaimed cookbook, Fire + Wine, and have been creating content for the IACP nominated website Vindulge since 2009. They live in Oregon on a farm just outside Portland.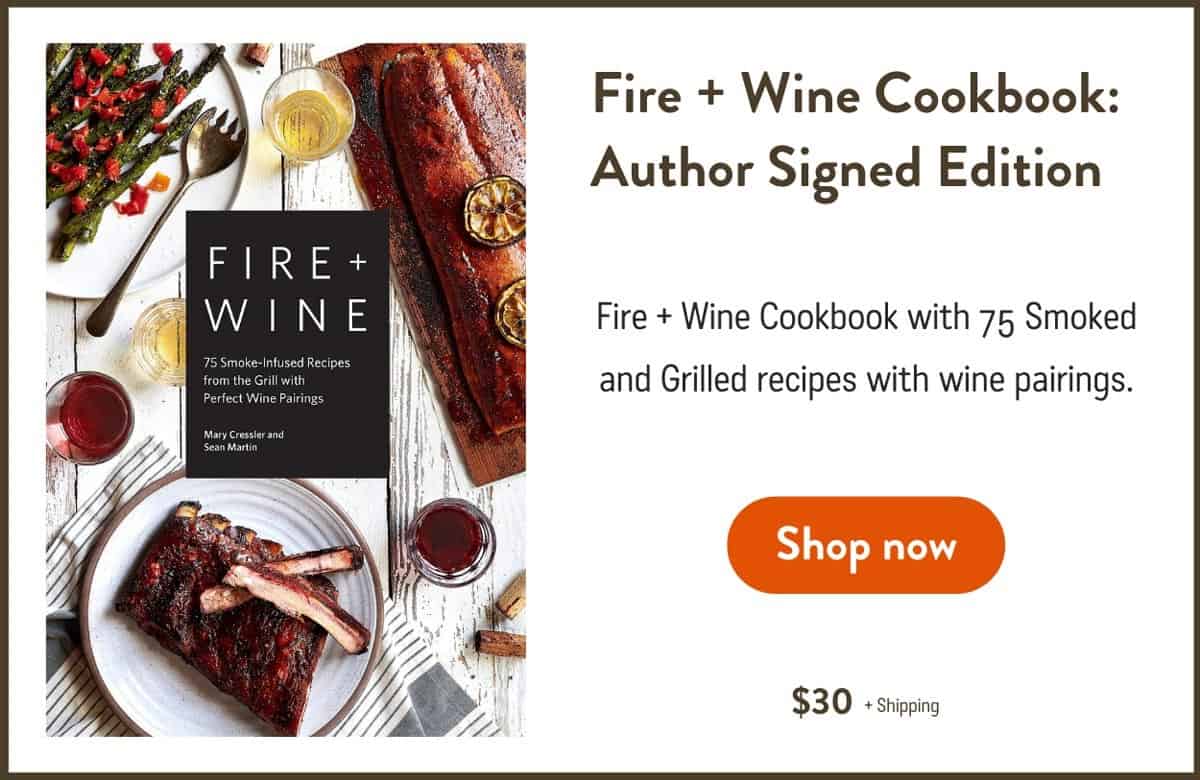 This post may contain affiliate links. This means if you click on the link, we may receive a small commission if you purchase through the link. We partner with brands we know and love and use and it helps keep the blog going!
If you like this recipe we'd truly appreciate it if you would give this recipe a star review! And if you share any of your pics on Instagram use the hashtag #vindulge. We LOVE to see it when you cook our recipes.