A simple recipe for smoked Tri -Tip.
Tri-Tip is an easy, quick, and affordable alternative to smoked brisket. Learn the secrets to perfectly smoking this lean and delicious cut of beef from a BBQ caterer.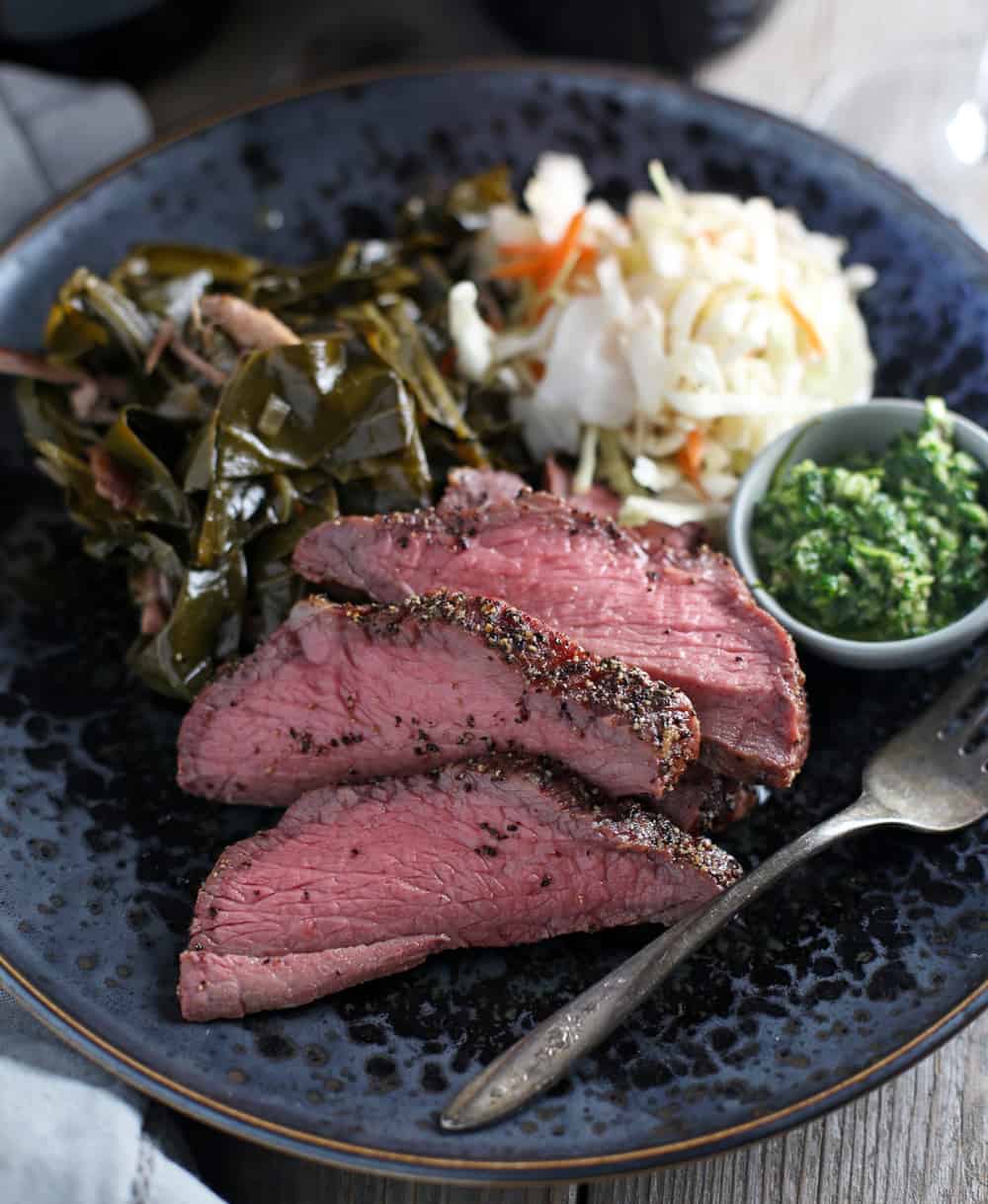 We've said it once, and we'll say it again. We friggin' love Smoked Tri-Tip around these parts!
It's the #1 cut of beef we cook around here. This is mostly because it's the #1 requested meat we cook at Ember and Vine events. And that is because it's a much more affordable option to brisket, both in price and the time it takes to cook. Tri-Tip averages around 60-90 minutes to cook, whereas brisket can take you 10+ hours. That's a serious commitment! With Tri-Tip there is little commitment to reap excellent rewards!

MY LATEST VIDEOS
Best Size Tri Tip to Smoke
You'll find them range from around 1 ½ lbs to 3 lbs. We like them somewhere around the 2 lb range. It has incredible flavor when smoked and is pretty lean. Because it's so lean it's important to not overcook it. We see a lot of Tri-Tip recipes where folks will smoke it for several hours. In our experience we've found that is not necessary! Seriously, around 60-90 minutes on average.
How long to Smoke Tri Tip
Like I said, 60-90 minutes set to an avg cooking temperature of 225 is all you need to cook it to a medium rare (which is what we suggest), or just a little bit longer for medium. You want to cook it until the thickest part of the meat is registering around 127 with an instant-read digital thermometer. That's the happy spot.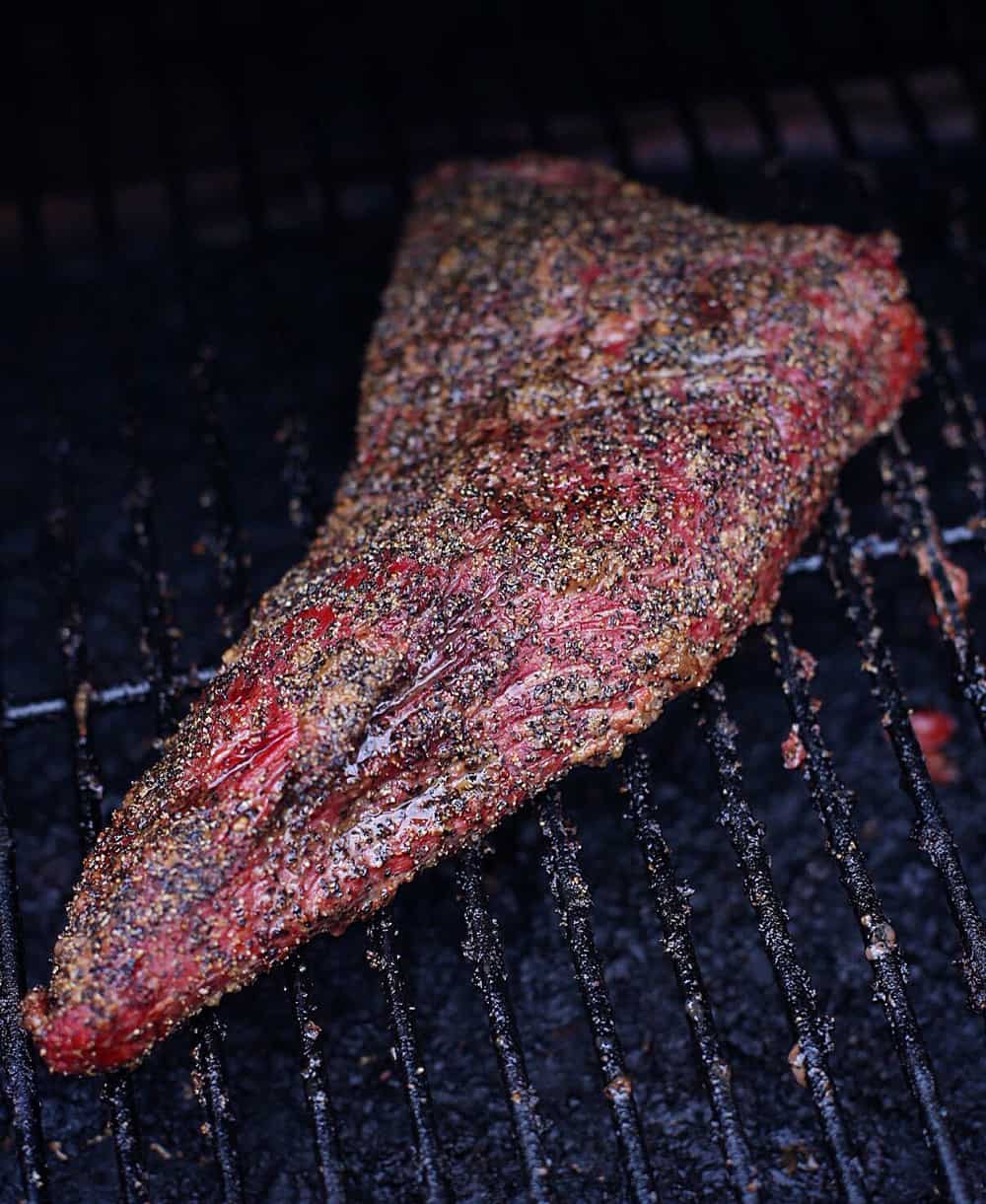 In case you want a different angle…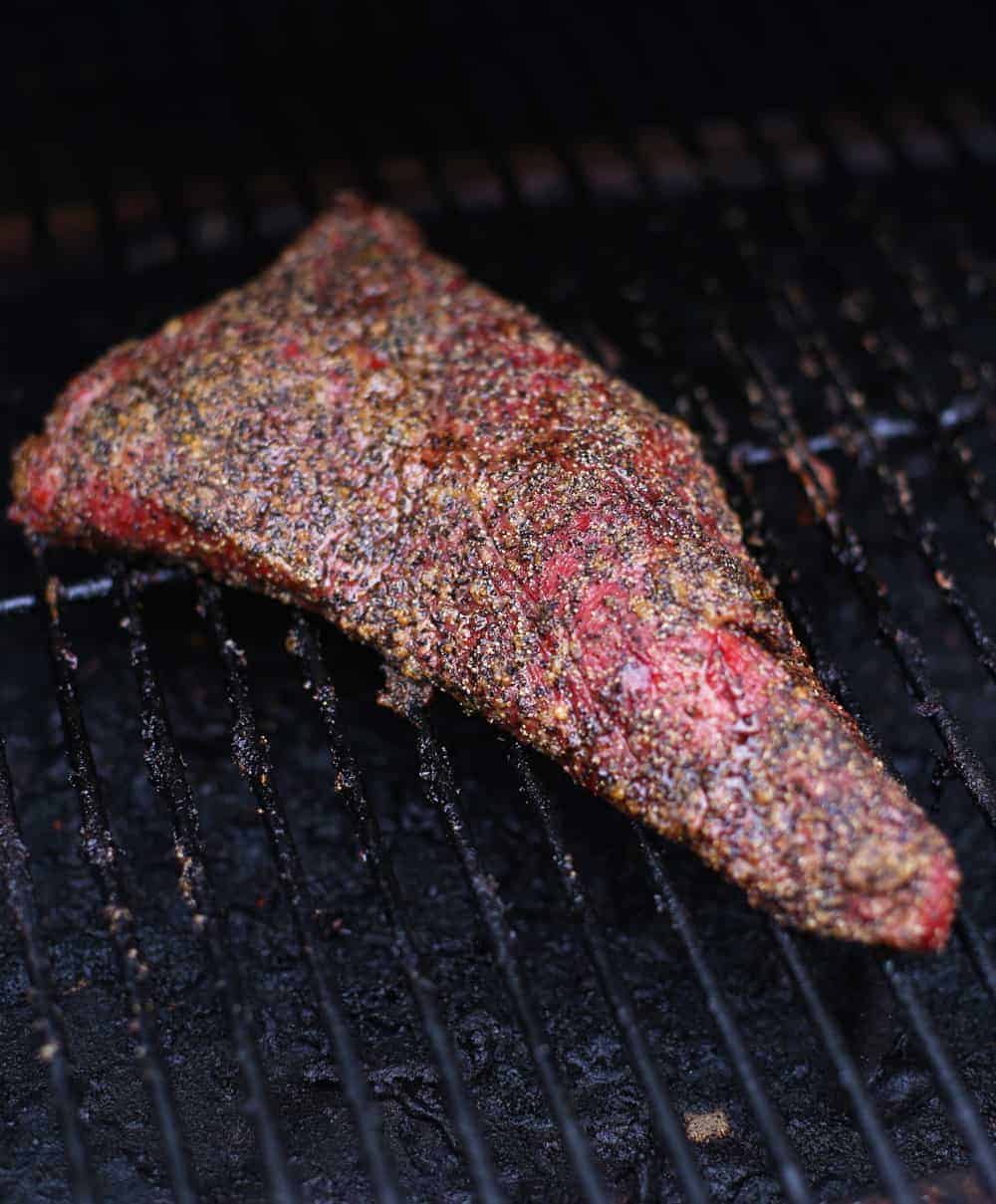 Once it reaches 127 (or somewhere right between 125-130) we pull it off, wrap it in foil, and let it rest 15 minutes. This is an important step! If it is done early we like to leave it in the cooler (with no ice!) for up to an hour. It acts like a warmer so when you slice, it is still warm, tender, and delicious.
You can marinade or use your favorite dry rub to season your Tri-Tip if you wish, but we like to keep it simple and go with a liberal amount of salt and pepper. That's it! This is exactly how we cook this for events, and we've always received high praise for this smoky deliciousness.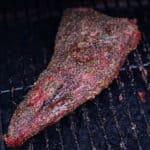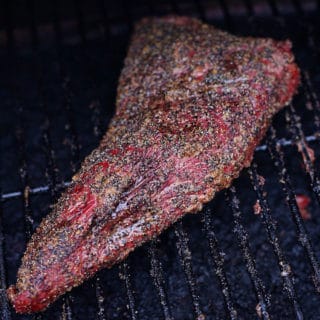 Smoked Tri-Tip
A simple recipe for smoked Tri-Tip. Tri-Tip is an easy and affordable alternative to smoked brisket.
Cuisine:
American, barbecue, bbq
Ingredients
1

Tri-Tip Beef Roast,

around 2 lbs, give or take

1

tablespoon

olive oil

2

tablespoons

salt and fresh ground pepper (equal parts, mixed together)
Instructions
Preheat smoker to 225 degrees.

Cover the tri-tip in olive oil and sprinkle liberally with salt and pepper. I mean it when I say "liberally". Don't be afraid to get a nice crust on there!

Place tri-tip on smoker unwrapped for 60-90 minutes. Cook until internal temperature reaches 127 (or up to 130 degrees) for medium rare to medium and remove.

Wrap tri-tip in foil and let rest for 15 minutes. Optional: place in a cooler (with NO ice) to keep warm for anywhere from 30-60 minutes. This will continue the cooking process another 5 degrees. Further I have found that it makes the cut extremely tender as the juices slowly redistribute into the meat.

Cut across the grains in thin strips and serve with favorite sides, like smoked collard greens, or top with chimichurri sauce.
*Serve with these smoked collard greens or top with this chimichurri sauce.
Wine Pairing for Tri Tip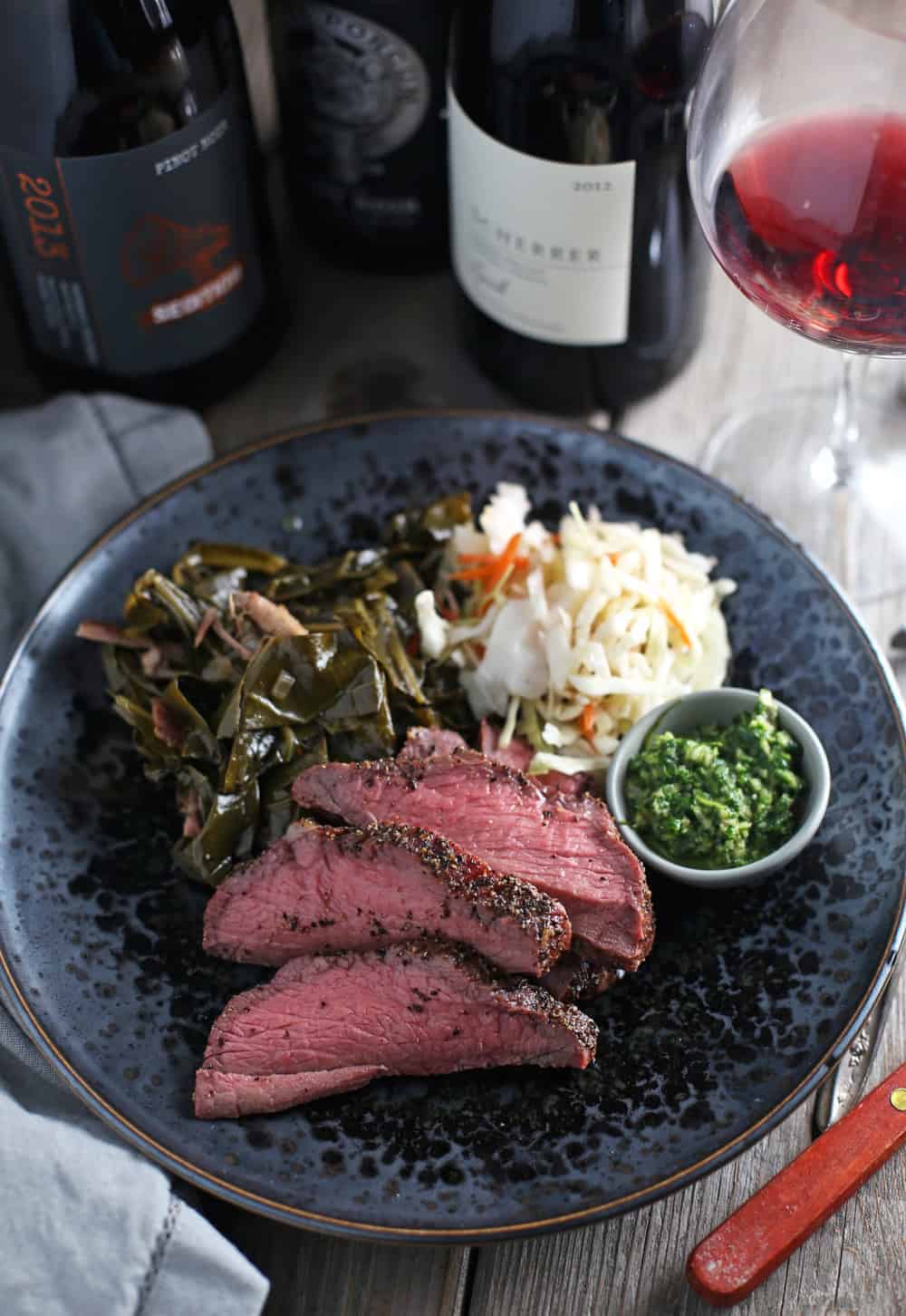 One of my favorite things about Tri-Tip is its versatility with wine! One of the reasons I think it's so popular at our events is that it's fan-friggin-tastic with a full-bodied style Pinot Noir (and we do most of our events in Oregon wine country, aka Pinot country). Most folks just associate Pinot with pork or salmon, but it can totally work with beef, especially this cut. Again, this is because it's lean, and therefore doesn't need some big tannic wine that will work with a fatty cut. It also takes on some great savory characteristics from the smoke and rub (or salt and pepper), which are to die for with the savoriness of Pinot. Juicy, lean, tender, and delicious. You can totally pair this with something bigger, like Syrah, Merlot, Malbec, Tempranillo, but don't be afraid to try it with Pinot Noir (especially a bigger style Pinot).
We recently served this with a couple of Pinot Noirs and a Syrah from the Green Valley of Russian River Valley AVA. This is one of the smallest appellations within the greater Sonoma County, CA, located at the southwestern corner of the Russian River Valley AVA. This region is known for it's cool climate and fog, which allow grapes like Pinot Noir, Chardonnay, and even Syrah to shine. The Tri-Tip was darn near perfect with all three wines.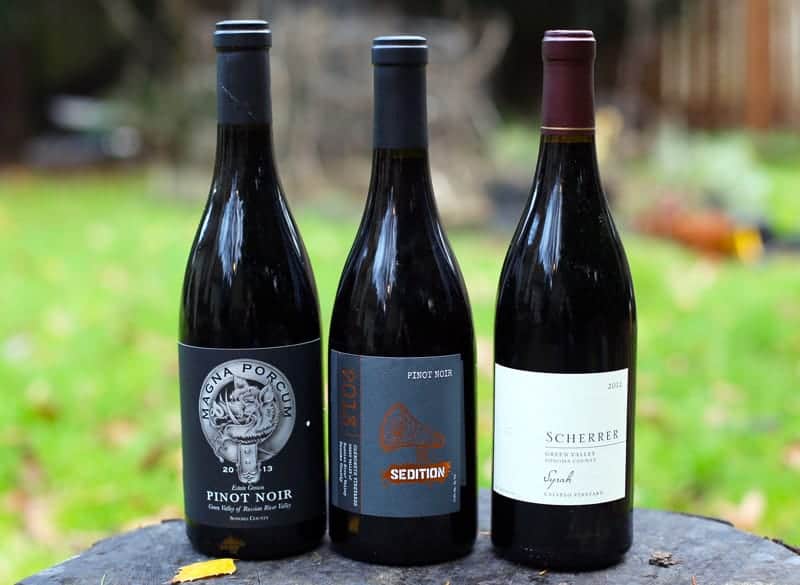 Sedition 2013 Chenoweth Vineyard Pinot Noir (Green Valley, Sonoma County, CA)
Hands down the winner pairing of the night. It was incredible with the steak. The savory nature of the meat and the slight sweet smokiness couldn't be better with the medium-full bodied luscious Pinot. There was some dark berries (rich red and black cherry, blackberry, boysenberry), ground pepper, spice, and some herb notes. This was definitely not a value wine, but dear lord it was tasty! pictured center  |  13.8% abv  |  $75
Camlow 2013 Magna Porcum Vineyard Pinot Noir (Green Valley, Sonoma County, CA)
This worked well too, but this was a BIG Pinot! This one could likely stand up to even bigger and richer cuts of meat, or even a rich stew. This was big, burly, with rich dark cherry flavors, spices, and herbs. pictured left  |  14.4% abv  |  $45
Scherrer 2012 Calypso Vineyard Syrah  (Green Valley, Sonoma County, CA)
This one was dark, rich, and complex, but not overpowering. It had really nice restrain and balance. There was some mocha and pepper that worked really nicely with the outer textures of the smoked meat and a lingering spice and savoriness that was spot on with the generous ground pepper on the meat.  pictured to the right  |  14.5% abv  | $45
---
*These wines were were media samples for review. See my sample policy here. 
---
For more tasty recipes, BBQ tips and tricks, check out the Recipe Index.
26