Smoked Bacon with Maple Glaze is an incredible breakfast treat. While bacon is good no matter how you cook it, you can take your bacon to the next level by smoking it. Learn how to smoke bacon and then add extra flavor with a maple syrup and cayenne glaze.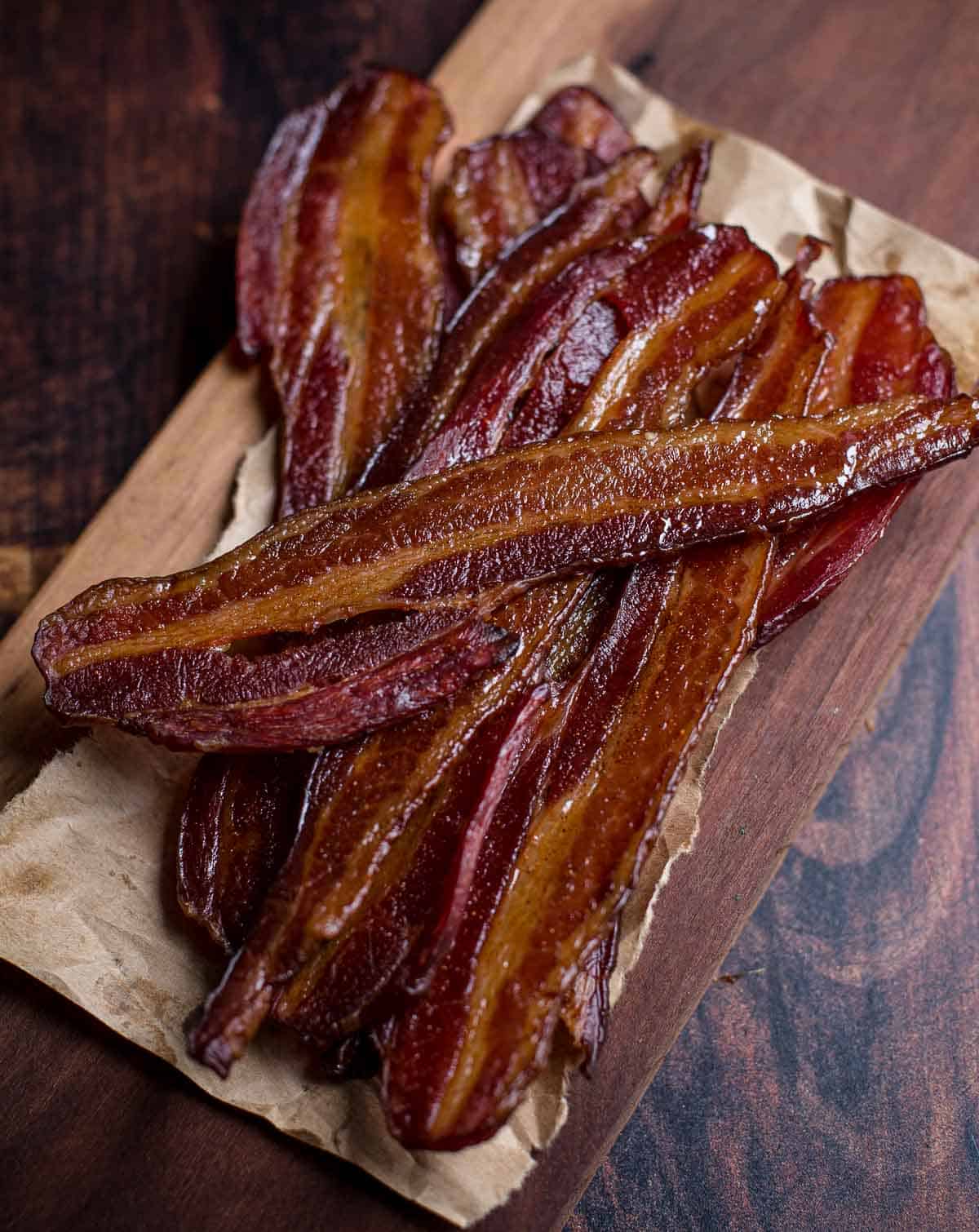 There are few things that wake the senses then the smell of bacon on a weekend morning. Cooking your bacon on a smoker combines the intoxicatingly delicious flavors and scents of bacon with that lovely smokiness from wood-fire. It's a great combination. In this recipe we smoke slices of bacon long enough to get it nice and crispy, then finish with a simple maple cayenne glaze for a slightly sweet contrast to the savory crispy bacon.
Ingredients
Bacon – Look for thick cut bacon for this. This allows the fat to render but still have some texture when done. If all you have access to is the thinner cuts then be sure to adjust the cooking time down to a total of 1 hour and 30 minutes.
Real Maple Syrup – We strongly recommend buying good maple syrup. It's thicker and sets better with the fatty bacon. We do not recommend using any syrup derived from high fructose corn syrup.
Cayenne Pepper (Optional) – If you want a little heat to jazz up the flavor use a pinch of cayenne pepper. Especially if using this as a garnish for a cocktail like a Bloody Mary.
Preparation and Tips
If you want to make it easier to take the bacon on and off the grill then place the bacon on a wired cookie drying rack versus the grill grates directly. Then you remove the rack versus individual pieces of bacon. This is especially helpful if making larger quantity.
How to Smoke Bacon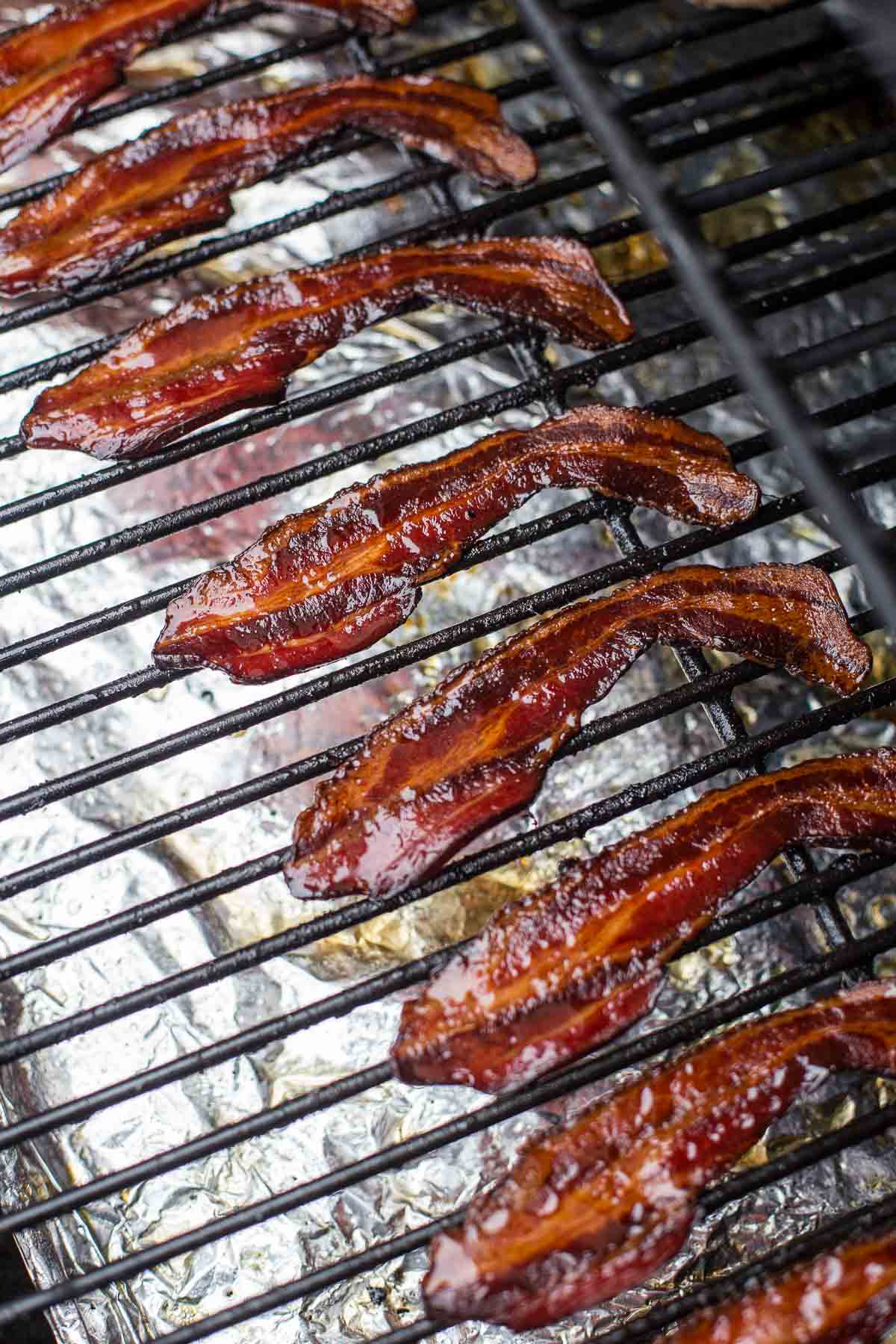 Smoke: Preheat your smoker to 225 degrees Fahrenheit using fruit wood like apple or cherry. Place the slices of bacon onto your smoker. Smoke for 90 minutes.
Glaze: In a small bowl combine the maple syrup and cayenne pepper. Use a silicone brush to glaze both sides of the bacon. Then smoke for additional 20 – 30 minutes. Note: If your temperature is running hotter check the bacon at 15 minutes to avoid it getting too candied and brittle. Then remove and serve with your favorite breakfast or Bloody Mary.
Read our article on how to smoke on a gas grill if you have a propane gas grill.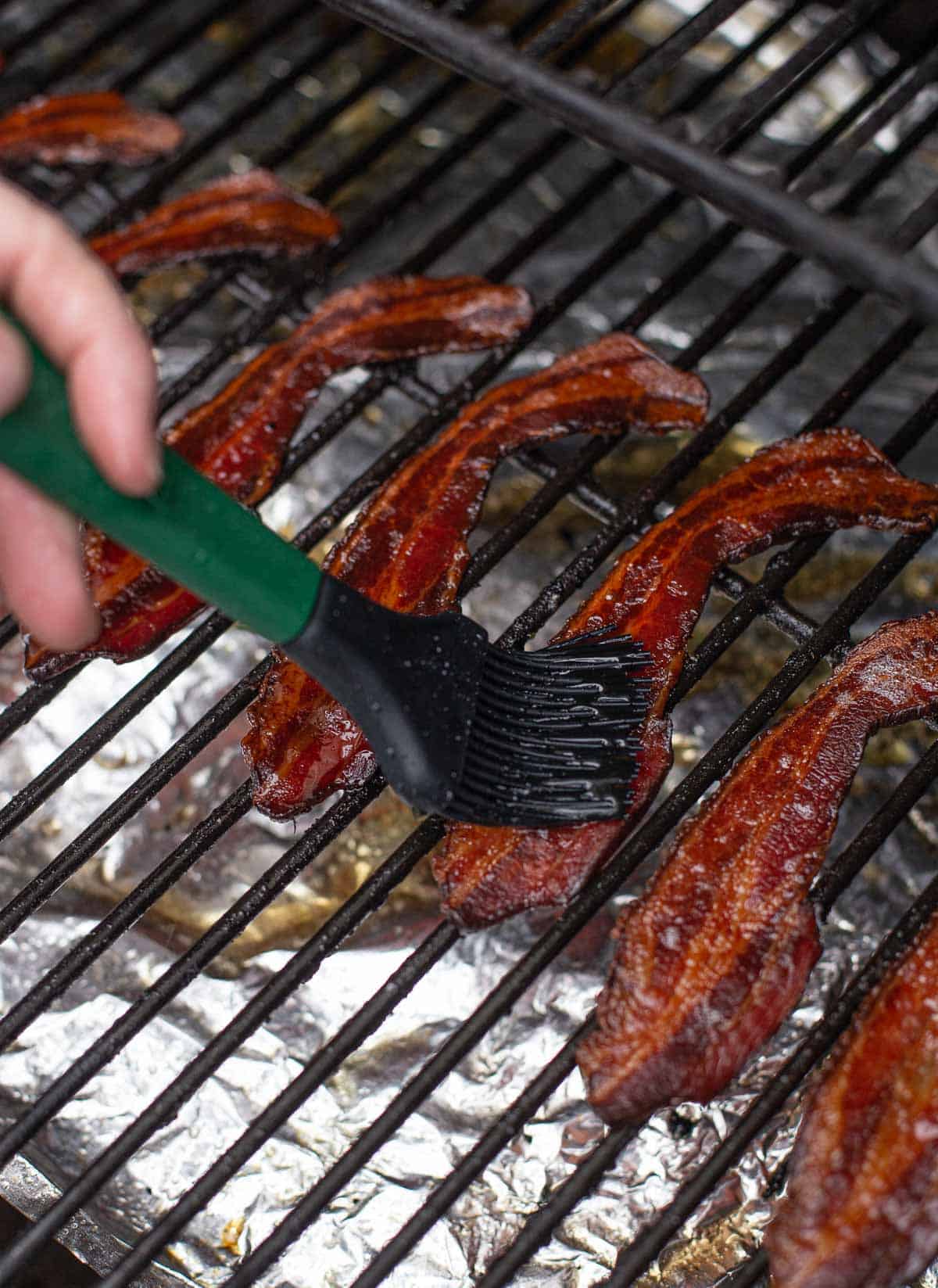 Troubleshooting
Smoked Bacon has a lot of grease, which means you need a clean grill and a deflection plate to avoid any type of grease fire. Be sure you have prepared your grill so it's clean and ready for a good cooking experience.
Pellet Grill – Be sure you have fresh or clean foil over your deflection plate and that the grease bucket is empty prior to making.
Big Green Egg or Kamado Grill – Make sure your ConvEGGTor plate is on and clean. Avoid any of the bacon hanging over the edge of the open fire. Keep it on the grill grate over the plate.
Kettle Grill – Be sure you have set up two zone grilling and have the bacon over the indirect side. Stack them if you need to or cut into smaller pieces.
Best Things to Serve With Smoked Bacon
We have used smoked bacon in some of our most popular recipes like our Smoked Bloody Mary where we use it as a garnish. We add smoked bacon into our guacamole. It also makes a great topping for butternut squash soup, smoked baked potato, or even a beet salad.
When using for other recipes we tend to leave off the maple glaze and just have the smoked bacon. But let your taste buds make the decision.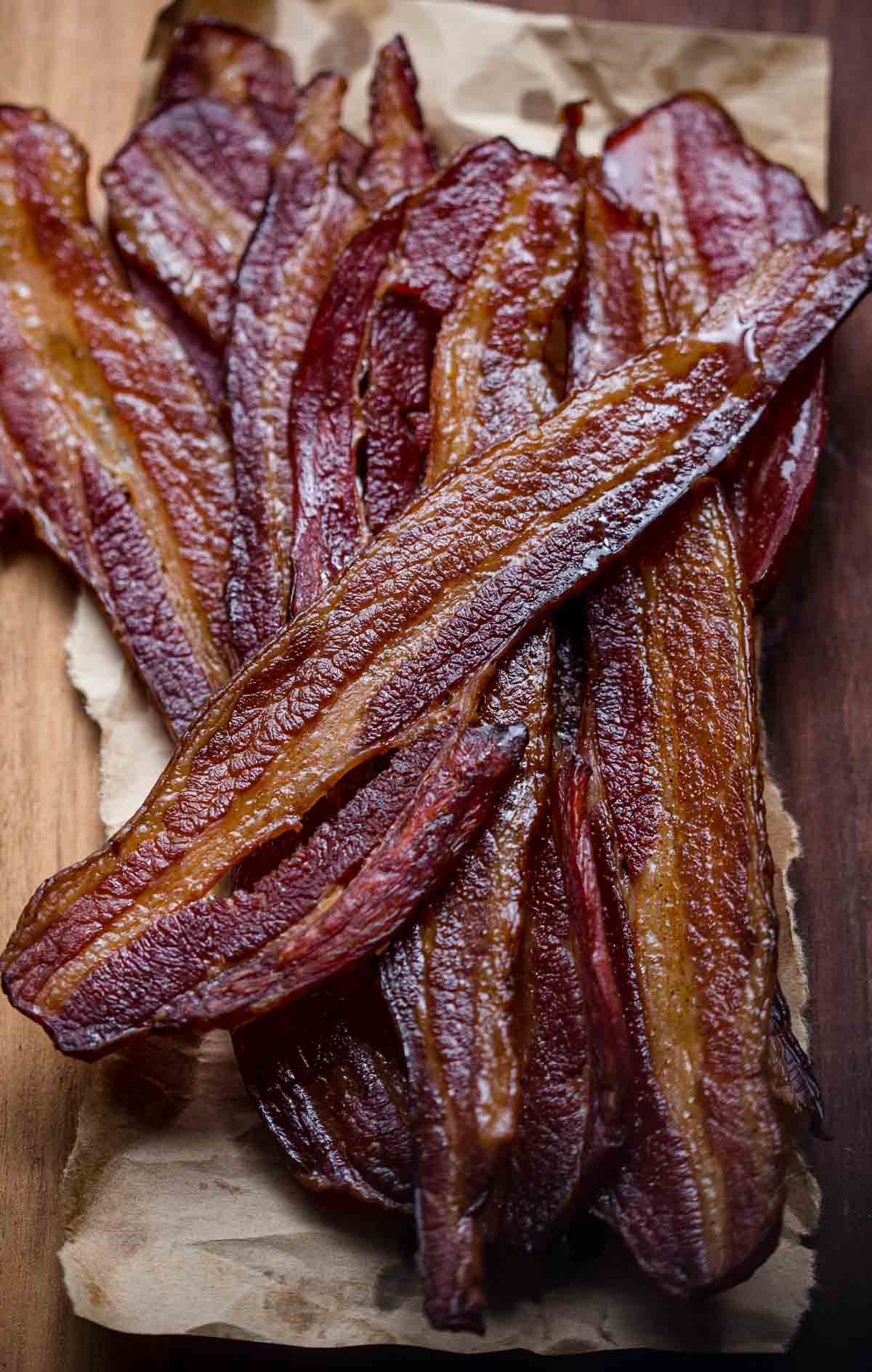 Other Breakfast Recipes
And if you are wanting the ultimate breakfast ideas, these recipes pair well with smoked bacon and a mimosa.
Mary (a certified sommelier and recipe developer) and Sean (backyard pitmaster) are co-authors of the critically acclaimed cookbook, Fire + Wine, and have been creating content for the IACP nominated website Vindulge since 2009. They live in Oregon on a farm just outside Portland.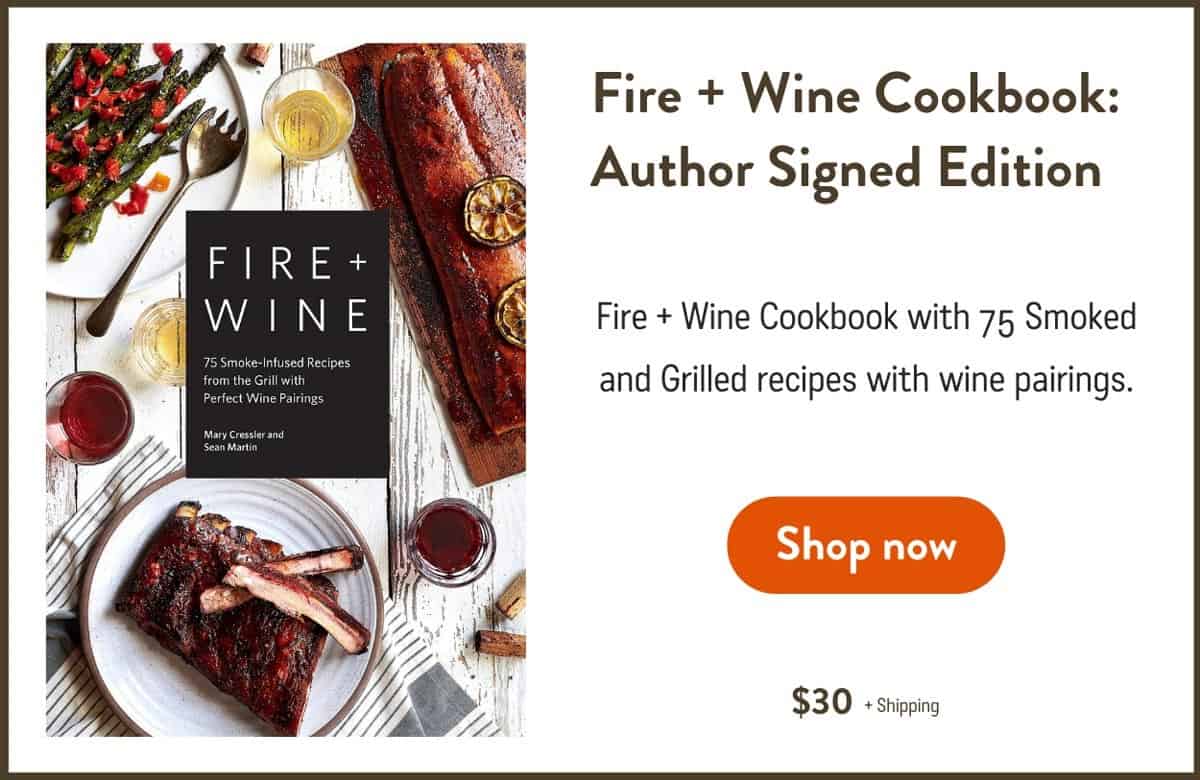 Tried this recipe? Give us a star rating and we would love to see! Mention @vindulge or use the hashtag #vindulge on all the social media handles. And consider subscribing to our newsletter where we drop all our favorite ideas and inspirations every week.
This post may contain affiliate links. This means if you click on the link, we may receive a small commission if you purchase through the link. We partner with brands we know and love and use and it helps keep the blog going!