Looking for a healthy and delicious breakfast or brunch idea you can cook on your grill? Our Vegetable Frittata with Asparagus recipe is the perfect solution. Packed with fresh veggies and bursting with flavor, this easy-to-make dish is sure to impress your taste buds and satisfy your hunger. All cooked on the grill, and great for camping too!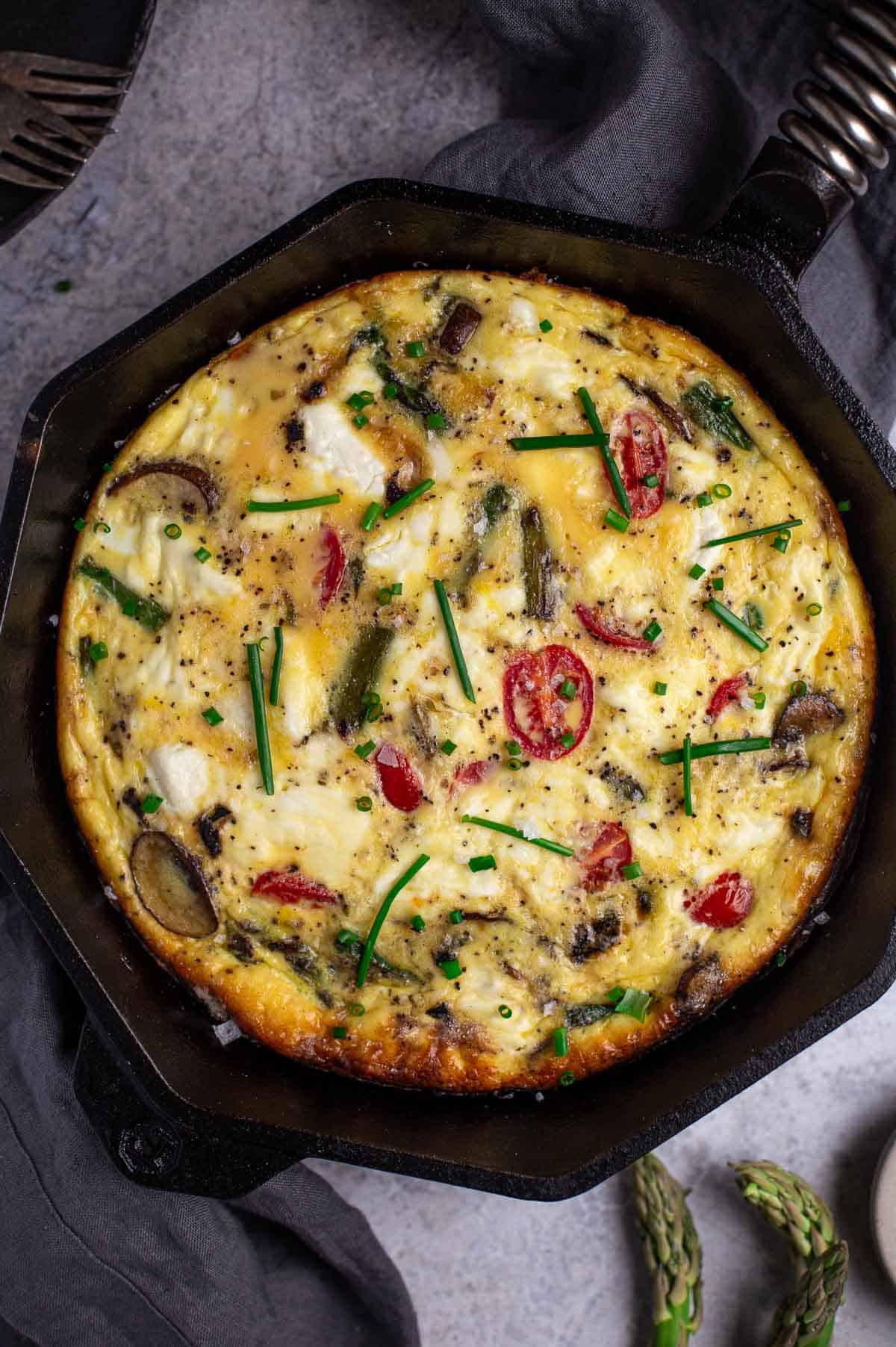 Jump to:
Frittatas are one of my favorite go-to camping breakfasts. You can cook everything directly in a cast iron dish, directly on your grill or camping stove. I'm not much for sweet breakfasts, so this is a great savory meal while on the road. But they're also great for weekend brunch or house guests, as they are still a one pot breakfast that you can serve all at once. Win win.
Frittata versus Quiche
A frittata is an Italian (and Spanish) dish made with eggs and various ingredients such as vegetables, meats, and cheese. It is similar to an omelette or crustless quiche.
A quiche is a baked dish that typically consists of a pastry crust filled with a mixture of eggs, cream, and cheese, along with other ingredients such as vegetables, meat, or seafood. It is a savory dish that is often served as a main course or for brunch, and is a popular dish in French cuisine. Quiches can be made in a variety of flavors and styles, and can be served hot or cold.
Frittatas are a great alternative to quiche, as they're easier to make (no pastry crust needed), and also gluten-free!
Ingredients for Grilled Vegetable Frittata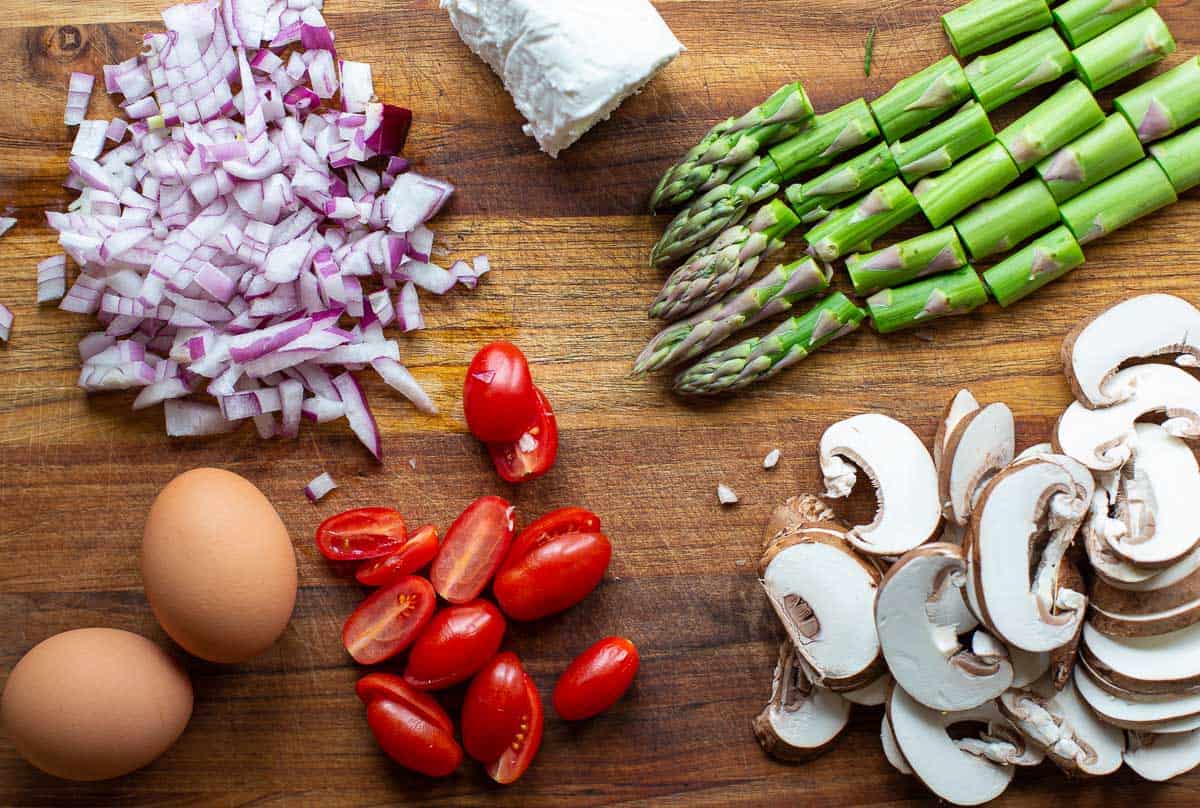 The fresher the ingredients the better. If you want a dairy-free version you can sub the milk with almond or soy milk and leave out the goat cheese.
Eggs
Whole Milk – You can use heavy cream, 2%, or even skim, but we like the flavor and texture whole milk gives.
Asparagus – The fresher the better. Asparagus is best in the Northern Hemisphere during the spring months. While presentation of a whole stalk of asparagus is nice it's not practical in this dish. So we cut the asparagus into smaller bite-sized chunks.
Cherry Tomatoes
Cremini Mushrooms
Red Onion
Goat Cheese
Seasoning – Kosher salt, coarse black pepper, and extra virgin olive oil (for the sauté)
Full portions are in the recipe card below.
Tools and Equipment for Vegetable Frittata
For this recipe we used a 10-inch Finex cast iron skillet, which is perfect for a grill or cooking outside. If you use a smaller sized dish, be sure to adjust your recipe to avoid crowding the pan.
When removing the vegetable frittata from the grill we use good quality high heat BBQ gloves.
Preparation Tip
Since we are going to bake the vegetable frittata in the grill we want to first sauté the vegetables in the cast iron pan before we add the eggs. We do this on the grill as well to essentially make this a one pot dish.
Mushrooms – We remove the stems and just use the caps for the flavor and texture consistency. Cremini mushrooms may have some residual dirt on them. To clean use a lightly moistened paper towel or kitchen towel and gently scrape off any dirt. You don't want the mushrooms to be soaking wet when cooking them or it takes much longer to get them softened.
How to Make A Vegetable Frittata on the Grill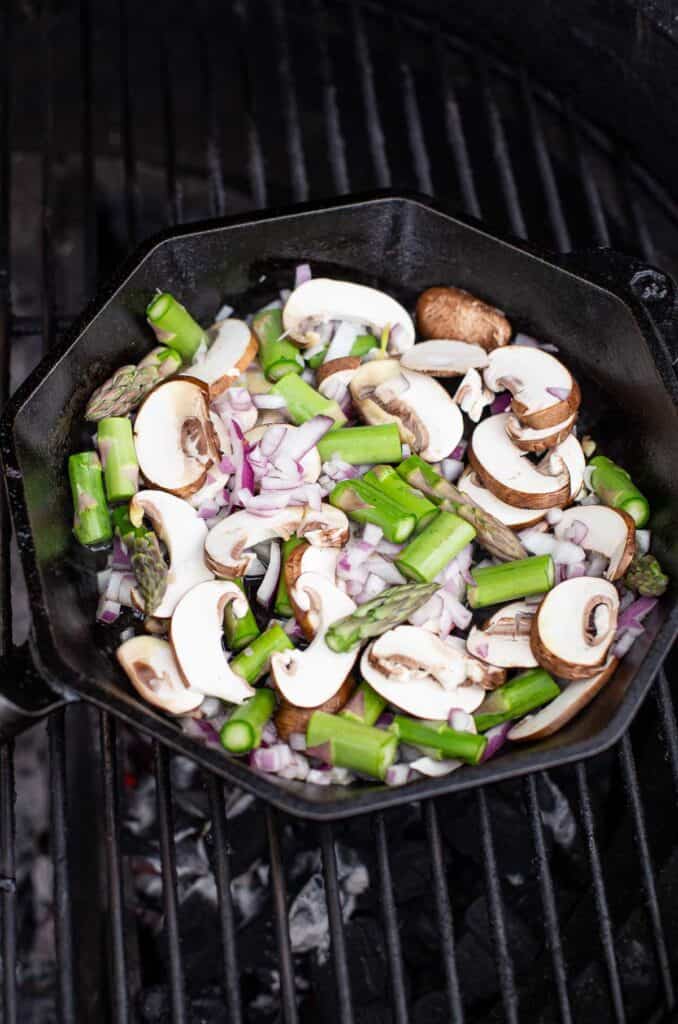 Prepare the grill for two zone grilling with lump charcoal. Target 375 degrees Fahrenheit in the cooking chamber. Any higher and the frittata will burn. Place cast iron pan in the grill over indirect heat as its warming to the desired temperature. In a large bowl add the eggs, milk, salt and pepper and whisk to combine. Set aside until ready to add to the cast iron pan.
Add olive oil and the onions, mushrooms, and asparagus to the warmed cast iron pan. Then move the pan over direct heat and sauté the vegetables, stirring occasionally, until they are soft (about 10 minutes).
Once the vegetables are soft, add more olive oil and then pour the egg mixture from the large bowl into the cast iron pan while it's over direct heat. Add small chunks of the goat cheese, evenly distributed, and drop in the tomato halves, also evenly distributed. Close the lid and let it sit for 2 minutes so a crust can form. Then open the grill and move the frittata over to indirect heat. Continue cooking on the grill over indirect heat until you can pierce the center of the vegetable frittata with a knife or toothpick and it comes out clean (roughly 12 minutes).
Then remove from the grill. You then want to get the frittata quickly out of the pan so it doesn't continue cooking in the hot pan and potentially burn. To do this use a small spatula to gently lift the sides of the frittata away from the sides of the pan. Then place your plate over the top of the frittata. Then you tip both over so the bottom of the cast iron pan is facing up. The frittata should pop out onto the plate. Then slice and serve.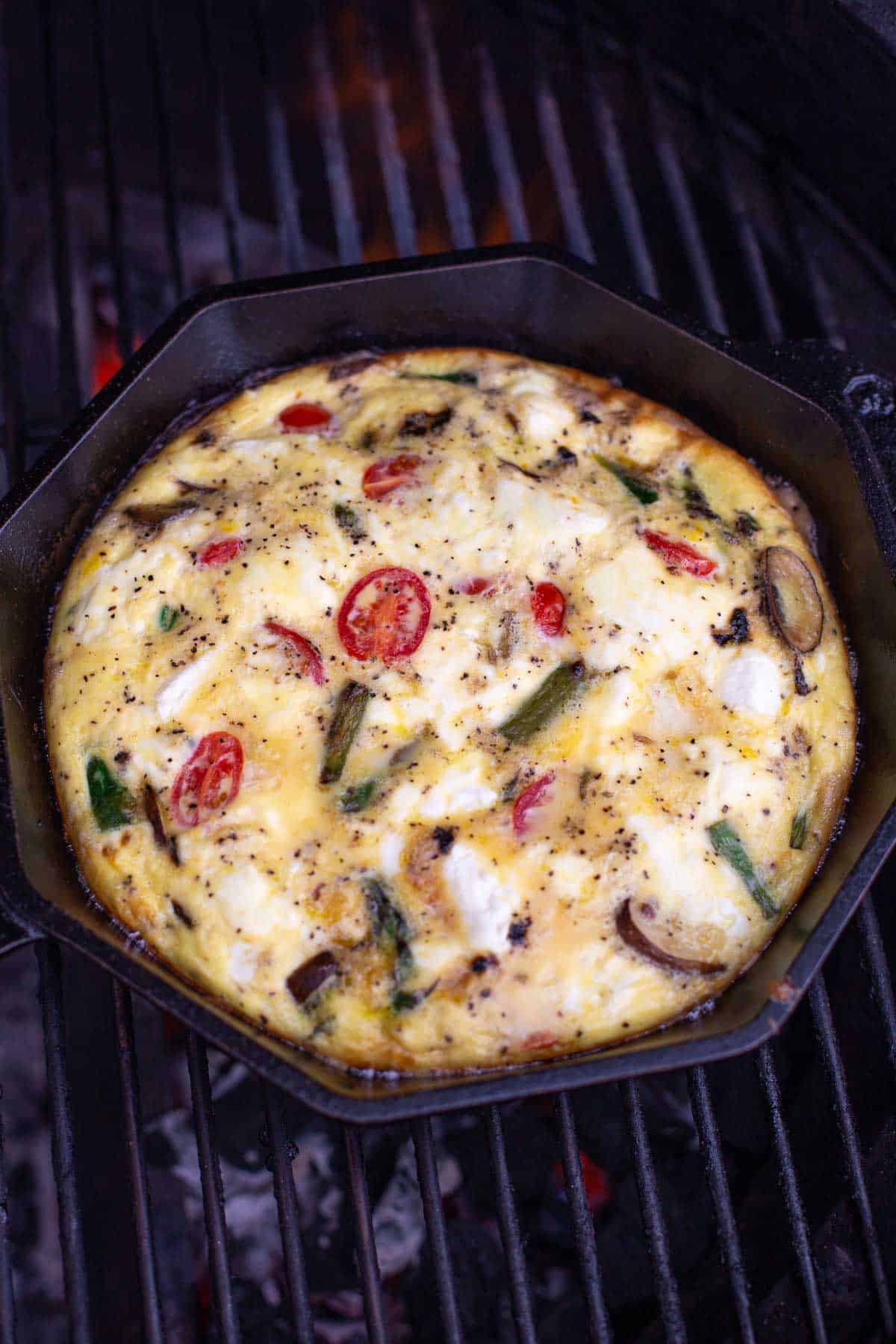 Chef's Note: Adding the olive oil a second time helps to prevent the frittata from sticking to the pan when it's done cooking.
Frittata Frequently Asked Questions
Can you make a frittata without cheese?
Yes, a frittata can be made without cheese if desired. The cheese can be omitted or substituted with other ingredients such as herbs or spices.
What are some ingredients to use in a frittata?
Some popular ingredients to use in a frittata include vegetables such as spinach, bell peppers, and meats such as bacon, ham, and sausage. Cheese such as feta and cheddar are also common additions.
What kind of pan is best for making a frittata?
A nonstick or well-seasoned cast iron skillet is best for making a frittata. Since we are grilling we strongly recommend a good cast iron pan.

Q: Can you make a frittata ahead of time?
Yes, a frittata can be made ahead of time and served at room temperature or reheated. It can be stored in the refrigerator for up to 4 days.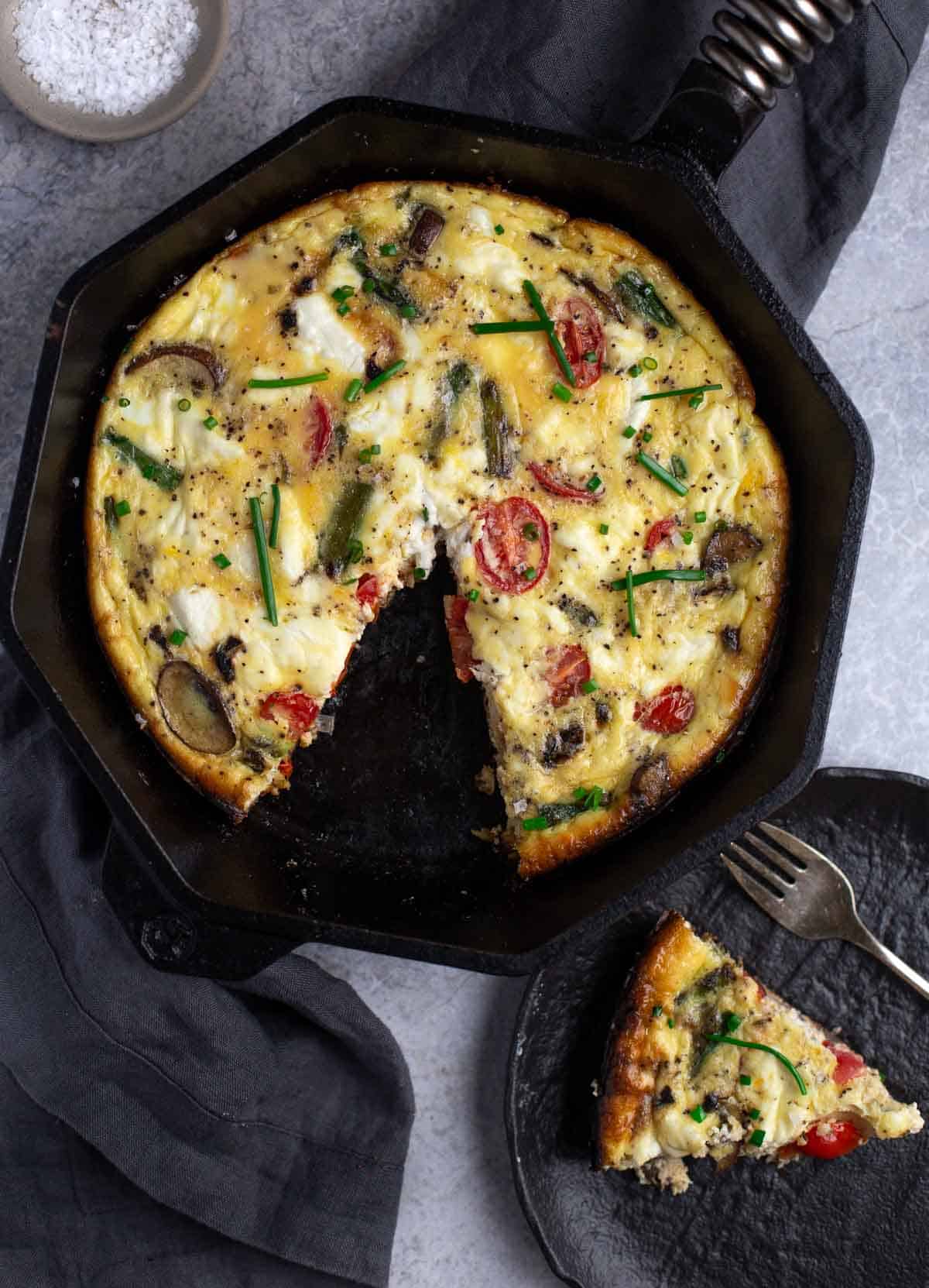 More Brunch Ideas
We have a host of fun ideas for your outdoor brunch. Check out some of our favorites. A great side for this frittata is our homemade drop biscuits.
Mary (a certified sommelier and recipe developer) and Sean (backyard pitmaster) are co-authors of the critically acclaimed cookbook, Fire + Wine, and have been creating content for the IACP nominated website Vindulge since 2009. They live in Oregon on a farm just outside Portland.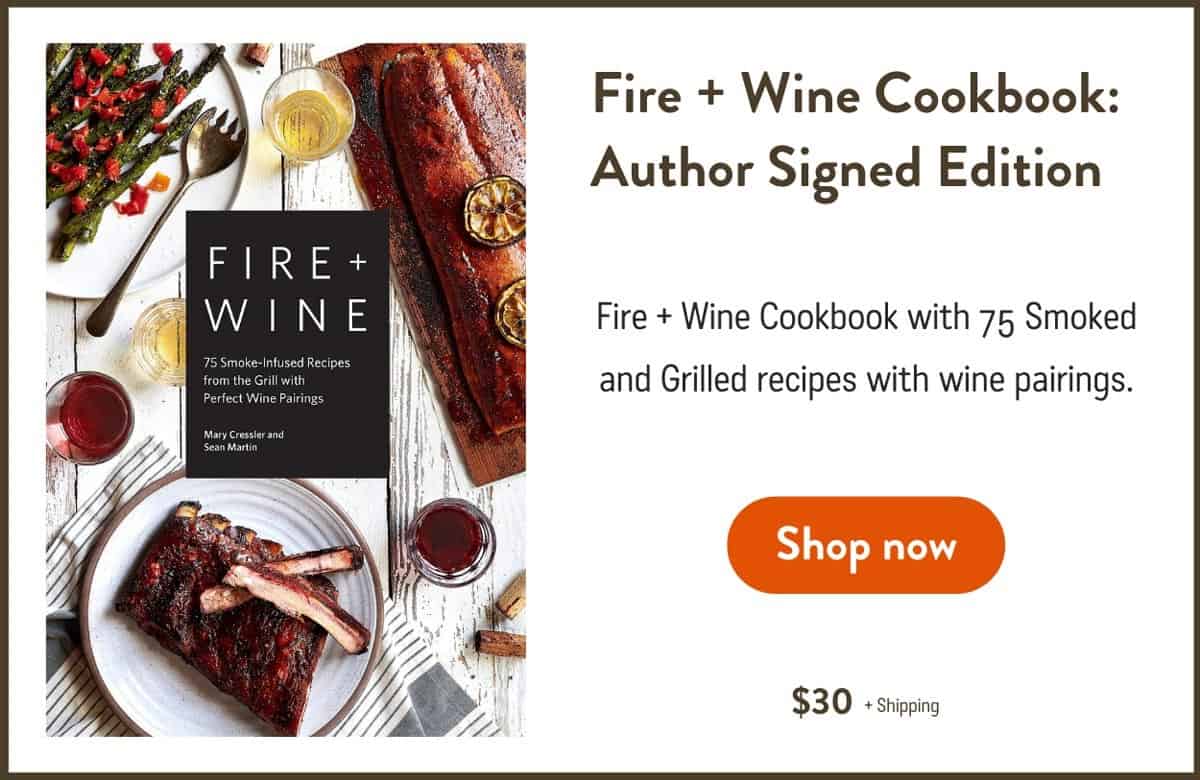 Tried this recipe? Give us a star rating and we would love to see! Mention @vindulge or use the hashtag #vindulge on all the social media handles. And consider subscribing to our newsletter where we drop all our favorite ideas and inspirations every week.
This post may contain affiliate links. This means if you click on the link, we may receive a small commission if you purchase through the link. We partner with brands we know and love and use and it helps keep the blog going!