Smoked Bloody Mary with Smoked Bacon is an absolute must try for your weekend brunch. It's even better made with fresh summer tomatoes!
Find out how to completely jazz up your next brunch with Smoked Bloody Marys!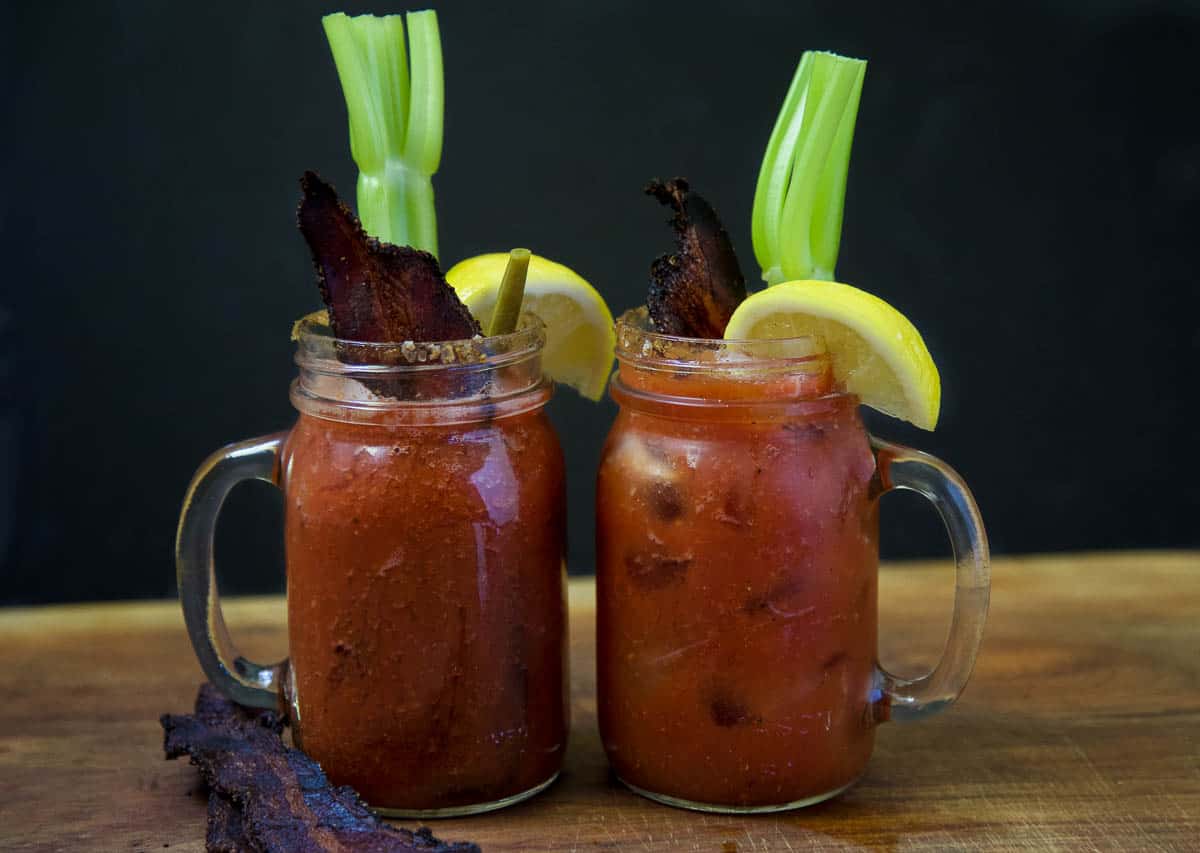 Since we first created this smoked bloody mary recipe back in 2014 it's become a staple at any brunch we host.
Jump to:
The original recipe includes smoked ice, which is definitely worth the effort, but is totally optional. It will certainly add more smokiness to the drink, but you get enough smoke from the tomatoes and smoked bacon. Speaking of bacon…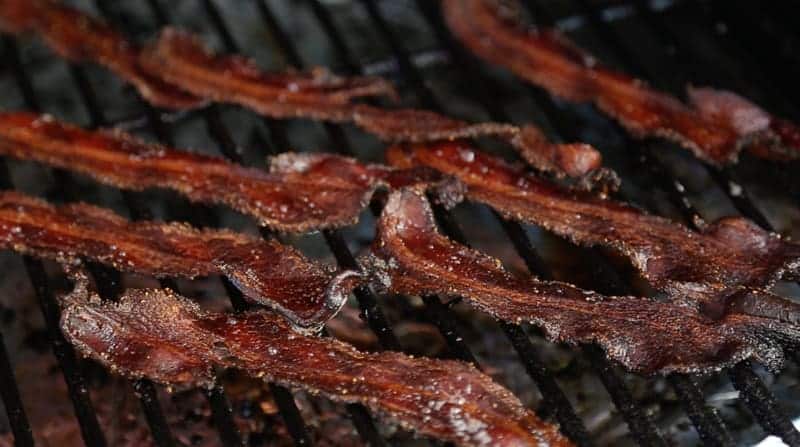 The basic idea is to smoke tomatoes, and then use those smoked tomatoes in a homemade Bloody Mary mix.
This recipe is super easy, but it does take some time. But isn't that what any great brunch is about? Taking your time and going big!!!
How to Smoke Fresh Tomatoes for Smoked Bloody Marys
Prep Tomatoes: Start by quartering your tomatoes, removing stems, and then season them with salt, pepper, and your favorite vegetable spice (think Old Bay seasoning). Place the seasoned tomatoes on a wire rack or baking sheet.
Smoke Tomatoes: Place the tomatoes in the smoker set to 250 degrees, and cook them until they are roasted. If you're smoking at around 250-275 degrees this should take roughly an hour. This will depend on the size of your tomatoes.
Let them cool: After about one hour remove tomatoes and let them cool down in temperature.
Remove skins: When the tomatoes are cool enough to handle, remove the skin.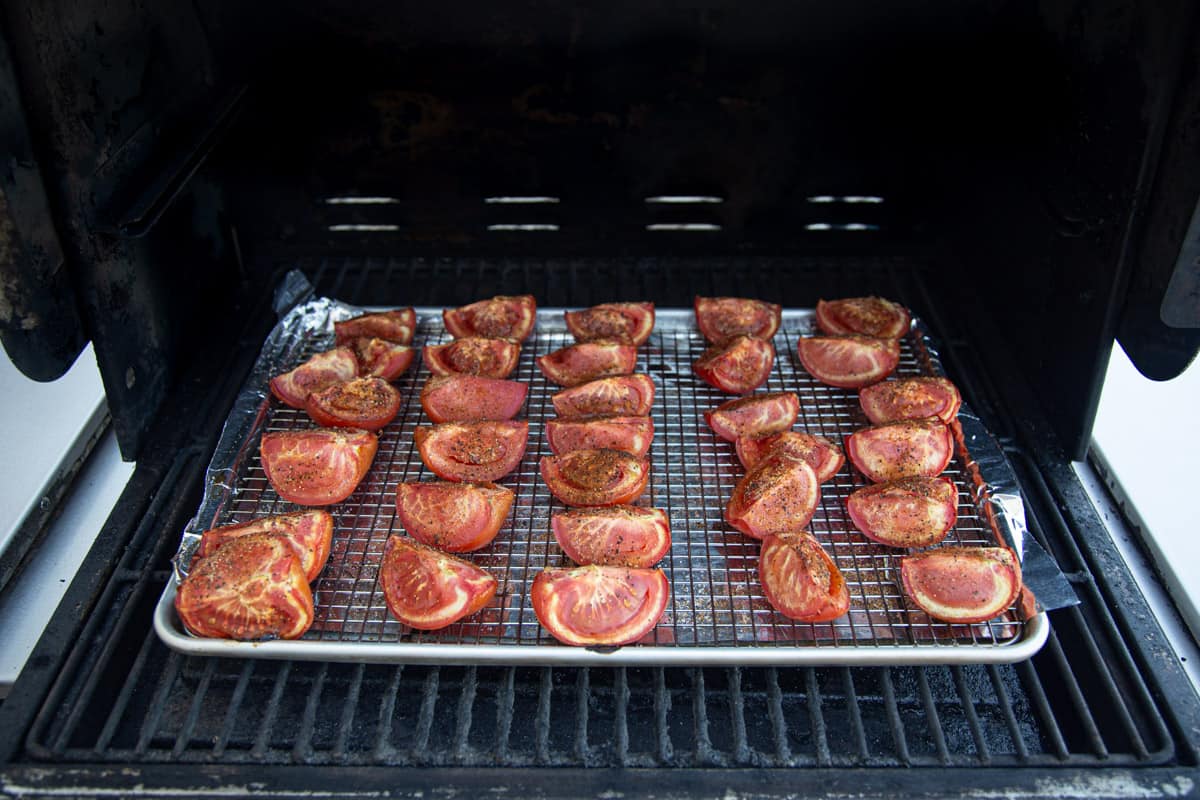 For the Smoked Bacon
Cook the bacon at the same time as the tomatoes. Lay out slices bacon in the smoker for approximately one hour to get crisp. Use as much bacon as needed for cocktails. You want the bacon to be pretty crispy so they stand up and remain crispy when used as a garnish in the cocktail.
How to make a Homemade Smoked Bloody Mary
Once your tomatoes have cooled enough to touch remove the skins, then place into a food processor or blender, add the rest of your ingredients, and blend until smooth. Taste and adjust to your flavor preferences.
These measurements aren't strict. Go by what you like! If you like yours really spicy, then add more spicy elements (horseradish, hot sauce, etc.). This is just a base to start your drink with. But even the Traeger Grills folks like this recipe so much they featured it on their own website and even started a product line with it (yes, using our recipe).
This recipe is tried and true!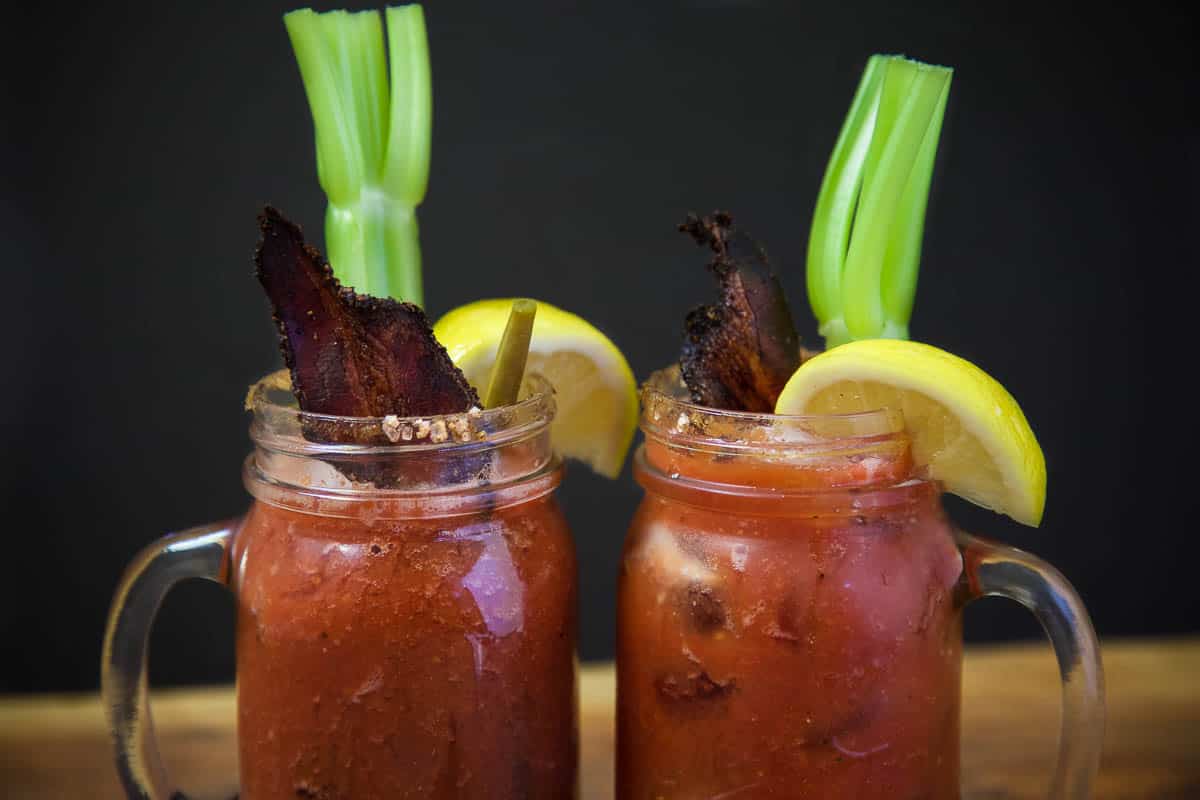 If you want to add smoked ice, check out the original recipe for instructions.
More Brunch Ideas for the Smoker or Grill
If you love a good weekend brunch, check out some of these amazing brunch recipes to add to your menu:
Mary (a certified sommelier and recipe developer) and Sean (backyard pitmaster) are co-authors of the critically acclaimed cookbook, Fire + Wine, and have been creating content for the IACP nominated website Vindulge since 2009. They live in Oregon on a farm just outside Portland.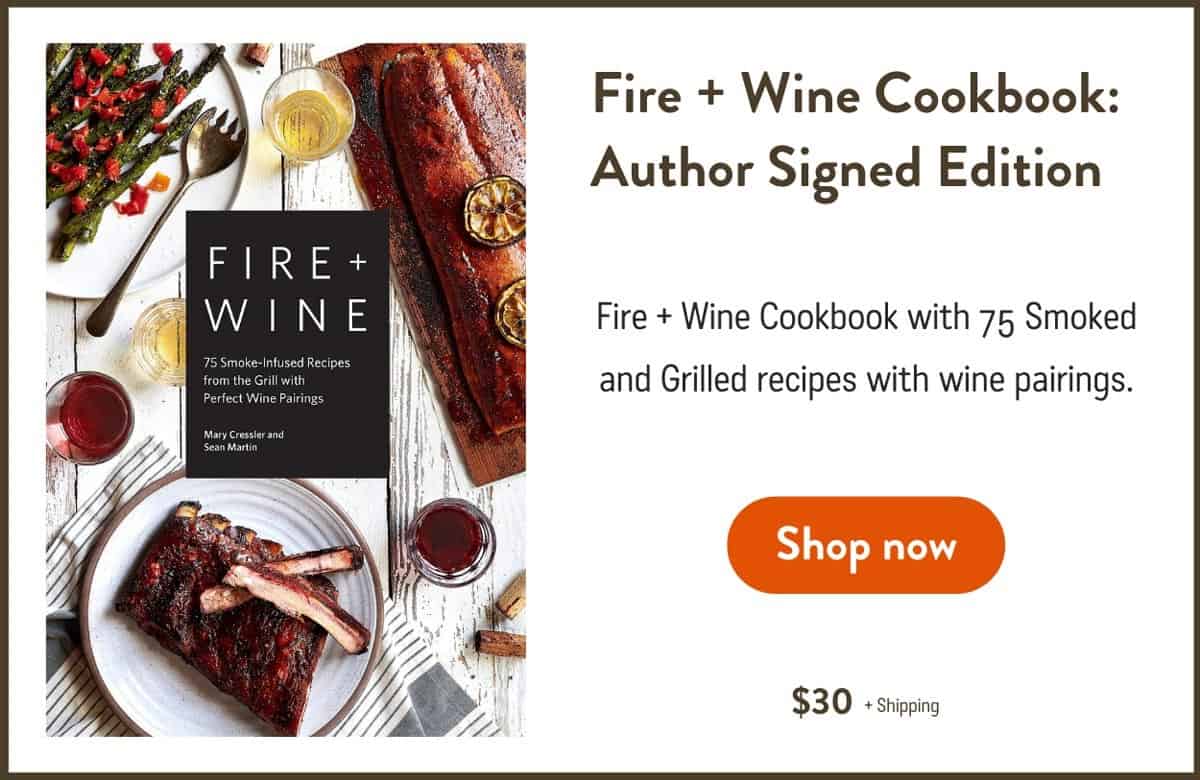 If you like this recipe we'd truly appreciate it if you would give this recipe a star review! And if you share any of your pics on Instagram use the hashtag #vindulge. We LOVE to see it when you cook our recipes.
This post may contain affiliate links. This means if you click on the link, we may receive a small commission if you purchase through the link. We partner with brands we know and love and use and it helps keep the blog going!