Smoked Baked Potatoes are one of the easiest and most flavorful side dishes you can make. Russet potatoes are coated with a simple (yet delicious) dry rub, then slowly smoked for incredible soft and fluffy interior with a flavor packed exterior.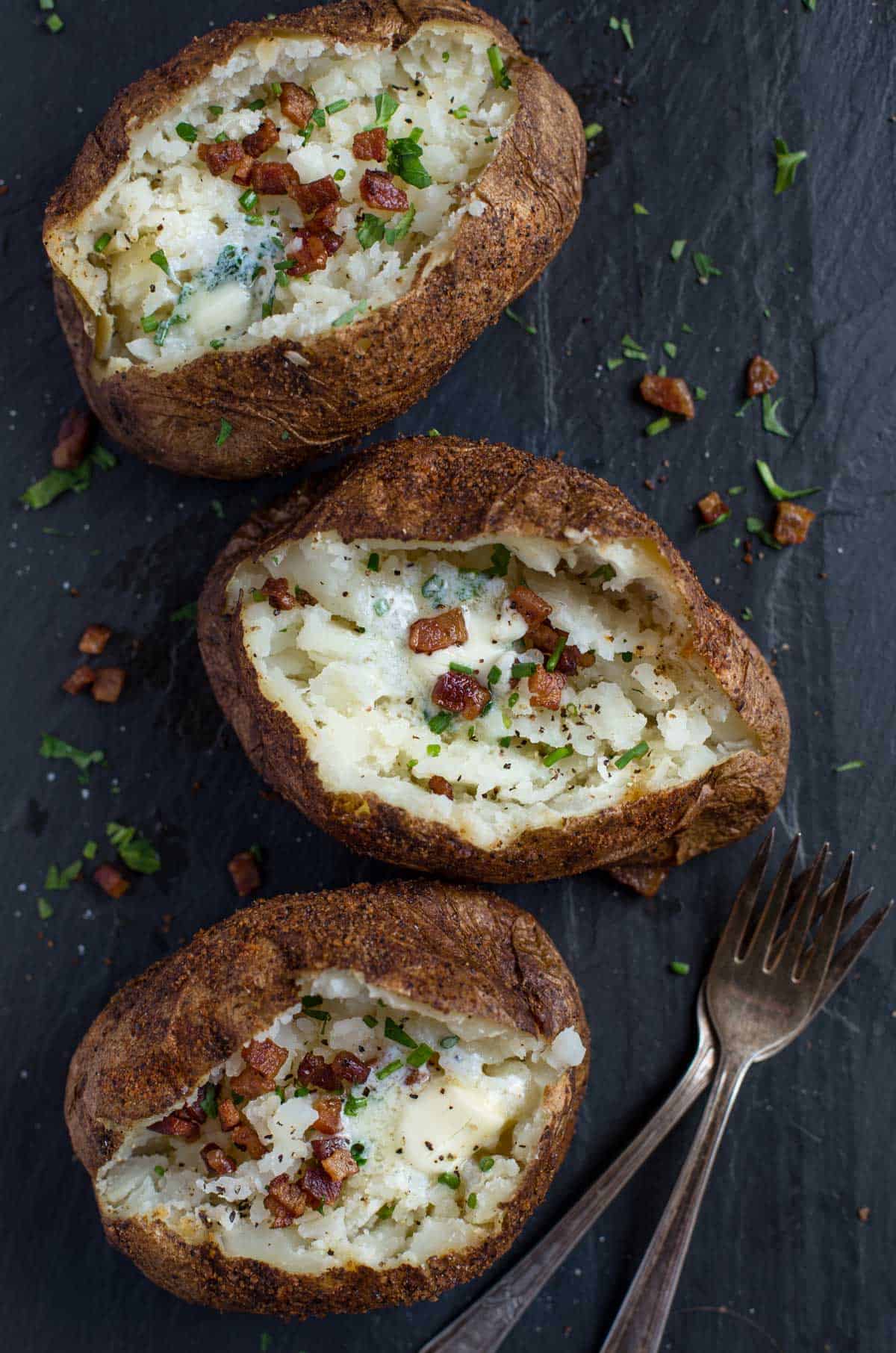 Why This Recipe Tastes So Good
Seasoning the potatoes with a good dry rub adds savory flavors to each and every bite.
Slowly smoking the potatoes gives the perfect amount of smoke flavor.
Cooking the potatoes to an internal temperature between 205-210 degrees gives it an incredibly soft and velvety texture.
Jump to:
Can You Smoke Potatoes?
Yes. Potatoes are a great smoked vegetable. They not only absorb smoke through the skin, but they also get soft and have a great texture inside and out. The key is to use the right seasonings and cooking method. You can also bake them at a higher heat for a more traditional grilled baked potato.
Ingredients
Russet Potatoes – While you can smoke any potato, this recipe uses the russet potato for that classic baked potato feel. Try to buy similar size and weight for each potato you cook. The ones tested for this recipe were on average 8-12 oz.
Olive Oil – Coating with extra virgin olive oil helps the dry rub stick to the potato.
Seasoning – We use our ultimate dry rub, which is a mix of sweet and savory flavors. While smoking, the sugar will slightly caramelize and help the skin get crispy and the savory flavors will stand out as you bite into the potato. Alternatively, if you want a no sugar option, our chicken seasoning is great on potatoes as well.
Toppings – A dollop of butter, fresh chives, and bacon add the final touches. You don't need much to jazz up a great smoked baked potato. Let that kiss of smoke flavor be the star of this dish!
Preparation
Pierce Potatoes with a Fork: Use a fork and poke holes into the potatoes. We typically do this six times per potato, or three times on the top and bottom. This will allow the steam inside to escape during the cooking process.
Season Potatoes: Season with olive oil and dry rub. Typically we use 1 teaspoon of olive oil per potato and about 1 tablespoon of dry rub.
To Wrap of No Wrap?: There is no need to wrap the potatoes in foil if you want the smoke to absorb into the potato. Wrapping in foil will keep the smoke flavor out. So we do not wrap in foil, so that we can get that sweet kiss of smoke into our potatoes.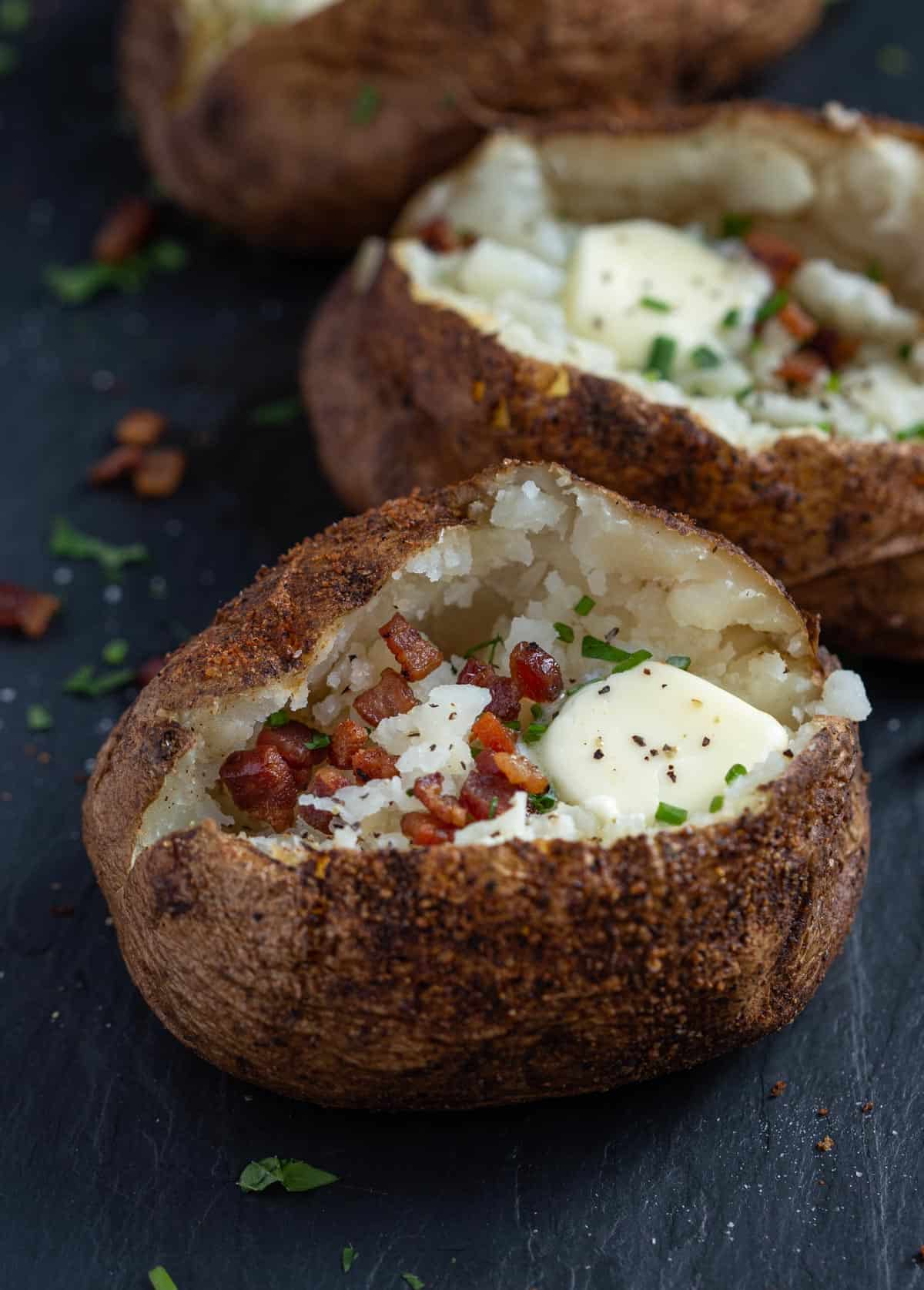 The Cooking Process
The goal is to smoke the potatoes long enough so they have great flavor and a soft and fluffy interior. If you smoke at a temperature that is too low – it takes a lot longer and they can run the risk of drying out out. If you smoke at a temperature that is too high, the skins may burn and become bitter.
Our sweet spot is to smoke potatoes at 250 degrees Fahrenheit using a fruit wood, like apple or cherry. It gives it a nice sweet flavor or smoke versus something more like campfire, which you can get with mesquite or hickory.
How long will smoked potatoes take? Plan three hours for an average sized potato (that is around 8-12 oz). But instead of relying on just time, use an instant read thermometer, like the Thermapen One, to check the internal temperature. The potatoes are done when they reach 205 degrees in the thickest part of the potato. This is the sweet spot for a super soft interior.
It may seem like an unnecessary step, but for dense vegetables it is just as important to check texture as it is for flavor. We apply the same method for smoking beets. The folks at America's Test Kitchen also recommend cooking your potatoes to 205 degrees.
How to Smoke Potatoes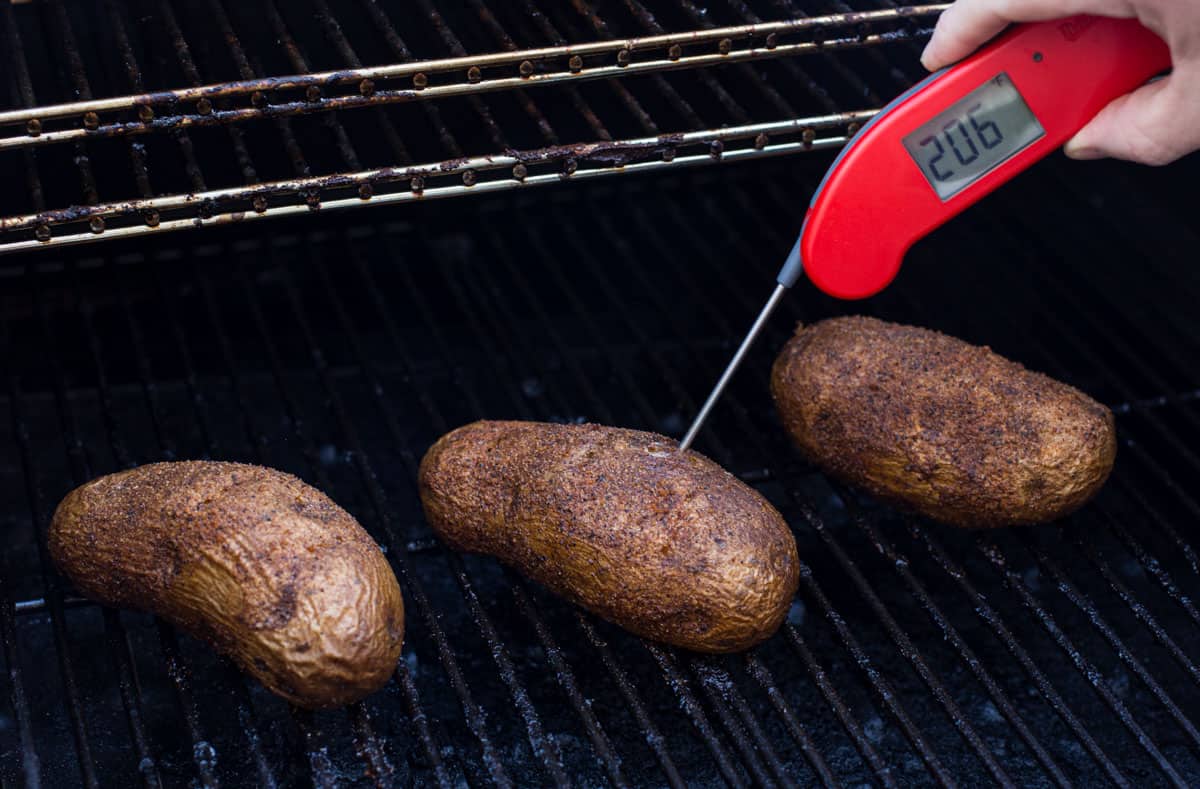 Prepare smoker targeting 250 degrees Fahrenheit using a fruit wood like apple or cherry.
Gently poke six holes into each potato using a fork, and then coat with olive oil. Liberally apply the dry rub and place on the smoker uncovered (meaning with no foil).
Smoke the potatoes for up to three hours (longer if they are larger or don't feel soft on the inside). The potatoes are ready to come off when the internal temperature reads between 205-210 degrees F. Alternatively, when a knife (or thermometer) goes in and out like it's going through room temperature butter.
When the smoked baked potatoes reach the desired internal temperature remove from the smoker. Cut along the length of the potato and add butter, bacon, and a sprinkle of chives. Serve warm.
Variations
The goal for this recipe was to stay simple with great flavor as a side dish and let the smoke stand out. But you can make this an entire meal. Consider topping your smoked baked potato some Pulled Pork and BBQ Sauce, Brisket Chili, or Pork Belly Burnt Ends.
You can also apply this same technique to Yams or Sweet Potatoes.
More Potato Recipes on the Grill or Smoker
Main Dishes to Serve with Smoked Baked Potatoes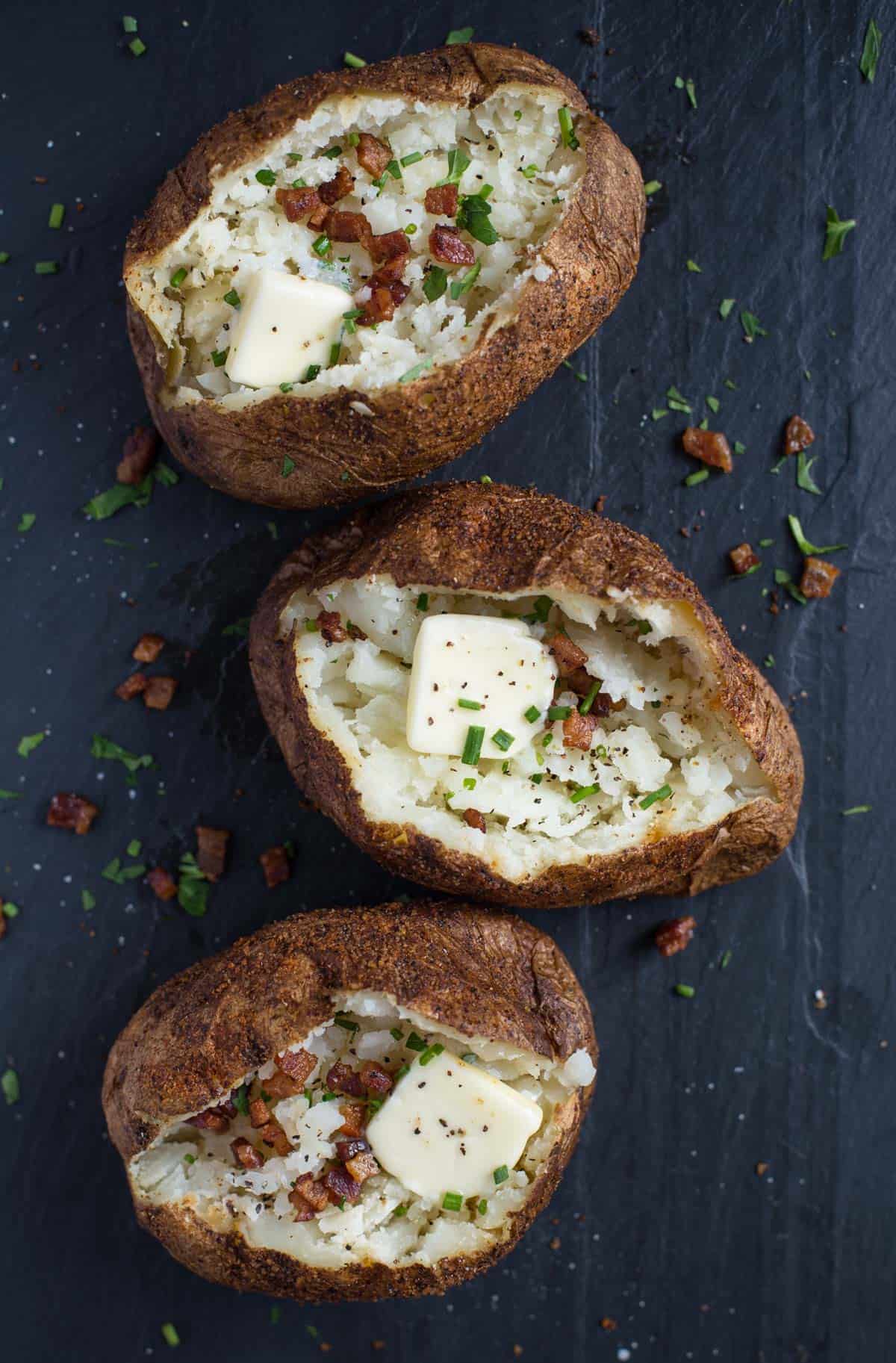 This post may contain affiliate links. This means if you click on the link, we may receive a small commission if you purchase through the link. We partner with brands we know and love and use and it helps keep the blog going!