Your guide to How to Make the Ultimate Mimosa Bar!
No matter what time of year it is, mimosa bars are always a great idea! Whether for a wedding or baby shower, celebration, or heck, even Sunday football, your brunch needs a mimosa. And we're here to show you how to create the best Mimosa Bar along with some fun ways to jazz up the average orange juice version.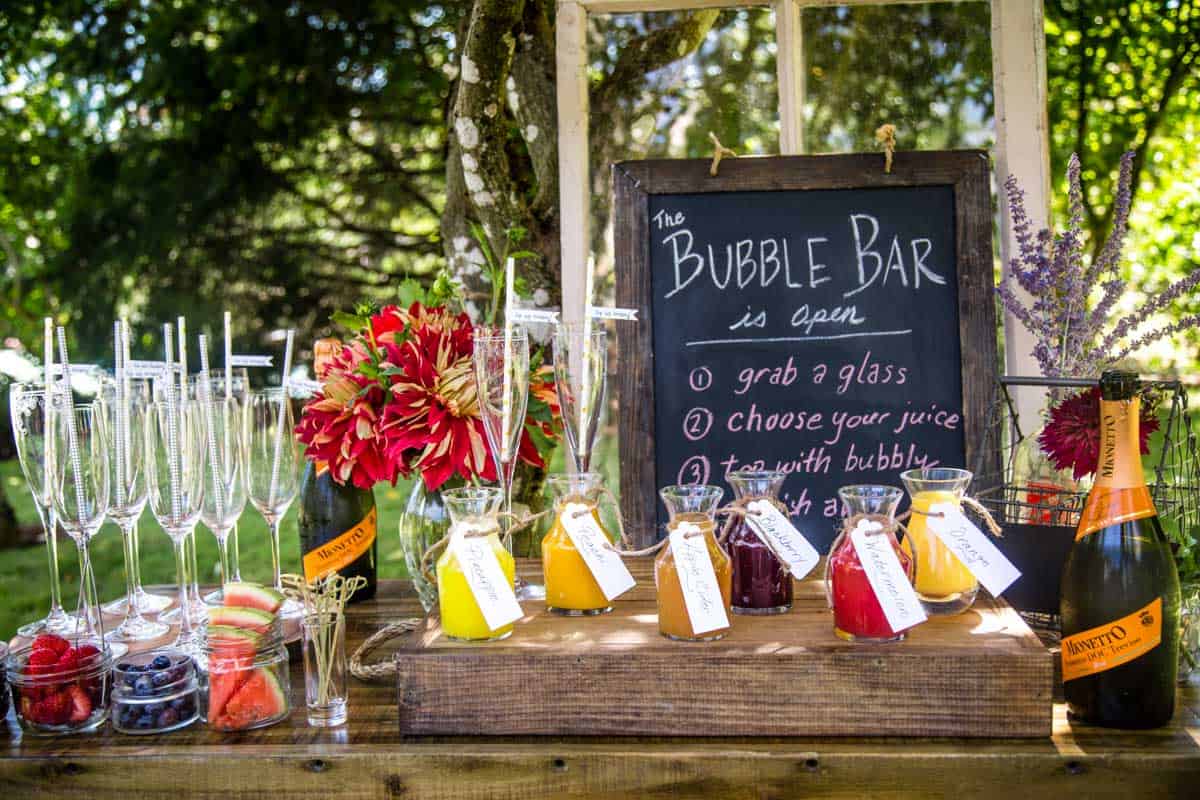 As much as I'm a straight up Champagne gal (if you've been following this site for any reasonable time, you know sparkling wine is my favorite beverage in the world!), I also love a fresh fruit mimosa on a lazy weekend morning.
Jump to:
Most people think of brunch and mimosas as a spring thing or something for a wedding shower. But they don't have to be! I'm on team brunch year-round, and you should be too.
The fall season is a great way to use up the rest of your fresh fruit by turning it into a purée, or even "Vindulge" in a little apple cider mimosa. Whatever season it is, there are many ways to sway from that traditional orange juice mimosa. And why not make it a family friendly event and invite your friends (and the kids) to your mimosa bar party (kid-friendly non-alcoholic versions included here too)?!
Here are a few tips from what we've learned from years as caterers and event planners on throwing one heck of a brunch and mimosa bar party!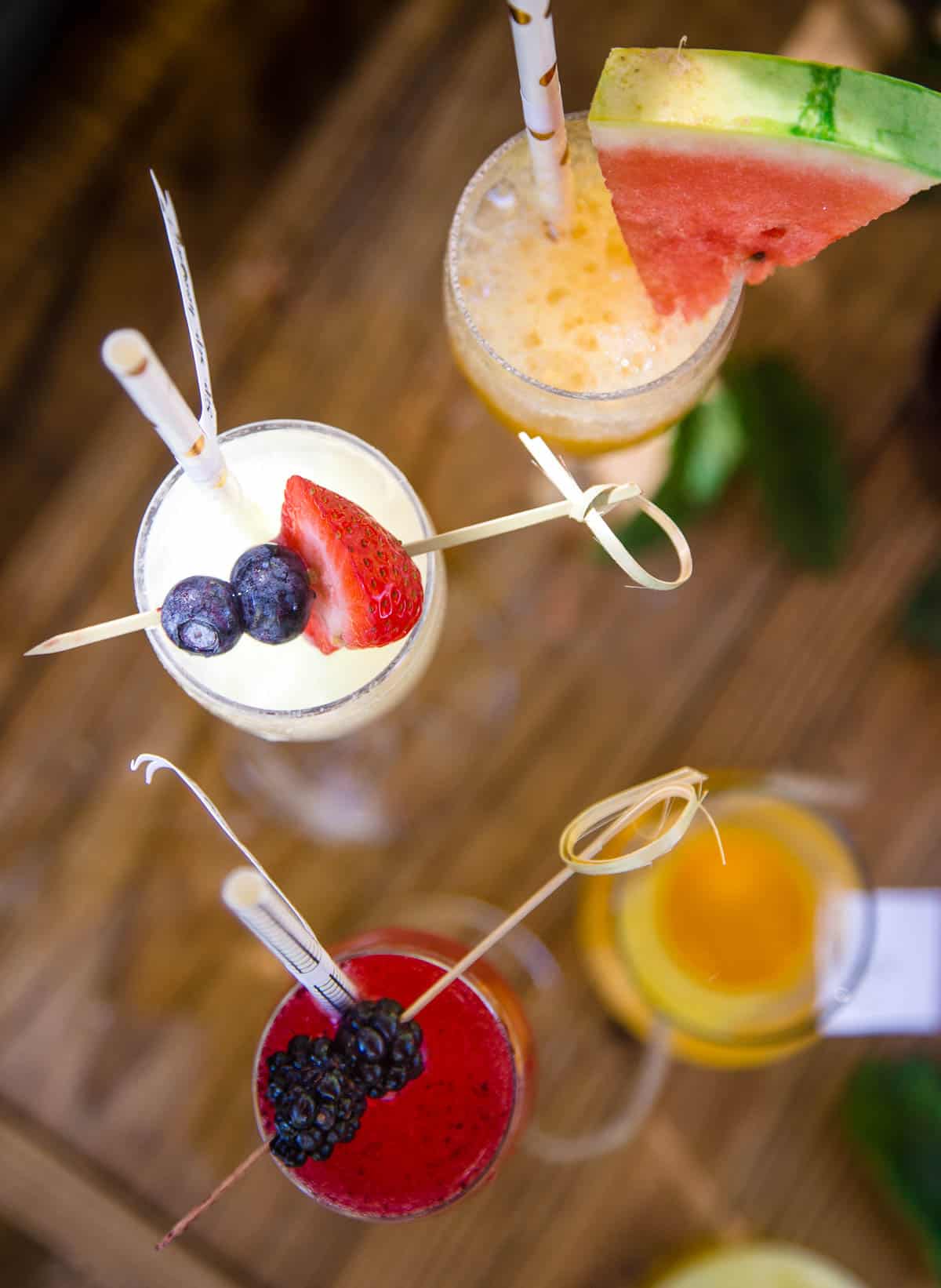 What you will need for your Mimosa Bar
Sparkling Wine (Cava or Prosecco work well)
Fruit juice
Fruit, for garnish
Herbs, optional for garnish
Champagne flutes
Pitchers or small containers for the fruit juice
Bowls or containers for garnishes (I like smaller mason jars)
Ice bucket
Labels or signage for your juices
Decorations
Music (for ambiance!)
The Best Sparkling Wine for a Mimosa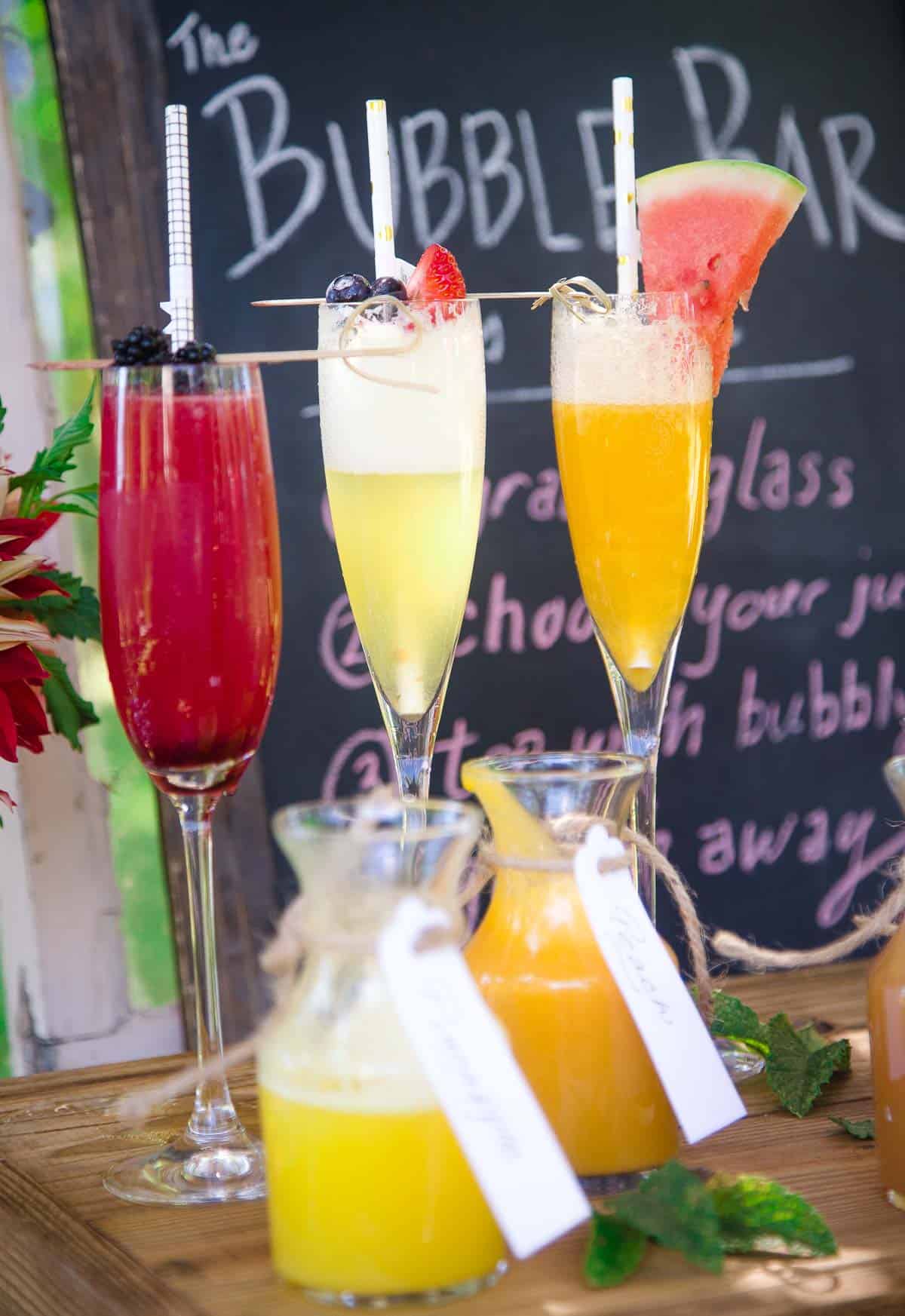 First off, avoid true Champagne. While it's my favorite beverage in the world, it's also pricey (starting at around $40 per bottle) and best drunk without any fruit or puree.
Learn More about the difference between Champagne and sparkling wines made elsewhere?
Instead opt for something in the $10-$15 range, and look for Cava from Spain or Prosecco from Italy. The later is my go-to, as there's a nice fruitiness to the wine that will complement the fruit in the juice.
Go for DRY! Your juices will add enough sweetness, so you don't want to compete with that. On the label search for "BRUT" (which means dry). Avoid labels that say "extra dry" which actually means there's residual sugar in the wine (aka sweeter). So Brut will be your best and safest option.
How much sparkling wine or Champagne for a Mimosa?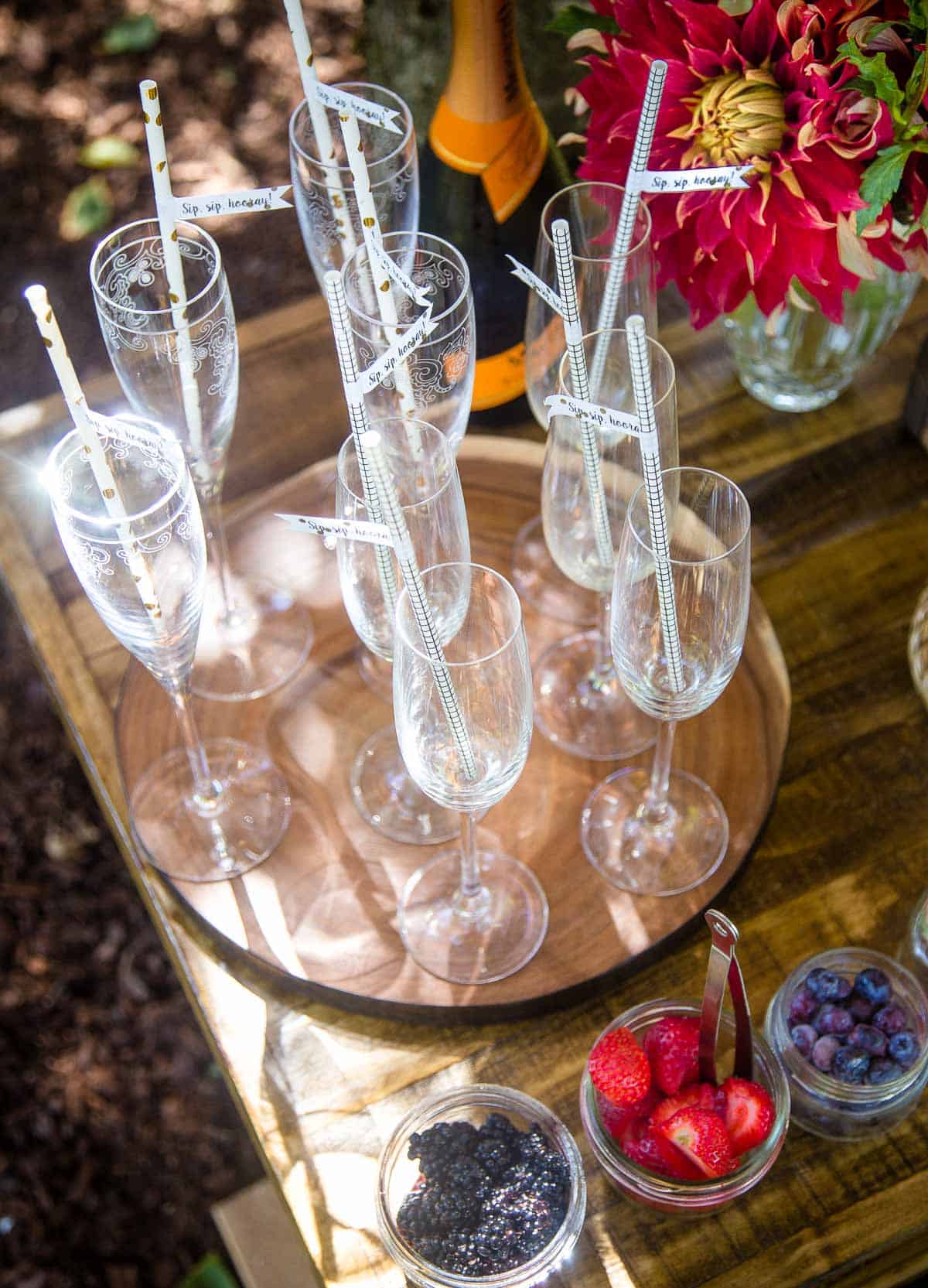 You can average about 6-8 mimosas per 750 ml bottle of sparkling wine, depending on your ratio. I don't like mine too sweet, so I'm more of a 2 parts sparkling to 1 part juice fan (sometimes even 3 parts bubbly to 1 part juice).
Others may opt for more of an equal ratio of 50/50.
For a party of 10, it's safe to plan on about 3-5 bottles of sparkling wine.
And for a party of 20, plan on about 6-8 bottles.
Any more than that plan on about 1 bottle for every 3 people (knowing your guests are likely going to have more than one).
Best Juices for Mimosas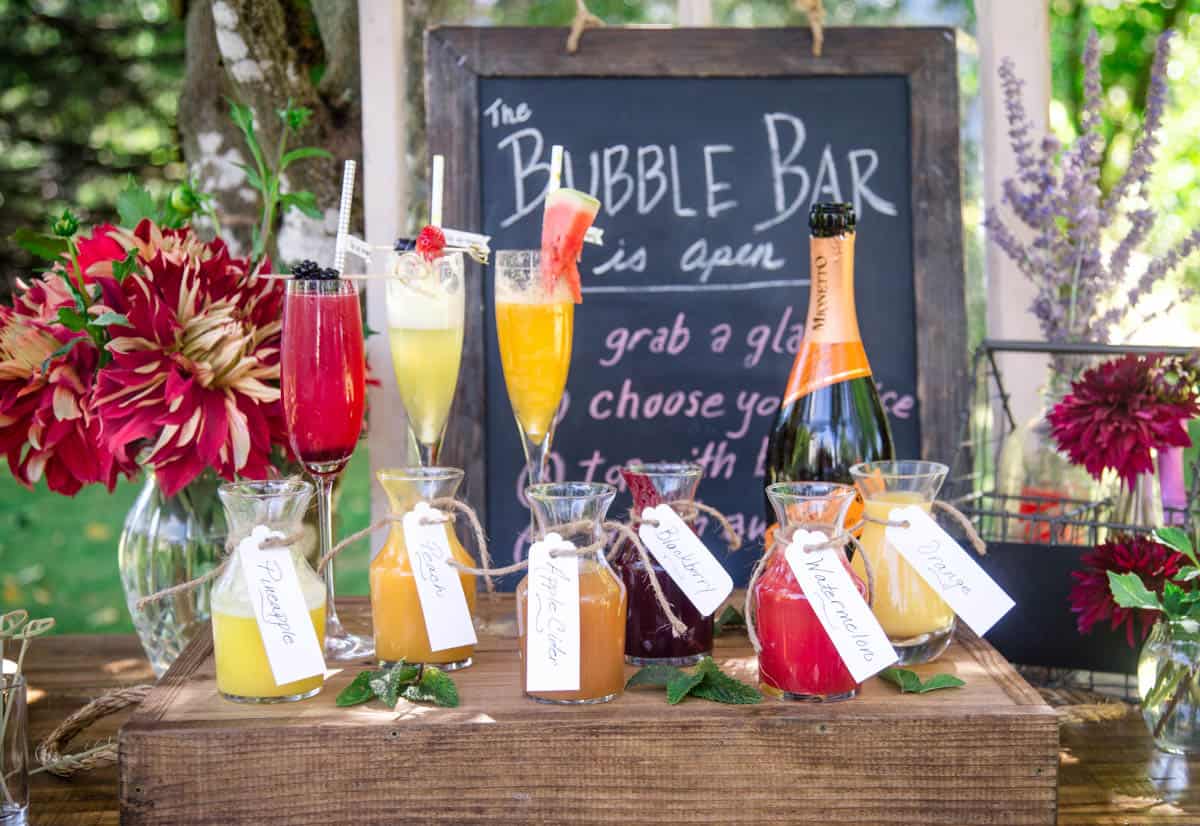 Well, you've gotta have some classic orange juice at your mimosa bar. But if you can, try to use fresh squeezed orange juice for the best and freshest flavor. If you need to buy it, go for one that contains pulp as it's closer to fresh squeezed that way.
For other fruit juice options, go with what's in season. Late summer mimosas are amazing with fresh peach purée (Bellini) or even watermelon. Apple cider is abundant in the fall.
My favorite juices for Mimosas include:
Orange juice
Peach purée
Mango purée
Pineapple purée
Watermelon purée
Blackberry juice
Strawberry purée
Pomegranate juice
Grapefruit juice
Apple Cider (especially fresh fall apple cider!)
Aim for 4-6 different juices for variety at your mimosa bar.
To Make a Fruit Purée
Take your fresh fruit, peel any outside skin and remove any cores, and mix in a blender until liquefied. This is more of a Bellini style since the fruit is puréed and thicker than store bought juice. But these are so much more delicious (in my book) than thinner store bought juices and will look great at any mimosa bar.
Mix them up!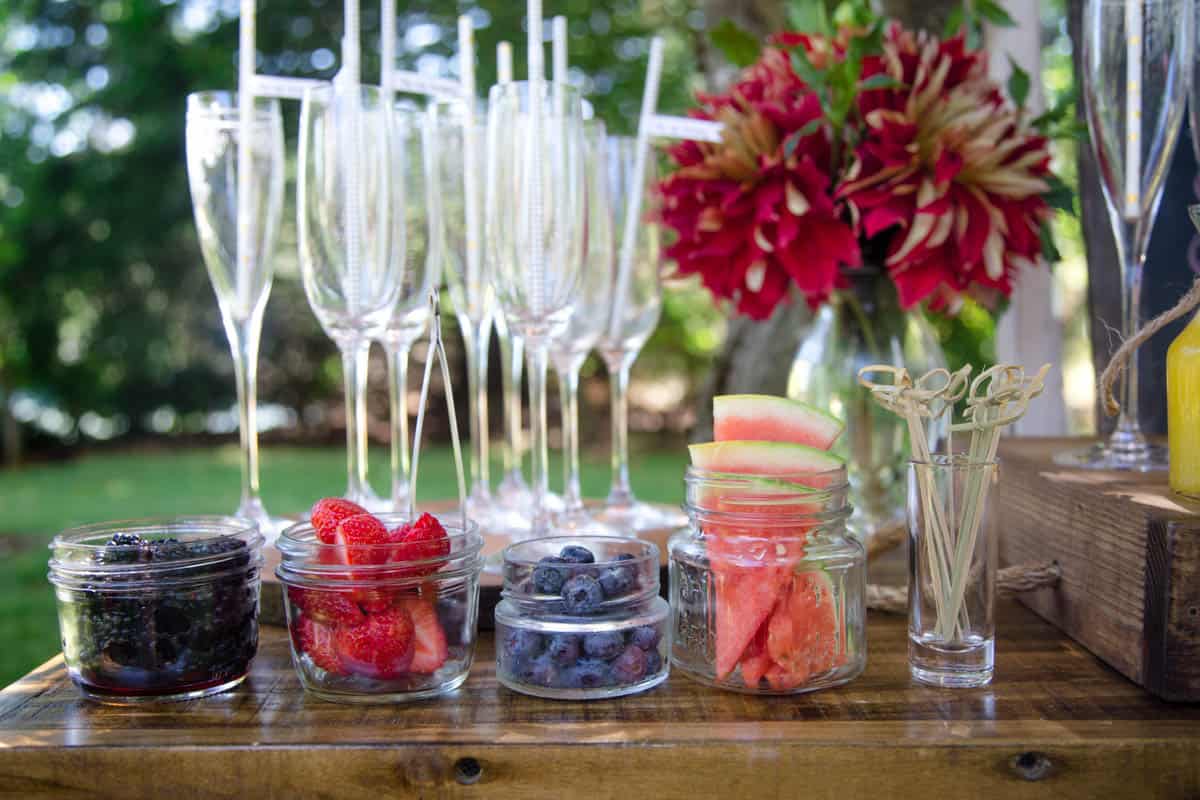 Encourage your guests to experiment with different combinations and garnishes.
Try a couple different flavors together (I love the combination of peach pineapple).
Add some herbs (like blackberry with a sprig of fresh mint).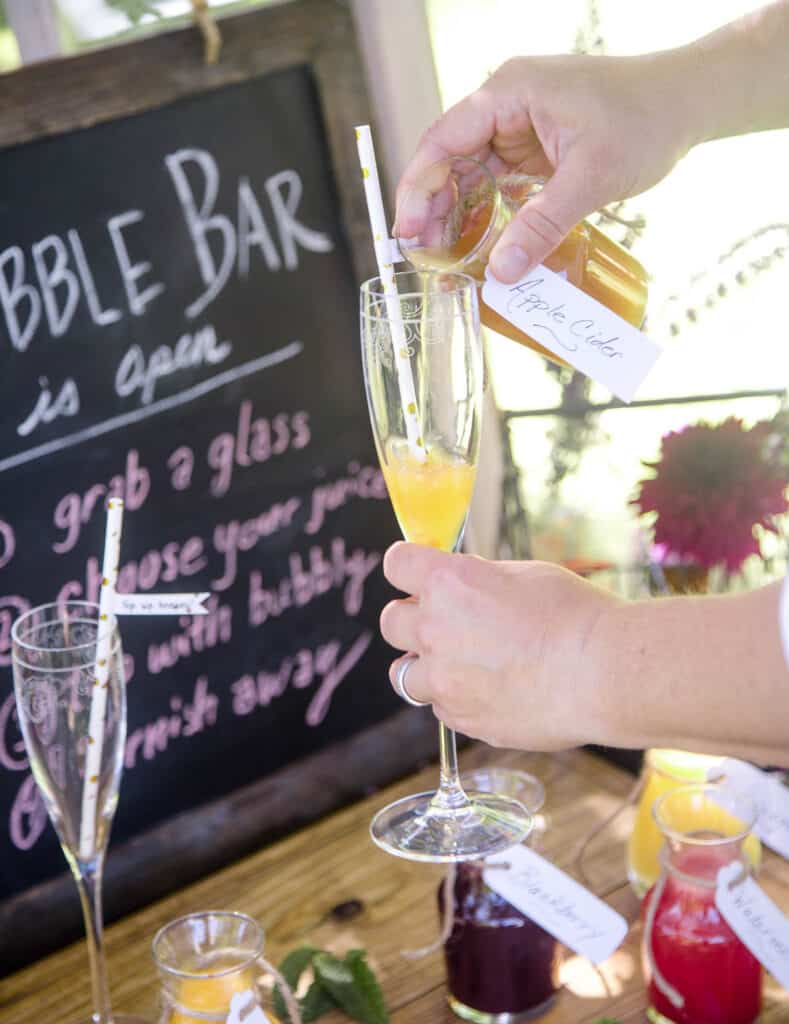 Make it Family Friendly and Non-Alcoholic
If you have children, or other underaged guests, or those who don't partake in alcohol, there are plenty of options for them as well. Instead of sparkling wine use club soda (or plain La Croix). The kids absolutely love them! Let them have fun and make their own flavor combinations.
Decorations and Props for a Mimosa Bar
For décor, use props that are probably already in your house! I use a coffee tray turned upside down for adding levels, flowers and lavender from the garden, and pitchers I have stored away.
Use small pitchers or containers for juice (I love these pitchers!).
Mix and match your flutes. You can go with a standard flute or stemless.
Mix and match mason jars for the garnishes.
Let the kids drink from mason jars too (much safer than champagne flutes).
Write instructions on a chalkboard.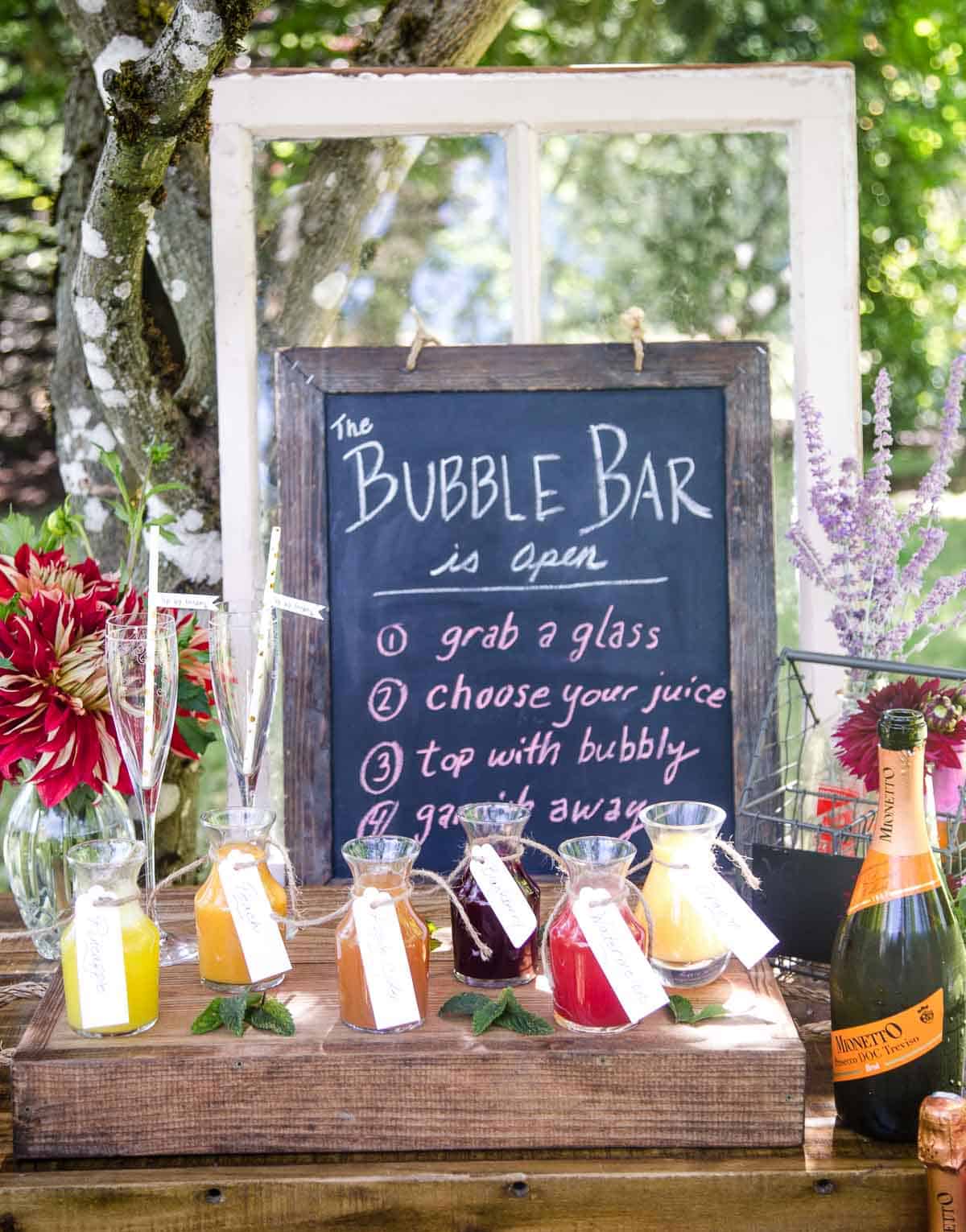 Frequently Asked Questions (FAQ)
How many bottles of sparkling wine do I need per person for a mimosa bar?
Plan on 1 bottle of cava or Prosecco for every 3 people. This is a good estimate.
What is a Bellini?
A Bellini is a mimosa variation made from a combination sparkling wine (typically Prosecco) and peach purée versus a filtered fruit juice. It's a great option to have at any at home mimosa bar party.
This mimosa guide was first published in September of 2018 and updated with new details, tools, and photos in April of 2023.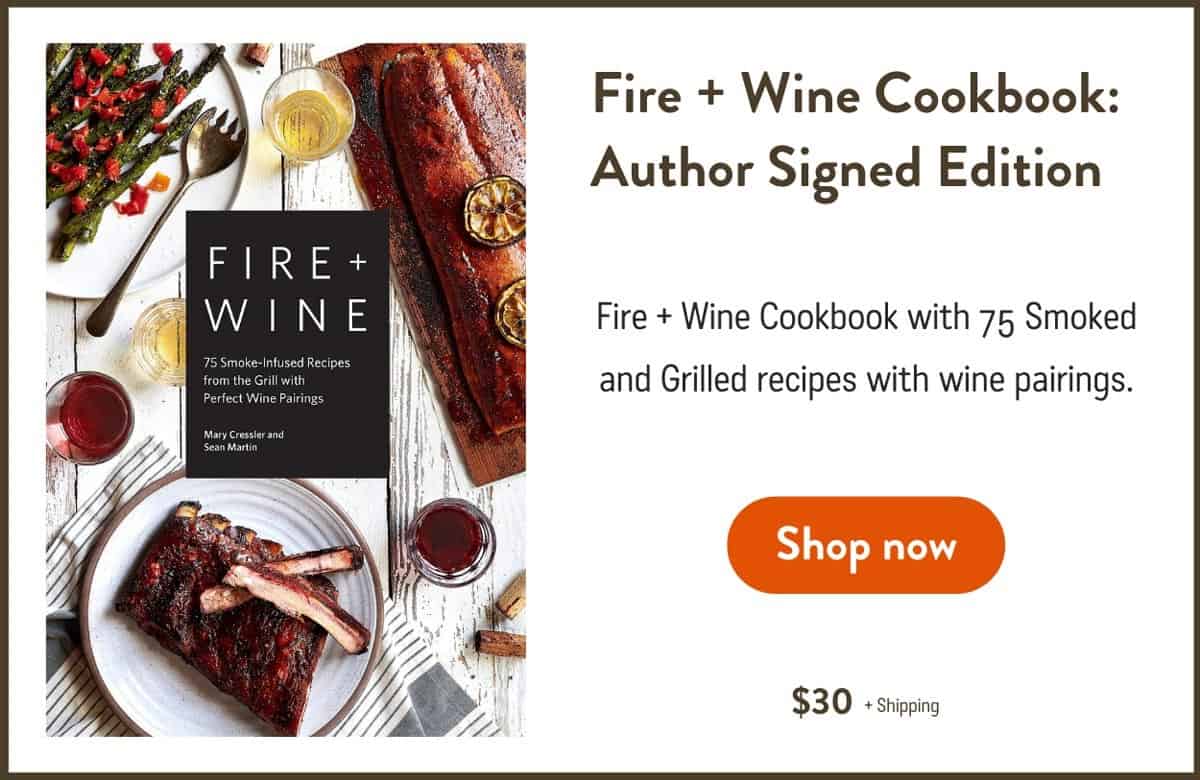 This post may contain affiliate links. This means if you click on the link, we may receive a small commission if you purchase through the link. We partner with brands we know and love and use and it helps keep the blog going!
Mary (a certified sommelier and recipe developer) and Sean (backyard pitmaster) are co-authors of the critically acclaimed cookbook, Fire + Wine, and have been creating content for the IACP nominated website Vindulge since 2009. They live in Oregon on a farm just outside Portland.
If you like this recipe and ideas we'd truly appreciate it if you would give this recipe a star review! And if you share any of your pics on Instagram use the hashtag #vindulge. We LOVE to see it when you cook our recipes.
---