Smoked Bacon Guacamole with Smoked Tomatillos, is truly the best guacamole recipe for smoked food lovers! It is going to forever change the way you enjoy your guacamole.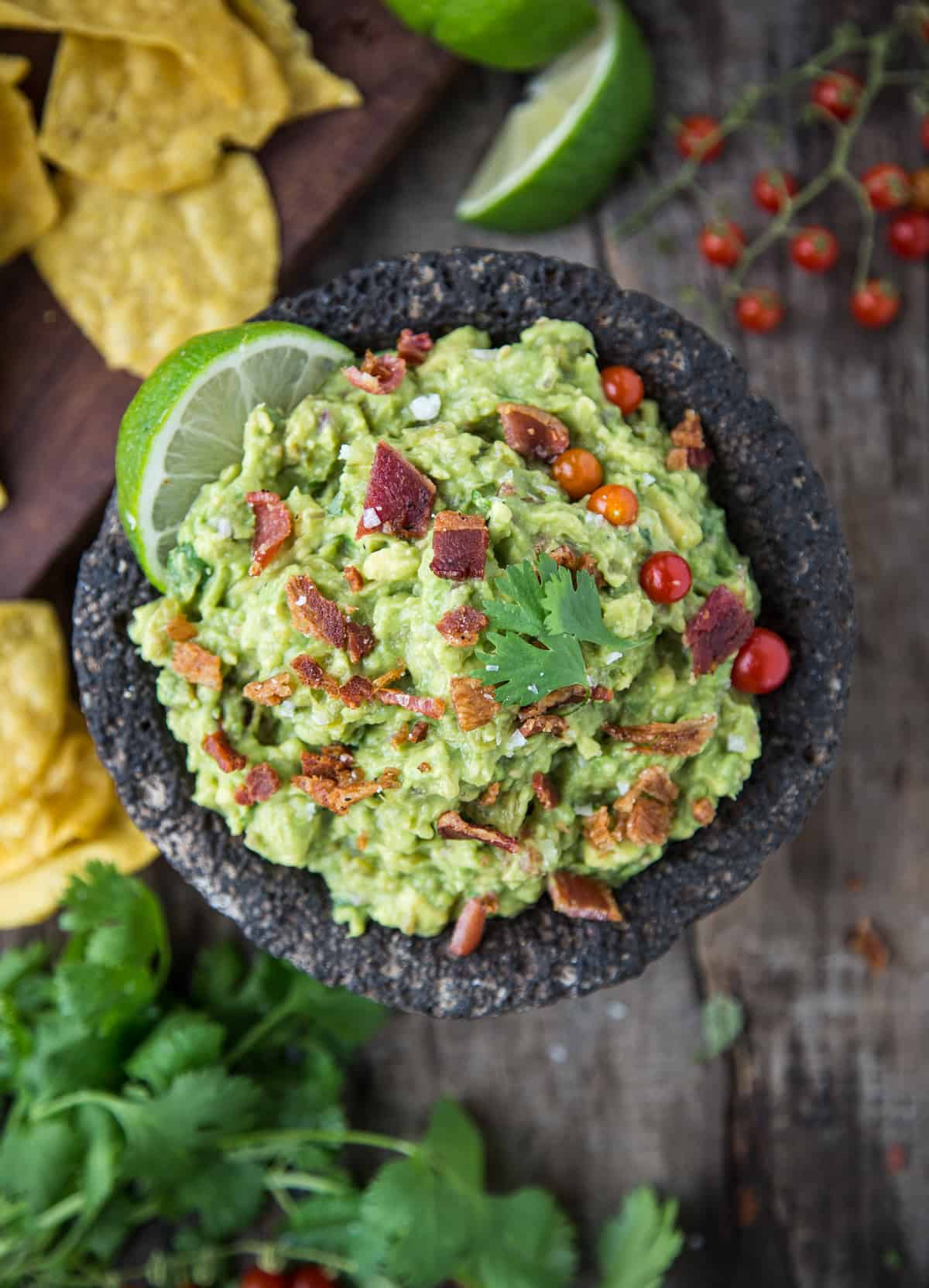 Guacamole made with smoked bacon and smoked tomatillos is great as an appetizer for the big game or just for a weekend snack. It is also easy to scale up for a crowd. The smoked tomatillos add a slight sweetness and acidity to the guacamole and the bacon adds salt, crunch, and that irresistible bacon flavor.
Is there really anything better than a bowl full of fresh guacamole?
Easy Guacamole Shortcut
Guacamole is super simple to make. And in fact I have a super easy shortcut that has gotten me by for years.
Smash up an avocado or two
Add a couple tablespoons of your favorite homemade (or jarred) salsa
Mix in one-tablespoon of sour cream (or Greek yogurt) for added creaminess
Squeeze of fresh lime
Touch of kosher salt
Stir away and adjust based on your taste
Easy. But for this one we added smoked tomatillos.
Smoked Bacon Tomatillo Guacamole
There are some days I want to take my guacamole dip over the top and do something a little bit ambitious, like adding smoked bacon and smoked tomatillos. Are you with me?
Oh yes. As if guac couldn't get any better. We add smoked tomatillos and crunchy smoked bacon to make this smoked guacamole. But let's start with what avocados to use.
Varieties of Avocados
There are a lot of varieties of avocados from around the world. When we make Guacamole we seek out ripe Haas Avocados for the creamy texture and buttery flavor. Depending on the time of year and where you live you may only have access to smaller or other varieties, so get what you can find. But we recommend Haas for guacamole.
Avocados actually ripen after removed from the tree. When buying avocados, they shouldn't be rock hard (those are not ripe yet). Buy avocados that are slightly darker in color and have a little softness to them. If they are too soft that means they are overripe and will have discoloration when they are opened and unpleasant color and smell.
How to Ripen Avocados
If all you see are the hard avocados, that's OK. Buy them, and store them in a paper bag (not plastic) for up to two days with a banana (apples are OK also) at room temperature. The gasses that come from the banana (or apple) help to ripen the avocado. Be sure the paper bag is open to the air (not closed off).
What are Tomatillos?
Tomatillos, or husk tomatoes, are a fruit also from the nightshade family (like tomatoes). They grow in large plants within husks. Freshly harvested, tomatillos are dense, acidic, and slightly bitter in flavor with small seeds. When roasted or smoked, they sweeten up, and the pungent acidity becomes very pleasant and adds a nice flavor to any dish from salsa verde to a topping for pork steaks.
Adding them to the guacamole brings in that acidity and slightly smoky flavor without overpowering the fresh avocado flavor.
How to Smoke Tomatillos
Preheat smoker to 250 – 275 degrees Fahrenheit
Remove the outer husk of the tomatillos
Rinse the tomatillos in a colander with cold water, use your hands to remove the sticky exterior
Slice in half
Place tomatillos in a glass bowl (or tray) and place the bowl on your smoker up to three hours
Let the tomatillos cool and don't loose the precious liquid that is in the dish/tray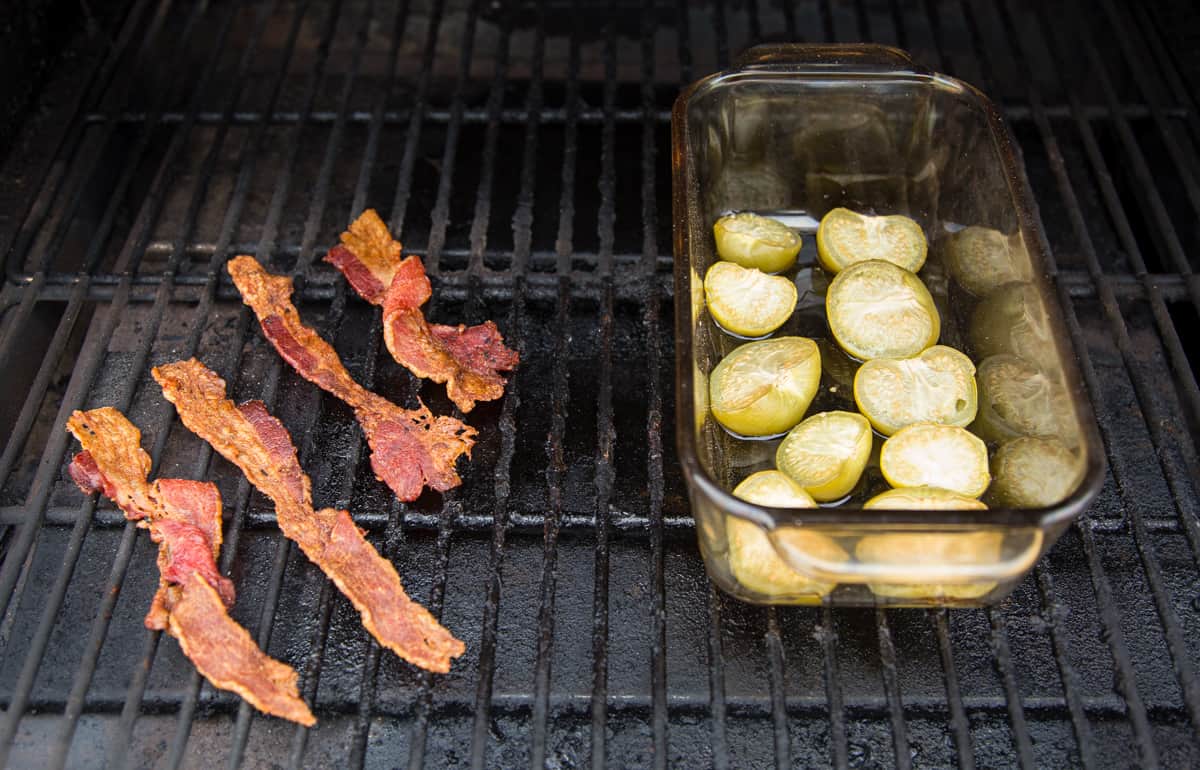 How to Smoke Bacon
Preheat smoker to 250 – 275 degrees Fahrenheit.
Lay out bacon directly on the smoker grates over indirect heat (grease will cause flame in a direct environment).
Smoke for 90 minutes, or until they are nice and crispy.
The bacon and tomatillos can cook at the same time (just note the bacon will be finished before the tomatillos, so just set them aside).
How to make Smoked Guacamole
Start by smoking bacon and tomatillos. This can be done the day before if prepping for a crowd. Finely dice the bacon and the tomatillos (keeping them separate).
Next, combine the ingredients in a bowl and stir until you like the texture. We like it creamy but still with small chunks of avocado. Note: Reserve some of the bacon for the topping.
Place in a serving dish. We use a classic Molcajete, but any dish will work. top with more of the bacon and cilantro.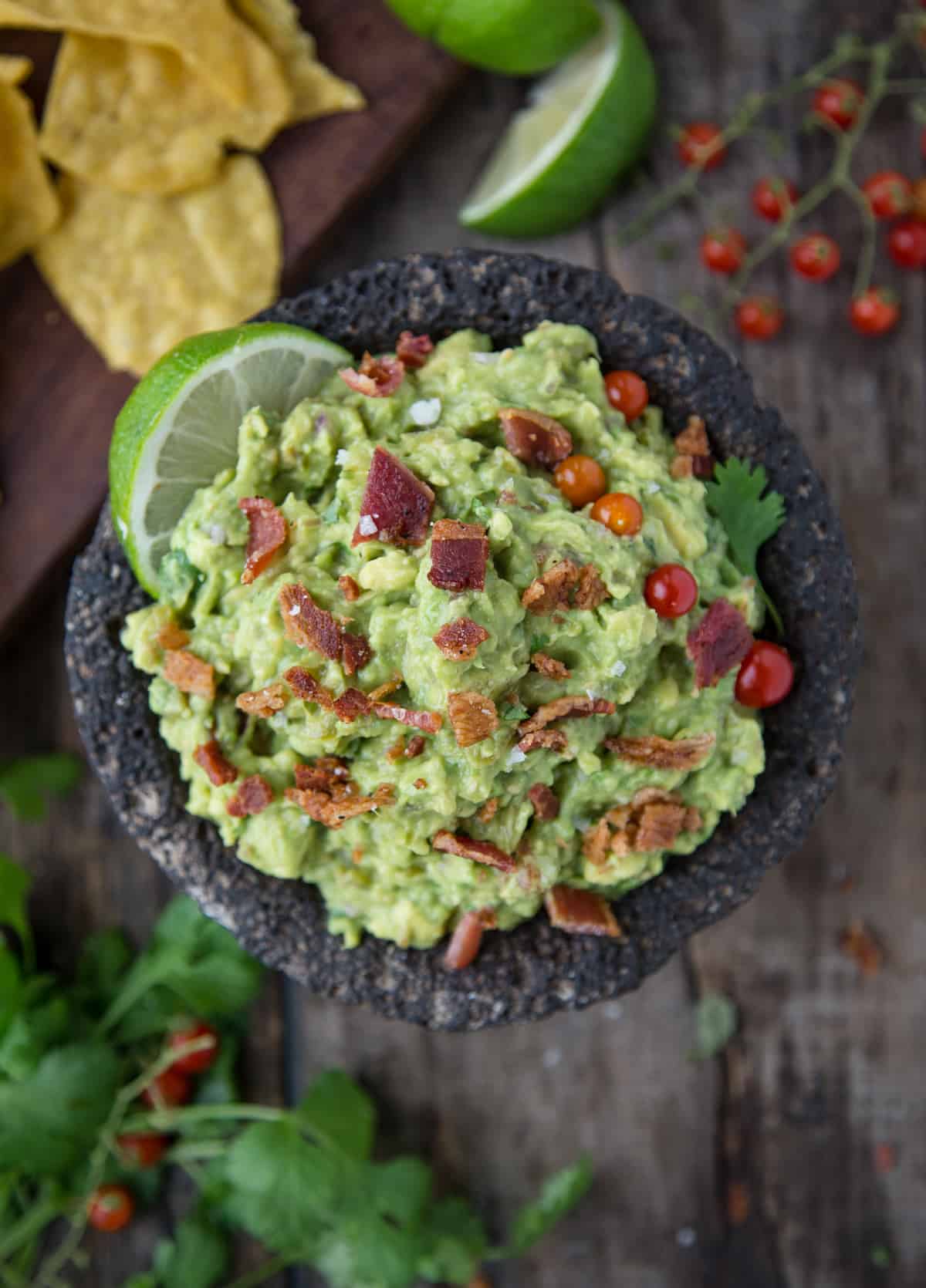 Variations
There are so many ways to create delicious variations.
Freshly sliced cherry tomatoes add amazing color and freshness.
Thinly sliced Serrano or jalapeño peppers add heat.
Red onions versus shallots for a more pronounced onion flavor.
Crushed coriander seeds (where cilantro comes from).
What to Eat with Guacamole
I dare you not to eat the whole dish of smoked bacon guacamole with some crispy corn chips. But if you have the self control to not eat it all before dinner, I highly recommend you top this guac on:
Guacamole FAQ
Why Does Guacamole Turn Brown?
Oxidation causes the browning of avocado over time, you can't avoid it. To prevent the browning store in an airtight container, or pour freshly squeezed lime juice over the guac to prevent oxygen from getting at the avocado. This is especially helpful if you make this in advance.
How To Store Guacamole
It's best to eat all the guacamole in one sitting. But if you find you have leftovers, then place in an airtight container, squeeze fresh lime juice into the guacamole and seal. This will minimize oxidation for 24 hours. When you want to eat it again, simply stir it up. Also consider freezing it for longer storage time.
How Long is Guacamole Good in the Fridge?
24 hours. 2 days tops. Otherwise consider freezing it.
Can You Freeze Guacamole?
Yes, you can freeze it. The best results are using some type of food saver product to remove the air from the guac. Otherwise, use the smallest freezer bag you can find and squeeze the air out of it. It should store fine for up to 2 months.
Are Avocados Healthy?
Yes, and Web MD has a great summary of the nutritional aspects of avocados.
Smoked Bacon Tomatillo Guacamole Video
Guacamole Recipe with Smoked Bacon and Tomatillo
Wine Pairing for Smoked Bacon Tomatillo Guacamole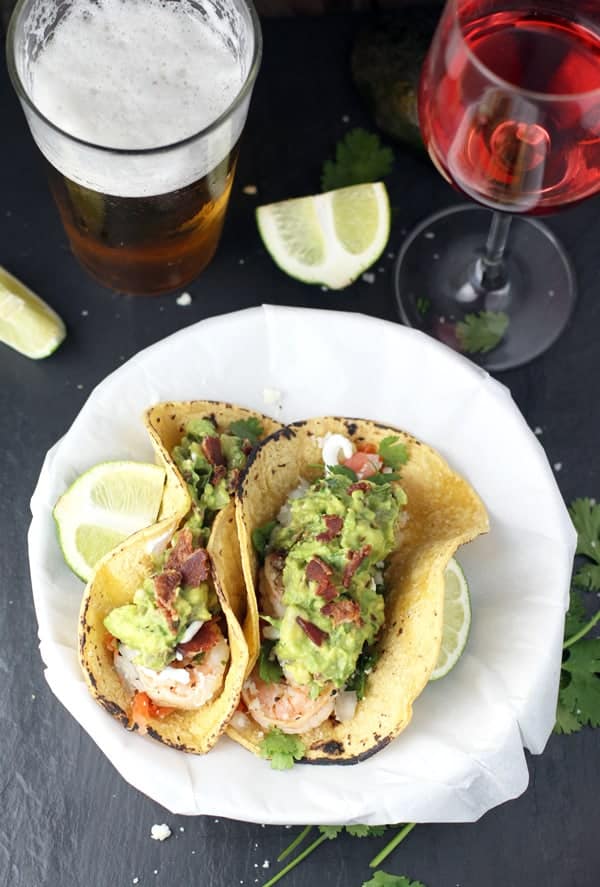 Guac alone, the dish goes great with an acidic and herbal scented wine like Sauvignon Blanc or even Grüner Veltliner. The herbal notes will compliment the cilantro and other flavors of the dip and the acidity will cut through the to-die-for creamy texture of the buttery avocados. Oh and don't be afraid of the smoked bacon and tomatillos, the "smoked" flavor isn't' that strong. With the shrimp tacos, however, I like it with a fruity, crisp, dry rosé. Either way, go with a white wine (or rosé) with good acidity. Or drink with a Mexican beer like the hubs did.
---
This recipe was originally published in April 2015, and updated in September 2020, with additional content and photos. The recipe remains the same.
---
If you like this recipe we'd truly appreciate it if you would give this recipe a star review! And if you share any of your pics on Instagram use the hashtag #vindulge. We LOVE to see it when you cook our recipes.
---