Smoked Butternut Squash Soup topped with smoked bacon and fried sage is the perfect fall soup. Butternut squash is roasted in the smoker and then blended for this comforting dish, but can easily be roasted in the oven too.
You're going to absolutely love this smoked soup!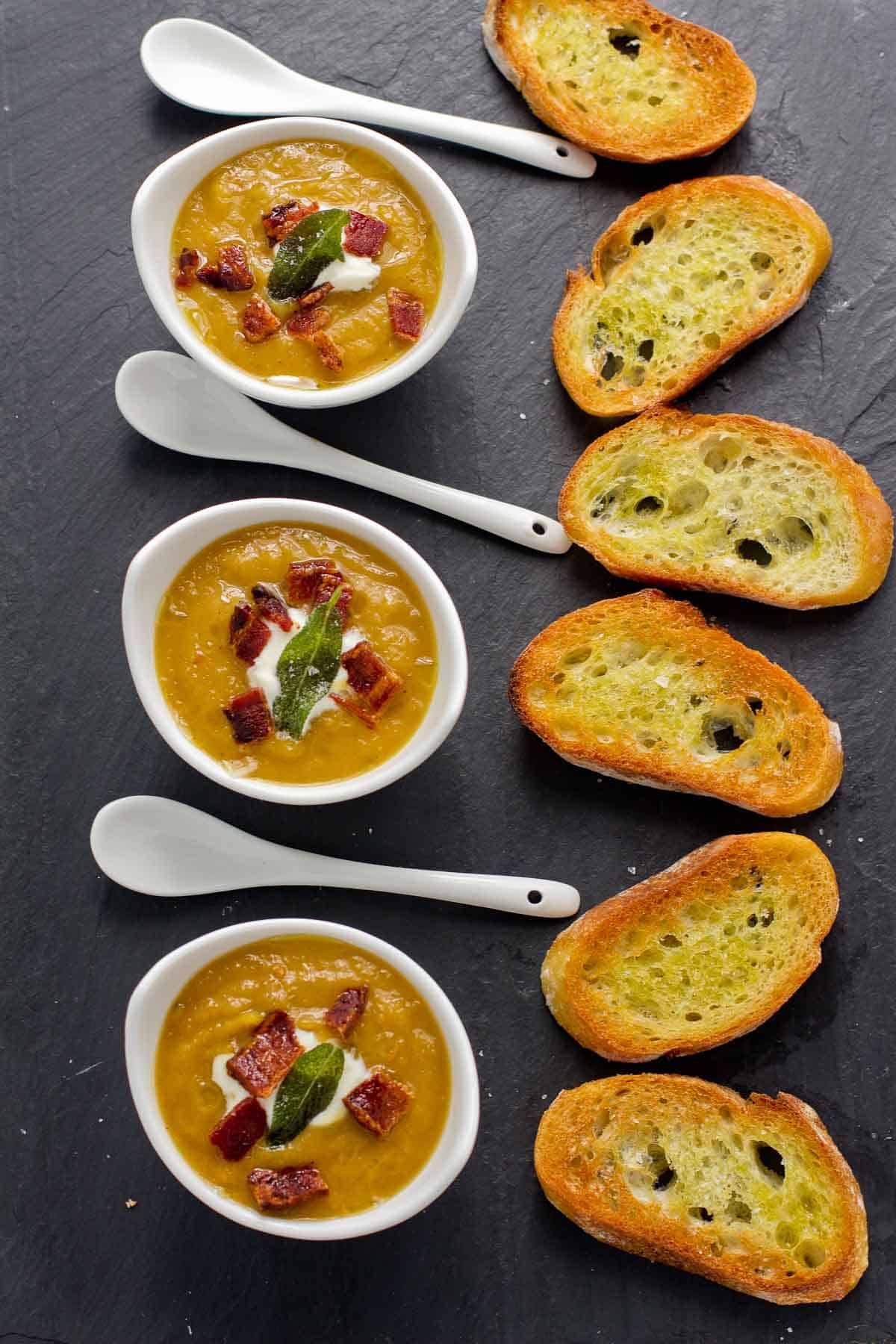 Jump to:
I firmly believe that anything you can cook in the oven or on the stovetop you can do in a smoker, and it will be so much better (not to mention more fun!). This goes for roasting vegetables.
Traditional butternut squash soup starts with roasted butternut squash in the oven, then pureeing it into a creamy and comforting soup. For this soup we use a smoker or a grill to roast our squash, then use that smoked butternut squash to make the creamy soup.
To roast a squash you would typically cut it in half and roast until soft. But to allow more surface area to take in the smoked flavor we remove the skin and cube the squash. It doesn't take much time to add this step and allows the squash take in more sweet smoke infusion.
Ingredients
Butternut Squash – We season with olive oil salt and pepper.
Bacon – Smoke until crispy as a great topping to the soup.
Onion and Garlic – Adds a nice savory flavor.
Apple – The apple adds natural sweetness and a richer flavor.
Chicken Stock – The liquid helps with the puree and as it simmers absorbs the flavors of the sautéed garlic and onion.
Red Chili Pepper Flakes – Adds a touch of heat.
Kosher Salt and Pepper – For flavor.
Fried Sage – Makes for a delicious topping for the soup.
Roasted butternut squash soup, whether smoked or in the oven, tastes even better with toppings over the finish. We add crème fraiche, the smoked bacon, and butter fried sage for the perfect texture and flavor.
How to Smoke Butternut Squash
Prep smoker to 225 degrees Fahrenheit using apple wood.
Cut the squash in half lengthwise and remove the seeds. Peel the skin of the squash with a vegetable slicer and then cut into cubes. Toss with extra virgin olive oil and salt and pepper, just to coat.
Place on a baking sheet with foil liner. Place on smoker for up to 3 hours, or until you see some caramelization and the pieces are fork tender.
While the squash is smoking add the bacon and cook for 45 minutes – 1 hour (or until it is nice and crispy).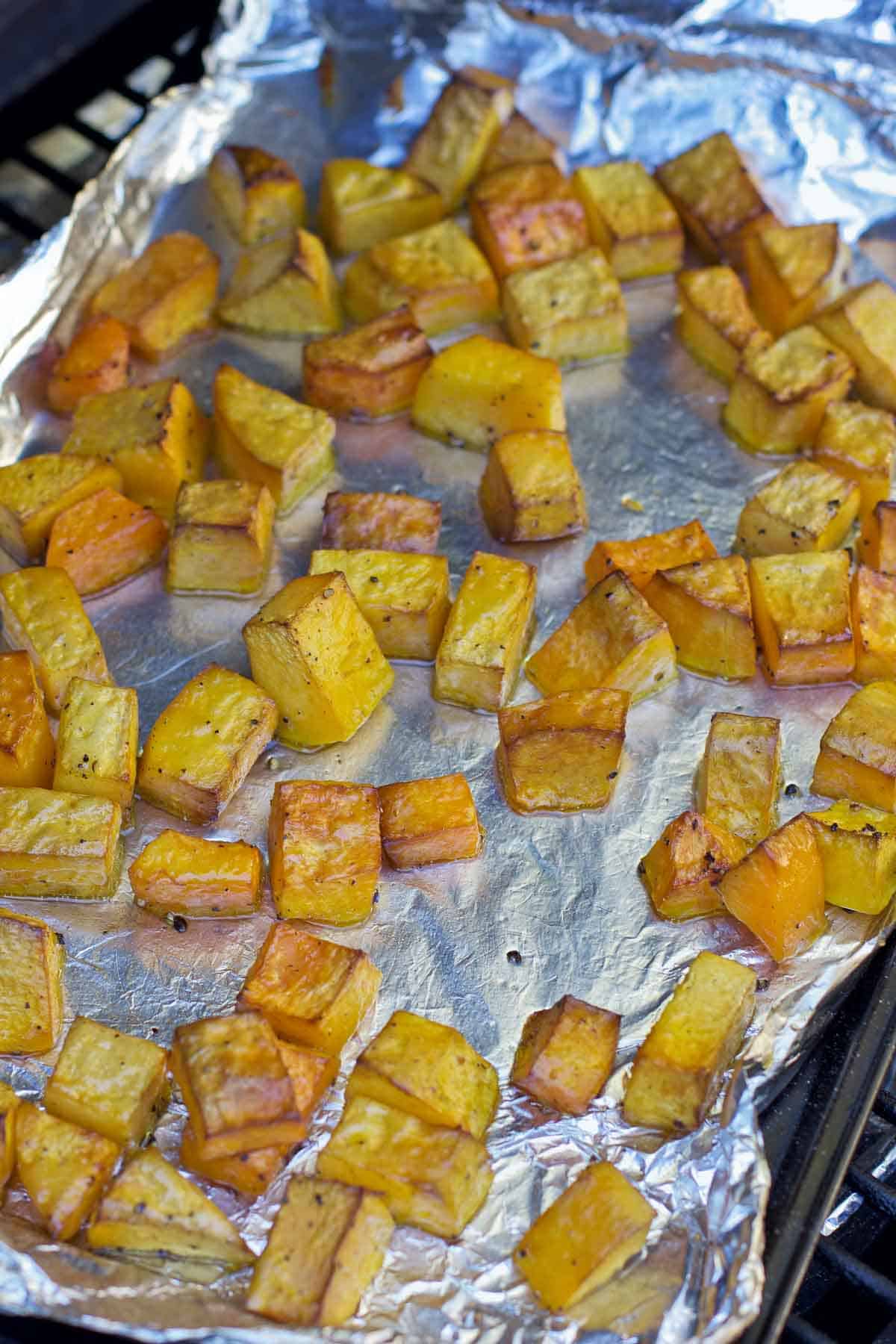 How to Make Smoked Butternut Squash Soup
Once you smoke roast your butternut squash, the soup is simple to make.
Soften vegetables: Cook onions and apples in olive oil and butter until soft, but not caramelized.
Add liquids and seasoning: add broth, butternut squash cubes, red pepper flakes, salt and pepper and simmer.
Puree soup: using a hand immersion blender, or countertop blender in small batches, blend until smooth and creamy.
Serve: with a dollop of crème fraîche and top with fried sage and smoked bacon crumbles.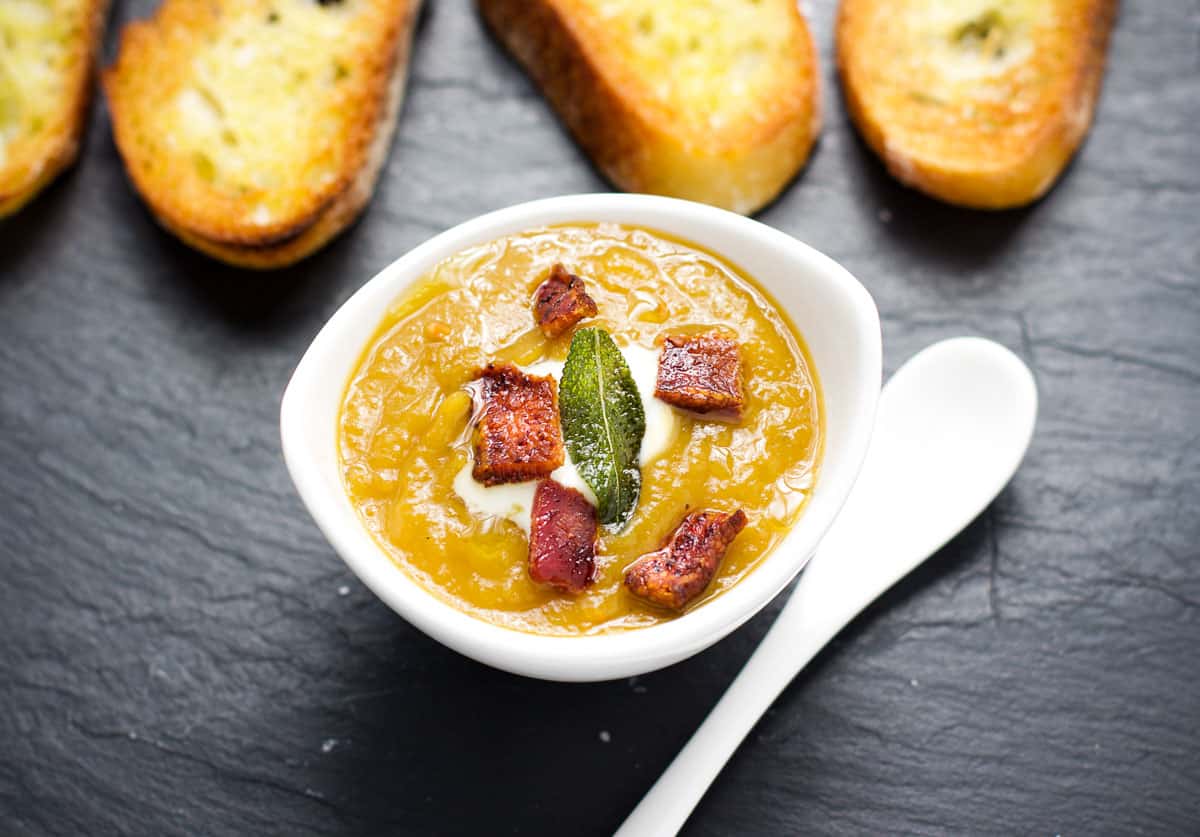 Garnish
Crunchy smoked bacon pieces
Fried sage
Crème fraîche (or sour cream), to add a touch of richness
Flaky sea salt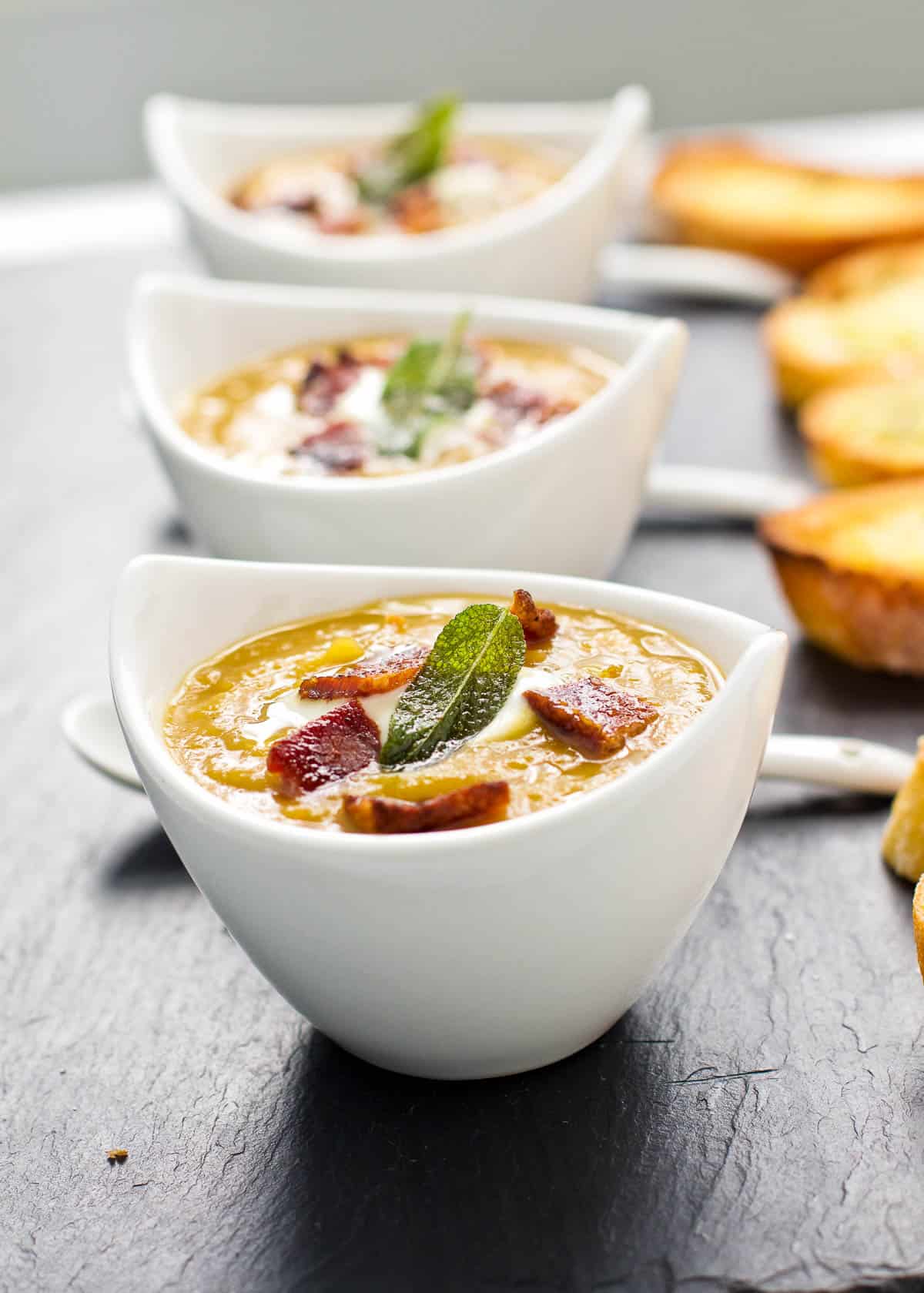 Smoking adds such great flavor to your traditional butternut squash soup! This soup is hearty enough for a main meal, but is also a fantastic appetizer or side dish.
And thinking of fall gatherings and holidays, like Thanksgiving or Christmas, I honestly can't think of a better appetizer for your holiday meal. You could serve it in small little serving cups or bowls like these with some toasted baguette, that way nobody gets too full before the main event.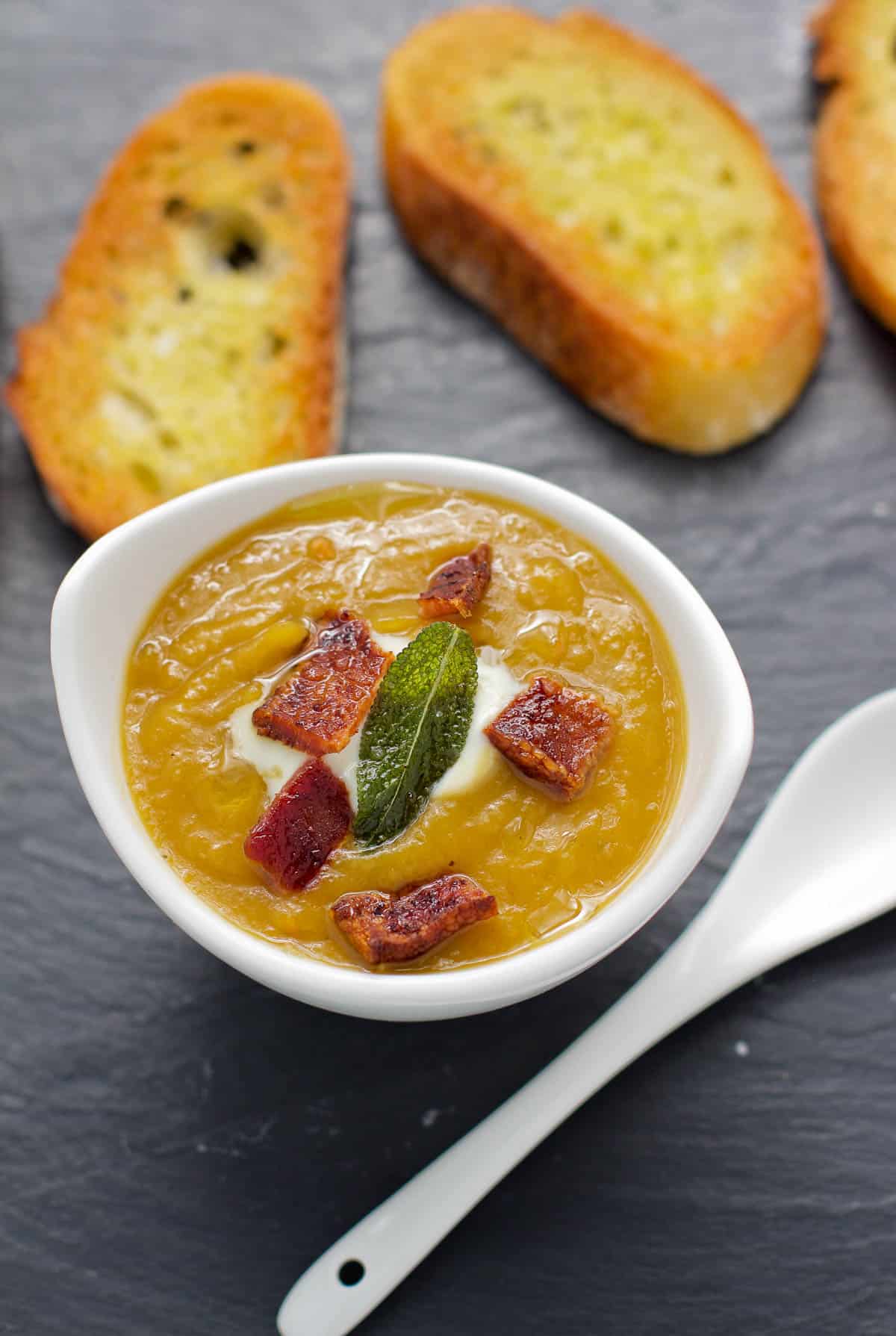 Wine Pairing For Roasted Butternut Squash Soup
For this soup I'm a fan of hearty white rich wines like a mildly oaked Chardonnay. The floral and spicy flavors of the Gewürztraminer are also nice for the soup, and very reminiscent of fall flavors. But for the most part the richness of Chardonnay and the toasty oak really compliment the mild applewood smoked flavors from the soup and matched its richness.
Related Recipes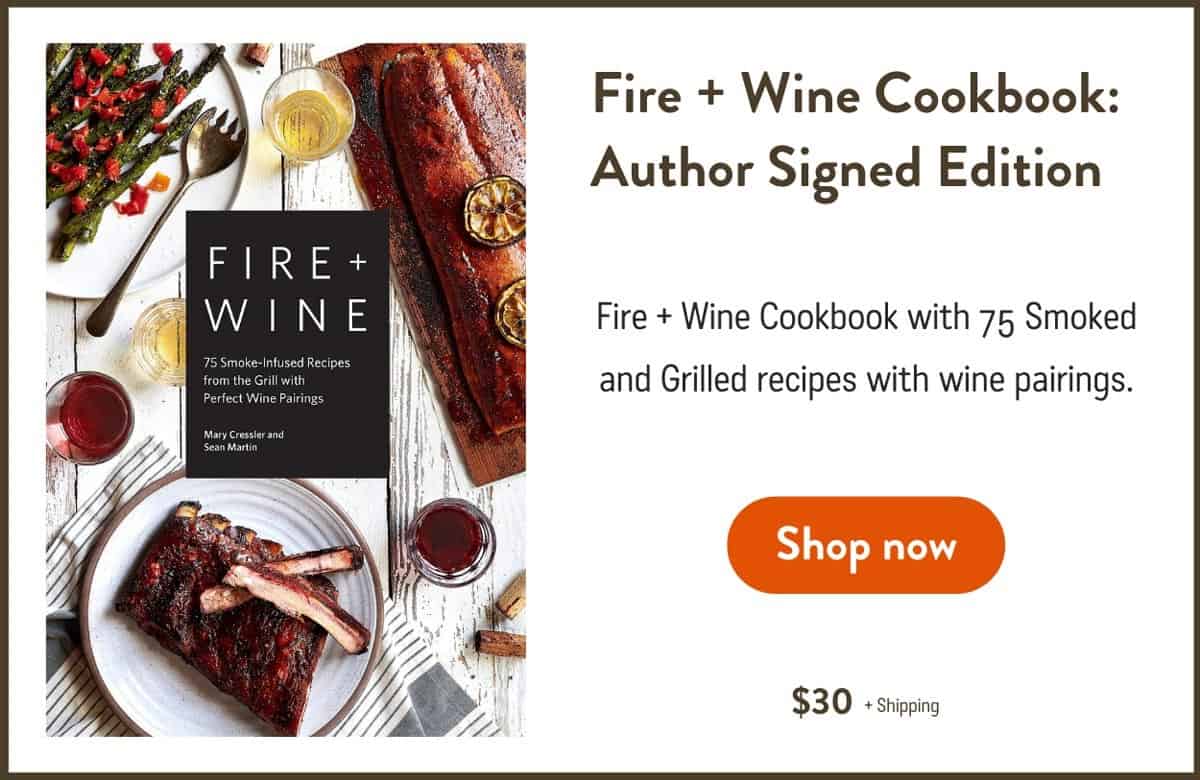 Tried this recipe? Give us a star rating and we would love to see! Mention @vindulge or use the hashtag #vindulge on all the social media handles. And consider subscribing to our newsletter where we drop all our favorite ideas and inspirations every week.
This post may contain affiliate links. This means if you click on the link, we may receive a small commission if you purchase through the link. We partner with brands we know and love and use and it helps keep the blog going!