Buttermilk Drop Biscuits are a great alternative to traditional biscuits because they are easier to make. This is a quick and easy drop biscuit recipe loaded with flavor. And the secret to the best drop biscuits is making them in a cast iron pan (true story!). But if you don't have one, that's ok – we'll talk more about other options.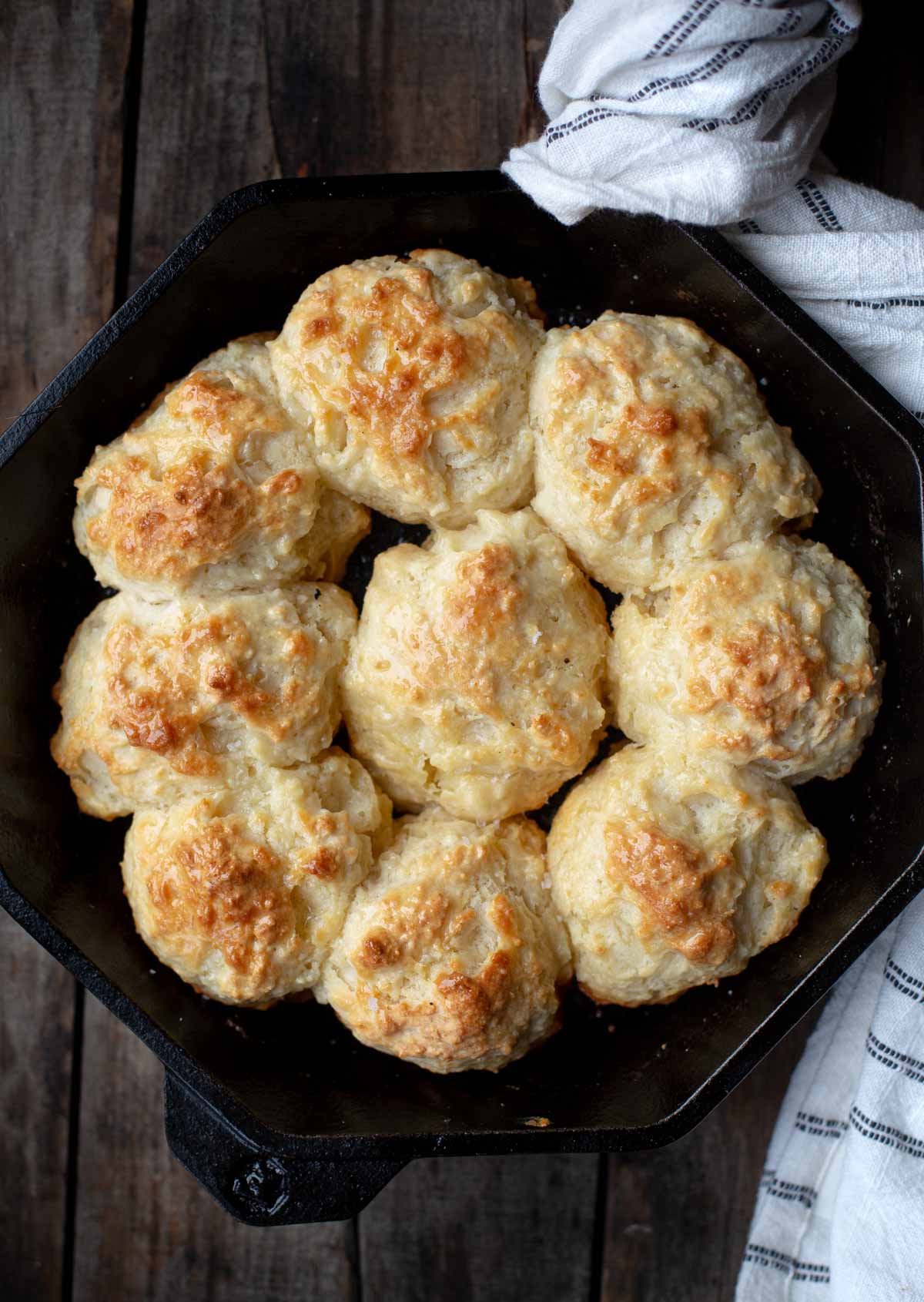 Drop Biscuits Recipe Highlights
The outside of these drop biscuits is golden brown from cooking in the cast iron pan, but irresistibly soft and fluffy on the inside. The perfect balance.
It's just 5 ingredients. Mix the dry ingredients and then layer in butter, and then liquids. No need for a food processor or stand mixer.
Easy to modify if adding savory flavors like bacon, chives, cheese, or herbs or use with homemade breakfast sausage.
Check out our gluten-free drop biscuit recipe if looking for a GF alternative.
Jump to:
Drop Biscuits versus Regular Biscuits
Drop biscuits, by definition, are regular biscuits formed by a large spoon (or in our case an ice cream scooper). Regular biscuits are layered multiple times, as folded sheets, to get the flaky texture and are much more time consuming to make.
Drop biscuits are ready to prep and eat in 30 minutes and great for an easy breakfast idea with sausage gravy or when camping.
Ingredients
Unsalted Butter – It should be cold butter cut into pea sized cubes. But you don't have to stress about how cold it is, like you do with normal biscuits. The butter also adds as an important fat as a binder for the biscuits.
Flour – We use bread flour for the higher gluten level and density. But you can use all purpose flour as well.
Baking Powder – Note, not baking soda, the baking powder helps give some lift as it cooks.
Kosher Salt – We used Diamond Crystal. The salt adds flavor.
Buttermilk – The buttermilk adds another layer of fat as well as acidity. If you don't have buttermilk you can add whole milk (2% and skim just don't have enough fat and the biscuits will be denser and flatter).
Optional: After the buttermilk drop biscuits are done we like to melt butter and brush the biscuits with butter and then dust them with a little more kosher salt or finishing salts.
Equipment – Cast Iron versus Baking Sheet
We strongly recommend to use a well seasoned 10-inch cast iron pan (we used the Finex No 12 which is just about 10 inches of cooking space). The cast iron not only retains heat well, it also adds an incredible flavor crust to the bottom of the biscuits that you just can't replicate with a baking sheet. As the butter melts while the biscuits are cooking, it pools and almost fries the base of the biscuits crisping them up just perfectly.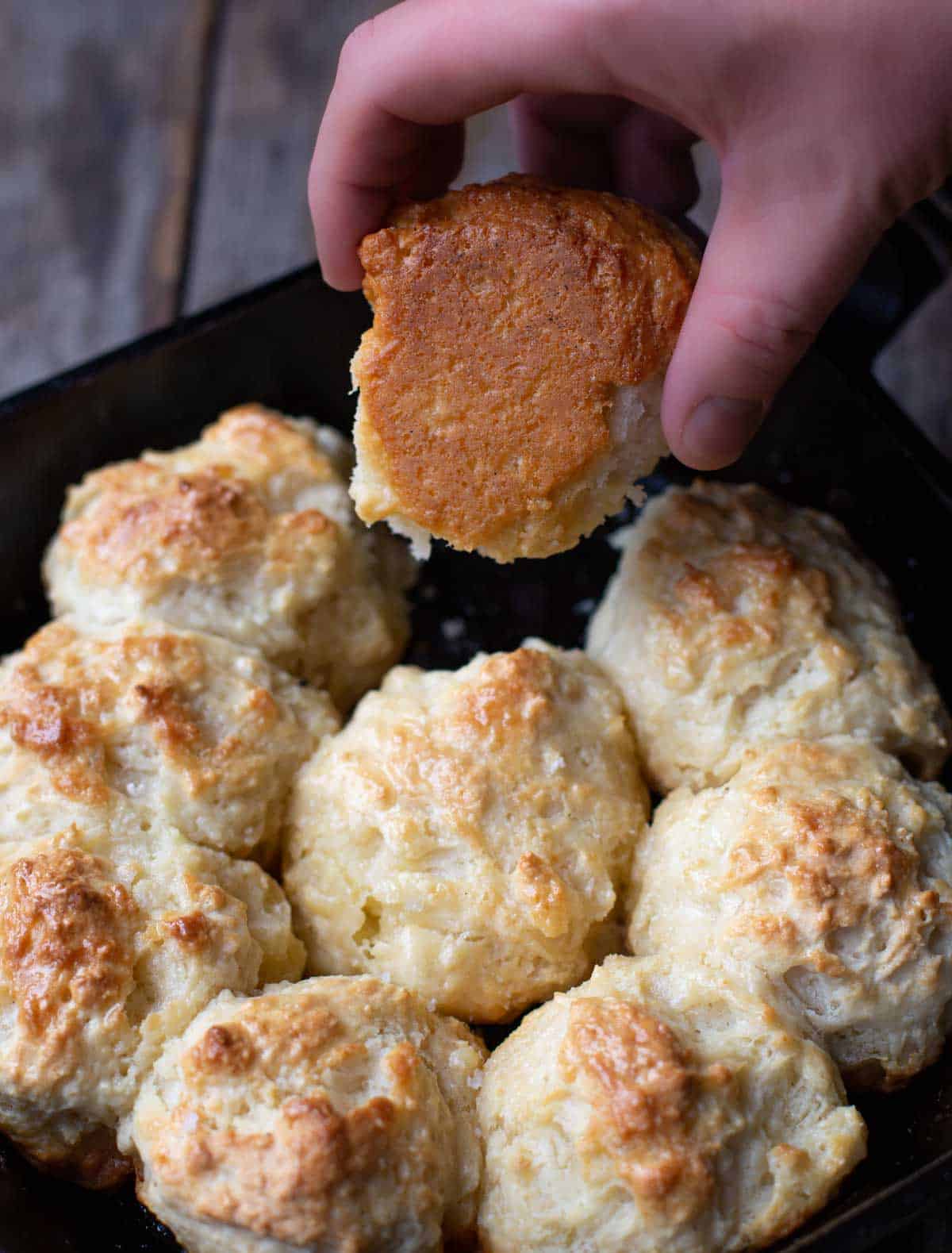 Also an ice cream scoop makes it easy for even sized biscuits. Your standard larger format version works best.
If you don't have a cast iron pan you can use oven safe stainless steel as the next best option. However, monitor the cooking at 20 minutes to see if it's too hot.
If all you have is a sheet tray or baking sheet, line with parchment paper and drop the biscuits on the sheet pan.
But trust us when we say the cast iron is the best and you can find good cast iron pans for $20, like the Lodge 10-inch pan.
How to Make Drop Biscuits
Preheat the oven to 400 degrees F. While the oven is heating up, take your stick of butter and cut it up into smaller pea-sized pieces. Place the small pieces of butter into a medium bowl and place back in the refrigerator (to stay very cold) until you're ready to add them to the flour mix.
Combine: In a large mixing bowl combine all the dry ingredients. Add the cold butter pieces into the dry ingredients and begin to combine with a fork or pastry cutter. As you combine, the flour begins to incorporate with the butter, which will melt as it cooks for the fluffy texture (and buttery flavor). Then add the remaining wet ingredients (buttermilk). Stir with a wood spoon or sturdy spatula until combined.
Bake: Form biscuits using your ice cream scoop and place biscuits into the cast iron pan. You should get about 9 biscuits. Place into the oven and bake for 25 minutes or until the tops of the biscuits start to turn slightly golden. Then remove from the oven and serve warm.
Optional: As soon as you remove the biscuits from the oven, melt 2 tablespoons of unsalted butter in the microwave in a small bowl and then brush the melted butter onto the tops of the biscuits. Then sprinkle some kosher salt or finishing flake salt onto the biscuits.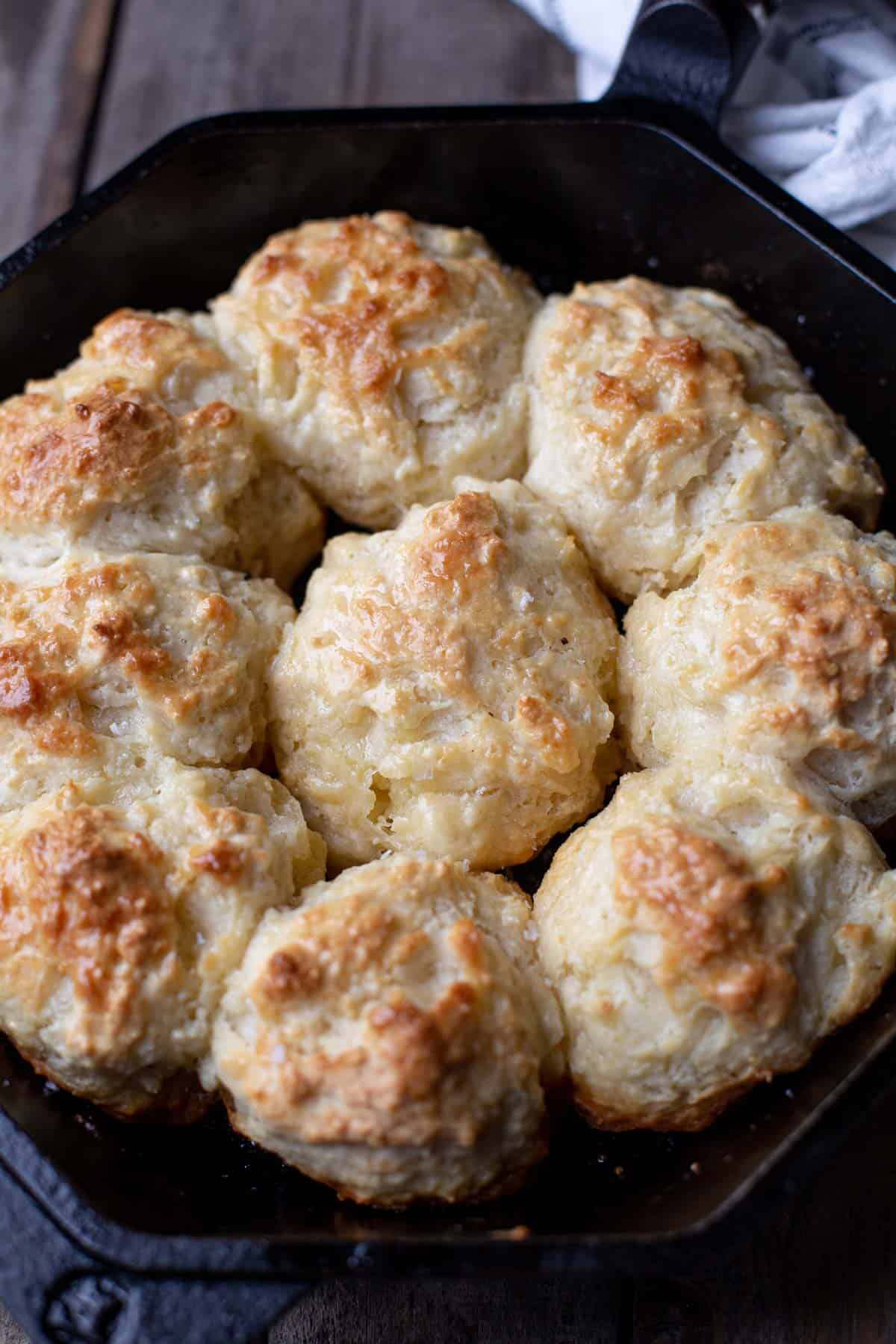 Grilling
The most common method we actually use when making these is on the grill. If grilling while camping, it's best to have some type of enclosed grill like a Big Green Egg Mini Max or portable grill.
Prepare your grill for indirect grilling (two-zone grilling) targeting 375 – 400 degrees F. Indirect is important to avoid scorching and burning the cast iron.
Use the same timeframes. What is important, is to rotate the cast iron pan halfway through the cook for even cooking. Especially important if using a larger kettle style grill.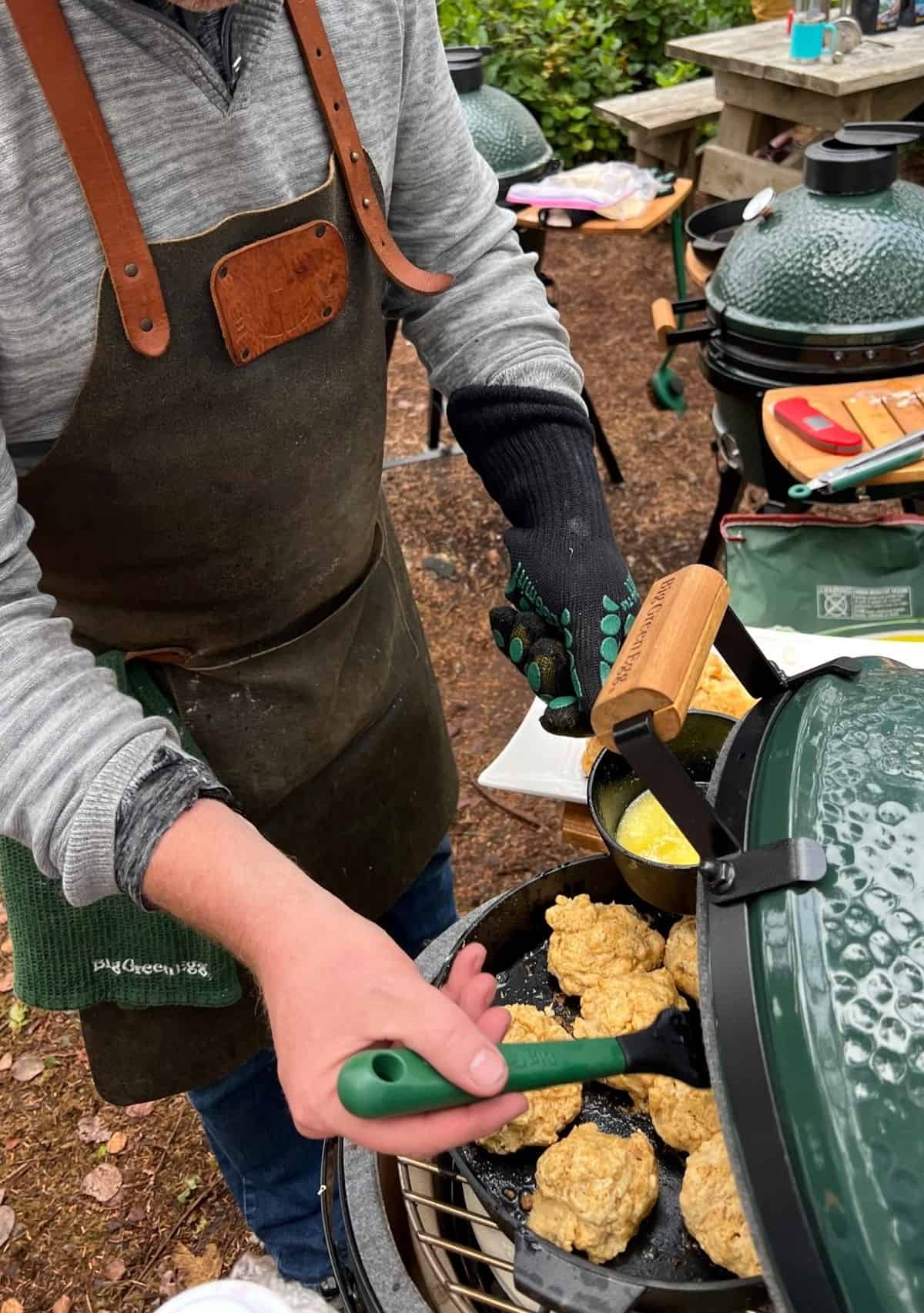 Additional Equipment: It's best to use a cast iron pan without a handle so you can close your lid. You also want high heat BBQ gloves to remove the pan from the grill.
Make Ahead and Storage
We recommend making these and eating them warm. But if you need to make these ahead of time you can make them first and let them cool. Then store in a gallon sized freezer bag. The bag helps them to stay moist, otherwise they dry out. But in the baggie they may get soggy. They will only stay fresh for a couple days.
To reheat them it's best to microwave them for no more than 20 seconds.
Variations
If you want to add cheese, herbs, or any other ingredients, add them after you have combined the butter with the dry ingredients.
Other Breakfast Recipe Ideas
Here are a few more of our favorite breakfast recipe ideas to pair with these drop biscuits.
Tried this recipe? Give us a star rating and we would love to see! Mention @vindulge or use the hashtag #vindulge on all the social media handles. And consider subscribing to our newsletter where we drop all our favorite ideas and inspirations every week.
This post may contain affiliate links. This means if you click on the link, we may receive a small commission if you purchase through the link. We partner with brands we know and love and use and it helps keep the blog going!