Making a Breakfast Sandwich with Smoked Sausage and Bacon is a fantastic and delicious way to start your weekend!
It's never too early in the week to start thinking about weekend brunch plans, especially if your plans involve a smoked sausage and smoked bacon breakfast sandwich. This is one amazing sandwich!!!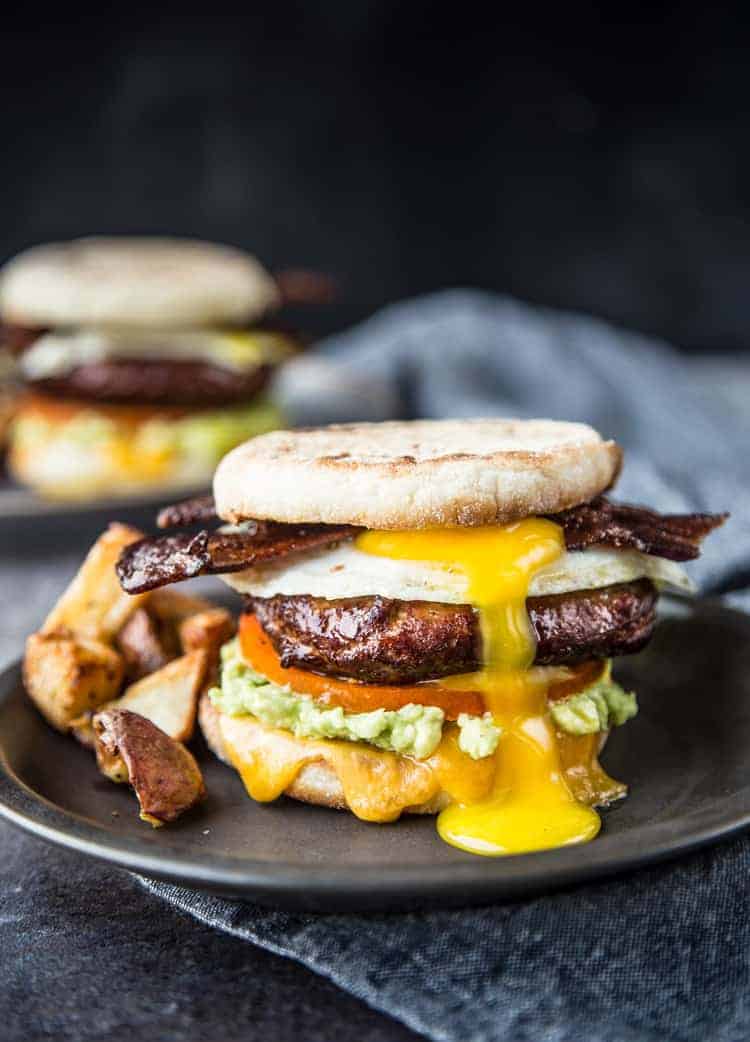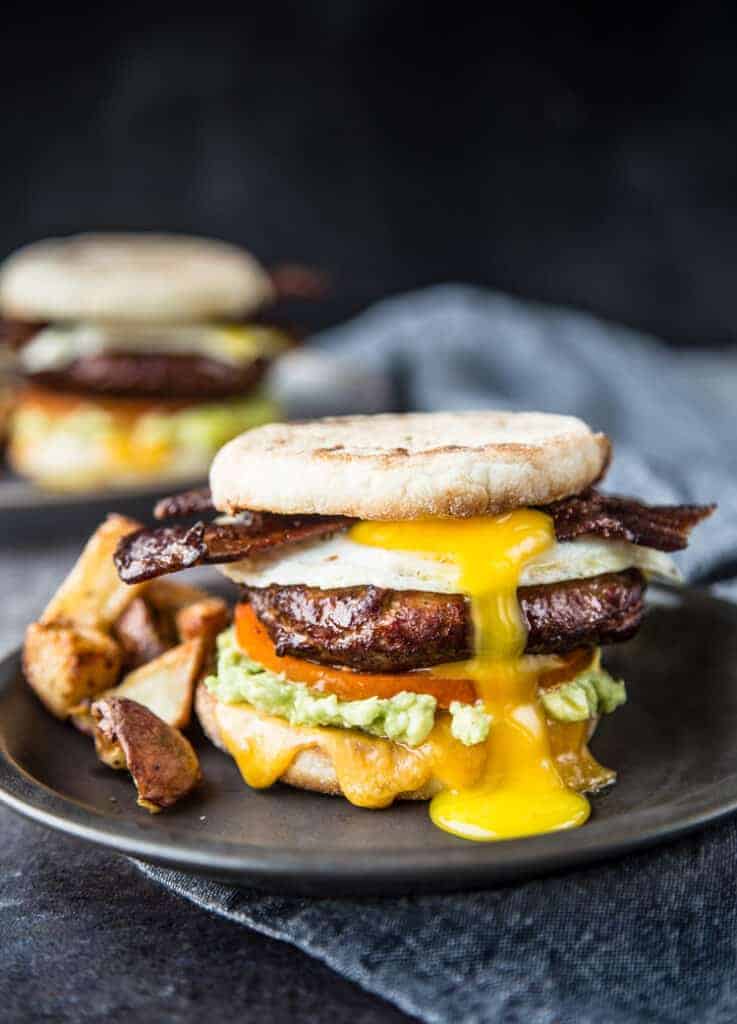 And unless it involves pancakes or waffles (I'm talking about you, Waffle Window), my kids aren't interested in waiting in those notoriously long Portland brunch lines for breakfast. Plus, this way we control the ingredients.
Jump to:
This breakfast sandwich features Snake River Farms Kurobuta pork breakfast sausage and bacon for a pork on pork experience (oh yes, it's so worth it!).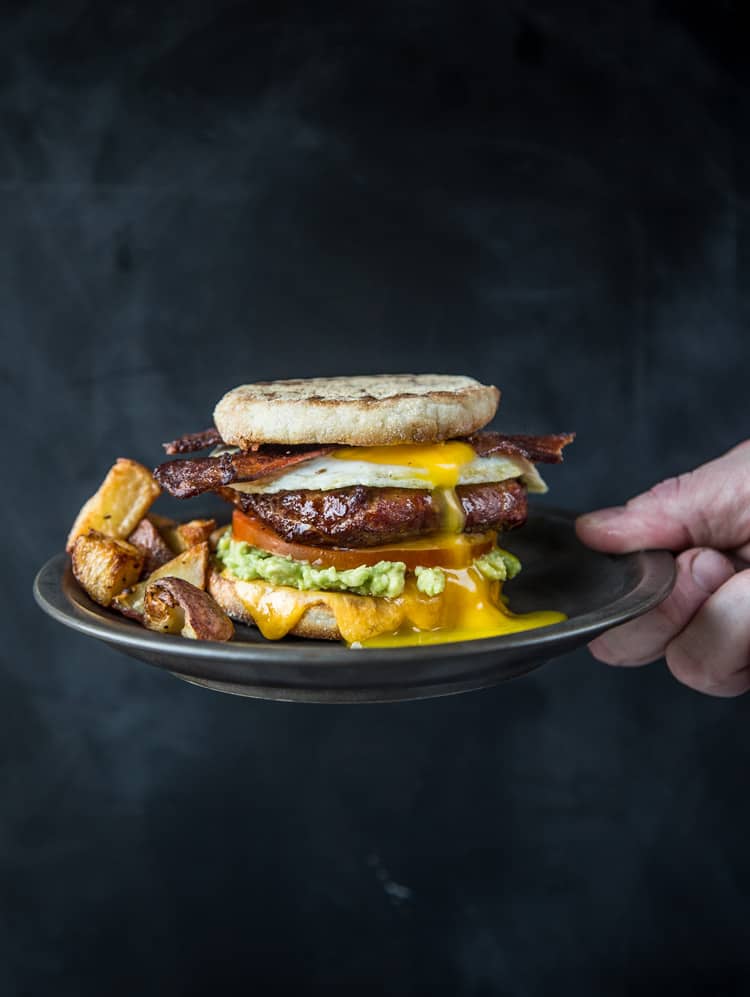 How To Make a Breakfast Sandwich
A breakfast sandwich is easy to make from scratch. Start with one pound bulk breakfast sausage. Divide the pork into 4 patties using a scale or simply quartering the portions.
If you don't have access to breakfast seasoned patties, use bulk ground Italian seasoned pork. Or consider making your own with ground pork, a little maple syrup, salt, pepper, crushed fennel seeds, and crushed red peppers.
Chef Tip for How to Form Perfect Patties – To make the perfect patty without a fancy tool, use a mason jar top or a quart cup top to form the patty around. This works for burgers too.
The Best Order to Make the Breakfast Sandwich:
Start by cooking the sausage patties and bacon. While they are cooking, slice the tomato and prepare your smashed avocado.
When patties close to done – toast the bread, in a broiler all at once.
As patties rest, add the cheese to the patty and start on the eggs.
Cook the eggs at the same time.
Construct the breakfast sandwich.
How to Cook Meat for Breakfast Sandwich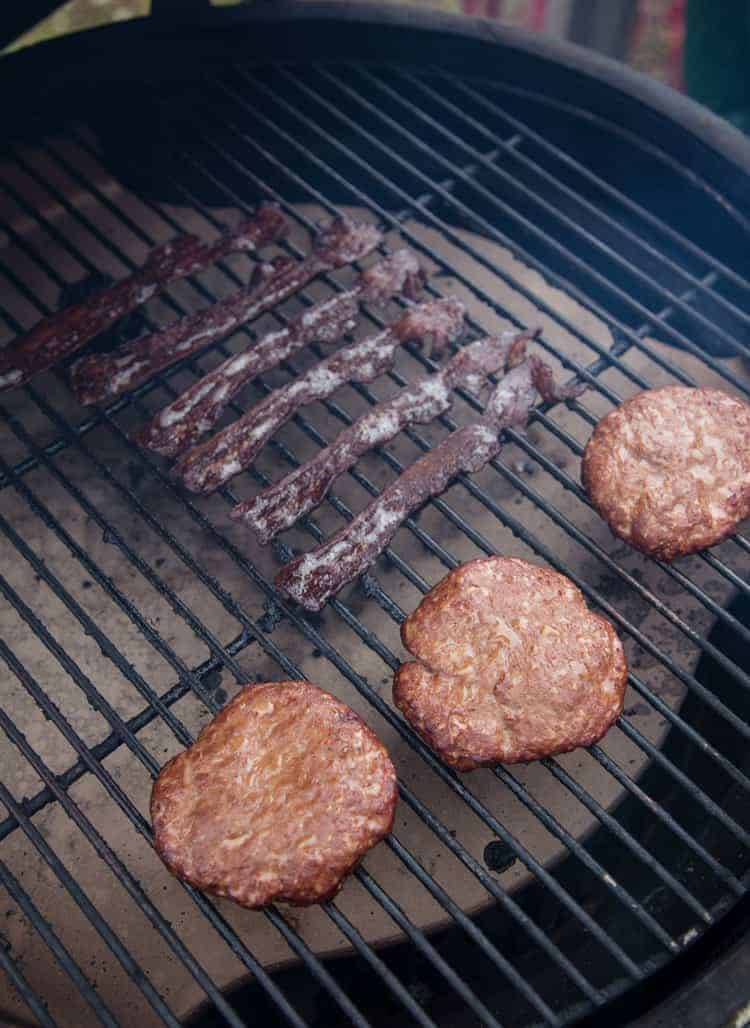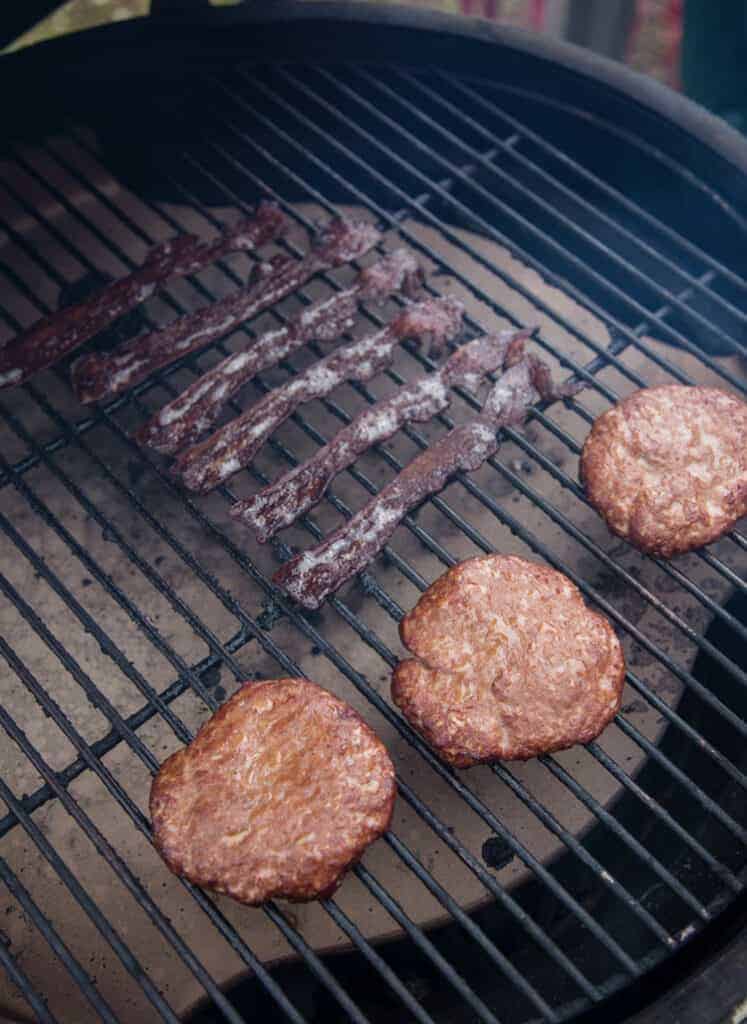 Oven – First, sear both sides of the patty in a skillet. Then place into an oven at 350 degrees F until the internal temperature of the pork is 160 degrees F.
Skillet – Over medium heat with olive oil, sear the patty on both sides. Be sure the patties are pressed down thin so they can cook through and not burn.
Smoker – This is our favorite method. Smoke the meat at a low heat of 225 degrees F for about an hour or until the Internal Temperature is 160 degrees F and bacon is crispy.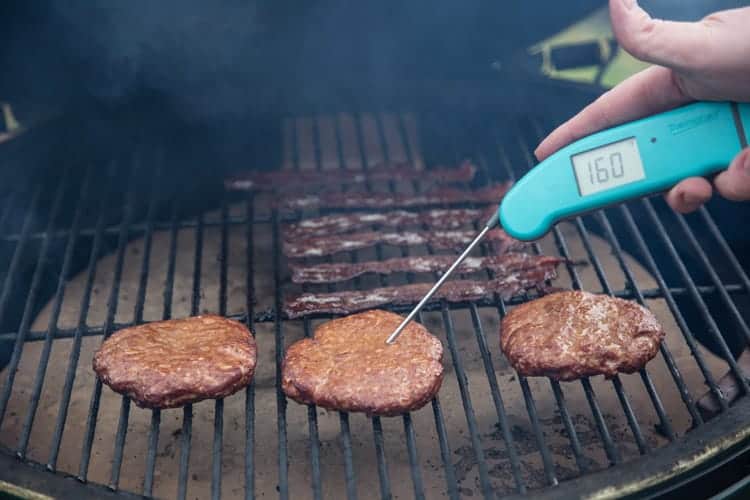 How to Make Eggs for a Breakfast Sandwich
Using a large non stick pan or well seasoned cast iron skillet, cook eggs sunny side up at a low to medium heat. The trick is to pre-crack the egg into a small dish. Oil the pan, and slowly add the egg. Allow the egg white to spread out and use the spatula to form the egg. Slowly lift and rotate the pan off the heat so it moves the egg white around. This will allow the egg white to distribute and cook faster while keeping a nice runny yolk.
Alternatively you can cook your eggs to your preference. This is your sandwich after all. I just can't resist the way the yolk oozes down the sandwich giving it a silky texture when cooked sunny side up or over easy.
Spray some foil with oil, and place each finished egg on the foil to be transferred to the sandwich with a spatula when constructing the breakfast sandwich.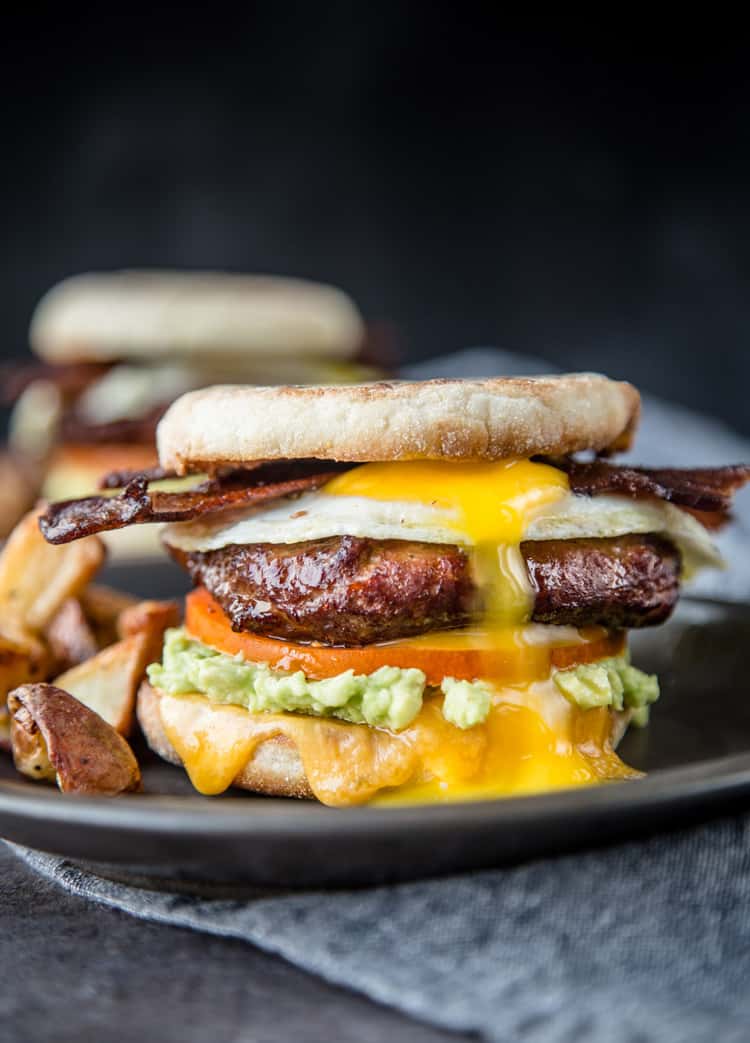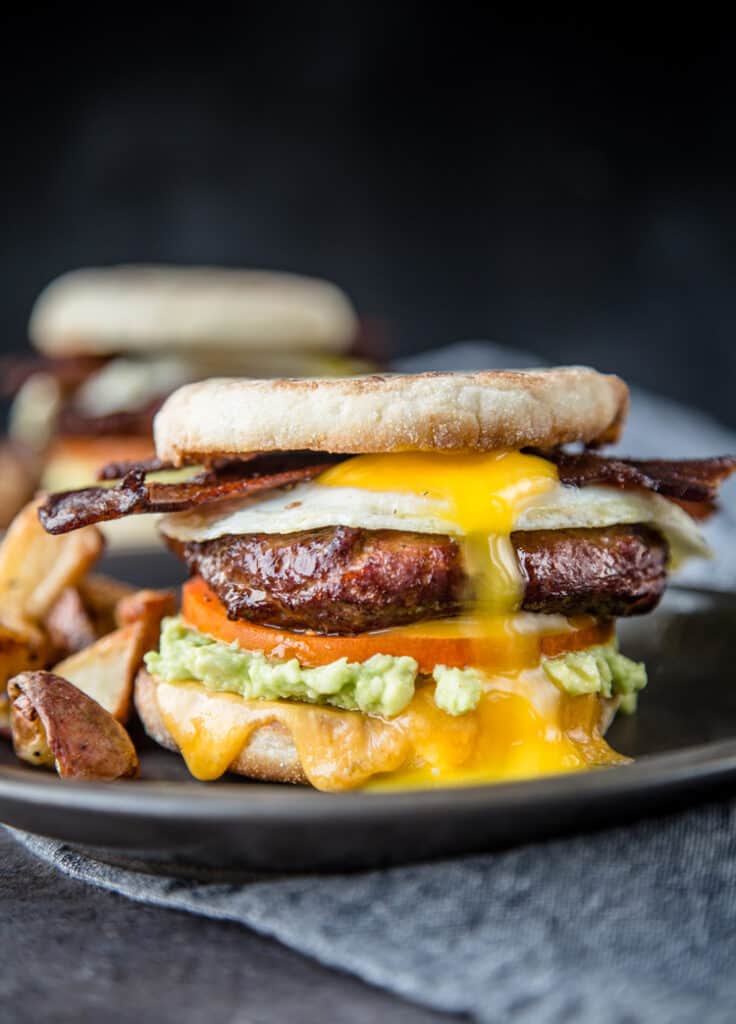 Drink Ideas for Breakfast
I'm not gonna lie, I love a good traditional orange juice mimosa from time to time. And for this meal, with the spicy and smoky sausage, bacon-y bacon, and mouth coating egg yolks, the sweet and bubbly OJ mimosa is the refreshing way to go. Sure, you can cut out the middle man and leave the orange juice out of the equation, but I love the sweetness it adds. And this pairing just screams breakfast to me. Here are some other great mimosa recipes.
Other Breakfast Ideas on the Grill
---
*This post was originally published in June 2016, and updated in October 2019 with new photos. This post also features affiliate links which means we may receive a small commission for a purchase made through the link. We only endorse our partners we know, use, and love and it helps keep the blog going!