When it comes to portability and functionality the Solo Stove Bonfire Hub Grill Assembly is a great product for outdoor lifestyle and companion to a Solo Stove. Whether you want to chill with a classic smokeless campfire on your deck, or enjoy a live fire cook on the beach, the Hub Grill assembly is a great addition for hot and fast cooking that is lightweight and portable.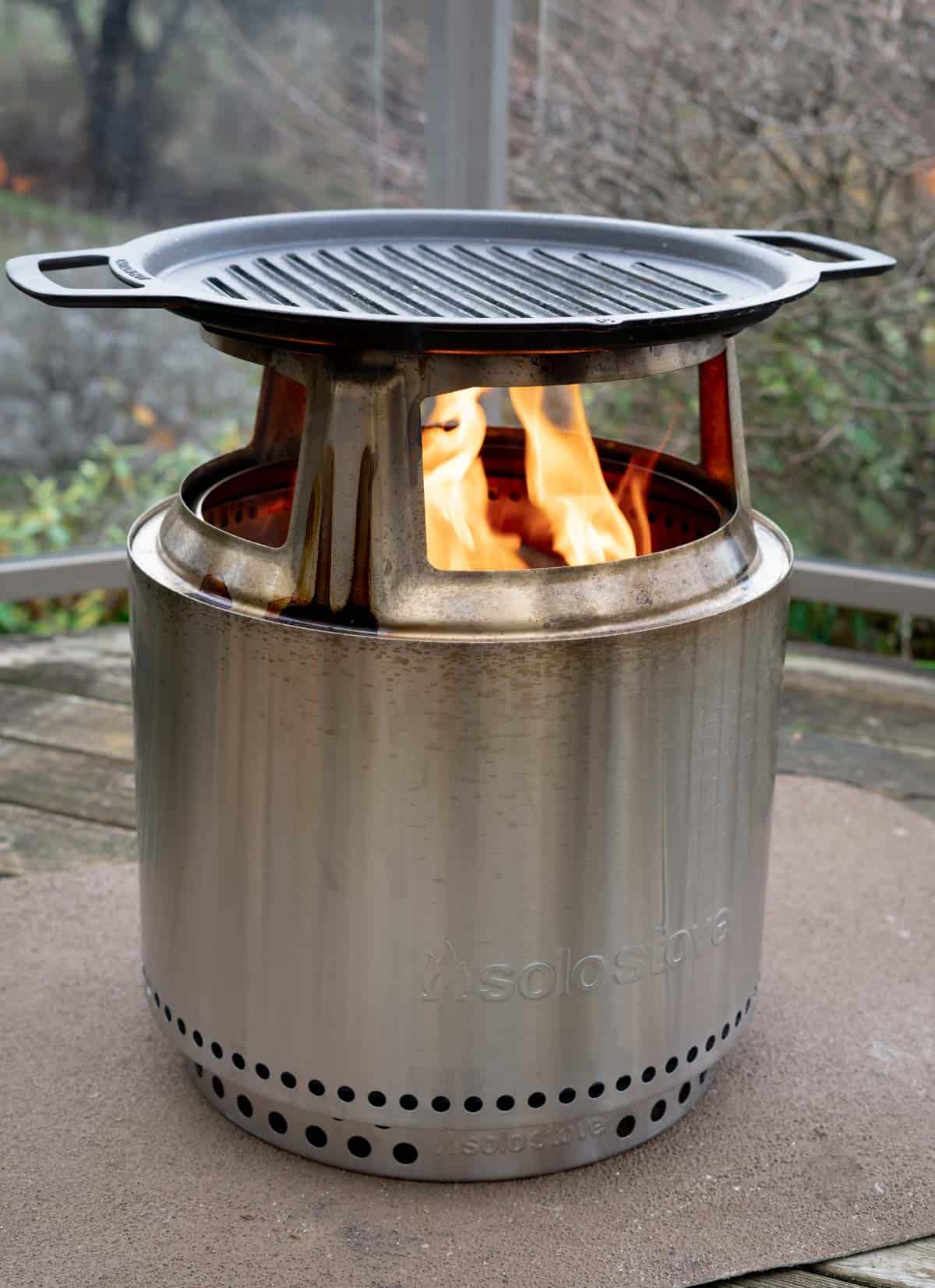 First Impressions
The team at Solo Stove have been making quality and good looking smokeless fire pits and heating units for years. They have taken their smokeless fire pits and added a great accessory that allows you to add live fire cooking to your outdoor experience. The hub is a stainless steel attachment that rests on top of the Solo Stove. From there you can use a cast iron grill grate, plancha, or wok to cook up your favorite meals while enjoying the heat and experience of an outdoor fire pit.
This product was sent to us as a sample for media review. All opinions are our own and we did not get paid to write this review.
Jump to:
Pros
Cast iron cooking grate is good quality, gets hot, and creates a nice sear for anything you are cooking.
Portability is great with a nice carrying case and accessories like a plancha and a wok.
Having a fire pit and a grill is perfect for the casual backyard cookout or for camping or the beach.
There is just enough room to add logs to keep the fire going.
Cons
It does not replace having a grill, primarily because you can't cover and control the heat as easily (like a grill).
Not compatible with the Solo Stove Fire attachment – that is a separate bundle.
If your focus is live fire cooking and versatility this Hub accessory may not give you all the flexibility you need, like moving away from the heat source and adding more cooking space.
This post may contain affiliate links. This means if you click on the link, we may receive a small commission if you purchase through the link. We partner with brands we know and love and use and it helps keep the blog going!
Who is The Solo Stove Hub Grill Good For?
If you already own a Solo Stove, it's a great set of accessories to add to your existing Ranger, Bonfire, or Yukon for that extra functionality of grilling.
If you are in the market for a portable outdoor fire pit and simple grilling system that can also get packed up and brought camping or to a picnic/beach party, this is definitely a great option as well.
Purchase
You can buy the Solo Stove Hub that fits your existing stove on it's own with your desired accessories. Or you can buy bundles that include the desired Solo Stove model, Hub, and grate of choice (best savings). The Solo Stove Bonfire with the Hub Grill Grate bundle is $494.99 at the time of this article. The bundle includes the Bonfire, base stand, removable ash tool, hub, grate, and carrying case.
You can purchase a grill grate, a griddle/plancha, or a Wok. Each grate bundle was the same price when matched to the correct stove model.
The retail price for the Solo Stove Ranger Hub and Grill Grate is $149.99 (Full bundle with stove $374.99)
The retail price for the Solo Stove Bonfire Hub and Grill Grate is $219.99 (Full bundle with stove $494.99)
The retail price for the Solo Stove Yukon Hub and Grill Grate is $269.99 (Full bundle with stove $774.99)
The Solo Stove Hub is available through Solo Stove's website, Amazon, and local dealers (including online dealers).
It comes compatible for the Ranger, the Bonfire, and the Yukon. Note that the Solo Stove hub unit is NOT compatible with the Solo Stove Pi Pizza Oven or the Solo Stove Pi Fire accessory.
Be sure you purchase the correct size based on your existing Solo Stove model if adding on to your existing Solo Stove. Prices are subject to change.
Packaging and Assembly
The Solo Stove Bonfire arrived in one package and the Hub and Grate arrived in a second package.
Assembly was easy with photo instructions included. No tools needed to put together and it is ready to fire up off the bat. Assembly of the fire pit and hub was done in under 10 minutes.
We did an initial burn on the Stove and then we warmed up the cast iron for 45 minutes to burn off any shipping residue. It was already seasoned and we went right to grilling off some steaks.
Dimensions
Hub Dimensions with Cast Iron Grill Grate (does not include dimensions of the stoves)
Hub Diameter Top: 14.5 inches | Diameter Base: 18.75 in
Cast Iron Grill Grate: Cooking surface diameter is 17.5 in
Height: 8 inches combined height with grill grate is 9.5 inches
Weight: 3 pounds for Hub unit 17 pounds for Grill Grate
Material: 304 Stainless Steel for hub and cast iron for Grill Grate
Solo Stove is based in the US with manufacturing in China.
The Wok Top and the Plancha (Griddle Top) are similar dimensions and weights.
How Does the Hub System Work
The Solo Stove Hub system has a three legged tower that sits on top of the Solo Stove. It tapers to a smaller opening on top, which is what you set your cooking attachment on. Right now they have a grill grate, a griddle (or plancha), and a wok.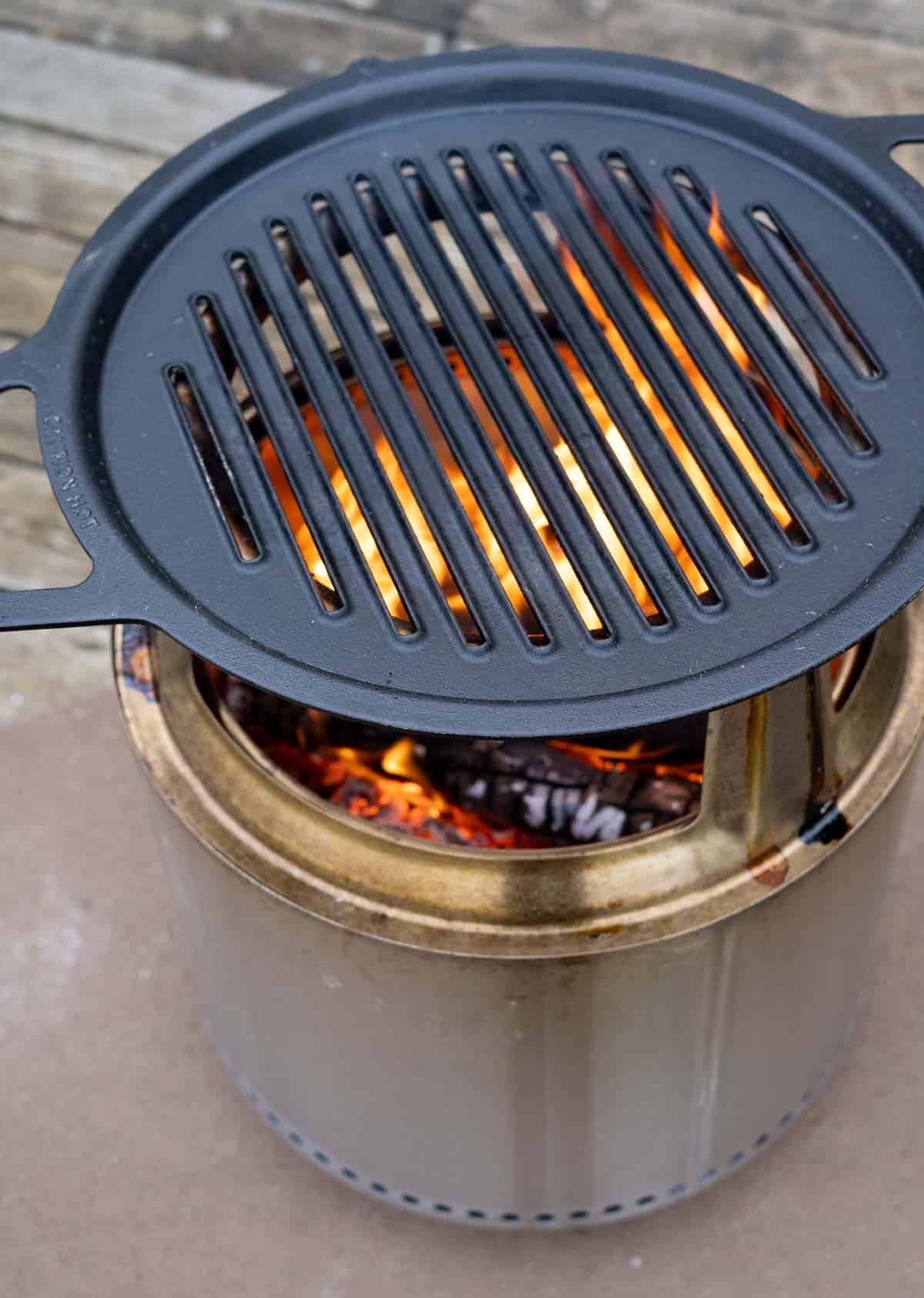 When burning your wood in the Solo Stove, the ambient heat is forced directly up and into the cooking accessory keeping it hot and perfect for searing foods hot and fast. While it's possible, this is not meant for low and slow cooking.
---
Related Article: How to use the Solo Stove Hub and Grill Grate.
Alternative Products
This is not a grill or smoker replacement. For the price of a bundle, including the stove, you can buy incredible grills or smokers. This is definitely a multitool specific to live fire cooking while having a bonfire option that won't rust out like cheaper pits from big box stores.
The only competitor of note that we would compare this to is the Breeo fire pit which offers a live fire grilling bundle.
The simplicity of this stove and grill set up is easier to use than a Breeo. It's also much lighter than a similar Breeo product. So if you want mobility, this is your option.
Cooking On The Solo Stove Hub Unit
Live fire grilling is as easy as cooking with charcoal, it just takes longer to set your ember base for heat. The Solo Stove Hub comes with useful instructions on how to start a cooking fire and where to position the embers.
Using the log cabin method, add four pieces of wood and a tumbleweed starter. Ignite and let the fire burn. Continue adding wood until you have a stable base of embers.
Per the manufacturer, they recommend you move the burning embers to the sides of the grill. This would be considered a two-zone method, where the outer edges is the direct heat and the inner center is indirect. Alternatively if cooking for a smaller crowd you can use a standard two-zone grilling set up.
Once you have the ember base in your desired position add the Hub and then your cast iron grill grate (or other accessory). Continue to add one piece of wood at a time (and as you add more wood, rotate it so it integrates with the hot embers). The grill grate needs 20 minutes over hot coals to warm up.
Once the grill grate is hot – it's time to start cooking. Typical grilling techniques apply. With live fire, flare ups will happen as fat drips onto embers, so be sure to cook over the indirect side for longer periods of time or after the initial sear.
When done, begin the cleaning process.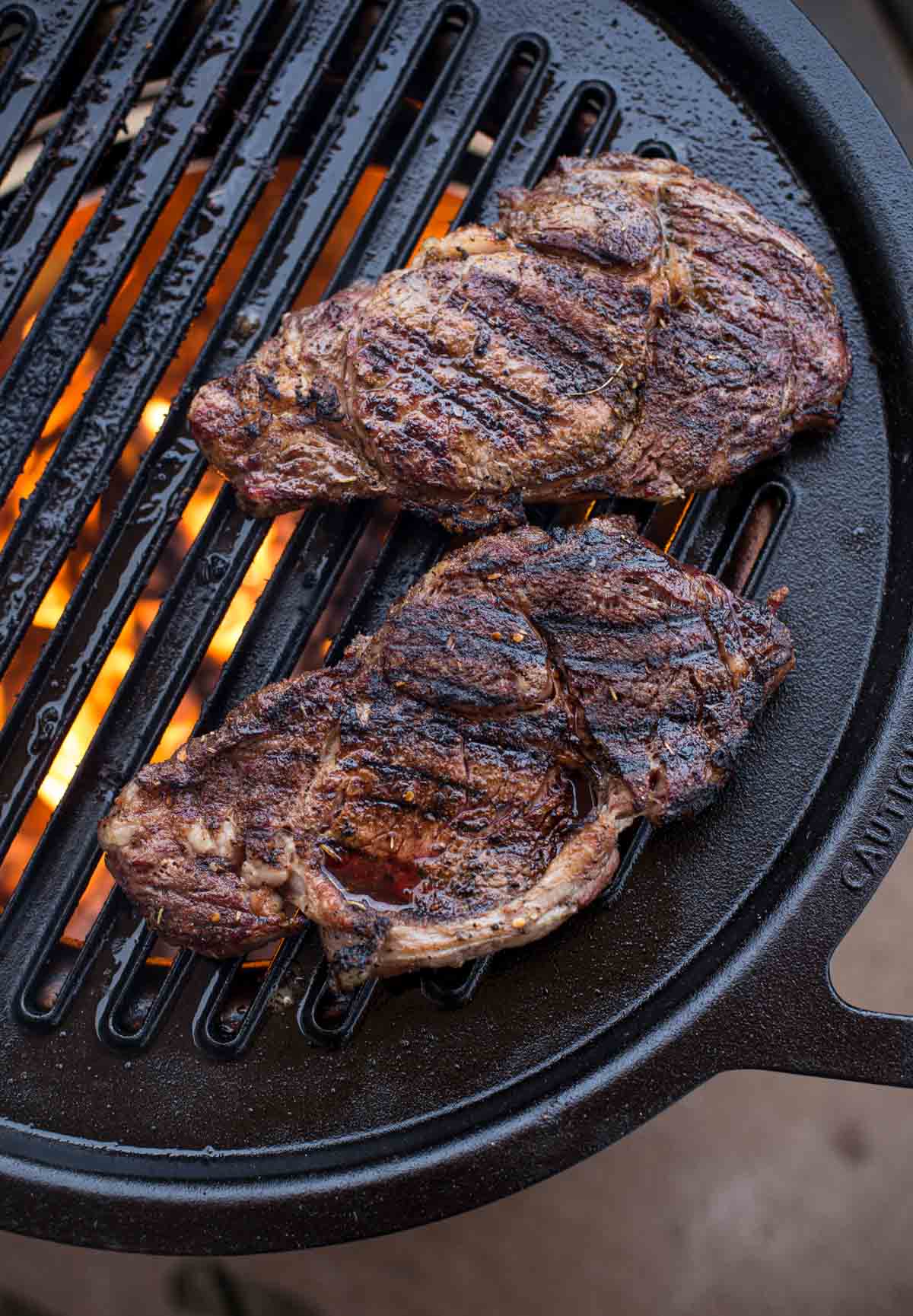 Cooking with Wood: Be sure you use hard woods for cooking. Avoid any commercial lumber that has been treated. Avoid soft pines. We do not recommend using charcoal since it's so much hotter, although Solo does say you can. (But why – wood is more fun.)
Related Product: Consider purchasing an IR Thermometer with the option for a narrow laser focus so you can temp the grill grate. Additionally a good instant read thermometer is a must for perfectly grilled proteins. We recommend Thermoworks products for durability and warranty. Solo also makes an IR thermometer as part of their pizza bundles.
Cleaning The Hub Grill Grate
When finished using the Hub (regardless of model) it's best to start the grill grate clean up process when you are done cooking and while it's still warm. Treat it as you would a cast iron pan.
Once done grilling, gently remove excess food residue with a grill grate cleaning tool. If you wait until it's cool or cold it becomes more difficult to clean.
When cool, remove it and rinse under hot water on both sides while continuing to remove any food residue. Then be sure it's dry using a paper towel to dry off any excess moisture.
Add a slight amount of oil (we use grapeseed or avocado oil) to the grates to re-season.
Store in a dry place.
We DO NOT recommend leaving the Hub or grate accessories outside in weather, especially with the cast iron accessories as it will rust.
Cleaning the Solo Stove and Hub Storage
Because you are using high heat, there will be a patina sheen that develops on the stove itself and outer edges. You can't avoid that.
Continued cleaning with a gentle stainless steel cleaner, like Barkeepers friend, will help with the overall shine and prevent any weathering. It will also remove minor cooking residue when using the Hub. Do not use strong abrasives for stainless steel that may scratch the surface.
If you do not plan to use the stove for extended periods of time, store inside. Rain and weather over time can impact the performance and cause rust. The Hub unit can be placed inside the stove upside down for easy storage. You can rest the grill grate on top. The bag that comes with the product will hold the entire assembly for moving between storage and use.
Customer Service and Warranty
Free shipping on any Solo Stove purchase over $99 in the continental US (excludes PO boxes).
Lifetime Warranty for manufacturing defects, and will replace at their discretion. That includes purchased from authorized retailers.
Review the full terms.
Where to Buy
Take advantage of bundles to save on the overall cost.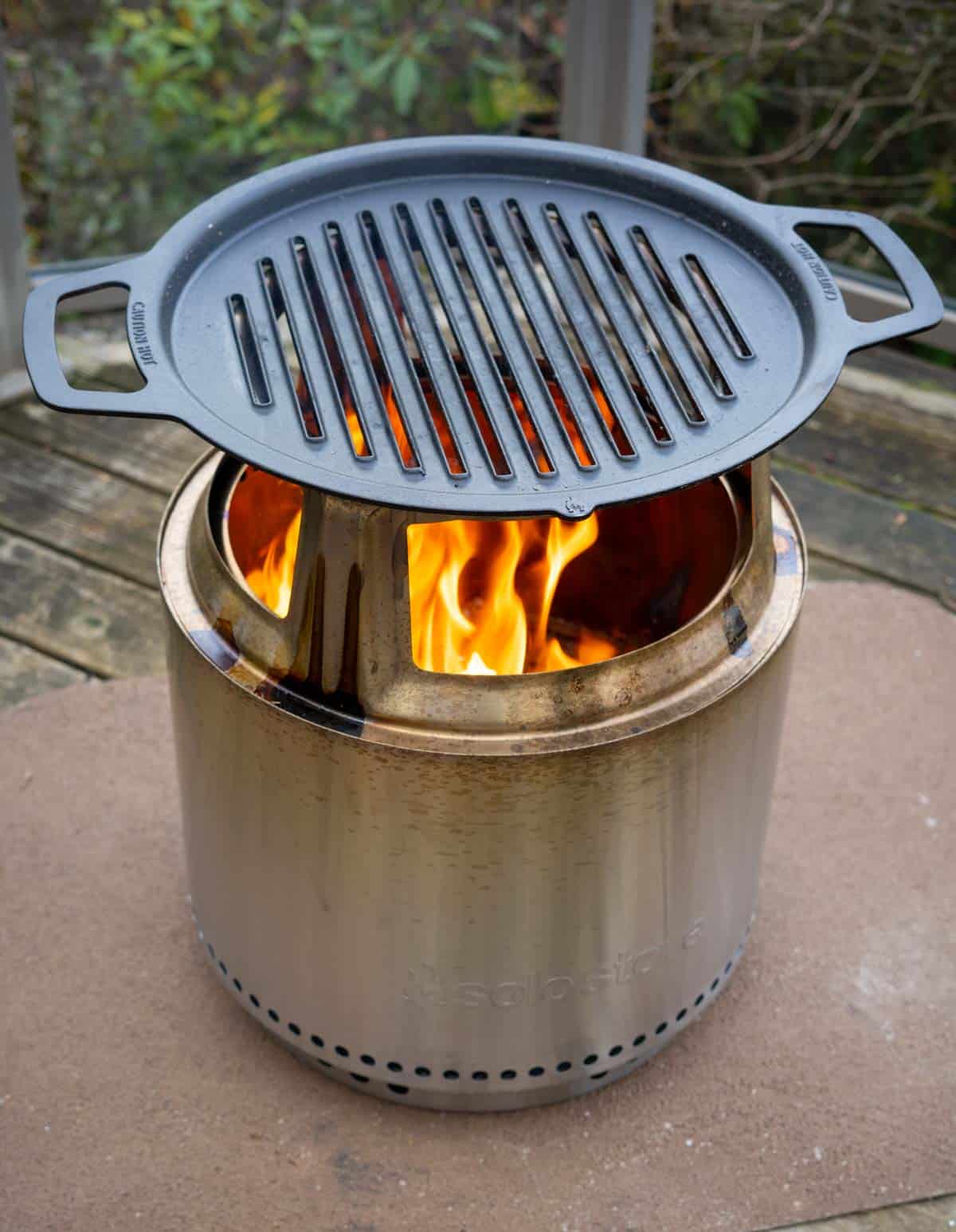 Overall Review
Adding a grill feature to the already well designed Solo Stoves is a great option. Because of the light weight, portability, and design it's easy to set up in your backyard or take with you to the beach or camping. We can imagine taking this to the Oregon coast not only to stay warm but also to cook some fresh seafood on the beach.
The product is high quality and will last for years. And while it won't replace your grill or smoker, it does make for a nice addition to a backyard bonfire experience.
Recipe Inspirations for Solo Bonfire Hub Grill