There are many instant read thermometers at a variety of price points. But when looking for the best instant read thermometer based on speed, accuracy, durability, and brand customer experience, the Thermoworks Thermapen One is the #1 choice.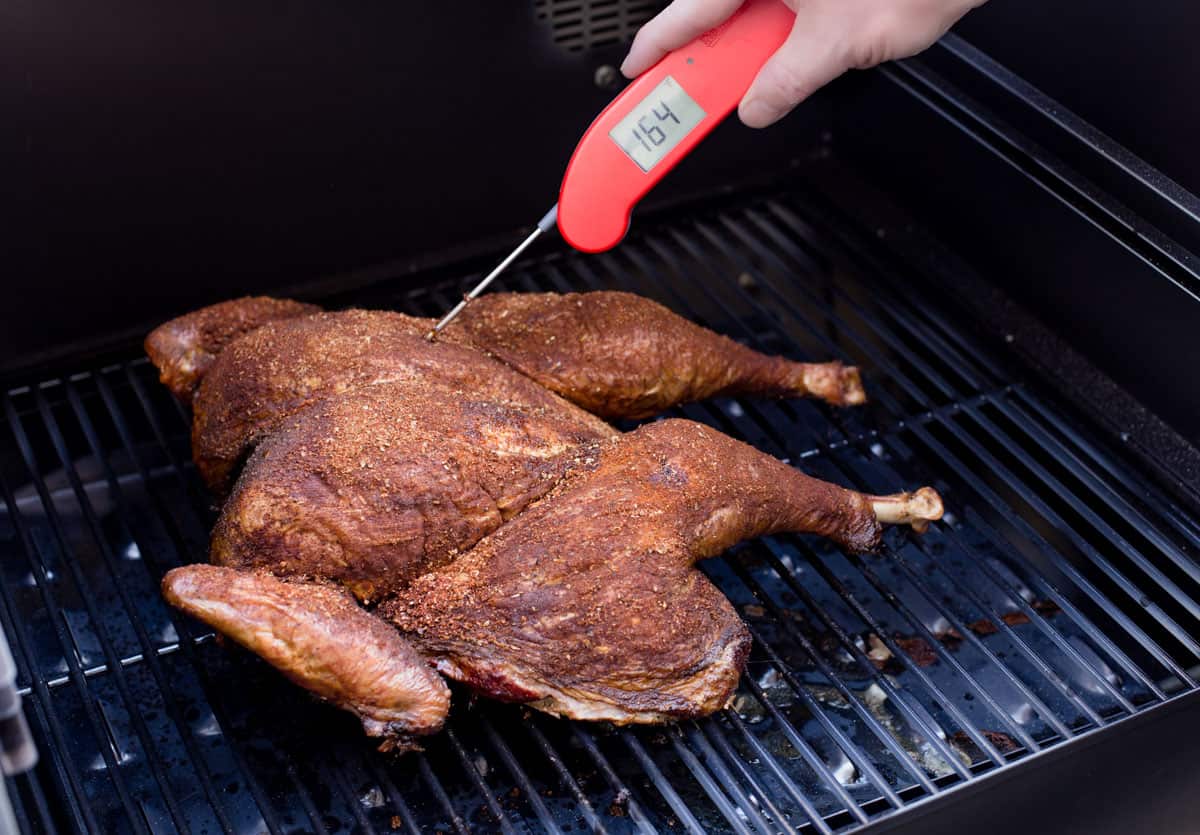 If you are looking for a digital thermometer under $35 you can read our review of the Thermoworks Thermopop thermometer, which is smaller and a little slower, but may be more in line with your price point.
This post may contain affiliate links. This means if you click on the link, we may receive a small commission if you purchase through the link. We partner with brands we know and love and use and it helps keep the blog going!
Jump to:
Thermapen History
The Thermapen has been a staple in our household for over 10 years. We started with the classic version, then upgraded to the Thermapen MK4, and then last year were provided a Thermapen One as a sample right before it launched. Not only did they improve on the original design in making it lighter, they made it even faster, and with a brighter backlight. There is a reason America's Test Kitchen has rated this thermometer as the number one digital thermometer for years. It's consistent and solid!
How the Thermapen One Works
The Thermapen One is a digital instant read thermometer that uses a thermal metal probe connected to a processor to report back the temperature of the targeted item. You can use this on meats and vegetables, or you can use in liquids, like water or hot oil. And the range of temperature is very versatile versus a classic dial thermometer.
Thermapen One versus MK4
There are a few highlights on the two models; note that the MK4 is no longer in production either. The Thermapen One has replaced the MK4.
The One is faster at less than 1 second versus 1-2 seconds on average
It's more accurate +/- 0.5 degrees, which for the perfect steak is a big deal
The battery is now a AAA (easy to find) with 2,000 hours versus button cell battery (hard to find)
Brighter screen/backlight
Who This Thermometer is Good For
This is the best digital thermometer for the serious foodie that wants fast and accurate readings of their steaks. It's great for someone working professionally in a kitchen or anyone who will be using this on a daily basis. It not only provides the targeted temperature in under 1 minute, it's also designed to be waterproof, and very rugged.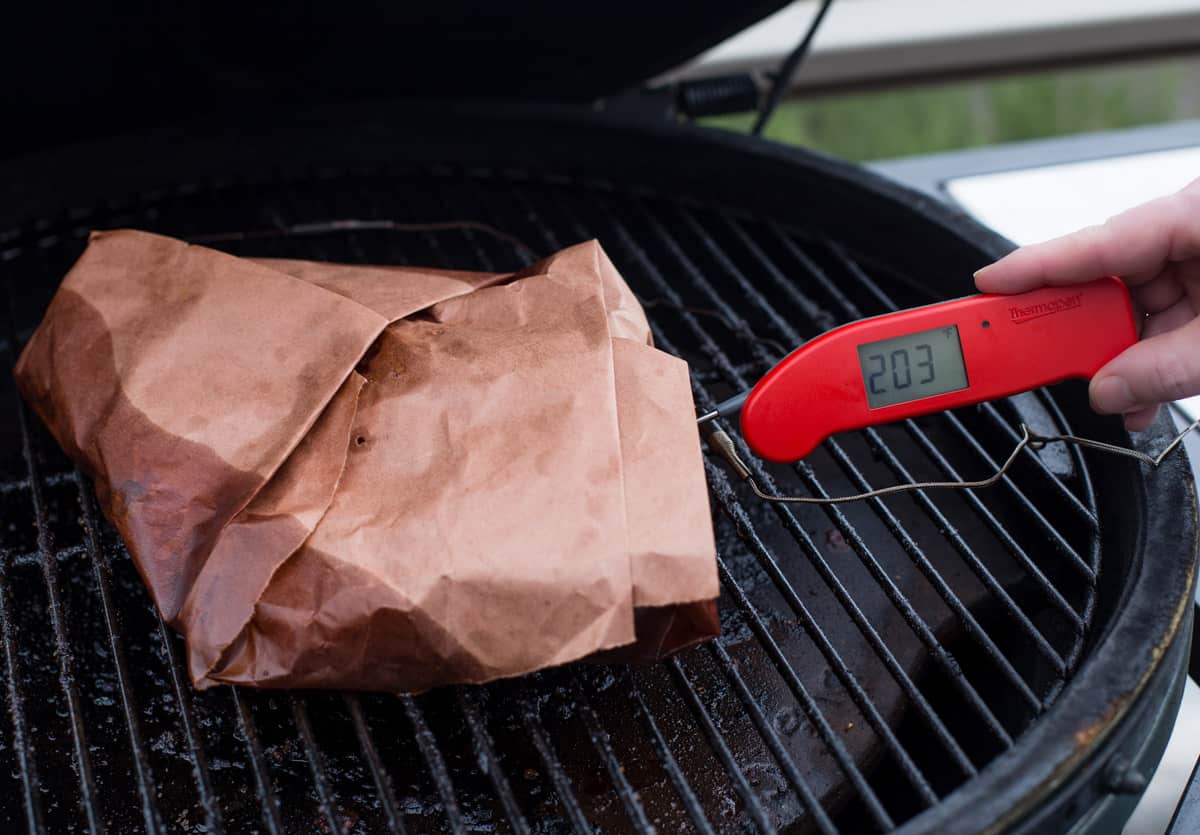 Pros
Measures temperature in one second or less – which matters when your hand is hovering over a hot grill, or the seconds of waiting that could make the difference between a perfect steak and an overcooked one
Temperature Range: -58.0 to 572.0°F (-49.9 to 299.9°C) – especially important if you are making candy or measuring fryer oil
Probe: 4.3 inches
Water Resistant – IP67
Has a backlight display
Display orientation rotates as you hold the pen vertical or horizontal
Can easily change from Fahrenheit to Celsius
Unlike it's earlier cousins, it is powered by easy to find AAA batteries and still runs on average 2,000 hours!
Cons
Price – At $105 it can seem out of reach for everyone, however when looking at the longevity of the product we believe it is worth the investment
You can't leave the thermometer in the meat while it's cooking (like the Smoke Unit, for example, which is a leave-in thermometer). The One is designed for instant read, not leave-in
Not dishwasher safe
Engineering and Design of the Thermoworks Thermapen One
With similar designed thermometers on the market, many have poorly designed plastic that cracks easily, often where the probe releases. While some may purchase several of these $30 – $35 thermometers, we recommend just investing in the Thermapen One and avoid the hassle of the cheaper competitors.
Where to Buy the Thermapen One
You can buy the thermometer through licensed dealers, usually the better barbecue shops in your area. You will not find them on Amazon. The best place to buy the product is through their website where they can ship direct to consumer throughout the world. You can likely get 10% off your first order by joining their email program (excludes sales) and occasionally you'll see a sale here and there. The retail price at the time of this review is $105.00.
Care
Handwash only, do not place in the dishwasher. We gently clean the probe with soap and water and let it air dry. It's water resistant and can handle getting hand washed, BUT don't leave soaking submerged in water.
If using during cooking, you can easily disinfect the probe with soap and water if the meat isn't quite done yet to clean the probe for later use.
Customer Service
One thing to consider when buying digital thermometers is to review what the customer experience is like after you have purchased the product. ThermoWorks has a staffed customer service team who can troubleshoot any issues or initiate a return for repair or replacement. It's our experience in polling our large community that whenever anyone has connected with customer service, they were always taken care of with either a replacement product or steps for a hassle-free repair.
It also carries a 5-year warranty against defects.
Technical Details
| | |
| --- | --- |
| Probe Range | -58.0 to 572.0°F (-49.9 to 299.9°C) |
| Accuracy | ±0.5°F (±0.3°C) from -4 to 248°F (-20 to 120°C) otherwise ±1.8°F (±1.0°C) |
| Response Time | Full reading in 1 second (on average it's usually closer to 0.2 seconds time constant) |
| Sleep Mode | 10 to 180 seconds, user selectable (user reconfigurable to disable) |
| Water Resistant | IP67 Rating |
| Battery | 1.5 volt AAA, 2,000 hours typical (without backlight) |
| Display | 1 H x 1.54 W inches (25 H x 39 W mm) LCD, rotates 360°, Intelligent Backlight |
| Product Size | 6.1 W x 1.7 H x 0.74 D inches (156 W x 48 H x 19 D mm) |
Sourced from Thermoworks Thermapen One Product Page
What do you think? Have you used the Thermapen One? What's your thoughts on it, or other similar units?