Another delicious use for leftover smoked brisket — Smoked Beef Brisket Chili!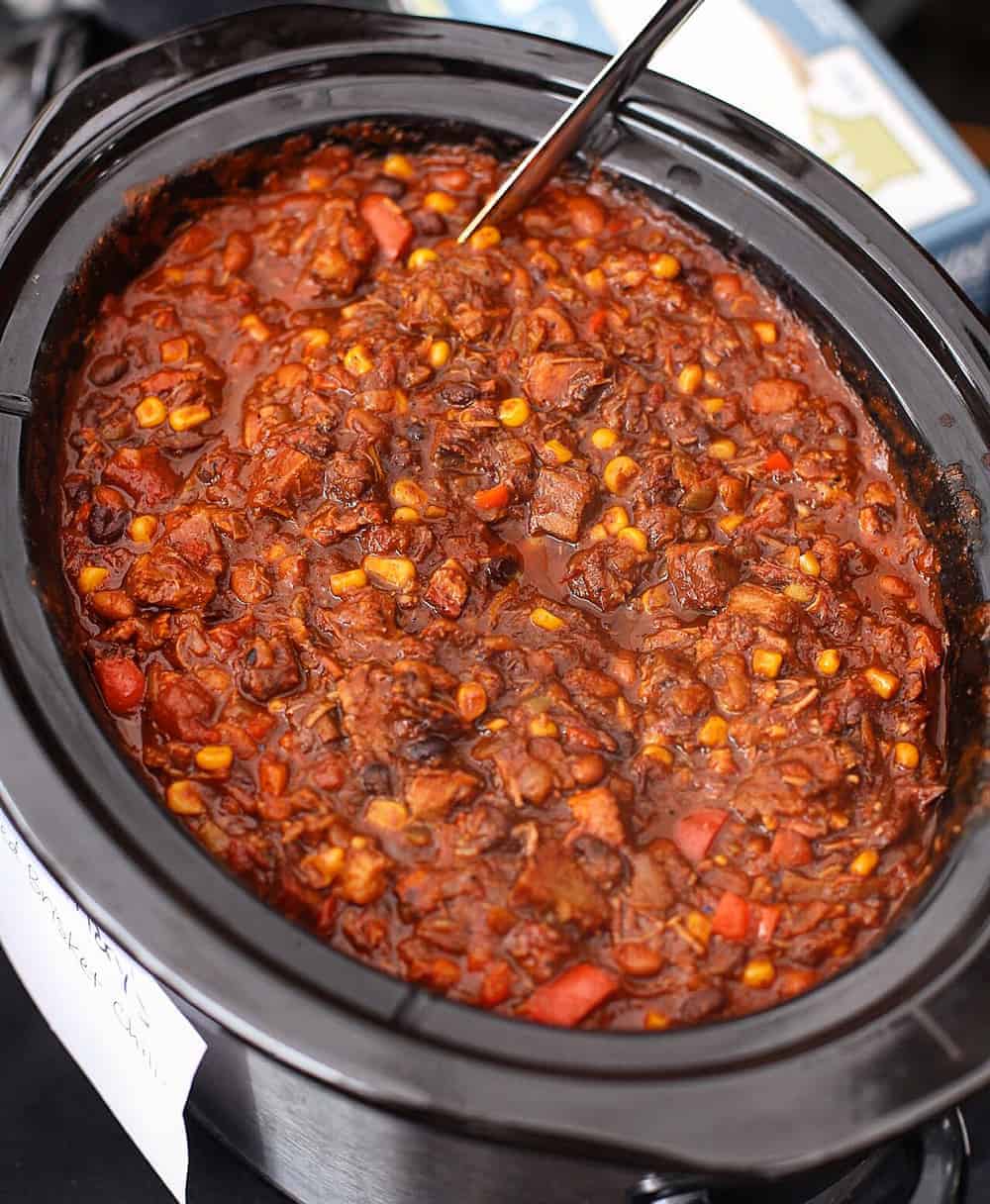 This chili recently won 2nd place in a city-wide chili cookoff. Believe me when I say it's amazing. 

It happened again.  We smoked another brisket for just the four of us, yielding enough leftovers for our entire neighborhood.   But this time, instead of sharing, we froze the leftovers to be used another day. Incidentally brisket freezes quite well without losing much of its flavor. Score!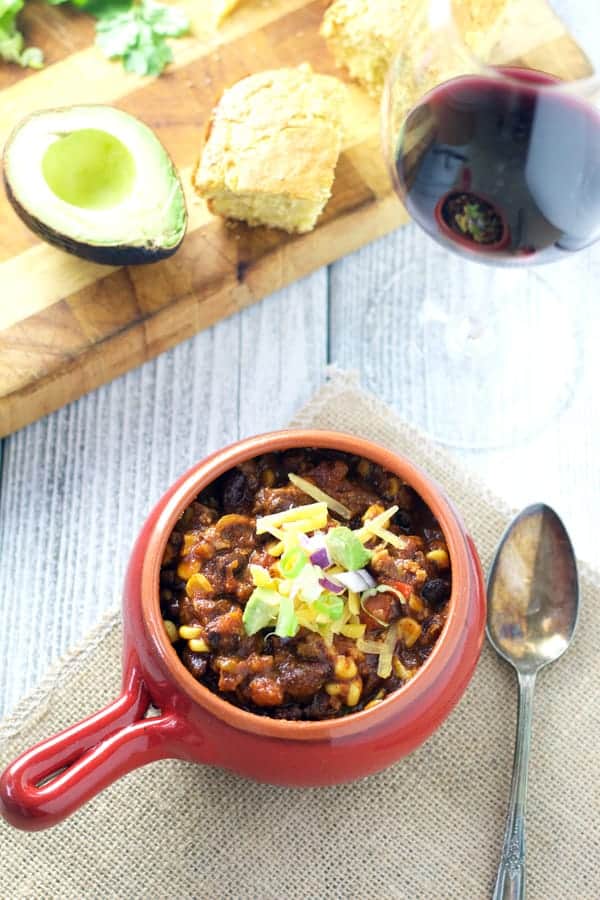 Last Sunday we decided to cook up one of our favorite chili recipes, but instead of ground turkey (the meat I usually use) we subbed the leftover smoked brisket, and added some additional ingredients to compliment the smoky flavors of the meat (like bacon and chipotle).   We let the chili slowly cook for a couple hours making our house smell like heaven on a typical rainy fall Portland afternoon.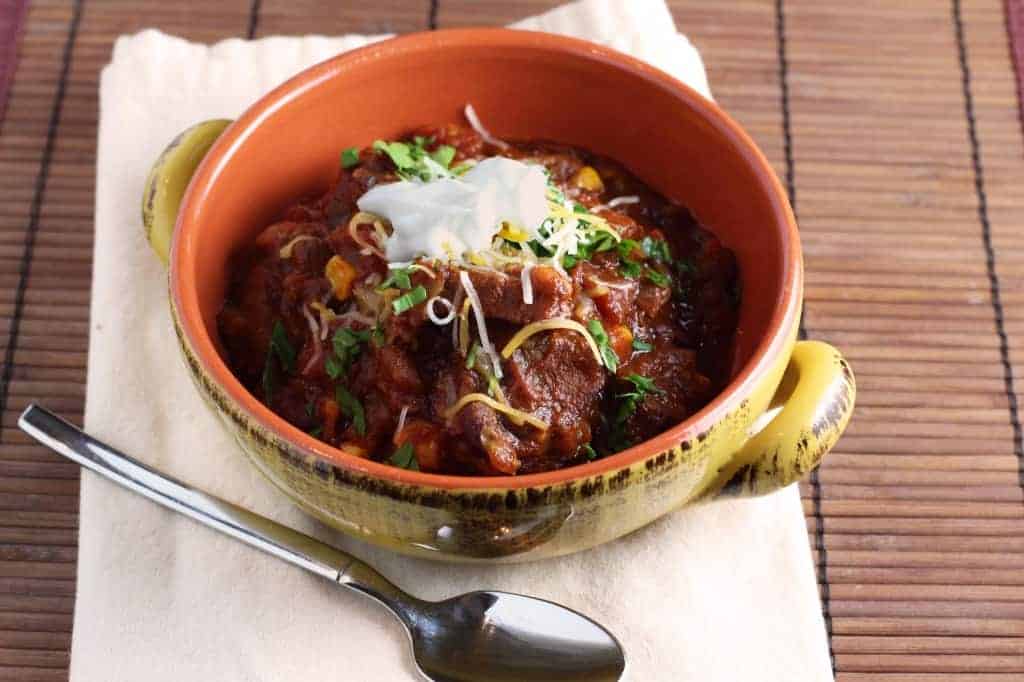 The best part was that this pot of chili graced us with even more leftovers for the next few days.  The leftover from the leftovers that keep on giving. Yessssss.
And really, who doesn't enjoy a good bowl of chili on a rainy day?!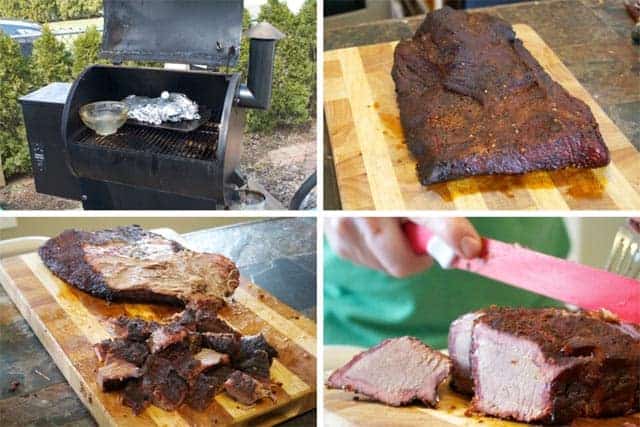 Uses for leftover Smoked Beef Brisket, recipe #4 – Smoked Beef Brisket Chili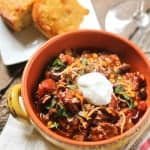 Smoked Beef Brisket Chili
A great use for leftover smoked beef brisket. Use it as a base for this smoked beef brisket chili.
Ingredients
3

slices

of bacon,

diced

1

large onion,

about 2 cups, chopped

1

red bell pepper,

chopped

3

cloves

garlic,

finely diced

2 ½

cups

leftover smoked beef brisket,

cut up into 1-inch cubes

3

tablespoons

chili powder*

1

tablespoon

cumin

½

tablespoon

dry chipotle seasoning**

or the equivalent in canned chipotle in adobo sauce, adjust amount to your heat preference. A little goes a long way

½

tablespoon

smoked paprika

1

12 oz bottle beer

¼

cup

coffee,

cold leftover coffee from your morning pot

1

15 oz can diced tomatoes

1

15 oz can tomato sauce

½

can black beans,

drained and rinsed, used a standard 15 oz can

½

can kidney beans,

drained and rinsed, used a standard 15 oz can

½

can corn,

drained and rinsed, used a standard 15 oz can

1

small,

4 oz can diced green chili
Instructions
In a large pot over medium heat, sauté bacon until crispy. Add onions and cook until soft (about 5 minutes). Add bell pepper and garlic; cook 1 additional minute to soften. Add the meat and all dry seasonings. Add beer and allow it to deglaze the pan and cook off the alcohol (about 1-2 minutes). Then add coffee, tomatoes, beans, corn, and green chili. Bring to a low simmer, cover, and cook for a minimum of 30 minutes. The longer it cooks the more integrated and concentrated the flavors get. My recommendation is at least an hour for a nice rich chili. If the stew starts to get too thick, you can add water ½ cup at a time to thin it out.
Optional Toppings:
Sour cream (or my preference Greek Yogurt)

Shredded cheddar cheese

Chopped cilantro
Recipe Notes
Note on the spicy seasonings: I've received some feedback that this can turn out a bit spicy! Not all dry spices are created equal. The fresher the dry spices the more potent they tend to be. So if your dry chili or chipotle seasonings are rather fresh or new, then they will be more potent. My tablespoon of dry seasoning may be different than your tablespoon of the same spice.
So if you're sensitive to spice go easy on the spicy spices at first. You can always add more later! I find that chipotle and cayenne tend to add the most heat. So go easy on them and add slowly.
Wine Recommendation 

Casa Lapostolle 2011 Cuvée Alexandre Carmenère, Apalta Vineyard
Colchagua Valley, Chile
14.1% abv  |  $15 avg price (media sample)
I chose this wine because Carmenère can often exude some green pepper notes, which can be off-putting to some. But paired with the right food they can be tamed, thus bringing out some of the other rich and attractive aromas.  Plus, we put green chilies in the recipe, which would have balanced out any found in the wine.
Turns out the wine had very little green notes.  Instead it was full of lush dark berry fruit, baking spice, herbs, and some spicy oak aromas.  The wine itself is smooth and velvety, full of more fruit and spice in the mouth.  It's rich enough, yet balanced out by the berry fruit, and spicy enough for the slew of rich flavors found in the chili.
Overall the wine is spicy, fruity, rich, and velvety — all matching those components in the meal, which made for a winning pairing.
Definitely a nice wine and a great pairing for a chilly (get it) fall evening.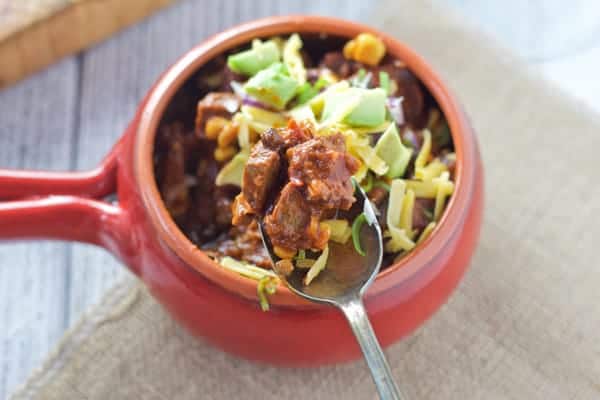 More uses for leftover brisket
*****
Want more barbecue recipes and tips? Check out the recipe index on the blog for recipes and wine pairing ideas. 
Or just enter your email to subscribe to new blog posts and recipes posted here on Vindulge, delivered directly to your inbox.