This turkey chili is a whole new level of awesomeness. Add a kiss of smoke flavor by smoking the ground turkey, add the bright and slight heat from serrano peppers and impress everyone with this indulgent Smoked Turkey Chili.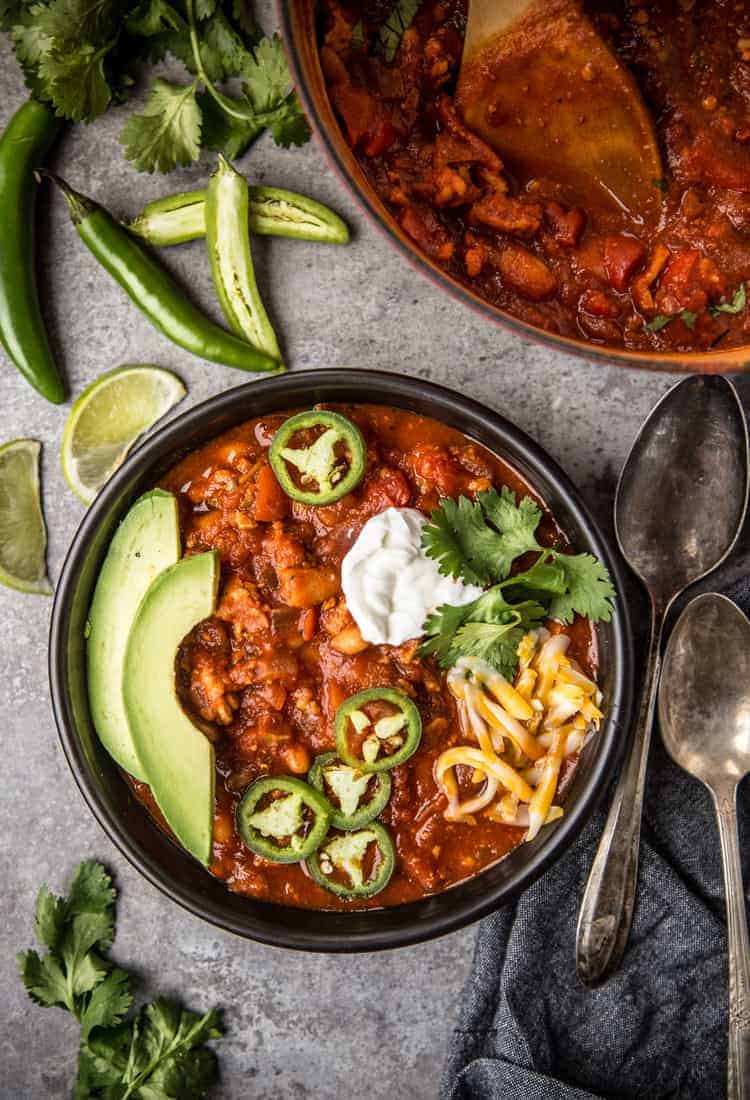 It's no secret that turkey can be a bit bland. And when Sean and I first started dating, we used to make turkey chili this a lot. I mean, a lot. But while we browned the turkey in a pan, it still didn't have that wow factor we were looking for. Flash forward to today, and we found that adding smoke and a fun rub to turkey, plus enhancing the chili with pepper gives an awesome flavor profile with slight heat, and savory flavors. Everyone loves this (even the hard core beef fanatics!).
But first….
What is Chili Technically?
Chili is simply a sauced dish that contains dried or fresh chili, typically a meat, and in some cases beans. Yes, beans. When we share our leftover brisket chili, a lot of people on the internet freak out because we use beans. Well, we don't claim to make a Texas chili, as many in Texas will say a real chili does not contain beans. But in fact, chili by strict definition may. It's about how you like the dish. We like beans. So sue us 😉
Is it Chili or Chile?
Depending on where you are will define chili versus chile. It often is about describing an actual chile or chili pepper. For our chili dish we end with the "i".
What Type of Turkey is Best for Smoked Turkey Chili?
For best results we use turkey that has a higher fat content. Similar to 80/20 beef, ground turkey will come in various fat to lean ratios. If the turkey is too lean (like 97/3 or 99/1) it will dry out on the smoker. So the tip here is buy the ground turkey with more fat.
Pro Tip: You can ask for ground white versus dark meat at the counter. Simply order ⅓ pound dark and ⅔ pound white meat for your own mix.
How to Smoke Ground Turkey for Turkey Chili
Start at a low heat. We smoke our turkey at 225 degrees Fahrenheit and we like to use a fruit wood. If you want to go for a heavier smoke, use hickory or mesquite.
It will take up to an hour to smoke the ground turkey. We use an instant read thermometer and remove the turkey when it is 160 degrees F.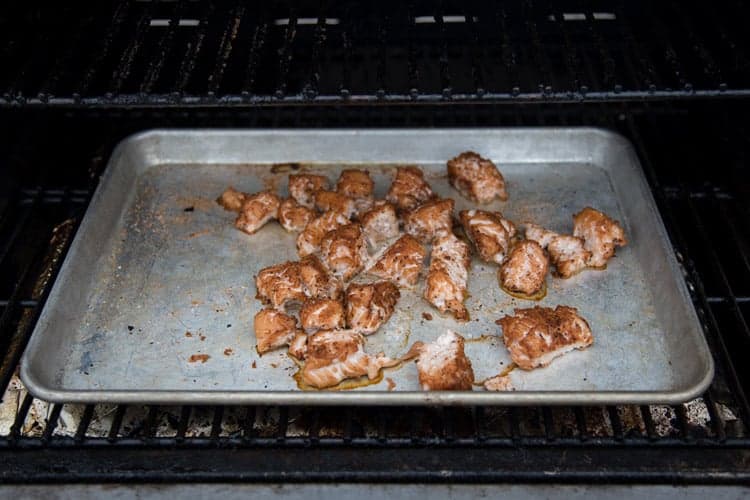 How to Make Smoked Turkey Chili
While the turkey is smoking (when it is about halfway done), we start making the sauce base. Then as the turkey comes to temperature, we add it into the sauce and finish with the simmer. Or better yet, smoke the turkey a day ahead, and then add to the sauce.
Saute the vegetables so they soften, but don't caramelize.
Add the spices before you add liquids. This adds a little toast to the flavor.
Add the liquids, beans, and smoked turkey, and bring to a simmer.
One secret ingredient we love for chili is beer. Adding beer gives a nice flavor base that stock or just tomato sauce does not get. We also use canned tomato sauce and diced tomatoes. If it is tomato season feel free to use fresh.
For beans, we love white kidney or cannelleni beans. The beans add a nice texture to the dish.
To get the texture of thick sauce, simmer with the ground smoked turkey for at least 20 minutes. This also incorporates the smoke into the sauce itself. If you have the ability, you can continue simmering the dish on the smoker for even more added flavor kick.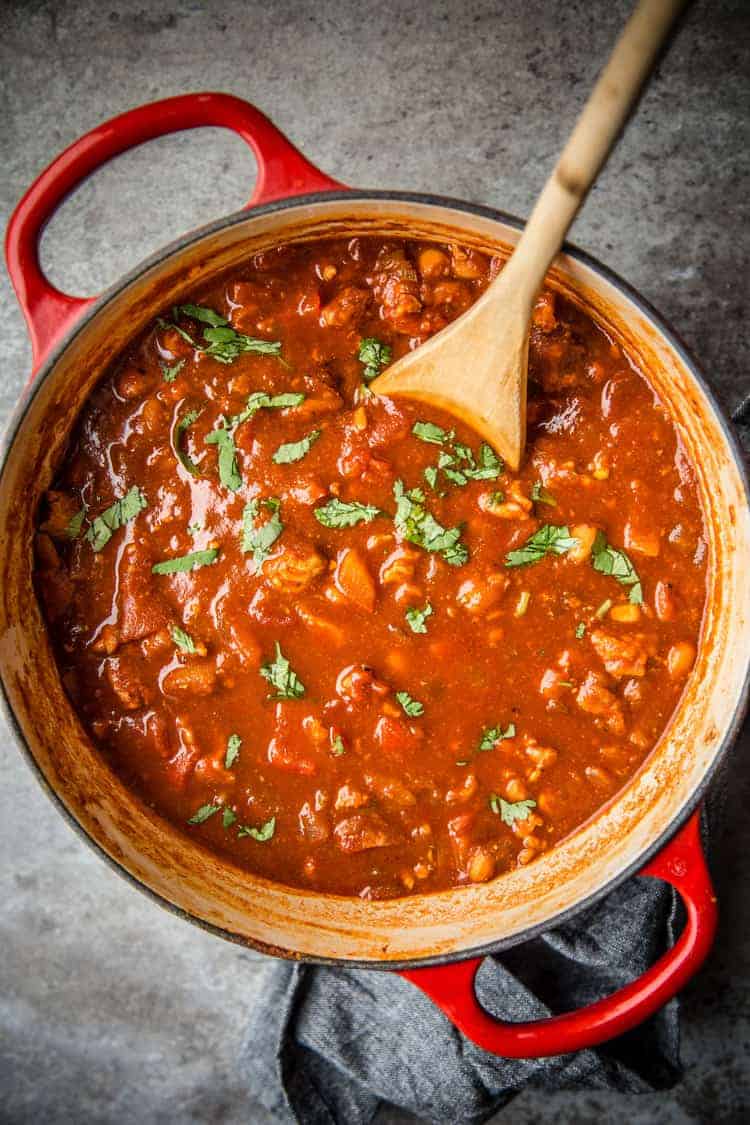 What Toppings Do I Add to Turkey Chili?
The list is endless for what to top your chili with.
Jalapeno or diced serrano for heat
Cilantro
Sour Cream
Avocado
Cheese – we love sharp cheddar or colby jack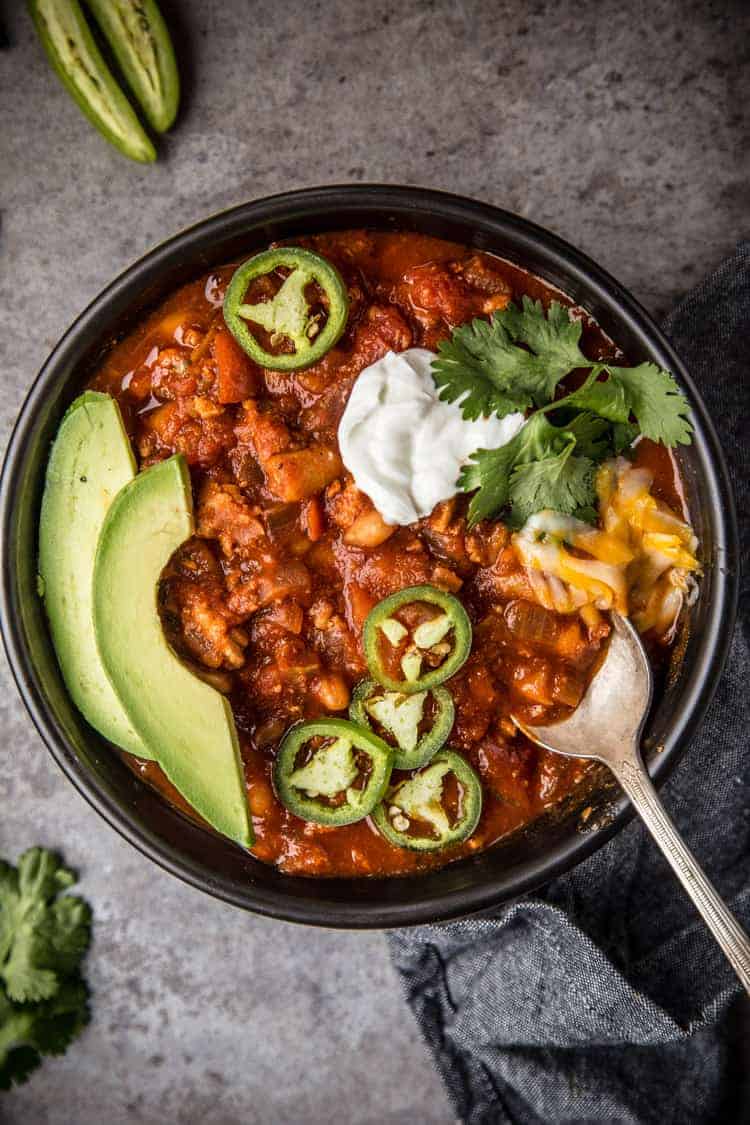 Other Recipes With Chili
Check out these other awesome ideas for chili or recipes with chili in them.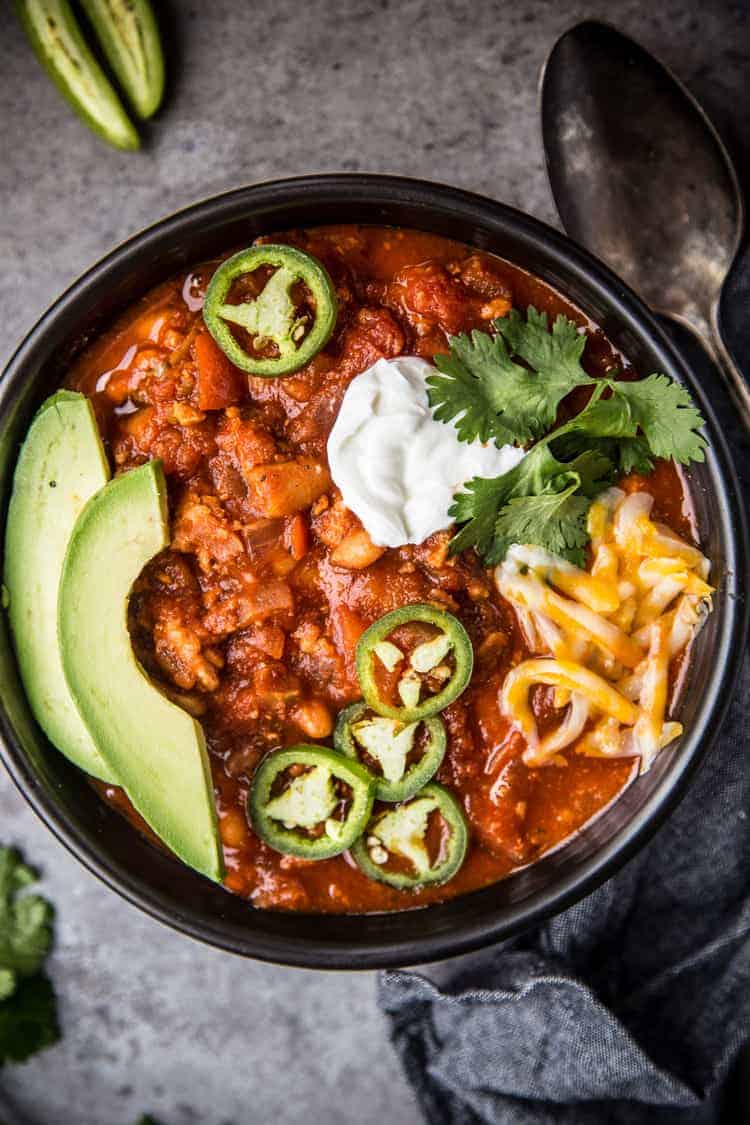 ---
If you like this recipe we'd truly appreciate it if you would give this recipe a star review! And if you share any of your pics on Instagram use the hashtag #vindulge. We LOVE to see it when you cook our recipes. 
---
This post may contain affiliate links. This means if you click on the link, we may receive a small commission if you purchase through the link. We partner with brands we know and love and use and it helps keep the blog going!