Beef Brisket Enchiladas are the ultimate use for leftover brisket for any Mexican food lover!
These beef enchiladas are made with smoked brisket, but you can sub almost any cut of beef for these indulgent enchiladas.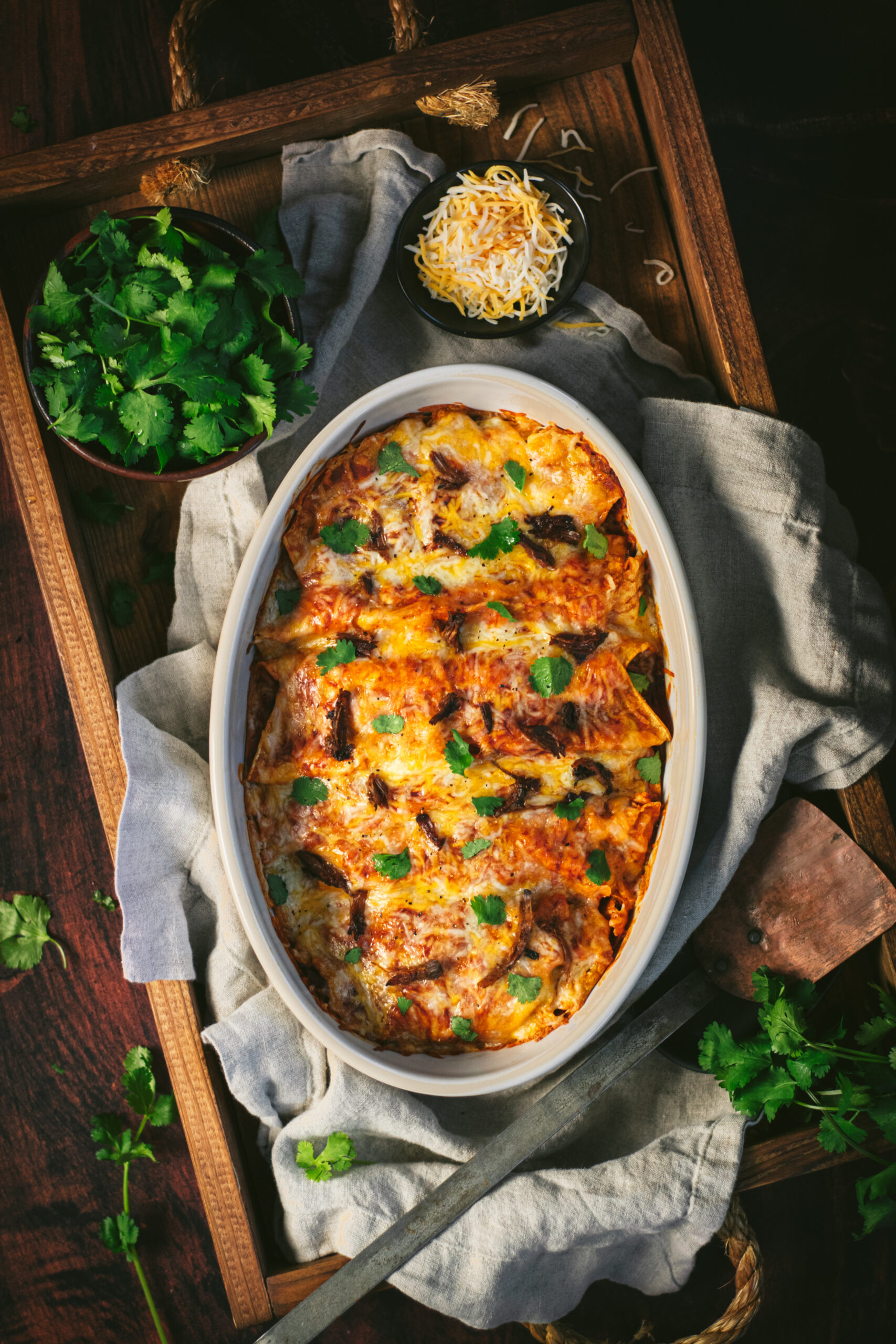 Jump to:
When my mom and hubby are both in town, deciding what's for dinner often becomes a competition. Hubby, of course, wants to smoke something. Mom wants to make one of her Mexican specialties. I'm happy either way. As a mediator, however, I need to find a way to appease them both.
Instead of choosing sides (I mean come on!) I usually honor both of their talents by taking over dinner responsibilities and creating a sort of Yolanda (aka my mom) meets Sean (my hubby) fusion.
I like to call it "Yo-Sean-da" fusion.
By now we all know what happens when we smoke a brisket. There's always a slew of leftovers. 14 lbs of meat and a family of 4 (5 if you count mom), you can't blame us!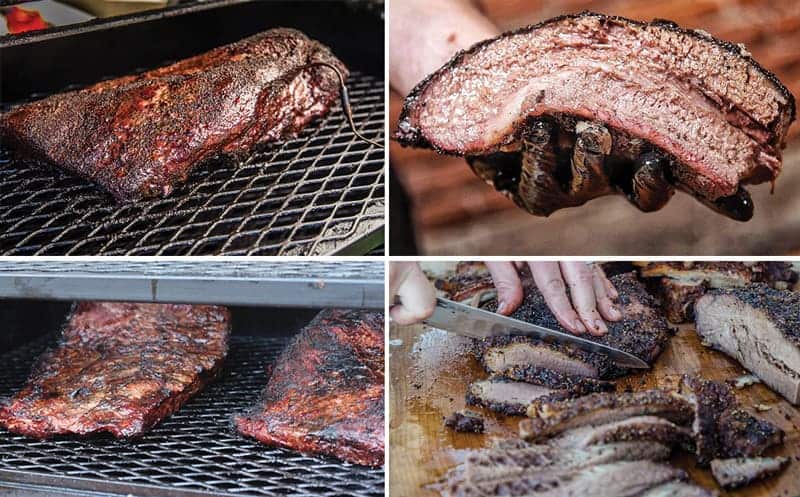 Mom makes her signature red chile sauce. And I'll use that sauce (store bought enchilada sauce works too), combined the leftover brisket, and created Smoked Beef Brisket Enchiladas. I'll throw in my own touch by adding some spinach and tangy goat cheese for added flavor.
Growing up the stuffing for enchiladas were usually whatever meats or veggies we had. Sometimes mom would buy chuck roast, cube it, and sear it up to put it in the enchiladas. But nowadays we using whatever leftover meat we have lying around, like in these Pulled Pork Enchiladas.
In this case we're using leftover brisket. The tender meat, and smoky flavor are the perfect filling for these comforting enchiladas.
How to make Beef Enchiladas
Start by warming up your red chile sauce and prepping your fillings on the side.
Next you need to soften your corn tortillas do they don't crack when placing the filling in them. Growing up my mom would dip them in hot oil to warm them up, but I don't like the excess oil. So I use the red chili enchilada sauce to warm them up. Just dip your tortilla into the sauce to get it wet all around, and place it on a plate.
Then stuff with your filling ingredients, and roll it on up, and place in a baking dish.
Top with more sauce and cheese and place into the oven until nice and bubbly!

Filling for Beef Enchiladas
You can keep it simple and just add a couple tablespoons of your chopped up (or shredded) meat, or add some vegetables to the mix. Since I'm feeding a family I like to throw in some greens when I can. Spinach works great (and you can hardly taste it, so it's a great way to sneak it in if you're trying to get your kids to eat greens). I like cooked frozen spinach for ease. Just warm up about a heaping cup of frozen spinach in the microwave, then drain off any excess liquid.
We also find that a smidge of goat cheese (or chevre) works great in the filling. Goat cheese isn't for everyone, so if you're not down with the goat cheese then just use cheddar.
Once you roll up and line up your enchiladas, top them with the remaining sauce, more beef, a couple handfuls of cheddar cheese, and bake until melted and bubbly (around 20 minutes).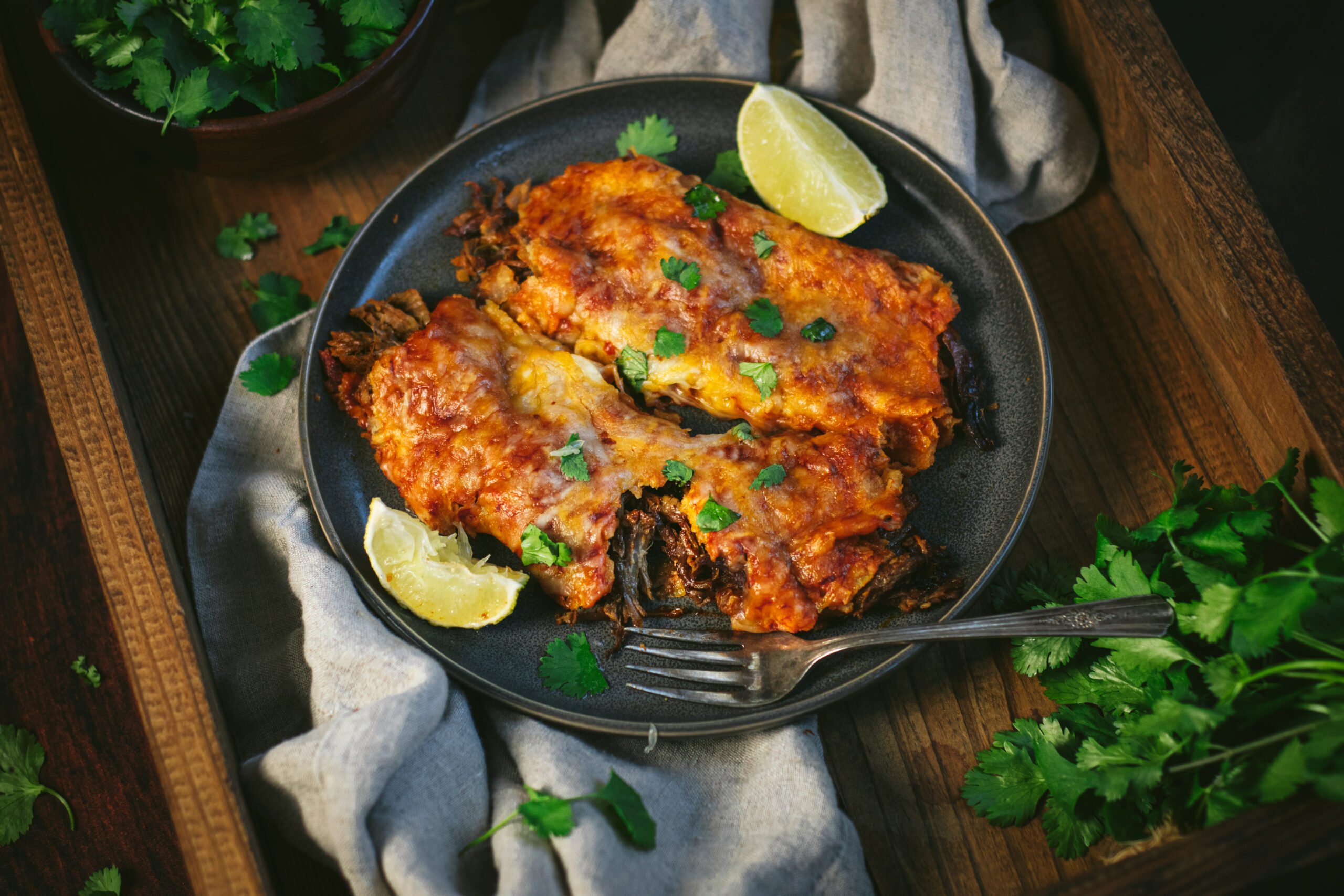 A note on the Homemade Red Chile Sauce
If you're using my recipe for Homemade Red Chile Sauce you'll need to prep it first. This is a basic red chile sauce that needs some flavoring to turn into an enchilada sauce.
Just warm up the red chili sauce, add 1 clove of finely minced garlic, ½ teaspoon of salt, a few grinds of pepper. Next add 1 vegetarian bouillon cube (or 1 teaspoon jarred). Let that warm up together.
Next add a thickening agent: I take ½ cup of water and 2 tablespoons of water and mix together until the flour has dissolved, then add that slurry to the red chili sauce. Let that simmer to thicken. Adjust flavors as needed.
Then it's ready for your enchiladas!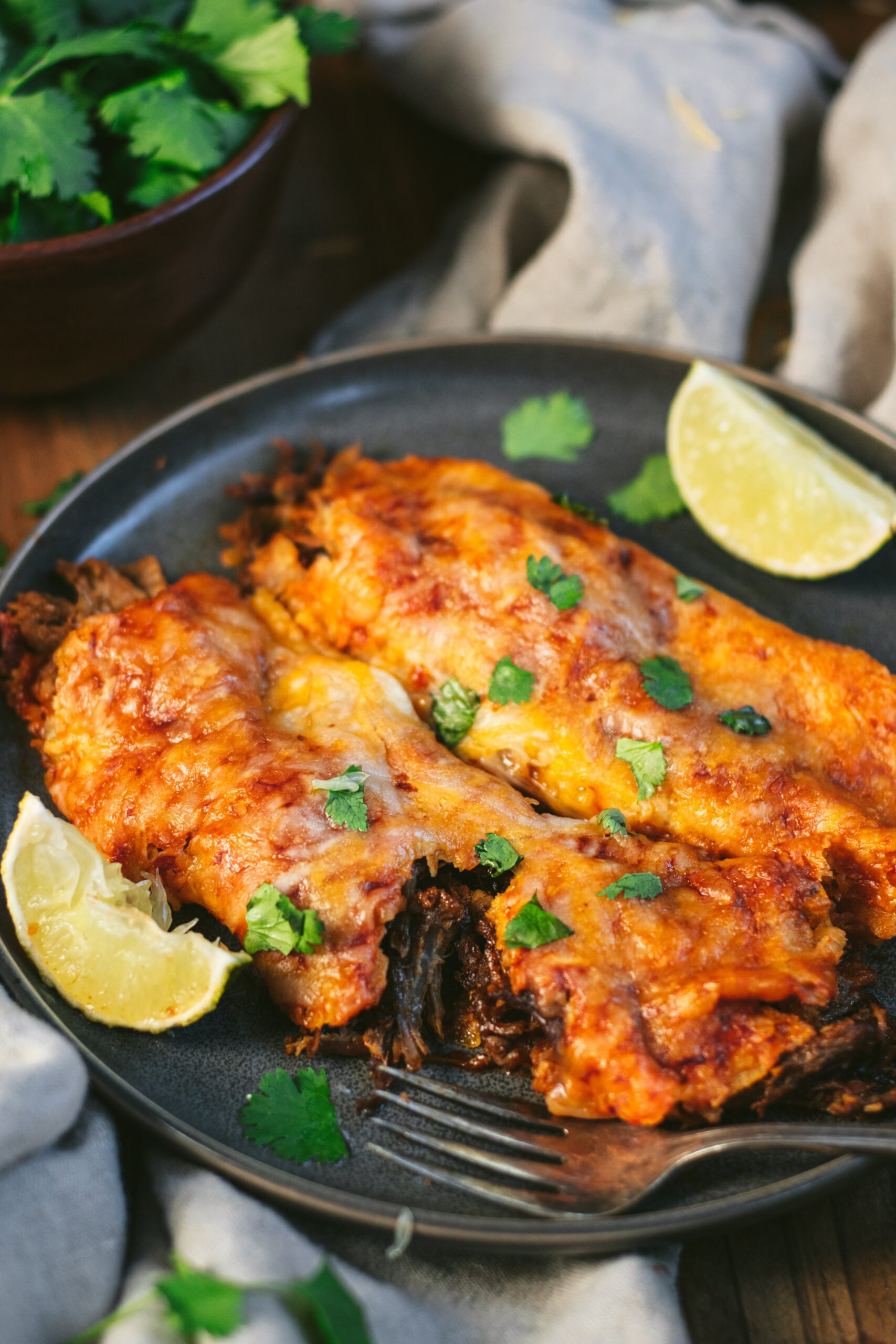 Wine Pairing for Beef Enchiladas
The smoked flavor of the beef is very mild in this dish, so I don't recommend seeking out a wine to go specifically with the beef. Instead I want something to balance the rich, acidic (and almost pleasantly bitter) red sauce, and the creamy texture of the enchiladas.
Monastrell from Spain to be a pretty spot on pairing because the Monastrell is fairly acidic, yet fruity with tannins that work well with both the meat and cheese. And while we're on the subject of Spain, Riojas also have good enough acidity for this dish and work well with the red sauce. A juicy Zinfandel works well too for similar reasons. For all of the above just look for a wine that's not too high in alcohol (15% abv+) otherwise it will accentuate any heat in the dish and create an unpleasant aftertaste.
For white I am a huge fan of a fruity dry rosé. For this dish I want a big bold rosé, so as much as I adore Provencal rosé, I recommend you steer clear for this dish. Instead look to Washington state rosé's made from Grenache or Syrah. Similar rosé blends from Spain work well too. The dish itself isn't very spicy, but a nice fruity rosé works well to lighten up what is otherwise a filling dish, cooling and refreshing the palate in-between bites.
---
More uses for leftover brisket
---
If you like this recipe we'd truly appreciate it if you would give this recipe a star review! And if you share any of your pics on Instagram use the hashtag #vindulge. We LOVE to see it when you cook our recipes.
---
*This post was originally published in August 2013, and updated in February 2022, with new photos and updated instructions.