This Vegetarian Chile recipe is inspired by one of the most popular chili recipes on the internet. With a rich tomato base, vegetables, beans, and a touch of coffee, and a secret ingredient, this recipe stands out from all the rest (in the very best way!).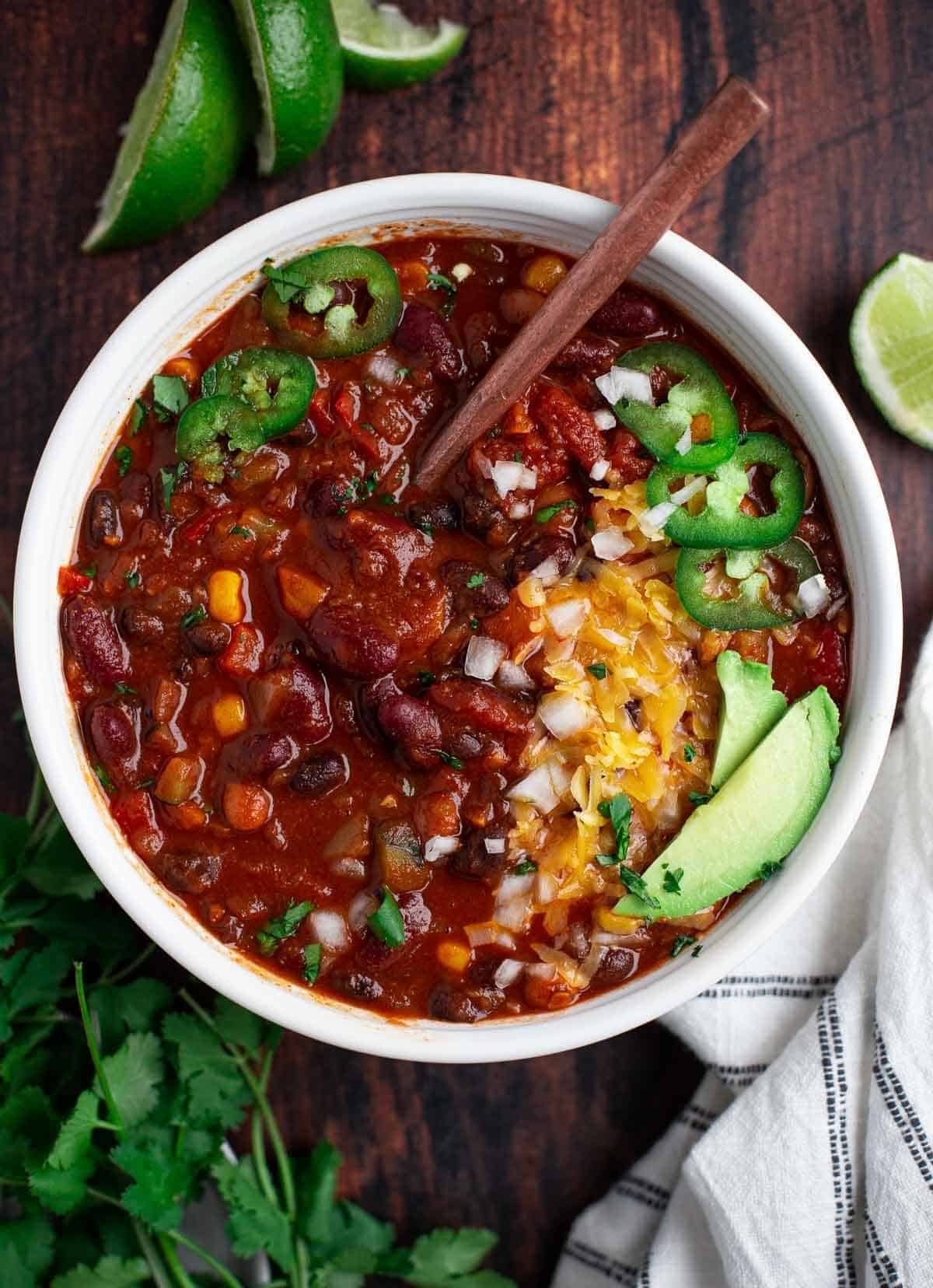 In searching for a hearty and delicious vegetarian chili you'll find most of the recipes on the internet are pretty much the same. Tomatoes, beans, chili powder, some vegetables, and that's about it (aka, they're pretty bland). But to make a truly great, rich, and interesting chili you need a little something extra.
That's probably why our Brisket Chili is one of the most popular chili recipes on the internet, with millions of views, and hundreds of positive comments. It's a recipe that dozens upon dozens of people have entered into chili cook-offs, and have won first prize! It's that good.
So when it came to creating an equally delicious vegetarian chili recipe, I knew it needed to have that same wow factor. And it's not just brisket that makes that chili good. It's the layers and layers of flavor that contributes to the overall deliciousness of it.
This version has some of those very ingredients, just without any meat! Give it a shot and let me know what you think!
Recipe Highlights
This recipe is adapted from our award winning brisket chili recipe, which has won dozens of awards for its rich flavor and mix of ingredients.
The rich flavors come from a combination of dried spices and tomato sauce mixed with coffee and chipotle in adobo.
Fresh vegetables are slowly softened to add texture and then the final touch is a mix of beans.
Jump to:
Ingredients – The Best Vegetables to Put in Chili
Vegetables: One of the stars of this veggie chili is the vegetables. White onion adds a sweet flavor balanced with the heat from garlic. A mix of red and yellow bell peppers also complements the onions. Zucchini squash also adds richness to the flavor as well as texture. Finally green chile adds heat and acidity.
Seasoning: A combination of chili powder, cumin, and smoked paprika give this chili its distinct chili flavor and earthiness.
Richness: Vegetable stock, tomato sauce, canned diced tomatoes, a mix of beans, coffee, and chipotle in adobo gives it a richness like no other with just the right amount of liquid.
Toppings
You can use any toppings you like. Our favorite include sour cream, sharp cheddar cheese (shredded), thinly sliced jalapeños, sliced avocado, and diced chives or green onions. The bright flavor of these toppings balance the deep rich flavor of the vegetarian chili.
Preparation
To make this recipe it's best if you prepare all the ingredients before you start making it. Dice all the vegetables, open all the cans, and pre-measure the dried spices and stock.
How to Make the Ultimate Vegetarian Chili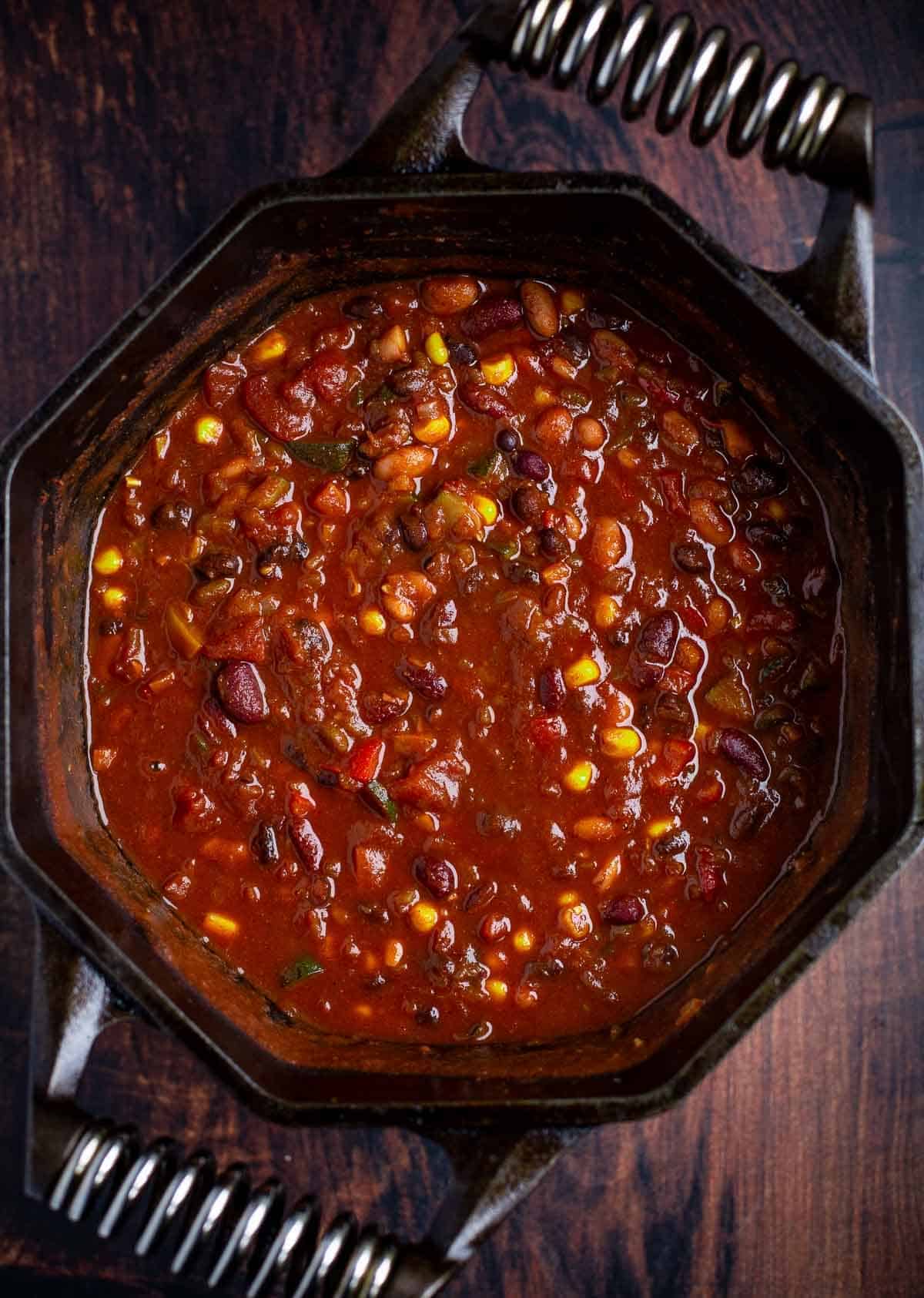 Sauté Vegetables: In a large stock pot (we use a 3-quart) over medium heat add the olive oil. Just as it starts to smoke add the onions and sauté for 5 minutes, until starting to soften. Then add the bell peppers and zucchini, and continue to sauté for 5 minutes. Add the garlic and stir for 1 minute. The vegetables should all be softened, but not caramelized.
Toast Dried Spices: Add the chili powder, cumin, and smoked paprika and stir to combine and toast the dried spices. This adds a richer flavor to the chili.
Add Liquids: Next, add the chipotle in adobo, tomato sauce, diced tomatoes, stock, green chili, coffee, and canned beans and bring to a simmer. Let simmer for 20-25 minutes to thicken.
Serve: Serve while warm with your favorite toppings and sides.
Substitutions
Smoked Paprika– You can use regular paprika versus smoked paprika. All you lose is the slight smokey flavor.
Peppers – You can use any combination of peppers (we love red, yellow, or orange) that equal a total of one cup. The only caution is green bell pepper. It has a more pungent earthy flavor versus sweet and changes the flavor of the chili. Therefore we do not recommend green bell pepper.
Beans – I recommend a mix of beans for variety and color. I love the combination of canned black beans, white (or great Northern beans), kidney, or pinto. We like the texture and consistency when we use 3 equal sized cans.
Stock – If you are not vegetarian you can swap the veggie stock for homemade chicken stock. It will add a little more flavor to the chili.
Variations for Vegetarian Chili
You can add more heat by using 1 teaspoon of cayenne pepper and 1 diced jalapeños to the chili.
If you want to scale this up for a larger crowd, simply double the recipe and use a larger stock pot.
Equipment
We use a large Dutch oven for this recipe because it retains heat so well. You can use any style of soup pot so long as it fits all the ingredients. We recommend any size over 3-quarts.
Top tip
You can make this the day prior to serving to save your self time. Just store it and reheat it in the same pot. If reheating from the refrigerator – be sure you start the heat on low.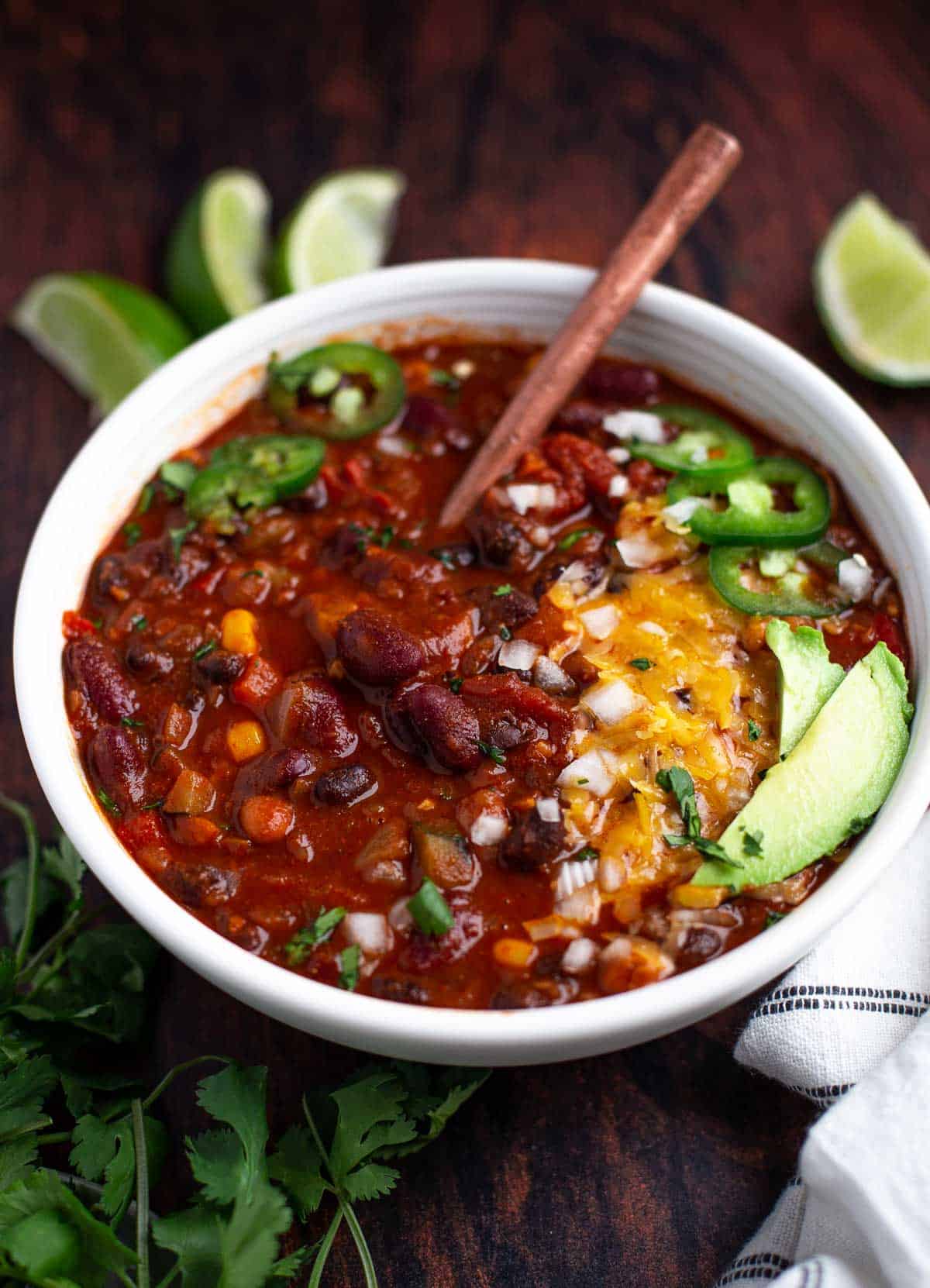 FAQ for Vegetarian Chili
Does chili have beans in it?
Yes, technically chili can have beans in it. While traditional Texas chili does not, the definition of chili is any stew with chili peppers and seasoning. And with a vegetarian chili it adds a good amount of protein to the chili.
How long will vegetarian chili last in the refrigerator?
The pH level from the tomatoes will allow it to last up to 5 days and maintain the same rich flavor. After that we recommend discarding.
What is a good meat substitute for chili?
Any combination of fresh vegetables and a variety of beans is a great meat alternative for a vegetarian chili.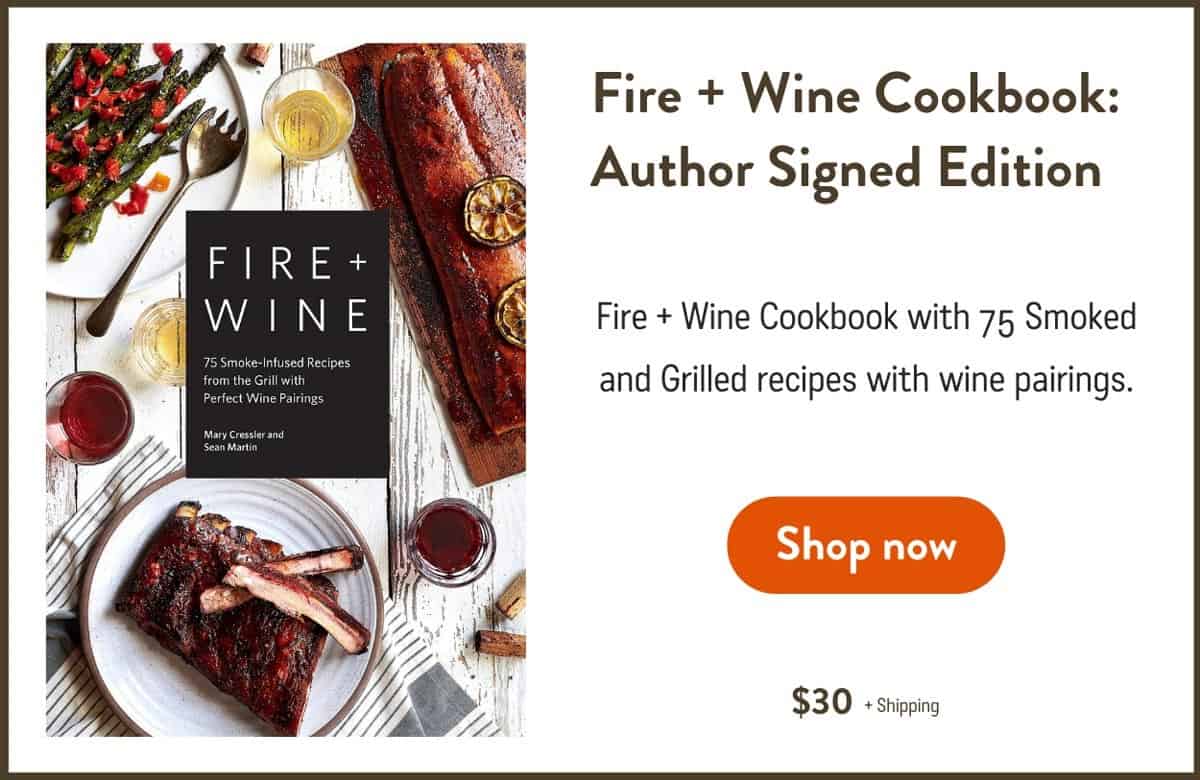 Wine Pairing for Vegetarian Chili
A chili this rich and with a savory undertone is great with a Syrah, especially a New World style that is both fruity and peppery. Another great option is Zinfandel (the red kind). The jammy flavor profile with nice acidity would be a great balance to the tomato rich flavors and spices.
Of course any dry sparkling wine would also be a perfect match as would a refreshing rosé.
Vegetarian Dinner Recipe Ideas
Related Recipes
---
Mary (a certified sommelier and recipe developer) and Sean (backyard pitmaster) are co-authors of the critically acclaimed cookbook, Fire + Wine, and have been creating content for the IACP nominated website Vindulge since 2009. They live in Oregon on a farm just outside Portland.
Tried this recipe? Give us a star rating and we would love to see! Mention @vindulge or use the hashtag #vindulge on all the social media handles. And consider subscribing to our newsletter where we drop all our favorite ideas and inspirations every week.
This post may contain affiliate links. This means if you click on the link, we may receive a small commission if you purchase through the link. We partner with brands we know and love and use and it helps keep the blog going!