Brisket Pizza takes leftover brisket and gives it a fresh makeover! This is another fantastic use for leftover Beef Brisket.
My husband's weakness is pizza. Usually he prefers plain ol' pepperoni pizza (which I find quite boring). But lately, with his never-ending obsession with trying to perfect his brisket (this is a real problem, people), we once again find ourselves with ridiculously amount of leftovers. So…. Pizza.
Leftover Brisket
Leftover brisket happens. It's true.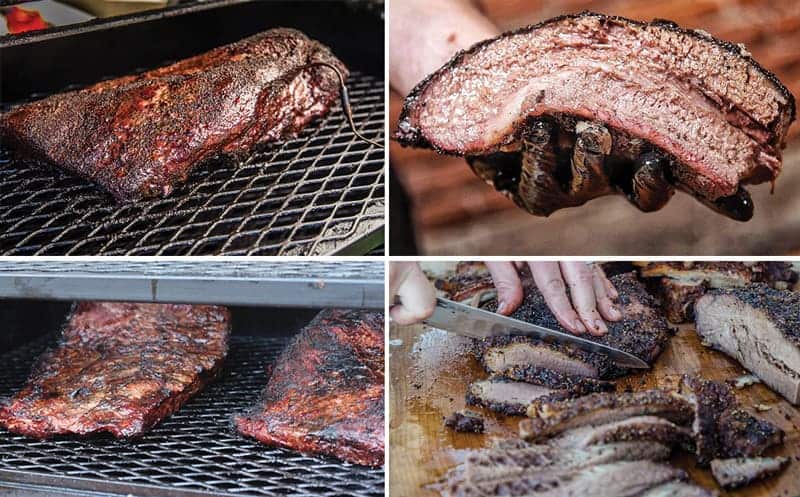 Make your jokes, but if you're a true lover of BBQ, perfecting your craft whenever you get a chance, you're practicing. And practice makes perfect. That's true when it comes to brisket. Some will shine, and some won't live up to your expectations.
And when life gives you leftover brisket, you give yourself…
Brisket Pizza
Tips for Making Smoked Brisket BBQ Pizza
Pizza Dough: It seems obvious, but start with a good pizza dough. It makes a huge difference. I usually make homemade, but recently tried out the dough at Grand Central Bakery. It's very soft and fluffs up nicely. Find a dough you love, and roll with it (literally).
The Sauce: I like to do ½ BBQ sauce and ½ traditional pizza sauce. If you use all BBQ sauce I find it tends to reduce and can burn easily, and also adds way too much sweetness to the dish masking the flavor of the smoked meat. Mixing BBQ sauce with the pizza sauce adds a nice richness to the sauce without the BBQ sauce dominating the flavor of the meal. Just mix the two together and taste to adjust. Once again, use a good BBQ sauce. If your store doesn't have anything worthy, use this pinot noir bbq sauce! It's our current favorite.
Caramelized Onions: these are totally optional (but such an incredible addition to this pizza). We've done the pizza both ways. But I find they really add a nice depth of flavor that really kicks everything up a few notches.
Cheese: As far as the cheeses, don't skimp on the smoked cheddar on this pizza. The blend of the smoked cheddar and mozzarella creates a really nice balance between ooey-gooey-cheesy goodness and awesome smoky flavor.
Smoked Brisket: I suppose, if you don't have a smoker, you can use baked brisket, or even something cooked in a crock-pot (who does that?!). But really, nothing in the world beats the incredible flavor of perfectly smoked brisket!
I have no doubt that you're gonna love this pizza. And so will your friends!
Smoked Brisket Pizza Recipe
Wine Pairing
We've tried this with everything from sweet white wines to bold reds. The flavors of the pizza are pretty complex, from the sweet caramelized onions and BBQ sauce, to the rich smoky brisket, to the juicy acidic tomatoes, to the melted cheese blend, topped off with cilantro. Rosé is your most versatile bet. We've had some success with Zinfandel and Syrah (just make sure it's not a super rich or bold Syrah). But really, rosé with this pizza rocks! It's got enough juicy fruit and bold flavors with balanced acidity to stand up to this pizza.
More Uses for Leftover Smoked Brisket:
---
If you like this recipe we'd truly appreciate it if you would give this recipe a star review! And if you share any of your pics on Instagram use the hashtag #vindulge. We LOVE to see it when you cook our recipes.
---