Green Chili Turkey is sautéed onions, bell peppers, and roasted Anaheim chilies combined with leftover turkey. It's rich and wholesome and perfect served over rice or as a filling for tacos, burritos or filling for enchiladas. It's been a family tradition for generations.
This is a great leftover turkey recipe idea.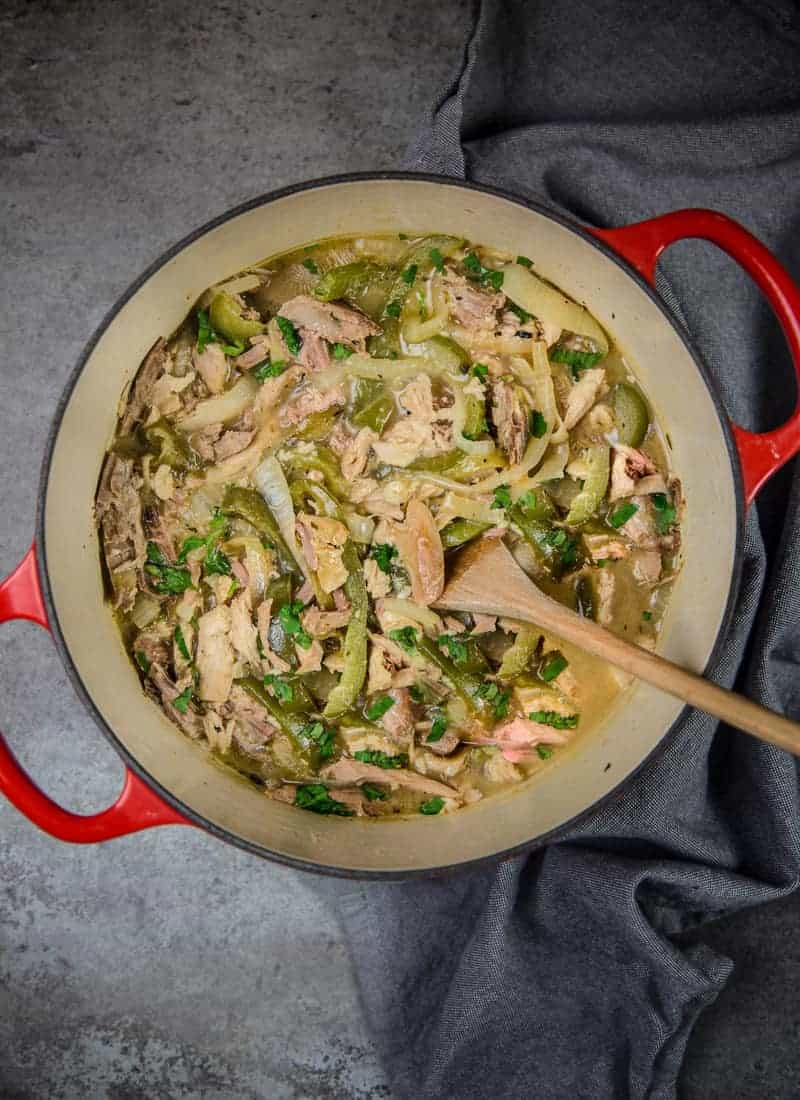 This is a dish my mom has made every single year for both Thanksgiving and Christmas since I can remember. In fact, growing up my mom cooked two turkeys every year for each holiday – one completely dedicated to this dish, the other to roast (or smoke) and serve traditionally. Guess which one was gone first?
Jump to:
So what is Green Chili Turkey?
It's kind of like a combination of a turkey stew, and filling for burritos. It's not as liquid or soupy as a soup. It has more of a gravy-like consistency and it's great to serve over rice, or as a filling for tacos or burritos. It has an earthy and rich flavor, but is also light and quite healthy (which is nice following a holiday full of indulgence!).
It's my absolute favorite use for any leftover turkey we have after Thanksgiving Day. I just serve it up with some rice and it makes for a light and delicious post-holiday lunch. Sometimes I like to serve it with tortillas on the side to make mini tacos.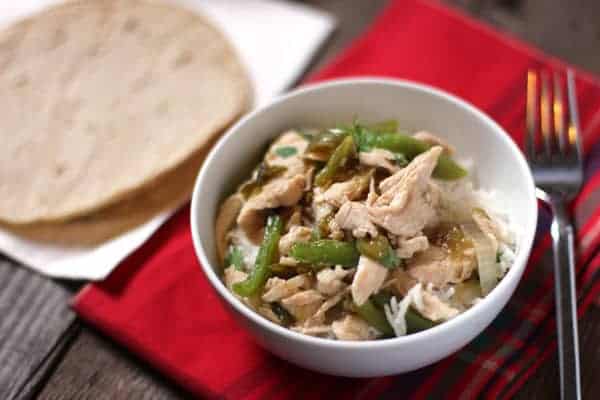 How to make Green Chili Turkey
It's incredibly easy to make.
You start by heating up a tablespoon of olive oil in a large skillet set to medium heat. Add onions and bell peppers and cook about 5 minutes, just to soften them. Add garlic, cook one more minute.

Next, make a quick slurry. While the onions and peppers are softening, mix 2 tablespoons of flour with ½ cup of water and shake until the flour is dissolved into the water. Add to the peppers/onion mixture. Add the bouillon now and let it dissolve.
My mom has a thing for bouillon cubes. She swears by them in many of her recipes. This one is no exception. I have at least converted her to using organic gluten free bouillon with no MSG. And I don't ask questions when it comes to moms cooking, I just eat it.
Alternatively, I use any leftover gravy in place of the slurry to get it to that rich consistency I'm looking for.

Add more water. Let it simmer until the sauce starts to thicken (about 5 minutes).
Finally, add the leftover turkey, sliced roasted green chilies, spices, and let simmer some more.

Adjust seasonings and level of heat to your preference.
Done!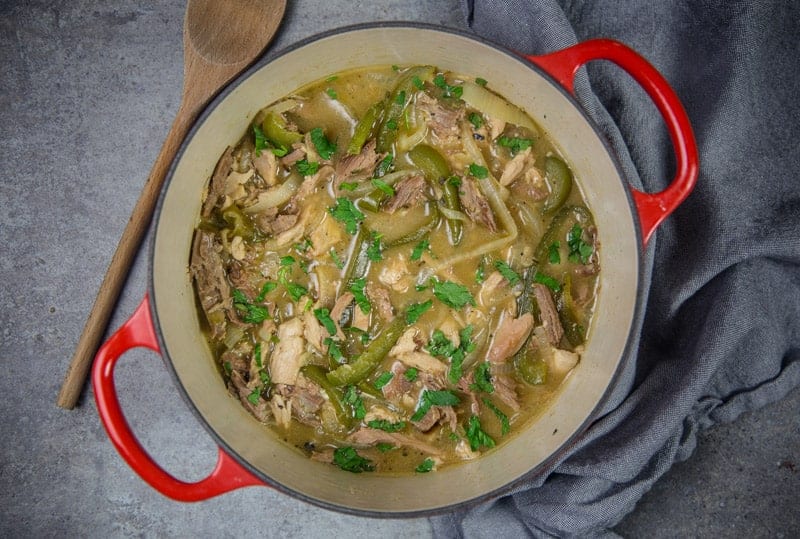 How to serve Green Chili Turkey?
My favorite way to serve this dish is alongside rice. The rice soaks up the juicy and flavorful broth. It makes for a light, fresh, and flavorful lunch.
I also like to serve them with corn tortillas and a side of home cooked beans and salsa and make mini tacos.
Use as a filling for burritos.
It makes for a killer huevos ranchero for a hearty breakfast.
Green Chili Nachos… mmmmm. Need I say more?
This also makes for an excellent topping for cheese enchiladas! Just roll up some corn tortillas with shredded cheddar, top with the green chili turkey and some extra cheese, and bake in a 375 degree oven for about 15 minutes, or until the cheese starts to get bubbly. We made these for dinner last night and the family devoured them.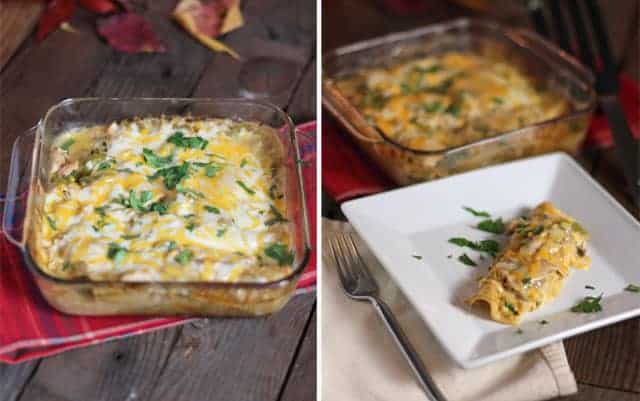 To all my family and friends back home, and to all my amazing and supportive readers, have a very happy Thanksgiving!
Now I have a question for you? What is your favorite use of leftover Thanksgiving turkey?
Other Chili Recipe Ideas
---
If you like this recipe we'd truly appreciate it if you would give this recipe a star review! And if you share any of your pics on Instagram use the hashtag #vindulge. We LOVE to see it when you cook our recipes.
---
This recipe was first published in 2013 and updated in 2018 with new photos and information.