A fantastic use for any leftover brisket (especially smoked brisket) — Smoked Brisket Grilled Cheese Sandwiches! These sandwiches are simply incredible and the ultimate comfort food! Smoky brisket, buttery bread, melty cheese. What's not to love?!
(*UPDATE* — You can view us cooking up this combo of Smoked Brisket Grilled Cheese Sandwiches and Smoked Tomato Bisque over on AM Northwest.)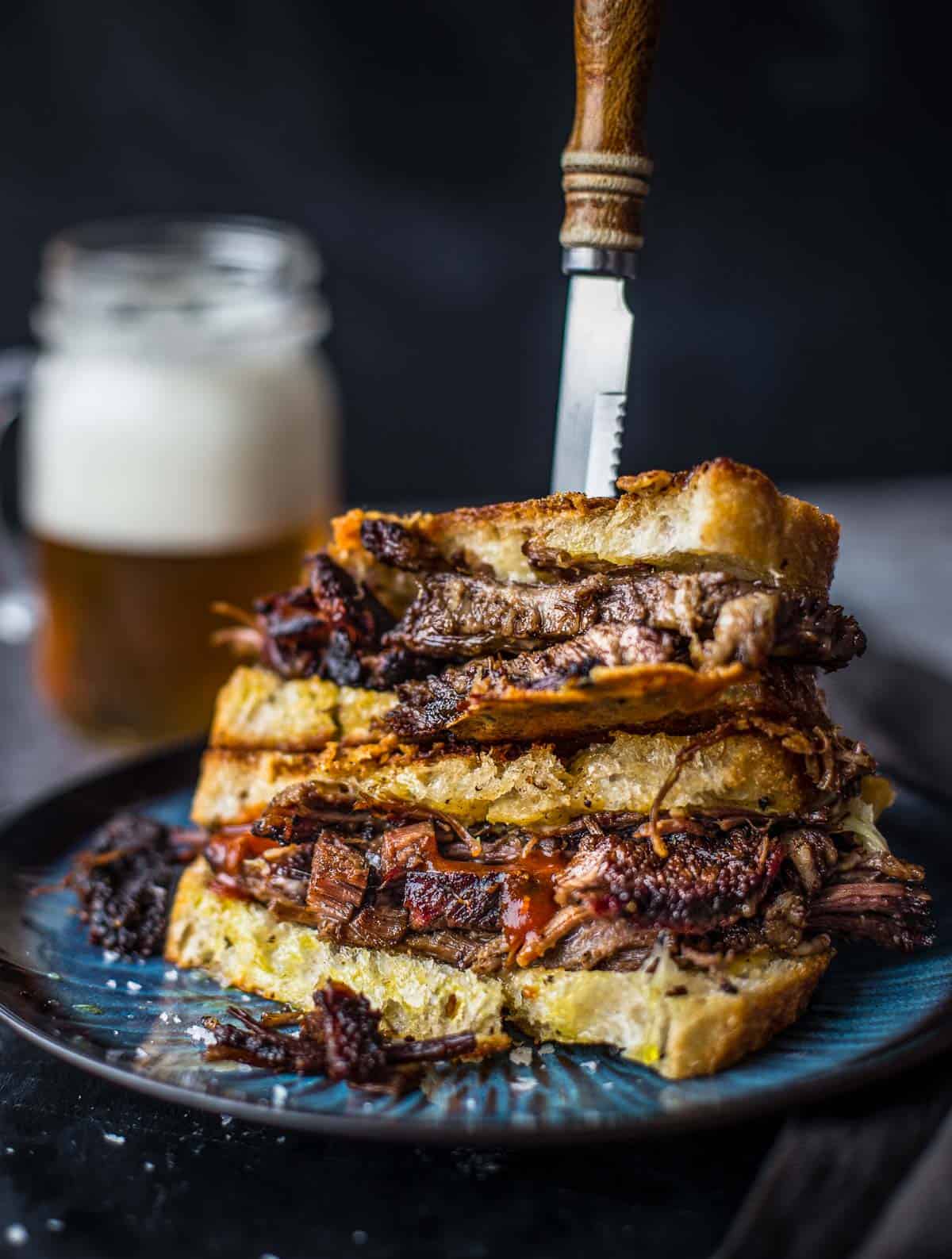 Jump to:
We hear lots of haters on social media whenever we publish a recipe for "leftover smoked brisket."
"If you got leftover brisket it means it ain't good brisket," they like to joke. Haha (she said, unenthused).
The reality is when you're passionate about something, and cook it a lot in order to perfect your craft, you're gonna end up with leftovers.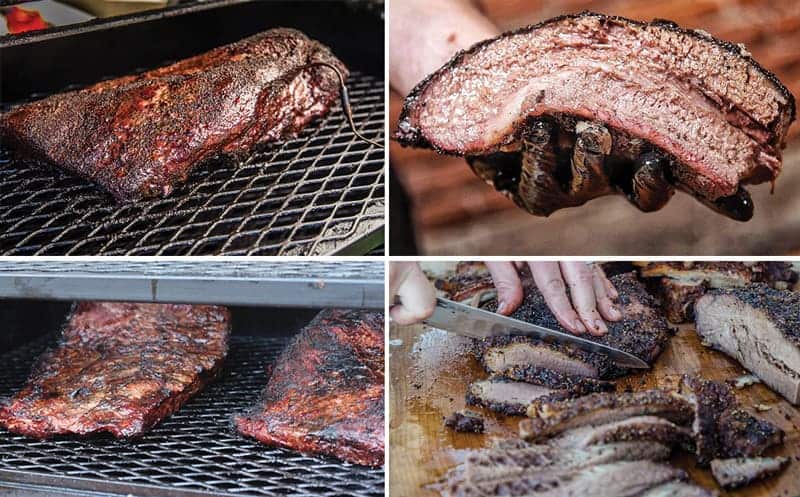 In our case, we own a BBQ catering company, and test and serve recipes for a living. So, while we test, we end up with leftovers. And leftovers are among my favorite ingredients to work with, and this grilled cheese recipe is a great way to use up these leftovers!
Speaking of, you can find our go-to recipe for Smoked Brisket here.
Now let's get down to this perfect grilled cheese sandwich made with leftover beef brisket. This ain't your average grilled cheese. Nope. This is a smoked beef brisket grilled cheese made with leftover tender bbq brisket, smoked cheddar and gruyere (or Comté) cheeses, melted to ooey gooey perfection.
Best Cheese for Brisket Grilled Cheese Sandwiches
We've discovered the best combination for this is a mix of shredded smoked cheddar and Comté (or gruyere). Comté and gruyere melt incredibly well, and are both fairly mild cheeses (so they won't take away from the main attraction). Cheddar has great flavor and also melts well. The combo if the two is out of this world.
If you don't have those, there are several kinds of cheese that will work well as an alternative including, monterey jack cheese or pepper jack cheese. Both are common cheeses that makes for a good grilled cheese sandwich.
You can use thick slices of cheese or shred the cheese. While it's a little messier, I find the shredded cheese melts better and more evenly.
Ingredients for Brisket Grilled Cheese
​This recipe starts with simple ingredients, but not skimping on quality!
Leftover Brisket: it starts with the best brisket (this one to be specific), shredded or sliced
Sourdough Bread (como or french works well for this too)
Cheese: We're going for melted cheese goodness over here. So we prefer the combo Smoked Cheddar and some Gruyere (or Comté) cheese. But monterey jack cheese works in a pinch.
Butter: It's the best way to get a perfectly golden brown sandwich
Dijon Mustard: Adds a great pop to the sandwich
How to make a Brisket Grilled Cheese Sandwich
Start by warming up your leftover brisket. I like to do this in a pan on the stovetop, slowly. The juices from any fat will re-hydrate your meat if it's been sitting in the fridge. If you're dealing with dried out brisket and need to add a bit of moisture, I recommend adding about a tablespoon of your favorite BBQ sauce. But don't go too heavy on the barbecue sauce. We're just trying to add a little hydration, not overpower the meat with BBQ sauce.
Once the meat is warmed, transfer to a plate, wipe out the pan, and get it nice and hot for cooking your sandwiches.
Lay out your bread and distribute the butter one side of both pieces. Turn the bread slice over and use the un-buttered side to build the sandwich. Add a layer of Dijon mustard to the inside of the bread (the un-buttered side). This is going to add flavor and acidity to contrast the richness of the meat. Next, layer with cheddar, load on the shredded brisket (be generous), and then top with the shredded Gruyere (or Comté).
Place the other slice of bread on top (butter side facing out).
Place sandwiches on the hot skillet (covered with a lid) and cook for 3-5 minutes per side, until the bread is golden, then flip. Cook other side until equally golden and crispy and the cheese is ooey gooey melted and you just can't take the waiting anymore.
Alternatively you can use a panini press to make it a brisket panini!
Cut in half. Feel free to enjoy this brisket grilled cheese with this Smoked Tomato Bisque for the ultimate soup and sandwich combination.
There are perfect pairings in this world — peanut butter and jelly, apple pie and ice cream, burgers and fries, and grilled cheese and tomato soup. This here is grilled cheese and tomato soup on steroids!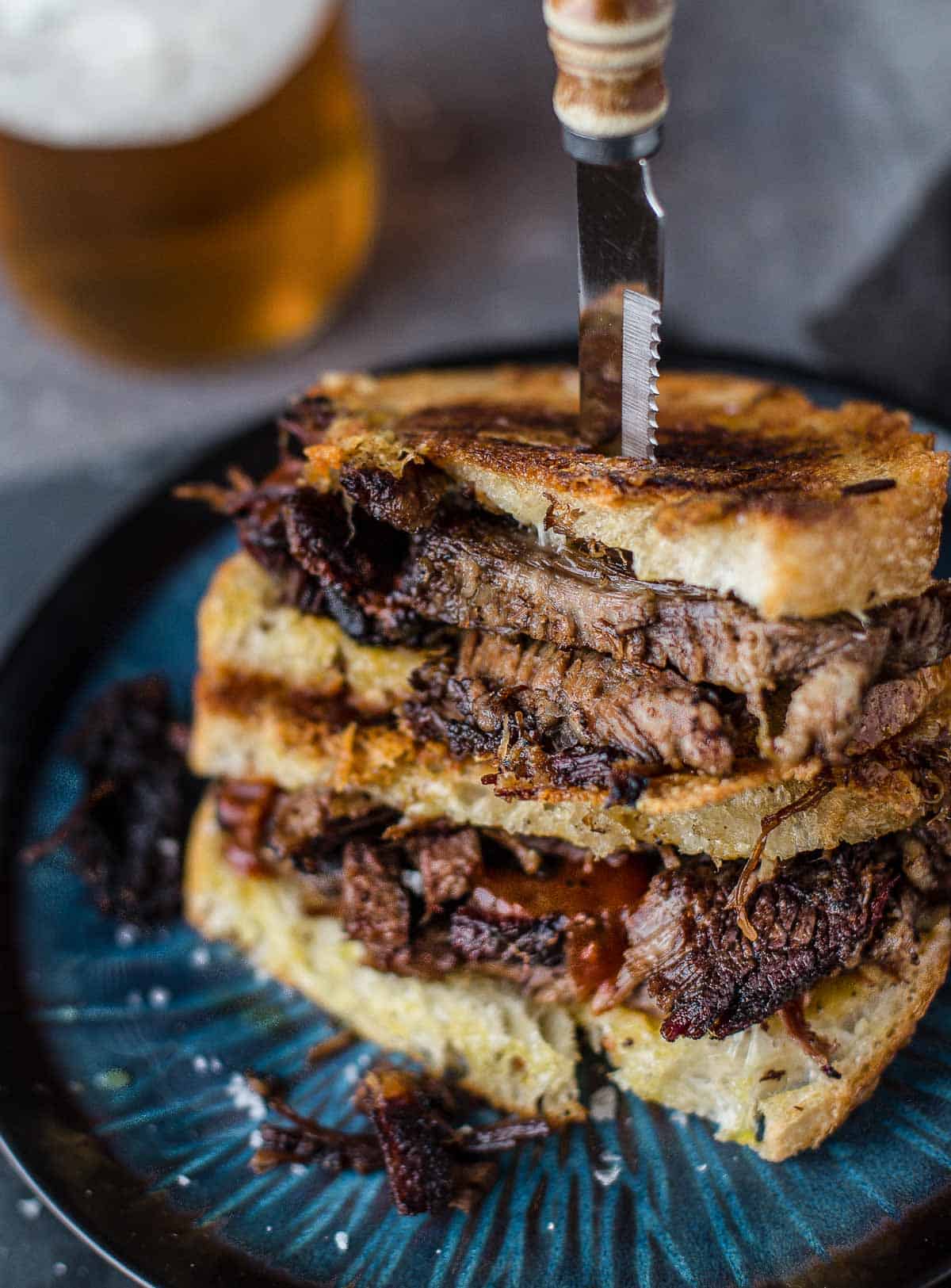 Wine and Beer Pairing
Well, since we like to serve this with our Smoked Tomato Bisque, we often pair it with Barbera. You'll be surprised how well the fruity and acidic wine goes with the buttery, crusty, cheesy hearty sandwich loaded with the tender smoky brisket. Sans soup I think the sandwich would be fantastic with an oaked Chardonnay (bring on the buttery oaked wines… more butter da better).
Otherwise a nice Pilsner will do the trick! Light and refreshing and perfect way to cut through the richness of these sandwiches (and trust me, these sandwiches are rich!).
Want more Leftover Brisket Recipes?
---
Mary (a certified sommelier and recipe developer) and Sean (backyard pitmaster) are co-authors of the critically acclaimed cookbook, Fire + Wine, and have been creating content for the IACP nominated website Vindulge since 2009. They live in Oregon on a farm just outside Portland.
If you like this recipe we'd truly appreciate it if you would give this recipe a star review! And if you share any of your pics on Instagram use the hashtag #vindulge. We LOVE to see it when you cook our recipes.
* This post was originally published in October 2014, and updated in September of 2023 with detailed instructions. The original recipe remains the same.