Chili is our favorite comfort food, as you can see with our award-winning beef brisket chili. This Ground Beef Chili Recipe is no exception. Not only does it have the slightly smoky taste from the chipotle peppers, it is also thick, rich and packed with meaty flavor. And the best part is that it's easy to make!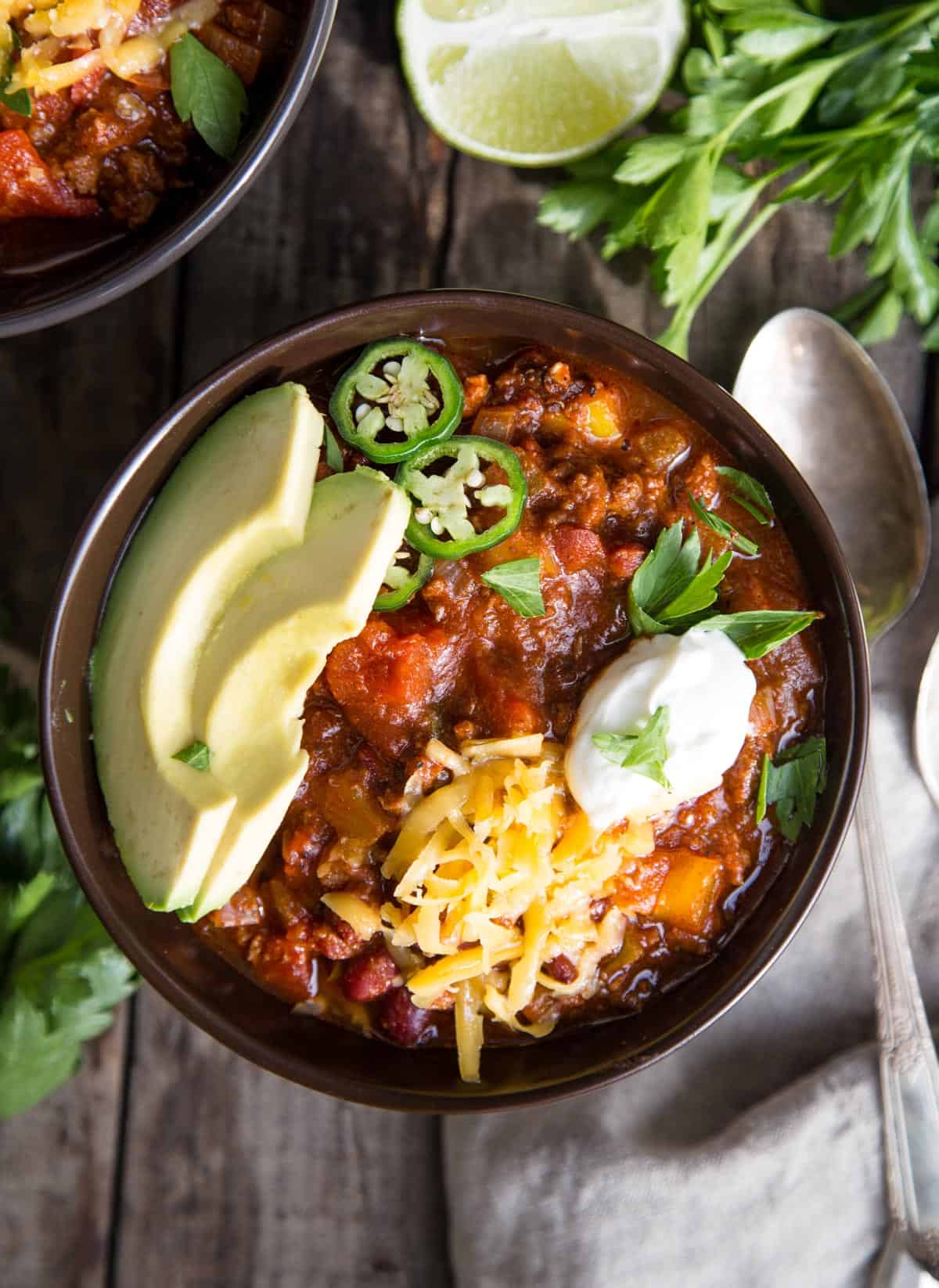 Chili, by definition, is any stew that has chili (powder or fresh) in it. From there you can add any other ingredients that make you happy.
For us, ground beef chili is a great go-to meal when we're looking for a quick and easy way to use items around the pantry. Ground beef is less expensive than larger cuts of beef, like you may see in Texas-style chili. It also browns easily for great flavor.
Type of Beef
For the best ground beef for chili, we use Snake River Farms Ground Beef for it's amazing buttery flavor (it is truly exceptional quality ground beef). But you can use any ground beef you like. We find that 80/20 beef (or 80 percent lean and 20% fat) is best because the natural fat adds that much more flavor to the dish. If you are using a leaner beef mix like 90/10, you can always add more flavor by using more tomato paste, or more spices to balance the lesser amount of fat.
You can also substitute with ground chicken or turkey as well. If using poultry we like to add more Worcestershire sauce to compensate for the lack of meaty flavor found in poultry vs beef.
Preparation
Prepare all the diced ingredients first. This will save you time when making the actual chili so you can concentrate on when to add the ingredients.
We use a 3 quart dutch oven, but any equivalent pot will work. Preheat the dutch oven to medium heat and add the oil.
Cooking Ground Beef Chili
Preheat a 3 quart dutch oven or large sauce pan over medium heat. Add olive oil and allow to heat up.
Add bacon and stir frequently over medium heat until the bacon starts to get crispy, about 6 – 8 minutes.
After bacon is slightly crispy, add the ground beef, salt and pepper and stir over medium heat. It will sizzle at first and as you stir it will temper the heat. Continue cooking the beef, stirring in the bacon fat an additional 6 – 8 minutes or until browned. If the heat isn't high enough it won't brown. After it is browned, place the lid on the dutch oven and carefully drain the excess liquid from the pot.
Slightly reduce the heat and add onions, yellow and jalapeno peppers. Stir for 5 – 7 minutes or until they soften.
Add the remaining ingredients, stir to incorporate, and let come to a simmer. Cover and simmer for an additional 30 minutes, stir occasionally. The chili will thicken as it simmers.
Add salt and pepper to adjust to your taste.
When ready to serve, dollop into a bowl and add your favorite toppings.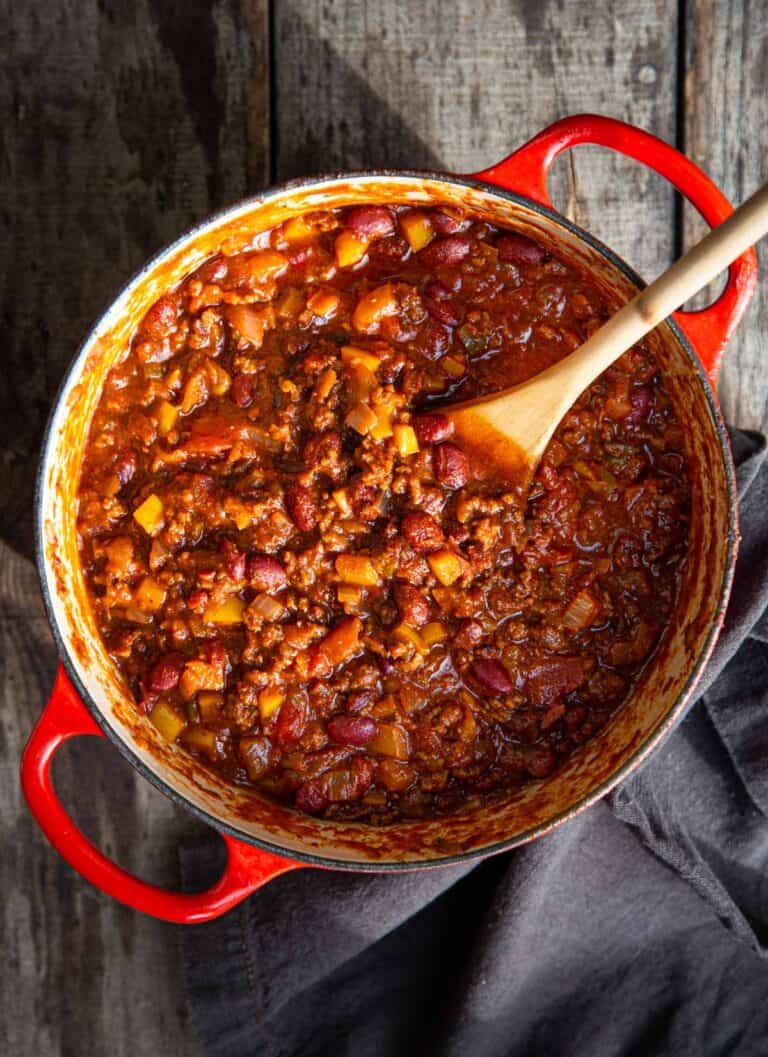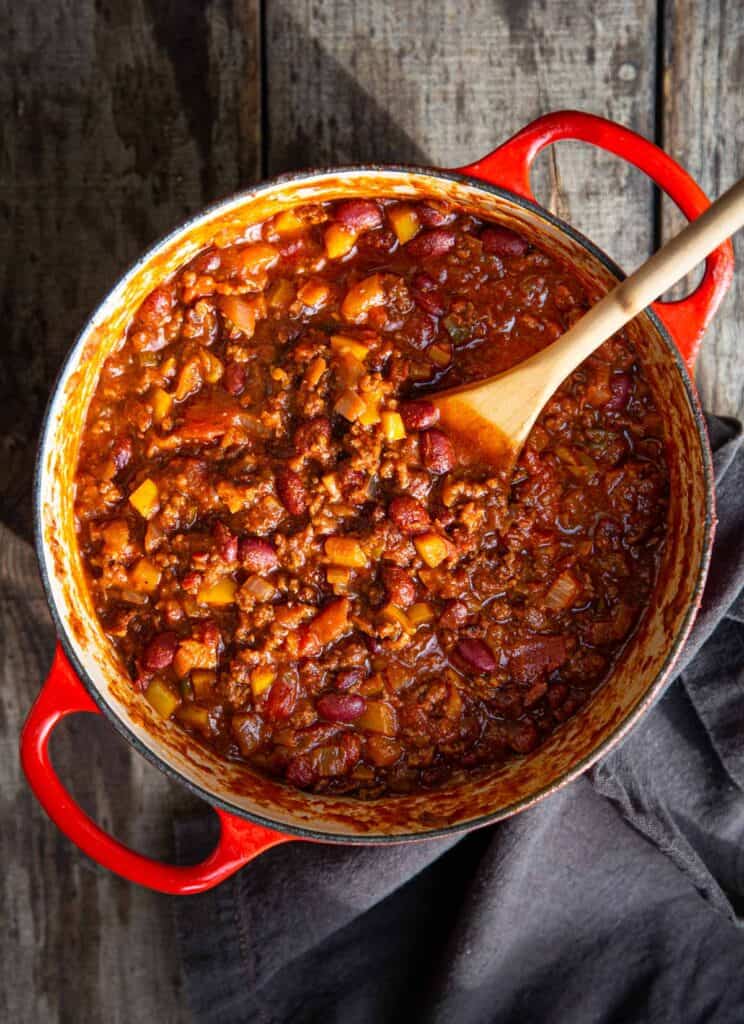 Topping Ideas
Sour Cream or Greek Yogurt
Chives or Green Onions
Avocado
Cheddar Cheese
Sliced Jalapeño
Squeeze of Fresh Lime Juice
More Bacon – Cause – It's Bacon
Troubleshooting
All pantry spices and canned goods will vary from brand to brand and freshness. Be prepared to adjust to your taste preferences for this ground beef chili.
If the chili has too much tomato flavor, then add more chili powder and Worcestershire. This offsets the variation of flavor that can come from canned tomatoes.
If the chili tastes bitter, this is likely due to using a darker variety of chili powder. Offset with more tomato paste. The concentrated tomato paste sweetens the dish balancing the bitter.
If you don't like spice, then eliminate the chipotle pepper and just add the adobo sauce from the can.
If the chili has too much liquid, simply continue to simmer for an additional 15 minutes with the cover off to allow it to reduce.
Other than the seasoning of the ground beef, add some salt and pepper at the end to allow the ingredients to incorporate.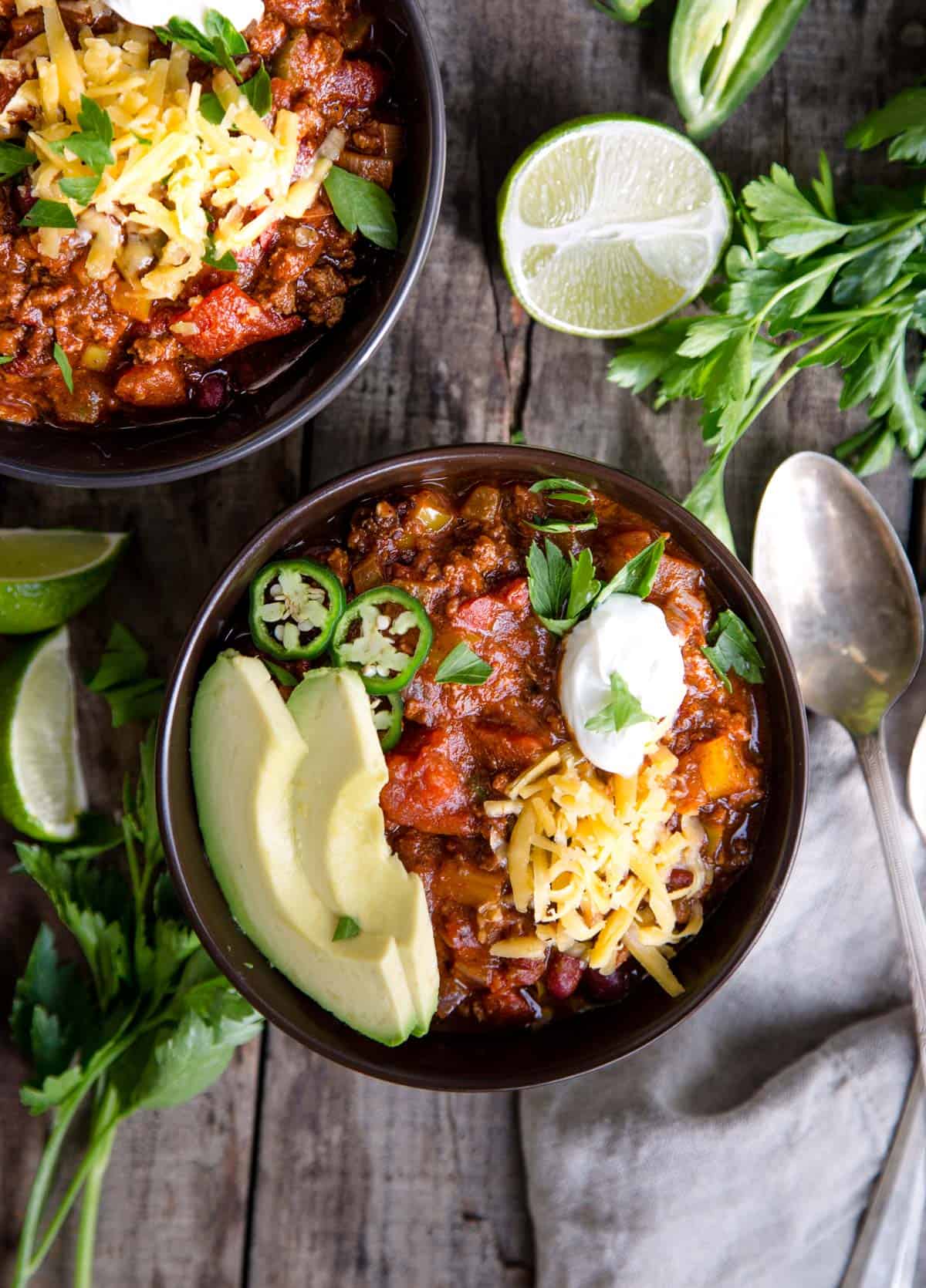 Ground Beef Chili Recipe
More Great Chili Recipes
---
This post may contain affiliate links. This means if you click on the link, we may receive a small commission if you purchase through the link. We partner with brands we know and love and use and it helps keep the blog going!