Chicken Chili made with leftover grilled or smoked chicken is super easy, jam packed with flavor, and isn't too rich to weigh you down.
This recipe is great with any shredded chicken, really, but I love the subtle smoky flavor that the smoked or grilled chicken provides. Great for game day or a weeknight family meal.
It's also gluten free and dairy free (if you use dairy free shredded cheese and leave out sour cream)!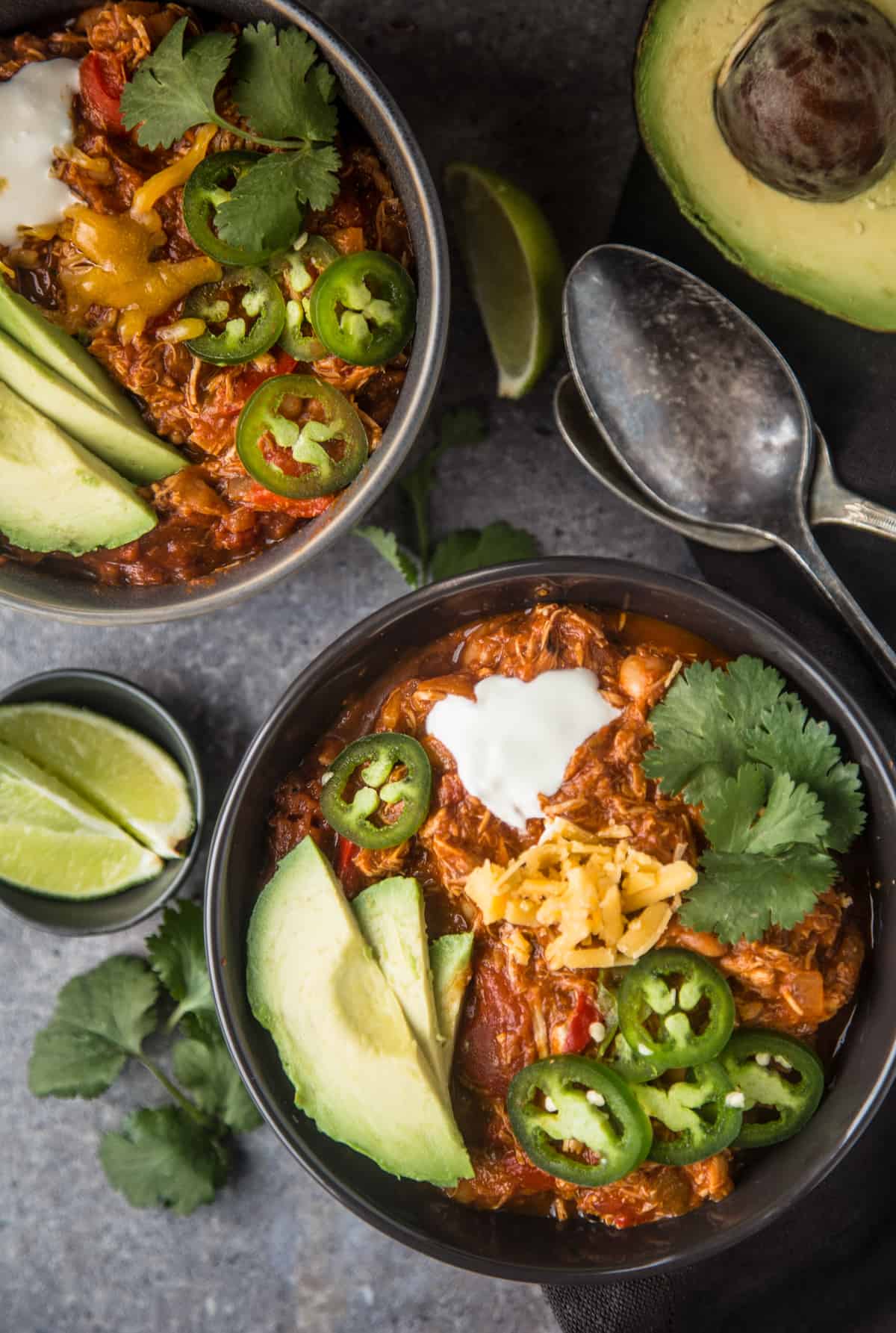 Chicken is probably the protein we cook the most around here. Even if we're smoking a brisket on a Sunday, we throw in a whole chicken to use the meat throughout the week (and also make stock from the carcass!). It's super versatile, and bonus, our kids love it!
This chicken chili is inspired by our brisket chili, but intended to be a bit easier, and also lighter (brisket is rich!). It's a great weeknight meal for any leftover chicken you may have (smoked or otherwise). Though we've been known to smoke a whole roaster chicken just to use the meat strictly for this chili.
Got friends coming over for a big game? Throw on a pot of this chicken chili!
Smoked Red Chicken Chili
This chili is a red chicken chili versus a white chicken chili, which my husband refers to as a "soup" not a "chili" 😉
What is chili?
That is a question that many people will have different responses and opinions to. If you go the dictionary route, it's a sauce with chili peppers in it. In this case we have chili powder and red peppers. So technically a chili. There are few rules to chili. Ask someone from Texas, they will say no beans, all meat. Go to someone in Arizona, and their version of chili con carne may include corn, meat, and beans. You get the drift here, so long as we have chili peppers and a sauce, it's a chili. (Ahem Sean – white chili is a thing!)
In this case we just love the added flavor and body the red sauce provides.
In this case we're using leftover smoked chicken, but any shredded chicken will do, smoked or otherwise (chicken breasts, thighs, you name it). Layer with onions, garlic, red bell pepper, green chili, some sauce and spices, and you've got yourself a winning chili.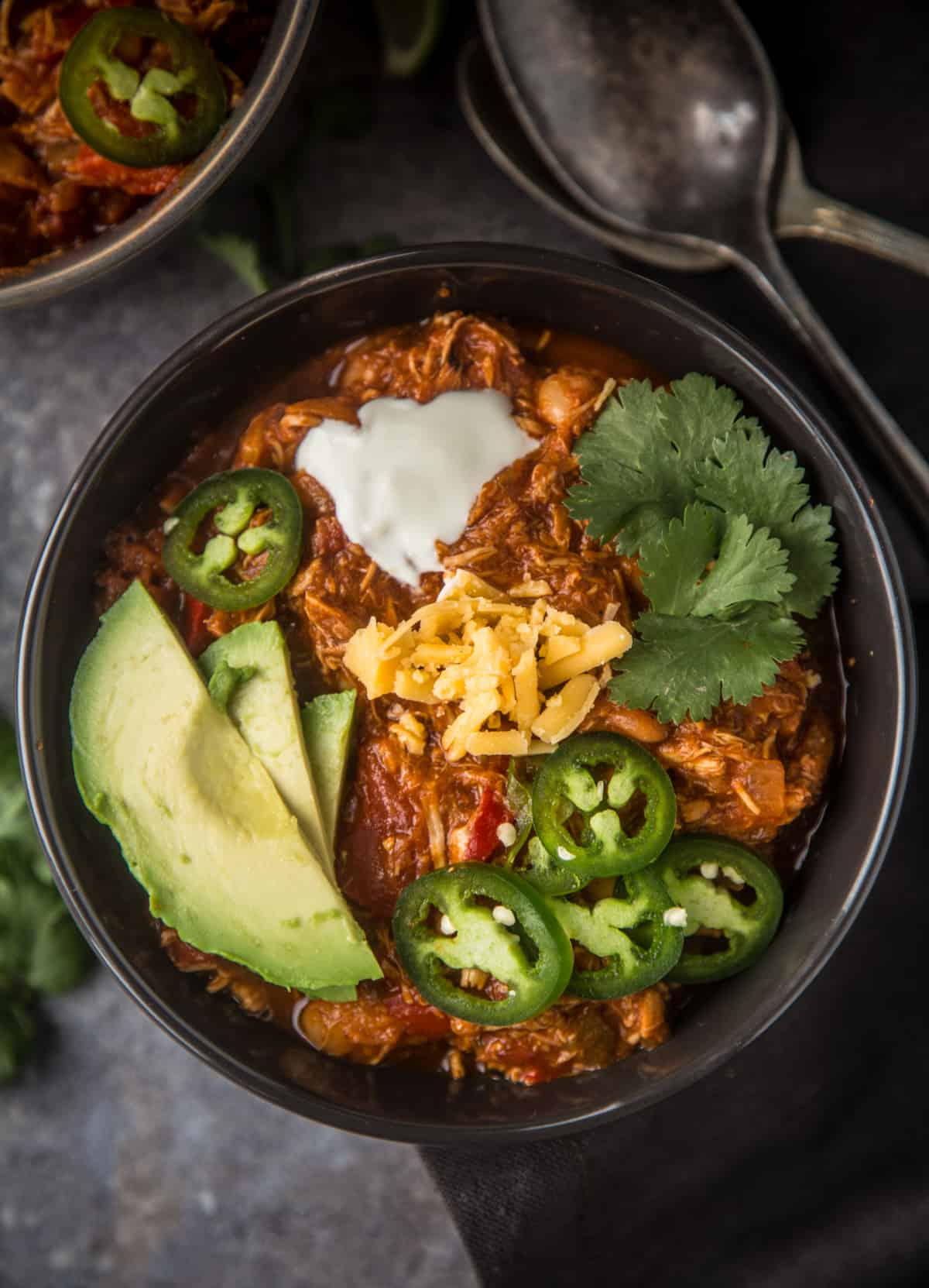 How to make Smoked Chicken Chili
First smoke the chicken, for reference, here is a smoked whole chicken recipe to start with.
If you don't feel like smoking a chicken, use whatever chicken you have around (we use 3 cups of shredded meat in this recipe).
Next, for the chili start by softening some onions and red bell pepper, toss in some garlic, and then add your liquids, spices, and shredded chicken, and let them simmer for 30 mins to one hour. If you want a richer chili then feel free to cook longer. But we're usually cooking this on a busy weeknight and cut it off around the 30-45 min mark. But the longer you cook it the richer the flavors will be.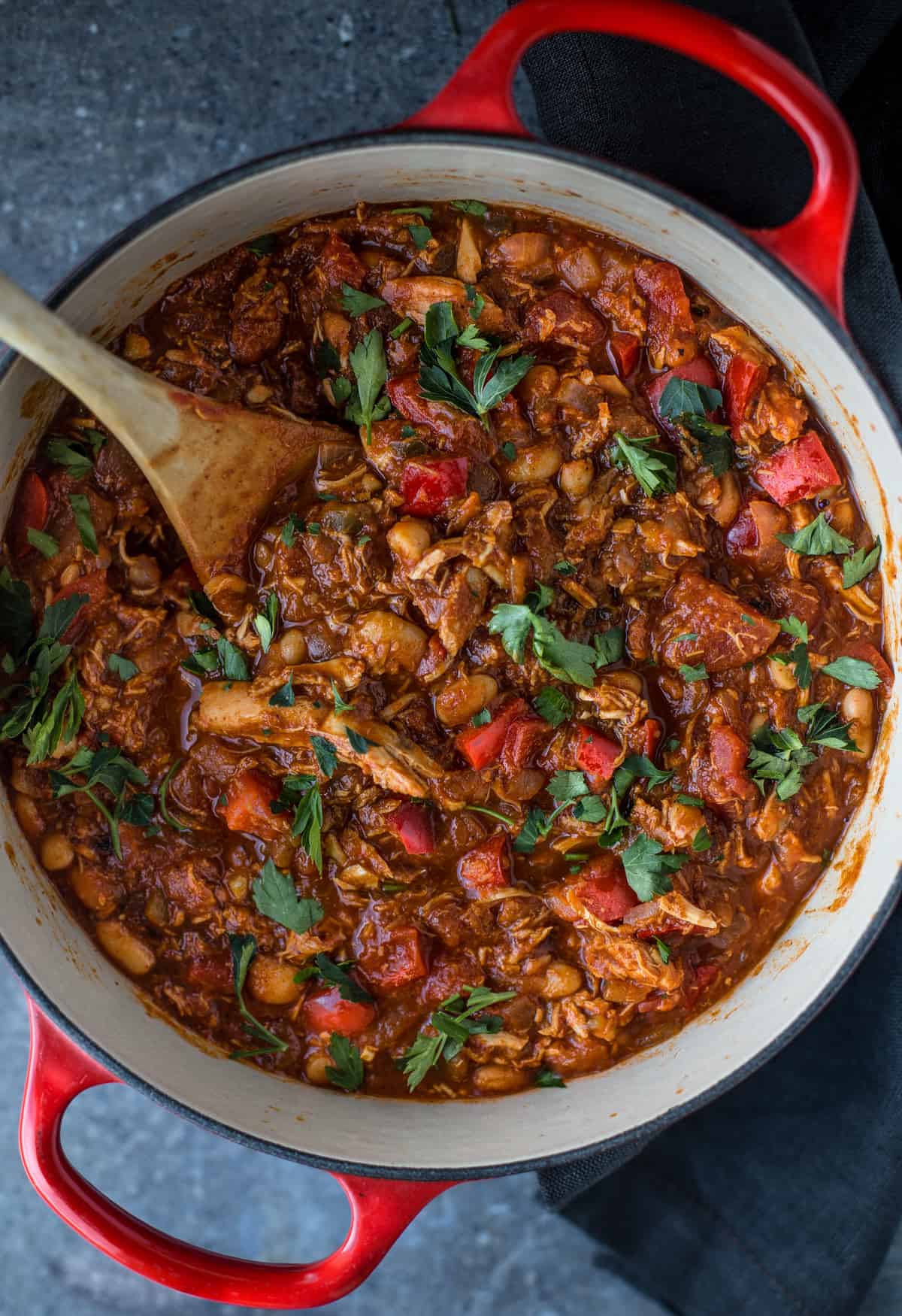 What to add to Chicken Chili
Like our concept of what is chili…what you put into chicken chili is up to you.
Want beans? Add them. Kidney, black, and white beans all work great.
Want some sweet to balance any heat? Corn is a great natural addition to sweeten the pot.
Like spice? Fresh serrano, poblano, or jalapeño are all great to supplement dried chili powder.
You can also add some chipotle peppers in adobo sauce (one of my personal favs).
Want a more liquid version? Add some beer, wine, or chicken stock. Add what sounds best to you and what you have on hand.
Garnish with fresh cilantro.
Chili Toppings
Shredded cheese
Sour cream
Thinly sliced jalapeños
Sliced avocado
Freshly diced white onions, green onions, or chives
Even bits of crispy bacon!
Smoked Chicken Chili Recipe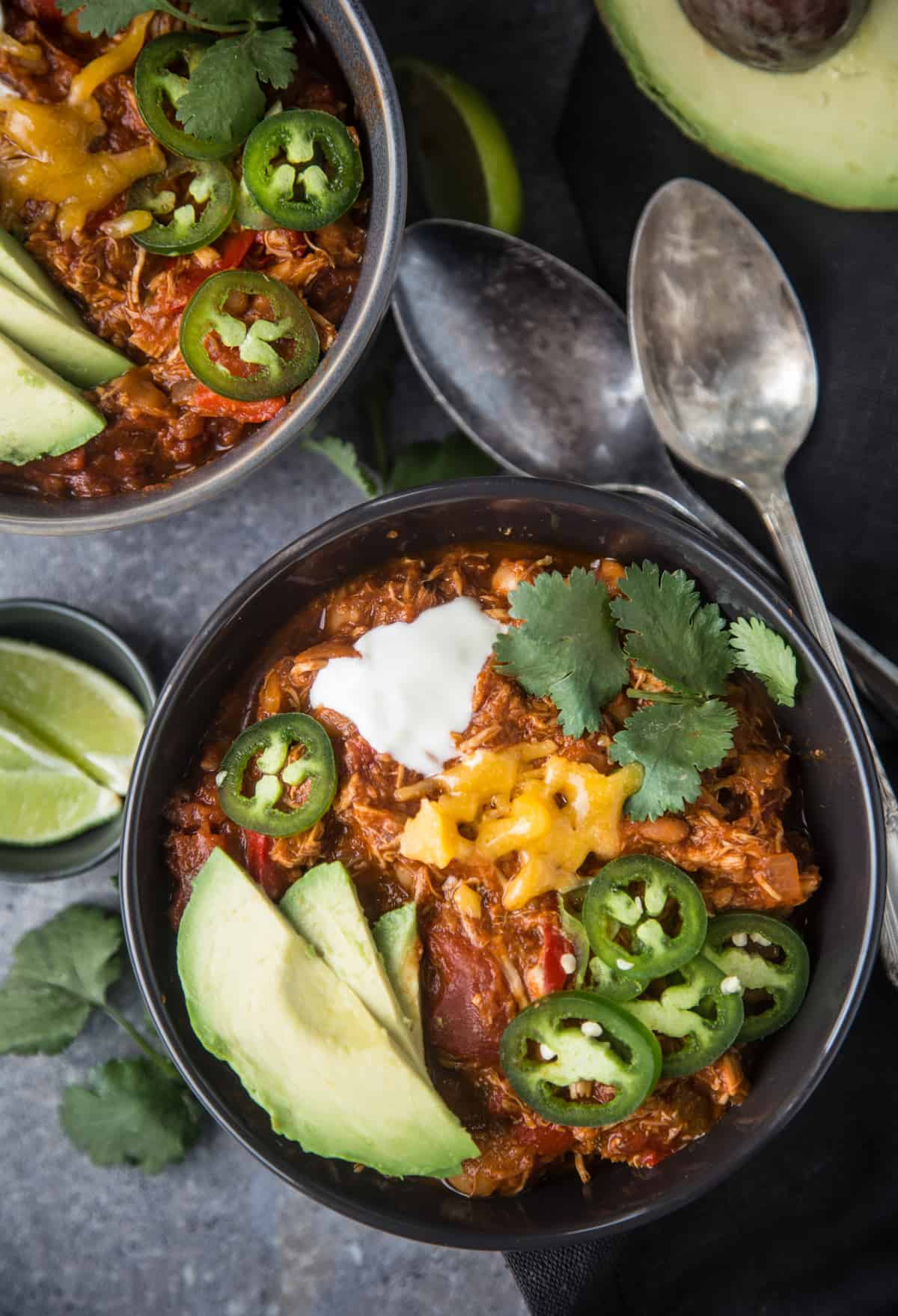 Wine Pairing
This is a fairly mild chili, not overpowered by too much spice or intensity. Something fruity with some richness, yet balanced acidity work well. Rioja (or other Tempranillo) is a fun one, as is Syrah. If you start to load it up the chili with some richness or more heat, and need something to refresh the palate, a Beaujolais is a nice option for red (fruity, juicy, and refreshing). You can also opt for a bold style rosé for something bright and refreshing.
---
More Leftover Chicken Recipes
---
If you like this recipe we'd truly appreciate it if you would give this recipe a star review! And if you share any of your pics on Instagram use the hashtag #vindulge. We LOVE to see it when you cook our recipes.