Smoked Sausage and Bacon Breakfast Sandwich is an easy and delicious way to start your weekend!
It's never too early in the week to start thinking about weekend brunch plans, especially if your plans involve smoked sausage and smoked bacon breakfast sandwiches.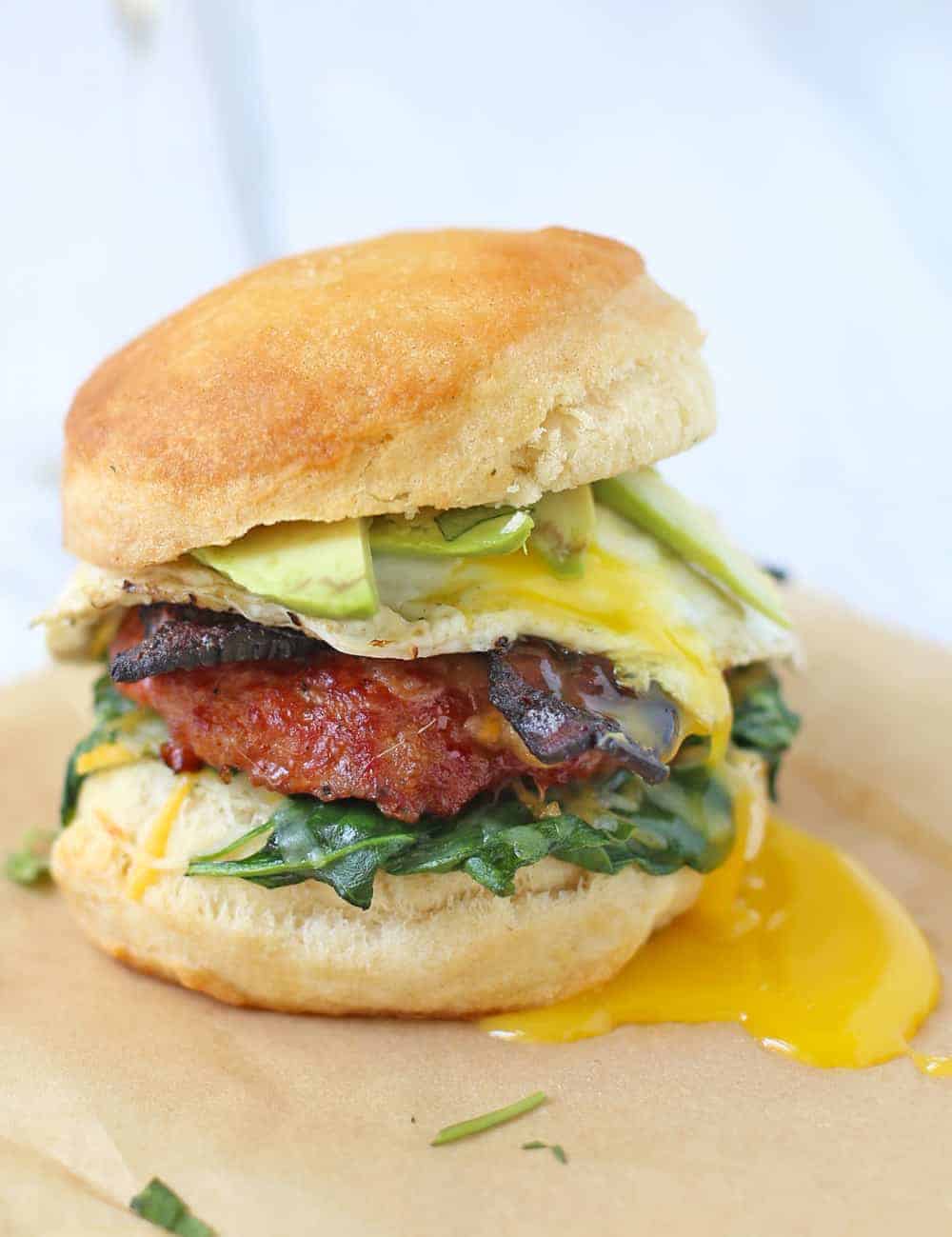 And unless it involves pancakes or waffles (I'm talking about you, Waffle Window), my kids aren't interested in waiting in those notoriously long Portland brunch lines for breakfast.

MY LATEST VIDEOS
That's why we stick to home on most occasions.
And it's easy if you have a smoker and an appetite for pork.
One of my favorite simple weekday breakfasts is just quickly cooking up an egg (usually scrambled) and placing it in-between a toasted English muffin (a breakfast made famous by a never-to-be-said-out-loud fast food chain. Though mine usually involves a whole wheat muffin and an organic egg). But on the weekends we go all out. Sean gets his inner southern biscuit maker on and whips up a batch of moist and flavorful buttermilk biscuits, but you can totally cheat and buy pre-made biscuits (pro tip: Grand Central Bakery makes some pretty tasty biscuits). We don't have our own recipe for biscuits but usually use something out of Ina Garten's playbook.
How to Make Smoked Sausage & Bacon Breakfast Sandwiches
Buy some bulk breakfast sausage and form it into as many patties as you need, and while that's smoking add some thick cut bacon to the smoker. You can also feel free to add some pork belly (as seen in the pic) for good measure, but those aren't used in this recipe. They're just photo-bombing the sausage and bacon. Leave those on for about an hour while you sip on your morning coffee and prep your sandwiches.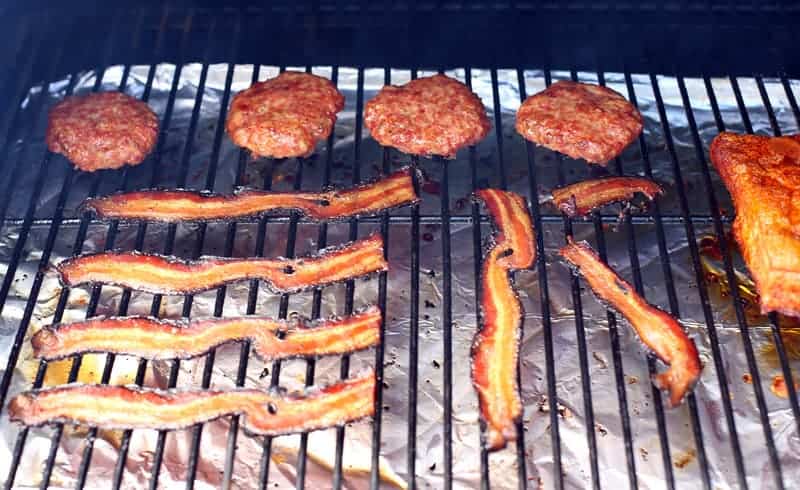 When the sausage and bacon are done (cooked to 165) assemble your sandwiches. Cut open your biscuit (or English muffin, whatever you prefer), and layer with sautéed spinach (because you're healthy) a smoked sausage patty, that crispy smoked bacon, a fried egg, and avocado slices, and prepare yourself for a breakfast flavor bomb.
The only thing you'll need now is to figure out what to drink with your smoked sausage breakfast sandwich.
Smoked Sausage and Bacon Breakfast Sandwiches
An easy and delicious smoked sausage and smoked bacon breakfast sandwich made with biscuits instead of muffins.
Cuisine:
barbecue, bbq, breakfast, brunch
Keyword:
breakfast sandwich recipe, smoked sausage breakfast sandwich
Ingredients
1

lb

bulk breakfast pork sausage

4

slices

thick cut bacon

4

eggs

cooked over easy or fried

1

avocado

sliced

4

buttermilk biscuits or English muffins

Optional additions: sautéed spinach

sliced tomato, sliced onions, cheese
Instructions
For the smoked sausage and smoked bacon:
Preheat smoker to 225 degrees (we used apple wood) to form the bulk sausage into 4 equal size patties. Place the sausage patties and bacon on the smoker and cook for about one hour until the internal temperature of the sausage is 165 degrees, and the bacon is crispy.
For the sandwiches:
Cook your eggs to your preferred method. I like over easy for the delicious flow of yolk that coats the biscuits the moment you break it.

Slice open your biscuits and layer your sandwich with sautéed spinach (if you chose to go that route), a sausage patty, bacon, the egg, and some avocado slices.
Recipe Notes
If you want a hot sandwich heat up the broiler on your oven. Place your sandwich, open faced, on a cookie sheet and place under the broiler for a couple minutes, until everything is warmed.
What to Pair?
I'm not gonna lie, I love a good traditional orange juice mimosa from time to time. And for this meal, with the spicy and smoky sausage, bacon-y bacon, and mouth coating egg yolks, the sweet and bubbly OJ mimosa is the refreshing way to go. Sure, you can cut out the middle man and leave the orange juice out of the equation, but I love the sweetness it adds. And this pairing just screams breakfast to me.
What about you? What do you like to layer on a good ol' breakfast sandwich? And what's your go-to brunch drink? 
---
If you like this recipe we'd truly appreciate it if you would give this recipe a star review! And if you share any of your pics on Instagram use the hashtag #vindulge. We LOVE to see it when you cook our recipes.