Ham Breakfast Hash is the perfect use for any leftover ham from your holiday meal. In this case we're using smoked ham. Dice it up and add to this amazing pork hash dish. Add leeks and the lush crispy potatoes and you have a true crowd pleaser.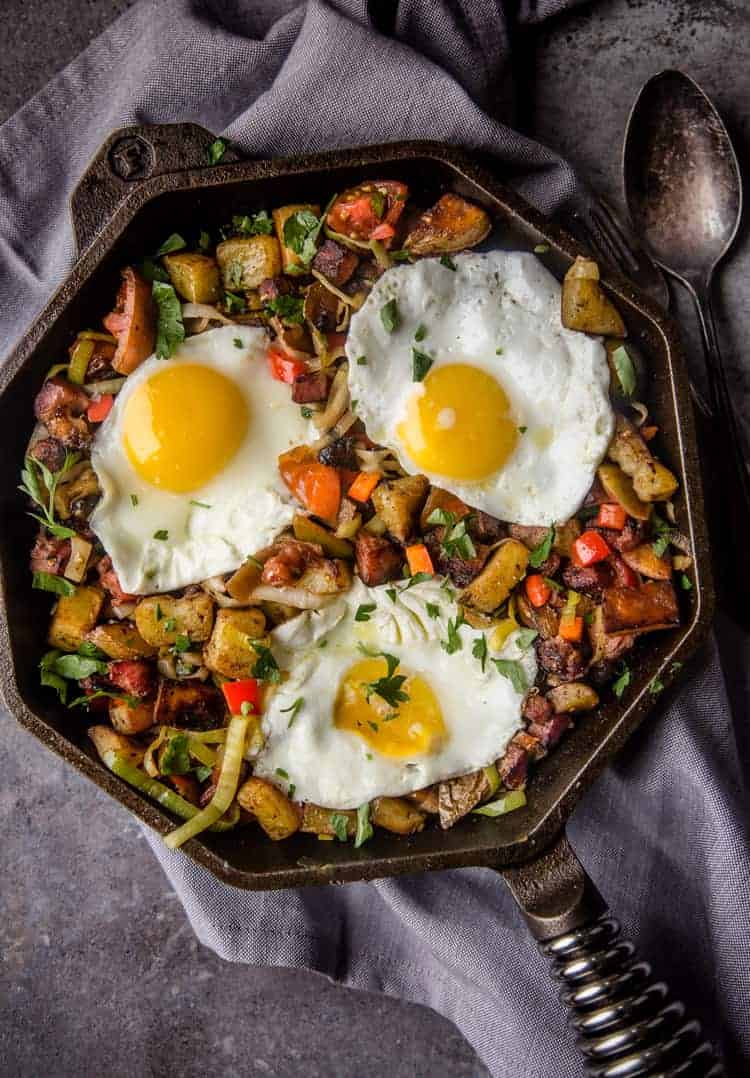 Ham is definitely a classic for many folks Easter and Christmas dinner, but it can often result in lots of leftovers. Let's be honest, when you've had your 8th ham sandwich it's time to change things up.
Enter hash.
A breakfast hash is not only the greatest use for any leftover holiday ham, but it's pretty much the best way to use up really any leftovers from any big dinner. Seriously anything! Leftover smoked meats from the weekend's cook, random veggies or other leftovers that you don't know what to do with. It can all go into a hash. But the better the original contents, the better the hash. And if you happen to have made this Double Smoked Ham with Cherry Bourbon Glaze, then you're in for an incredible breakfast treat.
How to make a great Breakfast Hash
Start with your ingredients. I like to start with the meat, since that's usually the catalyst for making any hash in the first place. In this case we have Smoked Ham. A hash also works great with leftover smoked pulled pork, brisket, chicken, you name it. The ham is going to give it a great savoriness and smoky flavor.
Next you'll want to chop it up into bite size cubes (see photo below), then heat it up in a hot skillet. We love cast iron for this, as it helps to get the meat nice and crispy! Crispy is the name of the game with a good hash. Awwwe yeah!
Best Potatoes for a Breakfast Hash
For a hash we're prepping the potatoes the same way we do our all time favorite recipe for roasted potatoes. The only difference is we're cutting them a little smaller to match the size of the other ingredients.
I like yellow or Yukon gold potatoes for this. Feel free to use your favorite starchy potato.
To get perfectly cooked potatoes, start by par-boiling the potatoes, just like this recipe. This will help get them creamy on the inside, and crispy on the outside. After they're par-boiled, they're ready to be pan fried in the same cast iron skillet that the ham warmed up in. Bonus, it will cook in any leftover fats from the ham (adding layers upon layers of delicious savory flavors to those potatoes)! Once the ham is crisped up, then transfer it to a bowl, and then cook the potatoes in the same pan until crispy.
Next add your Vegetables and Start Layering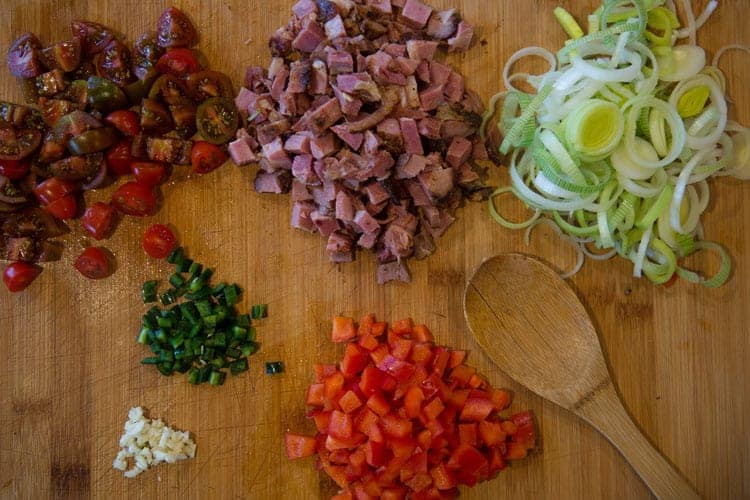 Start with your favorite allium (onion family). You can use onions, shallots, or in our case, leeks. I enjoy flavor and texture that sliced leeks add to a breakfast hash. Soften the leeks along with some red bell pepper, then add some jalapeño for a touch of heat, and some garlic (because it's delicious), and soften. If you have any other favorite vegetables, this is the time to add them. The key is cooking each layer, one at a time. At the end we're gonna combine them all together.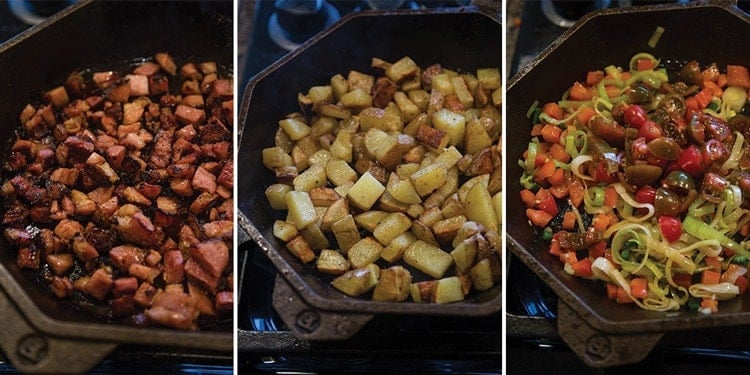 Just before you finish cooking, add back the ham, potatoes, then add the cherry tomatoes, and toss together.
Top your Ham Hash with an Egg
You can go two routes for this: cook the eggs IN the hash, by either cracking them directly in the pan and cooking them until done to your preference, or transferring them to the broiler to cook.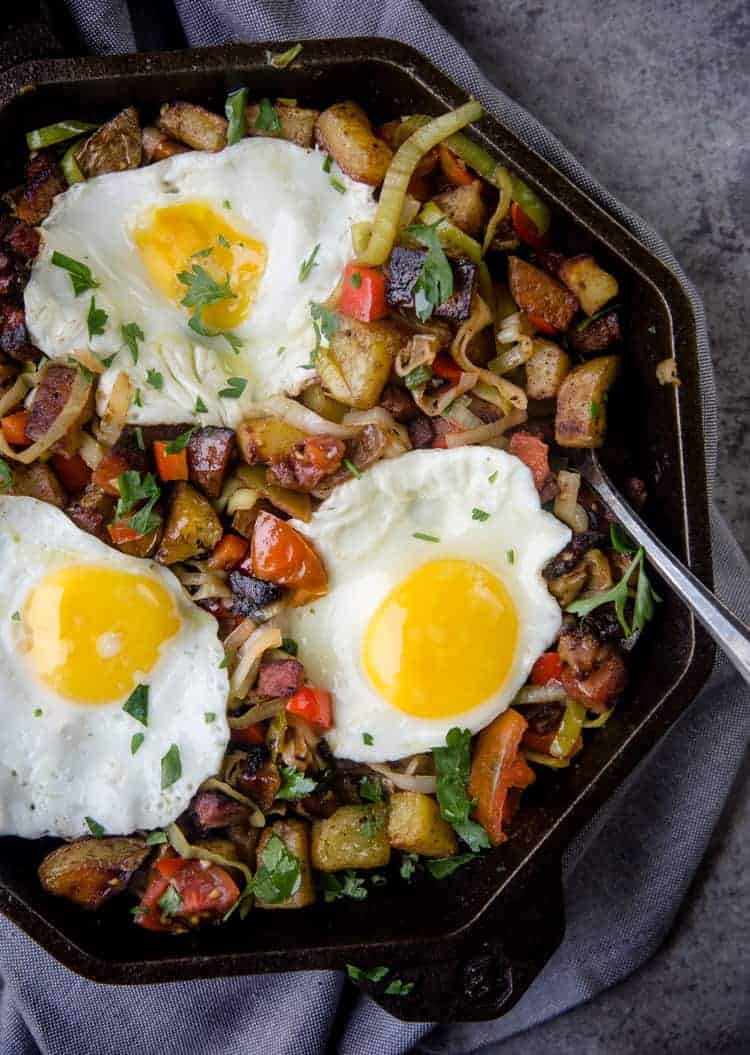 Or keep it simple, like we do, and just fry the eggs on the side, in a small non-stick skillet, cooked to each guests preference, then place on top of the hash just before serving. That way everyone gets their eggs cooked how they like them. I, for one, love a nice soft sunny side up egg, and my kids like them fried. #everyonewins!
Add anything else at this point to your Breakfast Hash
Want to top with some cheese? Go for it. Hot sauce? I'll judge you if you don't 😉
Finally, garnish away with your favorite herbs, like scallions, parsley, cilantro. And dig it!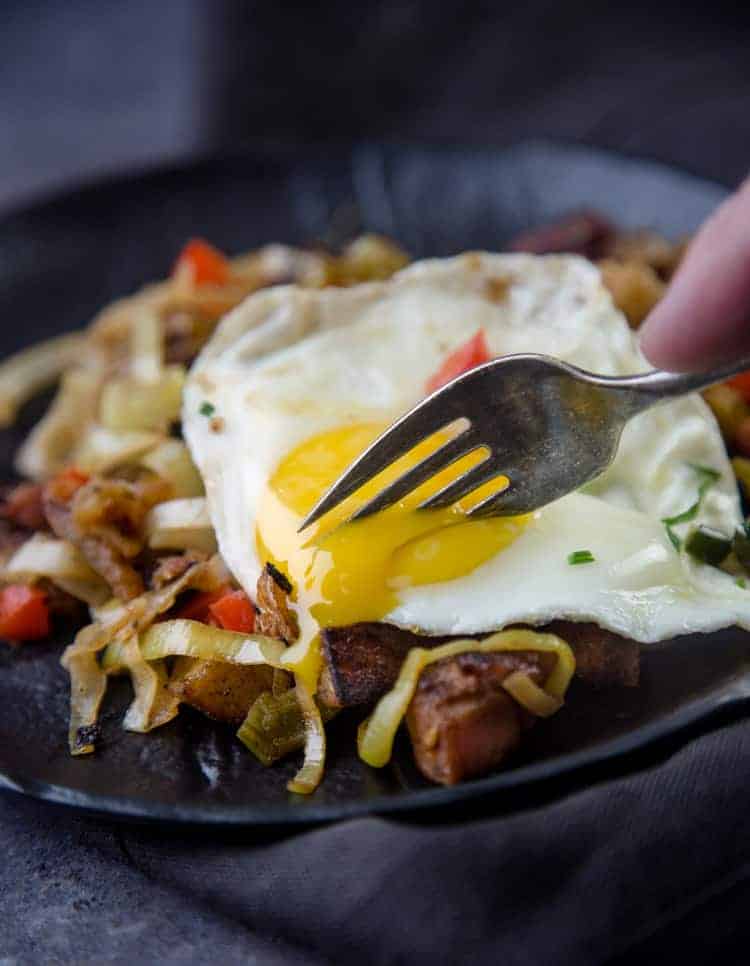 Want more Brunch Recipes?
---
Useful Products for this Recipe
Cast iron pan is very useful for creating a great crispy breakfast hash recipe. We recommend the following:
---
*This post contains affiliate links. We only recommend products we use and love! And all of the products mentioned above are those we use regularly and find immensely useful to our cooking.
If you like this recipe we'd truly appreciate it if you would give this recipe a star review! And if you share any of your pics on Instagram use the hashtag #vindulge. We LOVE to see it when you cook our recipes.