Learn how to make the perfect restaurant quality Oven Roasted Potatoes, and get them crispy on the outside and creamy on the inside, every single time!
This fool proof method will be your go-to recipe for perfect oven roasted potatoes.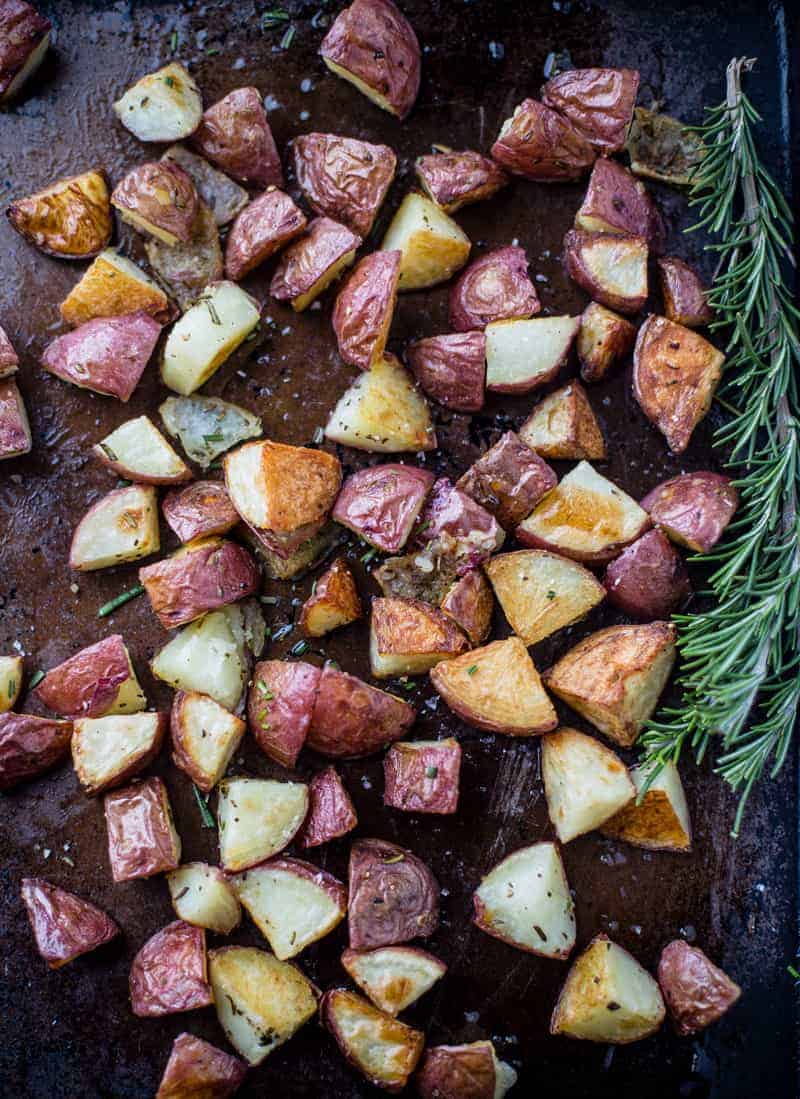 There's a question we get a lot here on the blog.
"What's the recipe you use for those potatoes we see in so many of your pictures?"
The crazy thing is that for the longest time I though we had posted this recipe. Nope! But it's true, we make these potatoes so often, and they are featured as a side dish for dozens of recipes here on the blog.
And the recipe is so simple. What it comes down to is perfect timing. Kind of like making the perfect hard boiled eggs. Everyone has their technique. Mine was taught to me by my friend Katy. It goes something like this: bring a double boiler to a simmer, add eggs and steam for exactly 15 minutes, remove and place in an ice bath. Perfect boiled eggs every time. (Thanks, Katy)
I learned the secret to perfect roasted potatoes in the most unlikely of locations — An Argentinean Restaurant in Central Italy. Seems like an odd combination, I know, but it's true.
These potatoes were everything! Creamy like perfect silky mashed potatoes on the inside, but crispy and flavorful on the outside. I asked the chef what his secret was. "Par boiling them for X minutes, and finishing them in the oven on a sheet pan on a high temp."
Now I say "X" because the time he gave me is different than the method we've adapted it to. We found, at least on our own stoves, here in the US, that his timing didn't work for us.
BUT what does work, and has worked for several years is this.
Which Potatoes Work Best for Roasted Potatoes?
For this method, we've found the following potatoes work best:
small new potatoes
yellow or red potatoes
Yukon Gold potatoes
With smaller potatoes we cut into quarters. Larger, like Yukon Golds, we will cut into sixths.
You're looking for a consistent size and shape. Too small and they will be all crunch. Too big, and they will take forever and have an unpleasant fall apart texture.
Now on to the secret of how to roast potatoes.
Par Boil the Potatoes
Place the cut potatoes in a medium to large pot (depending on how many potatoes you are cooking), THEN add cold water enough to cover the top of the potatoes. And…add KOSHER SALT, LOTS.
Turn your burner on high. This is where you start your timer. Set a timer for 15 minutes. Now the pot will come to a boil. around the 8 minute mark. Once it's boiling bring it down to a controlled simmer, and continue cooking until the 15 minutes is up. DO NOT start your 15 minutes after the water starts to boil. Start it the minute you put it on the pot and it begins to boil. This allows the potatoes to slowly heat up along with the water.
Around the 13 minute mark you can check for doneness by inserting a fork. It should start to feel soft, but still have a little push to it. That's when you know it is done. This is key, as you need to make sure you diced the potatoes at just the right size.
Once the 15 minute timer has gone off, drain the water and place the potatoes on a sheet pan.
Roast in the Oven
Toss the potatoes with a generous amount of olive oil, salt, pepper, and loads of fresh chopped rosemary (optional, but we LOVE the flavor of rosemary with these potatoes).
Place in a preheated 425 degree oven on convection. This is important. The convection will keep the air moving and help crisp up these taters! Cook 15 minutes. Toss. Cook 15 additional minutes.
Voila — the perfect oven roasted potatoes!
If your potatoes are a little thicker then you may need to adjust cooking temps by 5 more minutes. Just take one out and test it with a fork or knife. It should have a nice crispiness on the outside, and soft on the inside.
Don't have a convection oven? That's OK too. The convection simply rotates the air around the oven. With a traditional oven, use the same temperature, but stir up the potatoes every 10 minutes for about 50 minutes or you like the crispiness.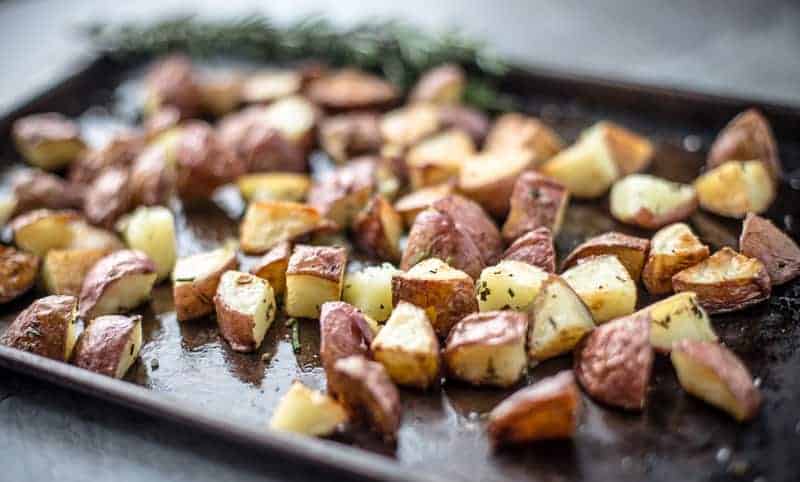 Use them as a side dish for your favorite brunch recipe or dinner entrée. See below for our favorite recipes to use these potatoes as a side dish for.
What to use these Roasted Potatoes as a side dish for?
Oven Roasted Potatoes Recipe
If you like this recipe we'd truly appreciate it if you would give this recipe a star review! And if you share any of your pics on Instagram use the hashtag #vindulge. We LOVE to see it when you cook our recipes.
---