A Classic Aperol Spritz Recipe, with a Pacific Northwest twist.
An Aperol Spritz is a light and refreshing Italian cocktail with the perfect balance of sweet and bitter. In this Aperol Spritz Recipe we give it new personality by adding some homemade blackberry simple syrup.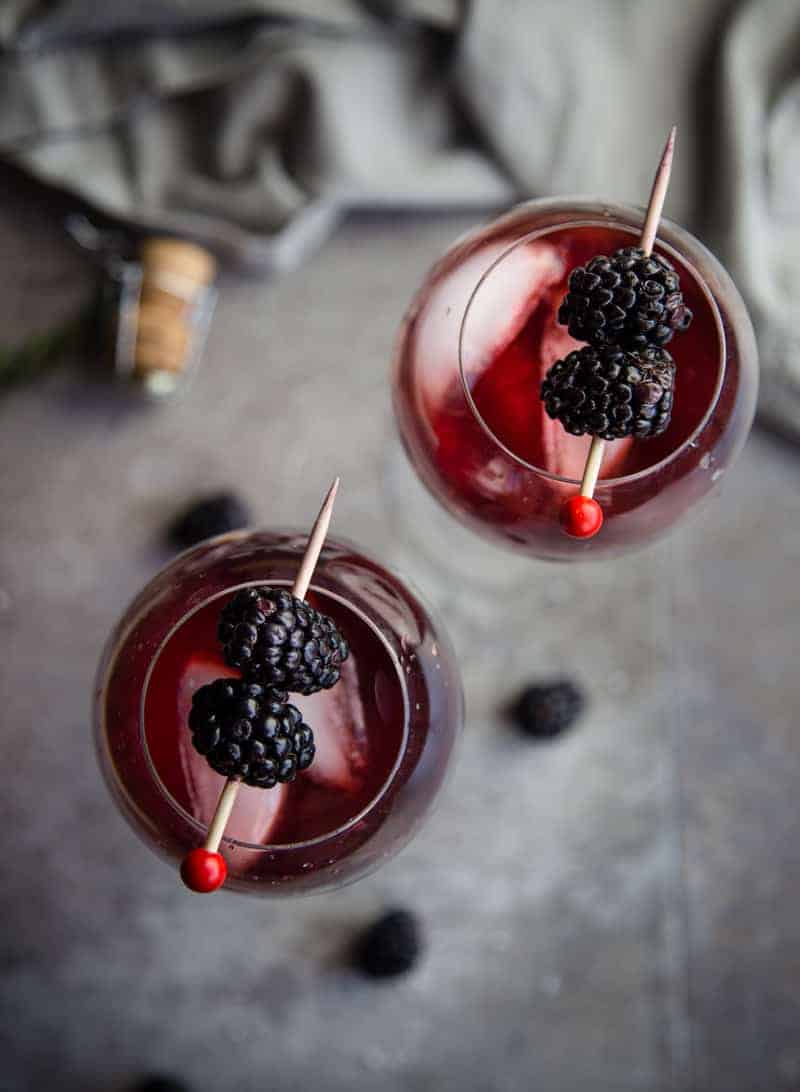 Aperol Spritz, An Italian Cocktail
Anybody who has been to the Veneto region of Northeast Italy will testify to the fact that the Aperol Spritz is *the* cocktail of the region. Shoot, many will say it's *the* cocktail of the entire country!
Hundreds of thousands of these refreshing drinks are sucked down daily, and for good reason.
So I thought, with the introduction to my trip to the region last December, it was fitting to begin with a cocktail… though one with a Pacific Northwest twist.
Aperol Spritz with a Twist
The Pacific Northwest is home to some of the most delicious berries in the country. And the property we live on, in Oregon wine country, is surrounded by blackberry bushes. I simply can't keep up with the amount of blackberries we have. We tend to pick several pounds at a time and freeze to use throughout the year. And frozen blackberries are perfect to make simple syrups with.
This recipe is inspired by my trip to Italy, and all the Aperol Spritzes I enjoyed.
And so, the Blackberry Aperol Spritz was born!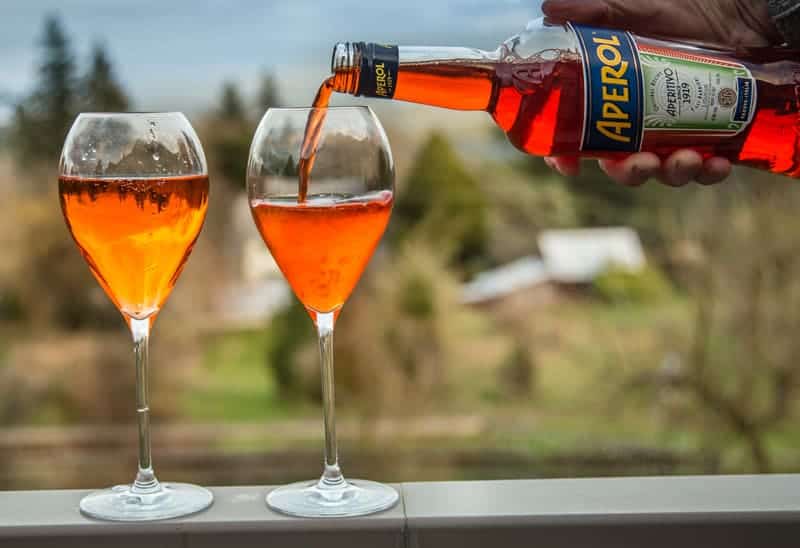 The Classic Aperol Spritz Recipe
If you have heard the term 3-2-1 Aperol Spritz, it is refering the ratios used to make this Italian Cocktail.
3 parts Prosecco
2 parts Aperol
1 part club soda (or a splash)
It is served on the rocks often in a rocks glass or standard white wine glass. Since I'm obsessed with my bubbly flutes (pictured above) so we used them, and added ice cubes after pouring. Side note, these are pretty darn remarkable to sip on while waiting for your smoked and grilled meats to finish cooking. #themoreyouknow
Blackberry Aperol Spritz
This cocktail uses the classic Aperol Sprit as a base, with an additional part blackberry simple syrup. The results are not only gorgeous, but delicious and equally refreshing as the original! The syrup balances out some of the bitterness from the Aperol.
How to Make A Blackberry Aperol Spritz
This recipe is similar to the classic, using the 3-2-1 method. However, we are going to add one more step — the blackberry syrup — making it 3-2-1-1.
In a rocks glass or white wine glass (or bubbly flutes, if you are like me) add:
3 parts Prosecco
2 parts Aperol
1 part club soda
1 part blackberry syrup
Add the ice, give it a stir, and enjoy this refreshing Italian Cocktail!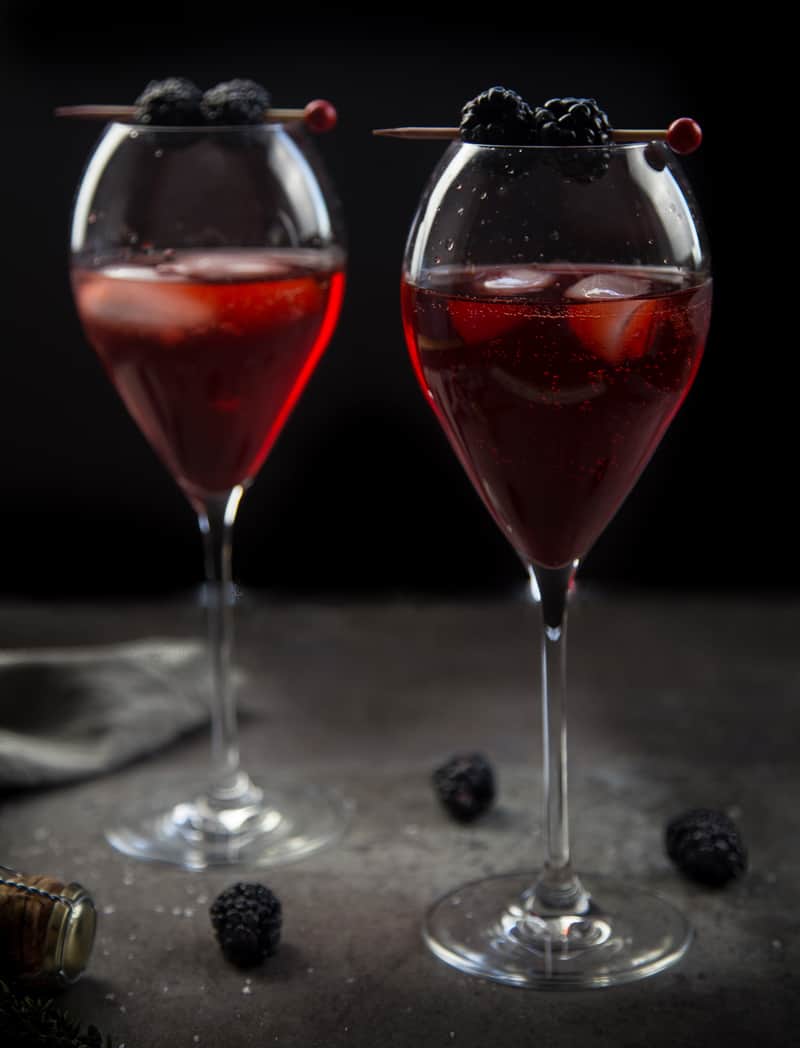 I'd be remiss to say that this would be quite the cocktail for Valentine's Day this weekend. I mean, that color! So fun.
The Video
Blackberry Aperol Spritz Recipe
More Cocktail Recipes
---
To read more on my trip to Italy check out this post on Conegliano Valdobbiadene, The home of Prosecco Superiore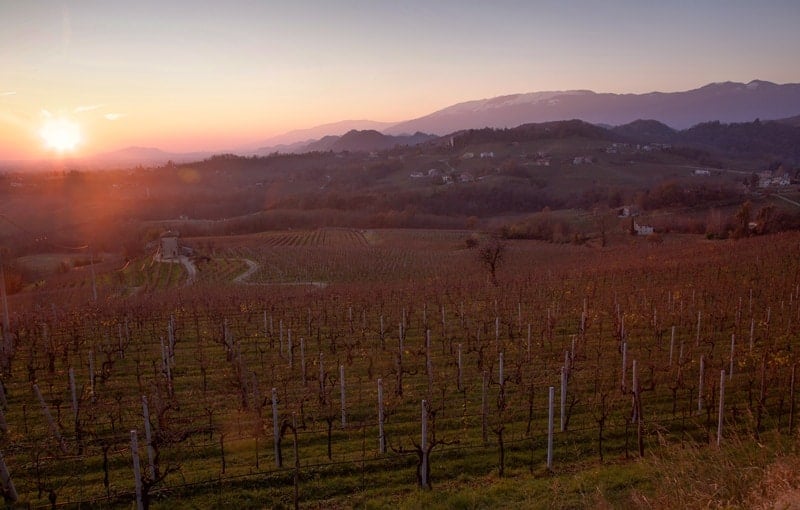 ---