This easy breakfast burrito has all the classic flavors. From tender steak, fresh veggies, to crispy potatoes. This Steak and Egg Breakfast Burrito recipe is fantastic when cooked on a grill for that extra wood smoke flavor (but can easily be made on the stovetop too).
This post is sponsored by MAK Grills. MAK Grills make superior and beautiful pellet grills in Oregon and are shipped throughout the US. All opinions are our own, because we love this grill and have been using one for years.
Breakfast burritos are a great way to pack all of your favorite meats and veggies into one tightly wrapped meal. Gently folded and wrapped up and topped with everything from sour cream, to enchilada sauce, or even your favorite pico de gallo.
This breakfast burrito recipe is all about simple, fresh, and delicious ingredients, and cooking them all at once on a grill. You can use a griddle like this accessory from MAK grills, or modify on any grill using a cast iron pan.
The added bonus of cooking your breakfast on the grill is being outside, spending time with friends and family, and then serving it family style for everyone to make their own.
Jump to: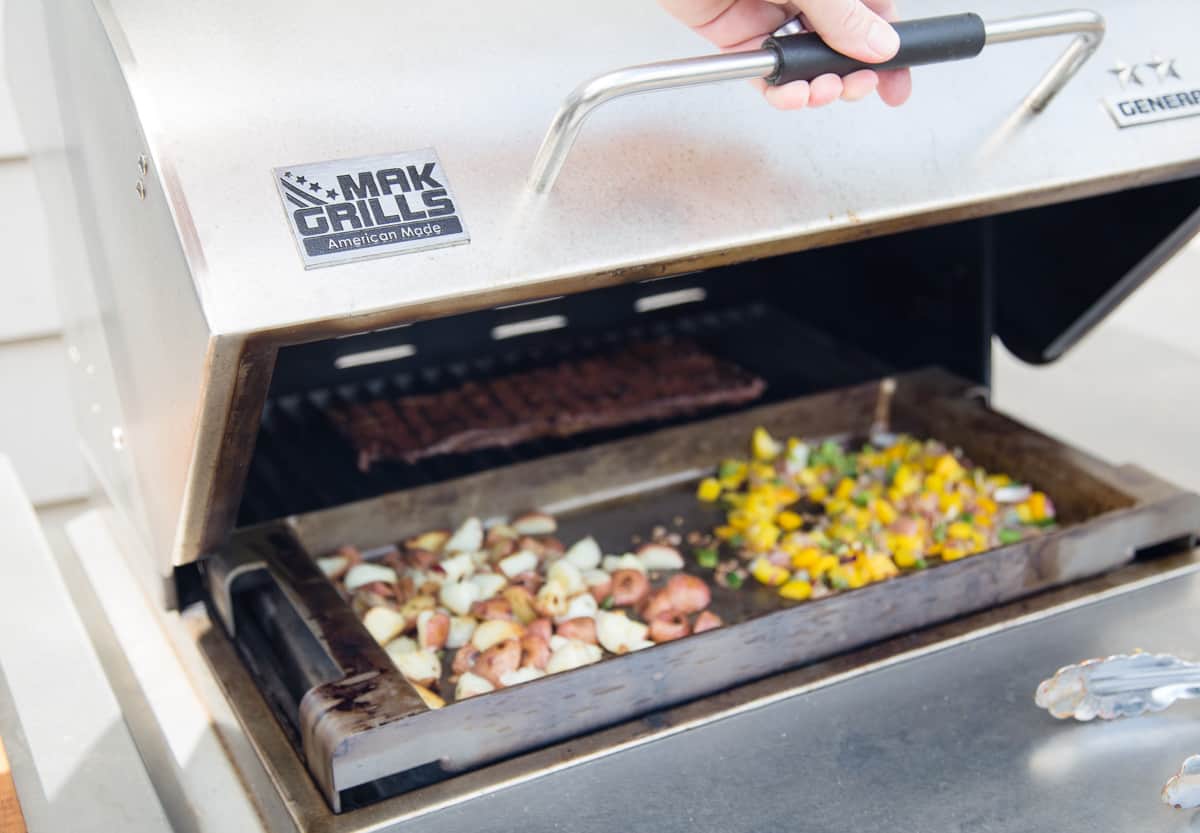 Breakfast Burrito Ingredients
There are unlimited options based on flavors you enjoy. Ours are very specific to a combination of fresh flavor, softened veggies, and meat. This includes:
Skirt Steak – A great steak that grills fast and has great tenderness when cutting up and using in a burrito. Hanger or flank also work well too. It cooks up quick along the side while the eggs and vegetables cook.
Soft and Crispy Potatoes – Adding that starch is a big part of the breakfast experience.
Hot Veggies – Sautéed red onions, bell pepper, and jalapeño are a great combination.
Fresh Veggies – Sliced avocado, fresh diced tomatoes, freshly squeezed lime juice, and cilantro. The fresh bright flavor is a nice complement to the hot food.
Cheese – We love sharp cheddar, but any cheese you love works.
Large Flour Tortilla – or your favorite gluten free alternative.
Toppings – Sour cream, salsa, hot sauce… this is where customization can really go wild.
Preparation
These steps will help you best use your time so that everything cooks at the proper time, and served hot. A few minutes in advance of prepping really goes a long way.
Season the meat – You can use a marinade if you want, we simply used a good dry rub. Season right before you cook or overnight for a dry brine.
Make salsa – We have an easy blender salsa that is very popular, as well as a fun smoked tomatillo salsa verde. Both are great for this breakfast burrito.
Prepare the potatoes – This step is important to get a good crispy potato on the griddle that is crispy outside, and soft inside. Quarter the potatoes and par-boil them for 14 minutes (yes it's that precise). Then drain.
Prepare eggs – Crack the eggs in a separate bowl and whisk to combine (we use six eggs for 4 people).
Chop vegetables – Dice up and prepare all the hot and fresh veggies. Place the onions, peppers, and jalapeños in one dish and separate the fresh ingredients so people can self serve right from a dish.
Sort ingredients – Prepare and set aside all the toppings in various bowls.
Preheat grill – Prepare the grill or your stove top to make it.
How to Grill and Make Breakfast Burritos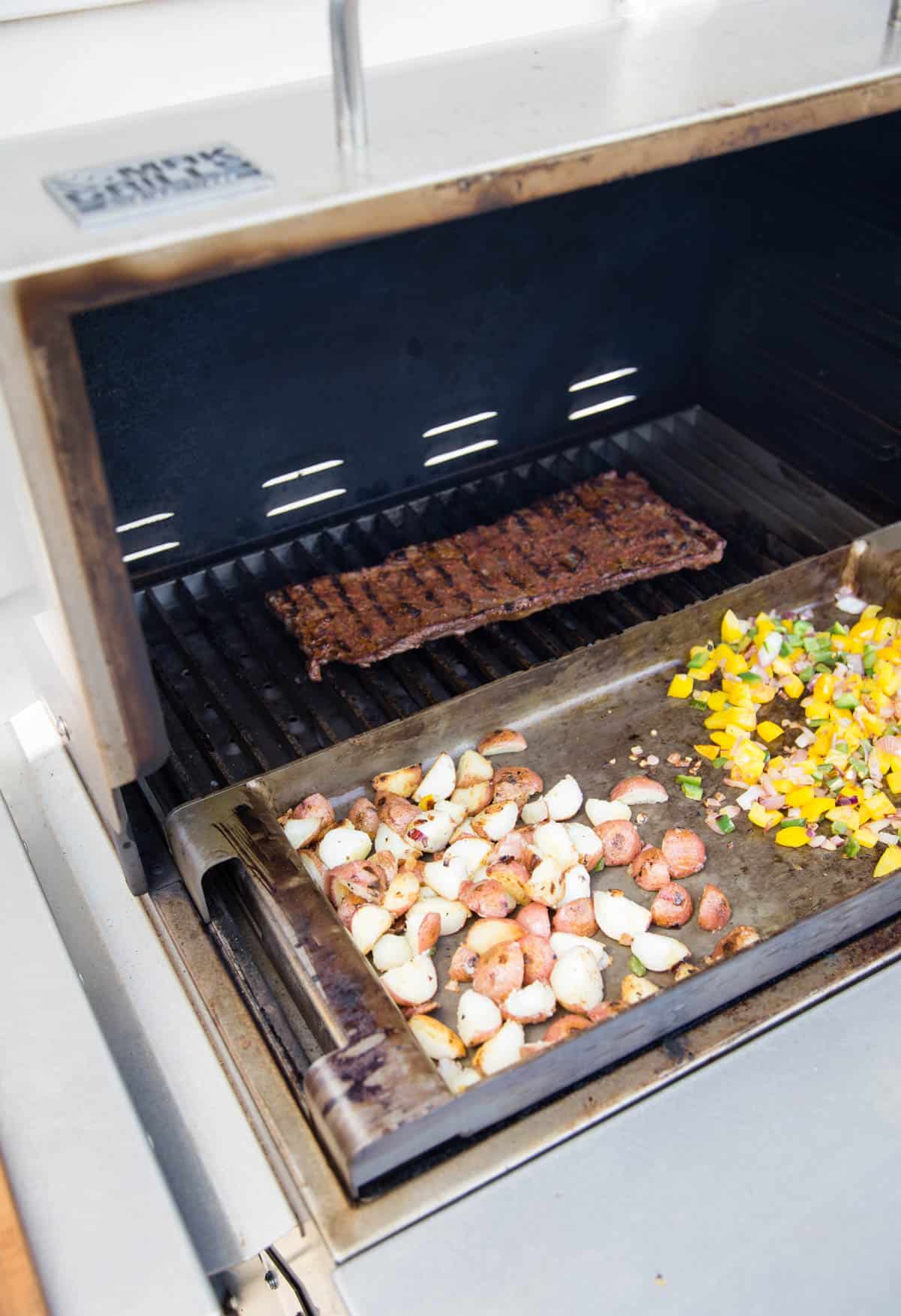 We're using our MAK Grills 2-Star General with the griddle and the grill grates. The temperature is set to high, which will average around 550 degrees. Remove the Flamezone plates so you can see the holes, and place the griddle and grill grate in their appropriate areas on the grill.
Grilling the Burritos
Once the grill is at temperature, add olive oil to the griddle. It may seem like it's sizzling a lot, but as the food gets onto the griddle it will cool it down.
Add potatoes. Stir the potatoes frequently. These will take the longest to cook. Roughly 15 minutes.
Place the steak on the grill grate. The steak will cook fast, in roughly 8 – 10 minutes.
After the potatoes have been cooking for 5 minutes move them to one side of the griddle, add more olive oil and then add onion and peppers to the opposite side.
Continue to stir the potatoes and the onion/pepper mix separately. This is about the time you flip the steak and finish it. We remove the steak when the internal temperature is 130 degrees F and then let it rest until the rest of the ingredients are done cooking.
After the onion/pepper mix have softened (about 10 minutes) remove them from the griddle, place them into a serving dish, and set them aside until you make burritos. Add a little more oil in the same place they were cooking and then add the eggs. The eggs will cook in 2 – 3 minutes. Continue to stir the eggs often to avoid it sticking/burning or over cooking. Remove from the grill when they are done and store in a separate dish.
By the time the eggs are done and off the griddle, the potatoes should be done and you can remove them too.
Finally, warm up the tortillas on the grill for a few seconds per side.
Slice up the steak and build your burritos.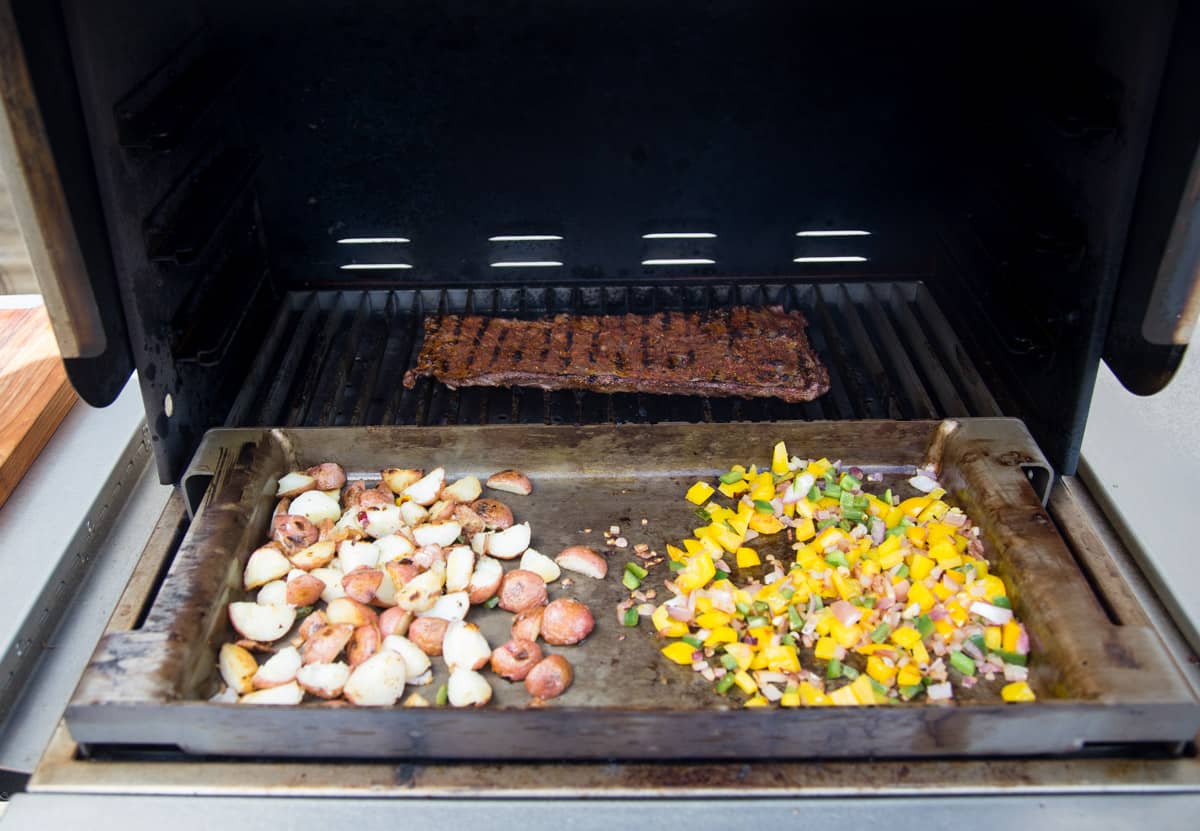 Rolling the Burrito
Since the fresh veggies and the toppings have already been prepared, now it's a matter of adding the filling and rolling the burrito. We like to place our ingredients in vertical rows on the burrito. And this is a great time to add hot sauce (not to be confused with our salsa).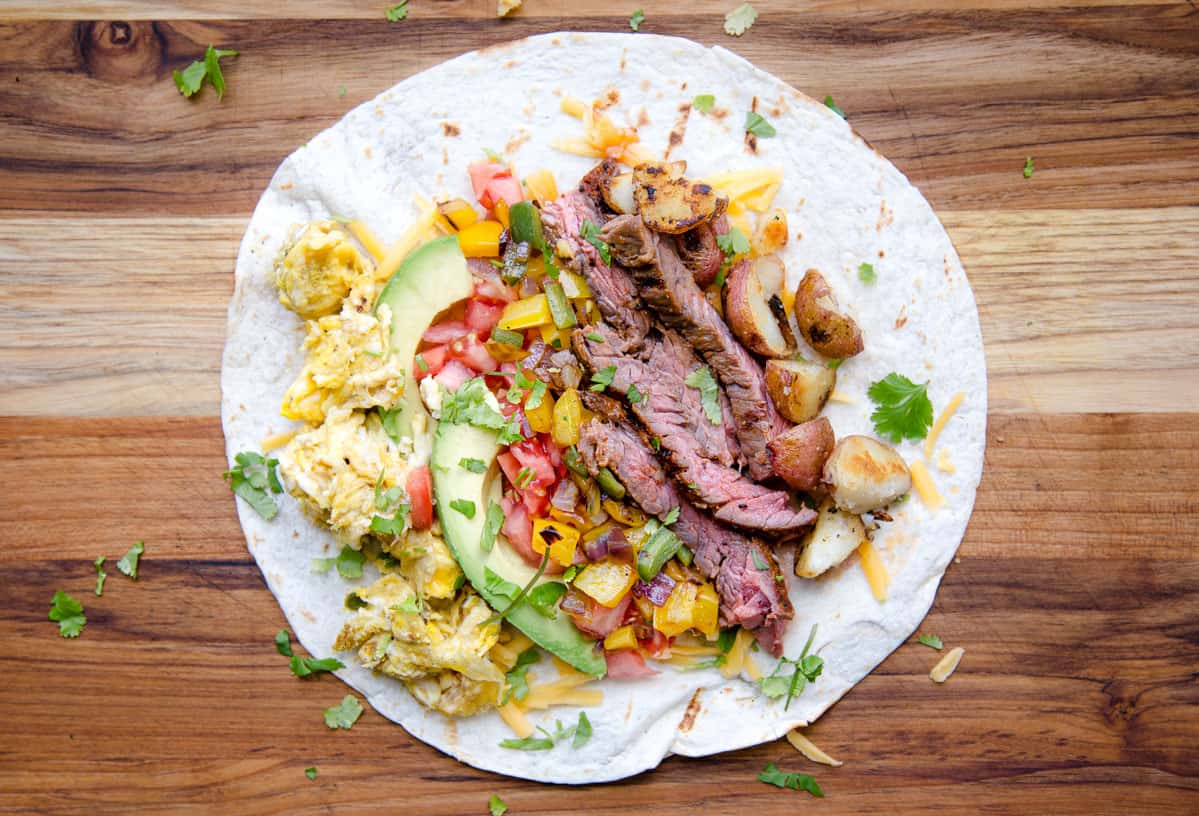 Then adjust the burrito so the toppings are horizontal, and gently fold the opposite sides in so they are about 1/2 inch over the food, on each side. Take the bottom non folded edge and tightly tuck that under the filling, almost like a shovel. Then roll the burrito tightly.
Top with your favorite ingredients, such as salsa, sour cream and any other fun flavor you want. The simple flavor and fresh ingredients are why we're drawn to this grilled breakfast burrito recipe.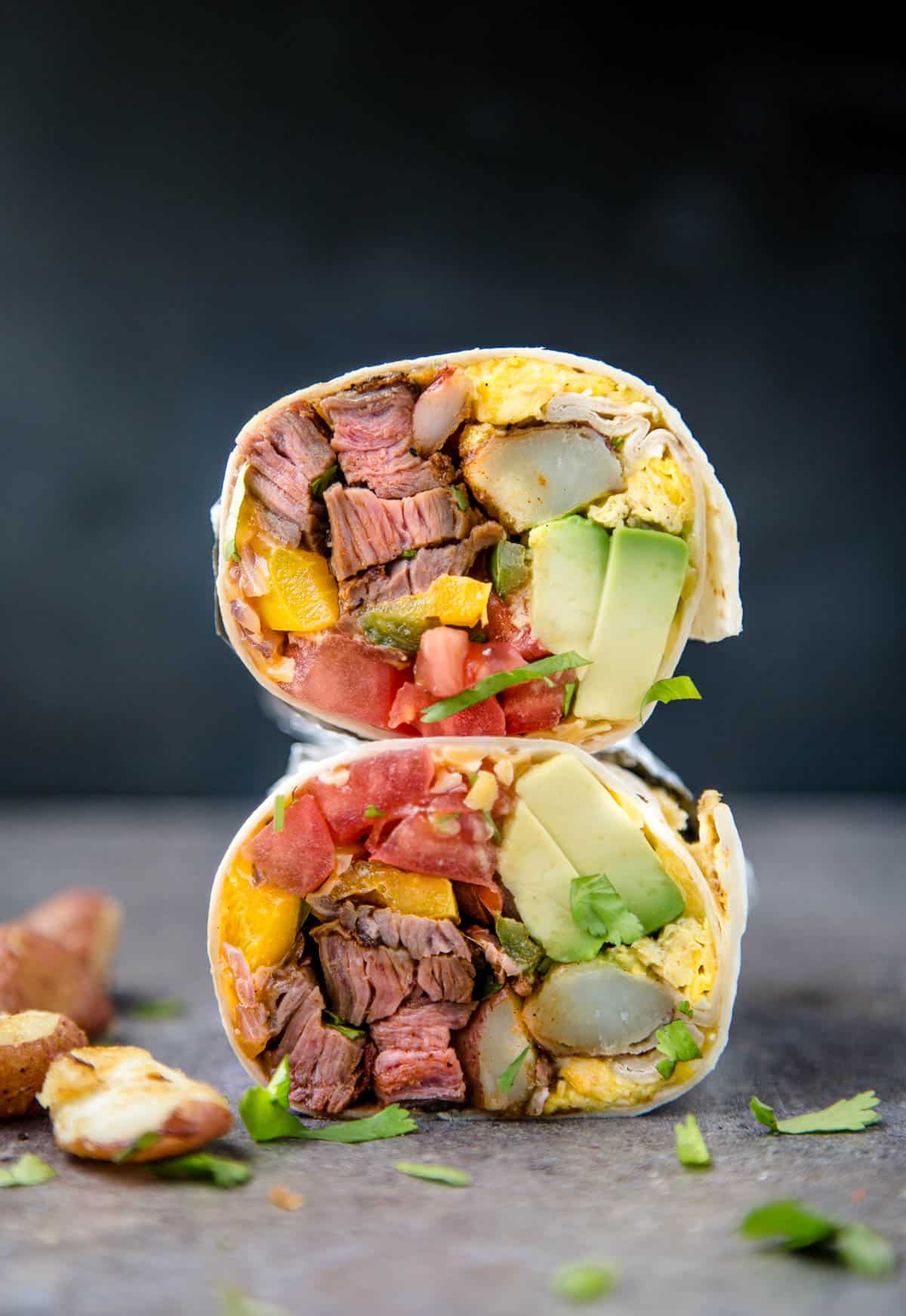 Other Grilled Breakfast Ideas
This post may contain affiliate links. This means if you click on the link, we may receive a small commission if you purchase through the link. We partner with brands we know and love and use and it helps keep the blog going!
If you like these recipes we'd truly appreciate it if you would give this recipe a star review! And if you share any of your pics on Instagram use the hashtag #vindulge. We LOVE to see it when you cook our recipes.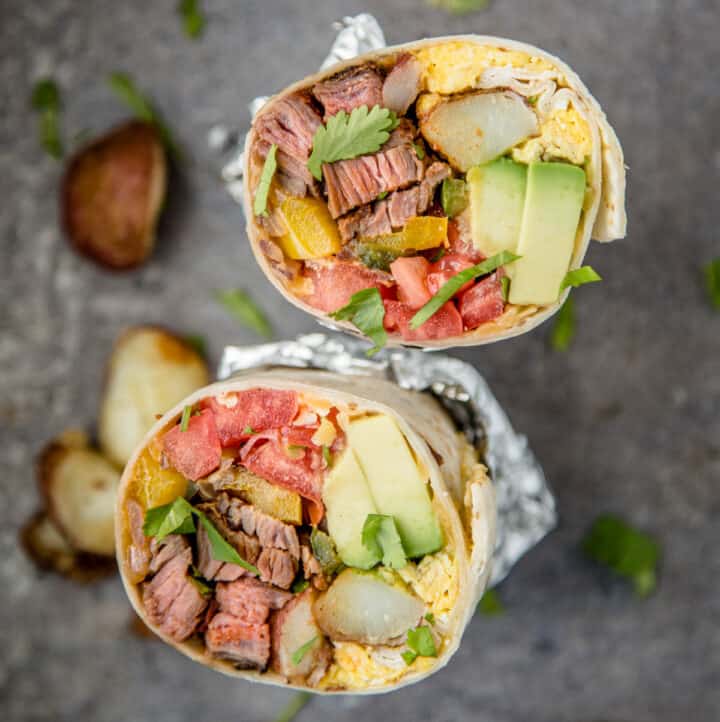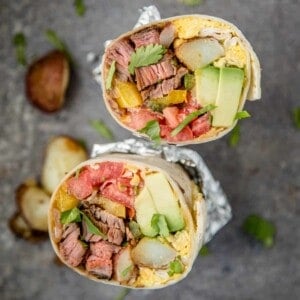 Grilled Breakfast Burrito Recipe with Steak and Eggs
A Steak and Egg Breakfast Burrito that is cooked entirely on the grill. This breakfast burrito has amazing slightly smoky flavor and is very easy to make.
Print
Pin
Rate
Ingredients
Burrito Filling
4

tablespoons

extra virgin olive oil

1

pound

red potatoes

1/2

cup

diced red onions

1

whole

yellow or red bell pepper, seeds and membrane removed, diced

1

large

 jalapeño, stems and seeds removed, finely diced

6

eggs

cracked and whisked together

1/2

cup

diced fresh tomatoes

2/3

cup

shredded cheddar cheese

1

whole

avocado, sliced

1/3

cup

finely diced cilantro

1/2

lime
Breakfast Burrito Topping Suggestions
1/2

cup

sour cream

1/2

cup

salsa
Instructions
Prepare the Meat
Trim off excess fat from the steak, coat with olive oil, and season with chicken seasoning.
Par Boil Potatoes
Quarter the potatoes and place in medium size pot. Add cold water so the water just covers the potatoes. Add 1/2 tablespoon of kosher salt to the water and turn burner on high.

As soon as you turn on the burner, set a timer for 14 minutes. Let the water come to a boil and then turn down heat for a simmer. Once the timer goes off, drain the water and the potatoes are now par boiled and ready to finish cooking on the griddle.
Prepare Ingredients
Prepare the grill for high heat cooking while potatoes start, targeting 550 degrees Fahrenheit. We're using our MAK 2-Star with the Flamezone feature which provides direct grilling access across the entire surface of the grill. Place the griddle accessory in the front part of the grates. We use the searing grate on the backside of the grill, or just use the standard grate. If you don't have a griddle, a large cast iron pan works well too.

While potatoes are cooking and grill is coming to temperature, prepare all the remaining ingredients.
Preparing the Burrito
In the hot griddle, add 2 tablespoons of olive oil and add the par cooked potatoes. The potatoes will take approximately 15 minutes to completely crisp up. Stir them frequently.

After potatoes have been searing for five minutes, move them to one side, add another 1 tablespoon of olive oil to the open side of the griddle and add onions, peppers, and jalapeños. Stir frequently and keep them separate from potatoes (about 5 – 6 minutes). When soft, remove them and place into a serving dish and set aside.

Place 1 tablespoon of oil again on the griddle and add the eggs. Stir and scramble the eggs frequently, trying to avoid them from running over into the potatoes. When cooked to your preference, remove and set aside.

Remove potatoes when they are crispy, and set aside.

Warm up tortillas on the searing grate to warm (up to 1 minute per tortilla, or until hot).
Grilling the Steak
As the potatoes cook, add the skirt steak on the searing grate. Grill for 4 minutes or until you see a nice sear. Flip the steak and grill for a remaining 4 minutes or until the internal temperature is 125 degrees for rare.

When the steak reaches your desired internal temperature, remove the steak and let it rest while the remaining ingredients finish cooking.

Slice the steak across the grains in thin slices.
Making Burritos
With all the ingredients laid out – add your favorite fillings to the burrito. Don't over stuff as you need to be able to roll the burrito. We like to layer with steak, onion mix, avocado, cheese, hot sauce, cilantro, diced fresh tomatoes, and eggs. Then we squeeze the lime over each burrito.

Add your favorite toppings like sour cream and salsa and enjoy.
Nutrition
Calories:
1076
kcal
|
Carbohydrates:
29
g
|
Protein:
79
g
|
Fat:
71
g
|
Saturated Fat:
24
g
|
Trans Fat:
1
g
|
Cholesterol:
1462
mg
|
Sodium:
986
mg
|
Potassium:
1635
mg
|
Fiber:
4
g
|
Sugar:
7
g
|
Vitamin A:
2894
IU
|
Vitamin C:
34
mg
|
Calcium:
421
mg
|
Iron:
10
mg