The ultimate Eggs Benedict made with Smoked Salmon. And I'm not talking about lox. Nope! Instead, this delicious salmon filet is slow smoked until tender and delicious, then topped with a perfect poached egg and a flavorful hollandaise sauce.
This is one of my all time favorite brunch recipes for a reason!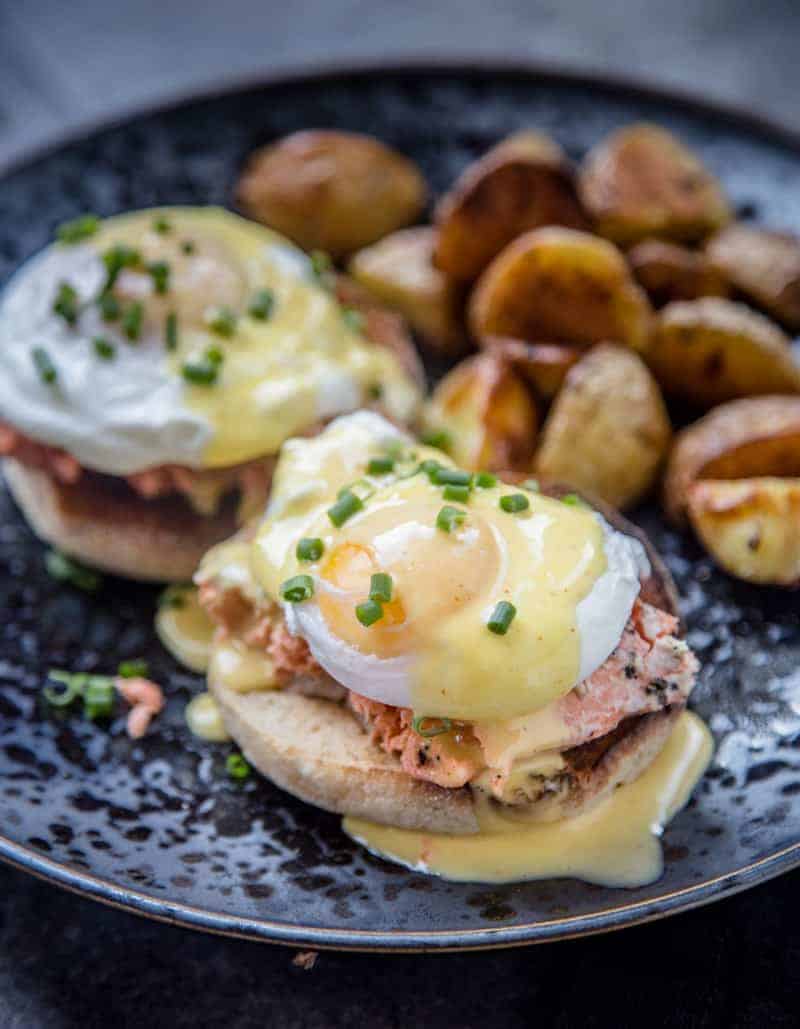 Eggs Benedict is my all time favorite breakfast, and one in which I judge all breakfast restaurants by. If they're known as a good brunch place, and they offer a Benie, I'm getting it. If it passes the Benie test, then they're solid in my book.
But you don't need to go to a restaurant for an excellent Eggs Benedict. You can make it at home! And even better with smoked salmon as a base.
The Cut — Which salmon to use for Smoked Salmon Eggs Benedict
This is not to be confused with lox (which is what you often see served with cream cheese and a bagel with capers).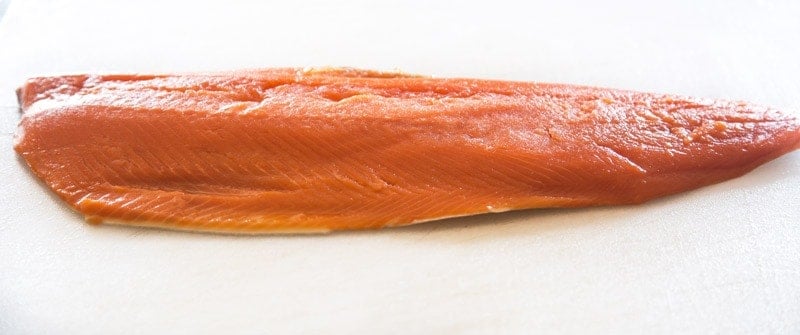 Quite often when you see "smoked salmon," especially at a grocery store or restaurant, it is cured and then smoked. That's the simplest way to define it (or "Lox").
Smoked salmon, the way we do it, is simply seasoned and smoked (not cured or brined). We're eliminating the curing and brining. It's not needed when you have a great piece of salmon screaming for that smoker of yours. You will often see this as "hot smoked" (vs. cold smoked, which is cooking at around 80-100 degrees).
Simply put, we are just cooking a salmon filet on our smoker, much like we do most other meats on this website. Think of it as a hot smoked salmon.
How to Prepare Salmon for Smoking
With salmon, our favorite way to prepare it is by coating with Dijon mustard. This process mimics the pellicle that develops with a brine. The pellicle is a thin coating that forms and helps with retaining smoke when brining. So in this case, it's hot smoked with the Dijon mustard doing the same thing.
Then rub with kosher salt and pepper. Since we're incorporating it into the Benedict dish, we're not trying to overpower it with a bunch of different flavors here. For our salmon eggs Benedict we want to simply enhance the pure delicious fresh flavor of the salmon.

How to Cook Salmon on the Smoker
Prep the Smoker: preheat the smoker to 225 degrees F.
Season Salmon: Season salmon with Dijon mustard, salt and pepper. If there are pin bones consider removing them (or have your butcher do it for you).
Smoke Salmon: Place salmon directly on your smoker (after it's been preheated). If you used farmed salmon (with more fat content) it may take longer. Always adjust for internal temperature.
Remove: Pull salmon off smoker when internal temperature reaches 130 degrees (medium rare). It's ok to cook high quality salmon at rare or medium rare. Use a high quality meat thermometer to take the temperature like a Thermoworks MK4 Thermapen.
Slice: Remove and cut into about 2″ length slices in preparation for the Benedict. A catering trick we use is to actually pre-slice the salmon while it's raw. We gently cut into 8-ounce squares using a boning knife and taking care not to cut through the skin. After the salmon is done, it can break apart easily. So pre-slicing will make for better presentation.
Alternatively, you can grill your salmon if you would like on a cedar plank. Heck, if you are inspired by this dish, you can even use leftover salmon from the night before. But our #1 recommendation, if you can, is to smoke it using the above method.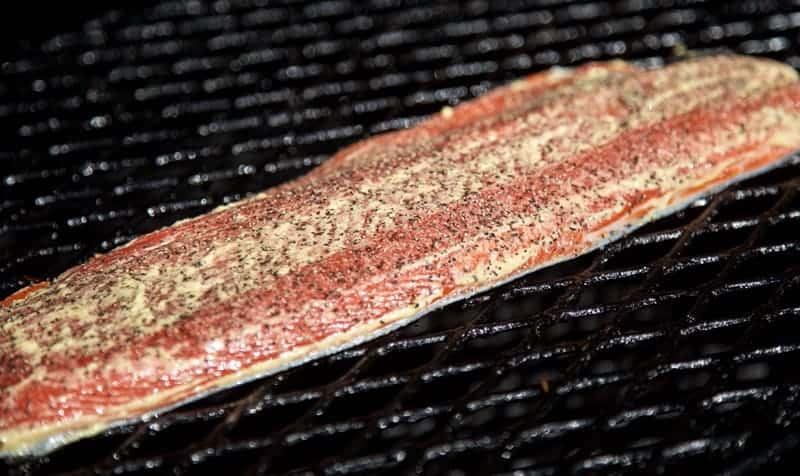 Hollandaise Sauce for Salmon Eggs Benedict
Next all you have to do is make your blender hollandaise sauce, poach your egg, and prep your bread. This is not the traditional way to make a hollandaise sauce for eggs Benedict. This is simplified to be able to make it in your blender.
Melt butter in a small saucepan until hot.
In a blender, add the egg yolks, lemon juice, cayenne pepper, and salt, and blend for 20-30 seconds on LOW. ***(see notes in recipe)
While the blender is still going on low, remove the lid and and slowly add the hot butter to incorporate into the egg/lemon mixture, and keep blending, on low, for an additional 20-30 seconds until the sauce thickens.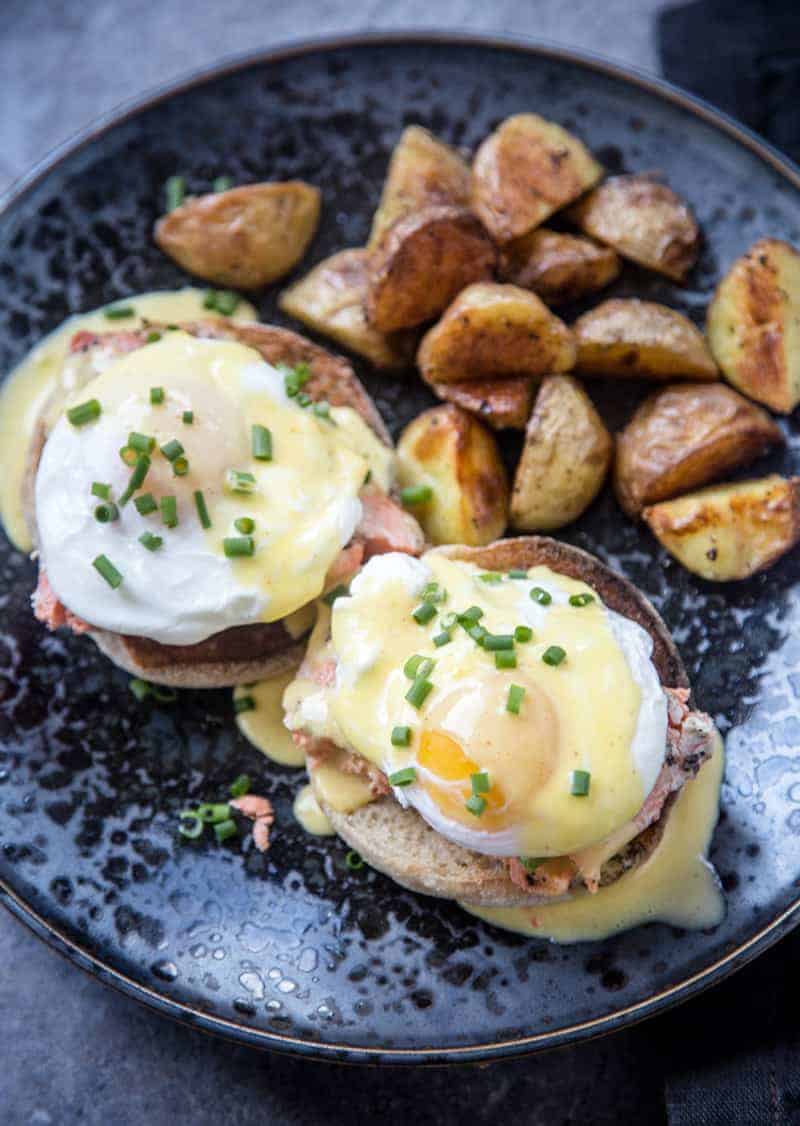 That's it. It may seem complicated to make eggs Benedict, especially with the added smoked salmon, but it's really not. It looks much fancier than it really is. It's just about following some simple techniques for great results. This is truly an indulgent and elegant breakfast that is certain to win over someone special…. especially for Mother's Day! Believe me, I know.
How to Poach an Egg
Poaching the perfect egg can be done with a few steps.
Use a sauté pan versus a large soup pot. A smaller shallow pan half filled with water makes it easier to avoid breaking the egg. Optional – Add white wine vinegar to the water for flavor.
Make sure the water is at a hot simmer, not a boil. This helps slowly cook the egg.
Break eggs into a separate dish like a ramekin. This allows you to remove any shell, and also to pour each egg individually into the water. Place the ramekin right next to the water and slowly pour the egg into the water. This also helps prevent the egg whites from going all over the place. We cook no more than 4 eggs at a time.
Use a spoon to gently pour the simmering water over the egg yolk until cooked. About 4 minutes.
Using a slotted spoon, remove the egg when it seems firm, but still has liquid in the yolk and place onto a plate with paper towel. This minimizes the amount of water that will spills onto the plate.
Repeat after the water comes back to a simmer for the remainder of the eggs.
More Brunch Recipes
Smoked Salmon Eggs Benedict Recipe
If you like this recipe we'd truly appreciate it if you would give it a star review! And if you share any of your pics on Instagram use the hashtag #vindulge. We LOVE to see it when you cook our recipes.
---