A delicious and festive 4-ingredient Pomegranate Mimosa made with sparkling wine, Cointreau, and pomegranate juice (plus garnish). The perfect cocktail recipe for holiday parties!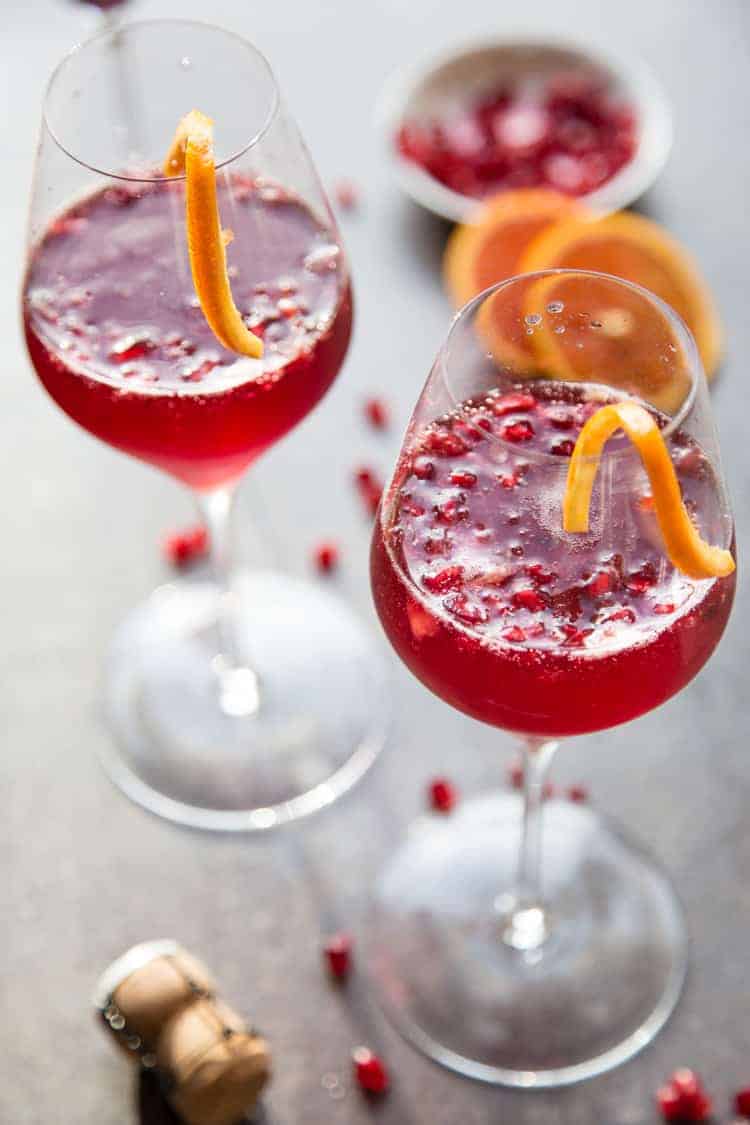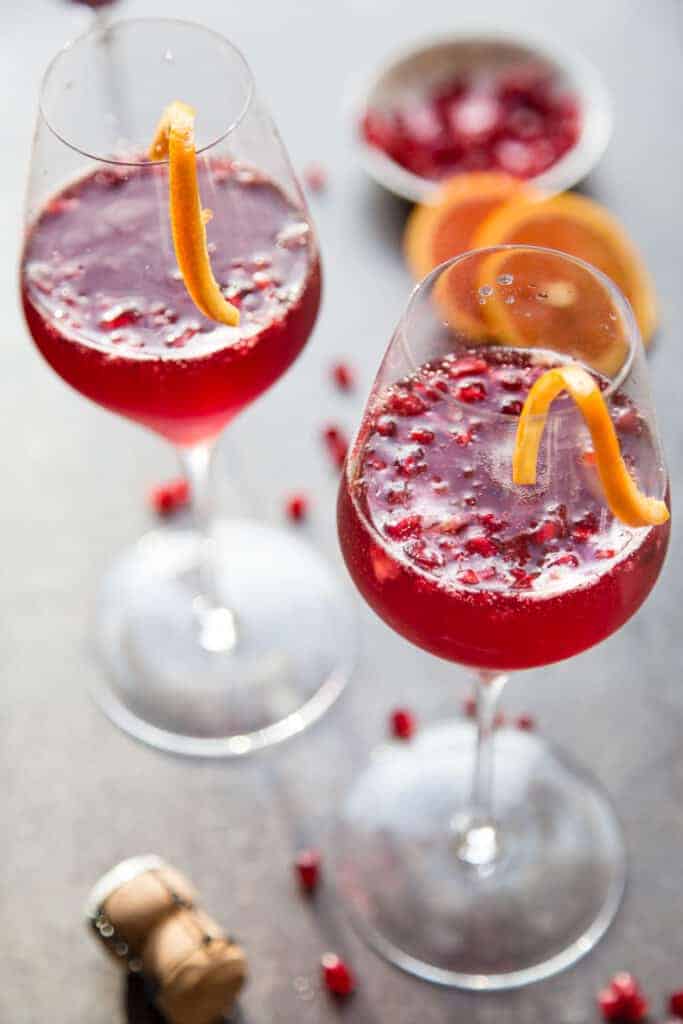 The Holiday Season is officially here (wohoo), and along with that comes the decorations, music, lights, shopping, and my favorite part, the holiday parties! Parties filled with good friends, good food, good wine, and tasty holiday cocktails.
This time of year I like to jazz up sparkling wine with champagne cocktails, and Pomegranate Mimosas have become one of our favorites to share this time of year.
Pomegranate Cocktails
When I think of the typical orange juice mimosa I am reminded of brunch, so this is the perfect alternative for not only a holiday brunch, but also a cocktail party. Plus, pomegranates are in season in late fall and early winter. This cocktail is not only festive, but it is beautiful, delicious, and bubbly. What more could you want?
How to Make a Pomegranate Mimosa
Option 1: Use a fresh pomegranate and seed it. But be warned, they can be very messy and are prone to shoot fast bursts of deep colored red juice on your clothes or in your eyes, so cover up with an apron and work slowly.
Option 2: Buy pre-seeded pomegranate seeds. You can find these at Trader Joes or in the produce section of your grocery store.
Take your champagne flute or wine stem and add some fresh pomegranate juice, ½ oz of Cointreau (optional), then top with sparkling wine, and finally add some fresh pomegranate seeds for garnish.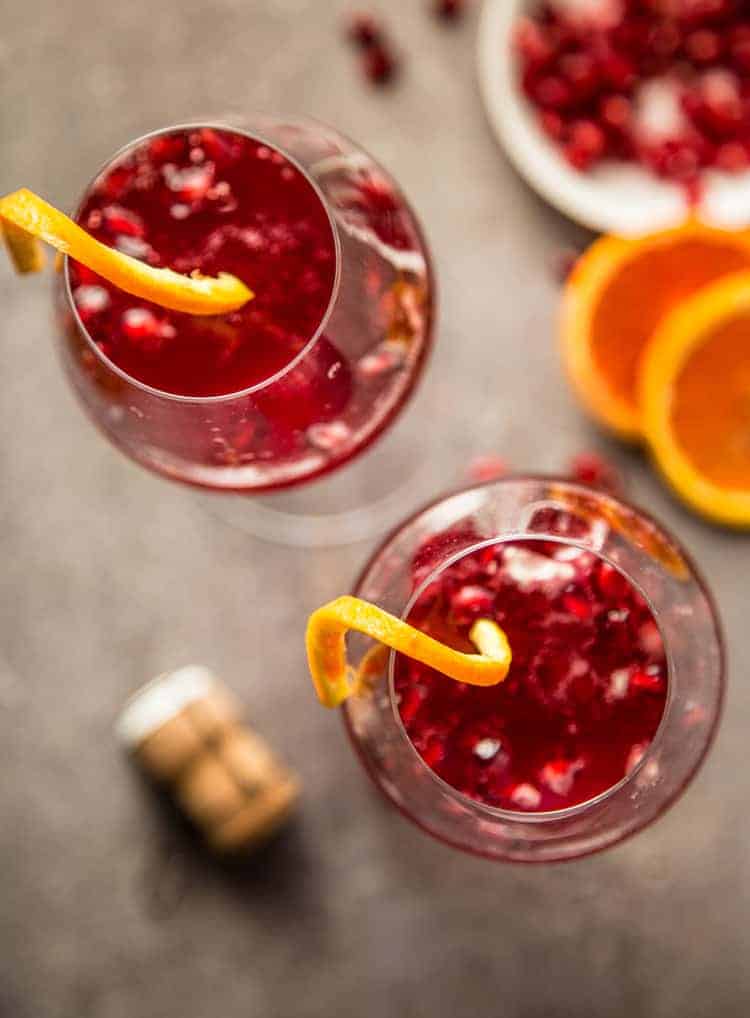 The Best Sparkling Wine to use for Champagne Cocktails
Use a dry sparkling wine (or "brut"). I like Cava for sparkling wine cocktails, but Prosecco works well too. You don't need to use an expensive Champagne or sparkling wine for a Pomegranate Mimosa. I like to keep it in the $7-$15 range for sparkling wine cocktails. The key is to have a dry sparkling wine. Stay away from Sec, Demi-Sec or other sweeter styles.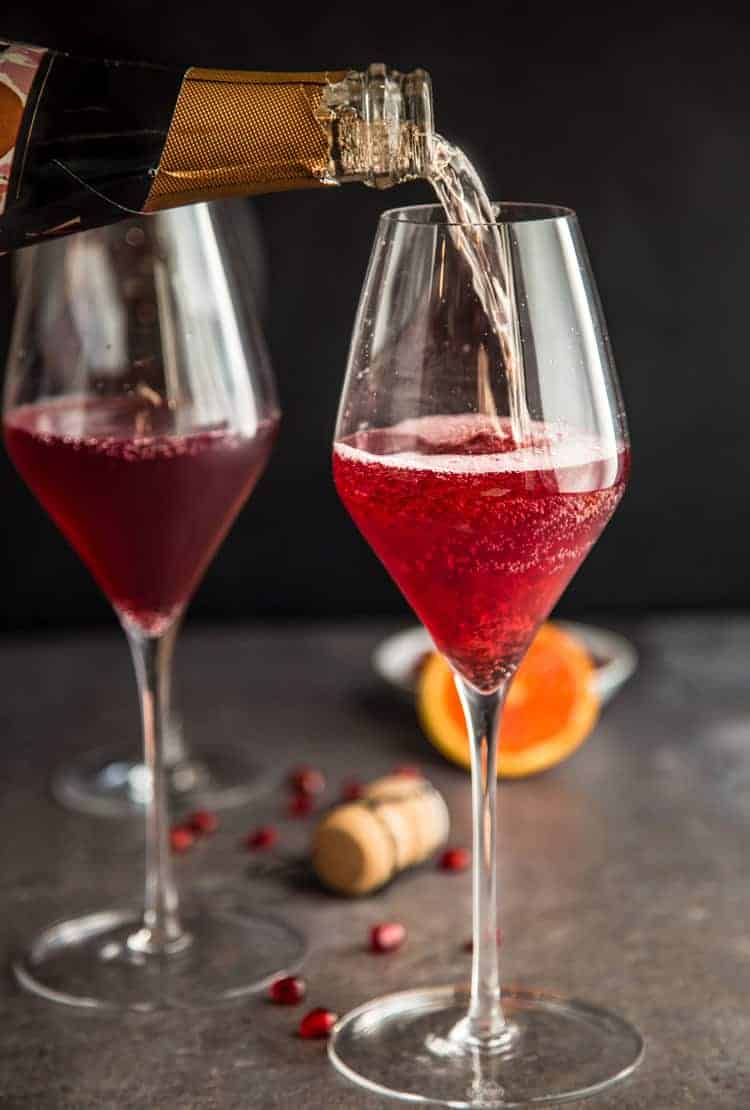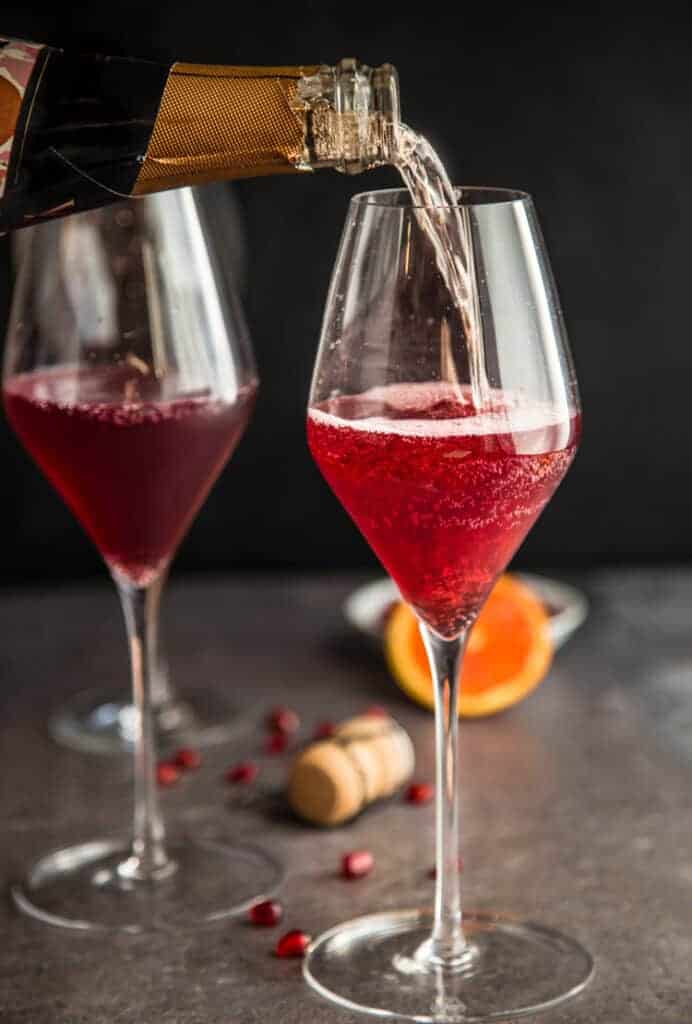 Recipe for Pomegranate Mimosa
*Tip:  If you have guests at your party that do not drink wine, just substitute sparkling water, soda water, or lime flavored soda and just add extra pomegranate juice. You could even try sparkling cider instead of wine. For more holiday party tips check out How to Host a Cocktail Party.
More Festive Holiday Cocktail Recipes
---
*This recipe was originally published in November 2009, and updated in December 2019 with new photos and details. The recipe remains the same.