This is a sponsored post written by me on behalf of Albertsons. All opinions are 100% mine.
Gluten Free Pizzas are a cinch when you use a take and bake option. Learn how to grill a frozen pizza with ease using a frozen broccoli or cauliflower crust pizza. That little added flavor from the charcoal elevates any frozen pizza.
These plant based options are great for those with food allergies but still want to join in on the pizza party.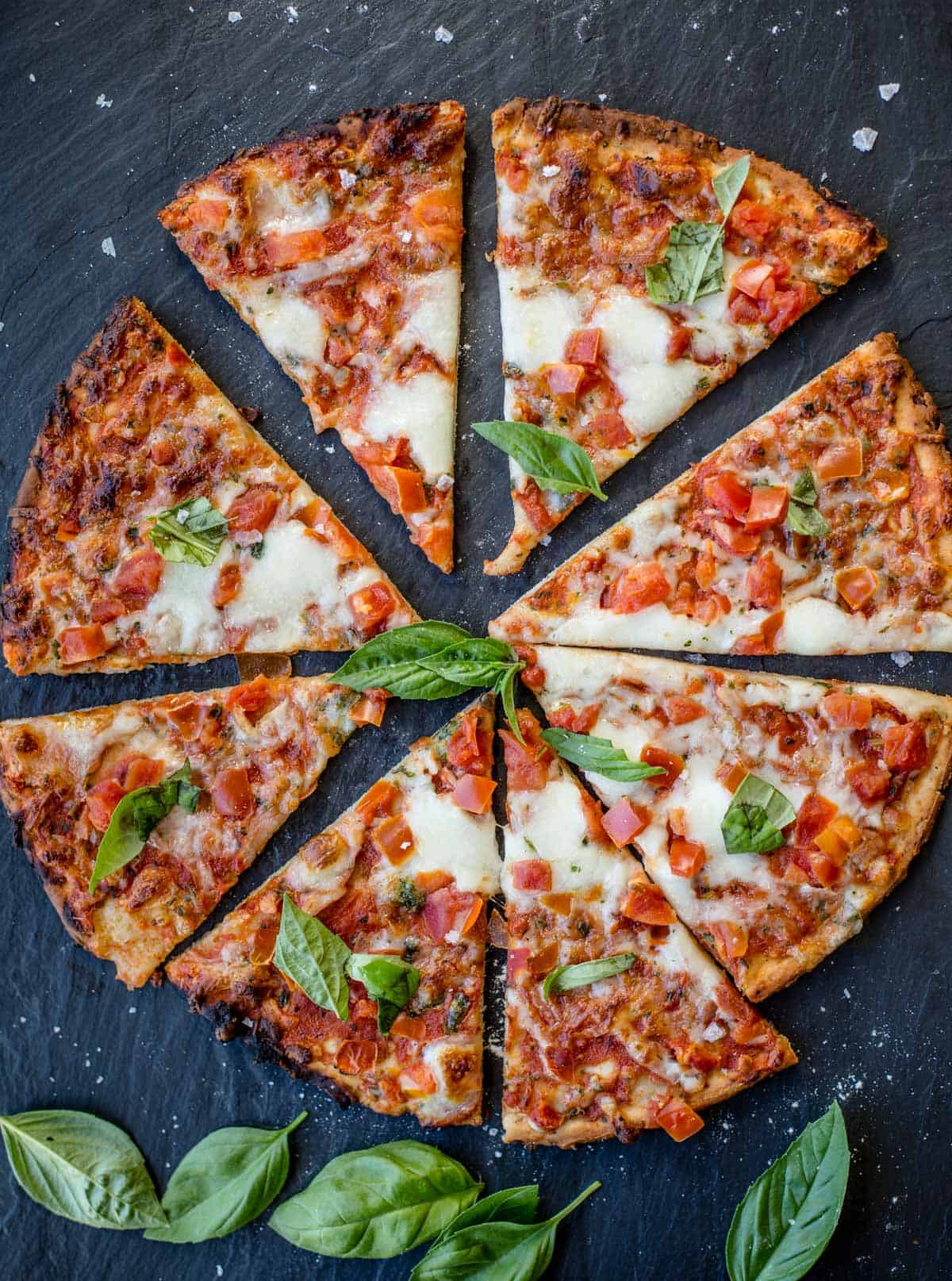 We discovered a few years ago that our boys are allergic to gluten, and one has strong dairy sensitivities. It was a hard to deal with at first, but we quickly discovered that there are LOADS of great (and delicious) alternatives to dairy and wheat. And with kids, a love for pizza is a given, so it was important to find a flavorful alternative so our kids didn't miss out on pizza night. Luckily our local Albertsons is filled with delicious plant based food my kids love, and they never feel like they're missing out.
Plant Based Meal Solutions on The Grill
Our kids were big dairy eaters from the beginning. But when we found out they have dairy sensitivities, we immediately searched for alternatives. They can tolerate some dairy (like small amounts of cheese, for example), but for things they eat every day, like milk, we avoid it. Almond milk has been our go-to ever since.
O Organics® offers high-quality, non-GMO and 100% USDA-certified organic plant-based products including non-dairy milk alternatives, nut butters, and frozen ingredients, meal solutions, and desserts. Both O Organics and Open Nature® plant-based products are a budget-friendly, without sacrificing quality and flavor. These are products that I feel good about serving to my kiddos.
They've always been huge smoothie fans, and a great smoothie is super simple to make with plant based foods. We start most days with a green smoothie made with O Organics Almond Milk, organic spinach, almond butter, and some frozen fruit. It's not only a great way to sneak in some extra veggies and protein, but they taste delicious.
But when Friday night dinner comes around we used to have the pizza dilemma. We do pizzas every Friday night, and grilling pizzas is our favorite way to cook them. It took a long time to find a good gluten free frozen pizza. Most dough are very sticky, and require pre-baking before adding your toppings. A frozen pizza, or even gluten free frozen pizza, is so easy to add to the grill and not sacrifice flavor.
We recently found the easiest way to do it was to use a frozen pizza. We have tried many brands of frozen dough and pizzas. Open Nature has a great selection of gluten free frozen pizzas, made with a cauliflower or broccoli crust. Boom. Not only are you sneaking in more veggies, but these ones actually taste good, and cook great on the grill!
I shopped at the Albertsons Barrows in my local area, but you can also find O Organics and Open Nature plant-based products at the Albertsons Companies family of stores, including Albertsons, Safeway, ACME Markets, Jewel-Osco, Vons, Randalls, Shaw's Supermarket, Star Market, and Tom Thumb, or online. Albertsons also offers Grocery Delivery and DriveUp & Go™ for convenient ways to shop!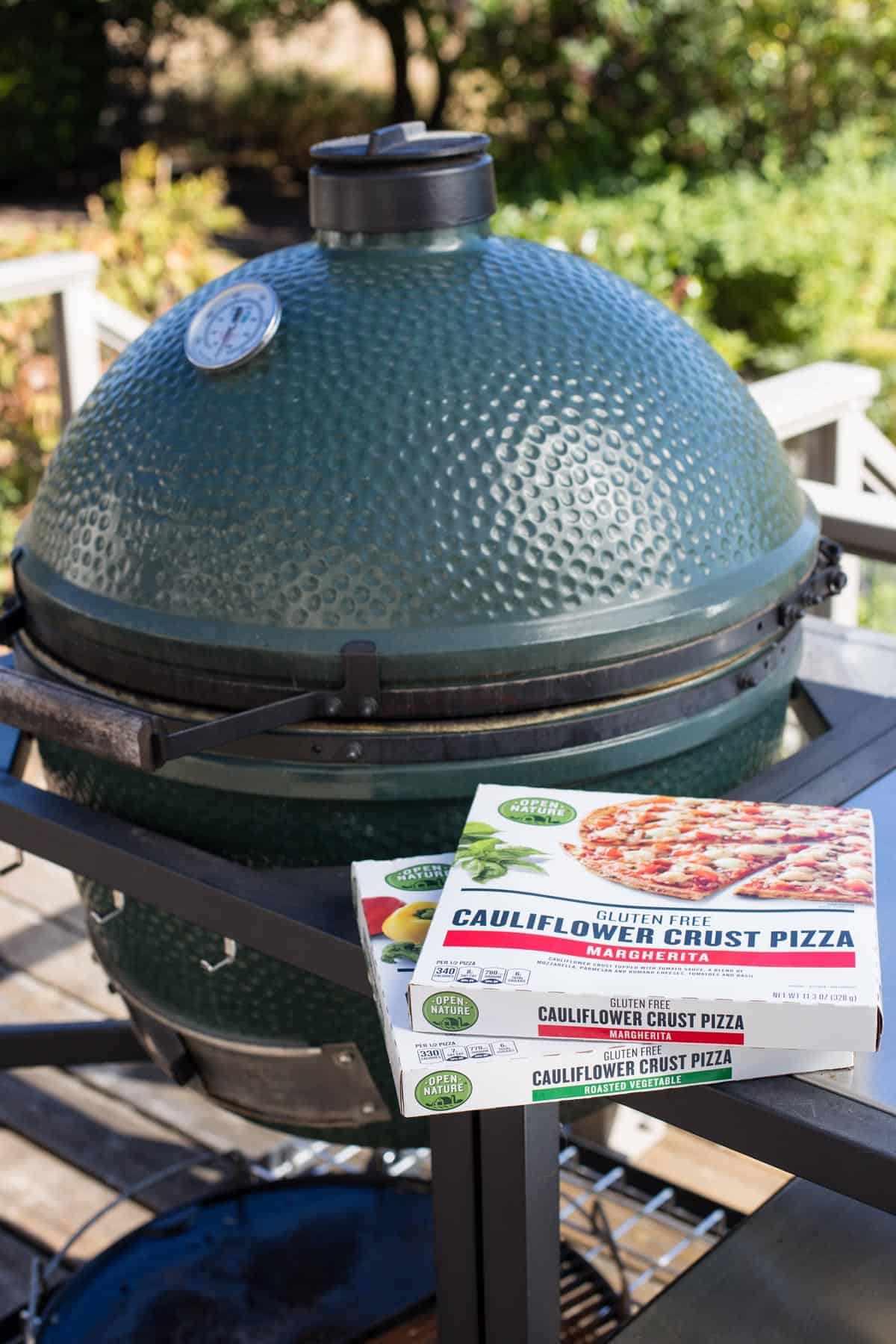 Gluten Free Frozen Pizza on the Grill
Our philosophy for cooking is that anything you can cook inside on your stovetop or grill can be cooked outside, on the smoker or grill, and it's so much better (and more fun too!). That applies to frozen pizza! Why use your oven when you have a grill?! Think about your grill the same way you do your oven. If a recipe says to bake something in the oven at 375 degrees, then set up your grill to the same temperature.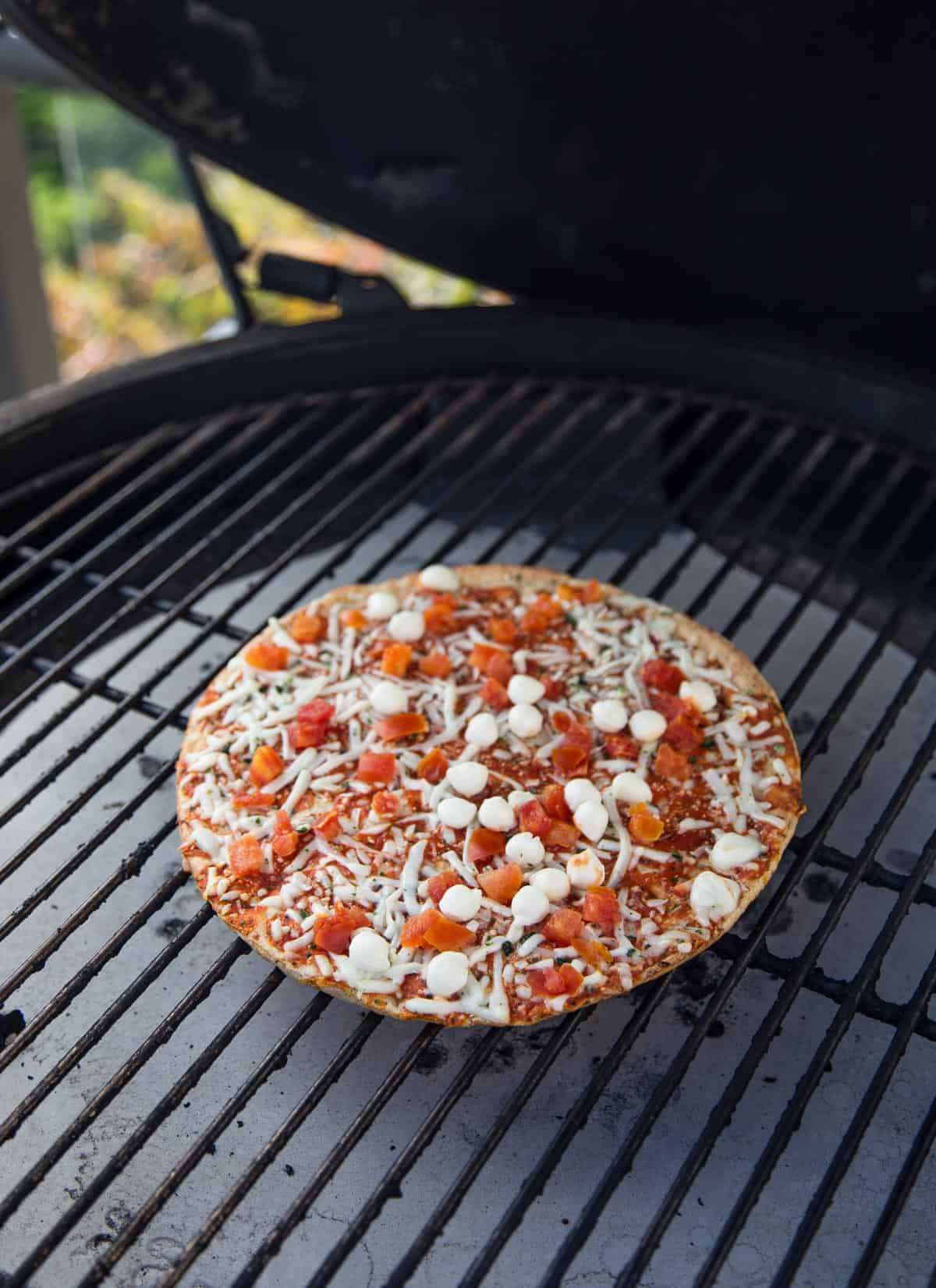 In this case, we are setting up the grill to 425 degrees over indirect heat. You can use whatever grill you have for this. We've grilled pizzas in this method on our Big Green Egg and also our pellet grill, both with great success!
Remove the plastic wrap from the pizza, and also the cardboard disk, then place in the middle of the grill and cook for around 12 minutes, or until the bottom crust looks and feels done.
Remove from grill, then slice and enjoy.
You'll get a mildly smoky flavor from the grill, and the crust will be crunchy and firm. Delish!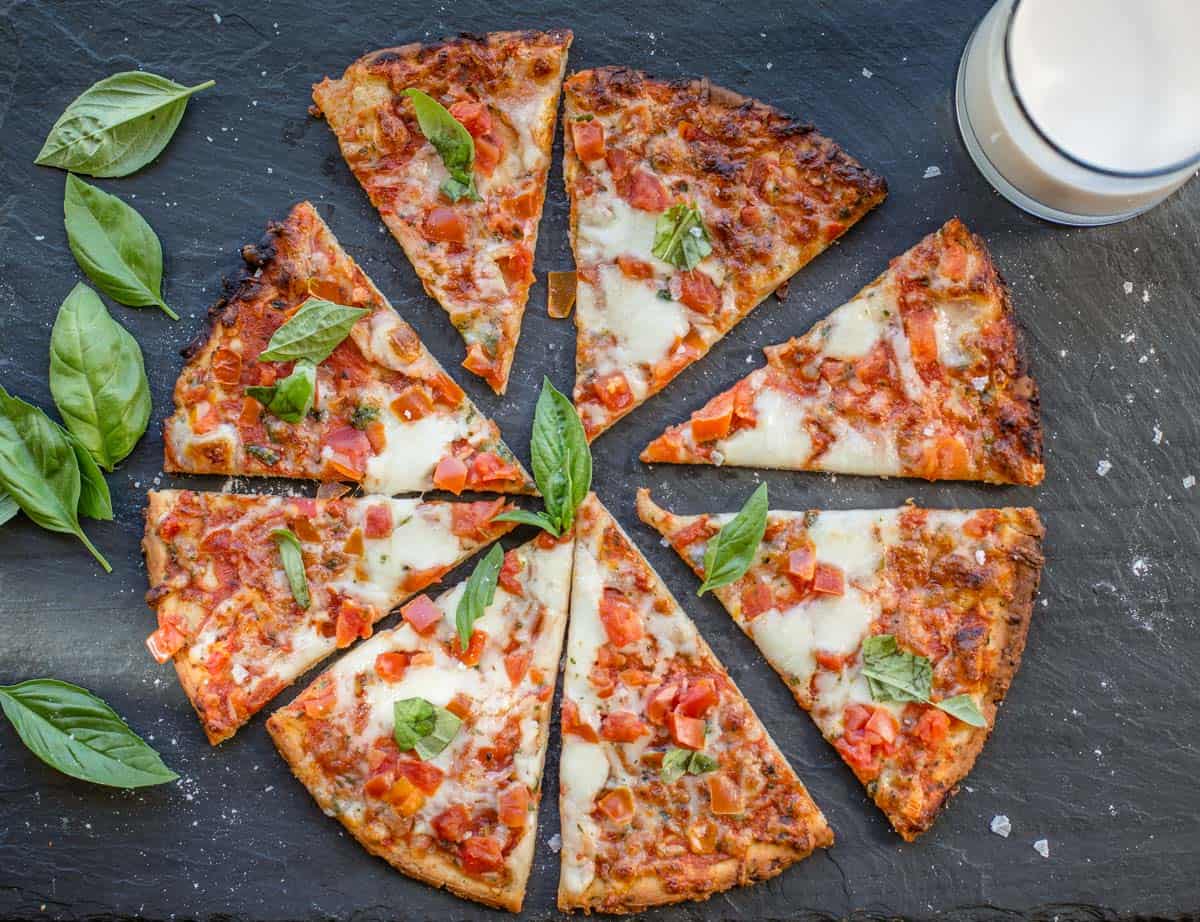 Other Great Grilled Pizza Ideas
How to Cook a Frozen Pizza on a Grill Recipe
How to Grill Frozen Pizza on a Pellet Grill
If you are using a pellet grill, like our MAK Pellet Grill, use an indirect method.
Preheat the grill to 425 degrees Fahrenheit. We like fruit pellet wood for the flavor.
Place the frozen pizza on the lowest rack on the grill. Discard the plastic wrap and the cardboard it came with.
Grill for 8 – 10 minutes until the crust is crispy and the cheese is melted. Remove and serve immediately.
How to Grill Frozen Pizza on a Big Green Egg
When using a kamado style grill like our Big Green Egg, it's best to use an indirect method of cooking.
Preheat the grill using lump charcoal and target 400 – 425 degrees Fahrenheit. Have the ConvEGGtor on with the legs up and place the rack on top of the ConvEGGtor. No pizza stone is needed.
Place the frozen pizza directly on the rack. Be sure to discard the cardboard and the plastic wrap.
Grill for 8 – 10 minutes or until the crust is crispy. Remove and serve immediately.
---