When it comes to grilling pizza, it's about a great dough and a hot fire. A few other tips are important when it comes to getting that golden crust and perfect flavor for Grilled Pizza on a Big Green Egg.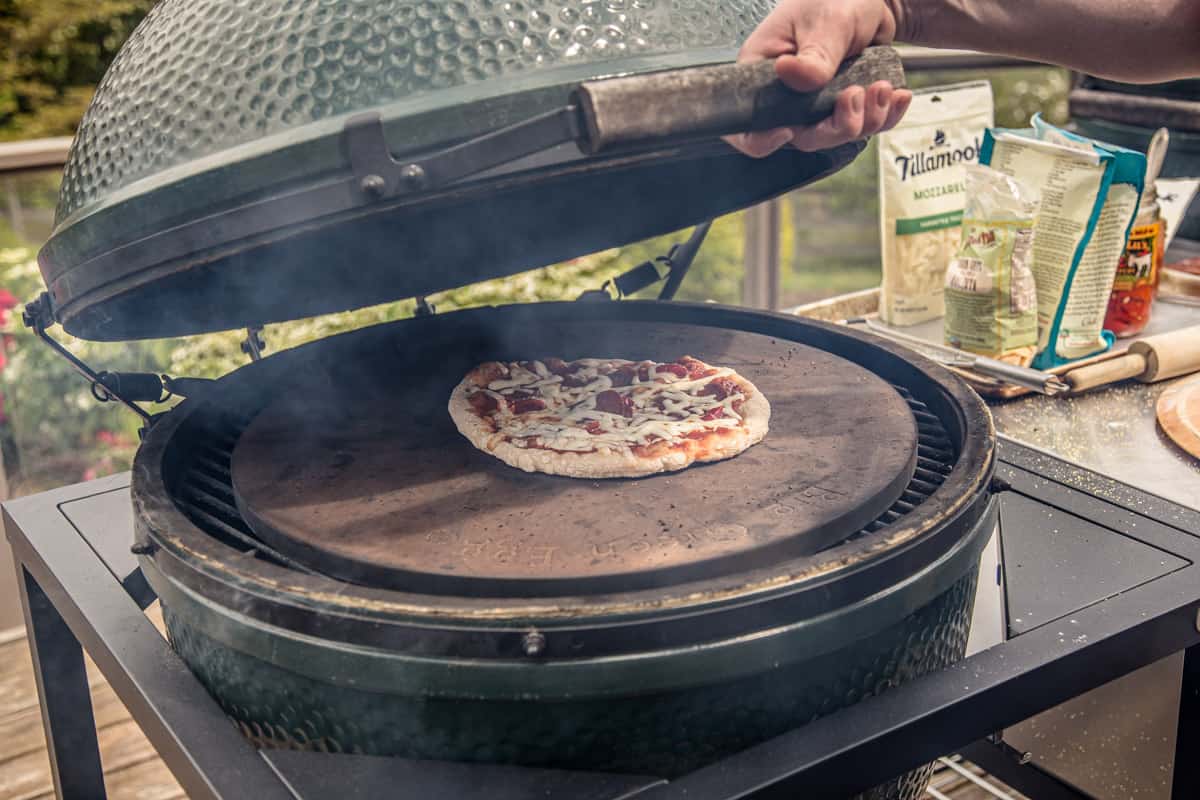 Jump to:
Grilling pizza is so much fun. Whether for a crowd, or just for your Friday pizza night, adding a wood fired flavor is delicious. We find that the best pizzas we have made really came down to have the right tools to make pizza on a grill easy, finding the perfect dough, which is one that is light and fluffy but still gets crispy, and cooking it at the right temperature of 500 degrees Fahrenheit.
This tutorial is about the technique of grilling pizza, rather than focusing on a specific recipe for the best pizza. While we do have a simple (and delicious) recipe at the bottom, you can use this technique to make your favorite combinations of pizza on your Big Green Egg.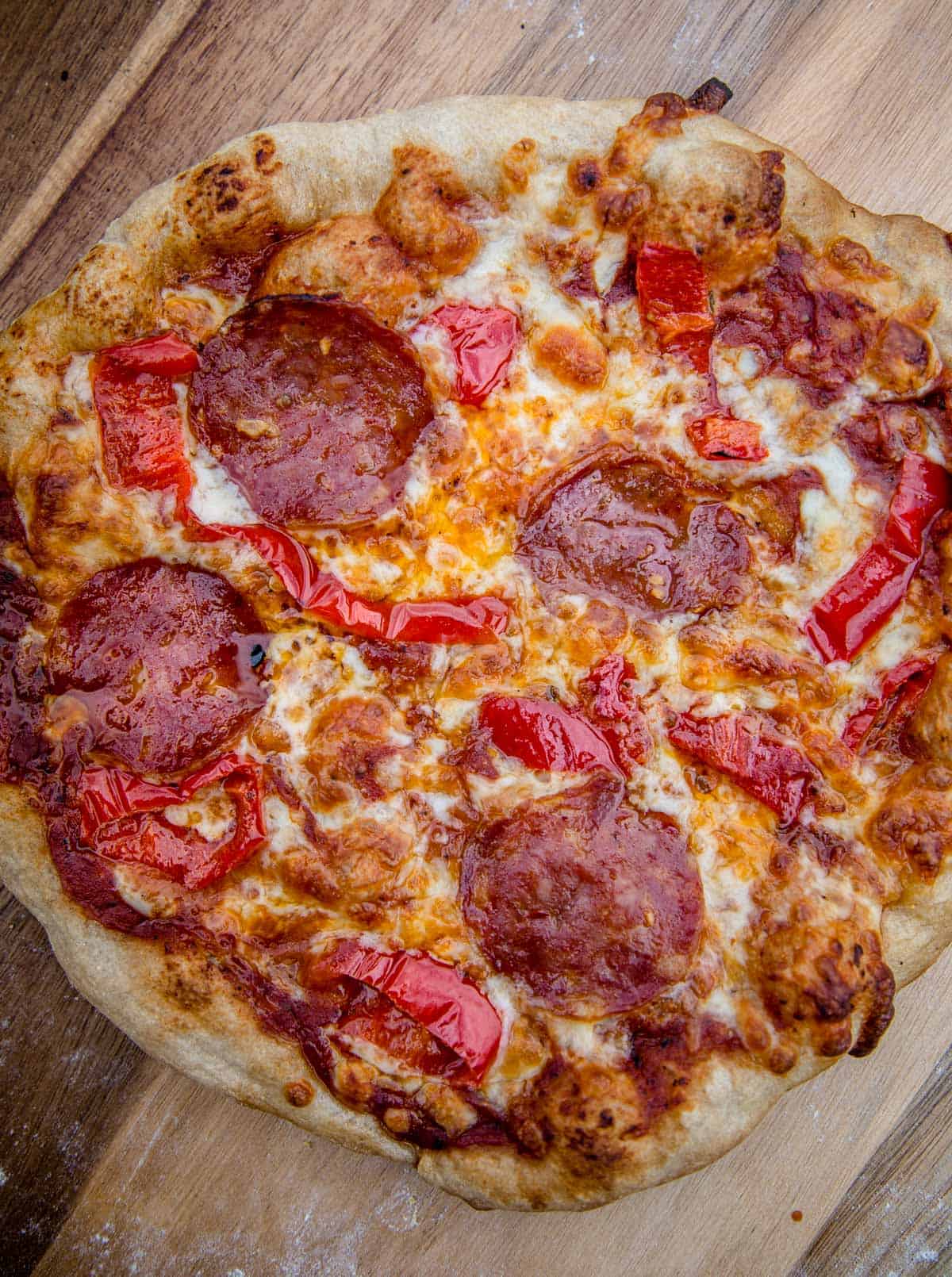 Best Tools for Grilling Pizza on a Big Green Egg
Having a few key tools is important. For a full list check out our essential pizza tools guide.
Pizza Stone – Having a good quality pizza stone is important to allow the heat of the grill to focus its energy on the stone. We use the XL version of the Big Green Egg stone because it is great for large or small pizzas. We choose not to use a pizza steel because on a grill it gets so hot that it tends to burn the pizza crust before the entire pizza is cooked through.
ConvEGGtor – Also known as the "plate setter." Having the plate in place, with the legs facing up is important to deflect the high heat of the charcoal. When running just the ConvEGGtor or just a stone over the charcoal, the chances of burning the bottom of the pizza before it's done is more likely.
Best Thermometer for Grilled Pizza
Having an IR Thermometer is a great investment for grilled pizza. It takes immediate temperature of the surface (pizza stone) and does so quickly. It is also a great tool for temping cast iron pans and other surfaces. The Thermoworks Industrial IR Gun is an amazing investment. It works fast and is easy to use.
Pizza Dough
One easy way to get a great pizza dough is to call your favorite pizza shop to ask if they sell pre-made dough, or just pick one up at the grocery store. But for those who love to make their own dough, this pizza dough recipe is easy to make, it just requires time. No matter which option, starting with a great dough is key to grilled pizza.
Another favorite resource for homemade dough is Ken Forkish, Northwest guru of wood fired pizza and owner of Ken's Artisan Pizza in Portland. Ken's book, The Elements of Pizza, is an incredible resource for the pizza lover, and has some foolproof dough recipes in it. If you are doing pizzas on the grill a lot, this book is worth every dollar.
Preparing the Dough For Grilled Pizza
After making the dough, preparing it for the grill is important. Start with a well floured surface.
Prepare it using the pizza peel as the surface.
Letting it come closer to room temperature is helpful so you can work it easier. A cold dough tends to pull back on itself when you work it.
When you reach the right shape, drop a little large grit corn meal or semolina flour to make it easier to slide the dough onto the pizza stone.
Be careful overdoing the toppings. Every topping weighs down the dough, making it difficult to transfer to the grill. Consider a few toppings versus putting too much on.
Start small. For pizza on the grill we like to make small (around 10″ pizzas). This way you can make several and put different toppings on each. Or if you have guests over, everyone can get their own small pizza.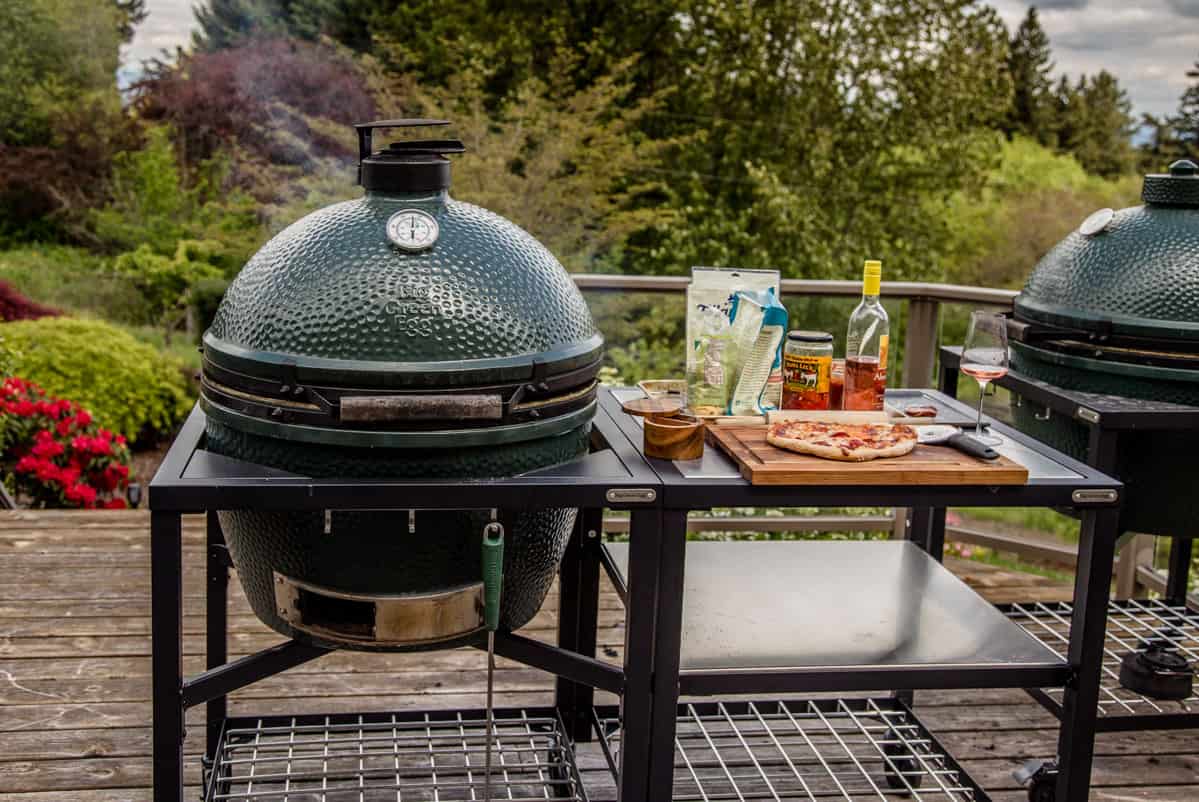 How to Grill Pizza
Pre-heat grill: Start your coals, then place the ConvEGGtor (legs facing up), then the grates. Next, place pizza stone on top of the grill grates to warm up with the grill and get it hot, 500 degrees Fahrenheit (stone temperature).
Double check the temperature: Note the importance of stone temperature. Your thermometer will only take the temp of the area immediately surrounding it. So having the IR thermometer helps. If you don't have the IR thermometer, you can use an instant read – but be careful to know the top range of your thermometer so it doesn't damage the probe. When in doubt on the Big Green Egg, if you run the upper temperature gauge at 500 degrees you will find the stone at 500 or 525.
Grill Pizza: Using your pizza peel, gently slide the pizza off the peel onto the center of the pizza stone. Close the lid and let it grill for 5 – 6 minutes, rotating the pizza 180 degrees after 5 minutes to even out the cooking and close the grill again, and continue cooking another 5 -6 minutes. Because the Egg is acting as a convection oven, it will have some areas hotter than others. So by moving the pizza 180 degrees you get an even cook.
Check on the Pizza: Check the underside of the pizza to see if you like the look, and then remove the pizza when the cheese is bubbly and the dough is firm on the underside.
Slice and Serve: Place the pizza on a cutting board and slice it up. We recommend not cutting the pizza on a wooden peel. You need smooth surface for an easy slide. Every time you cut on a peel, it makes it rough and more difficult to get off the peel.
What temperature should I grill pizza at?
500 degrees Fahrenheit (stone temperature) for a standard pizza. We're not making thin crust Neapolitan style pizzas where 600 – 700 degrees is a better target. We find at 500 degrees F the stone is the right temperature to crisp up the dough, cook the pizza through and not burn it.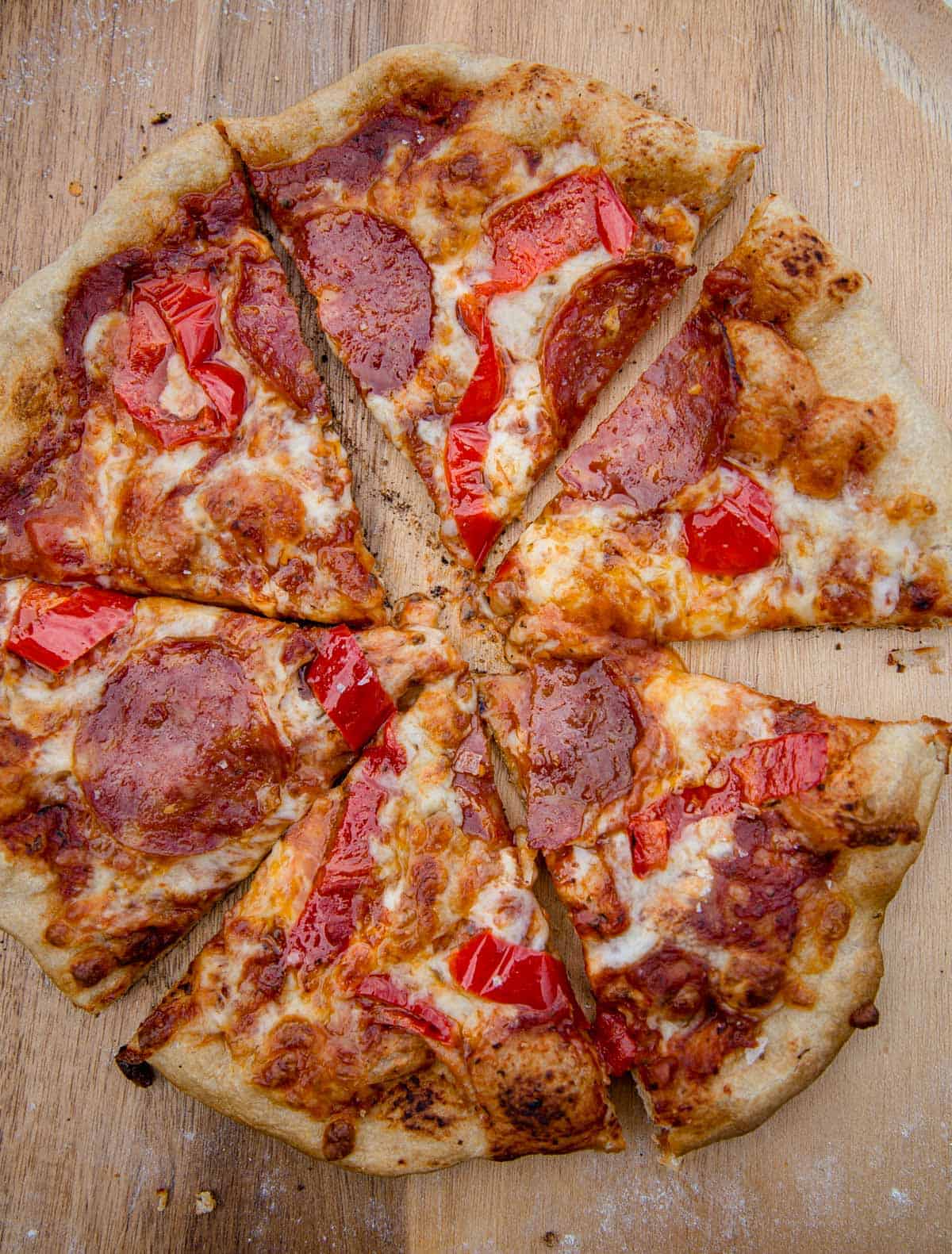 More Mouthwatering Pizza Recipes
You can also check out our Big Green Egg resource page for other great ideas and tips for cooking and maintaining your Big Green Egg or Kamado Grill.
Mary (a certified sommelier and recipe developer) and Sean (backyard pitmaster) are co-authors of the critically acclaimed cookbook, Fire + Wine, and have been creating content for the IACP nominated website Vindulge since 2009. They live in Oregon on a farm just outside Portland.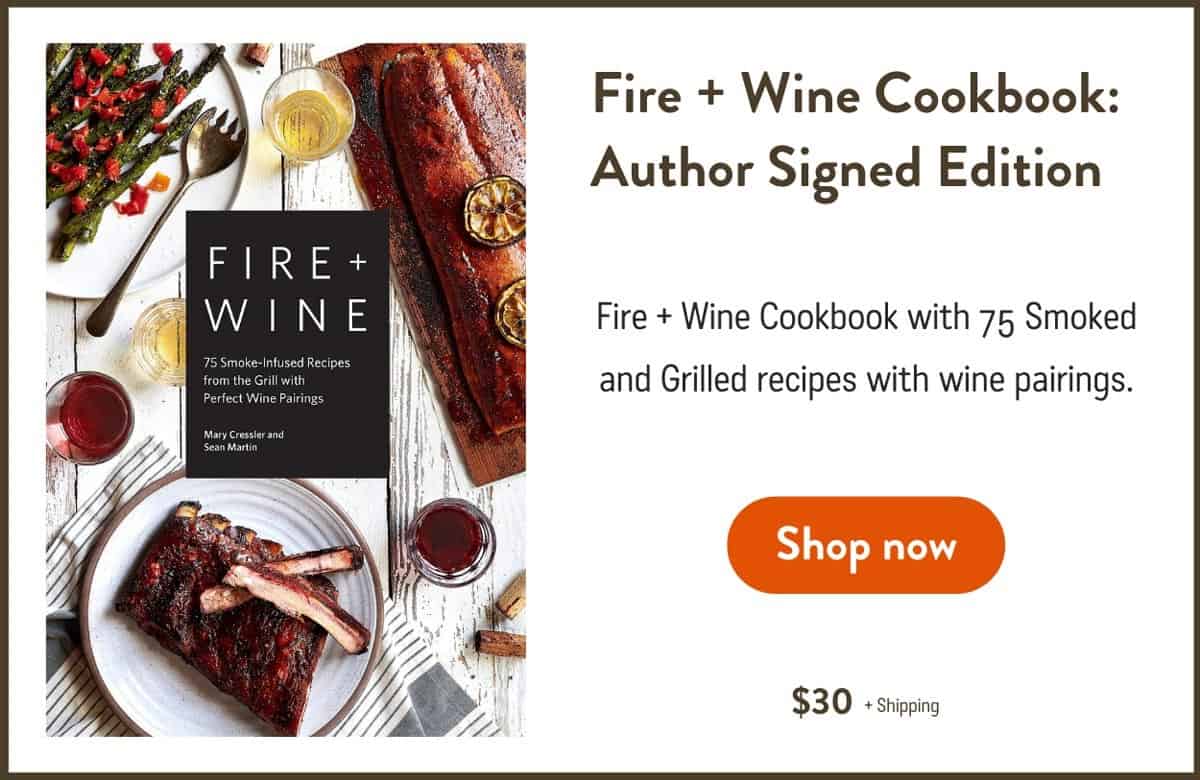 Tried this recipe? Give us a star rating and we would love to see! Mention @vindulge or use the hashtag #vindulge on all the social media handles. And consider subscribing to our newsletter where we drop all our favorite ideas and inspirations every week.
This post may contain affiliate links. This means if you click on the link, we may receive a small commission if you purchase through the link. We partner with brands we know and love and use and it helps keep the blog going!
---