Grilled Mushroom Crostini with Smoked Honey and Aged Balsamic. Your new favorite vegetarian appetizer that you can cook entirely on the grill!
We also had the opportunity to cook these delicious bites on live TV on Portland's AM Northwest. You can check out the video demo here.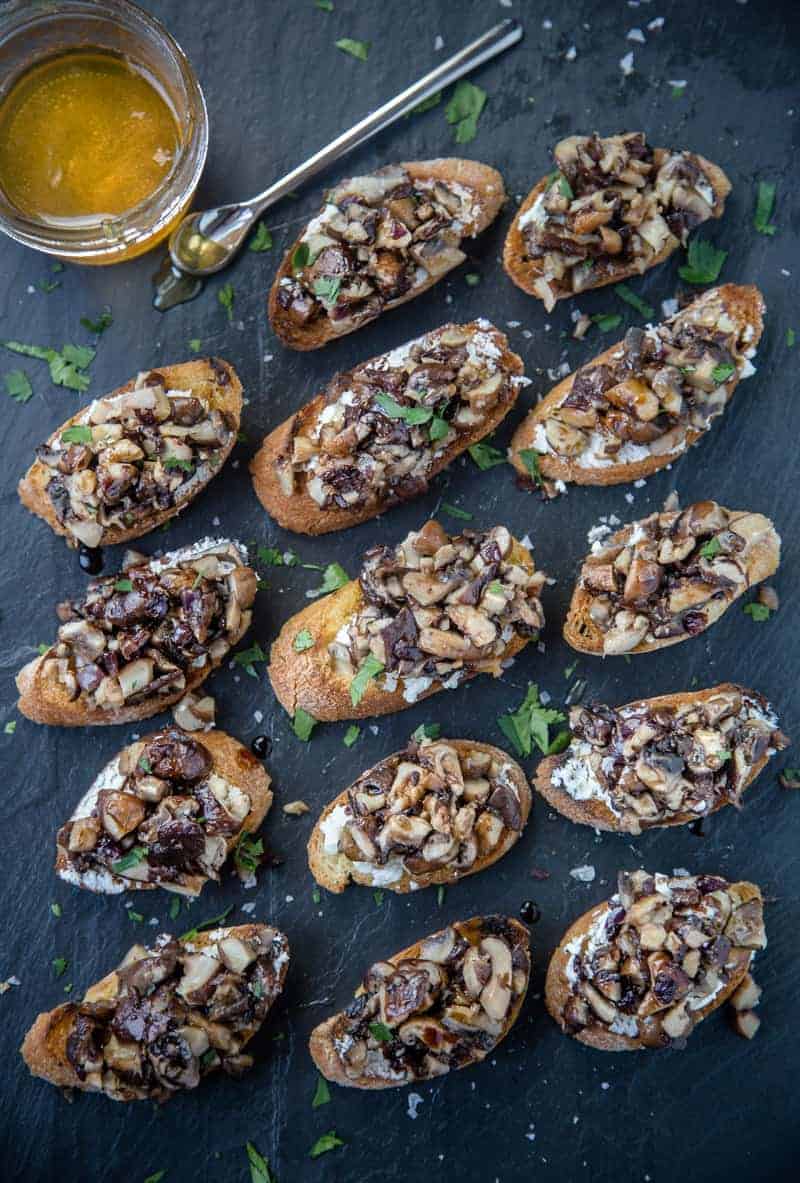 Our catering events are big in the summertime. And while we always try to provide a wide array of tasty meats whenever we cater any event with our sister company, Ember and Vine, we also offer a variety of alternative options for dietary restrictions or preferences. And being the veggie lover around here we're always looking for delicious ways to offer grilled and smoked vegetarian offerings. Gimme alllll the veggies!
Hence grilled mushroom crostini!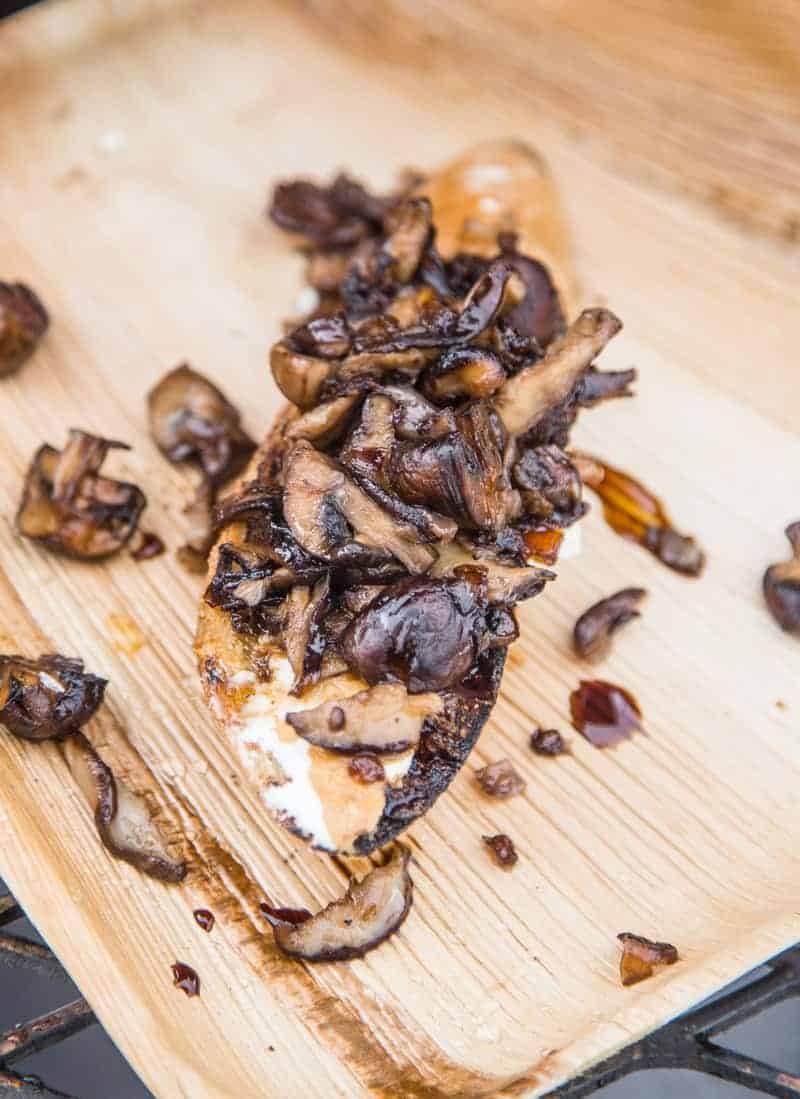 What we have here is mushrooms that were grilled on a pan, on the grill, then chopped to make a topping for goat cheese lined grilled baguette slices. And then for good measure we topped it with a fine drizzle of smoked honey and aged balsamic.
Smoked what, Mary?
Smoked honey, my friend! Find the recipe for smoked honey here.
How to Cook Mushrooms on the Grill
Because we're using a couple types of mushrooms here, and they're pretty small, we're cooking them on a cast iron pan placed on the grill. This makes it easier keep everything together without falling through the grill grates. You can ertainly cook this over the stovetop, but when we're on the road at an event we don't have a stovetop to use. Plus this is just a great idea for any outdoor cooking plans you may have (or picnic, or camping, or just to impress your friends at your next backyard cookout).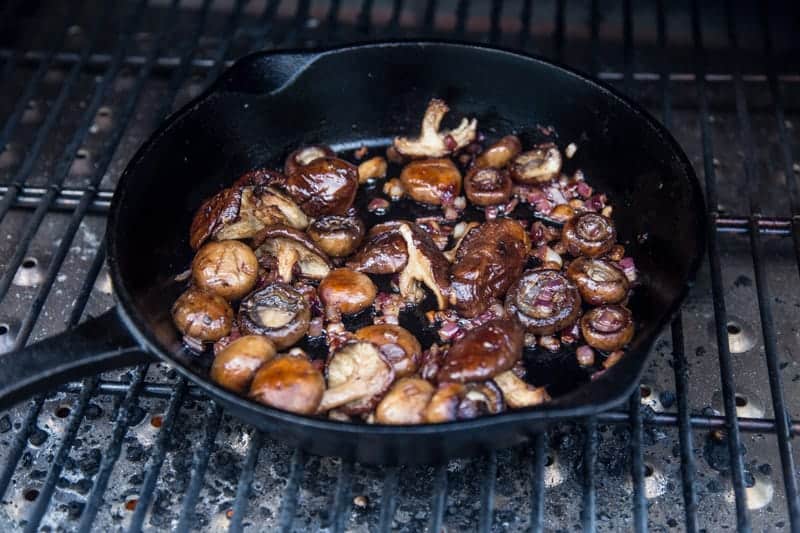 Just preheat your grill to a nice high heat. Place the butter, onions, and mushrooms in that cast iron pan and place directly on the grill until the shrooms and onions have softened.
How to Cook Crostini on the Grill:
Once your mushrooms are softened you can use that space to toast up your bread. If you have room just put them side by side. But I like to toast the bread just before serving so it's nice and warm. Oh so comforting that way.
Just drizzle the bread slices with a kiss of olive oil and place directly on the grill. Don't walk away because these bad boys toast up fast. I'm talking less than one minute per side. So babysit them and don't let them burn, because ain't nobody got time for burnt toast!
How to Make Grilled Mushroom Crostini
Grill Mushrooms in a cast iron pan on the grill
Grill Crostini
Chop up mushroom mix: Don't chop too fine. Just a rough chop to get those big bites down to a manageable portion.
Assemble Grilled Mushroom Crostini: Start by spreading a layer of goat cheese (or chèvre) on the toasted baguette slices. Next, depending on the size of your slices add 1-2 tablespoons of the filling. Then drizzle with aged balsamic, and that incredible smoked honey sent from the gods.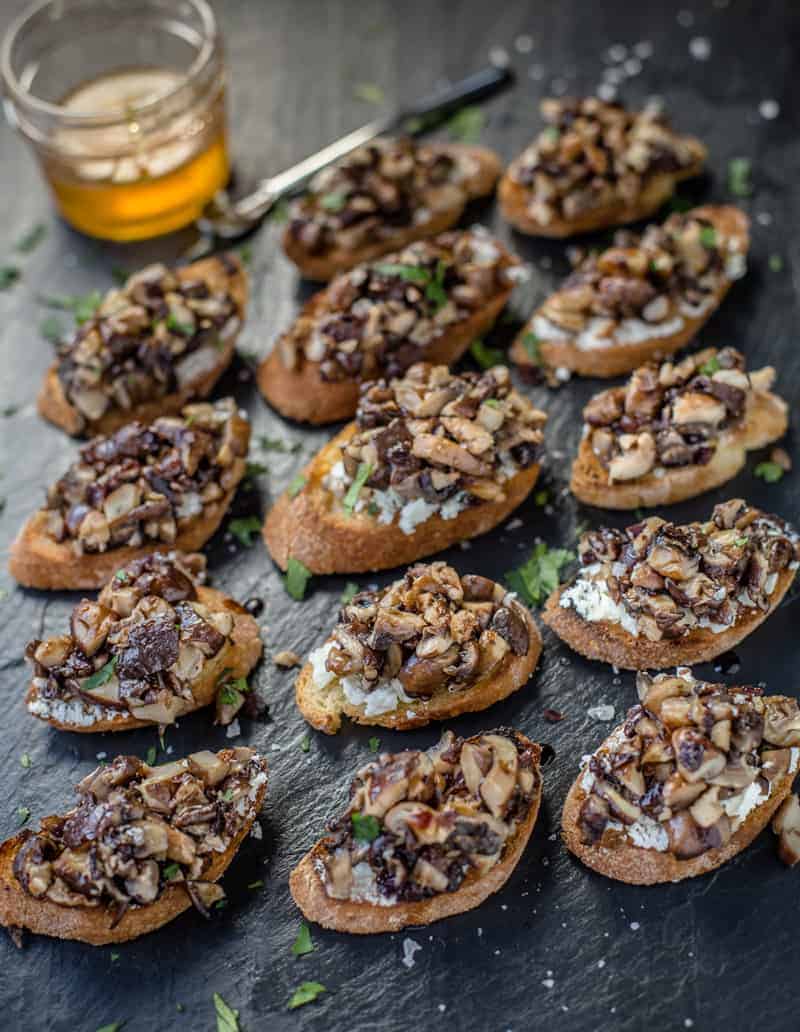 Wine Pairing
We created this Grilled Mushroom Crostini recipe to go with an Oregon wine event that we knew would be heavy on the Pinot Noir. These are absolutely fantastic with Pinot Noir, by the way! But they're also great with a wide variety of medium bodied red wines, especially those on the earthy side. What would you pair?
Related Recipes
Grilled Mushroom Crostini Recipe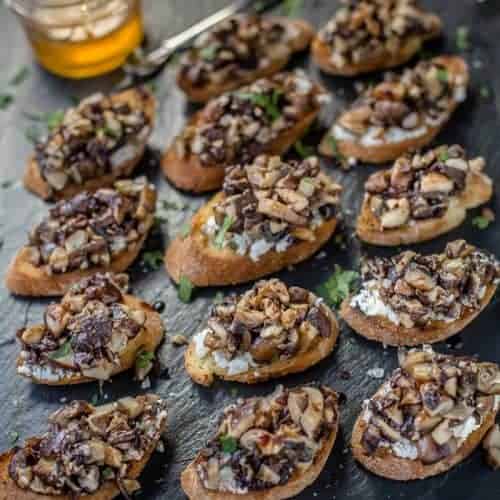 Ingredients
1

baguette,

sliced at a bias or angle

2

tablespoons

olive oil,

(for the baguette slices)

2

tablespoons

butter

¼

cup

red onion,

diced

½

pound

Crimini mushrooms,

gently cleaned, stems removed

½

pound

Shitake mushrooms,

gently cleaned

8

ounces

chèvre

(goat's cheese)

12

year aged balsamic,

or any will do (for drizzle)

local honey,

for drizzle (approximately ¼ cup)

2

tablespoons

maldon/finishing salt
Instructions
Prepare grill for direct heat using lump charcoal. Add wood chunks for flavor.

Prepare crostini, brushing with olive oil and place on grill grates over direct heat, for approximately 1-2 minutes per side to toast up (watching closely).

Place a cast iron skillet over direct heat and add butter, red onion, and whole mushrooms, stir and then cover grill top.

Remove grill cover and stir every few minutes or until the mushrooms look tender. Take care to watch onions so they don't burn. Remove from heat when mushrooms are tender (approximately 6-8 minutes) and then lightly salt with a pinch.

Remove from heat, place mixture on a cutting board, and chop up the mixture (like in photo above).

Coat the crostini slices with a small amount of chevre, and then place a generous portion of the mushroom filling on top.

Drizzle lightly with the balsamic vinegar and honey and then a small amount of finishing salt.

Serve warm.
Find the perfect wine pairing at the Vindulge Wine Shop
If you like this recipe we'd truly appreciate it if you would give this recipe a star review! And if you share any of your pics on Instagram use the hashtag #vindulge. We LOVE to see it when you cook our recipes.