From hot mulled wine and bubbly spritzers to creamy cheese dips and grilled oysters, we've gathered up all our favorite cocktail party essentials. Whether you are hosting a New Year's bash or simply sipping at home, there is sure to be a drink or a cocktail party appetizer to please everyone.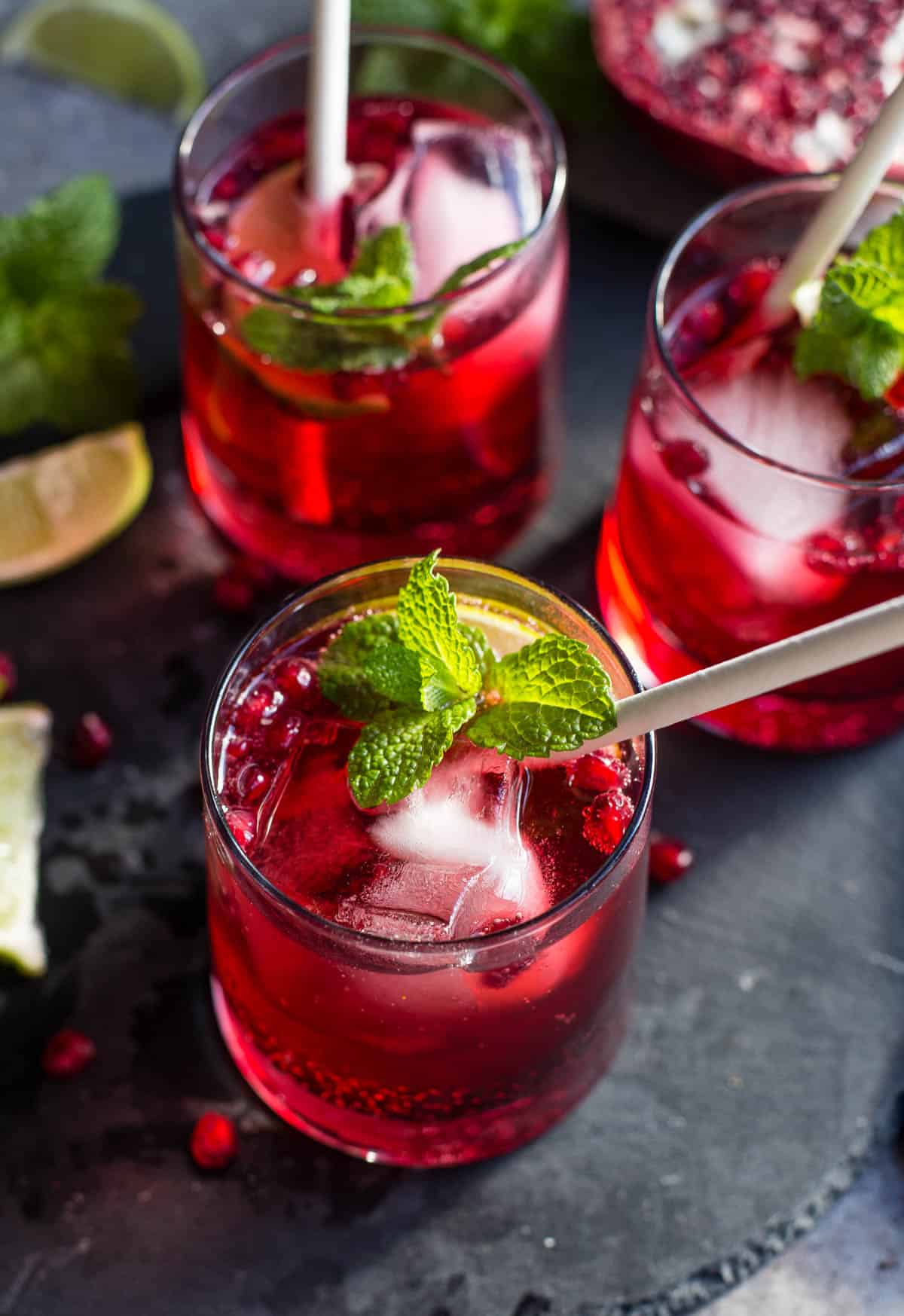 So you've finished binging your favorite 60's drama (hellooo Mad Men) and now you're ready to host your very own cocktail party. Hooray! We've got you covered from the drinks to the best cocktail party recipe ideas.
Jump to:
Cocktail Party Planning
You need to make sure you balance time with guests and time to socialize during the event. So plan your menu with just a couple of each items.
First things first: booze. So that you actually have time to talk to your guests (and not just be the bartender) we recommend choosing 2-3 cocktails and pre-mixing them in pitchers or carafes. Try picking:
1 drink with a light liquor (gin, vodka, light rum)
1 with a dark liquor (bourbon or whiskey)
1 with bubbles (you can rarely go wrong with bubbles)
That way everyone will have a drink they can jive with. Plan on serving 1 drink per person per hour. Don't forget to have a non-alcoholic drink option on hand as well.
For cocktail appetizers plan a combination of cocktail appetizers you can make in advance and cook during the party. Below we mention portions. That way you can pull some things out of the oven with minimal need to prepare or clean up.
Wine
It goes without saying, having a few well curated wines goes a long way. When it comes to ease and accommodating a wide range of palates, keep the budget around $30 (or less) per bottle. It is a special party. And if you are wondering what styles to have: sparkling wine, Chardonnay, and a red Zinfandel are all great options and very versatile with food (not to mention they cater to a wide variety of palates).
And guess what, we have you covered! You can order and ship your wine right to you if you want a unique, small producer, with sustainable growing and winemaking practices. Head over to the Vindulge Wine Market for options across the price ranges.
Holiday Cocktail Recipes
Make a pitcher (or crock pot!) of these festive cocktails so you can spend more time mingling.
---
Cocktail Party Appetizers
On to the food! Like with drinks, the name of the game is to do as much as you can in advance. Dips and nuts can be prepared the day before. Meatballs can be kept warm in a crock pot throughout the party.
How many appetizers should you make?
No need to make every recipe on our list. Choose your favorites and try making 3-4 different appetizers with enough for each person to average 12 bites. (Plan on more per person if being served in lieu of a meal.)
---
Thank you for being part of our community. If you make any of our dishes we'd love to see them on social media using the hashtag #vindulge and give it a 5 star review.
This post may contain affiliate links. This means if you click on the link, we may receive a small commission if you purchase through the link. We partner with brands we know and love and use and it helps keep the blog going!
---