This is a sponsored post written by me on behalf of Albertsons. All opinions are 100% mine.
Ginger Pomegranate Cocktail is a refreshing cocktail made with ginger beer, pomegranate flavored Italian soda, lime juice, vodka, and some fresh herbs. It's the perfect refreshing holiday cocktail this season. As always, please drink responsibly.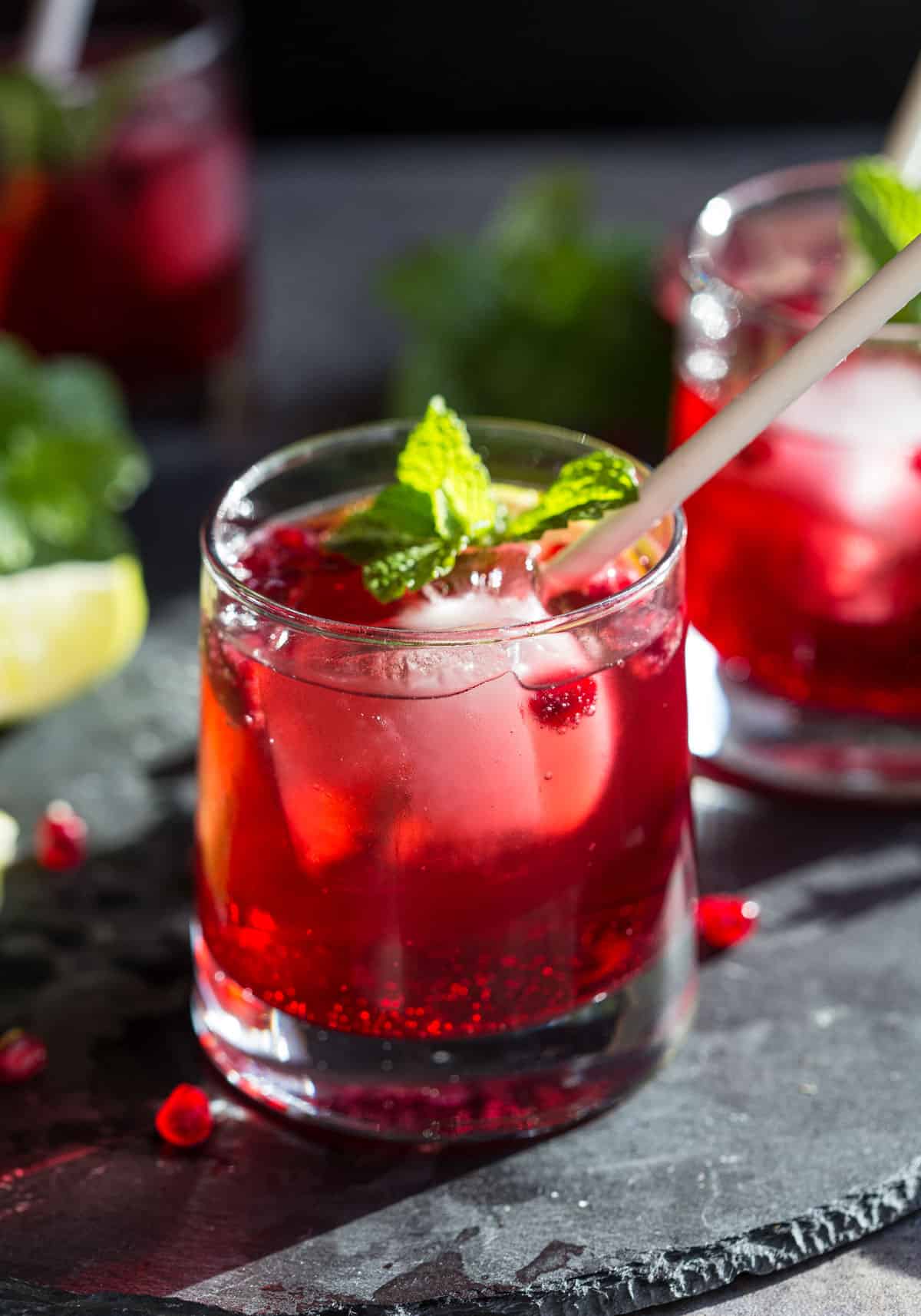 Jump to:
It's the holiday season! And I don't know about you, but I feel strongly that most holiday parties or gatherings (whether a party of 2 or 20) need a signature drink. This is especially true THIS year.
I've already busted out all the decorations and festive flavors early this year to bring some holiday spirit into my house (and hopefully your home too). And yes, that also means a delicious cocktail to get you in the holiday mood.
We have two teams in my house; the one who typically loves a good stiff straight up dark liquor drink (that would be the hubby), and one who loves a bright refreshing drink regardless of the season (hi, that would be me). But even though the hubs reaches for bourbon whenever he gets a chance, he too loves this drink.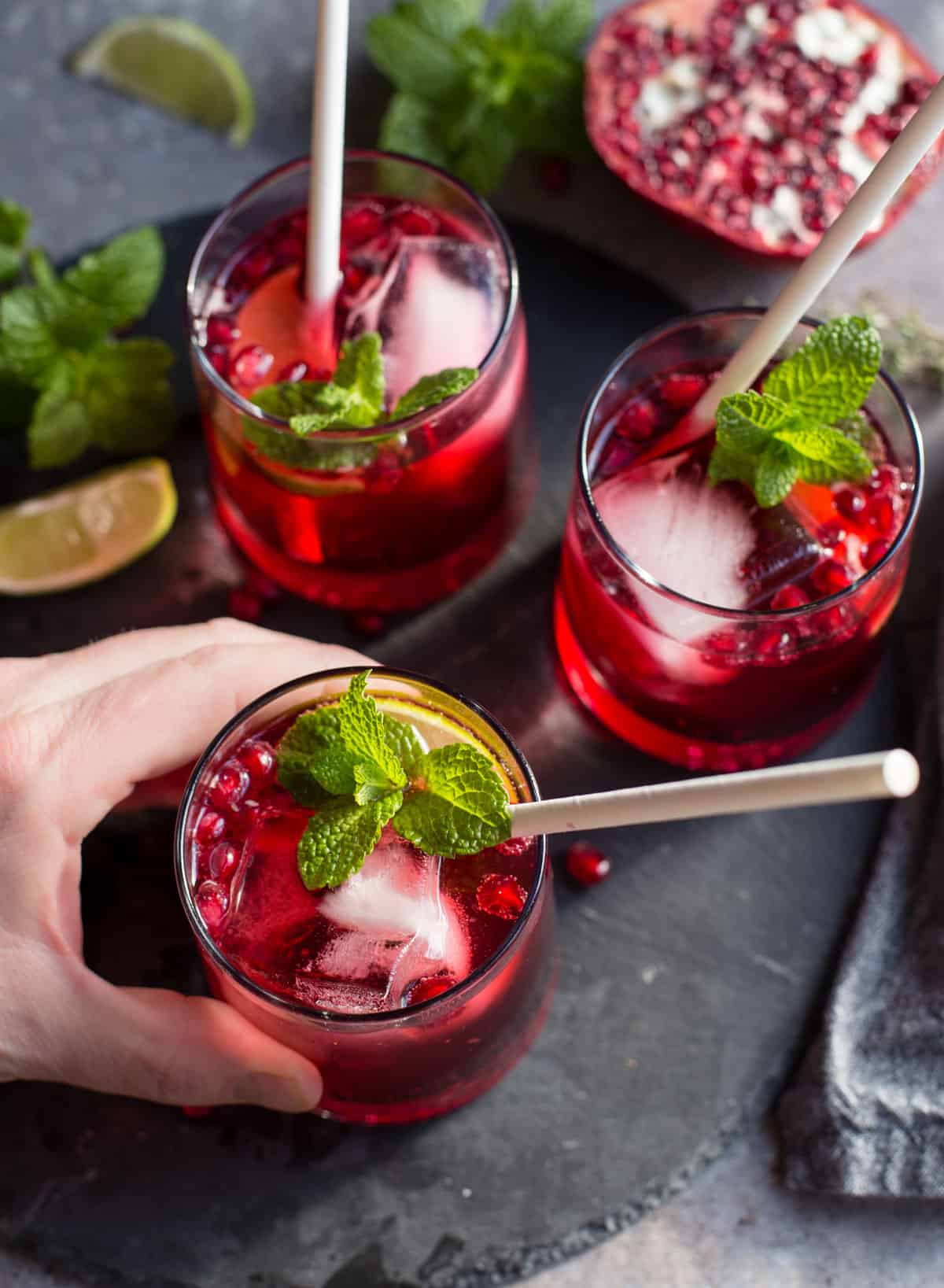 Ginger Beer Cocktail
This drink is a combination of two of my favorite refreshing cocktails; a Moscow Mule (made with ginger beer and vodka) and a Spritz (a wine based drink, made with Prosecco and Aperol), though this one is made with a pomegranate flavored organic Italian soda instead of Prosecco (it's 2020, I can do what I want!). This is a holiday mashup of two classics. So red and festive!
The key to this cocktail is the balance and quality of ingredients.
Ingredients for Ginger Pomegranate Cocktail
Ginger Beer
Pomegranate Flavored Organic Italian Soda
Lime Juice
Vodka
Fresh Thyme
Fresh Mint
Pomegranate seeds (for garnish)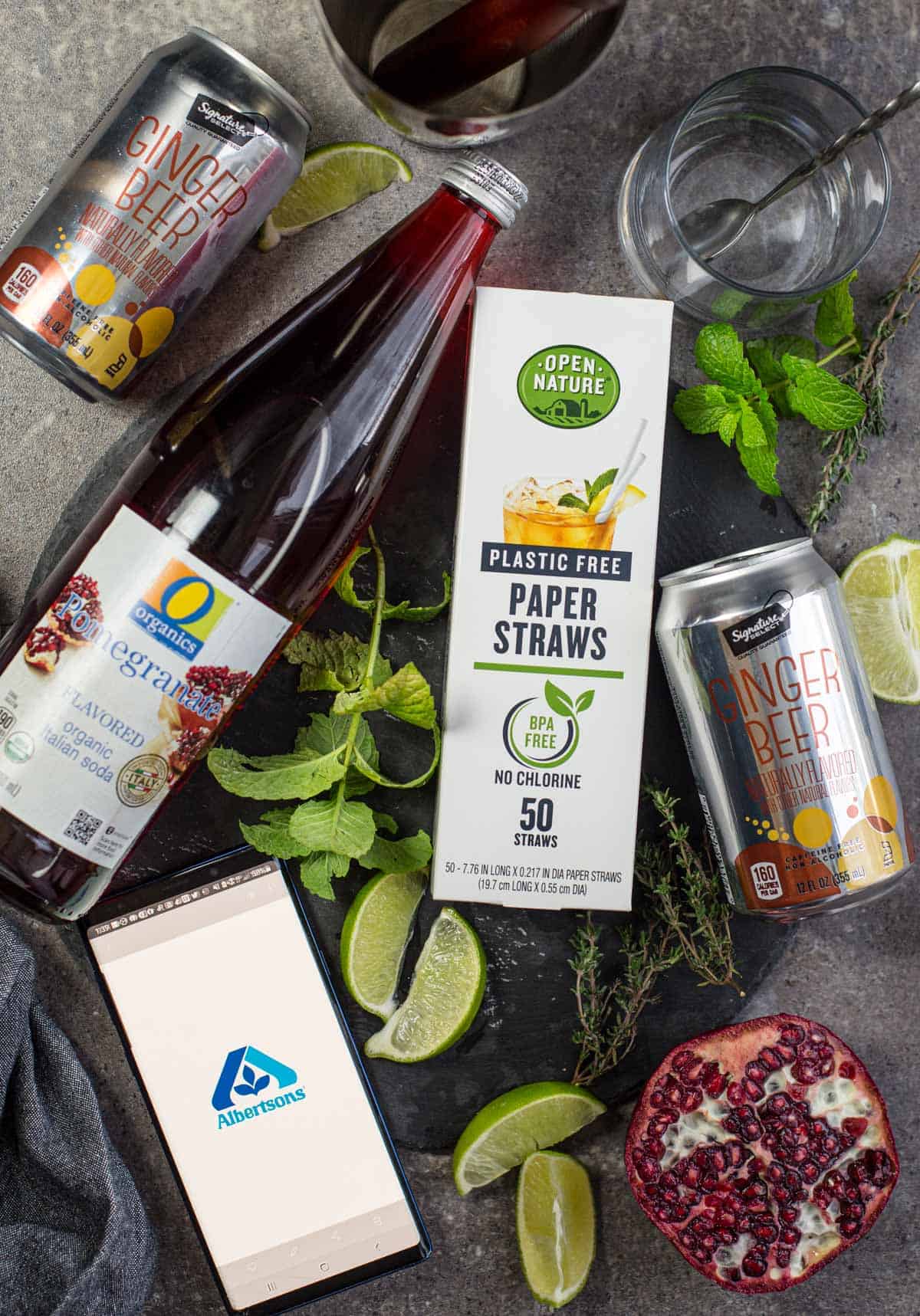 To start, you've gotta use good quality ginger beer for this. For this cocktail I turn to my local Albertsonsfor everything I need. You can shop their award-winning exclusive brands like Signature SELECT™, Open Nature®, and O Organics® in store or online, at a value. To top it off, Albertsons Companies' OWN Brands recently won 20 'Best New Product Awards' from Store Brands publication!
And we're using a few of these award-winning products in this cocktail, including their Signature SELECT Ginger Beer and paper straws. The straws are a must when I make non-alcoholic versions for the kiddos (yes, this can easily be made without the alcohol for the young ones… and they love it!). Speaking of love, my kids go bonkers for the O Organics Pomegranate Italian Soda, and I may have fallen in love with it too, hence being one of the stars of this cocktail.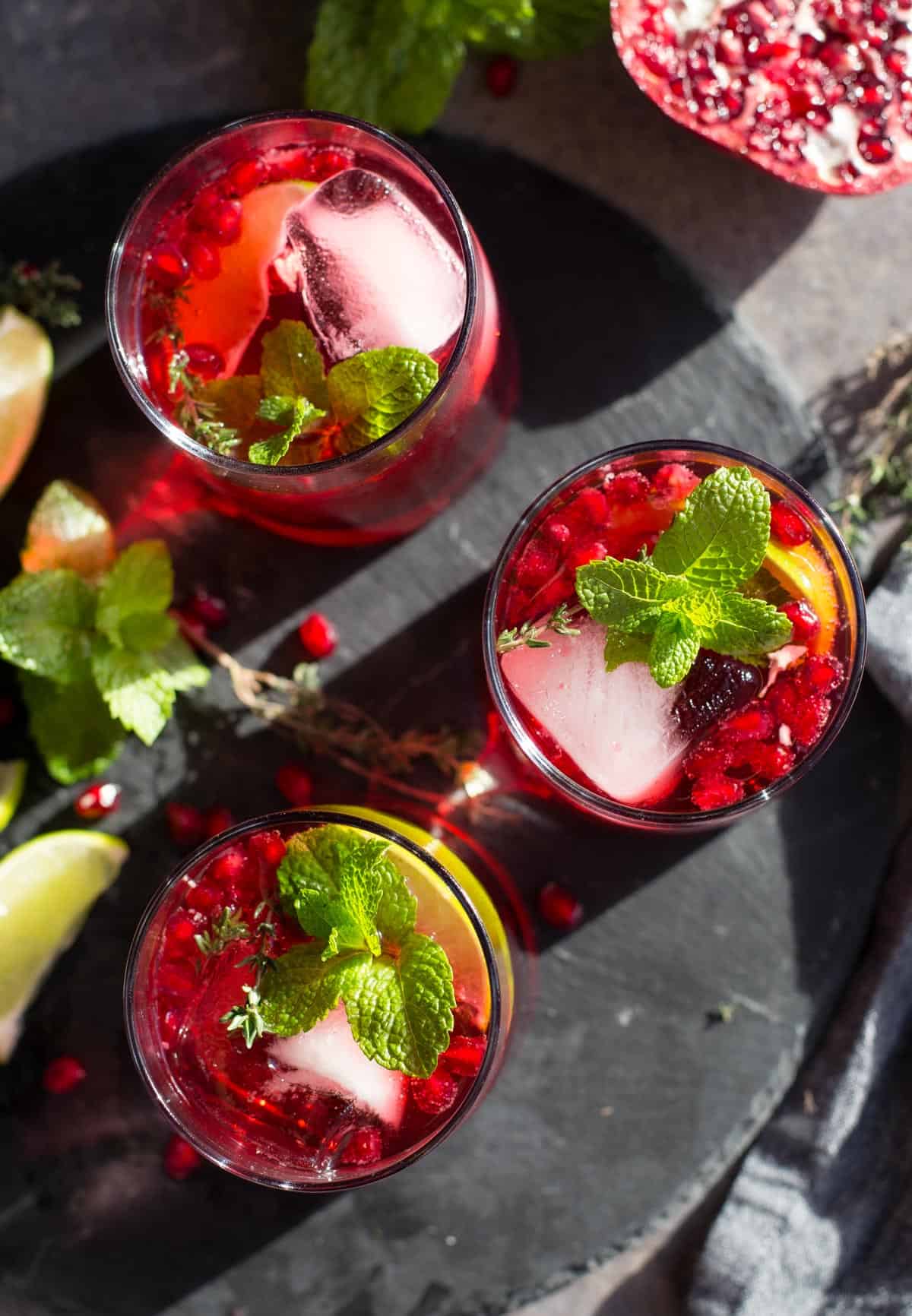 You can use regular pomegranate juice too, but honestly it's much more lively with the Italian soda verision.
I shopped at Albertsons Barrows, but you can also find the ingredients for this cocktail at the Albertsons Companies family of stores, including Albertsons, Safeway, ACME Markets, Jewel-Osco, Vons, Randalls, Shaw's Supermarket, Star Market, Tom Thumb and Vons.
The best part is that they also offer Grocery Delivery and DriveUp & Go™ for convenient ways to shop! This has been such a fantastic service in this particular year where we're trying to avoid going inside too many stores. Not to mention the time saver it is during the busy holiday season.
How to make a Ginger Beer Pomegranate Cocktail
In a large mixing glass add some ice, fresh mint, and thyme. Muddle them together to break up the herbs a bit. Then add the ginger beer, pomegranate soda, lime juice, and vodka, and stir to mix. Pour into a fresh glass with some ice, and garnish with a lime wedge and some additional fresh mint, and pomegranate seeds.
We may not be having big parties this year, but that doesn't mean you can't treat yourself to a great cocktail!
Cheers to a fantastic holiday season.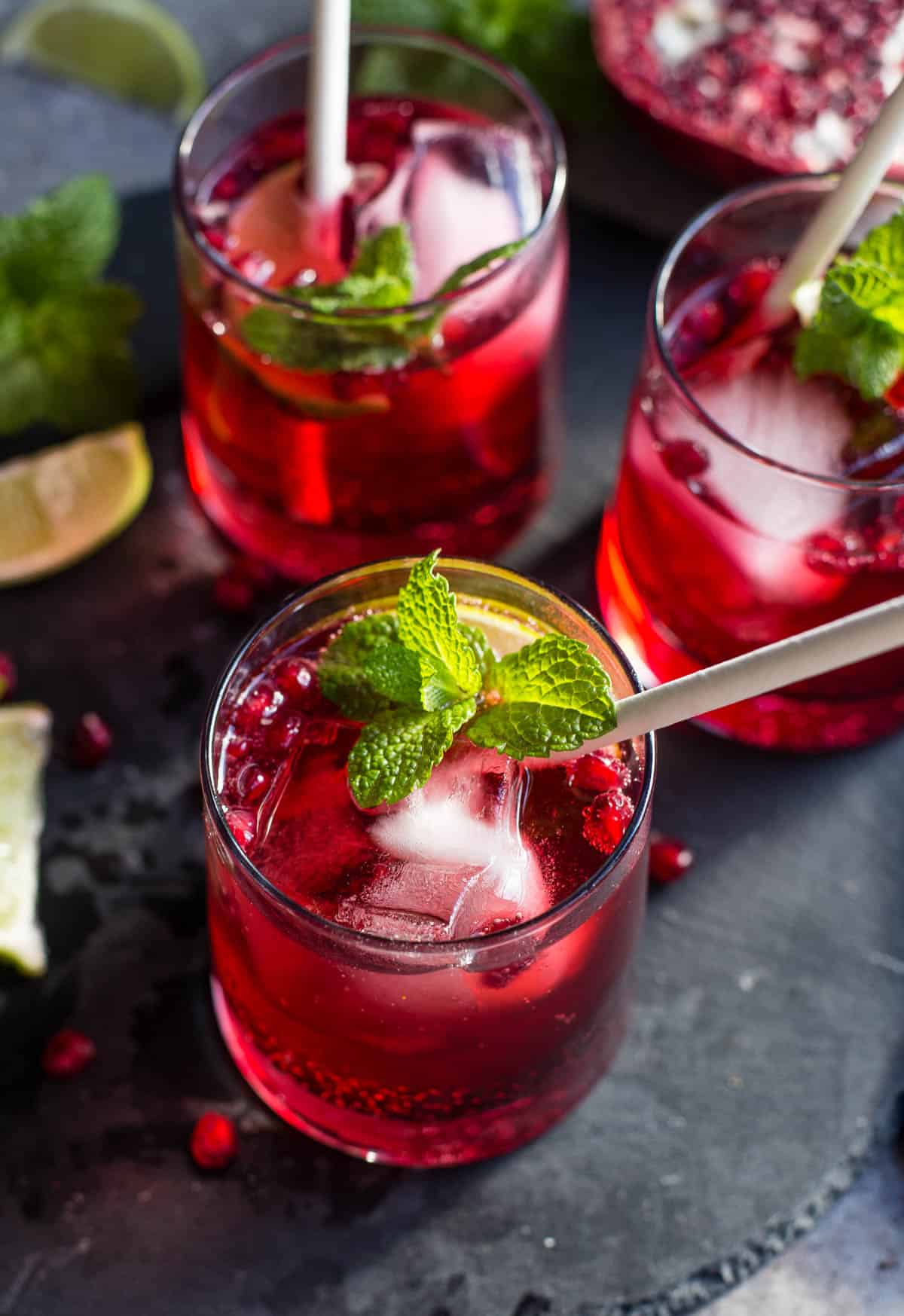 More Festive Cocktail Recipes