Smoked Almonds are such an easy, healthy, and delicious snack that has a distinct smoky flavor and perfect crunch. These smoke house almonds are so popular that we sell them to wineries around the Northwest to serve in their tasting rooms.
You can also use these almonds for dishes that require any almond ingredient, like shaved smoked almonds for salad, or even a homemade almond butter.
Smoking almonds is one of our favorite appetizer dishes that we make and sell to local wineries. We always have some on hand and I eat small handfuls of them throughout the day when I need a quick and healthy snack. We'll smoke three to five pounds at a time, and then keep in a storage container to add to dishes throughout the week or mix into granola. They're also great for when I travel. No airplane crackers needed when I've got my almonds to snack on!
And we get feedback all the time that the flavor profile has a slight bacon flavor, and how easy they are to make.
Sourcing Almonds
Buy raw, unroasted almonds. They are most commonly found in the bulk section of your grocer. If the almonds are already roasted, they won't take on that same characteristic and could overcook.
How To Smoke Almonds
The objective is to roast the almonds slowly over three hours. Doing this allows the natural oils from the almonds to infuse and develop a smoky roasted bite that is crunchy and has that smoky nuttiness making this such a unique flavor. Add a touch of olive oil and salt to enhance the flavor.
Start with a low heat. Smoke the almonds at 225 degrees Fahrenheit.
Smoke first for two hours, without any added ingredient. This will allow the almond oil to naturally get extracted while it slowly roasts and pull in the delicious smoke flavor.
Add flavor. After two hours add olive oil and salt. This is to finish the almonds with a touch of the saltiness. The oil not only helps the salt stick, but also adds a slightly fruity aroma enhanced by the smoke.
Serve warm, or let cool and then eat later. Keep stored in sealed container (or mason jar) in your pantry for months.
Wood Choice
Fruit woods are best matched for any smoke house almonds. They burn sweeter and balance nicely with any nut. Oak is another alternative. If you use mesquite or hickory it will take on a stronger smoke flavor.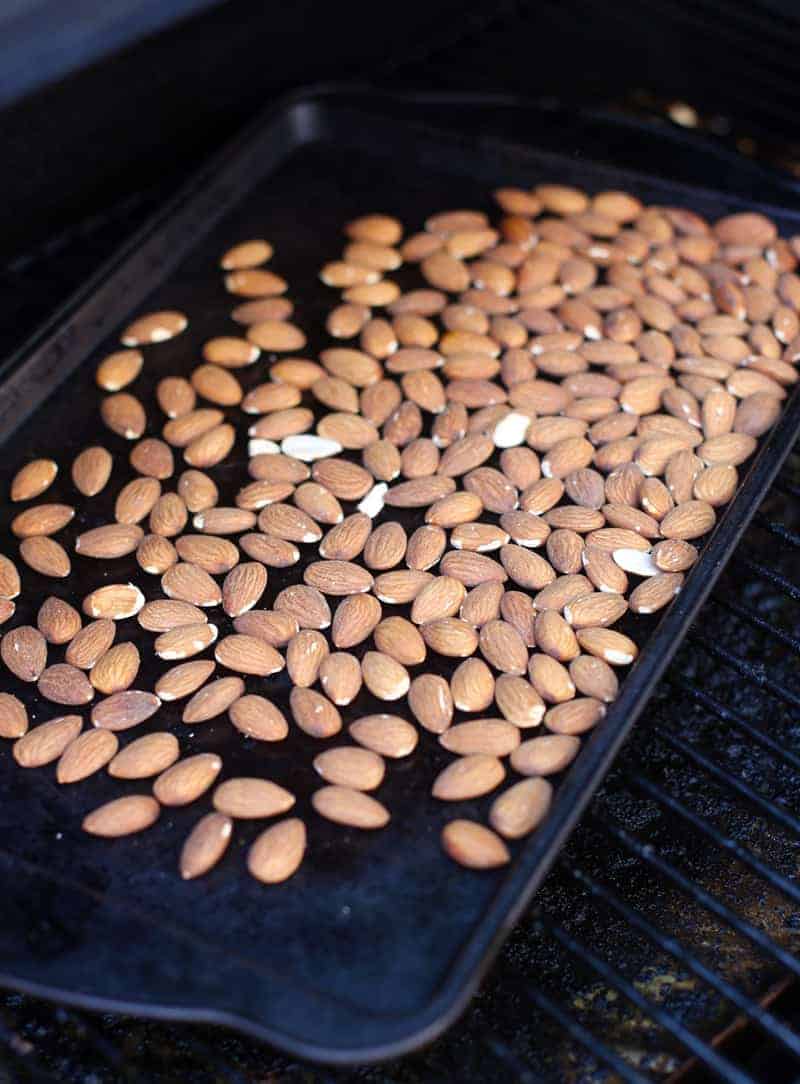 Variations
Consider adding your favorite savory dry rub instead of kosher salt.
Use the almonds for salads. Simply use the large grates on a box grater to shave them. You can swap out candied pecans for almonds in this grilled chicken salad.
Add to any ingredient for a nut butter like our smoked almond butter.
If you like candied nuts, try our variation with a butter and bourbon sugar glaze.
Wine and Roasted Almonds
If you want a match for heaven, then take any roasted almonds, smoked or otherwise, and pair them with a sparkling wine. The flavor is amazing and they balance each other so well. Just imagine sitting on a warm patio in the summertime, snacking on some smoke roasted almonds and a chilled glass of your favorite sparkling wine. It's like being in wine country all by yourself!
We serve these almonds at many of our Ember and Vine Catering events, and even sell them to wineries for pairing with wine. They are delicious and so easy to make. It's really all about taking the time to do it.
Storing Roasted Almonds
We simply add to a sealable storage container or a large mason jars. The almonds will retain a fresh character for two months if stored in an airtight manner.
If you want to warm them up again, simply place on a sheet tray and in the oven at 225 degrees. Let the oven warm with the almonds in it. Then after 15 minutes they should be warm enough to eat. Or you can serve cold.
Other Snack Ideas
Mary (a certified sommelier and recipe developer) and Sean (backyard pitmaster) are co-authors of the critically acclaimed cookbook, Fire + Wine, and have been creating content for the IACP nominated website Vindulge since 2009. They live in Oregon on a farm just outside Portland.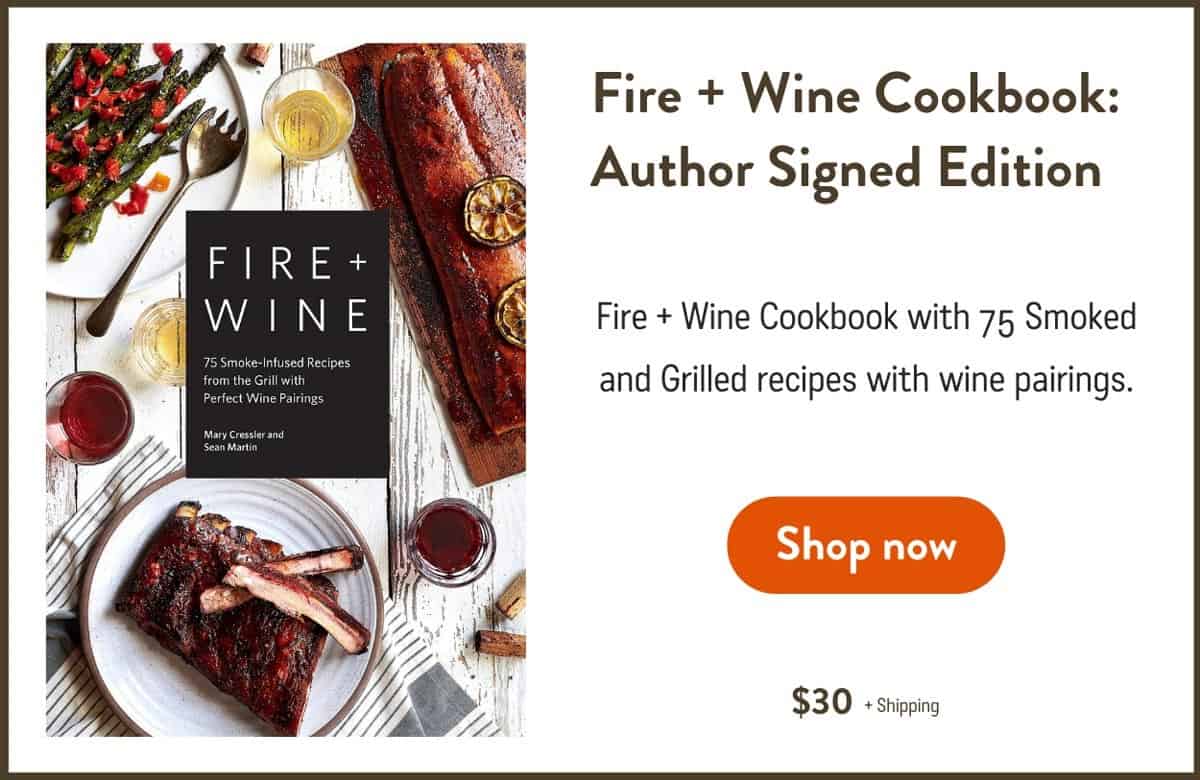 Tried this recipe? Give us a star rating and we would love to see! Mention @vindulge or use the hashtag #vindulge on all the social media handles. And consider subscribing to our newsletter where we drop all our favorite ideas and inspirations every week.
This post may contain affiliate links. This means if you click on the link, we may receive a small commission if you purchase through the link. We partner with brands we know and love and use and it helps keep the blog going!