Mulled Wine is a comforting winter drink made from a blend of red wine, warm spices, and citrus, served warm. This holiday classic is perfect for a cold winter night or as a great dish for holiday parties during holiday season.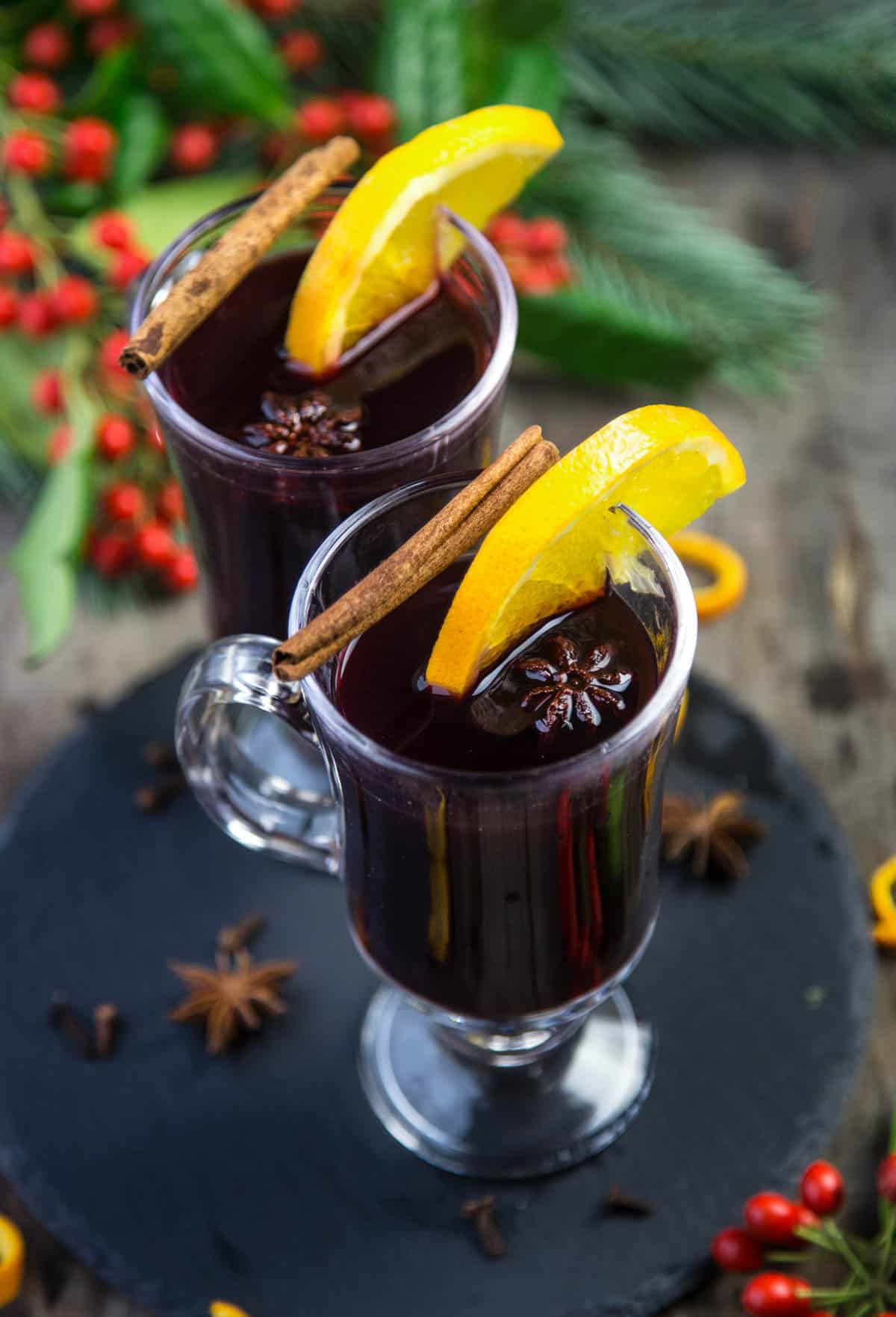 Jump to:
Vindulge Recipe Highlights
This easy recipe comes together in less than 10 minutes.
You can make this on the stove top or in your slow cooker.
The best wine to use is a fruity cheaper wine.
This simple recipe can be scaled up for a crowd.
Mulled Wine
Mulled wine, also known as spiced wine, is made with (most typically) a fruity red wine, and a variety of mulling whole spices (cinnamon sticks, cloves, star anise, cardamom pods), sometimes citrus like orange slices, and served warm during the cold winter months. Glühwein (roughly translated as "glowing-wine") is what it's called in Germany, and is a traditional drink found at any Christmas market. It's been around since the middle ages and as early as Roman times.
It's festive, warm, comforting, delicious, and super easy to make at home!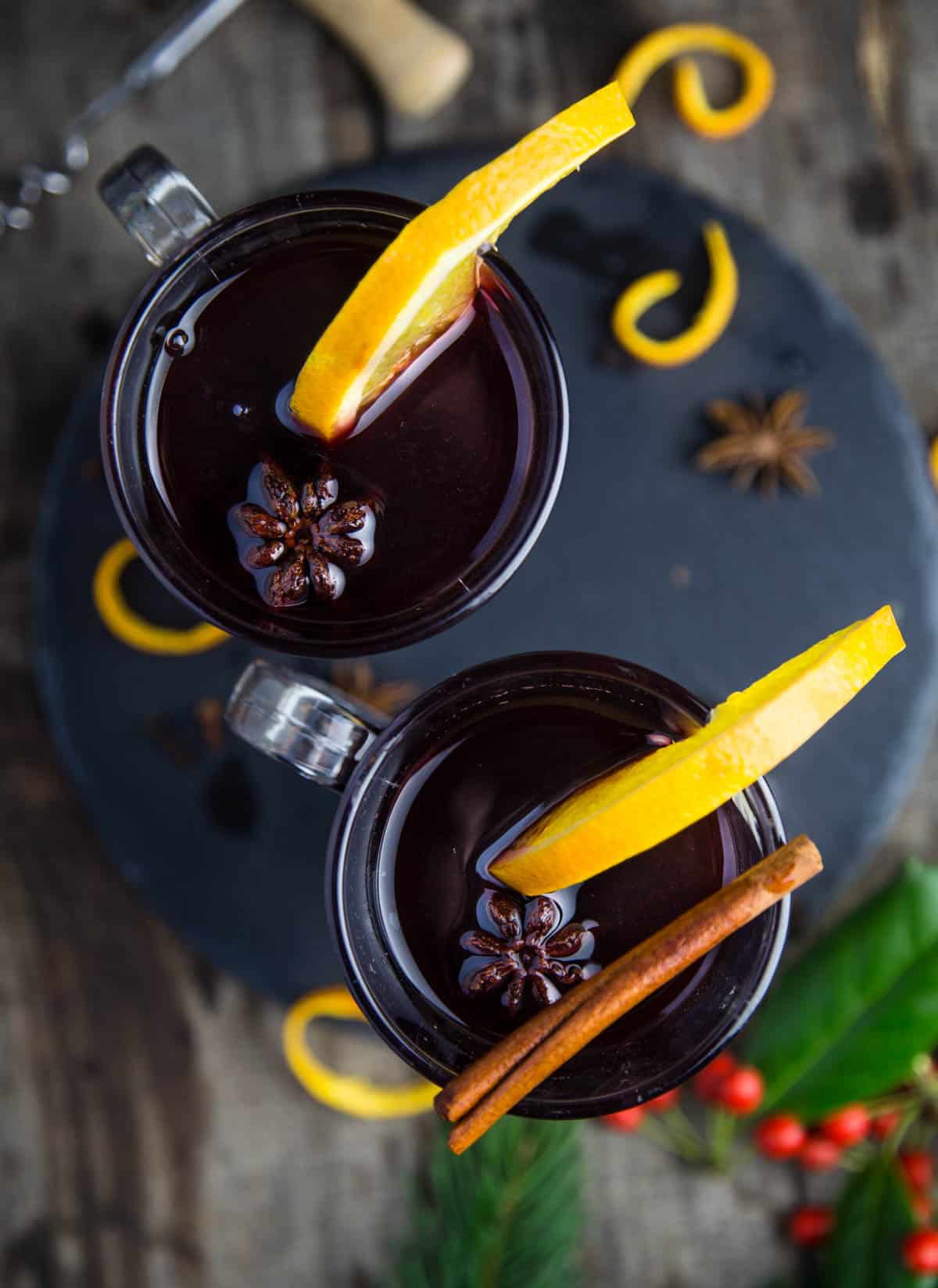 The great thing about this best mulled wine recipe is that you probably already have all of the ingredients right inside your pantry, so it is an easy one to whip up on a cold winter week night with short notice, but can be elegant enough for a holiday cocktail party.
The traditional ingredients will vary based on the specific region. But for me, I go with what I have on hand, and what flavors I find create the best balance. I don't like overly sweet drinks, so I keep it mild when it comes to adding too much sweet additions like brown sugar. Instead I like it mildly sweet, with a touch of citrus and a nice hint of the mulling spices and a good bottle of wine.
Ingredients for Mulled Red Wine
Dry Red Wine: I recommend Merlot, Pinot Noir, Zinfandel, Cabernet Sauvignon, or a dry red blend. No need for expensive wine for mulled wine. You can find good examples from $8-$15.
Spices: like whole cloves, star anise, and cinnamon sticks. You don't need to go overboard with these. A little goes a long way! If you have vanilla bean that adds a nice touch too.
Citrus Fruits: I like fresh oranges, sliced, (rind and the juice). You can also add lemon slices or lemon zest. You want notes of citrus, not too overpowering.
Sweetener: You can add sugar, maple syrup, or honey. Honey is my go to, and adds the most mild and natural sweet flavor to the mulled wine.
Liquor: it's quite common to find versions that have a bit of brandy, cognac, bourbon, rum, or even port to the mix (a small amount, like ¼ – ½ cup). I don't find it's necessary, but go for it if you like that addition.
How to Make Mulled Wine
Combine wine, cinnamon sticks, cloves, star anise, honey, and the juice and zest of one orange in a medium saucepan over medium heat and bring to a simmer.
Turn down heat and bring to a low simmer (not a boil) for 10 minutes.
Pour into mugs and garnish with an orange peel and an additional cinnamon stick (optional). Feel free to use a fine strainer if you don't want any orange rind or small pieces of remaining spices in your glass.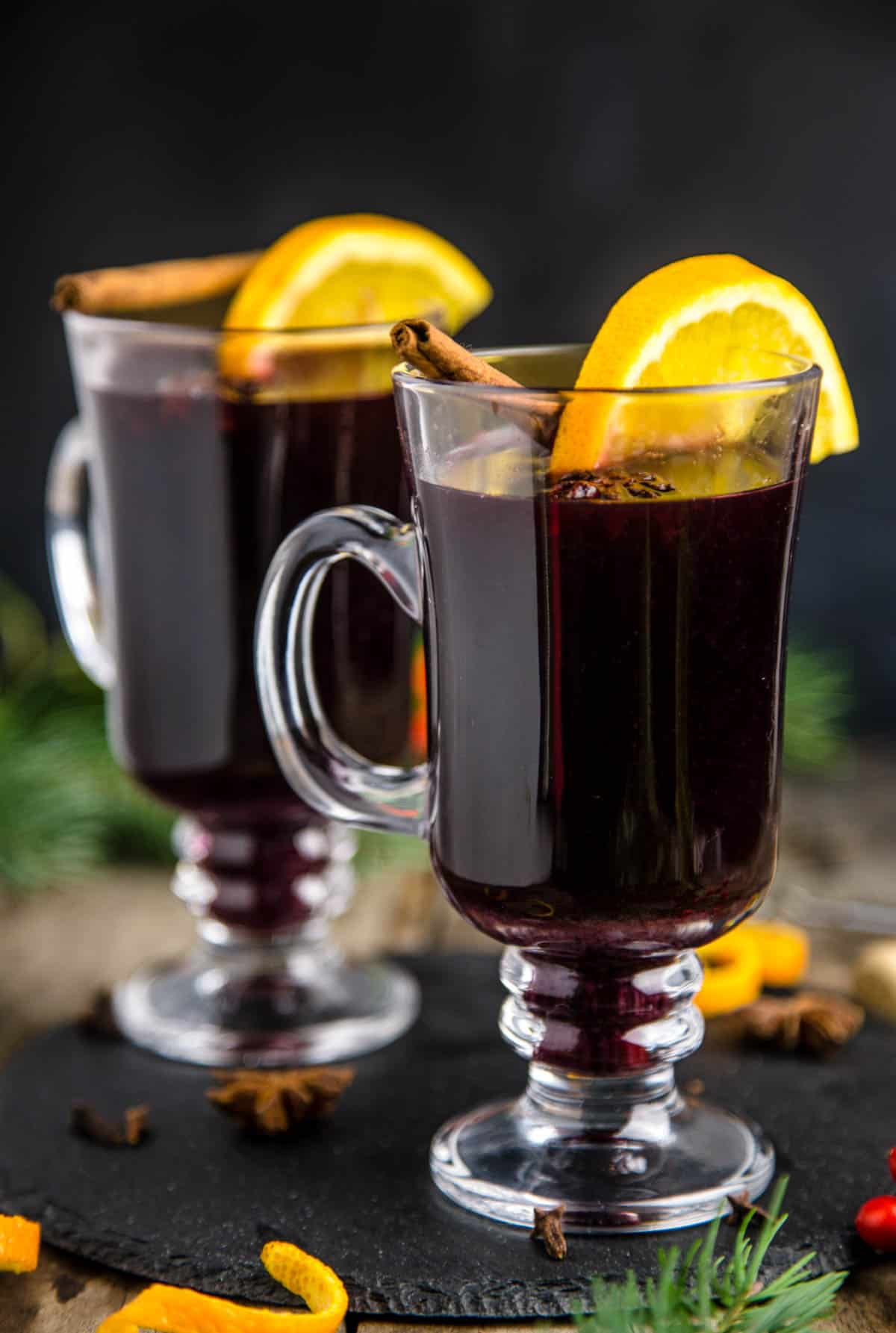 Mulled Wine in a Slow Cooker: Pour all the ingredients into the slow cooker and put the heat on the lowest possible setting. Let the flavors warm together for at least one hour. Serve warm. The hot wine and additional flavors will integrate over that time.
Party Tip
If serving at a party, double the batch and warm it up in a slow cooker. This will keep it warm all evening and make your house smell like holiday heaven! Lay out festive mugs and garnishes and let guests serve themselves. For more party tips check out How to Host a Cocktail Party.
Other Holiday Cocktail Recipes
---
*This post was originally published in December, 2009, and updated in 2019 with new photos and details. The recipe remains unchanged.
This post may contain affiliate links. This means if you click on the link, we may receive a small commission if you purchase through the link. We partner with brands we know and love and use and it helps keep the blog going!
---