Grilled Shrimp Cocktail features a Spicy Sriracha Cocktail Sauce that is easily adaptable. Perfect for cookouts, tailgating, parties, and holidays!
Forget those store-bought ready-made shrimp cocktails. This one is jam packed with flavor, and super easy to make. You and your guests are gonna love this!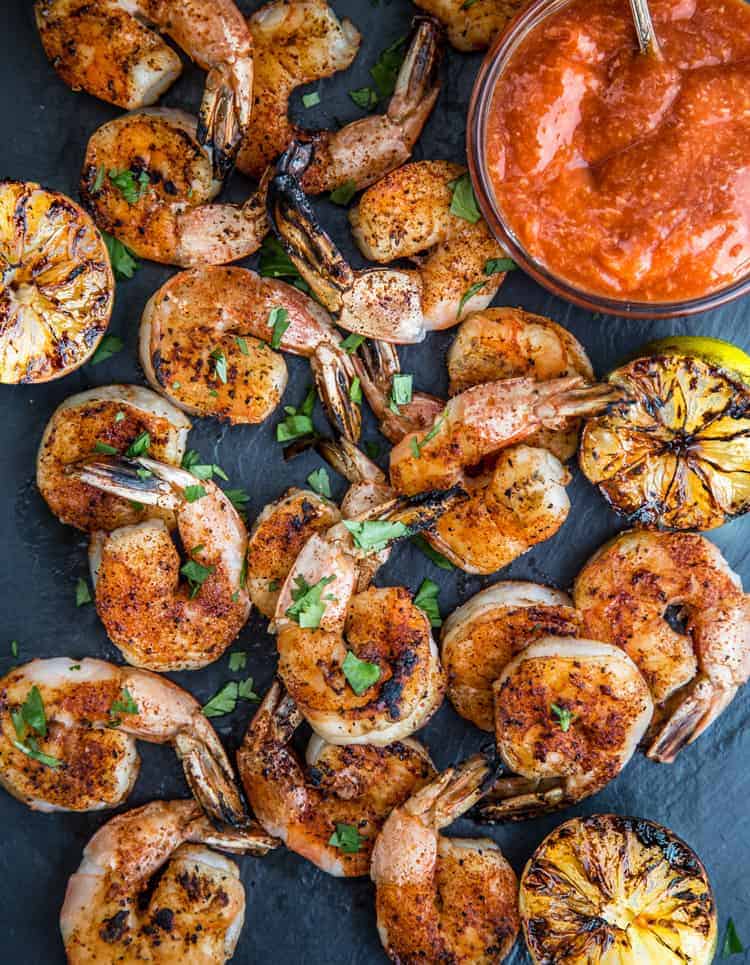 Like many, I'm a sucker for shrimp cocktail. But I find most store bought shrimp cocktails to be lacking in flavor and the cocktail sauce is sweet and bland.
It's super easy to make your own cocktail sauce and will result in a super impressive appetizer for your next cookout or party.
And the good news, this grilled shrimp cocktail is super quick to make. Unlike some of our other grilled shrimp recipes, which require a marinade, this one is coated in a simple dry rub, and immediately sent to the grill, making it great for a last minute option.
Shrimp sizes for the grill
Shrimp is going to come in many sizes. The size of the shrimp will dictate how many shrimp per pound you will get. When you see a number like 26/30 shrimp, that refers to getting 26 – 30 shrimp per pound on average.
For grilled shrimp look for larger shrimp in the 16/20 or 21/25 range. Smaller shrimp aren't easy to clean and devein and don't feed a crowd as well.
How to peel and devein shrimp
Rinse shrimp.
Hold shrimp by tail and remove the legs and shell. Holding the tail will keep the tail on.
Using a sharp knife, slice down the backside of the shrimp.
Look for a white or black vein, and lift with your knife.
Slowly pull the entire vein out of shrimp
Rinse again.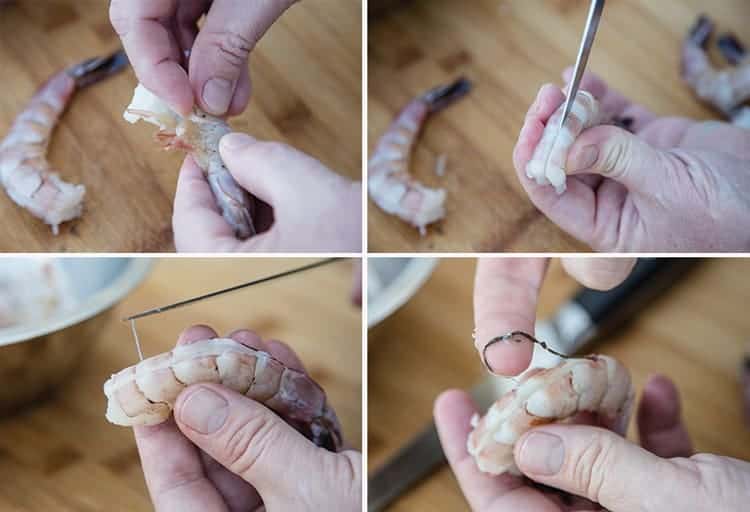 Do I have to peel and devein shrimp?
No, you do not have to peel and devein shrimp, it is a preference. You can also cook the shrimp with shells on or off. We like to remove the shell in order to get the dry rub flavor on the shrimp for maximum flavor.
How to Grill Shrimp
Start by skewering your shrimp with metal skewers. This is the quickest way to grill them, and also ensure none of the shrimp sneak through the grill grates.
Next, coat them with dry rub on both sides.
Set up your grill for direct heat and place your shrimp over direct heat for up to 3 – 4 minutes per side.
When is shrimp done? The ideal internal temperature for shrimp is 120 degrees F. If the shrimp constricts, that is the sign they are overcooked and can get rubbery. When the shrimp is white and no longer opaque is a good sign visibly that it is done.
While the shrimp grills, add your lime halves (to be used in the cocktail sauce).
That's it. Now remove them from the skewers and serve them with the spicy sriracha cocktail sauce.
How to make Spicy Shrimp Cocktail Sauce
Mix ketchup with horseradish and sriracha and a squeeze of the grilled lime juice. If it's too spicy then add more ketchup or a touch of honey. Something sweet will get the cocktail sauce back to where you want it. You can also adapt it by adding your favorite hot sauce instead of sriracha. Most store-bought ketchups are too sweet for my palate, so I like to balance them with something spicy and finish with citrus (like grilled lime). Another key item to cocktail sauce is using horseradish, not the creamy kind, specifically the extra hot horseradish.
This sauce is very easy to adjust and adapt to your flavor preferences.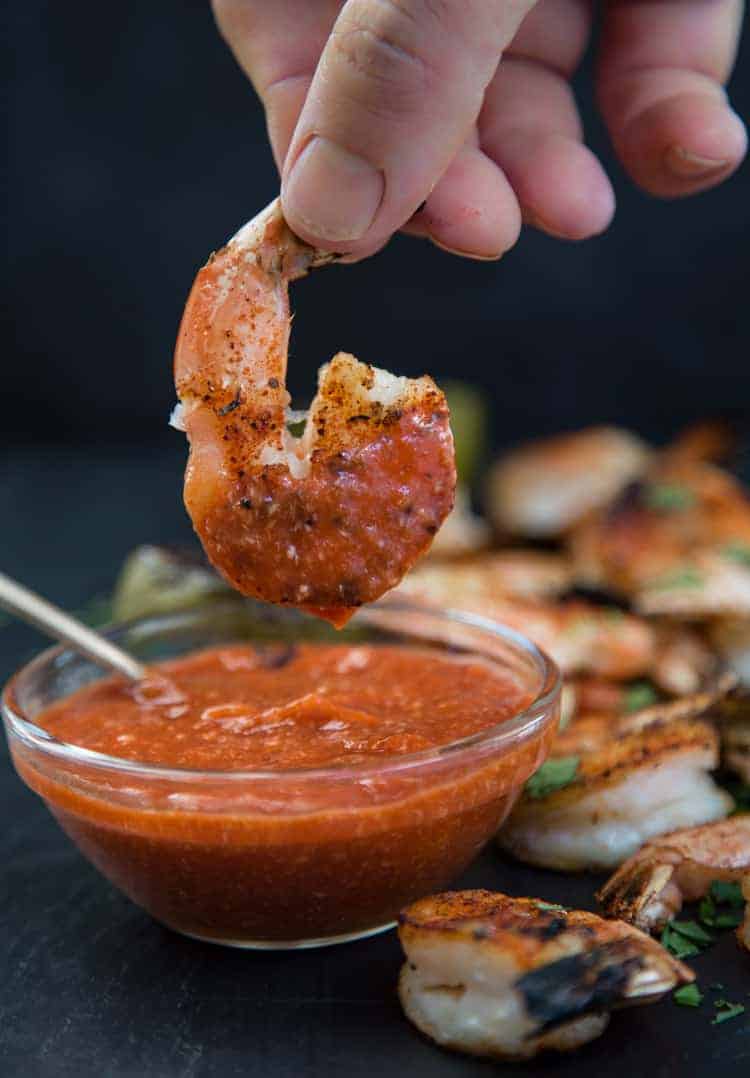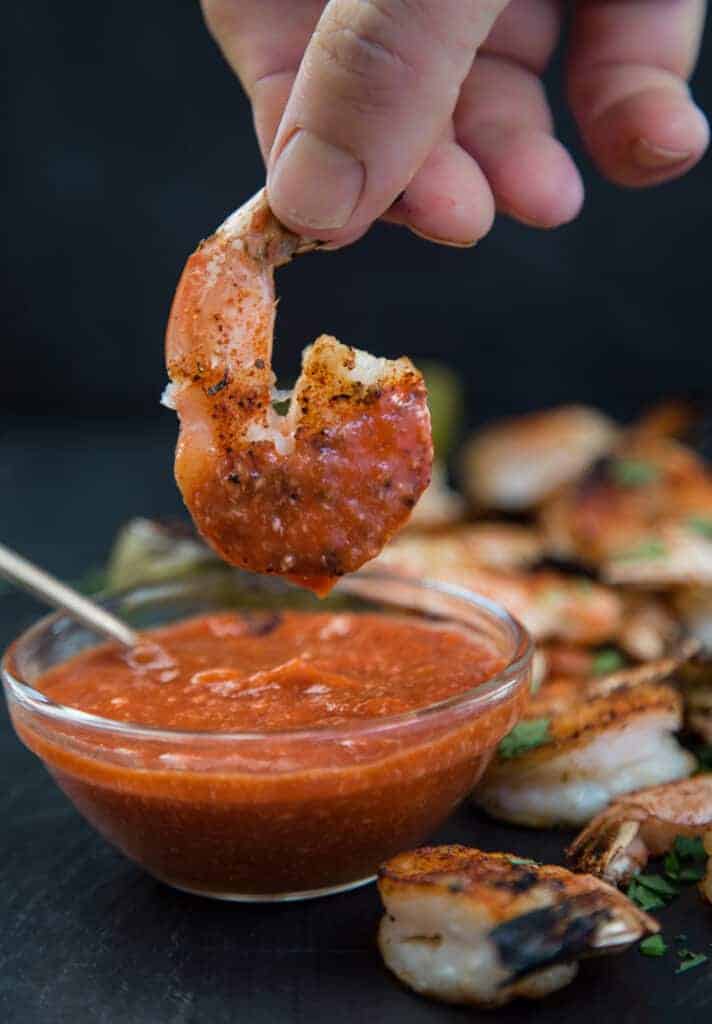 Wine Pairing for Grilled Shrimp Cocktail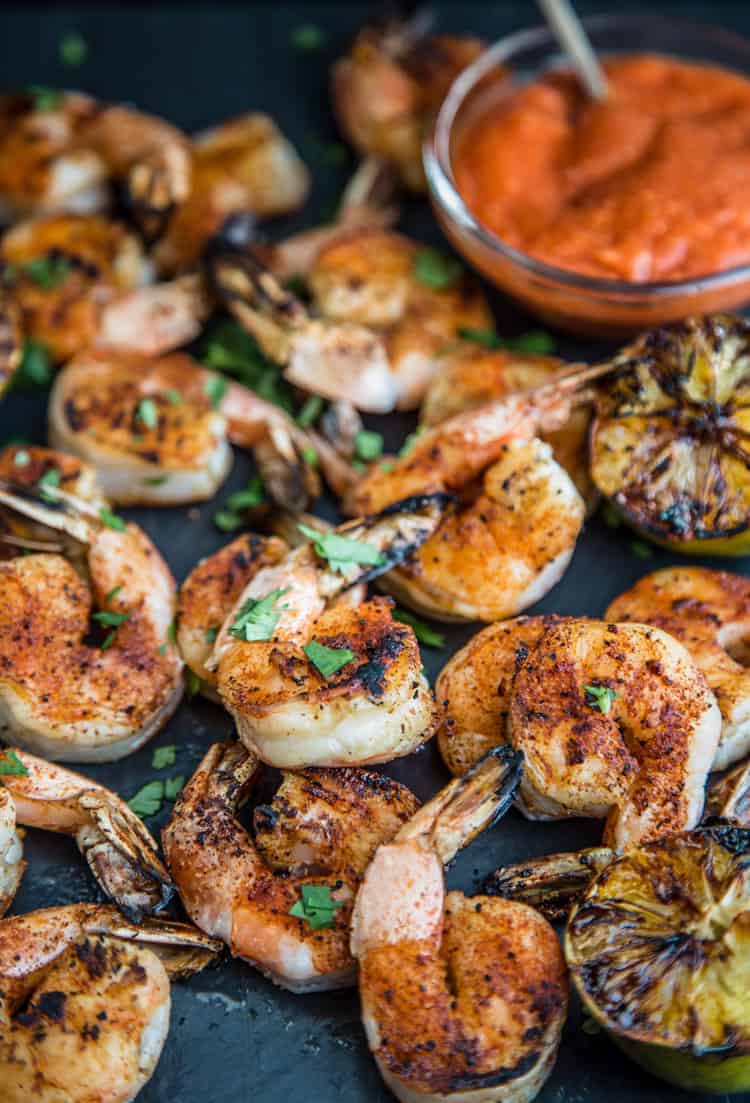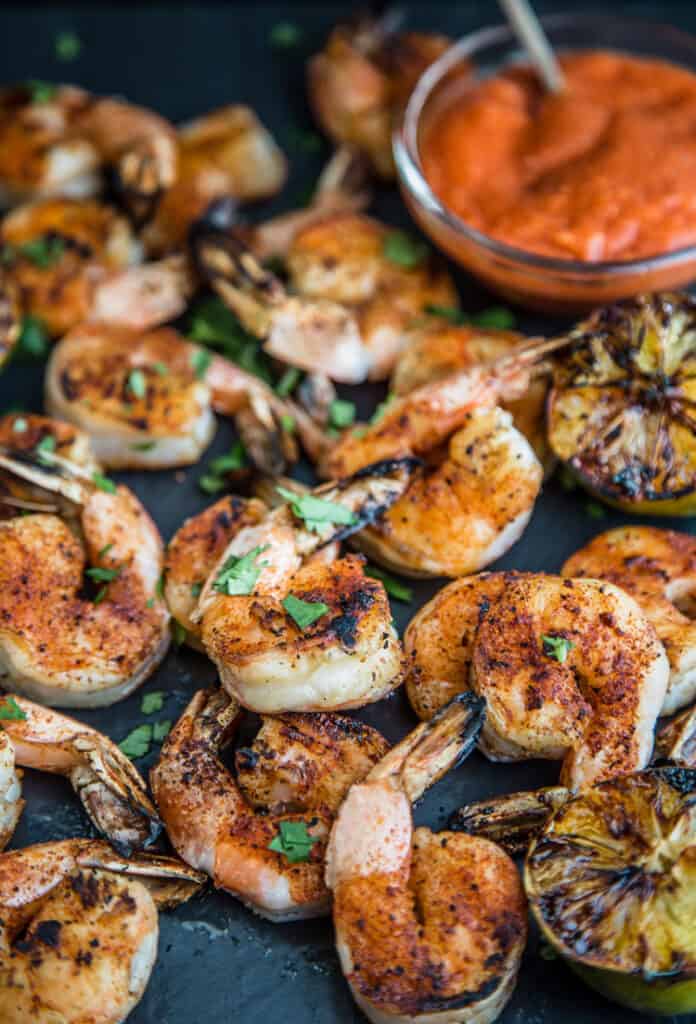 This has a big flavor punch from both the dry rub and the cocktail sauce. I recommend sticking with something slightly sweet (and even bubbly), or stick with a bold fruity rosé (not a Provençal style rosé, but something bolder, perhaps from Spain or Washington State). You want something sweet or refreshing to balance out the spicy nature of the dish. Avoid red wines with this dish. Buy our favorite wines at VindulgeWine.com
What Tools Do We Use When Grilling Shrimp
The products below contain affiliate links, which means we get a small commission for sharing products we love to use. That's how we keep the blog going!
For an awesome grill grate, we use the Malory Cast Iron grate built for Weber Kettle grills.
For temperature control we use the Thermoworks MK4 Thermapen.
We love reusable flat metal skewers for shrimp, like these. They work great to keep the shrimp from rotating when flipping.
---
If you like this recipe we'd truly appreciate it if you would give this recipe a star review! And if you share any of your pics on Instagram use the hashtag #vindulge. We LOVE to see it when you cook our recipes.