Any Apple Cider Mimosa Recipe just screams the perfect cocktail in the fall. From autumn brunches to the holiday season, this apple cider cocktail is one of our favorite drinks to enjoy. Make this kid friendly with a sparkling water float.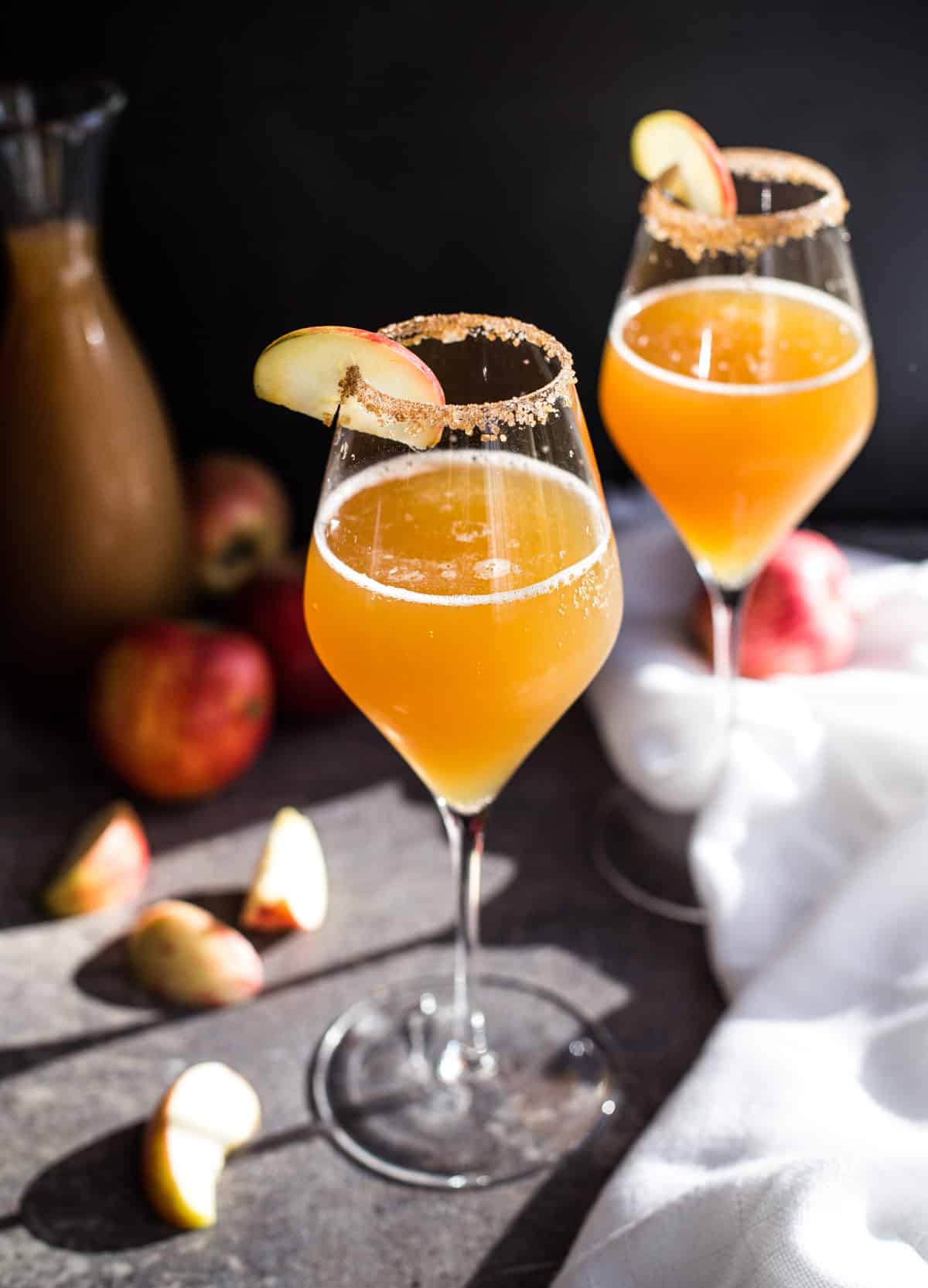 Living in the country, our farm is surrounded by apple orchards and apple season here are harvested October through November. And when we drive throughout the area, we love to pick up some freshly made apple cider from our local farm stores for this perfect drink. But you can find fresh apple cider throughout the season at grocery stores across the nation.
Jump to:
Apple Cider versus Apple Juice
If you haven't been out to a local apple orchard, apple cider is a mash up of apples pressed into a liquid. While somewhat filtered, it contains all the freshly pressed juice and pulp versus the refined and pasteurized apple juice (the later also has a longer shelf life). The Kitchn has a great summary of the two.
This flavor of actual fresh apple cider is a great choice for our apple cider mimosa recipe because of the natural sugar and fresh bold flavors.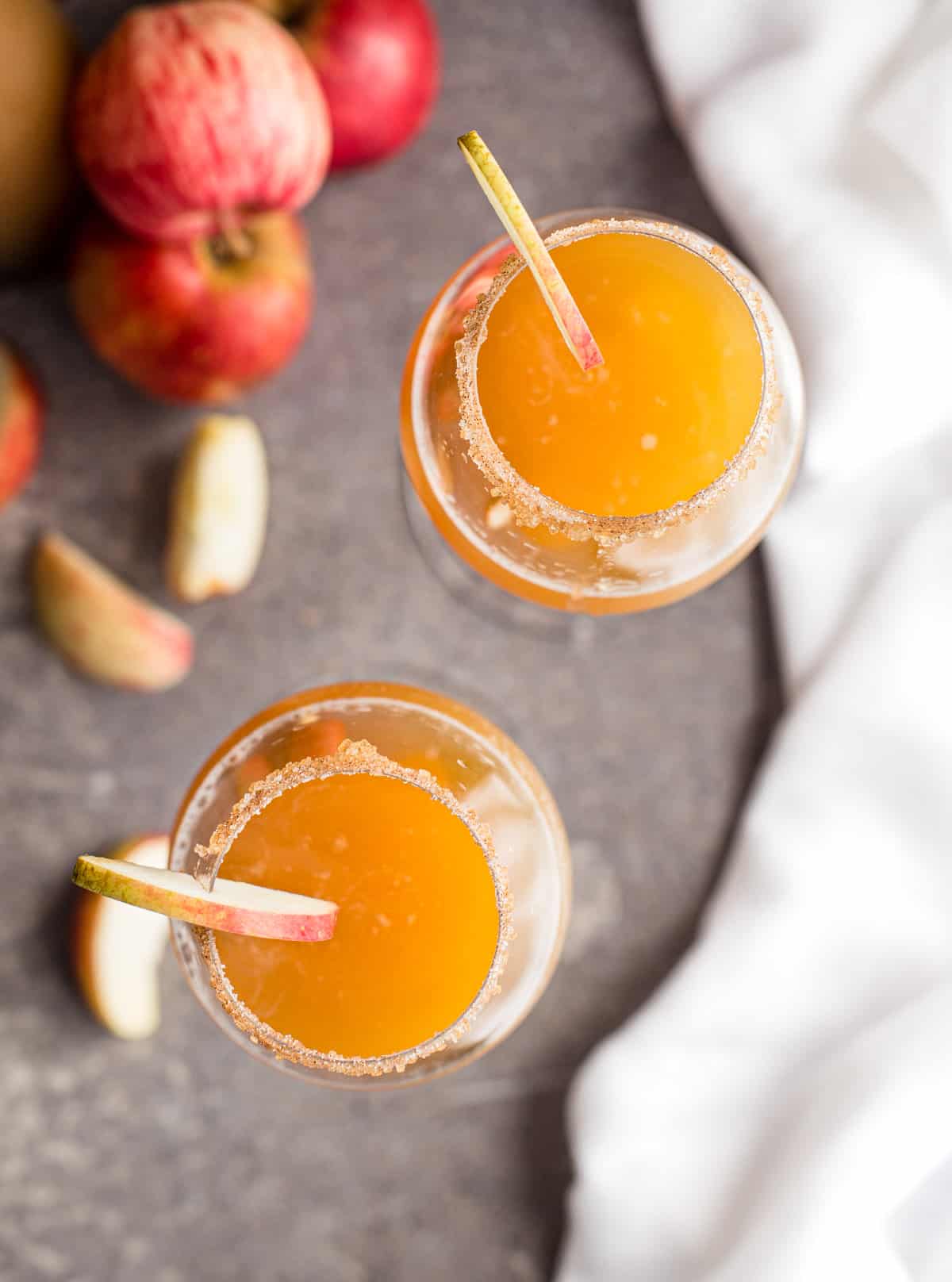 A Twist on a Mimosa
A classic mimosa is a sparkling wine cocktail combing any number of juices with sparkling wine or Champagne. Most commonly it's orange juice. You get a fruity and bubbly flavor and is great with brunch or as festive cocktails for your holiday dinner.
You can see our mimosa bar ideas for more fun combinations.
Apple Cider Mimosa Ingredients
It couldn't be easier.
Apple Cider (the real fresh stuff).
Dry Sparkling Wine, like Cava or Prosecco (or Champagne if you have the budget).
Sugar and Cinnamon, for the rim.
Garnish with thin apple slices. Add cinnamon sticks as well.
If you are looking for amazing sparkling wine shop our own Vindulge Wine Marketplace with various sparkling wine options at different price points from small amazing producers.
How to Make an Apple Cider Mimosa
First, start with the cinnamon sugar rim. I like the coarse turbinado sugar and cinnamon but you can use cane sugar as well. We use a traditional champagne flute.
Mix the cinnamon and sugar in a small bowl.
Spread the mix on a small plate evenly.
Take a lemon wedge (or thin apple slice) and gently run around the rim of a sparkling wine glass.
Place the flute, rim side down, on the dish with the sugar/cinnamon mix and make ¼ turns so the mix sticks to the lemon juice on the edge of the glass.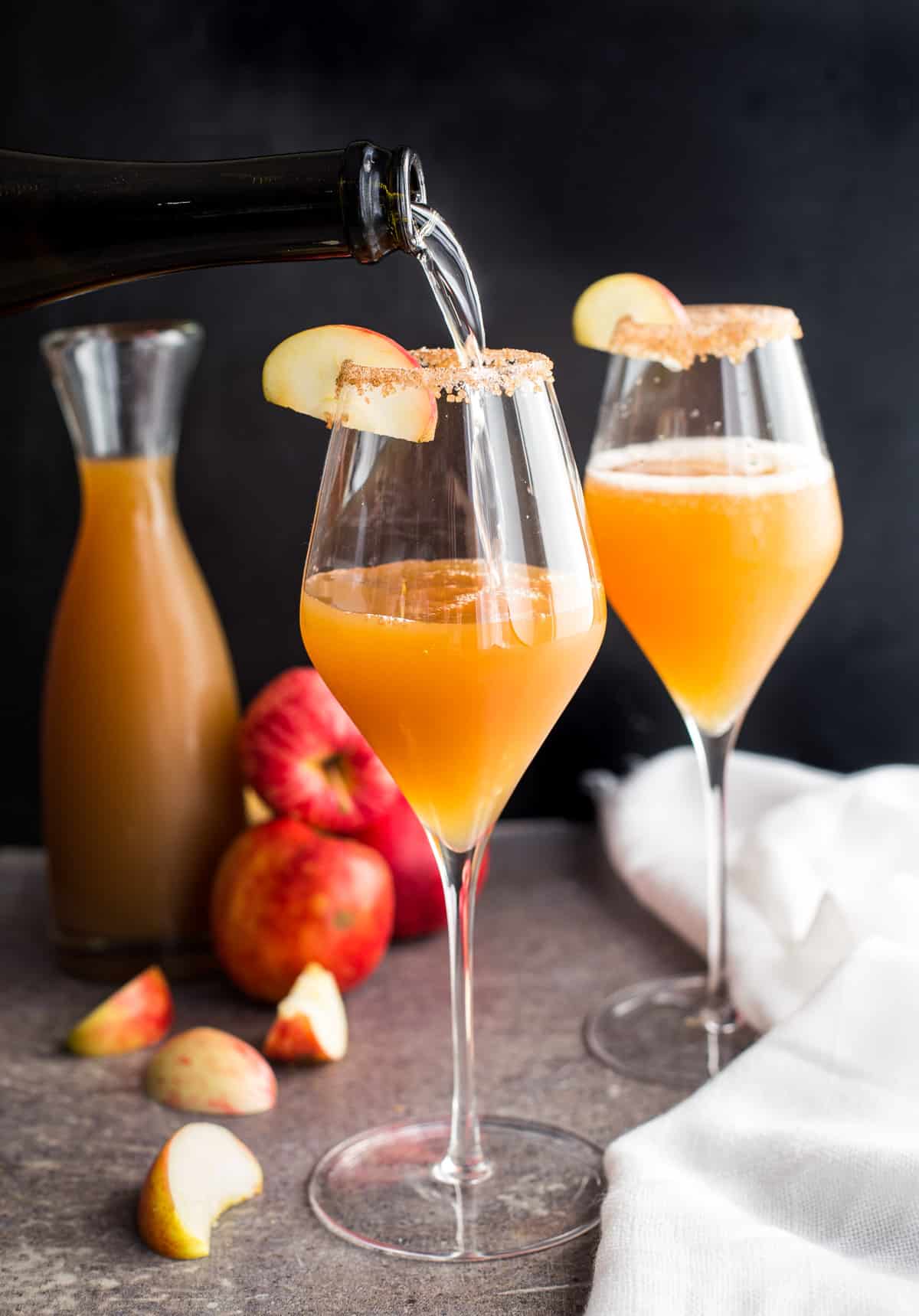 Then we mix the drink. The ratio we use is 1 part apple cider to 3 parts of the sparkling wine, depending on the glass size. That means for 2 ounces apple cider we add 6 ounces of sparkling wine.
The last step is to place a small slice of apple right on the edge of the glass as garnish.
Scaling Up Recipe
The reality is that no two flutes are the same size. So the ratio of cider will change based on the glass.
If you have a special occasion you can expect 4 to 5 servings per bottle of champagne or sparkling wine.
Mini bottles are typically 6-ounces and will be good for no more than two servings of sparkling wine.
Other Fall Cocktail Ideas
Other Mimosa Ideas
Tried this recipe? Give us a star rating and we would love to see! Mention @vindulge or use the hashtag #vindulge on all the social media handles. And consider subscribing to our newsletter where we drop all our favorite ideas and inspirations every week.
This post may contain affiliate links. This means if you click on the link, we may receive a small commission if you purchase through the link. We partner with brands we know and love and use and it helps keep the blog going!
The recipe for Apple Cider Mimosa was originally published in November 2012, and updated in November 2020 with new photos. The recipe remains the same.
---